X-FIGHTERS CROWD SHOT! SEE THE LAY OF THE LAND, INCLUDING THE REM TRACK, USGP TRACK & X-FIGHTERS COURSE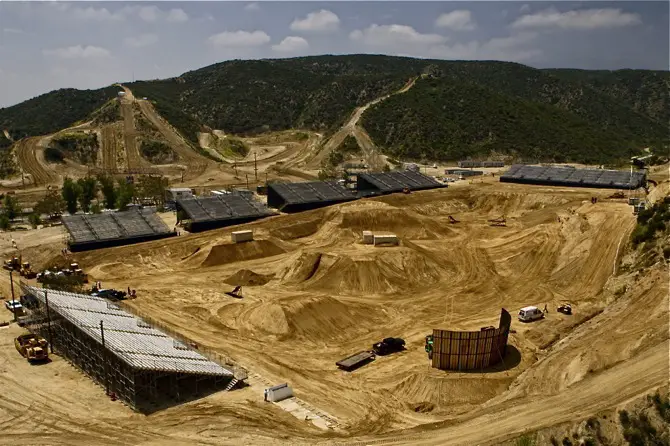 This is the view from the REM track looking across the valley to the USGP/National track. The REM starting gate can be see in the lower center. The grandstands will hold 20,000 spectators at Saturday's Red Bull X- Fighters event.

The REM racetrack extends beyond the top set of bleachers and uses the hills to the right on normal race weekends. After Saturday's X-Fighter event construction crews will build a totally new REM track…until that track is done the REM races will be held on the USGP track in the background.

This photo is shot from above Mt. Whitney. The curved structure in the lower left is a wall of death wooden half pipe (turned on its side). The famous Triple Step-Up jump is behind the bleachers in the upper right. The four bleachers in the center of the frame sit on the REM pits. Photos: Red Bull
For more info go to: