FLASHBACK FRIDAY | YAMAHA MOTOR CORPORATION, USA VERSUS KEVIN WINDHAM LAWSUIT
This article is from the 1999 May issue of MXA.
YAMAHA MOTOR CORPORATION, USA VERSUS KEVIN WINDHAM LAWSUIT
---
On June 9, 1998, Kevin Windham verbally agreed to a two-year deal with Team Yamaha, but while he was waiting for his formal Yamaha contract to arrive (it took two months for some reason), he had a run-in with Yamaha team manager Keith McCarty (reportedly over his girlfriend's presence in the semi-truck). After the argument, Kevin decided that he couldn't ride for McCarty and on August 16, 1998, signed a two-year contract with Team Honda. Yamaha was stunned. They felt betrayed. To recoup the cost of producing glossy, multi-page ad campaigns (featuring Windham), Yamaha filed suit on November 10, 1998 for Breach of Contract.
JUSTICE AT A SNAIL'S PACE
Kevin on a Factory Yamaha YZ250. 
The matter is now proceeding through the courts at a snail's pace. In the mean time, Kevin is free to race for Team Honda (Yamaha does not want him back), but he must worry about the legal fees and possible monetary damages that Yamaha is seeking.
The legal question at hand is whether or not Kevin's signature on Yamaha's Letter of Intent constitutes a binding contract. Kevin's lawyers say that since Yamaha did not present a formal contract within a reasonable time frame, the Letter of Intent is null and void. Yamaha's lawyers claim that the Letter of Intent outlined all the necessary payments, represented a binding document and that they, in fact, had the formal contract ready to sign at the time of Kevin's announcement that he was going to Team Honda.
THE FULLY SKINNY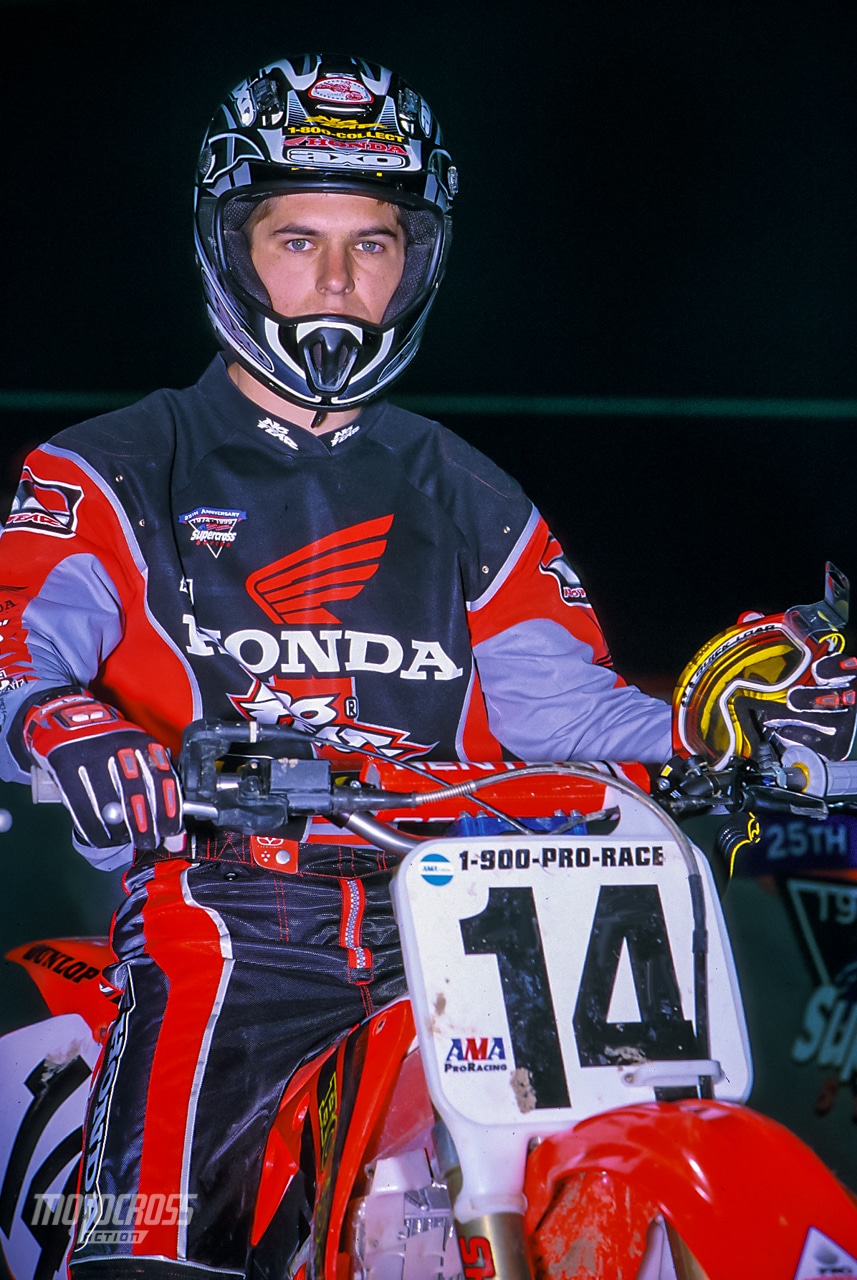 Yamaha didn't want Kevin back, and Kevin didn't want Yamaha. Although Yamaha wanted to recoup the cost of producing glossy, multi-page ad campaigns (featuring Windham).
It should be noted that money is not what motocross racing is about. It is obvious that Kevin could have been uncomfortable, unhappy and perhaps unproductive if he had stayed at Team Yamaha. It is also conceivable that McCarty and he could have patched up their differences. At first glance, it is obvious that Kevin took a cut in pay to make the switch from Yamaha to Honda. If he made this move based on an athlete's desire to function in the most productive environment possible, it is commendable. However, the pay cut, while substantial, is not as large as it would seem since by leaving Team Yamaha Kevin became free to sign separate boot and clothing deals (at Yamaha his contract included boots and clothes in the base price). How much could Kevin earn on the open clothing market? Our best guess is about $200,000.
What is the real story behind the two contracts? Who offered what? Which deal had the greater incentives? The
MXA wrecking crew
presents the true-to-life financial facts behind the Yamaha versus Windham versus Honda controversy. These are the actual contract amounts of Kevin's 1998 Yamaha contract, his proposed 1999 Yamaha contract and his official 1999 Honda contract. No holds barred. You have the figures, make of them what you will.
WINDHAM'S YAMAHA VERSUS HONDA CONTRACT SHOOTOUT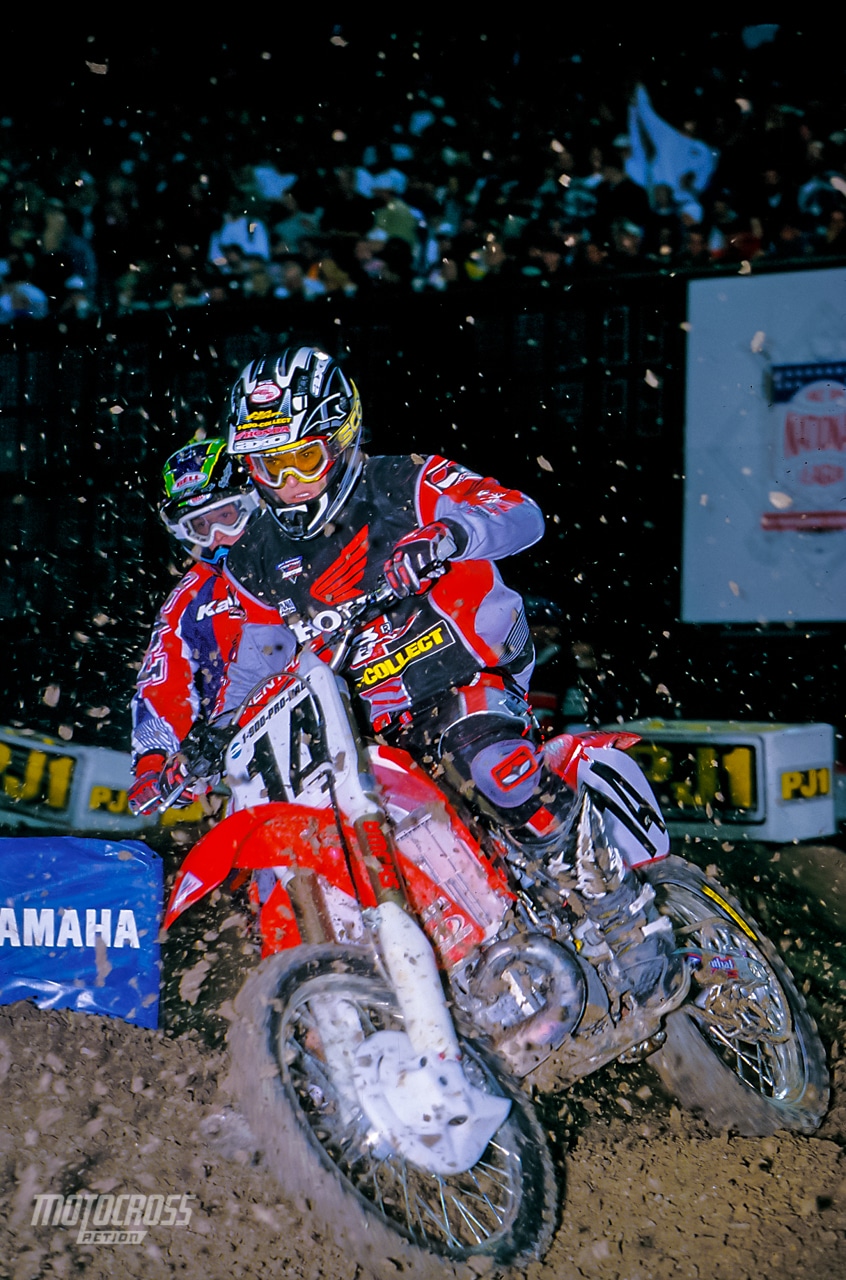 Kevin trying to hold off Ricky Carmichael in the 1999 Supercross season. 
| | | | |
| --- | --- | --- | --- |
| | '98 Yamaha contract | '99 Yamaha contract | '99 Honda contract |
| Base '99 salary: | $250,000 | $620,000 | $375,000 |
| Monthly salary: | $20,833 | $51,666 | $31,250 |
| Proposed 2000 salary: | NA | $620,000 | $400,000 |
| '00 Monthly salary: | NA | $51,666 | $33,333 |
| | | | |
| SUPERCROSS BONUSES: | | | |
| Overall win bonus: | $25,000 | $45,000 | $40,000 |
| 2nd place bonus: | $0 | $0 | $7,500 |
| 3rd place bonus: | $0 | $0 | $2,500 |
| Heat win bonus: | $1,500 | $3,000 | $1,000 |
| Championship bonus: | $220,000 | $315,000 | $250,000 |
| | | | |
| NATIONAL BONUSES | | | |
| Overall win bonus: | $10,500 | $25,000 | $20,000 |
| 2nd place bonus: | $0 | $0 | $7,500 |
| 3rd place bonus: | $0 | $0 | $1,000 |
| Moto win bonus: | $7,500 | $10,000 | $10,000 |
| Championship bonus: | $145,000 | $290,000 | $250,000 |
| | | | |
| MISCELLANEOUS BONUSES: | | | |
| Dual Championship: | $125,000 | $125,000 | $150,000 |
| Number of events: | $35 | $35 | $33 |