ZACH OSBORNE INTERVIEW: SHOULD SUPERCROSS RACERS WEEKLY PRACTICE BE LIMITED LIKE MOTOGP?
ZACH OSBORNE INTERVIEW: SHOULD SUPERCROSS RACERS WEEKLY PRACTICE BE LIMITED LIKE IT IS IN MOTOGP TO PREVENT INJURIES?
Zach Osborne was injured during a practice crash while riding with his training partners Jason Anderson, Cooper Webb and more at the Baker's Factory in Florida just before the Atlanta SX. When the news broke, as usual, everyone was bummed to hear he was injured and that he would be missing races. The topic that has been brought up for years is, how do we keep our top riders healthy? Not only because fans want to see better racing, but also for their own good. In this interview we asked Rockstar Husqvarna's Zach Osborne about his opinion on riding and training as often as he and all of the top riders do. We also talked about how he's healing up, the coronavirus and more.  
BY JOSH MOSIMAN
HOW IS YOUR BACK AND THE REST OF YOUR BODY HEALING UP? My back is doing good, it has been responding really good to the treatment and everything that I've been doing. My wrist injury was not so bad so that's not really a big deal, it feels fine and back to normal training. We're just waiting on things to clear up with this virus so we can see what's going to happen and get back to a little normalcy.
Zach was injured just before the Atlanta Supercross. After his second doctors visit revealed his injury was worse than he thought, his plan was to miss the rest of the Supercross season and begin racing again at Hangtown. Now, Zach will only miss two SX races due to his injury since the series has been delayed. 
YOU DIDN'T REALIZE THE EXTENT OF YOUR INJURY UNTIL THE SECOND DOCTORS APPOINTMENT, RIGHT? Well I went to the ER straight from the track and they told me that I had two bruised and partially collapsed lungs, a sprained wrist and one broken rib. Then I went maybe ten days in a lot of pain and I've broken plenty of ribs and I knew that something else was wrong, so I flew to California to work with Dr. G for the week. We did two or three days of therapy and it was getting better but not as it should have been with the treatments I was getting and stuff. So he sent me to get an MRI and it revealed that I had five broken vertebrae—three compression fractures and two normal fractures in my back. So that kind of explained things and honestly, I made kind of a big step that day and the following day just knowing that there was something wrong because I was in so much pain, none of it made sense in my mind and it was such a tough time. So it kind of healed my body from my brain if you will.
WHERE ARE YOU MEDICALLY RIGHT NOW?   I'm six weeks since the crash today I think, so it's a lot better and I'm still a couple weeks away from riding, but it's not really a big deal right now, nobody's really riding anyways because of the virus. So it's been a little bit of a blessing in disguise with the virus because I'm not missing so many races and I can start healthy and fresh for this outdoor season.
"SOMETIMES I THINK THAT WE WOULD ALL BENEFIT FROM A MORE MOTOGP-LIKE SCHEDULE ,WHERE THINGS ARE LIMITED. I THINK THE RISK WOULD BE MANAGED A LITTLE BIT BETTER THAT WAY. AS LONG AS IT'S OPEN RULES, IT'S JUST GOING TO BE THE WAY THAT IT IS UNTIL SOMEONE PUTS A STOP TO IT."
PEOPLE DON'T LIKE IT WHEN A TOP RIDER IS INJURED WHILE PRACTICING AT HOME. THEY BLAME TRAINERS LIKE ALDON BAKER FOR PUSHING THEIR RIDERS SO HARD. IS IT NECESSARY TO GO ALL-OUT IN PRACTICE TO BE PREPARED FOR THE RACES? Yeah for me it is, for sure. Until somebody steps in, the sanctioning body or one of the promoters steps in and says, "Hey look, there's going to be this limited amount of riding season, limited amount of testing," somewhat like MotoGP, it's not going to change, as far as how we practice. When one guy is doing it, everybody has to do it or you're going to get smoked, that's basically it. So, it is what it is, we can Monday morning quarter back or whatever until the cows come home, but until something changes about how much we can ride or test, nothing is going to change.
WITH THAT BEING SAID, DO YOU THINK IT'S A GOOD PROGRAM TO BE PUSHING YOURSELF DURING THE WEEK? I'm not going to say that it's a good program. Sometimes I think that we would all benefit from a more MotoGP-like schedule where things are limited. I think the risk would be managed a little bit better that way. As long as it's open rules, it's just going to be the way that it is until someone puts a stop to it.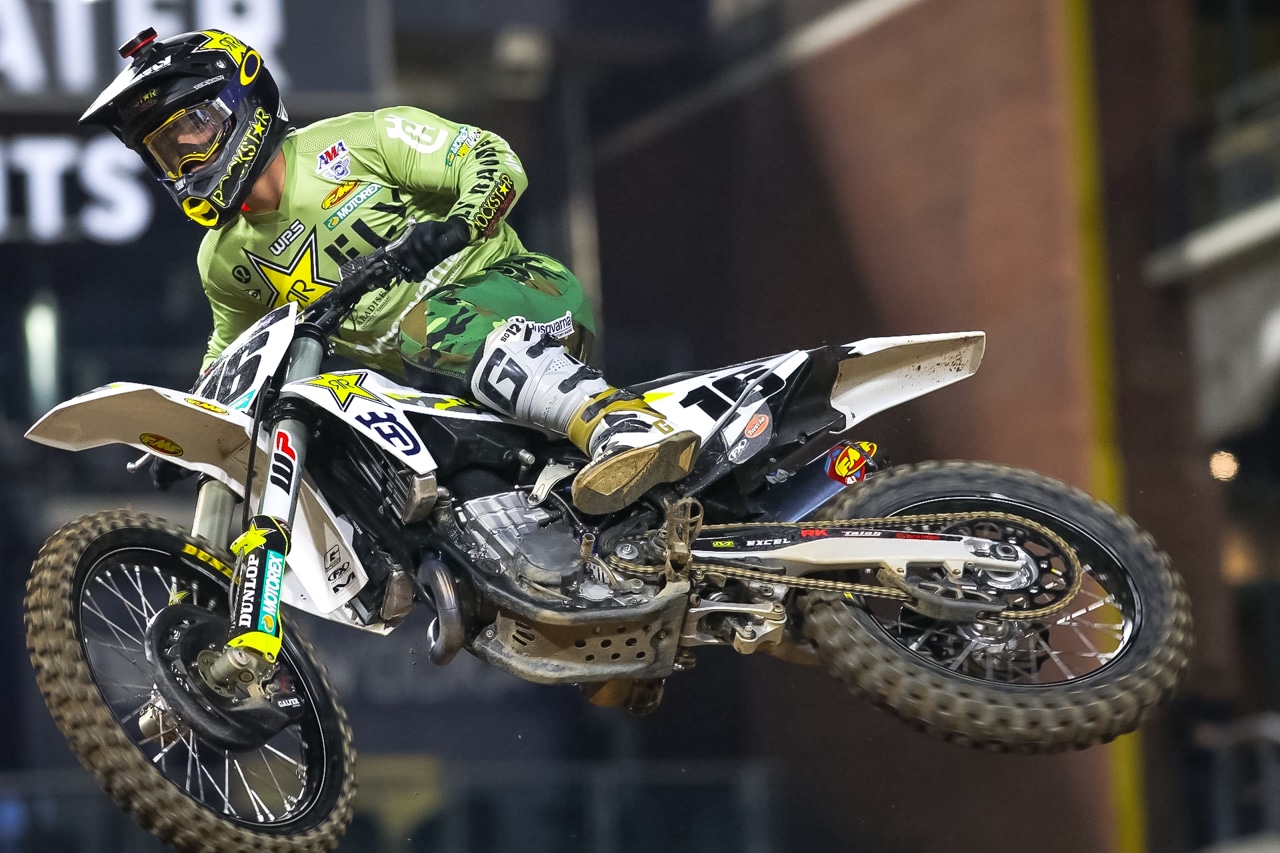 We were surprised with Zach's opinion on training and riding as often as the top riders do. Obviously it would be near impossible to regulate training for Supercross riders unless their bikes (or spec tires like it is in MotoGP) were impounded after each race to ensure they weren't practicing on the same equipment they're racing on. 
DOES MOTOGP LIMITED THE RIDERS AMOUNT OF PRACTICING ONLY TO KEEP RIDERS SAFE? It's to keep riders safe and to keep the cost down, just the cost of bikes and parts and stuff. Obviously the cost is way more expensive in MotoGP, but at the same time it's kind of relative to what you're playing with you know?
SO YOU'RE SAYING YOU HAVE TO PUSH HARD DURING THE WEEK TO BE READY TO RACE ON THE WEEKENDS, YOU CAN'T TAKE IT EASY. Basically, yeah. You can take it easy, but you're going to get smoked on Saturday.
Zach Osborne's Rockstar Husqvarna FC450.
YOU MENTIONED DR. G, I DON'T KNOW HIM PERSONALLY, BUT IT SEEMS LIKE HE PUTS TOGETHER ALL OF THE TOP RIDERS WHENEVER THEY'RE INJURED. Yeah he does! He's built a reputation for himself for a really long time. He's somebody we all really trust and lean on and he's actually really good with the mental side of racing too. That's been a huge part of a lot of guys working with him I think.
IT SEEMS LIKE YOU ENJOY TRAINING, CYCLING AND FINE TUNING THE DETAILS OF YOUR PROGRAM. Yeah for sure, I'm a numbers guy and I just enjoy grinding honestly. I think that's what we're supposed to be doing and I'm very fortunate to be one of the ones who enjoy doing all of the things that it takes to be good at what we're an effort at. For me, I'm really blessed to have that inside me or whatever you want to say. I love training, I like to be prepared I like to be organized. Maybe in the last couple of years I've gotten a little bit too obsessed with it, but we're working on that.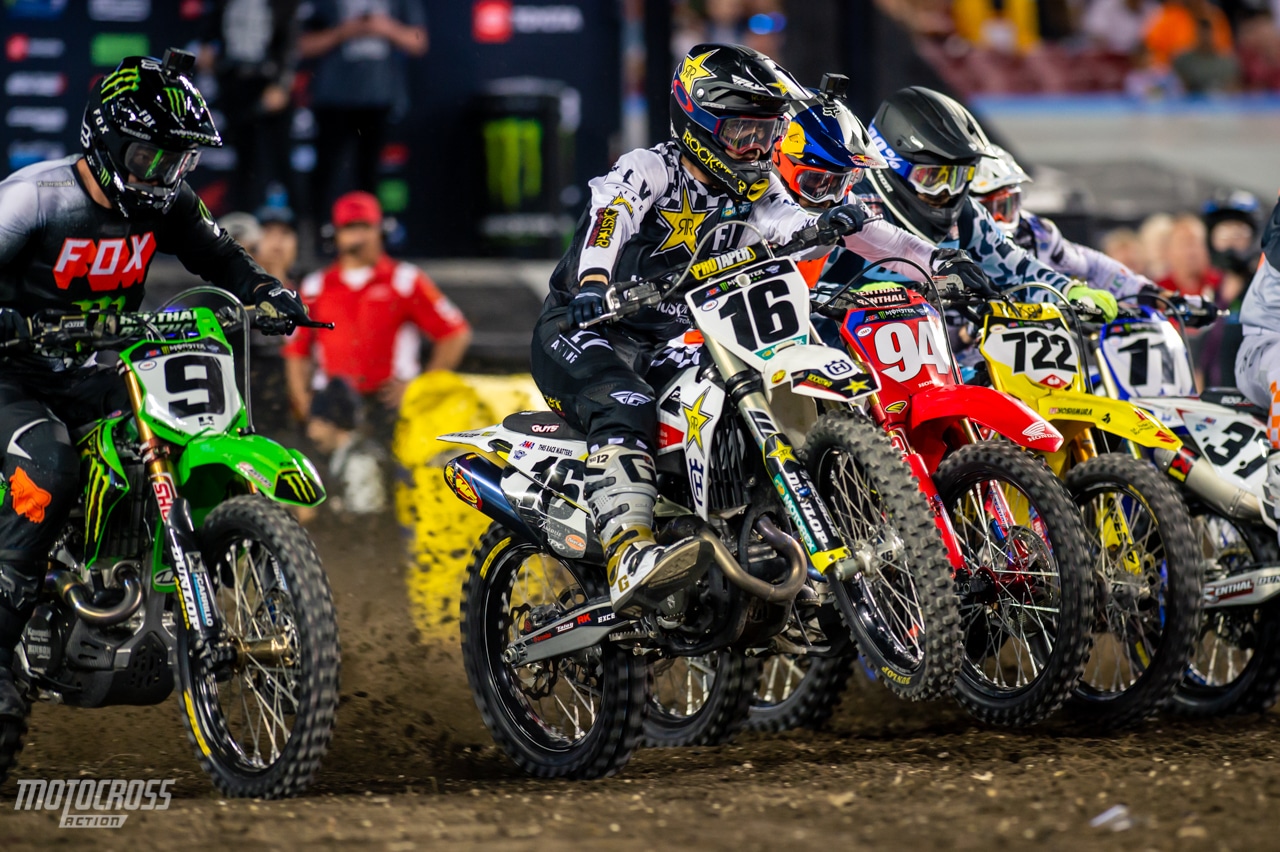 Zach wheelies ahead of Ken Roczen and Adam Cianciarulo down the start at the Tampa SX.
OBVIOUSLY WORKING OUT IS PAINFUL FOR YOU JUST LIKE IT IS FOR ANYONE ELSE, SO WHAT DO YOU LIKE ABOUT IT? Well, hard work is kind of what made me be who I am today, grinding it out in tough times. I know that if I put the work in during the week I'm going to get the results nine times out of ten. It's just one of those deals where I feel like the more I can be prepared, the better I'll be on the weekends which benefits me and my family and every aspect of my life. That's where I find my motivation I guess you would say.

WHAT'S YOUR TAKE ON THE WHOLE SITUATION WITH THE CORONAVIRUS? I don't know man. It's been a really strange time. I saw it happening in China just like everybody else on the news and you kind of think like  "ah it's not going to come here or it's not as bad as they show it on the news" or whatever and you know in areas it's not. But it's something that should be taken seriously, especially for our elderly population and it's something that we are taking seriously. I think eventually we'll all get back to normal life, it just maybe a little later than we thought.
THE FIRST ROUND OF OUTDOORS IS SCHEDULED FOR JUNE 13TH IN FLORIDA AT WW RANCH. DO YOU THINK THAT WILL HAPPEN? In my opinion, I think that's a lofty goal, but I don't know. In Virginia, that's where I'm from, they just got a stay-at-home order until June the 10th. And you want to have a gathering of 30,000 on June the 13th, it's hard for me to put together.
Zach and the rest of the Supercross Pros are debating whether or not to train or rest during this time of quarantine. 
WHAT IS YOUR MIND SET DURING THIS TIME OF UNCERTAINTY? AT FIRST IT WAS GOOD FOR GUYS  WHO WERE INJURED, BUT NOW IT SEEMS LIKE TOO MUCH TIME OFF. Yeah,  we have to realize now that the season is going to go really long. It's going to go into October, possibly November. And then we have to turn around and be racing again in January. So we have basically twenty-two weeks to complete eighteen races, which normally wouldn't be that bad, as long as you have those eight or ten weeks to chill after the season and six or eight more weeks to get ready again.
HOW ARE YOU APPROACHING THE EXTRA-LONG SEASON MENTALLY? With this situation, it's going to be a long grind, so we're trying to back it down a little bit. Just chill and keep the body moving, but just mellow it out a little bit. It's going to be one of those things — just managing the time,. What I don't want is to start training again and start riding again and get four weeks in and find out, "Oh, it's going to be July or August" (before racing starts again) and you kind of wasted those resources and energy not have anything happen. It's just a game of shooting from the hip right now and  taking it day-by-day.
Zach Osborne at the Oakland Supercross.
IT'S HARD TO UNDERSTAND WHY A PROFESSIONAL ATHLETE CAN'T TRAIN 24/7. WHAT'S THE RATIO OF TRAINING TO RECOVERY?  It's tough. It's something we have to manage and that's why we have Aldon Baker. He has a lot of experience with the long game and obviously we are going to be fine, but it's something that we need to literally monitor everyday with the situation, with what's going on around us and with the potential schedule.
 IS IT WEIRD MENTALLY KNOWING THAT YOU SHOULD BE RACING RIGHT NOW AND THE SERIES ARE ALL MOVED AROUND? Yes, it is weird. And another weird thing is that we want to take some vacation right now but there's not really much we can do for said vacation. It's hard not to overstep any guidelines or boundaries. It's just a strange deal, but everybody is dealing with the same thing, I guess.