ZAP'S ANAHEIM 2 SUPERCROSS PIT COVERAGE & THE RACE RESULTS

The story of the night was Ryan Dungey's DNF. What super exotic unobtainium piece of factory fluff blew up? None of them. Instead, he threw his chain. Photo: Hoppenworld.
PRESS RELEASE: Ashley Re-Joins Team Honda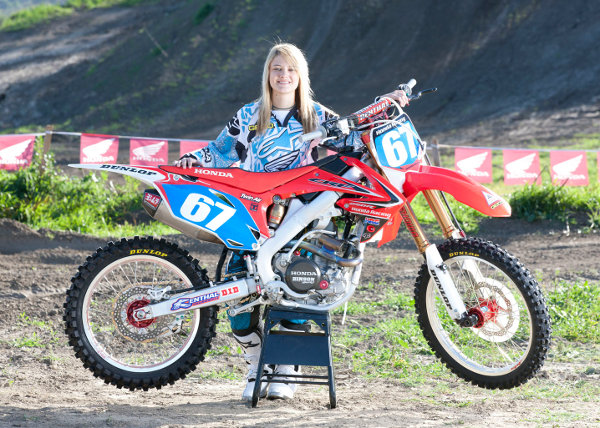 American Honda is proud to announce that two-time WMA Women's Motocross Champion and two-time X Games Gold Medal winner Ashley Fiolek will be racing once again in 2011 with the American Honda Racing factory team. Fiolek will join American Honda Racing teammates Trey Canard and Josh Grant and will campaign for a third WMA title in 2011 on Honda's CRF250R.
After a successful amateur-racing career that saw her win 13 amateur national titles and more than 100 races, Fiolek made her full-season professional racing debut in 2008, winning the WMA Women's Motocross Championship in her first attempt and garnering unprecedented mainstream and enthusiast media coverage. She followed up that success with much more: joining the American Honda Racing Team in 2009, she secured the WMA Championship for the second year in a row and also earned a gold medal in the Nhighly popular X Games competition. After finishing 2010 as runner-up in the WMA series and collecting X Games gold once again, this year she will vie for another WMA title and compete in the 2011 X-Games competition plus other select events. For more information on Team Honda, head to: Honda Racing team

PRESS RELEASE: Tony Goes Spy


Spy proudly welcomes Antonio Cairoli to the elite SPY+ motocross team. Born and raised in Italy, Antonio Cairoli is a four-time motocross world champion with an impressive record. He's won two championships in the MX2 class (2005, 2007) and two championships in the MX1 class (2009, 2010). Currently Antonio is back in Italy training for the 2011 GP season and is amped on working with the SPY+ team. Be sure to watch him defend his coveted crown and championship title at the MX1 class in the World Motocross GP's starting April 10th, 2011. Read more about Antonio Cairoli.

MXA MINI-VIEW: Brian Lunnis – Hands On As Ever


There's no question that the sport of Supercross, and more certainly, the marketing of it, is skewed with a bias for the more youthful among us. From the scantily clad girls, high-decibel rap music, and U.S. Marine recruiters, the kids are a prime focus of much of the Supercross promotional muscle. Still, every Supercross is always full of a myriad of old guys running through the pits, each with their own story to tell about what the sport was like back-in-the-day and what role they played in the sport's formation. With their graying hair, sensible dress and lack of tattoos or lip rings, these are the guys who stand outside the team trucks going unnoticed by the modern motocross fans. And yet, some of these AARP card carrying old coots have more real motocross pedigree than at least half the field of young groms trying to qualify for the night program.
Take Brian Lunnis for instance. If he bumped into you in the pits you'd think he was just some old geezer looking to get his photo taken with the Rockstar girls. However, this is one old man who knows more about the inner-workings of the sport in his index finger than 75% of the people in the pits combined. Brian started life in the sport waaay back in 1972 as a factory Suzuki mechanic wrenching for the likes of Bryar Holcomb, Mike Runyard and Billy Grossi. After four years there, he did a two-year stint working for Scott USA (where helped in the development of the Roll-Off and Scott boot). Then Lunnis headed back to the factory box truck as a mechanic for Team Honda in 1978. His first rider was Englishman Graham Noyce, followed the next season by Warren Reid. What came next was a tally of working with some of the greatest names in American motocross history: Donnie Hansen, Johnny O'Mara, Bob Hannah and Ricky Johnson.

Talk about star power – the 1979 Team Honda wrecking crew included (back row): Warren Reid, Jimmy Ellis, Marty Tripes, (team manager) Gunnar Lindstrom, Marty Smith, Gary Semics and Steve Wise. Up front included: Brian Lunnis, George Ellis, Jon R, Dave Arnold, Merle Anderson and Cliff White.
Following his stint with Honda, Brian next found himself working with Damon Bradshaw and Mike Craig at Yamaha. In 1995, Brian closed his storied career wrenching for Damon Huffman at Kawasaki. Asked what it was that finally made him call it quits, Lunnis replied, "I had had enough of working with talented kids who didn't want to do anything."
After spending two and half decades going to the races every weekend, what did Lunnis do when he left motocross? He got a job with Dan Gurney and started spending every weekend at the NASCAR races. In 2005 Lunnis left the race track for good. Well, not really. You see 15 years earlier, Brian had come up with an idea about making a glove specifically designed for mechanics and by 2005 it had become an empire in of itself ? Mechanix Wear.

Brian Lunnis today – still going to the races and still developing products for racing.

MXA: What were the roots of Mechanix Wear?
Brian: Back in 1990 the U.S. had an embargo on Chinese cotton so all of a sudden we couldn't get the white cotton gloves we all used to wear. Around the same time I had some friends in NASCAR and I noticed that they were wearing baseball batting gloves, but those gloves would only last one race so they were going through them fast. When I was still with Honda I started playing with designing a special glove for mechanics. When I started working with Damon Bradshaw, he was sponsored by AXO and I had known (company owner) Jim Hale from all the time he had been trying to hire RJ, so I started with them. Kenny Safford was the chief designer and we started working on different types of gloves. All the motocross gloves were too thick and I told him we needed something thinner to work on the parts. I think the first one we used was trials riding glove and I took it home and started cutting it up. In 1991 I took my first pair to the track. They were called "Mechanix Glove."
MXA: Do you do any special gloves for the car guys?
Brian: Yeah, we do custom gloves for some guys. There was a guy without a finger so we did a glove for him and we make some triple X large gloves for a few of the guys ? some of those guys are pretty big you know! We also make special gloves for the tire carriers, which we don't sell, that have a special sticky palm. We don't sponsor mechanics like the clothing companies sponsor riders, but Mechanix Wear has a big contingency program for NASCAR, motocross and drag racing teams.
MXA: Since then the growth has been more than huge, how did that come about?
Brian: The point I made to Jim was that instead of sponsoring just one rider, he could get a whole team. It wasn't until I took him to a NASCAR race at Sears Point that he really saw the potential. I think our first NASCAR team was the # 3 car (Dale Sr.) with Richard Childress. From there we really started focusing on the product. Besides doing a lot of work with different materials, Mechanix Wear gloves were successful because of our focus on the fit and feel. A lot of it also comes from Jim and his success at AXO. For him it's simple, we won't make junk. The motorcycle shops never really took off, but with the car guys we're really popular.
MXA: I know this is kinda a loaded question among all the old guys, but what's your impression of the sport between now and back-in-the-day?
Brian: I always consider myself lucky to have been involved in the sport through so many stages. I went through twin shocks mounted on the back of the bike to laid down shocks, to single shocks to linkage and from air-cooled to water-cooled. The only thing I missed was the four-strokes. The sport is big now and I remember how for so long the industry kept wanting it to be big, but it always just came down to talk. One problem that I see now that's worse is how the industry has allowed to the riders to get so full of themselves. I've seen Jimmy Johnson, a five-time NASCAR champ, take the time out to greet people countless times, but at A1 and Dodger Stadium I watched how the riders wouldn't spend ten seconds with the fans. At one truck I saw a rider being fed posters to sign and he never even looked up ? zero interaction with the fans! You know, it's not all of them, but guys like Pastrana, Ricky Johnson and Bob Hannah still stand out for how they treated thir fans. They understood that it's the cash paying customer that allows them to ride motorcycles for a living. I remember so many Nationals where I'd be loading Hannah's bike in the box van in the dark because he kept signing autographs for so long after the race.

Bob "Hurricane" Hannah rates as Brian's favorite rider.

MXA: I don't know if this is a fair question, but of all the riders you worked for, do you have a favorite?
Brian: I'll get in trouble with RJ here, but I have to say Hannah. He was the most motivated rider I ever saw. Ricky was close, but I had to motivate him more, still he was fun to be with. RJ was fun-loving and that helped as a mechanic.
AND NOW FOR A STROLL DOWN A2 PIT ROW


Quite a few riders felt the A2 track was the most challenging so far this year. In practice, James Stewart was the first and only rider to make a quad jump into the lower right corner.

Here's the official track map.

Anaheim Stadium went pink once again as the AMA Supercross did its part to support breast cancer awareness.

Of all the bikes with pink graphics, the Hart& Huntington/Dodge bikes made the best effort.

Here's Davi Milsaps' JGR pink bike.

The L&M team did a good job with the pink graphics, leaving the production blue fenders on for accents. The pink Matrix bike stand really stood out.

Chad Reed made an understated effort, but his (brighter) pink Shift gear made up the difference.

Three virtual motocross pioneers: USGP promoter Gavin Trippe, "The Professor" Gary Bailey, and Scott USA's Bevo Forte. The ancient MX lore these three have between them would fill volumes.

Legions of modern day MX fans might think the "Bro Show" on the back of James Stewart's pants is the coolest thing…but wait a minute…shouldn't that say "Bro Sho #2"? Afterall…

Andy Jefferson was the original "Bro Sho" back in the '80's when he rode a Pro Circuit Husqvarna. Yo James, how about showing a little respect.

Sports fans that they are, the Truth MX Team eschewed the pink theme and instead ran some respect for the following days NFL Superbowl. Ben Evans flew the colors for the Green Bay Packers…

While Bryce Vallee rode with the Pittsburgh Steelers.

Over at the Scott truck, Bevo, Joe and John were serving up festive pink "Mexican donuts" and custom pink framed goggles.

The sticker that reminds Suzuki mechanics that these are Ryan Dungey's race forks.

Ryan Villopoto talks shop with injured teammate Jake Weimer who was replaced at Anaheim 2 by Frenchman Fabien Izoird (who finished 19th in the main).
FASTEST 250 CLASS QUALIFIERS
1. 100 Josh Hansen…57.560
2. 19 Eli Tomac…58.314
3. 23 Martin Davalos …58.588
4. 35 Kyle Cunningham…58.697
5. 194 Ken Roczen…58.721
6. 36 Cole Seely…58.916
7. 20 Broc Tickle…58.977
8. 58 Travis Baker…59.542
9. 66 James Decotis…59.594
10. 592 Jake Canada…59.719
FIRST 250 ALTERNATE
41. 61 Austin Howell…1:05.817
FASTEST 450 CLASS QUALIFIERS
1. 1 Ryan Dungey…56.401
2. 7 James Stewart…56.730
3. 10 Justin Brayton…56.777
4. 2 Ryan Villopoto…56.825
5. 41 Trey Canard…57.042
6. 11 Kyle Chisholm…57.316
7. 22 Chad Reed…57.325
8. 18 Davi Millsaps…57.723
9. 29 Andrew Short…57.848
10. 14 Kevin Windham…57.971
FIRST 450 ALTERNATE
41. 732 Tye Hames…1:03.918
NOW FOR THE OFFICIAL RACE STORY…
Stewart Victorious Before a Sold Out Crowd at Angel Stadium
Injured Hansen Pulls off Third 250 Class Win

Mike Alessi (800) finally ran near the front, not to mention that he made the main event this weekend. He faded, but still had a better night than Ryan Dungey (1). Photo: Hoppenworld.

Team San Manuel Yamaha's James Stewart led tonight's Monster Energy AMA Supercross race at Angel Stadium wire to wire, en route to his third victory of the season before a 45,050 fans. Despite breaking his left pinky finger in practice today, Monster Energy/Pro Circuit/Kawasaki's Josh Hansen won his third 250 West main event and extended his championship points lead to eight over his teammate, Broc Tickle.
Stewart led the field through turn one and began to distance himself from the field in the Supercross class feature. Monster Energy Kawasaki's Ryan Villopoto rode in the number-two position for all 20 laps of the main event. TwoTwo Motorsports' Chad Reed finished third.
"The track was slippery tonight, but I had to ride hard and ride smart," said Villopoto. "I've learned from a few mistakes I have made this year, so I am happy to finish second and move on to next weekend's race in Houston."
Stewart extended his championship points lead to five over Villopoto.
"I am so proud of everyone on my team for making this happen," said Stewart. "It's awesome to come here and win in front of a sold-out crowd here at Angel Stadium. I am out here racing against the best guys in the world, so this is never easy."
Defending Supercross class champion Ryan Dungey did not finish tonight's race due to a mechanical failure.

This is what a real privateer bike looks like?Bruce Rutherford used it for an 8th place finish in the 250 class?first real privateer.

In the 250 West, Hansen, Geico Honda's Eli Tomac and Red Bull KTM's Ken Roczen carved their way through turn one with just inches separating them at the start. On lap two, Roczen moved around Tomac, but five laps later, Tomac returned to the number-two position. Tomac and Hansen traded places for the lead on lap 10 before Hansen used an aggressive move to secure the lead and ride to his third race win of the season. Tomac finished second and Roczen finished third, marking the first podium of his career.
450 CLASS RESULTS
1. James Stewart, Haines City, Fla., Yamaha
2. Ryan Villopoto, Poulsbo, Wash., Kawasaki
3. Chad Reed, Tampa, Fla., Honda
4. Justin Brayton, Cornelius, N.C, Yamaha
5. Trey Canard, Shawnee, Okla., Honda
6. Andrew Short, Smithville, Texas, KTM
7. Ivan Tedesco, Murrieta, Calif., Kawasaki
8. Kevin Windham, Centerville, Miss., Honda
9. Brett Metcalfe, Lake Elsinore, Calif., Suzuki
10. Davi Millsaps, Carlsbad, Calif., Yamaha

They are equal at the start of A2, but are eighth (Windham), sixth (Metcalfe) and first (Stewart) in the points standings.
450 SEASON STANDINGS
1. James Stewart? 117
2. Ryan Villopoto? 112
3. Chad Reed? 90
4. Trey Canard ? 87
5. Ryan Dungey? 79
6. Brett Metcalfe? 67
7. Andrew Short? 64
8. Kevin Windham? 59
9. Justin Brayton? 57
10. Ivan Tedesco? 48

Ken Roczen got something to take home to Germany (when he leaves after San Diego in two weeks). Oh yeah, he does get to take home a bunch of bruises too. Photo: Hoppenworld.
KenRoczensaid, "I liked the track right from the start today. It really suited my style and I was able to throw some pretty big whips right from the start. I was happy with my heat finish. I had a cold all last week and wasn't sure how I would feel once we were racing, but I didn't get tired and never had to cough. I felt good. My heat race definitely helped give my confidence heading to the main event. It feels really good to be on the podium and to put a solid race together. This was the first race where I did not suffer from arm pump and I also didn't crash in the main event. I am very happy to finish safely and run the pace of the top guys. This is a step in the right direction and I'm excited for the next round."
250 WEST RESULTS:
1. Josh Hansen, Elbert, Colo., Kawasaki
2. Eli Tomac, Cortez, Colo., Honda
3. Ken Roczen, Mattstedt, Germany, KTM
4. Broc Tickle, Holly, Mich., Kawasaki
5. Kyle Cunningham, Aledo, Texas, Yamaha
6. Martin Davalos, Cairo, Ga., Suzuki
7. Ryan Morais, Murrieta, Calif., Suzuki
8. Bruce Rutherford, Murrieta, Calif., Kawasaki
9. Ryan Marmont, Woonona, Australia, KTM
10. Jimmy DeCotis, Peabody, Mass., Honda
250 WEST SEASON STANDINGS
1. Josh Hansen? 113
2. Broc Tickle? 105
3. Eli Tomac? 91
4. Ryan Morais? 84
5. Cole Seely? 70
6. Ken Roczen? 69
7. Martin Davalos? 60
8. Kyle Cunningham? 60
9. Tyla Rattray? 58
10. Jimmy DeCotis? 51