ZAP'S ANAHEIM 2 SUPERCROSS PRELUDE
BUT WAIT, FIRST A BRIEF HOUSTON SUPERCROSS PRELUDE


Jimmy Weinert and his factory Kawasaki racing under the Big A back in the day.

Former AMA500 National Champ Jimmy Weinert will showing up at Houston with his new 250 East Coast Supercross team which is comprised of: # 709 Tyler Bright, #89 Taylor Futrell and #244 Ryan Zimmer. Besides his new team, "The Jammer"  is also pleased to announce the arrival of his new training facility. For more info, head to Weinert Motocross Academy.

And speaking of Tyler Bright….


Besides getting signed to Weinert's team, Tyler also just signed a deal to race with the new Skorpian VX-24 helmet featuring their unique AIRFIT technology that allows the rider to inflate the cheek pads to get a more personalized fit. For more info on the $140 helmet, head to Skorpian USA.
AND SPEAKING OF SOMEONE ELSE WHO WON'T BE RACING A2…


SoCal's own Michael Leib is the latest young American to follow in the footsteps of Brad Lackey, Danny LaPorte, Trampas Parker, and Zach Osborne to head overseas in search of motocross fame and glory. Instead of cruising the pits at A2, Michael is over in Italy prepping for the MX2 series to begin as a member of the factory Husqvarna team. To follow his exploits, head to his blog – Michael Leib.

NOW, AS FOR THE A2 RACE NOTES
Don't forget that A2 is a designated PINK race in recognition of the fight against breast cancer.
TELEVISION COVERAGE: 
Feb. 6……..Anaheim…Speed……..6:00 p.m. ET
Since 2001 Anaheim has hosted three Supercross class races. Only twice have three different riders won main events. In 2002, David Vuillemin, Mike LaRocco, and Ricky Carmichael each won a race in Anaheim, and in 2010, James Stewart, Ryan Dungey, and Ryan Villopoto.
First Time Supercross Winners in Anaheim
1979: Kent Howerton
1982: Donnie Hansen
1983: David Bailey
1984: Johnny O'Mara
1990: Damon Bradshaw
1993: Jeremy Mcgrath
2003: Chad Reed
2009: Josh Grant
* Chad Reed will be racing for his seventh Supercross class win in Anaheim
* James Stewart will racing for his eighth Supercross class win in Anaheim
450 Class Stats:
* The first race in Anaheim was held on December 4, 1976, and Marty Smith won a Honda.
* This race marks the 55th time the gate will drop for a Supercross class race in Anaheim.
* Anaheim holds the record for hosting the most Supercross class races.
Supercross Wins by Brand in Anaheim
Honda-19
Yamaha-19
Kawasaki-9
Suzuki-7
Three different brands won 450 class races in Anaheim last year, Kawasaki, Suzuki and Yamaha
125/250cc EAST SUPERCROSS STATS:
* First race was held on February 2, 1985, and Mike Healy won on a Suzuki
* This will be the 47th time the gate will drop for a 125/250cc Supercross race in Anaheim.
Supercross 125/250cc East Wins by Brand in Anaheim
Kawasaki-22
Suzuki-8
Honda-7
Yamaha-6
KTM-3
DUBACH GOES PINK


Dubach Racing Development is proud to announce that all DR.D supported riders and teams will "Go Pink for A2".  Working in support of Monster Energy AMA Supercross, DR.D heads to Angel Stadium in Anaheim California this Saturday for its second annual PINK themed race in support of finding a cure for breast cancer. Look for DR.D rider support at Team TiLUBE, Truth MX, and Shea Racing all will have Breast Cancer Awareness pipes on display.

MXA MINI-VIEW: Kyle Bentley

As much as the 2011 season opener at A1 brought the usual amount of musical chairs with riders switching teams, the same held true for a number of mechanics (or in modern parlance "technicians"). Kyle Bentley had been an imposing mainstay at Pro Circuit for years, but suddenly, there he was sporting a new team shirt under the Hart & Huntington/Dodge team tent.
I don't know Kyle Bentley all that well, but over the years I've grown to be an enthusiastic observer of him in his role as the lead wrench for Pro Circuit's French phenom Christophe Pourcel. I don't doubt that any of his mechanic contemporaries are any less dedicated or serious, and maybe's it's just his linebacker size that makes him more noticeable, but from the starting gates at the Las Vegas Supercross to Budds Creek I've continually found myself mesmerized watching him reach into a well versed bag of tricks to prep the gate for the former world champ.
If you want to know what it's like working for a World and National Champion as well as the most successful team in American motocross history, read on…
MXA: You've been one of Pro Circuit's more successful mechanics for the last few years working for Christophe Pourcel and now you're working at Hart & Huntington ? why the switch?
Kyle: Well, once Christophe was not going to stay I talked to Mitch and he wanted to go in a different direction. I took all of October off, got a few offers and while I was thinking about them I got a call from Hart & Huntington manager Kenny Watson. I knew Kenny from the days when I worked for Kyle Lewis at the Moto XXX team. They were looking for a guy to work with Ivan Tedesco in California and who could also work with Pro Circuit. Tony Berlutti is Ivan's race mechanic, but my role is to stay with Ivan during the week and take care of his practice bikes. Since Kawasaki dropped Pro Circuit pipes our team is now Pro Circuit's top 450 team, so it's important to have someone who knows how to work with Mitch.
MXA: How different is the atmosphere at the new team compared to Pro Circuit?
Kyle: I don't feel as much pressure, not so much from Mitch, but just from knowing what the expectation is from wearing that team shirt and working in the Pro Circuit tent. It's a little more laid back here, but we're at a different stage than Pro Circuit. We're in the development mode right now and with help from sponsors like Dodge, I definitely feel like we'll be there within a couple of years.
MXA: Was it hard getting the Kawasaki's up to speed so quickly?
Kyle: Not really, and again, that was helped by Pro Circuit not working with Kawasaki anymore. All the suspension and motor work had already been done.
MXA: When did you get started working for Pro Circuit? What was it like to work for Pourcel?
Kyle: I started there is 2006 working for Troy Adams. Then I worked for Brett Metcalfe and then Pourcel for the last two years. I really enjoyed working for Christophe. It's a cool feeling knowing that you're working for the most talented guy on the track. He never really rode a lot during the week so there wasn't much maintenance to do on the bike. Christophe believed in the product he used so he complained very little and just rode the bike.
MXA: Are you surprised that he's sitting out the Supercross season?
Kyle: No, not one bit. I knew Christophe before his injury (at the Irish GP in 2007) and he was the typical young and cocky kid. But after he got hurt he changed. He was more mellow and for him it's not worth the risk to be riding if he can't get what he feels he deserves. Basically, he doesn't feel like he has to settle for someone else's terms. After he got hurt at Pala he got a few different diagnoses from different doctors before he finally returned to France to ge surgery on his shoulder. After that he checked into a rehabilitation clinic for five weeks where he got constant therapy rebuilding his shoulder. Right now he's just been going skiing up in the Alps and waiting to see if he can get a ride for the outdoor series.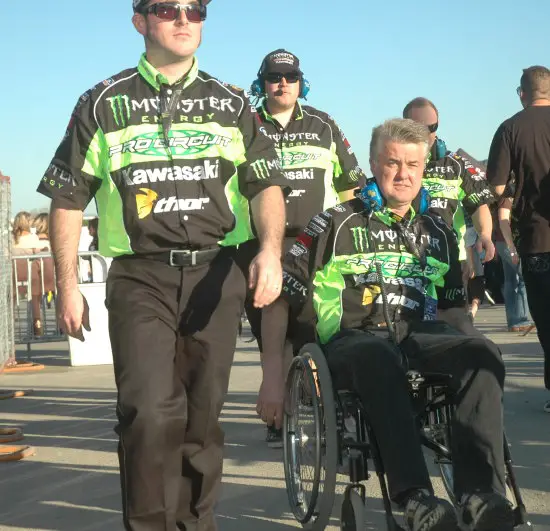 MXA: So much has been said about Pro Circuit's success ? what do you think the seed of it is?
Kyle: The way Mitch does is just the way you have to do it. Mitch has a lot figured out and he knows how his approach works. That's one reason he doesn't hire big-name mechanics. He hires young guys who don't have their own way of doing things and he can teach them the Pro Circuit way. The bottom line is that Mitch just wants to race and he does whatever it takes to make a successful program. Unlike some guys he's not in it to make money, that's not what it's about. If he only gets so much help from his sponsors but feels the program needs more he'll make up the difference himself ? he wants to win and that's the only focus.
MXA: What about working for Mitch, what was that like?
Kyle: Like I said, if you put on a Pro Circuit shirt, everybody knows who you are. It's like there's a certain aura that goes with truck and team. Everybody there knows it and feels it. It's a level of confidence and it does everything.
MXA: What about the new team? How different it is working with a team that's not tied so closely to a factory?
Kyle: It's actually based in Las Vegas and it's a really big deal for us to have a partner like Dodge working with us. Carey is really easy-going as a team owner and it's cool that he rides as much as he does. I built him two bikes, one for the track and one for freeriding. There's a definite budget with a privateer team that the satellite teams don't have. Well, they do have one but they kinda get to ignore it. We get our bikes and a parts allowance from Jacksonville Motorsports and we make our orders from them every week. With the factory teams you're changing parts more often and you probably replace a motor after ten hours whereas for us the motor gets changed after ten weeks.
MXA: What is your own history and what advice would you give an up and coming wrench?
Kyle: I actually got my start back when I was making pizzas in Huntington Beach. I liked dirt bikes and through a friend met a racer named Jimmy Wilson from Michigan who I helped out for four years. From there it was just being around the races and getting to know people. That would be my advice: find a local kid who has the ambition to be a Pro and do whatever it takes ? wash the bikes, get gas, help him at the races. I did it for nothing just to learn the ropes and meet the right people. You have to be committed and goal oriented and be ready to make a lot of sacrifices.

PRIVATEERS ON PARADE
RIDER: Michael Blose 


HOMETOWN: Phoenix, AZ.  SPONSORS: Red Seven, Twisted, Kronik Energy, Omega, Jett, FMF
RIDER: Parker Eckman


HOMETOWN: Tustin, CA. SPONSORS: Rockwell
RIDER: Travis Bannister


HOMETOWN: Calhan, CO. SPONSORS: Race Day Performance/Surprise Enterprise/Rocky Mtn Cycle/BAM/HR
RIDER: Ricky Yorks


HOMETOWN: Murrieta, CA. SPONSORS: Privateer Connection/Simi Valley Cycle/Yamaha/Motul/Milestone MX

RIDER: Kyle Calderini


HOMETOWN: Colorado Springs, CO.  SPONSORS: Colorado Powrsports/Race Day Performance/TLD/Harris Used Truck
RIDER: Antonio Balbi


HOMETOWN: Perris, CA. SPONSORS: 3B Racing, Duracell
RIDER: Nathan Malyszek


HOMETOWN: La Grange, KY. SPONSORS: Warthog Racing