ZAP'S MILANO SHOW COVERAGE – FINALLY, THE GRAND FINALE!
THE MILANO SHOW FINALE:
For as many years (since the early '90's) that I've been a guest of the Italian Trade Commission at the annual bike show in Milan, I have always come away with a deeper appreciation not only for Italy, but also motorcycles and, especially, the people who ride them. The goal of the ITC is to promote Italy and Italian-made products and so each year they invite a contingent of international journos over to the fashion capital to attend the bike show and make some side trips. It's always proven both entertaining and educational to rub elbows and pass pizza between fellow two-wheeled ink slingers.
This year, the group was afforded the opportunity to hang out with American racing legend Don Emde, who now runs his own publishing company. From various races to the annual Indy motorcycle show, I've seen Don many times over the years and I've always harbored a keen interest to find out more about his legacy as a history-making road racer. Well, this year I finally got the chance and as we passed our caprese salads and glasses of red wine back and forth I peppered him endlessly with back-in-the-day queries, one night even making his own history part of a group wide trivia question contest.
In short, Don (right) was a not only part of a third generation family of throttle twisters, but also a one-time BSA factory rider. However, it was his win at the Daytona 200 in 1972 that provided him his greatest career glory?although it had to be shared with another rider! No, Don did not win the race with a passenger aboard. In fact, Don and his father Floyd are the only father and son winners of the prestigious Daytona 200. Floyd was the last winner on an Indian in 1948 and Don was the first rider to take a win on the paved banks aboard a two-stroke (Yamaha TR350) in 1972. Wow.
I bring this up as much to celebrate the good time we had in Italy as to remind us all about the rich legacy of American racing lore. I bring all this up because Don's brother David, along with Honda Baja ace Bruce Ogilvie, MX tech genius Eyvind Boyesen, JT Racing founders John and Rita Gregory and our own Mitch Payton were among the class of class acts that were inducted into the AMA Hall of Fame this past weekend in Las Vegas. Lastly, I also bring all this up because David, Bruce and now Eyvind are no longer with us and so I think it is also incumbent of everyone with a passion for racing to needle the old guys to get a sense of their history?because as racers, it's all of our history.
NOW, ON WITH THE SHOW
The Milan show has always been a late season attraction for numerous racers from many different disciplines. From the royalty of 15-time World Champion Giacomo Agostini (the GOAT of the pavement community) to enduro champ David Knight, and including 2011 Team Husky MX2 runner Michael Leib, the racers have always helped put the defining touch on what is already a spectacular event. With the exhibit halls located on a huge piece of property, besides the static bikes there is plenty of on-site race action with both Supercross and Supermoto events held on the weekend. This is when the show evolves from a crowded industry only show (Wednesday-Friday) to a super crowded weekend consumer show. Again, MXA would like to offer up a sincere "grazie mille" to the Italian Trade Commission for all their year-after-year hospitality and two-wheeled enthusiasm. Remember, the Milan motorcycle show takes place every year and is open to the public – do yourself a favor and plan a trip around it next year.
In case you missed the previous installments from Milano:
Part One
Part Three
 


Speaking of the racers, Valentino Rossi had his own schwag shop set up in Milan that was doing a brisk business.

As an Italian born company, Acerbis Italia naturally goes big at the Milano show as they made sure everyone knows that they aren't just a plastic company anymore.



Like many other aftermarket companies, Acerbis as jumped on the helmet bandwagon with a wide variety of graphics.



Oh yeah, Acerbis is still big in the world of plastic handguards and body parts.
NEW BIKES FROM BETA

The flagship of Beta Motorcycles remains to be the RR line of four-stroke enduro bikes. For 2011 there are three sizes ? the 400, 450 and 520 RR models. All three machines share the same size chassis and engine platform and all three also share the same upgrades for the '11 model year. The 2011 RR motors (400/450/520) get a quieter cam chain tensioner, improved electric starting and new clutch components. The RR chassis also boasts several key updates including a revised frame sporting a red color ? a throwback to the ?70s Betas ? and an added head stay. Also new are the 50mm Marzocchi Shiver fork tubes (up from 45mm in 2010) which reduce flex without being harsh. The upper triple clamp provides the adjustable bar mounts which allow for six different bar positions.



Like many of their competitors, Beta too has realized the importance of offering a strong aftermarket parts catalog for their bikes. Here's a souped-up version of the RR520.



Beta also has a strong history in the world of trials and they produce both two- and four-stroke models. All Beta motorcycles are handcrafted in Florence, Italy.

THE MOSAIC OF MILAN


Obviously somebody has been studying the Troy Lee catalog on how to master the art of flames.

Who says electric bikes can't look cool? Here's a race version of the electric Brammo Empulse.

And here's the $9995 production version that's capable of 100 mph.

As usual, the Honda booth was chock full of race bikes of every kind.

HARLEYS IN ITALY


As cool looking as the new Harley Davidson XR1200 is, it still isn't a bike that would seem fun to race. But, in both Europe and America there is a thriving XR race series.



This modern XR1200 was disguised as the classic 1978 Harley XLCR that was a failure on the sales floor, but a big hit as a vintage bike due to its rarity.



This bike was the most radical found in the hot rod arena.



Don't let the factory Yamaha inspired "bumblebee" paint scheme fool you?this bike is pure Harley.  



Talk about a melding of classic twin- cylinder icons?don't let the Ducati tank fool you?this bike is pure Harley too!



Over the last few years some of the wildest bikes on the planet have come out of the CR&S shop in Italy. The CR&S bikes look like nothing else on the road.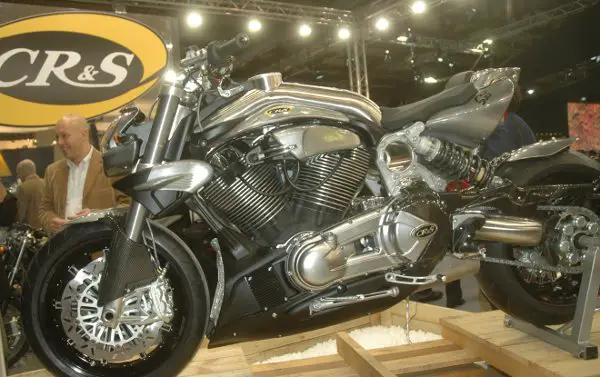 Massive is the perhaps the best word to describe this cubic cruiser.

With their myriad of detailed parts, the CR&S bikes are rolling pieces of art.

The motor on the latest CR&S Due is supplied by American V-twin maker, S&S. Note the tubular gas tank that doubles as frame tube over the motor.



If you see these headlights in your rear view mirror, roll the window down, pull over and get ready to get blasted!



The most talked about bike in the Yamaha booth was the new ready-for-business Super Tenere.



Two-strokes continue to make as much sense as a race bike in Europe as they do in America – founded in 1968, the Italian based Fantic Motors stays true to the cause!



For both street and off-road use, and both production and after-market spec, Ohlins suspension remains very popular in Europe.

One of the most beautiful, if not a bit Gucci, Triumphs ever made.

Not every race bike on display was used by an internationally known star…over at the Spark exhaust booth you could find the bike of the 2010 MX2 European champ, Steven Lenoir.
ON A PERSONAL NOTE….

Just as I was completing this last chapter of my Milan show coverage, I got the call about Rich Eierstedt's passing. Jody already gave Rich a fitting tribute, but I just wanted to add my own farewell. I only knew Rich from his later days hanging out with the MXA crew at Glen Helen and try as I might to not glom onto him and assault him with questions about the '70's (like I do all the old-school racers), I usually failed. Rich was a super nice guy who was also super competitive. Rich also helped pioneer the sport of motocross in America?and for that we should all be grateful.