2021 AMA NATIONAL MOTOCROSS CHAMPIONSHIP: WINNERS, POINTS & WHAT'S UP NEXT
Some of the early surprises have cooled off, while some of the cold fish racers from the first couple rounds have heated up. Is it too late for riders like Tomac, Sexton and Plessinger to make a charge?
2021 AMA NATIONAL CHAMPIONSHIP POINTS HEADING TO UNADILLA IN ONE WEEK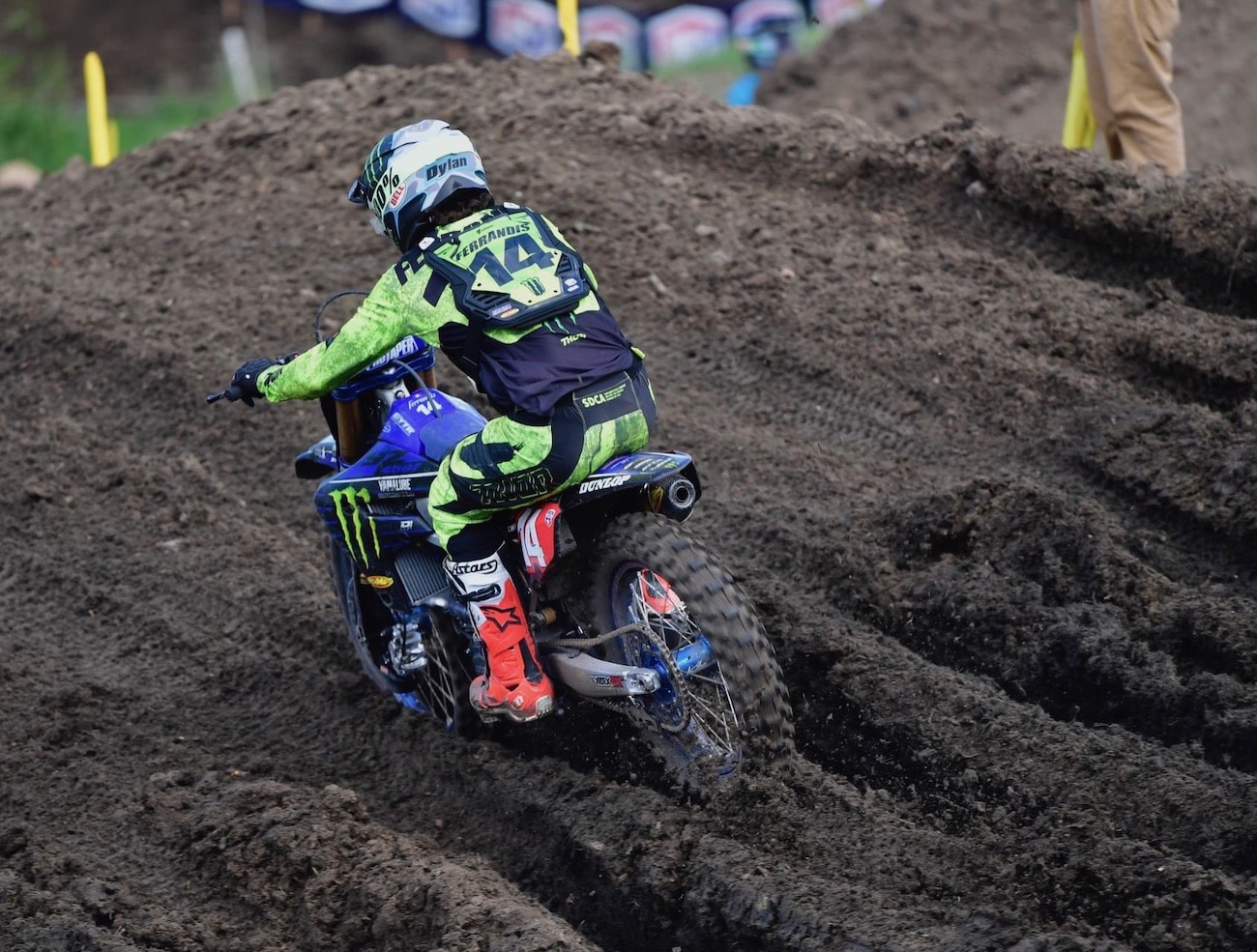 Dylan Ferrandis left the MXGP series because he had aged out of the 250 class and didn't want to move the the 450 class, it was the probably the best financial move any GP rider every made. Now he's a full-blown 450 star.

Justin Barcia flirted with third in 450 points after Millville, but Eli Tomac took it back at Washougal, but the next AMA National is in Barcia's home state of New York. Can he take third back in front of the home crowd at Unadilla on August 14?

450 AMA NATIONAL POINTS STANDINGS
(After 7 of 12 rounds)
1. Dylan Ferrandis (Yam)…303
2. Ken Roczen (Hon)…256
3. Eli Tomac (Kaw)…249
4. Justin Barcia, (Gas)…239
5. Chase Sexton (Hon)…238
6. Aaron Plessinger (Yam)…218
7. Christian Craig (Yam)…182
8. Marvin Musquin (KTM)…177
9. Cooper Webb (KTM)…177
10. Adam Cianciarulo (Kaw)…147
Jeremy Martin (6) is the winningest rider in the 2021 AMA 250 Nationals, but sadly, Jeremy is 61 points out of first place with only 5 National left.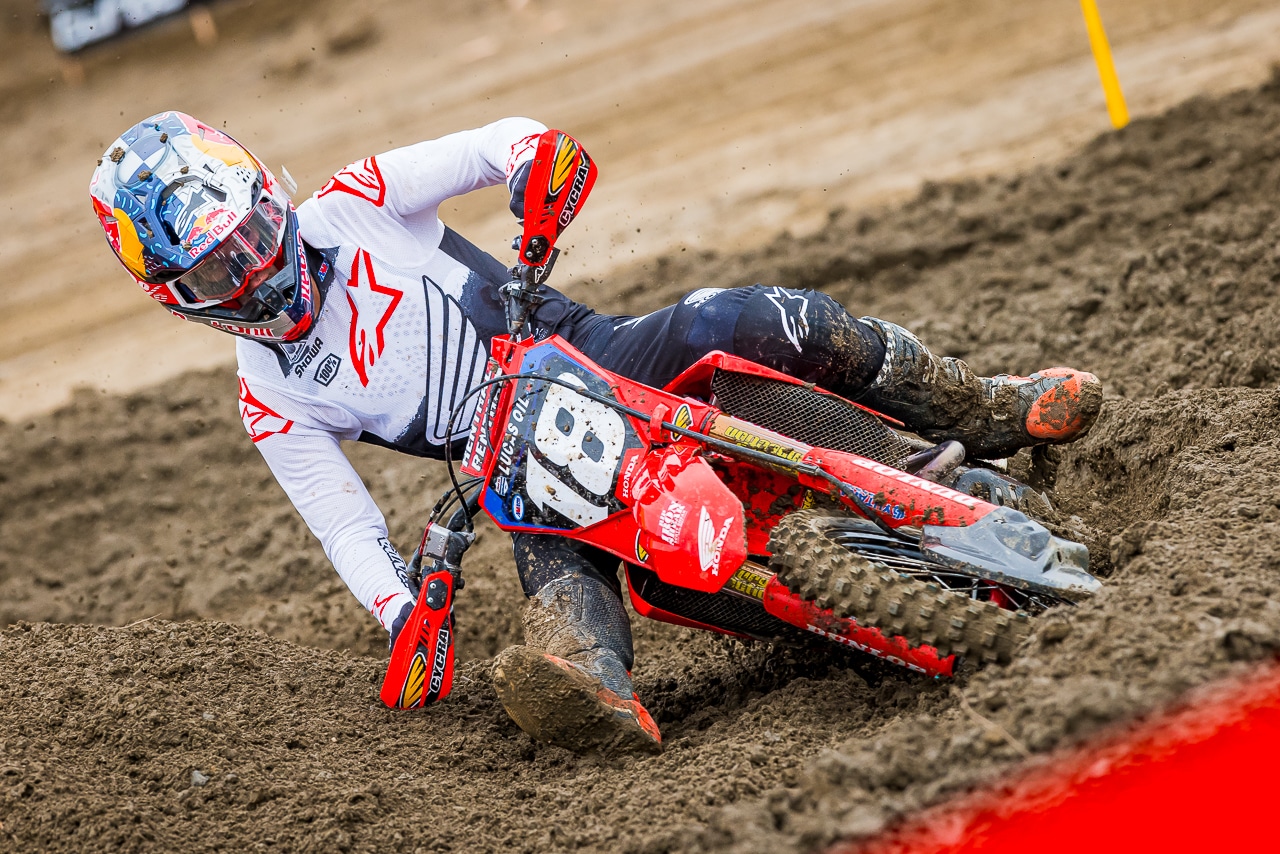 Based on rabid fans and pure speed, you'd think Jett Lawrence had won all seven 250 Nationals this season instead of just one, but he has developed into a come-from-behind hero to salvage his bad starts and crashes. Jett is only 8 points out of the 250 National Championship points lead.
250 AMA NATIONAL POINTS STANDINGS
(After 7 of 12 rounds)
1. Justin Cooper (Yam)…281
2. Jett Lawrence (Hon)…273
3. Hunter Lawrence (Hon)…237
4. Jeremy Martin (Yam)…220
5. R.J. Hampshire (Hus)…205
6. Jo Shimoda (Kaw)…178
7. Colt Nichols (Yam)…172
8. Michael Mosiman (Gas)…154
9. Jalek Swoll (Hus)…148
10. Garrett Marchbanks (Yam)…124
2021 AMA NATIONAL MOTOCROSS WINNERS AT A GLANCE
Chase Sexton (23) became the fourth different rider to win a 450 National this season—they are Ferrandis, Roczen, Barcia and Sexton.

Justin Cooper won round two in Colorado, but has relied on consistency to work his way into the 250 National Championship points lead with five races to go.

Venue                                                                       450                                    250
May 29…Pala, CA………………………Dylan Ferrandis…………..Jett Lawrence
June 5….Thunder Valley, CO…….Ken Roczen………………….Justin Cooper
June 19…Mt. Morris, PA…………..Dylan Ferrandis……………Jalek Swoll
July 3…Red Bud, MI…………………..Dylan Ferrandis……………R.J. Hampshire
July 10…Southwick, MA…………..Dylan Ferrandis…………….Hunter Lawrence
July 17….Millville, MN……………..Justin Barcia………………….Jeremy Martin
July 24….Washougal, WA…………Chase Sexton………………..Jeremy Martin
Aug. 14…Unadilla, NY
Aug. 21…Budds Creek, MD
Aug. 28…Crawfordsville, IN
Sept. 4…Pala, CA
Sept.11…Hangtown, CA
450 points leader…Dylan Ferrandis
250 points leader…Justin Cooper
KEEPING TRACK OF THE 2021 RACE SCHEDULES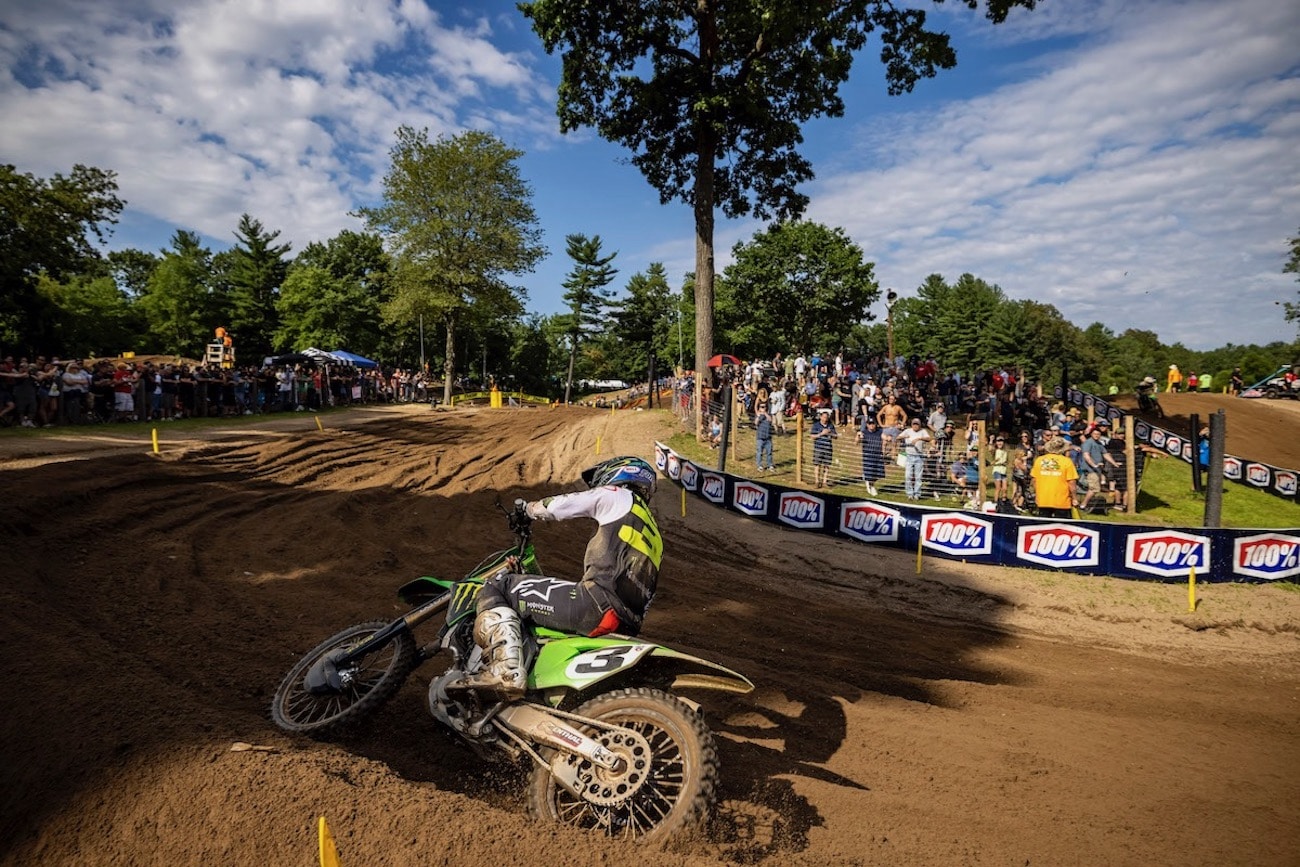 Eli Tomac has clawed his way back from tenth in the 450 standings to third and he did it without winning a 450 overall. Eli is currently 54-points behind points leader Dylan Ferrandis. That means he is one full race behind in points.

2021 AMA NATIONAL MOTOCROSS CHAMPIONSHIP (REVISED)
May 29…Pala, CA
Jun 5…Thunder Valley, CO
June 19…Mt. Morris, PA
July 3…Red Bud, MI
July 10…Southwick, MA
July 17….Millville, MN
July 24….Washougal, WA
Aug. 14…Unadilla, NY
Aug. 21…Budds Creek, MD
Aug. 28…Crawfordsville, IN
Sept. 4…Pala, CA
Sept.11…Hangtown, CA
2021 FIM GRAND PRIX CHAMPIONSHIP (REVISED)
Jun. 13…Orlyonok, Russia
Jun. 27…Matterley Basin, England
Jul. 4…Maggiora, Italy
Jul. 18…Oss, Holland
Jul. 25…Loket, Czech Republic
Aug. 1…Lommel, Belgium
Aug. 8…Kegums, Latvia
Aug 15…Uddevall, Sweden (Canceled)
Aug. 22…KymiRing, Finland (Canceled)
Sep. 5…Afyonkarahisar, Turkey
Sep. 8…Afyonkarahisar, Turkey (Wednesday)
Sep. 19…Rio Sardo, Sardinia
Oct. 3…Teutschenthal, Germany
Oct. 10…Lacapelle, France
Oct. 17…Intu Xanadu, Spain
Oct. 24…Agueda, Portugal
Oct. 31…Trentino, Italy
Nov. 14…TBA, Argentina (Tentative)
Nov. 28…Borobudur, Java (Tentative)
Dec. 5… Bali, Indonesia (Tentative)