2021 INDIANAPOLIS SUPERCROSS 3 PRE-RACE REPORT: WE'RE BACK ON LIVE TV, THANKFULLY

2021 INDIANAPOLIS SUPERCROSS 3 PRE-RACE REPORT: WE'RE BACK ON LIVE TV, THANKFULLY
The 2021 Indianapolis Supercross 3 is almost here and after only two and a half weeks, we've already completed five Rounds of the 2021 Monster Energy Supercross season. The third Round of the Indianapolis triple-header is set to go this Saturday, February 6th, inside of the Lucas Oil Stadium. We've now seen two different tracks in Indy, the first one being a more technical track with slower speeds and the second one being a faster track with a little less traction. But, even with new tracks, the same winners have prevailed at both events at Indy thus far. Ken Roczen has been dominant at Indy in the 450 class and Colt Nichols has stayed consistent and won both 250 Main Events as well. These two point leaders head into Round six as the favorites, but it won't be easy for them. In MXA's Indy #3 Pre-Race Report, we added the NBC Sports Network TV schedule and Peacock TV online streaming times for qualifying and the night show. We also added the track map, the current 250 and 450 point standings, information about the POD seating structure and some insight to the viewership numbers Supercross got last weekend for Round 4 of the season.
---
2021 INDIANAPOLIS SUPERCROSS 3 TV & STREAMING SCHEDULE
Michael Mosiman led 7-laps of the 250 Main Event on Tuesday before running into a lapped rider. He's shown he has the speed to run with the Yamaha boys.
Thankfully, racing will be on live TV again on the NBC Sports Netowork for everyone who hasn't signed up for the $4.99 per month Peacock Tv subscription streaming service. The benefits have having the Peacock Tv subscription is that you can enjoy the Race Day Live coverage of qualifying practice and you can watch every race live, without commercials. Sadly, there are a few races this year that won't be shown live. Click here for the full TV schedule for the 2021 schedule and see below for the official TV and online streaming times for this Saturday, February 6th:
QUALIFYING SHOW 2:00 AM Eastern Time | 11:00 AM Pacific Time on PeacockTv.com.
NIGHT SHOW RACING –  8:00 PM Eastern Time | 5:00 PM Pacific Time on NBCSN & PeacockTV
MORE ABOUT PEACOCK TV:
Beginning with the start of the 2021 Monster Energy Supercross season on Jan. 16, NBC Sports' exclusive streaming coverage will move from NBC Sports Gold's "Supercross and Pro Motocross Pass," "Supercross Pass" and "Pro Motocross Pass" to Peacock Premium, which is available for $4.99 per month.
The Supercross and Pro Motocross packages included on Peacock Premium will serve as a one-stop-shop for all Monster Energy Supercross and Lucas Oil Pro Motocross Championship fans. Peacock Premium will offer comprehensive live coverage and on-demand replays of their respective 2021 seasons, including Supercross qualifiers and races, and Pro Motocross main practice sessions, qualifiers, Moto 1s and Moto 2s.
2021 INDIANAPOLIS SUPERCROSS 3 TRACK MAP
Once again, we have a new layout for the Indianapolis Supercross track. This time, there won't be an over-under and the first turn is a right hander again too. 
SUPERCROSS RELEASES TV AUDIENCE NUMBERS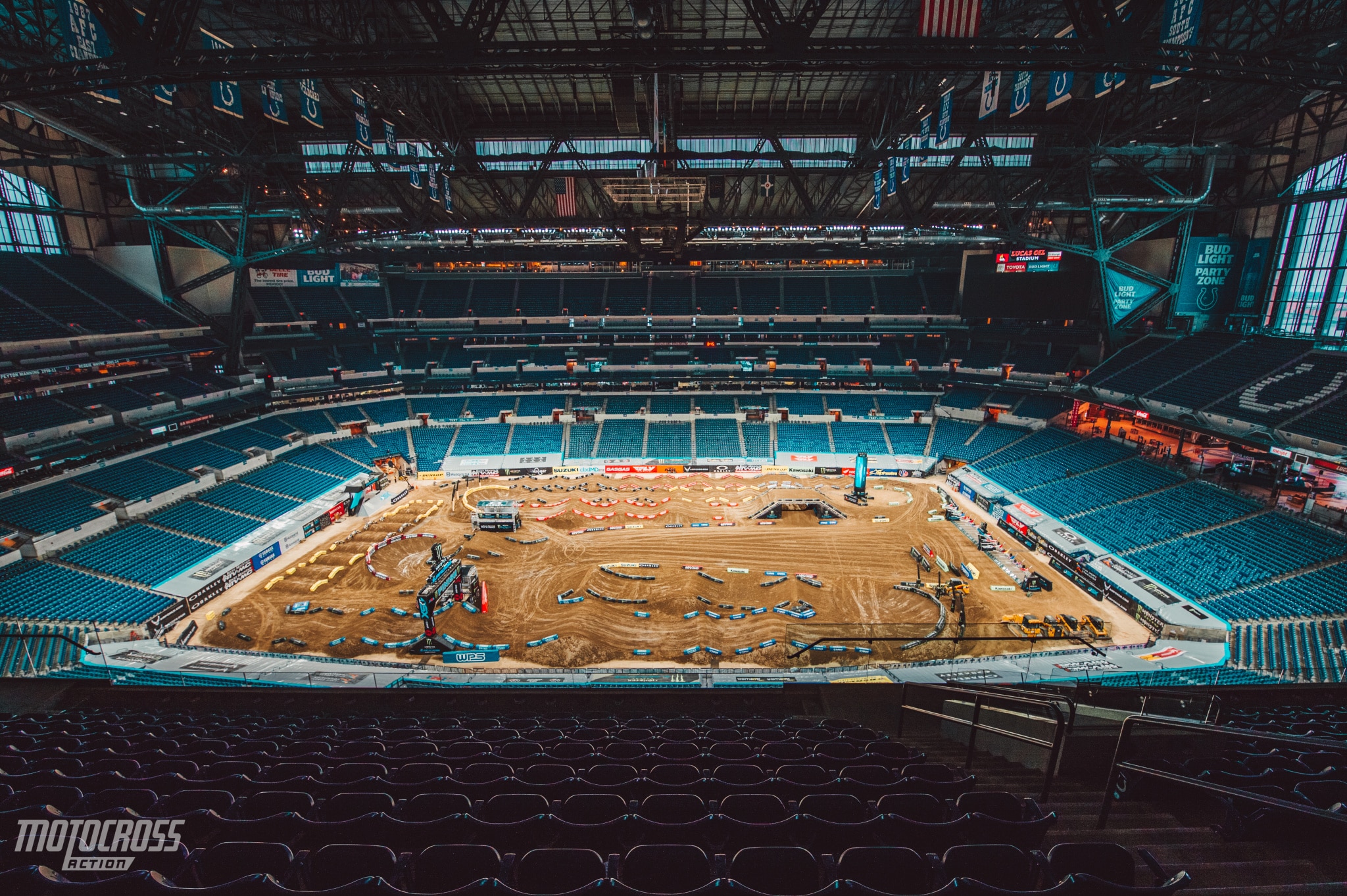 We don't usually get the data on how many people watched Supercross on the NBC Sports Network. Apparently Round 4 on Saturday was a big one for Supercross with a peak audience of 506,000 viewers on the NBCSN channel Saturday evening and 877,000 viewers when the show re-aired on the premier NBC channel Sunday. 
FELD Entertainment press release: Indianapolis, Ind., (February 4, 2021) Round 4 of the Monster Energy Supercross series, held at Lucas Oil Stadium in Indianapolis, Ind., drew an average of 320K total viewers and a peak audience of 506K, the fourth best delivery on NBCSN since last year's Round 10 race at Daytona International Speedway in Daytona Beach, Fla.
The following day re-air on NBC drew and even more impressive audience, delivering 877K total viewers as the "most-watched", in-season Supercross telecast (live or re-air) dating back to 2004's season opener. NBC ranked #7 (out of 137) in the time-period among all broadcast and cable networks with Men 25-54.
IN-PERSON VIEWING INFORMATION: "POD SEATING" STRATEGY
Here's a view of the spaced out style seating we've seen so far this season.
Via Supercrosslive.com: Based on government orders, public health advisories, and fan wellness protocols developed by Monster Energy Supercross in conjunction with venues, seating capacity will be reduced for upcoming events and tickets will be available for sale in pre-determined "pods" of seats. Pods will be physically distanced from one another.
Pod Seating must be purchased in their entirety and may not be divided. All tickets within a pod must be shared by people who have chosen to attend together. Sitting in any seat outside of your Pod Seating is not permitted. All pods are subject to availability. Each transaction may be subject to a pod limit and/or ticket limit at the time of purchase.
All fans age 2 and older are required to have a ticket.  Unless otherwise exempted by law, guests must wear a face-covering except when actively eating and drinking. Violation of ticketing policies will void your tickets.

2021 450 SUPERCROSS POINT STANDINGS AFTER 5 OF 17 ROUNDS
Ken Roczen has an impressive 13-point lead in the 450 class. 
| | | | |
| --- | --- | --- | --- |
| POS. | # | NAME | POINTS |
| 1 | 94 | Ken Roczen | 112 |
| 2 | 2 | Cooper Webb | 99 |
| 3 | 1 | Eli Tomac | 98 |
| 4 | 51 | Justin Barcia | 92 |
| 5 | 9 | Adam Cianciarulo | 87 |
| 6 | 14 | Dylan Ferrandis | 81 |
| 7 | 27 | Malcolm Stewart | 76 |
| 8 | 16 | Zach Osborne | 74 |
| 9 | 25 | Marvin Musquin | 73 |
| 10 | 7 | Aaron Plessinger | 70 |
2021 250 EAST COAST SUPERCROSS POINT STANDINGS AFTER ROUND 5 OF 9
Colt Nichols earned his third win in-a-row at Indy #2 and extended his points lead heading into the second half of the nine race 250 season. 
| | | | |
| --- | --- | --- | --- |
| POS. | # | NAME | POINTS |
| 1 | 64 | Colt Nichols | 122 |
| 2 | 29 | Christian Craig | 111 |
| 3 | 42 | Michael Mosiman | 97 |
| 4 | 30 | Jo Shimoda | 96 |
| 5 | 18 | Jett Lawrence | 83 |
| 6 | 95 | Joshua Osby | 71 |
| 7 | 241 | Joshua Varize | 57 |
| 8 | 49 | Mitchell Oldenburg | 54 |
| 9 | 55 | John Short | 54 |
| 10 | 76 | Grant Harlan | 52 |