2023 ARLINGTON SUPERCROSS PRE-RACE REPORT: TV SCHEDULE, INJURED LIST & MORE
2023 ARLINGTON SUPERCROSS PRE-RACE REPORT: TV SCHEDULE, INJURED LIST & MORE
The 2023 Arlington Supercross is up next and it's the seventh Round of the Monster Energy Supercross season and it's the second time the series visits Texas. It's been a whirlwind of a year for the team truck drivers (and privateers who drive to the races). The schedule was already wonky, to begin with, but the rescheduled Oakland Supercross added a few thousand miles of driving on a weekend that was originally scheduled to be off. The series went from Anaheim 2, to Houston, to Tampa, back to Oakland, and now back to Texas this weekend to race in Arlington (AKA Dallas). Then, the series heads back to Flordia next weekend for Daytona. Talk about zig-zagging across the country…
The Arlington SX is also set to be the second of three Triple Crown races this season. Chase Sexton won at the Anaheim 2 Triple Crown, and he's crashed while leading the last two races (Tampa and Oakland), so he's looking forward to the format with three 12-minute Main Events, rather than one long 20-minute Main.
This weekend's race is also the return of the 250SX East division, after a brief, one-week break. Hunter Lawrence, Jordon Smith, Haiden Deegan, Michael Mosiman, Jeremy Martin, Nate Thrasher, and the rest of the 250 East class are ready for their third Supercross of the season, and their first one without a sand section.
The Arlington Supercross will also host the second Supercross Futures race. With Haiden Deegan and Talon Hawkins already having advanced to the Pro ranks after the Future's race at Anaheim 2, the focus will be on A2 winner, Daxton Bennick, runner-up Casey Cochran, and up-and-coming rider, Julien Beaumer.
---
2023 ARLINGTON SUPERCROSS TRACK MAP
Comparing this layout to the six rounds we've been to so far, it's one of the most straight forward tracks. No sand sections, no turning rhythm sections, no fast straightaways, and only one whoop section.
---
THIS WEEK IN MXA: ARLINGTON SX PREVIEW
---
SUPERCROSS FUTURES ARE BACK!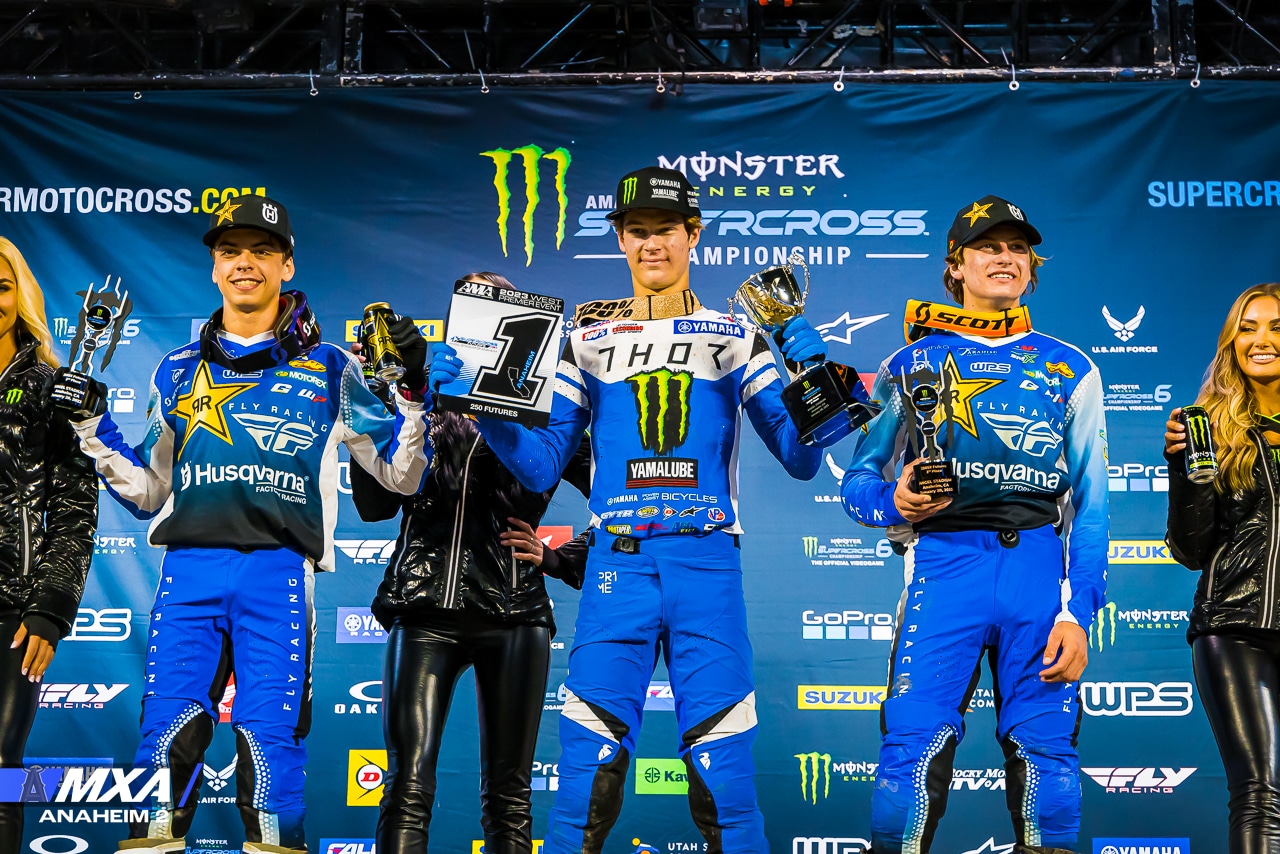 Yamaha's Daxton Bennick won the 250 Futures race at Anaheim 2 with Rockstar Husqvarna's duo of Casey Cochran and Talon Hawkins' finishing second and third. Haiden Deegan was expected to contend for the podium, but he struggled with crashes in the Main Event. After this race, both Deegan and Hawkins turned Pro the following weekend.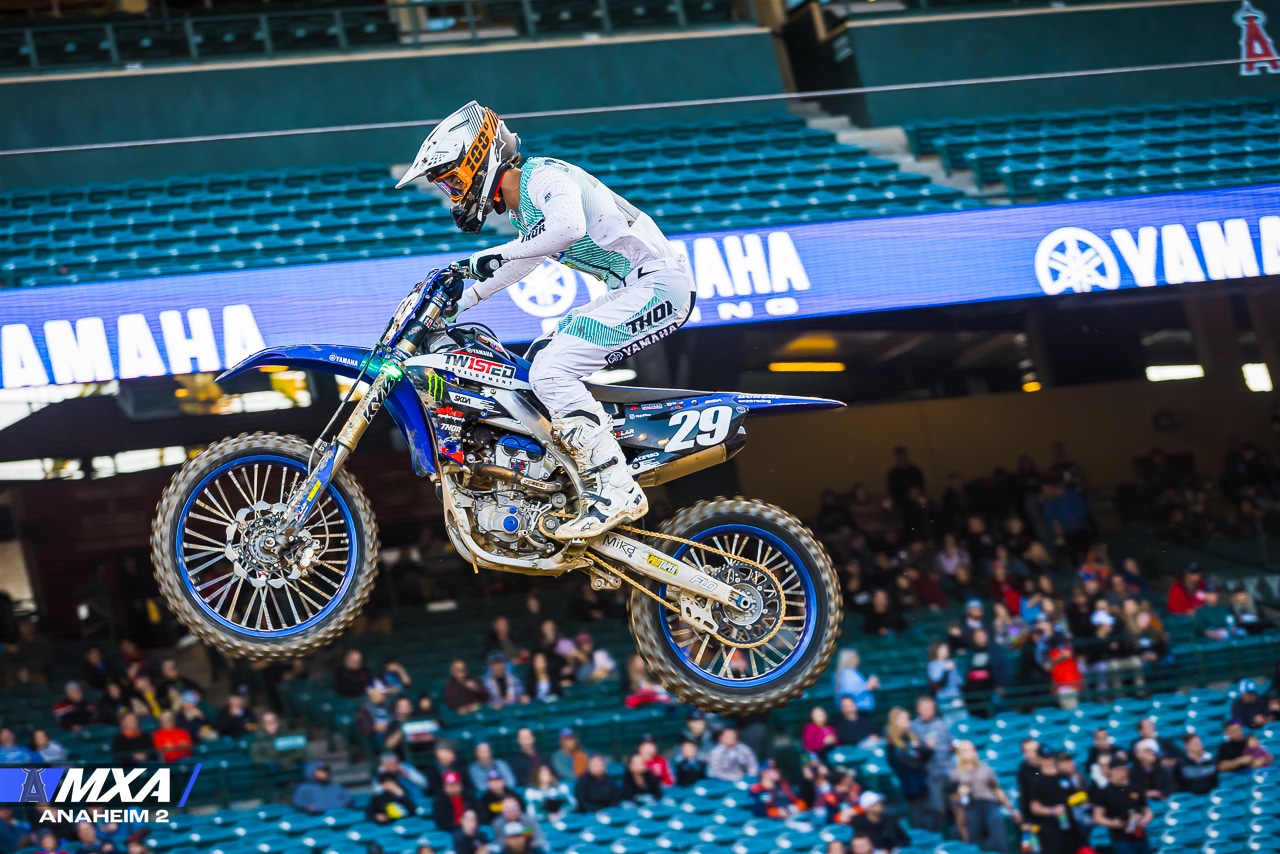 Julien Beaumer was the quickest 250 Futures rider in all of the timed qualifying sessions at Anaheim 2. Unfortunately, he cased the triple and rolled his handlebars backward in the Main Event, causing him to pull off and drop way back. His impressive speed at Anaheim 2 earned him a ride on the Orange Brigade KTM amateur team and he's making his debut on the KTM 250SXF this weekend.
Here's Julien with his new bike.
---
TV SCHEDULE: 2023 ARLINGTON SUPERCROSS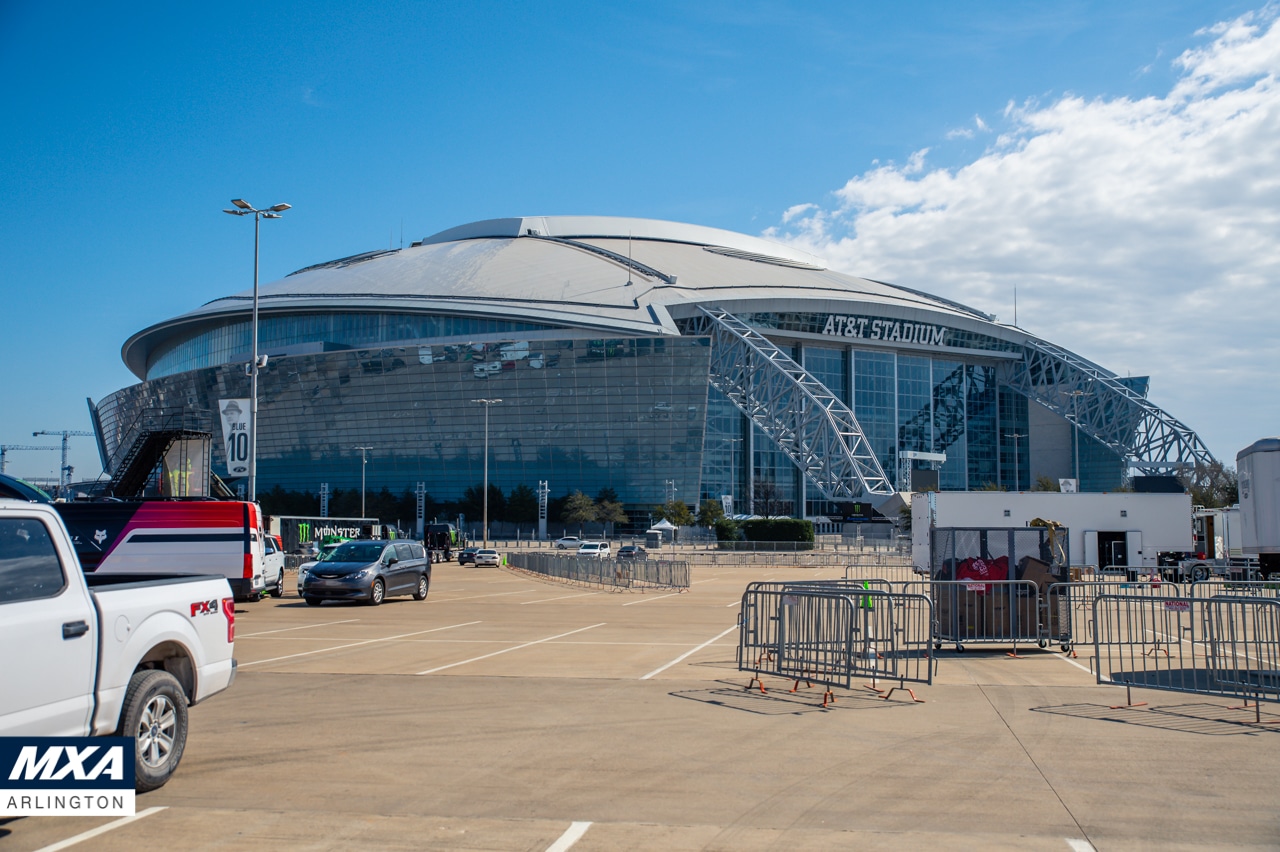 The Dallas Cowboys' stadium is massive. 
The Peacock premium streaming service costs $4.99 per month and it provides LIVE coverage of the daytime qualifying sessions at each Round and live coverage of each Supercross race. International Supercross fans can now watch LIVE using the SuperMotocross Video Pass streaming service (Supermotocross.tv) which costs $129.95 for a one-year subscription.

New for 2023, Race Day Live will expand in 2023 to cover all 31 races of the SuperMotocross World Championship series. The program will feature 2.5 hours of coverage for each Supercross event, 1 hour for each Pro Motocross event, and 2.5 hours for both SuperMotocross Playoff events and the SuperMotocross World Championship Final.
Arlington Qualifying Show – 11:30 am (pacific) – Peacock
Arlington Night Show – 5:00 pm (pacific) – Peacock
Arlington (re-air) – *Monday Feb. 27th – 10:00pm (pacific) – CNBC Channel
---
ARLINGTON SUPERCROSS RACE DAY SCHEDULE
Chase Sexton, Eli Tomac, Cooper Webb, one, two, three. Hopefully, we see more battles like this at Arlington.
 11:00 am – 11:08 am 250SX Futures Free Practice 
11:10 am – 11:18 am 250SX Group C Free Practice
11:20 am – 11:28 am 250SX Group B Free Practice
11:30 am – 11:38 am 250SX Group A Free Practice
11:40 am – 11:48 am 450SX Group A Free Practice
11:50 am – 11:58 am 450SX Group B Free Practice
12:00 pm – 12:08 pm 450SX Group C Free Practice 
12:30 pm – 12:40 pm 250SX Futures Qualifying 
12:45 pm – 12:55 pm 250SX Group C Qualifying
1:00 pm – 1:10 pm 250SX Group B Qualifying
1:15 pm – 1:25 pm 250SX Group A Qualifying
1:30 pm – 1:40 pm 450SX Group A Qualifying
1:45 pm – 1:55 pm 450SX Group B Qualifying
2:00 pm – 2:10 pm 450SX Group C Qualifying 
2:35 pm – 2:45 pm 250SX Group C Qualifying
2:50 pm – 3:00 pm 250SX Group B Qualifying
3:05 pm – 3:15 pm 250SX Group A Qualifying
3:20 pm – 3:30 pm 450SX Group A Qualifying
3:35 pm – 3:45 pm 450SX Group B Qualifying
3:50 pm – 4:00 pm 450SX Group C Qualifying

4:05 pm – 4:15 pm 250SX Futures Qualifying 
4:45 pm – 4:52 pm 250SX Last Chance Qualifier (LCQ) – 5 Minutes/Plus 1 Lap – 22 Riders (Top 4 into the Races)
4:55 pm – 5:02 pm 450SX Last Chance Qualifier (LCQ) – 5 Minutes/Plus 1 Lap – 22 Riders (Top 4 into the Races) 
NIGHT SHOW
 6:30 pm – 7:01 pm Opening Ceremonies
7:06 pm – 7:18 pm 250SX Race #1 – 10 Minutes/Plus 1 lap – 22 riders
7:31 pm – 7:45 pm 450SX Race #1 – 12 Minutes/Plus 1 lap – 22 riders 
8:11 pm – 8:23 pm 250SX Race #2 – 10 Minutes/Plus 1 lap – 22 riders
8:29 pm – 8:43 pm 450SX Race #2 – 12 Minutes/Plus 1 lap – 22 riders 
8:49 pm – 8:57 pm 250SX Futures Main Event – 6 Minutes/Plus 1 lap – 22 riders 
9:13 pm – 9:25 pm 250SX Race #3 – 10 Minutes/Plus 1 lap – 22 Riders – Points awarded for overall combined score. Olympic Scoring.
9:39 pm – 9:53 pm 450SX Race #3 – 12 Minutes/Plus 1 lap – 22 Riders – Points awarded for overall combined score. Olympic Scoring. 
---
INJURY REPORT:
DYLAN FERRANDIS – CONCUSSION
Dylan Ferrandis hit his head hard in the 450 Main Event at Houston. He was knocked out for a few minutes, but then he woke up and got off the track with the help of the Alpinestars medical team. Dylan posted via Instagram that he is finally back to riding, but he won't lineup this weekend. He plans to race in the Daytona Supercross, Round 8, next weekend. 
MARVIN MUSQUIN – WRIST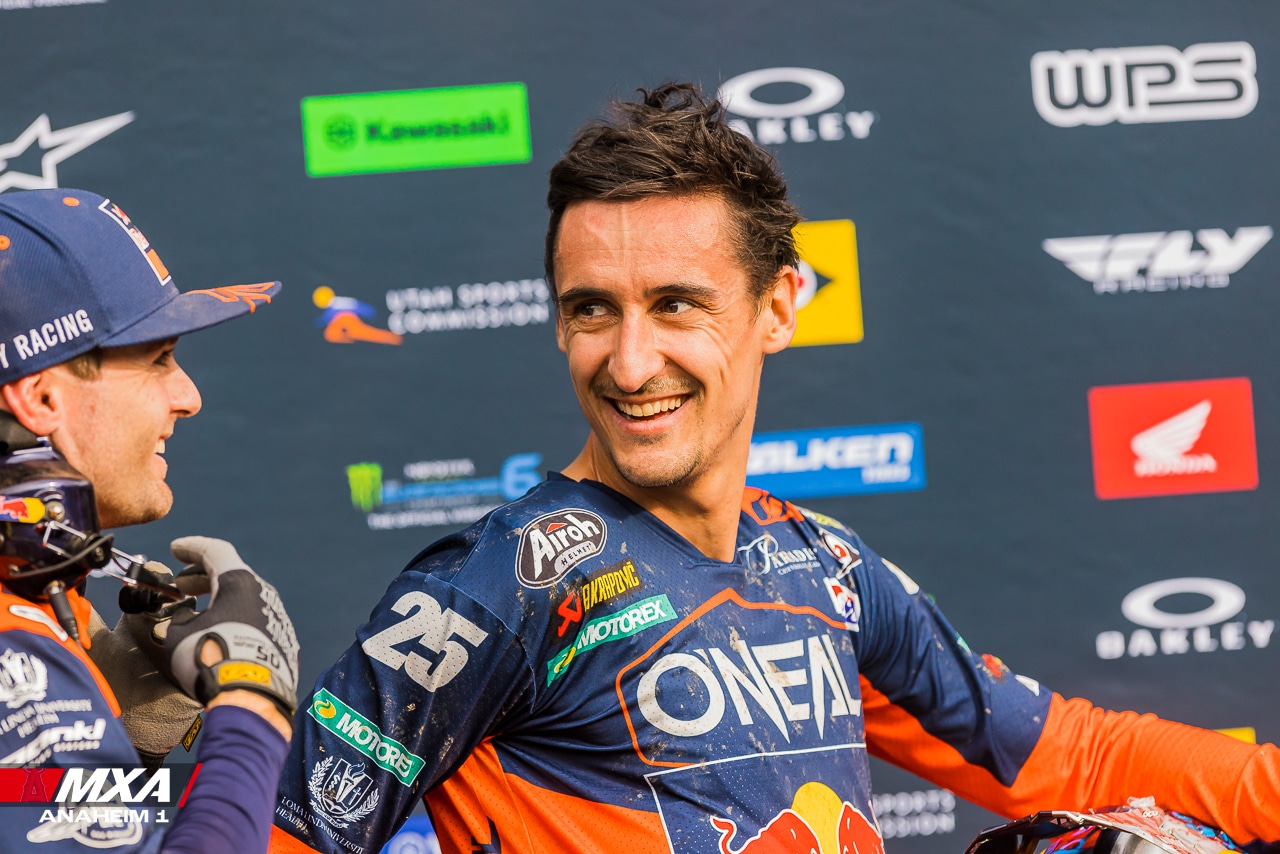 33-year-old Marvin Musquin injured his wrist in a practice crash after Anaheim 1. KTM announced this week that he is out indefinitely with a scaphoid injury. The scaphoid bone is a delicate one that doesn't receive a lot of blood flow, meaning that it can die off if it isn't allowed to heal properly. Marvin had a one-year, Supercross-only contract for 2023 with KTM and we are unsure what his future will look like if he doesn't race anymore this season. 
CARSON MUMFORD – (INJURY UNKNOWN)
Carson Mumford was slated to race for BarX Suzuki this year, but a bike malfunction in pre-season training caused him to crash and break his wrist. Then, once Austin Forkner injured his knee at Anaheim 1, Carson got the call to fill-in at Pro Circuit Kawasaki in the 250 West Coast division, starting at Oakland. Unfortunately, he suffered a setback while training. The injury hasn't been publicly announced, but Carson didn't race in Oakland, instead his sights are set on Seattle SX, March 25th. 
NICK ROMANO – KNEE
Nick Romano shared on Instagram over a week ago that he will miss the entire 2023 season, both Supercross and motocross. Nick tore his ACL and meniscus in his knee and had surgery.
MALCOLM STEWART – KNEE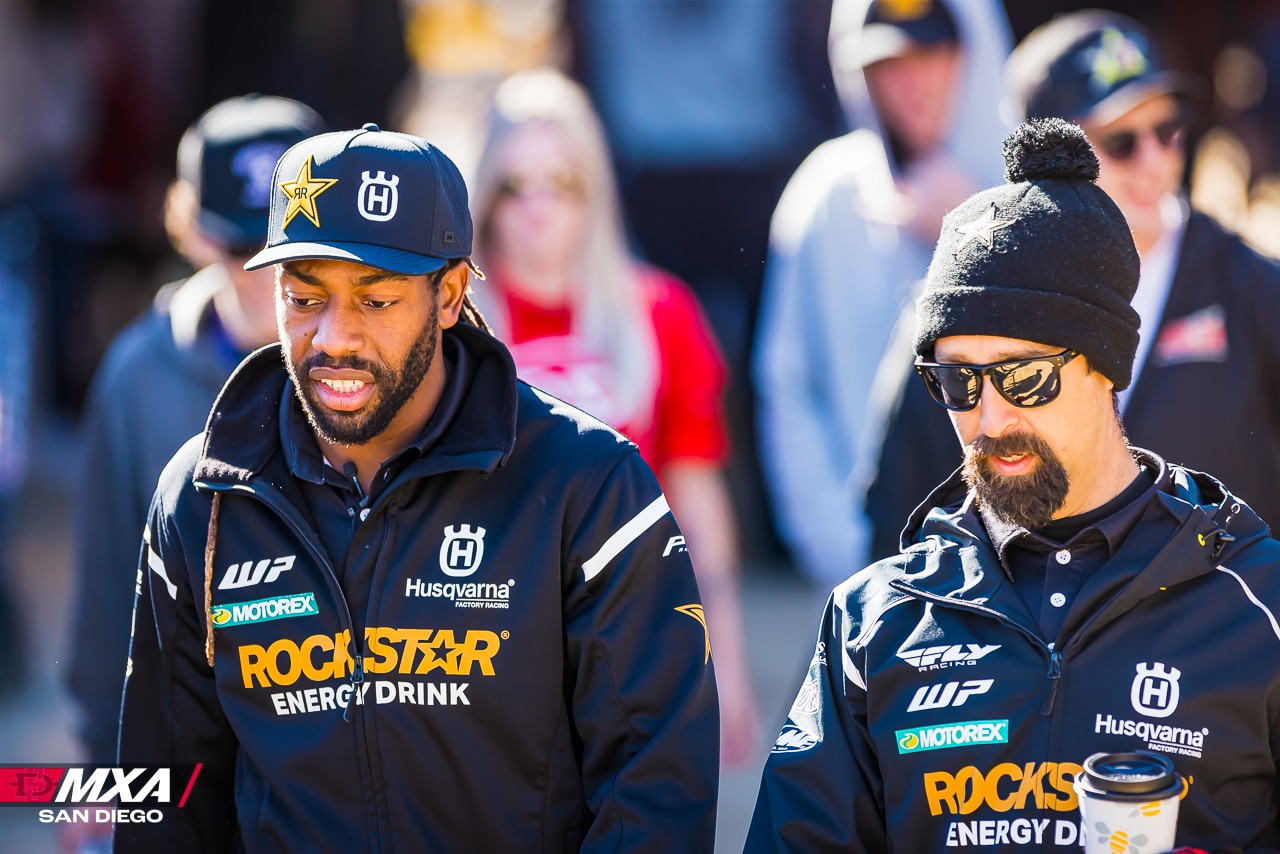 Malcolm Stewart crashed while practicing after the San Diego Supercross and he tore his ACL. Malcolm just had surgery last week and is out for the foreseeable future.
JO SHIMODA – COLLARBONE
Jo Shimoda was slated to race 250 East Coast, but he broke his collarbone a week and a half before the Houston opener. We expect him to catch the end of the 250 East coast series.
SETH HAMMAKER – WRIST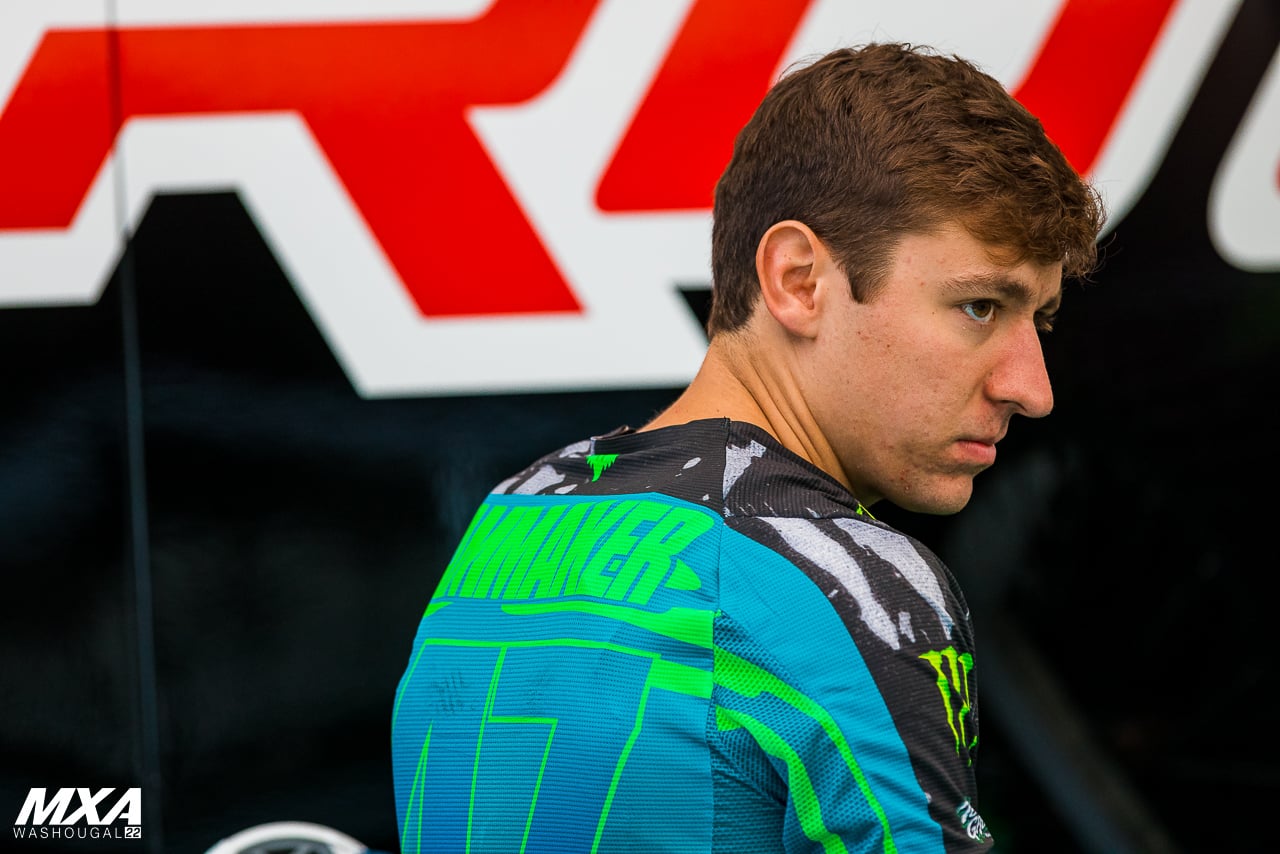 Pro Circuit Kawasaki's Seth Hammaker injured his wrist the same week as Jo Shimoda, leaving Mitch Payton's team empty until Chris Blose got the fill-in ride. 
JALEK SWOLL – BROKEN ARM
Just a week before the 250 East Coast regional Supercross championship kicked off, Jalek crashed and suffered a spiral fracture in his arm. Jalek has already undergone successful surgery and now he's on the road to recovery.
AUSTIN FORKNER – KNEE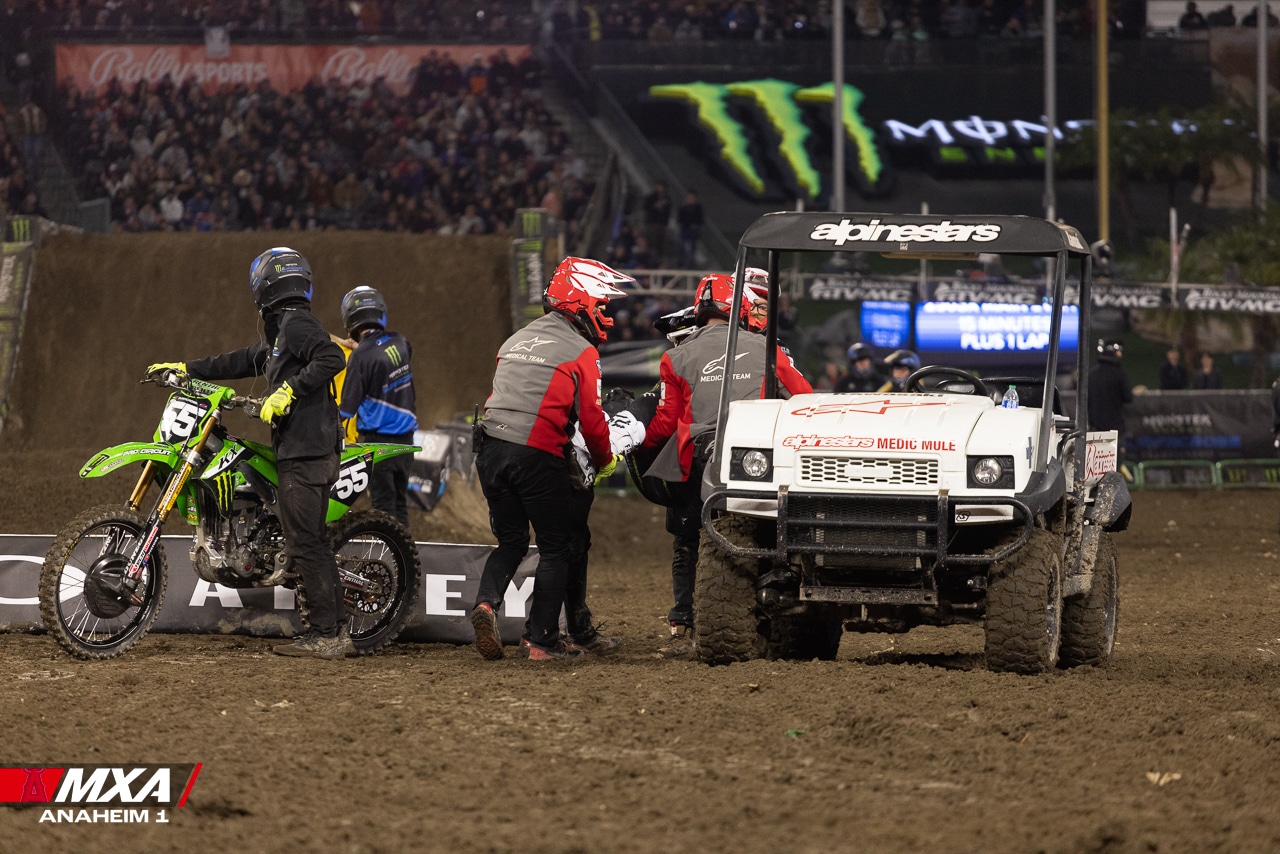 Austin Forkner injured his knee at the start of the 250 Main Event at Anaheim 1. He had surgery on it and is most likely out for the season. 
GARRETT MARCHBANKS – WRIST
Garrett suffered an arm injury during his pre-season training at the Club MX facility. ClubMX gave us an update on Garrett this week: "Surgery went well for the Daytona champion as he had the plate removed from his wrist on Monday. The next step is to get the stitches removed in another week and then start the rebuilding process. Garrett continues to work with the team and also works as a trainer helping the amateurs every day. We appreciate his dedication and participation to help continue the growth of the ClubMX program by giving back his time. A bit more time will help us determine when he can return to racing."
---
450 CLASS POINT STANDINGS (AFTER ROUND 6 OF 17)
 Eli Tomac won at Oakland to extend his points lead.
| | | | |
| --- | --- | --- | --- |
| POS. | # | NAME | POINTS |
| 1 | 1 | Eli Tomac | 139 |
| 2 | 2 | Cooper Webb | 132 |
| 3 | 23 | Chase Sexton | 132 |
| 4 | 21 | Jason Anderson | 111 |
| 5 | 94 | Ken Roczen | 104 |
| 6 | 7 | Aaron Plessinger | 104 |
| 7 | 51 | Justin Barcia | 97 |
| 8 | 17 | Joey Savatgy | 82 |
| 9 | 45 | Colt Nichols | 75 |
| 10 | 28 | Christian Craig | 75 |
250 EAST CLASS POINT STANDINGS (AFTER ROUND 2 OF 10)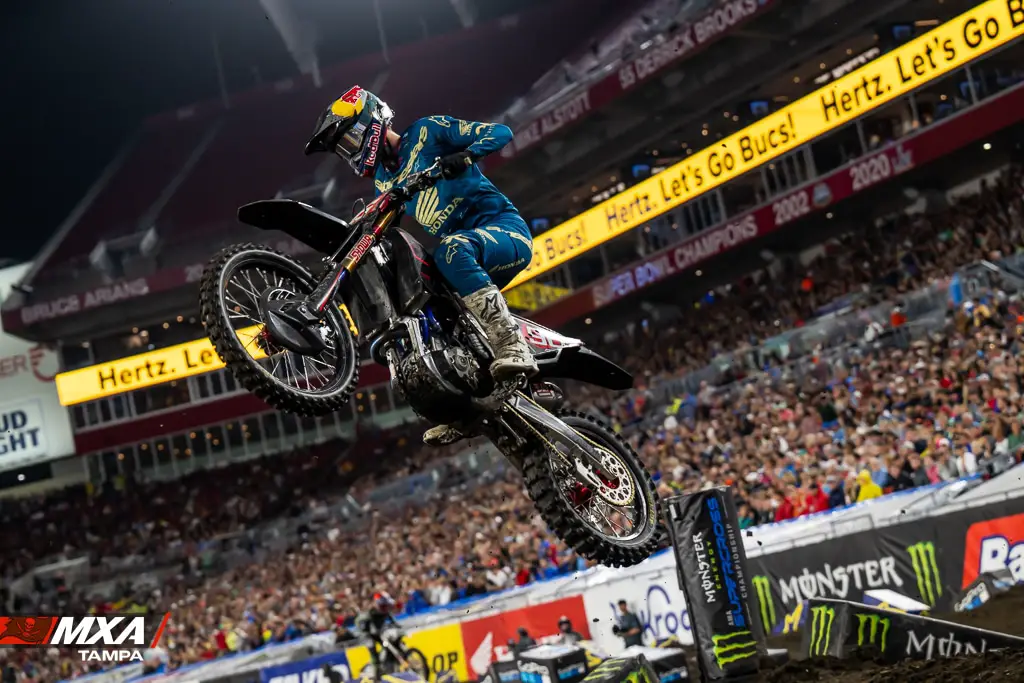 Hunter Lawrence extended his lead on the championship, but not without having a couple of close calls along the way.
| | | | |
| --- | --- | --- | --- |
| POS. | # | NAME | Total Points |
| 1 | 96 | Hunter Lawrence | 52 |
| 2 | 63 | Max Anstie | 44  |
| 3 | 238 | Haiden Deegan | 38  |
| 4 | 6 | Jeremy Martin | 36  |
| 5 | 128 | Tom Vialle | 33  |
| 6 | 31 | Michael Mosiman | 33  |
| 7 | 29 | Nate Thrasher | 31  |
| 8 | 832 | Chance Hymas | 30  |
| 9 | 58 | Jordon Smith | 29  |
| 10 | 62 | Jace Owen | 23  |