A TRIBUTE TO CANADIAN MOTOCROSS LEGEND ZOLI BERENYI, SR.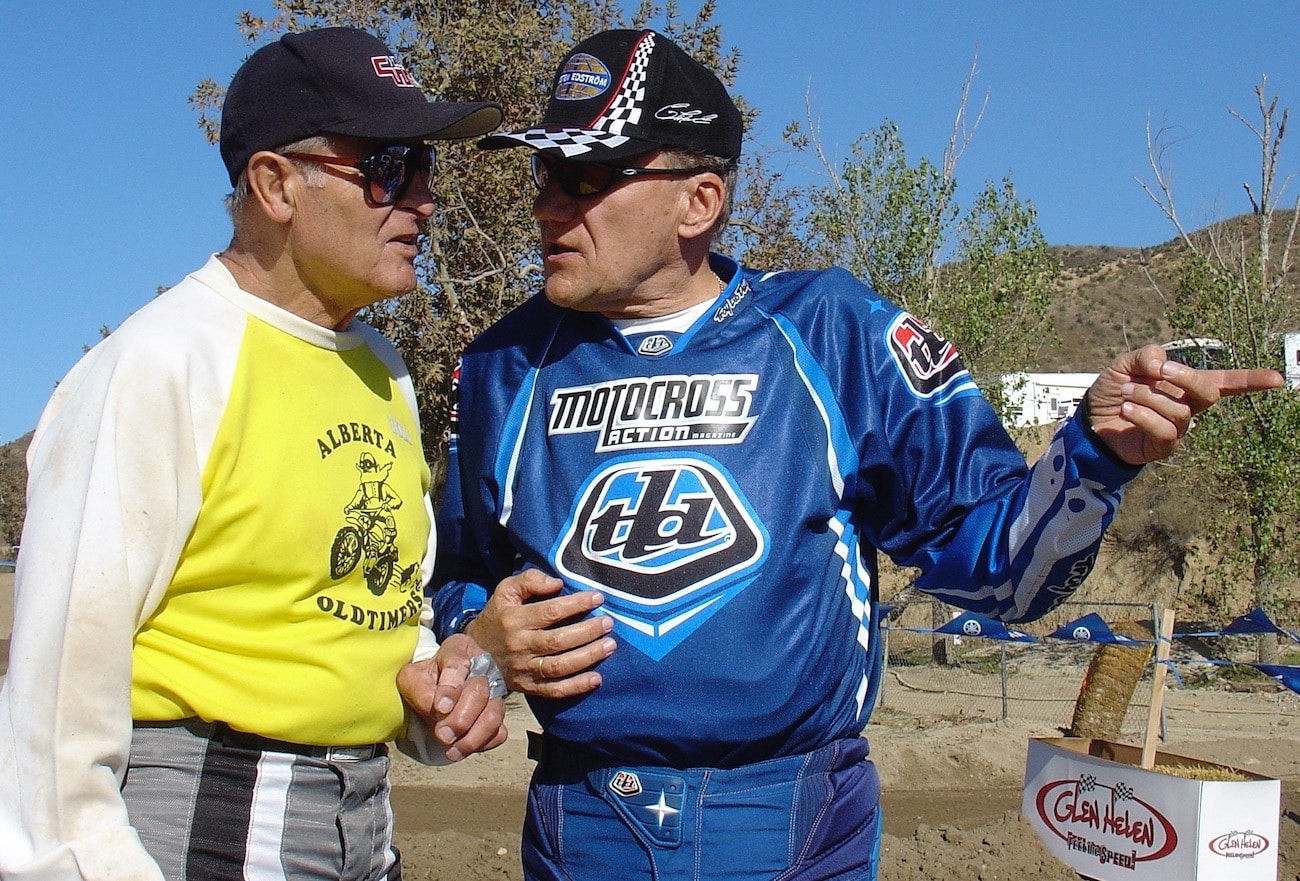 I saw the above photo of Zoli Berenyi, Sr. and Lars Larsson on Thursday morning in MXA's "Rumors, Gossip & Unfounded Truths" column and it rekindled many memories for me. I knew/know the Zoli's (Sr. and Jr.) well, and I can confirm unequivocally that Zoli Sr. was indeed an icon in Canadian motocross. His passing in 2010 was tragic and, unfortunately, filled with drama not befitting someone of his iconic status. Some time after the funeral, I penned the the small tribute below in an effort to ensure that riders everywhere had an inkling of the complexity of how one man's love of our sport gave him a way forward.
Zoli wasn't the most sentimental guy, so he didn't hang on to much of his old stuff. His CZ twin-piper hung from the ceiling the shop for a long time, or at least until the price got too high, but he did keep his 1969 Sidepiper until the end, and I can say that I was the fortunate one chosen to keep it for now. It is a symbol of his skill as a mechanic as well, as it starts first kick and idles like a new bike. Maybe there is some symbolism in that, too.
A TRIBUTE TO CANADIAN MOTOCROSS LEGEND ZOLI BERENYI, SR. BY DAVID PINKMAN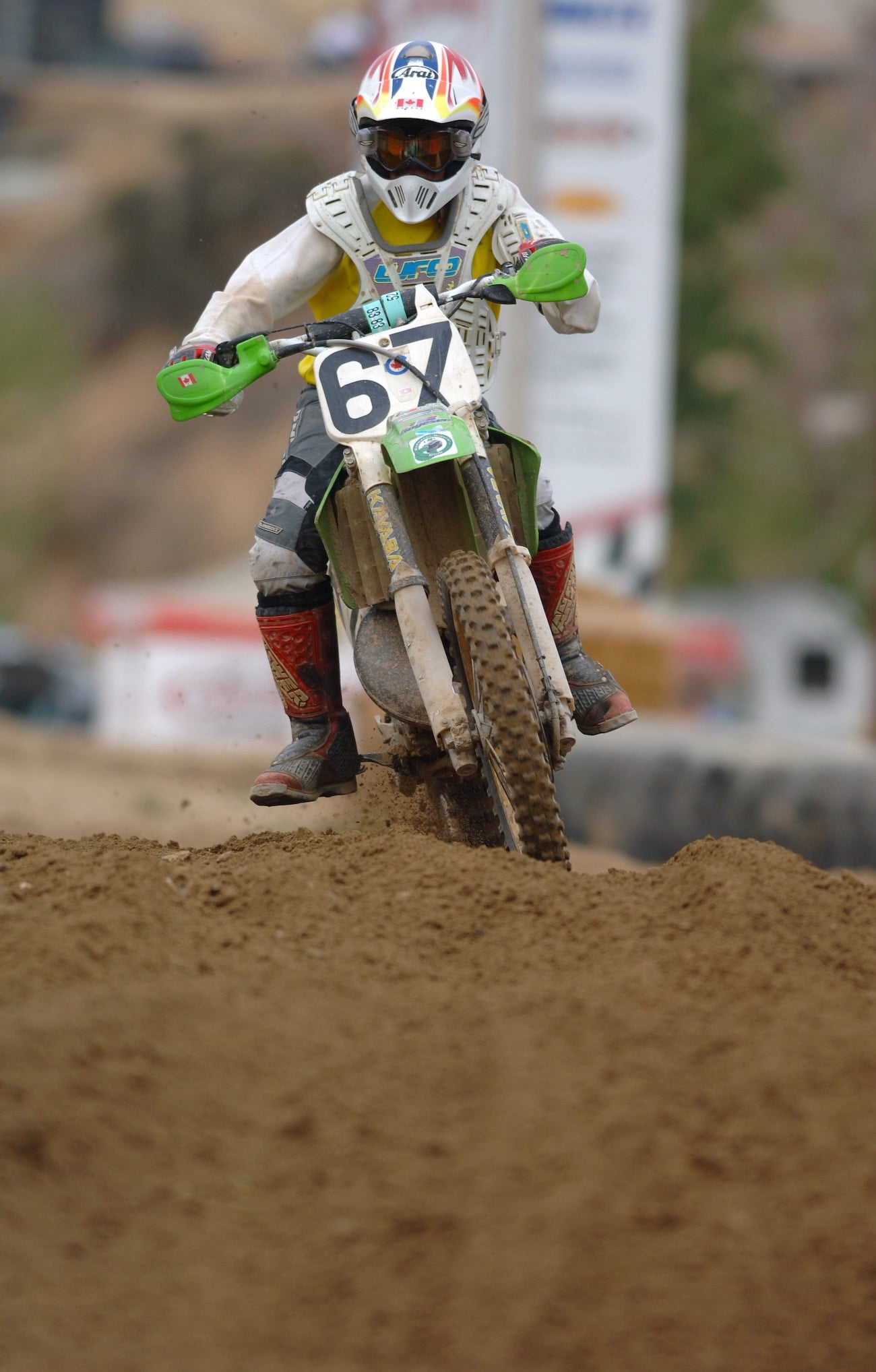 By David Pinkman
I hate funerals. And while I'm sure none of us can be said to actually like the events, I can say that over the course of my life I had made a concerted effort to avoid as many funerals as possible. For the most part, much of my success in funeral-avoidance came from the good fortune of my friends and relatives in that few of them had met with an untimely demise. Now, however, as a card-carrying member of the Boomer generation, the inevitable passing of time has lead to the just as inevitable passing of first, our parents' generation and, second, the vanguard members of my own generation.
While it sounds trite, the truth, for young and old alike, is that the funeral, despite its many morbid overtones, is often a special gathering place of those same relatives and friends, and can involve a level of interaction and emotional honesty that would never be found in a more traditional social gathering. A place for sad good-byes, to be sure, but often the funeral becomes a celebration of the achievements and importance of its subject. And while I would normally pursue my policy of funeral-avoidance, when I learned of the passing of Zoli Berenyi Sr. so many years ago now, I knew that this was one funeral I wanted to attend.
There were, of course, a number of very obvious reasons for attending the celebration of Zoli, Sr's life: most of us involved in motocross in all of Alberta, Canada, and even North America were surely aware of his legacy as a veritable icon of the sport. He was a successful rider, having won a Canadian National Championship in the 1960s and, more famously having won countless titles in a myriad of Vet and Senior races. Certainly the attendees at this funeral were aware of this impressive record, but as the service unfolded, it became clear that his record as a rider was taken for granted. It was his record as a person which seemed to carry the most weight. And I, one who thought he knew this special old man so well, was taken back by the volume and depth of feeling which poured out in the celebration of the life lived.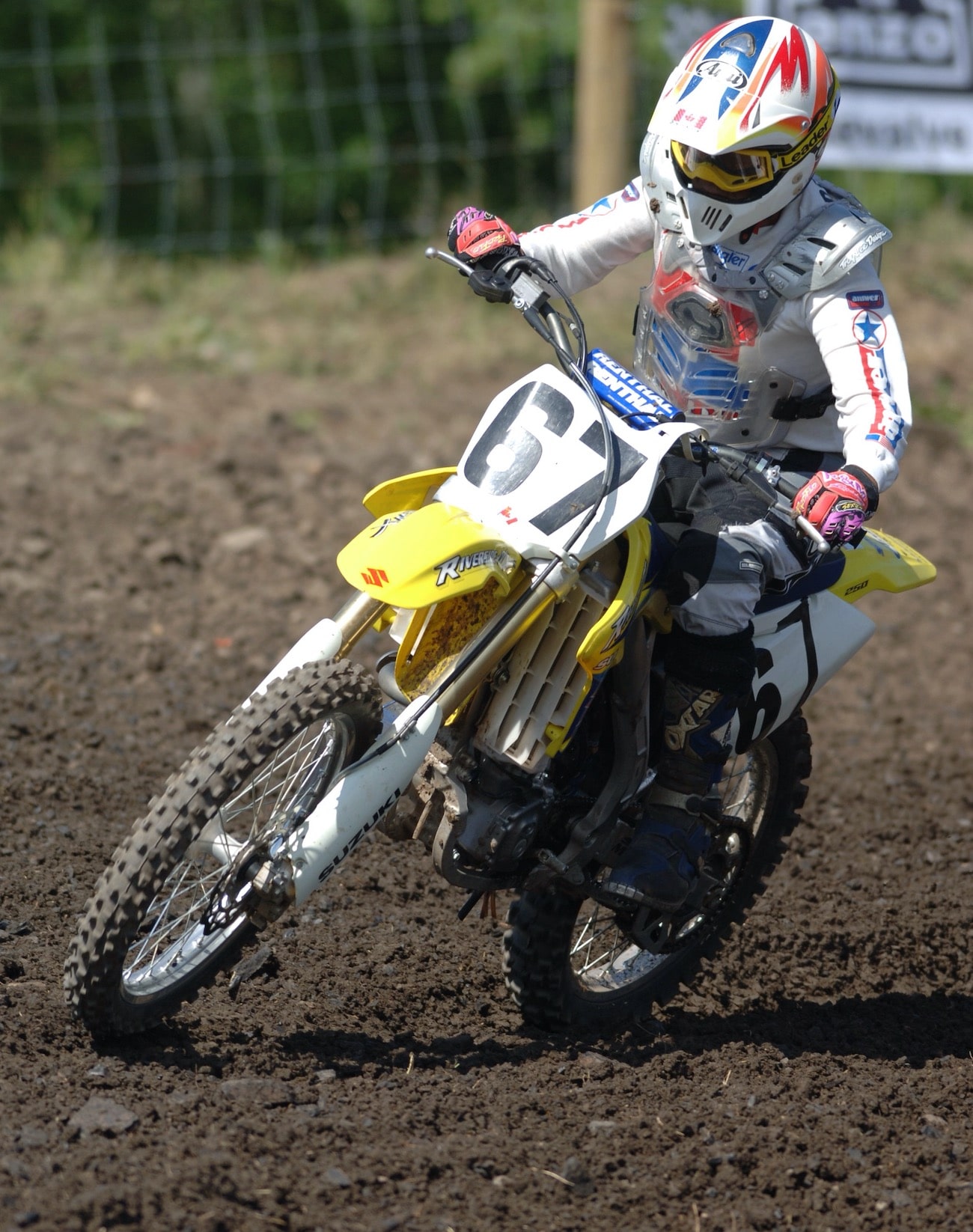 The story of Zoli Berenyi, Sr., like so many of those making up that generation of people who soldiered through the era bookmarked by the savagery of World War II, contained many striking chapters. While post-war Europe was undoubtedly full of turmoil, by the mid-fifties much of the western portion of the continent had established some normalcy. Such was not the case in those regions which bordered the Soviet bloc. Caught in the vortex of communist expansion, by 1957 Hungary found itself being pulled to the east by violent forces. In the grips of civil war, many Hungarians decided that their only hope for freedom was to leave their homeland. Thousands of people fled with little but the clothes on their back. One small group in this famous exodus included a young mechanic, his bride and their three-month-old son.
The escape from Hungary was perilous and the danger and trauma suffered by all of these refugees was very real. Accompanying the new Berenyi family was Zoli's best friend, Rudi Zacsko. The founder of Scona Cycle in Edmonton and a none-too-shabby motocrosser himself, Rudi was devoted to his best friend and the senior Zacsko offered a touching eulogy of Zoli that no one who had not traveled that refugee's road could fully appreciate. The risks, the pain and the suffering endured by these people and so many others spoke volumes about why they greatly appreciated their new lives in Canada. And it also explained so much about a man who seemed to the outside world at least, to toy with a dangerous sport long after the limitations of his body had been met.
Despite the huge changes which have occurred in the development of motocross, it is relatively young, having sprung from the desires of World War II veterans who sought a form of peacetime excitement which would attempt to match the rush experienced of war. In the post-war world, scrambles was a peculiar pastime in which street motorcycles were thrashed over hill and dale; this was years before motocross developed purpose-built equipment aimed at improving the speed and efficiency of motorcycles racing over dirt. However dangerous it may have been, many of that generation caught the bug and were enthralled by both the spectacle of watching such an event and, more importantly, by the prospect of participating in the race. Motocross may have been a natural fit for Zoli Berinyi, Sr., but it must have seemed relatively sedate compared to the world Zoli and Rudi had left behind. The motorcycle bug had touched them before the political events in Eastern Europe caused their lives to be uprooted, and Zoli was happy to be one of the Euro-transplants who carried the torch of motorcycle recreation into the Prairie provinces of Canada.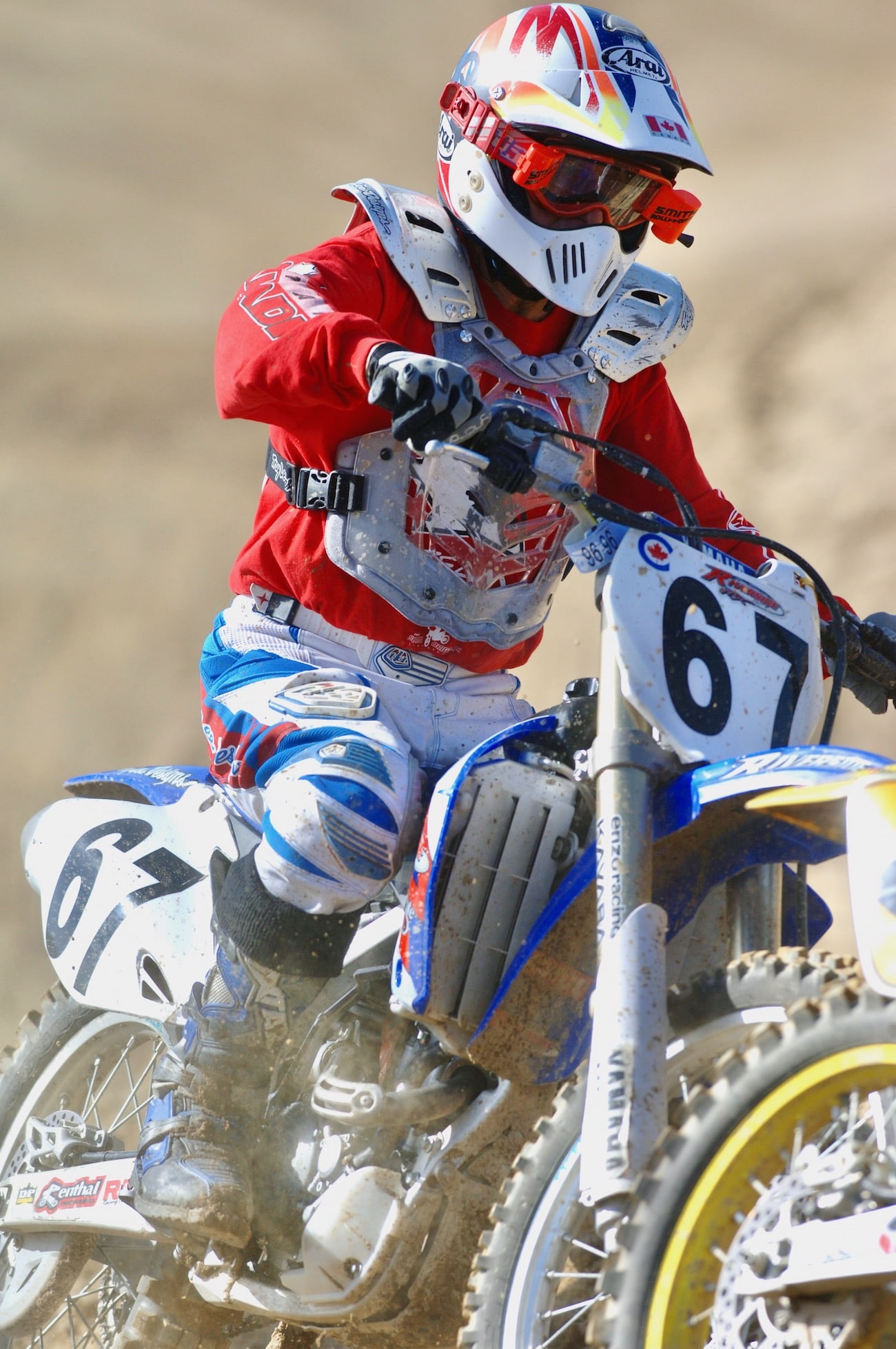 Zoli's skill lay not only in the artful riding of a motorcycle over rough ground, he was also a talented mechanic, and eventually joined the Zacsko operation at Scona Cycle in Edmonton. With the free reign afforded to off-road riders in the era of the early 1960s, Zoli and those MX pioneers of the time were able to tap into a type of freedom that few of us could ever experience today. Couple that with the insatiable thirst for anything to do with motorcycles, and the die was set for Rudi and Zoli to both establish a strong business in the world of two-wheelers, and to lead the new generation in the ways of motorcycle competition. The profound successes of the Zasko's and Berenyi's offspring certainly were testament to that leadership.
And while Zoli may have had great success on the track as a relatively young man – he won a Canadian National Championship in 1965 when he was still in his 30s  riding a Czech CZ motocrosser – it was his ongoing and seemingly endless love affair with motocross that made him a Canadian legend. Through the early and mid-1970s, Zoli remained a competitive force in regional motocross, routinely appearing in the top few of any finishing order. Eventually, the generational shift had names like Ivo Bortle and Rex Turple drifting to the sidelines in favor a new generation of wild young men with names like Gaetz, Pederson, and, of course, Zoli Berenyi Jr.  Zoli, Sr. remained a stalwart competitor. Never giving quarter, he nonetheless recognized that the young guns riding CR's and YZ's with the new fangled long-travel suspension were taking over the sport.
Yet Zoli kept going. Technology may have changed motocross from what he knew as a young man, but Zoli embraced change. So, as the 1980's unfolded Zoli found himself as competitive as ever, now a regular on the podium in the Senior (now called the Intermediate) class, and a routine victor in the new Vet class. He was truly a fixture in the Albertan motocross world, his regular domination of the Senior class becoming a bellwether test for those new and upcoming young riders who would claim a position in the Expert ranks: no matter how good they thought they were, the unwritten rule was that unless they could routinely beat the "Old Man,"they were not ready to make the final step up into the Expert class.
My first encounter with the Old Man occurred in that Intermediate class in the late 80's. I, like every other rider in Western Canada, knew Zoli's reputation and I knew enough to extend him the respect he was due. On the other hand, I knew he was old enough to be my dad, and my ego wasn't prepared to suffer any level of defeat at his hands. But suffer defeat I did, as the Old Man seemed to be infused with a competitive drive which he could always rely on to power past those lesser mortals like me. In the one race when I finally found a way around him, it turned out that I was way over my head, and the resulting crash broke my collarbone and had me wondering what year it was.
It was about this time that I began to realize that Zoli's strength lay not so much in the abilities of his body, but much more in the strength of his heart and soul. By now, it was clear to all (not the least of whom was Zoli himself) that the effects of aging were hitting him in very unfortunate and painful ways: Zoli suffered from early onset arthritis that was already bending his bones in a manner which would be cruel enough for the normal 50-year-old, but which seemed especially unfair to one so gifted at riding a motorcycle. For the rest of us on the starting line, all we saw was a frighteningly fast older gentleman who had a peculiar riding style: elbows down and butt always off the seat that I had assumed for years was a byproduct of Zoli's days as a CZ go-fast guy when survival meant that the front wheel was up or the rider was over the bars. But this really wasn't the case. Zoli had no choice but to follow the lead of his bent body. If he wanted to race, he had to ride through the effects of the mounting arthritic trauma. That Zoli suffered much was not in doubt. Equally, however, he overcame much.
Like any motocross racer who suffers an injury, the accepted procedure is to recover as best we can, then get back on the bike as soon as we can. Zoli experienced more than his share of MX-related injuries, but his battle with arthritis was really like a new get-off injury to be faced every day. Grateful that he remained able to swing a leg over his bike, Zoli did as much as he could to battle the disease. He allowed himself to become a virtual pin cushion and test mule for new arthritis medications and treatments, and may have been as well known in the medical community as he was in the world of motocross. But his aim was always the same: to get back on that motorcycle and feel the freedom that racing motocross gave him. As long as he could do that, there were no grounds for complaint, even when he was forced to tie his crooked fingers to the handlebars with duct tape.
It was this philosophy of life which I learned first hand from the Old Man, after I had a bad crash at Antler Lake's Wagon Hill. As I stumbled around the pits searching for sympathy and looking for an excuse not to ride my last moto, Zoli wandered by and asked of my plight. "What?" he said, "You're not going to ride? But you can walk okay." I knew then that I had to give it a try. I resolved that if I could start my bike in three kicks, I would ride the moto. My escape route was built in to this test, as I was riding a big ATK 605 four-stroke at the time. A pig to start on a good day, I was sure the beast would never light up under my now wimpy foot. Of course, one slow kick and it fired up. It was as if the machine was as afraid of Zoli as I was. Off I went, getting lapped twice by the entire field. But after the race, as I sat gasping for relief in the pits, Zoli wandered over. He said nothing, but gave me a thumbs up. I had done the right thing.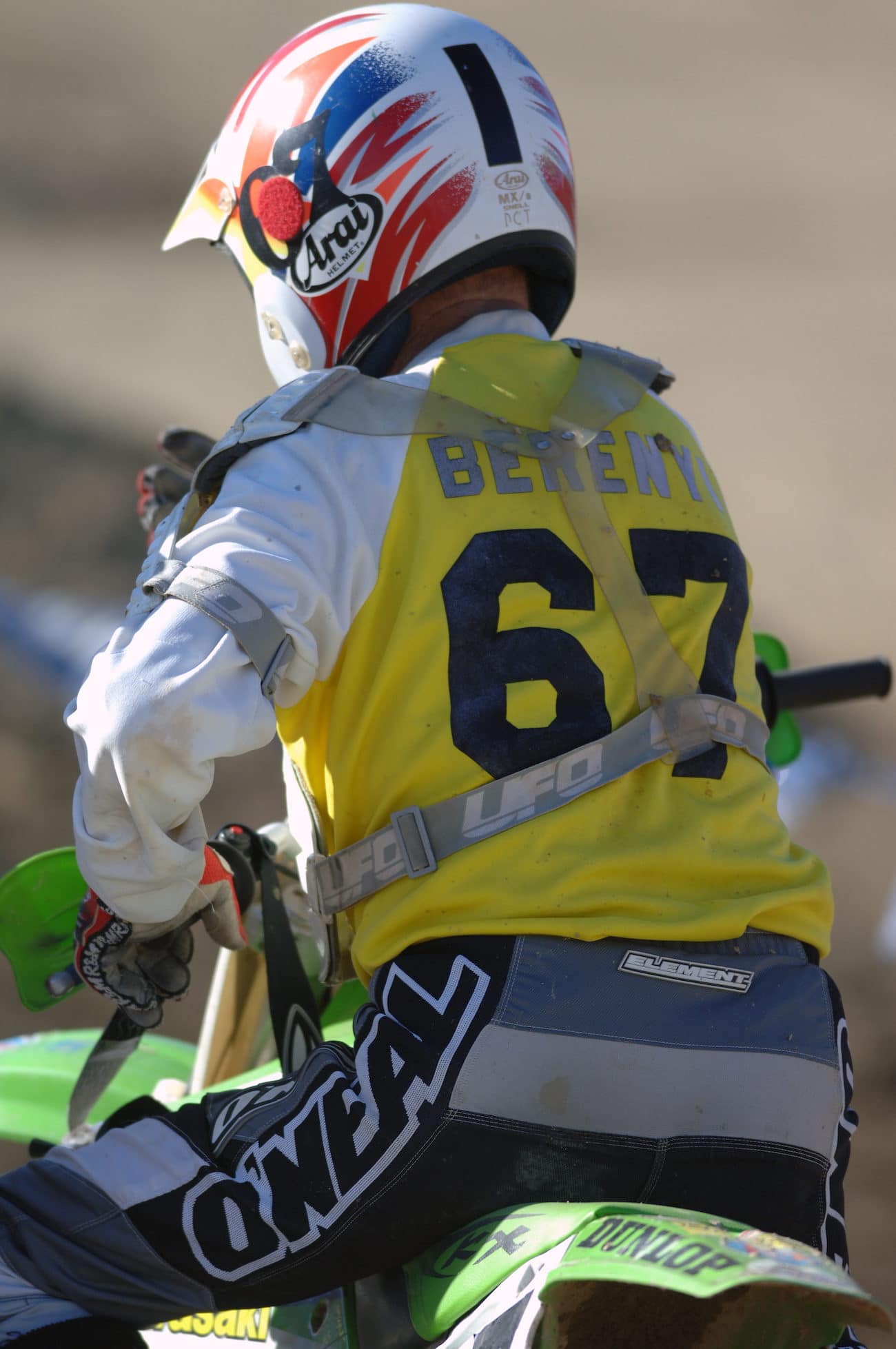 Those who's actions speak louder than words are usually the ones who provide us with the best lessons. Zoli Berenyi, Sr. spent much of his life teaching, whether he recognized it or not. For the motocross community, his loss has been deeply felt over the 11 years that he's been gone. There were plenty of people at his 2010 funeral who cared not that he swung an arthritic leg over a motorcycle, but rather that he inspired them to try to find their own joy in doing their own things — living life to the fullest.
Canadian Zoli Berenyi, Sr. was the 1965 Canadian 500 National Champion and 1978 Canadian 125 National Champion. Zoli won 12 World Vet crowns (3 in the Over-50 Experts, 4 in the Over-60 Experts and 5 in the Over-70 Experts). Zoli  is in the Canadian Motorcycle Hall of Fame, but sadly passed away in 2010.