ELI TOMAC TALKS ABOUT RACING AGAIN IN 2024
ELI TOMAC INTERVIEW: 3-POINTS BACK GOING INTO THE 2023 SEATTLE SUPERCROSS
By now, we all know how well Eli Tomac has gelled with his Monster Energy Yamaha Star Racing YZ450F. Tomac initially had a one-year contract with Yamaha, through the 2022 season, but he was enjoying racing so much that he extended it to race Supercross-only in 2023, and more recently he's signed up for the full SuperMotocross season, including 17 Supercross races, 11 Rounds of outdoors and the final three SMX playoff races. Now, the big question is, will Eli Tomac race in 2024? Throughout the Supercross season so far, Tomac has won five rounds with his rivals Cooper Webb and Chase Sexton having two wins each, and Ken Roczen having one win. Eli now trails points leader Cooper Webb by three points. We had a chance to catch up with Eli in Detroit.
By Jim Kimball
---
ELI, WE ARE THROUGH DETROIT NOW, HOW ARE YOU FEELING ABOUT THE SERIES? I'm still feeling good, although last week in Indianapolis was not a good performance. I was dealing with a neck strain, and I was off the whole weekend, obviously. But we are still right there with the points. Detroit was okay, and we are only three points down at this point. So, I am feeling good, and just going with it. I feel like we will be just fine where we are at.
WHEN YOU HAVE AN OFF-RACE LIKE INDIANAPOLIS, THERE IS SO MUCH SPECULATION ABOUT WHAT'S GOING ON. DO YOU PAY ATTENTION TO THAT? Well, if you are paying attention to the media, you can see it, but when I have a bad race like that, I don't ever look at the media. I expect the questions and, the talk. It probably looked strange from the outside, but you can only do what you can do.
Eli Tomac's Detroit Supercross Main Event was unique for him. He started in fourth, then made his way to second place on lap five, before getting passed by Webb, Sexton, and Barcia. Eventually, both Cooper and Eli would pass Justin Barcia back, and Aaron Plessinger's crash allowed everyone to move up a position. 
COMING INTO 2023, MANY EXPECTED YOUR MAIN COMPETITION TO BE JASON ANDERSON AND CHASE SEXTON, ARE YOU SURPRISED BY SAY COOPER WEBB'S RESURGENCE? No. I expected the guys that I am battling to be there and those are the guys that are strong. You can never underestimate a former champion, let alone a two-time champion. I am not surprised at all about Cooper. That is just the way it goes. There are always three or four strong guys that seem to get to the front of the series. 
IT HAS BEEN ANNOUNCED THAT YOU ARE DOING THE MOTOCROSS SERIES NOW, TALK ABOUT THAT. It was a very thought-out decision. I just did not know at that point in time what I wanted to do when I signed this contract being Supercross-only. I was lucky enough to have that on the table as an option to say, "hey if I wanted to keep going, I could." Some parts of that had to deal with a new motorcycle too because there are so many new variables with a new bike. But it ended up being just fine and we got the bike in a great place. I wanted to keep going and I am thankful the team was open to that situation.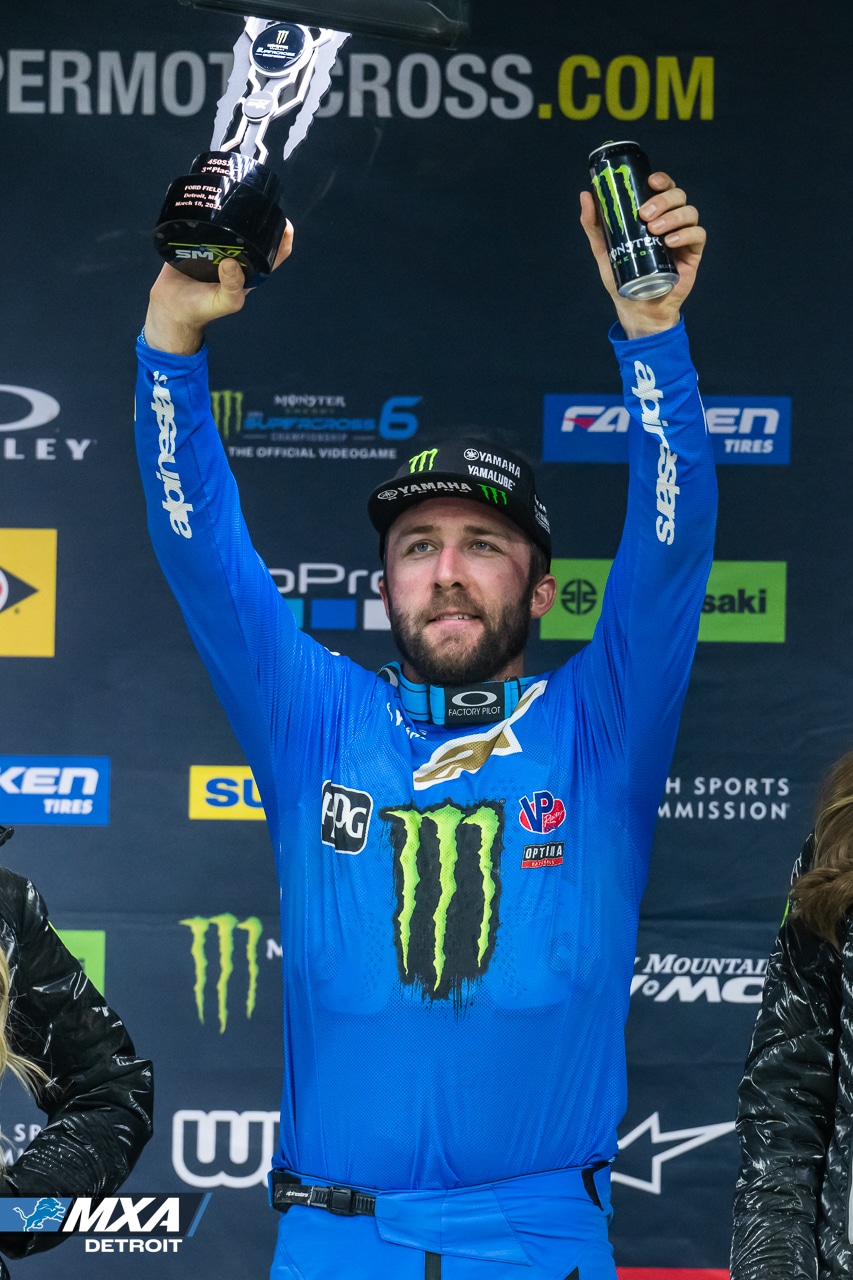 YOU WORK PERFECTLY WITH THE NEW 2023 YAMAHA YZ450F, CAN YOU SAY SPECIFICALLY WHAT YOU LIKE ABOUT IT? First off is the weight; the new bike is lighter. Weight is a big thing for Supercross. It is also easy to change direction compared to the old bike, so that is number one for me. The motor has a good feel, as you can really control your throttle well. The power curve is just nice and controllable. That coupled with the weight, are the two things I really like about this bike.  
Chase Sexton passed Eli Tomac on lap 8 of the Main Event and was 15 seconds ahead of him at the checkers.  
DO YOU FEEL IT IS BETTER SPECIFICALLY FOR SUPERCROSS? It is tough to say that because I have not done a lot of testing on Motocross but overall, it is a good bike. 
I AM INTERESTED IN HEARING YOUR THOUGHTS ON ALL THE RECORDS YOU ARE BREAKING THIS YEAR. It is cool once it does happen. But I don't really like talking about the next guy because you never know what is going to be the last race for a win, or what your last winning race is going to be, but it is crazy to think that I am at 49 now. It is neat. 
AT MANY RACES YOU BRING YOUR WIFE AND TWO CHILDREN, WHAT IS THAT EXPERIENCE LIKE? I would say we are split on whether my family comes to the races. It is kind of 50/50, but either way, it is great having the family around when they do come. It gets harder when you have two kids, with traveling to the races. But yes, for the races that have shorter flights, I like to bring them.
CAN YOU TALK FOR A MINUTE ABOUT MOTOCROSS OF NATIONS? HAS THERE BEEN ANY TALK OF IT? I WOULD ASSUME THAT YOU WOULD BE A LOGICAL PICK. I have not even thought of it yet. The one thing that has been on my mind is just this series right now, Supercross. That (MXON) is so far down the road. We will just have to see when the time comes.

WE ARE LUCKY THAT YOU HAVE DECIDED TO RACE THIS SUMMER. IS THERE A CHANCE, WE WILL SEE YOU IN 2024? Well, we are coming to a time where I must make that decision soon, so I would say it will probably be within a month when I make that decision. 
LASTLY, TALK ABOUT YOUR MAIN EVENT IN DETROIT. It was an okay night. Obviously, we want more than third, but it was a decent rebound from last week because I was definitely hurting in Indy. We had some good battles going on tonight. I made one mistake leaving the door open, so we'll learn from that. We're still close to the points lead, so we'll keep pushing on."