INTERVIEW OF THE WEEK: DAVE OSTERMAN
I last spoke with Dave Osterman at the end of August this past year. The outspoken former team manager at TwoTwo Motorsports, owned by Chad Reed, was suddenly without a job after Reed closed the race team doors on June 23rd. By the start of the 2016 Supercross series it appeared that everyone from the TwoTwo Motorsports program found a new home; that is, except for Dave. That's quite a shocker, considering that Osterman is a decorated mechanic and race team manager. He was a championship mechanic with Mike Bell, was part of Pro Circuit's success, and then resurrected Yamaha of Troy from obscurity. He then worked for Buell in Wisconsin, developing a futuristic line of offroad motorcycles, before the idea was shelved. However, Osterman got a call from Chad Reed that changed his life.
In 2011, two-time AMA 450 Supercross Champion Chad Reed took the sport by starting his own race team–TwoTwo Motorsports. He brought Dave Osterman on as the team manager. From 2011 until the doors were shut last June, Reed won six Supercross races and four outdoor overalls. However, being team owner and racer was too much for Reed. The dream team, which included such studs as Mike Gosselaar, Lars Lindstrom, Oscar Wirdeman and Dave Osterman, unraveled.
Here we are with one race before the 2016 Supercross series concludes and Dave Osterman is still a man without a home. Hear what he has to say about his time away from the sport he loves.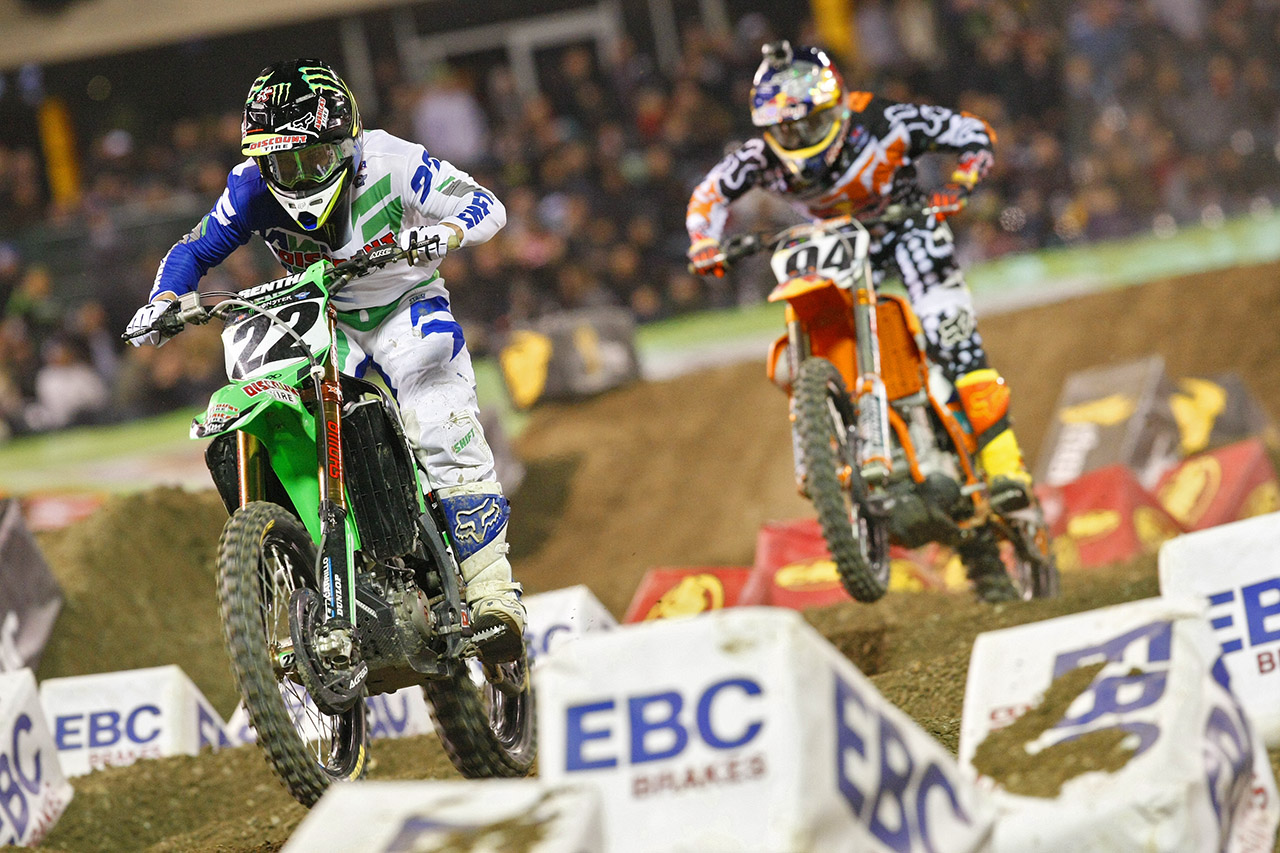 Chad Reed was off to a great start in 2014, winning two of the opening five 450 Supercross rounds and finishing third in two others. This photo was taken at Anaheim 3. Unfortunately, the train came off the tracks in San Diego, which put a premature end to Reed's Supercross campaign. 
What have you been up to?
When the team folded, for me it was almost like getting on a plane and getting dropped off in the middle of the country with nowhere to go. That's the feeling I had. I'm not blaming anybody. That's just reality. In the arena we're in, and I love the sport, I've been out of the sport probably 50 times and resurrected myself just as many times. I'm proud of that. I've been in upper management for so long, and there are really only so many chairs at the table. I look at myself no different than a top rider values himself. It was funny how everyone was bashing Josh Grant [when he got the ride at Monster Energy Kawasaki], but everyone has a worth. Some of these upstart teams want to hire some ex-three digit racer to run their race program. I have no worth that's any different from a top rider or team manager, because I have the experience and skill set. Outside of Roger DeCoster I have been working in that type of atmosphere just about as long. You get what you pay for. There are so many chairs at the table. I'm not bitter about it. However, it's a bummer for a guy like me, who was invested for so many years. At some point you think about how you have so much to offer on so many fronts, but there aren't any opportunities.
You don't want to take a step backward, either.
Listen, I respect every guy that lines up, whether they're a single-, two- or three-digit rider. We all had to start somewhere, and we've graduated up. I was a mechanic and a racer. There has to be a situation where something is worth doing. Things are a lot different now than they used to be. Unfortunately for me, there wasn't that situation when the team folded. Lars Lindstrom was able to go back into the fold at American Honda. Most of my crew was in their 30s, so they can still be a mechanic or suspension guy. Could I be a mechanic at the highest level? I certainly can, but I've been out of it for the past 15 years. I can still mount a tire like the best of them, but I wasn't looking for a mechanic position. I don't have the attitude that being a mechanic is below me, but I haven't been looking for that.
What occupies your time now?
Family comes first. I was born into a great family. I lost my older brother some years ago, and my younger brother lives in Florida. My parents live in Palm Springs, and I'm looking after them. When I was working with Chad Reed, I would see my parents one or two nights a week. The shop in Murrieta to Palm Springs was an hour drive, so I was fortunate enough to see my parents frequently. When the team folded and I was walking in circles, I began riding my bicycle so much that I started feeling guilty. So I started looking after my parents more and more. Now I'm like a caregiver. It's a tough job, and it makes racing feel easy in comparison. My dad is 95 and my mom is 86. She just had hip surgery, and it has been quite the experience. So, while I'm doing this, if somebody knocks on my door about a job then I'll talk to anybody. At the same time, as much as I love racing, I know there are so many chairs at the table. I don't know what the future will hold for me.
Dave Osterman (second from right), Lars Lindstrom (next to Osterman on the left), Chad Reed, his wife Ellie, and the rest of the TwoTwo Motorsports crew celebrated on the podium after Reed won the Los Angeles Supercross in 2012. 
Have you been following the Supercross series?
I get all my information from my phone. I haven't been to a race or seen one on television. Among all the websites it's almost like you don't need to go watch the races! Dave Prater from Feld Motor Sports set my family and I up for credentials, which I'm very appreciative of. I still didn't attend a race, and it's not an ego thing, but I know that everyone at the races has a job to do. I don't want to bother anyone. I understand that it's out of sight, out of mind. However, I've reinvented myself so many times.
What are your thoughts on the racing?
I was enamored by the FIM and AMA things that have been going on this season. I like the people that work there, but it's such a cluster. If you were a race team and dropped the ball as many times as the AMA has, then you wouldn't be there any more. I'm still shocked that some of the people hold some of the positions that they hold and do some of the things that they do. I'm a hard nose. These guys are professional, and I know they are human, but it doesn't seem like they are learning from their mistakes. I was embarrassed by the Dungey incident [in Detroit, where Ryan Dungey was penalized two positions after the race for jumping on the Red Cross flag, which wiped away his main event victory]. That stuff doesn't happen in other professional sports. They key word here is 'professional.' Year in and year out it's the same old thing. Teams clean house, and riders are let go if they don't perform. These AMA guys, like our U.S. Congress, have a life-long position that I just don't understand. I think Dungey got the raw end of the deal. I also think the  250 East/West split is crazy. It has outlived its usefulness, just like the 55 mph speed limit. The 250 guys should all race together. People have beat me up online about my opinions, but I don't care. For every action there's a reaction. People say that 250 teams wouldn't need four riders if the East and West were combined, but guess what? You have a lot of people that shouldn't be there anyway. If you're on a race team then you have to be straightforward and to the point. You're there to perform. When the gate drops the rider has to perform. If that doesn't happen then you get somebody else. That's the way I look at it. When I look at Mitch Payton and his program the past few years, I'm sure he's going crazy. A lot of the guys he's had aren't working out, and I'm sure he's frustrated. Teams he used to wipe his feet on are now in control of the class. At the same time, I think that's awesome for Star  Yamaha. I like seeing the underdog now be on top. It's only natural to not always have the hero riders.
What do you look for in a job?
I'd like to be a team manager again. The TwoTwo Motorsports deal was a dream come true. The thing with any business, or even being a parent, is that mistakes are going to be made. That's how people learn and grow. At TwoTwo Motorsports I did the best job I was allowed to do. It was still the Reed's deal and their call. I still wish that program was still going. I know that was the grand plan. Some of that has to be put on them, because it's all how you handle things. There are a lot of successful car racers that have race teams, and they're still racing a car. It all depends how you delegate authority and do things. I think the sponsorship at TwoTwo wasn't there as it should have been. There are a lot of great teams and sponsorship out there, but we didn't always seem to have it. I wish some of the people involved would have read some of the resumes and realized what our skill sets were, because we could have handled a lot more. You're only allowed to do what you're told. I did really enjoy my time there, though.
A jubilant Chad Reed won the Anaheim 3 Supercross in 2014. Little did anyone know that TwoTwo Motorsports would close its doors a year and a half later. 
Did you contact anyone after the TwoTwo Motorsports race team folded?
I called the Husqvarna guys. I'm friendly with Bobby Hewitt [Rockstar Energy Husqvarna owner]. He's a really nice guy, so I called him. Bobby said that he was going to handle the team responsibilities. Part of me thinks that Roger DeCoster didn't want me over there anyway, but that's just a gut feeling. When the team folded, everyone else went somewhere. I even tried to get back with Yamaha. When I went down there for the 60th reunion, there were so many tables and chairs on the administrative side, and they didn't even have a race program at that time. They had a hefty staff for not really having a race team. Things didn't work out. I told the guys at TwoTwo that when the bus pulls up you have to get on it, because there might not be a second bus coming. For me, there weren't any buses coming. It stings a little bit. Professional racing is a limited arena, and a lot of the good slots are filled with good people.
What do you think about Chad Reed saying that he wants to break Mike LaRocco's Supercross start record?
I have worked with so many legends and generations of riders. To be around a guy like Chad Reed was huge. I'll never forget that time. I still value the Reed's as friends. I understand that it's a business, too. I'm one of the guys who believes Chad can still win races. Sure, everything has to be perfect, but when Chad is on his game he's like how Kevin Windham was–probably even better. Chad still has a win or two under his belt, and he'll improve. Without TwoTwo Motorsports it's better for him to just focus on being the athlete.
What is your fondest memory about working for Chad Reed?
What was neat about TwoTwo is that we did everything. We built the engines and took care of it all. There weren't any bolt-on situations. Some of these teams that are winning are just bolting on parts and taking them off. We had a storied group of guys. Chad proved between the Honda and Kawasaki that we could win, and we did win. He lit up the Supercross series a few times. It was awesome to be a part of that. Sure, we struggled a few times in the outdoors, but I think at times when we got to the outdoors Chad was kind of over it. I still believe Chad can win in Supercross, and I hope people see that.
Finally, how can people get in touch with you?
I can be reached on my cell phone at (661) 510-8563, or through email at [email protected]. Thanks, John.