INTERVIEW OF THE WEEK: MIKE LaROCCO
During his racing career, Indiana's Mike LaRocco was known for his tenacity and ability to rise above the odds. He won the 1993 AMA 500 National title and 1994 AMA 250 National crown. During an illustrious 18-year career he amassed 228 Supercross starts while racing with Yamaha, Kawasaki, Suzuki and Honda. In 2010, "Iron" Mike has been the Geico Honda race team manager, with much success. LaRocco was an integral part in helping Malcolm Stewart win the 250 East Supercross title this year, and he hopes to continue that success when the 250 Nationals kick off this weekend in Hangtown. Hear what LaRocco has to say about the team's chances of another title, and whether he will be growing a mullet again.
By John Basher
Mike LaRocco is one of the sport's greats. He won titles, shattered the Supercross start record, and now is instrumental in delivering championships to Geico Honda through his tutelage and team manager responsibilities. 
The Geico Honda team had the most holeshots of any team–with seven. Is that a testament to your abilities as a team?
Yes, of course. It has a lot to do with that. We also have good starters on the team. Something we put a lot of value in for Supercross was the importance of getting a good start. We've done start tests, and we have developed settings that make it easiest for the rider to get good starts. We keep the start  in mind as we do our typical engine setting.
Does the team use technology like Dartfish, or recording to figure out the best methods for starting?
We don't use Dartfish so much, but we do use slow-motion video. What I have found most effective is pairing riders up against one another with different engine settings. We've had all of the guys start using a different setting, and then they'll switch bikes. It's pretty common that everyone of the guys pick the same bike on ease of starts. We also record who gets the most starts by bike number. I believe in using real-world testing.
You were known throughout your career for habitually getting poor starts. Do you wish there was digital technology around back when you raced so that you could take advantage of things like slow-motion?
I have the 'What not to do' part of starting covered [laughter]. I've learned a lot on where things went wrong with my starting back when I raced. A lot of it is deeper than just starting technique. Having those resources now probably would have helped. More than anything, though, is that nobody put a lot of emphasis on starts when I was racing. There weren't bike settings specifically focused on starts. So now to offer that to our team riders is crucial.
Did you always go to the starting gate and think that, more than likely, you were going to be fighting your way through the pack?
No, but I always took the 'Plan B' route. I lined up inside, rather than lining up to get the holeshot. There's a difference on attack mode off the start. If you don't go to the line with the intent of getting the holeshot, then you're not likely to get it done.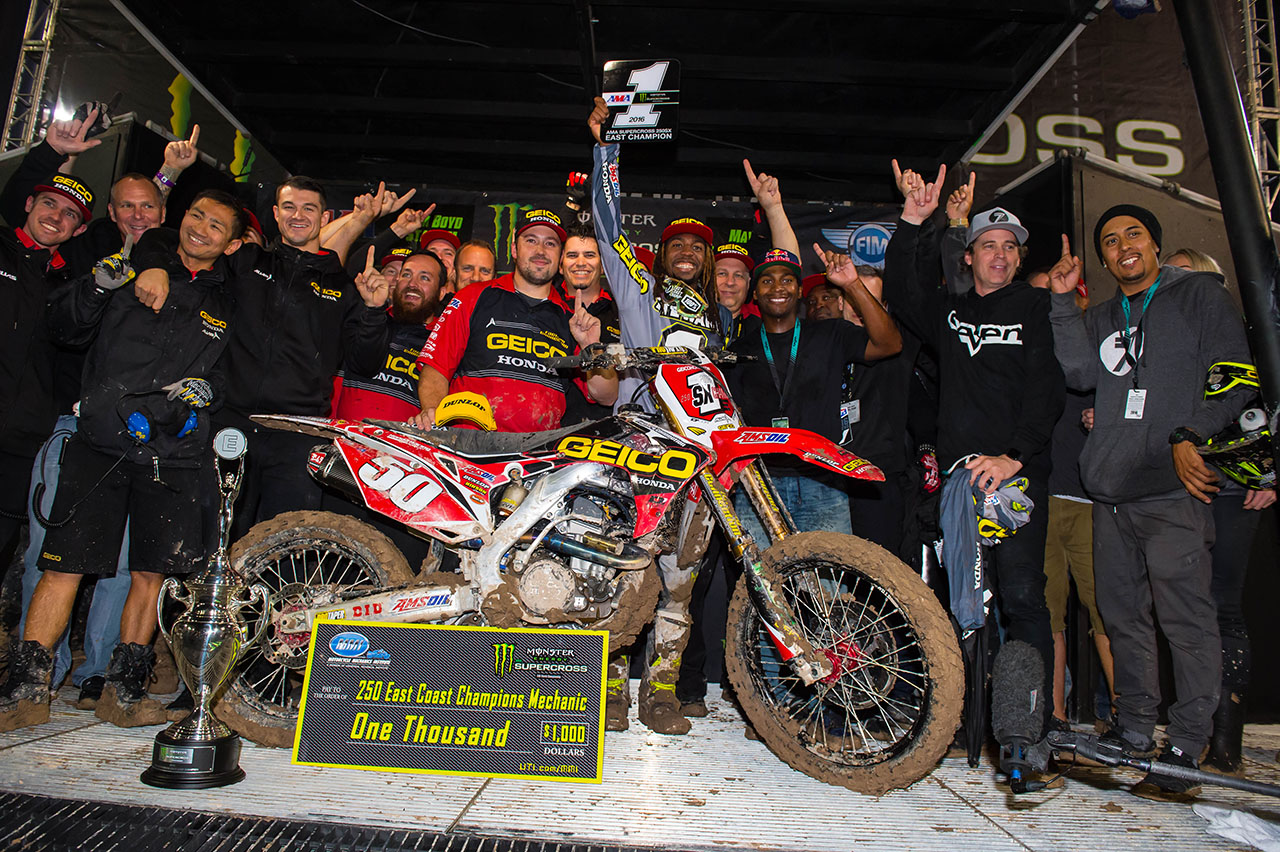 Malcolm Stewart and team celebrate the 2016 AMA 250 East Supercross Championship in Vegas. Photo: Geico Honda
Congratulations to you and the Geico Honda team for winning the 250 East Supercross title with Malcolm Stewart. You have a fleet of guys under the awning, and each had wildly different overall finishes. Can you rate each of your riders, starting with Malcolm?
Malcolm showed the speed last year. He was really fast, but he didn't have his program together. We got him late. He was sporadic, he didn't have a plan, and he wasn't fit enough. I sat him down before this season, and he was focused on winning the title. He got a taste of success last year in winning the Oakland round, and he wanted to feel that way again. Malcolm was starting to believe in himself, and I helped him put a program together.
Were you concerned when Stewart had an off-night in St. Louis?
The St. Louis race didn't stress me out too much. It was tough to see him fall that last time in the main event, because he had worked up to sixth and then lost spots. Really, though, Malcolm was out there riding and giving everything he had. That's all I ever ask of my guys. He made mistakes, but he was trying. I didn't leave St. Louis in a huge panic. The guy doesn't really crash that much or make a ton of mistakes. He had an off-night, but he was going for it. I stressed out a lot more about Boston than I did St. Louis. Malcolm put himself up front and then carried the pressure of the title, and he became numb to how he should have ridden. I know the feeling. It's really difficult to take that weight off somebody's shoulders and let them be who they are.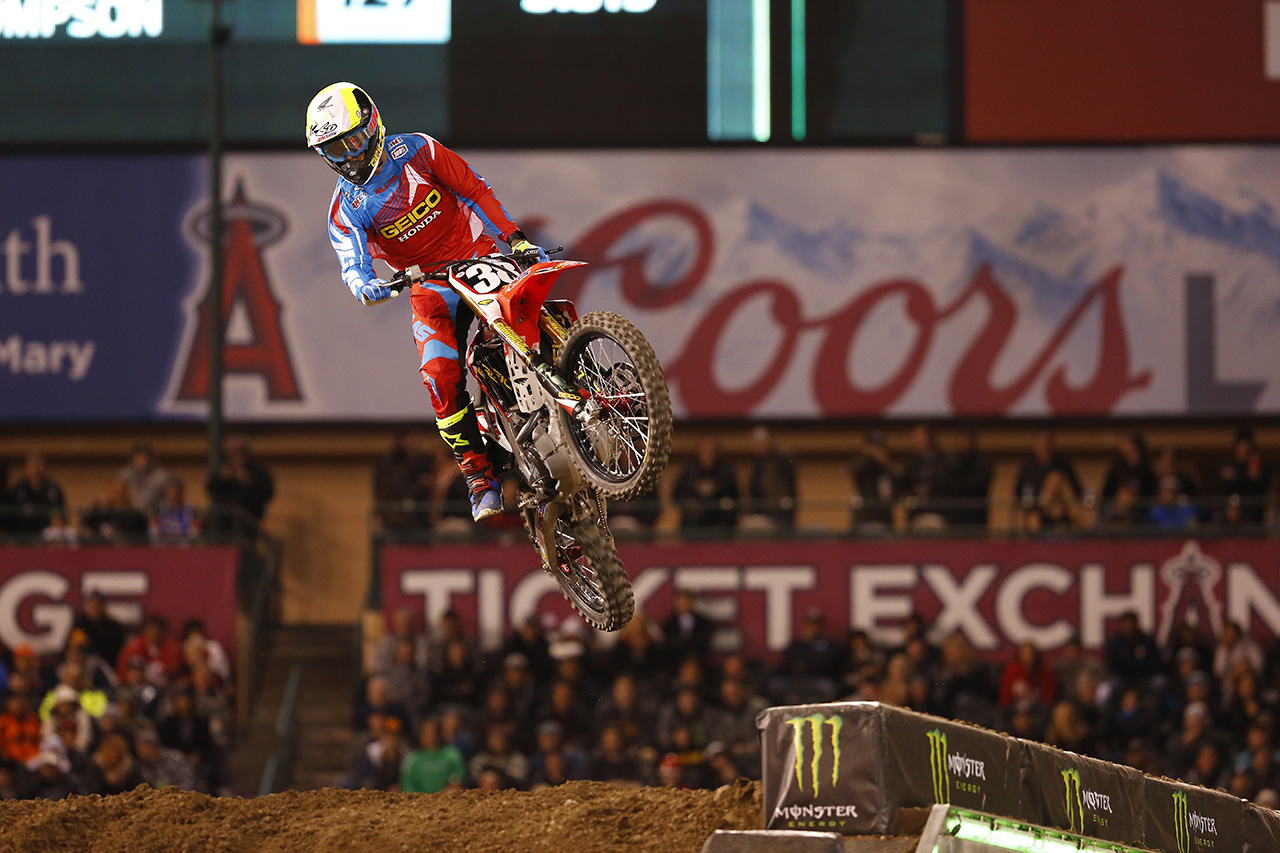 Christian Craig finished third overall in the 250 West and won his first Supercross. It was a good indoor season for the ex-retiree.
Christian Craig was a great pick-up during the 2015 AMA National series, and then you continued that relationship this season. How would you rate his 250 West campaign?
In the preseason I thought Malcolm and Christian were my two guys that could win championships. Both were really fast. Christian is very smooth, and to the point that he makes everything look really easy. He had been working hard in the gym, but I was concerned about the fact that he had never won before. It's not easy getting a guy who has never won before to put it on the top of the box. I used baby steps with Christian. I wanted him to lead laps, and he did a really good job of that. However, it took him a lot of races to get it in his head that he belonged at the front. He was never really successful in Supercross before, because he was chasing injuries. I knew he could win, but he needed to believe in himself.
Decotis finished seventh in 250 West points. His best result was a fourth at Anaheim 1.
What about Jimmy Decotis?
We had Jimmy in the past. We know he can ride. It was one of those things where R.J. Hampshire got hurt (during the Red Bull Straight Rhythm), and we weren't sure when he was going to return. We grabbed Jimmy so that he could fill the role. He started the 250 West really well. During the preseason he didn't feel he was where he needed to be. Jimmy wanted to race the East, but we threw him on the West because R.J. wasn't ready to race. He did a great job by getting out front in the heat races and putting in a few good rides. We need a little more time to work out some of his bugs. He's coming around.
Jordan Smith had flashes of brilliance, like his third place finish at San Diego 1. However, crashes ruined his momentum.
Jordan Smith finished on the podium at the first San Diego round, but crashes held him back. How would you rate his Supercross showing?
Unfortunately, Jordan has behind the eight ball with injuries. He spent most of the season not being able to ride during the week. He would race on the weekend, but the whoops are his nemesis. He had a hard time with the whoops at most races. At the end of the season I tried to get him to slow down and attack the whoops differently. I'll tell you what, that guy has no fear about going wide open into the whoops, even knowing he has a long history of crashing through them. If he gets more comfortable in Supercross and stays healthy, then he could have a much higher ceiling than where he's at right now.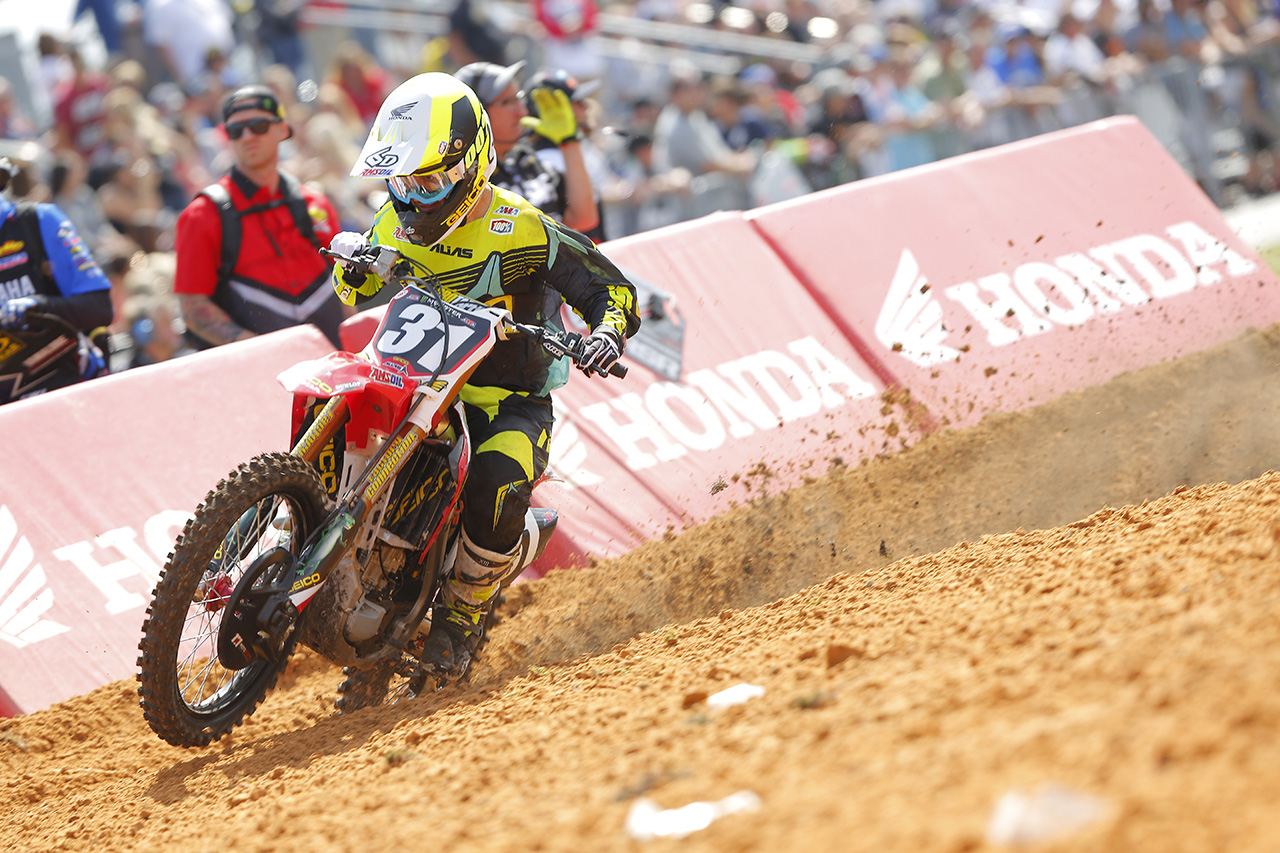 RJ Hampshire ended the 250 East in eighth.

RJ Hampshire was up and down in the 250 East. His results are not unlike Jordan Smith's. How would you rate RJ's season?
It's tough with those two guys, because they have a lot of the same characteristics. Like Jordan, RJ is very fast. His corner speed is good. I just have to get those guys to focus on reducing mistakes. You can't get away with making mistakes in Supercross. They're able to get away with it a little more outdoors, so I'm looking forward for the 250 Nationals to start. I've seen two years of it now with them, and we have to take a different approach next year so we get these guys to clean up and minimize mistakes. I know RJ has the corner speed, and outdoors he's flying. It's a matter of both guys gaining some finesse before next season.
Malcolm is moving up to the 450 class in 2017. Will he be on a Geico Honda 450?
Malcolm hasn't signed with us yet. We're definitely trying to find some avenues to keep him. It's going to be a while before we can decide if that's possible. We need to get all of our ducks in a row first. We're a 250 team by nature, and we're going to have to stay focused on the 250 program. We're trying to partner with Honda to see what we can do for Malcolm, but nothing is going on right now.
Having said that, was it a difficult decision fielding Justin Bogle in the 450 class?
That's the glory of having a partnership with Honda. They focus on the 450 class, while we're dedicated to the 250 program. They didn't have a spot, and there really wasn't a ton of rides available for Justin at the end of his 250 career. We found a way to keep Justin, thanks to the partnership with Honda. Justin was really starting to believe in himself at the end of the Supercross series. I think he's going to continue to grow and get better.
Who are your fastest outdoor riders on the team heading into the Nationals?
Christian Craig looks really good. We did some scrimmages in Texas during one of the breaks. All of the guys were really similar in speed. As far as being refined in moto form, the two guys were Christian and R.J. Hampshire. There were some variables in there where Jordan wasn't completely healthy. We brought out some of our amateur riders to the scrimmage, and Tristan Charbonneau impressed me. Chase Sexton did well, too. However, if I have to go based only off that one scrimmage, then I'll go with RJ and Christian.
Mike LaRocco (second from right) was part of a star-studded AMA Hall of Fame class that included–from left–Scott Summers, Rob Muzzy, Tom White, Pierre Karsmakers and Byron Hines.
What are your thoughts on Chad Reed attempting to break your Supercross race streak?
When I was racing I didn't use that number as a reason to race. It just happened to be what it was. I actually retired feeling like I had more in the tank, but I wasn't competitive enough to win, so I lost my drive. It is what it is. I understand it gives guys after me a target or goal to hit, which it sounds like Chad is using, but it's pretty much whatever to me.
Throughout your career you've been known to jump big things, like LaRocco's Leap at Red Bud and the infamous Kong jump at your house. Where did you get that fearlessness to jump?
I was young. I had some friends who were always telling me I couldn't jump certain things, so I felt compelled to go for it. Back then, and like the guys now, you reach a point in your career where you try to test your limits. Those were the times I was most confident on my motorcycle. That was the era where I had done the most winning, so it was part of that.
You talk about winning. Here you are winning as a team manager, and 20 years ago you were winning as a racer. Back during your most successful days as a racer you had quite an impressive mullet. Is there any chance that mullet might come back now that your guys are doing really well?
[Laughter] Unfortunately that's probably all I can grow these days! I don't think it's going to get long all over. It's not likely that I'll grow a mullet, but it'll be longer in the back regardless [laughter].
VIDEO: LaROCCO JUMPS HIS NAMESAKE'S LEAP