JGR SUZUKI'S LINE UP FOR REMAINING SUPERCROSS ROUNDS: SAVATGY & DECOTIS OUT
2020 SALT LAKE SUPERCROSS: BROC TICKLE & FREDDIE NOREN IN – JOEY SAVATGY & JIMMY DECOTIS OUT FOR JGR SUZUKI
With the original rumors for Supercross resuming in the fall, riders who were injured during the first ten rounds of the season like Adam Cianciarulo, who injured his collarbone in Arlington, (click here for video), Zach Osborne, who sustained broken ribs in a practice crash, Broc Tickle, who broke his hand in Arlington, Freddie Noren, who broke his tibia, and more were expected to return at full strength. To add to the excitement that full gate of healthy riders provides were names like Marvin Musquin, who had knee surgery at the end of 2019, and Joey Savatgy, who crashed during the Aus-X Open in Australia. Both were injured before the season started and if the season were to delay until fall, Marvin and Joey could've got in on the action. But, with the series resuming more quickly than expected, some riders were caught off guard. For example, Rj Hampshire was racing with a knee injury when the series was paused. With the big break, he decided to go in for surgery to reconstruct his ACL. We don't fault him for this decision and he even stated that he made the right choice, even with Supercross making an earlier return than he planned for. Still, most riders and teams weren't prepared for the season to start up again this abruptly.
Joey Savatgy will not line up in Salt Lake City, Utah.
Another rider benefiting from the time off is Cooper Webb who was riding through major back pain after his big crash in Arlington. Like Cooper and Rj, many riders push through the season with injuries. Sometimes they're small and sometimes big, but these guys continue to push through the pain. Sometimes they keep going purely out of the drive to win, other times with their motivation being simply to do well enough to earn a factory ride for the next season so they can continue to race. Supercross riders are hardcore. With the time they've had off, we hope that the riders are healthy and ready to go racing again.
Unfortunately, not everyone is healthy or ready to return to racing. Marvin Musquin hasn't began riding yet after his knee surgery, Joey Savatgy is back riding but not ready to race and Jimmy Decotis will miss the rest of the season while he continues to recover. One of the most unfortunate stories comes from AJE Husqvarna rider, Jacob Hayes. He had a crash recently while practicing for the upcoming Supercross rounds and it resulted in a big list of injuries including: a compounded femur, shattered knee caps and a small wrist fracture.
As always, we hope that the rest of the riders who are training for the final seven rounds in Salt Lake City will stay safe and make it through the rest of the season smoothly. Read below for the latest press release from the JGR Suzuki team announcing who's in and who's out for the rest of the 2020 Supercross season.
Freddie Noren was injured at the second round of the season in St. Louis. He will return alongside Broc Tickle under the JGR Suzuki tent at Salt Lake City. 
JGR Suzuki Press Release:
Brea, CA (May 22, 2020) – As the two month COVID-19 induced hiatus from racing eases up, JGRMX/Yoshimura/Suzuki is excited to get back to racing for the remaining seven rounds of the 2020 Monster Energy Supercross series in Salt Lake City, Utah. After suffering injuries early on in the season, Suzuki RM-Z450 riders Broc Tickle and Freddie Noren are eager to return and prove they have what it takes to be a competitive threat in the premiere class. Alex Martin, who currently sits in a solid fifth place in overall points, will also return on his Suzuki RM-Z250 and continue the momentum he started in the 250 West series.
Tickle, who has spent more than half his 450 career on Suzuki, made an impressive Supercross debut with the JGR/Suzuki team during round seven in Tampa as a fill-in for injured Joey Savatgy. Unfortunately, an injured hand at the following round in Arlington put him on the sidelines for the next few rounds. Full-time 450 rider, Noren, also displayed a strong start to the season before suffering an ankle injury at round two in St. Louis. Although races were put on hold, it didn't stop both Tickle and Noren from preparing for the series' eventual return. Both 450 riders were able to focus on their health, and return back to the practice track to prepare them for a stronger and healthier restart to the season.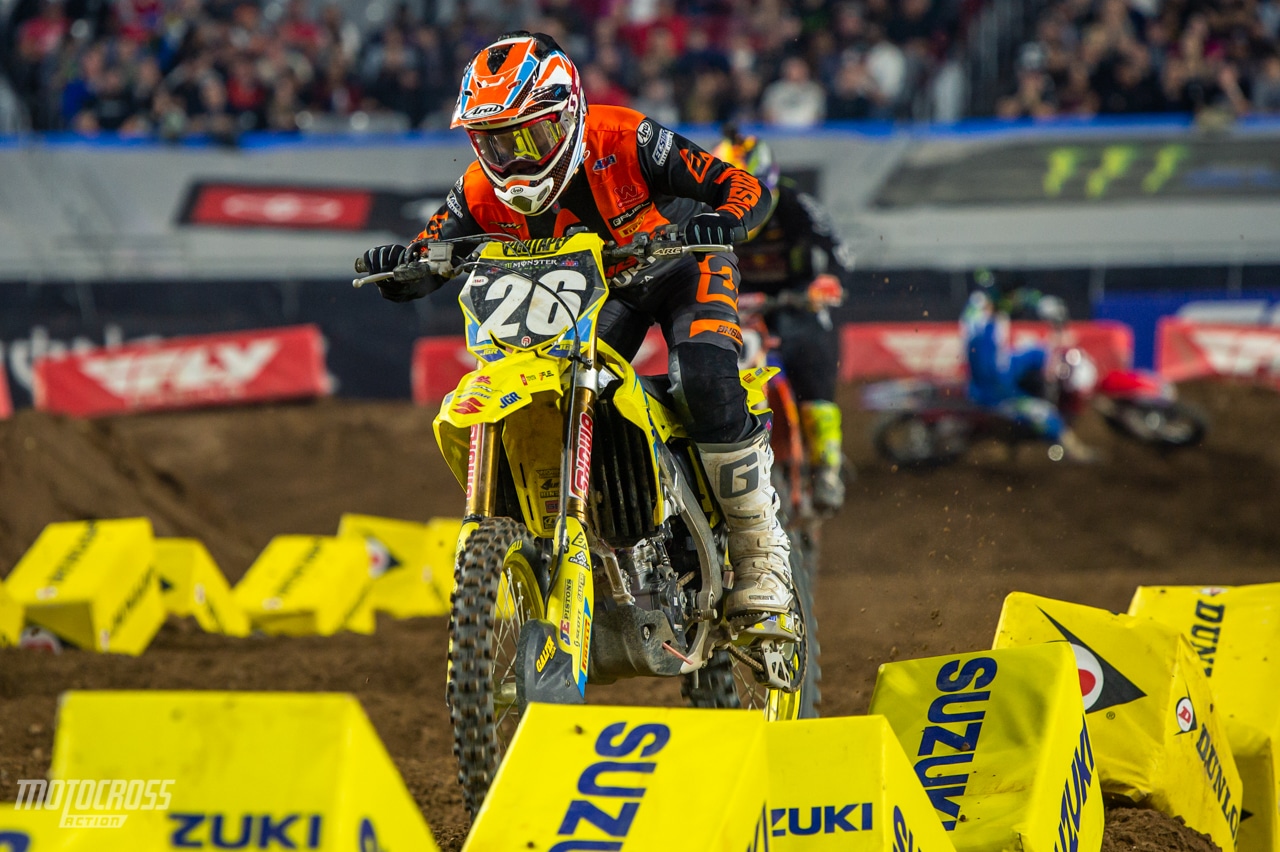 Alex Martin will fly the JGR Suzuki banner in the 250 West class.
RM-Z250 rider Martin solidified his mark before the break, sitting in the top-five in the 250SX West overall points. "A-Mart" showed great strength the first half of the season with strong starts and top-five positions, and is looking to build off those results when he returns to Salt Lake. Martin was able to focus on speed and consistency during the unexpected series break, and is determined to make his way back up onto the podium.
Joey Savatgy and Jimmy Decotis will not return for the remainder of the Supercross series as they continue to focus on their recoveries.
The remaining seven rounds of the 2020 Monster Energy Supercross series will take place at the Rice-Eccles Stadium in Salt Lake City, Utah, beginning May 31st through June 21st, and will be broadcast live on NBC networks and the NBC Sports Gold app without fans in attendance.
Please visit www.jgrmxraceteam.com for more team news.