LARRY BROOKS INTERVIEW: THE LIFE OF KEN ROCZEN'S TEAM MANAGER

LARRY BROOKS INTERVIEW: KEN ROCZEN'S TEAM MANAGER
After hanging up his helmet from his own race career, Larry Brooks would go on to work with some of the highest-profile names in motocross like Jeremy McGrath, James Stewart, and Chad Reed. Then, after some time away from the tracks and stadiums, Brooks would take a Team Manager position with the BarX Suzuki 250 Amateur/Pro team. Larry stated that he enjoyed returning to racing and helping young riders transition from amateur to Pro. That all changed when HEP Suzuki came calling, asking him to run their 450 Team. Then, everything changed again when the team hired Ken Roczen, just over a month before Anaheim 1. Now, for the 2023 season, Brooks has returned to where he began, managing one of the highest-level Pro riders. We recently tracked down Larry Brooks to learn what it's like to be Ken Roczen's Team Manager. To learn more about Larry Brook's unique career, which consisted off testing for MXA and working for many different teams, check out his interview by clicking here.
BY JIM KIMBALL
---
FIRST OFF, LET'S HEAR ABOUT YOUR TEAM MANAGER MOVE. YOU WENT FROM THE BAR-X SUZUKI 250 TEAM LAST YEAR TO HEP SUZUKI FOR 2023. It just developed over the off-season. They wanted to better their team and I love the 450 class. So, it worked out well and I made the move. We did not expect to get Ken Roczen. That was a surprise but that all happened after the fact. I was planning on just coming in and building the infrastructure of the team a little differently and trying to get it to be able to accept a top-level rider. Then it all happened, all at the same time, so it was a little bit stressful. I did not feel like we were ready for that yet, but to be able to get a rider like Ken Roczen, I think it was something we could not pass up.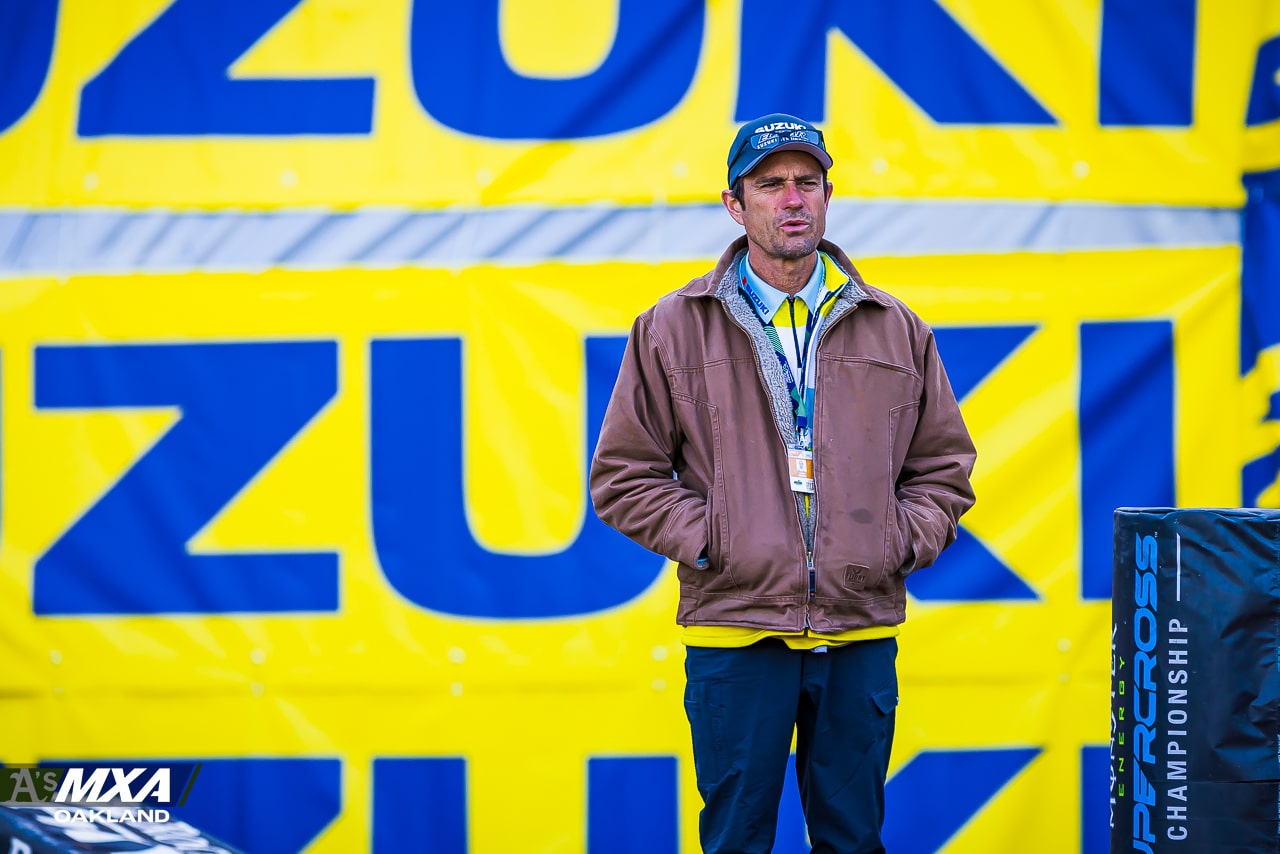 Larry Brooks checking out the track at Oakland.
WHEN YOU FIRST NEGOTIATED WITH THE TEAM, KEN ROCZEN WASN'T IN THE PICTURE, BUT YOU HAD TO TAKE ADVANTAGE OF THIS OPPORTUNITY. No, not at all. I did my deal and came into the team. Then the Roczen thing happened maybe two weeks after that, so it was not in the plan. But again, as you said, you must take advantage of the ability to get a top guy like that.
Ken Roczen and Eli Tomac neck-and-neck at Anaheim 2.
REWINDING A LITTLE BIT. YOU TOOK A BREAK FROM RACING AND CAME BACK WITH THE BAR-X SUZUKI TEAM, WHICH WAS AN AMATEURS-ONLY TEAM WITH ROOKIE 250 PRO RIDERS. NOW YOU ARE BACK AT THE HIGHEST LEVEL. It is a stressful position to be in, especially with a top-level rider like Ken. I was not really planning on doing that again. I came back to racing with Bar-X and we did the amateur stuff for five years, and I was really enjoying it. It was low stress, I got to work with young riders which made it fun, and to make a move to a 450 team, where the level of riders is good, but maybe not like a James Stewart, or Ken Roczen. It was not in my plan, but shoot, you must take advantage when you can.
Ken Roczen with some of the HEP Suzuki crew during track walk at Houston. 
WHEN YOU HAVE SOMEBODY LIKE KEN ROCZEN, I IMAGINE THAT CREATES EXTRA PRESSURE. Those guys like Ken are wired to win, so you must prepare for that type of level of racing and, it is part of the game. When those guys come, they are expecting to win. They expect themselves to win, so we must build a team that can handle that type of pressure. All the parts and the motorcycle level must come up with everything. I don't want to say it is crazy stressful, but I somewhat do it to myself because I don't want to fail them. Our riders did not come here to lose, so we have to prepare ourselves to be on their level.  
Ken Roczen holding off a hard charging Cooper Webb.
I HAVE ALWAYS THOUGHT OF YOU AS A VERY HANDS-ON GUY WHO WORKED VERY CLOSELY WITH HIS RIDERS, HOW IS YOUR RELATIONSHIP WITH KEN? It is good. Ken is a good guy, but again, he is wired to win. You must go with what their level is, and maybe even try to bump it up from there. I enjoy racing and doing well, so whatever it takes, I am all in. If I must jump through hoops, I am jumping through hoops.
I HAVE TO BELIEVE KEN'S PRESENCE ON YOUR TEAM BEARS WELL FOR THE TEAMS FUTURE, SIMPLY WITH HAVING SOMEBODY THIS TOP LEVEL. Well, his exposure level is huge and the fan base that he pulls in and everything is at a different level. There are probably only a few guys that demand that type of level of attention, and you just must give it to them. It is not something that you say "oh, we are just going to run it this way." You have to run it to the level of the rider. Sometimes it is a little difficult but in the big picture, it is fun.
The HEP Suzuki team is technically two teams for 2023. They have the Twisted Tea Suzuki team with Shane McElrath and Kyle Chisholm both on 450s, and they have the Progressive Ecstar Suzuki team with Ken Roczen on 450 with Dilan Schwartz and Marshall Weltin on 250s. This way, Ken could ride for HEP and keep his Red Bull contract (which conflicts with Twisted Tea). 
HOW DID YOU FEEL THE FIRST ROUNDS HAVE GONE? I think Ken has ridden well, and his starts have been good. The finishes were good, especially Anaheim 2 where he finished on the podium, and was very close to winning the overall. In my head, my goal was to finish in the top ten at the first event and get out of there healthy and safe and he exceeded that (Ken finished 5th at A1). My other riders were sick and one had a crash, there was some stuff going on but we did better at San Diego. But it is almost like when you have a Ken Roczen, they are a stand-alone inside the team. You know, so I think Ken's nights went well. We learned a lot. There were a lot of things that we learned that we needed to improve, so we are on that road now. We are somewhat behind the eight ball because we started so late and now we are doing some testing as the season goes on. That is not really a good position to be in, but you do what you must do, and I see he can win, so I think it is time to do whatever it takes to give him the equipment to win. We had some set-up issues in Houston, but we will get things worked out. Like many of the top riders, you have bad days and good days. I have been proud of Ken, and in Tampa, he showed some extra fight.

CONTINUING WITH HIS FINISHES, THEY ARE PRETTY CREDIBLE FOR SOMEONE RACING ON A BRAND-NEW TEAM. Oh, for sure. He obviously has the potential to win. He got on our bike, and he showed a lot of hope, so I think we need to improve the bike a little bit and make it more friendly to him. It is just like I said, it is just a different level and you have to bring the team up to that rider's level.
THE HIGHER LEVEL OF KEN HAS TO RUB OFF ON YOUR OTHER RIDERS, RIGHT? Yes, honestly, he is friendly with the other riders and helps them with their riding. It is a good team atmosphere to have a rider like that. I would think the other riders would take advantage of his knowledge and who he is and what he knows. It is an all-around win for the team.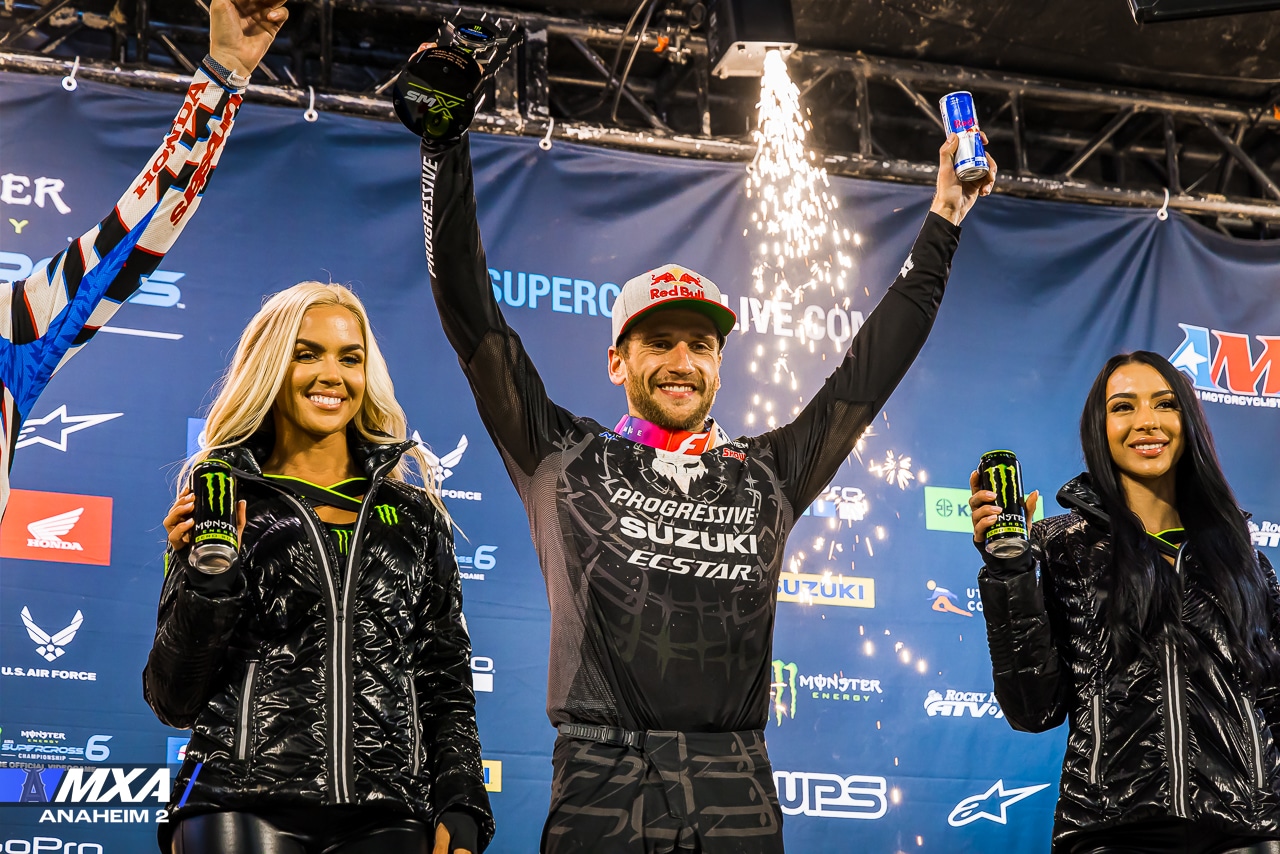 Ken Roczen gave the HEP Suzuki team their first ever 450 podium with his third place at Anaheim 2. 
IT IS INTERESTING TO SEE, WHEN LAST YEAR YOU SAW GUYS LIKE ELI TOMAC AND JASON ANDERSON SWITCH TEAMS, AND THEY HAD THEIR BEST SEASONS EVER. CAN WE SEE THAT WITH KEN? Yes, for sure. It is one of those things with other teams also. They get a star rider like Tomac, who is a great rider, and they try to bump up whatever it is they need to do, and I think it is no secret.  Everyone wants to win, so the harder you work, the better it is.  
IS KEN WITH THIS TEAM OUTDOORS TOO, OR IS THE TEAM DOING WORLD SUPERCROSS? He is going to make that decision as we get closer to the outdoors. The team is doing World Supercross also, so it is just a matter of whatever he wants to do. I think in his contract, he has the ability to choose what direction he wants to go. As it gets closer, we will make that decision, but right now, it is still on the fence.
Larry Brooks walking the track at Daytona Supercross last year with Carson Mumford. Larry is now Team Manager for the HEP Suzuki team and Carson Mumford has a fill-in ride with Pro Circuit Kawasaki and we expect to see him line up at the Seattle Supercross.
ANY FINAL THOUGHTS ABOUT YOUR NEW ROLE, KEN, AND THE REMAINING SEASON? I am excited and up for the challenge. I have been away from it at this level for a while, and I forgot how hard you must work and motivate the team and bring it up to ken's level. I am excited for the season and excited to try to get better and work at it and that is always fun to me.  
KEN ROCZEN PRE-SEASON INTERVIEW