MOTOCROSS ACTION MID-WEEK REPORT
#WHIPITWEDNESDAY
Rider: Christian Craig
Event: 2023 Houston Supercross
Photog: Brian Converse
TWO-STROKE SPOTLIGHT | ZACH MORRIS' 2002 CR250 & 2010 YZ250
"Here it is! My 2000/2002 CR250. I purchased this bike a year ago as one of my next two-stroke rebuild bikes, over the past several years that's become a hobby, and unfortunately, I spend more time rebuilding than I do riding bikes.
"This bike started out as a hamburgered 2002 CR 250, with a cracked exhaust bridge, worn out clutch, and rusty bearings. Every bearing in the chassis was replaced, the suspension was rebuilt front and rear with springs that matched my weight, a full bottom and top-end rebuild was completed with a repaired and Nikasil'ed cylinder.
"When I was done I had a bike that handled wonderfully, but still had the dreaded RC valve engine. Prior to this I had rebuilt a 2010 YZ250 two-stroke that I couldn't keep my buddy from buying off me, I was in search of another bike that could rival the engine of that YZ. After a few minor mods the CR ran better, but still had a mid-range only engine that went waa-waa-waa on the bottom just as described by MXA back in the day.
"I decided to try another avenue and was able to sell the rebuilt engine online, the same day it sold I came upon a 2000 engine needing rebuilt that had a Eric Gorr 265 top end that hadn't been run.
"It was a fairly simple swap, and with the 2000 CR engine, the bike rips! We're heading out this weekend to compare it to the 2010 YZ as well as an older generation KX250. All three bikes are off of fresh rebuilds and it should be a fun comparison. Previously that YZ was unmatched and my brothers 1999 KX had preferable power when compared to the CR, at this point I think the CR will be on par with the YZ engine, may have an edge in handling and only be giving up some very minor suspension advantages to the Yamaha.
Long live the two-strokes!" –Zach Morris
Editor's note: Please keep those submissions coming. If you would like your bike to be featured in the "Two-Stroke Spotlight," please email me at [email protected]. All I ask is that you give a breakdown of your bike and a detailed description of the build. Please also send a few photos of your steed. By submitting your bike for the "Two-Stroke Spotlight," you agree to release all ownership rights to the images and copy to MXA.
ALEX MARTIN HAS HIS OWN MXA COLUMN ABOUT TRAINING & IT IS FANTASTIC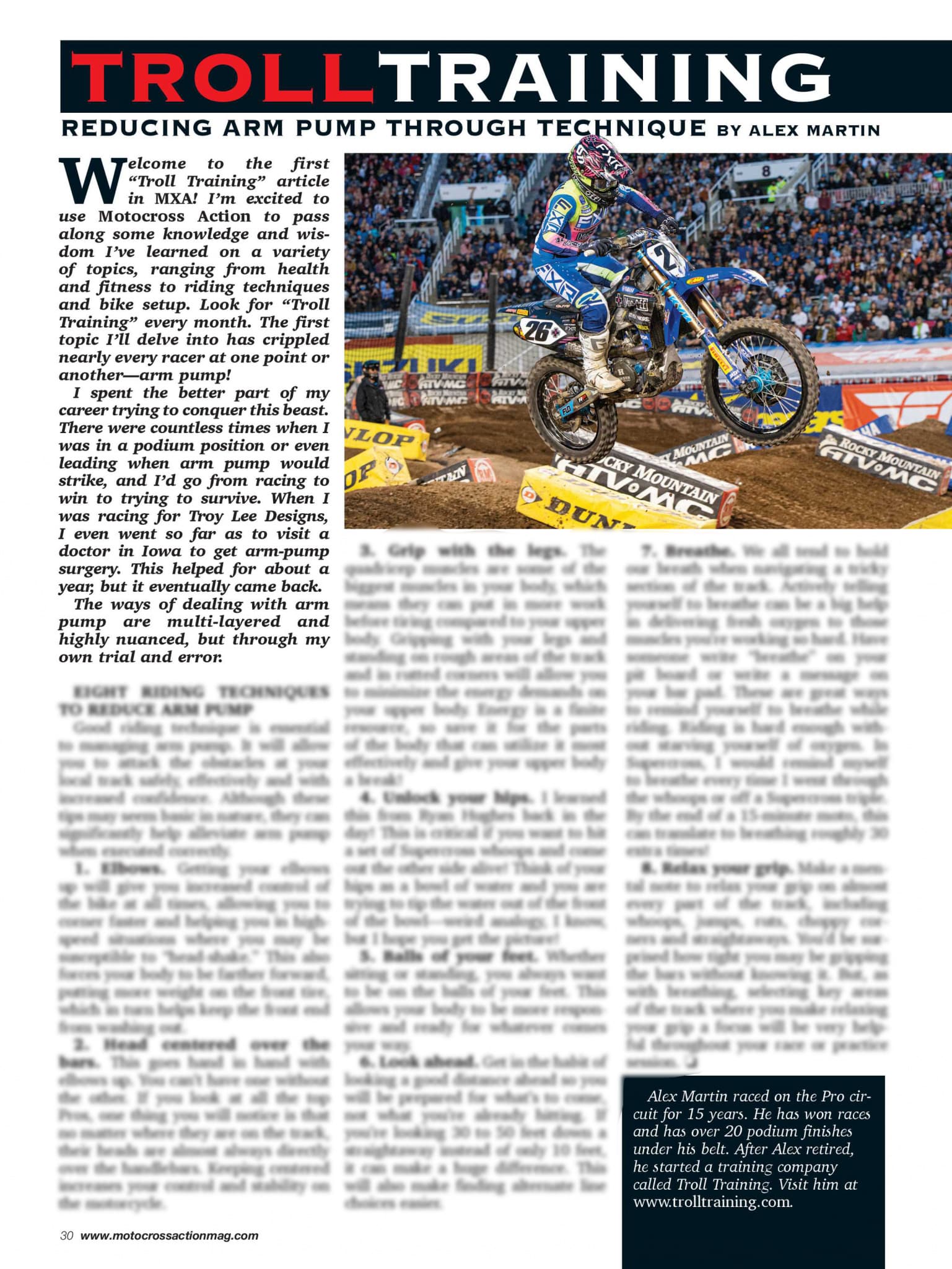 You thought we were going to give you his first article without subscribing first? It is too good to just give away. After Alex retired he teamed up with his trainer and started a training company called Troll Training. They have different programs that fit each rider. Check them out at www.trolltraining.com
MXA Old School logo Men's premium heavyweight tee.

Champion Hoodie MXA Japanese logo.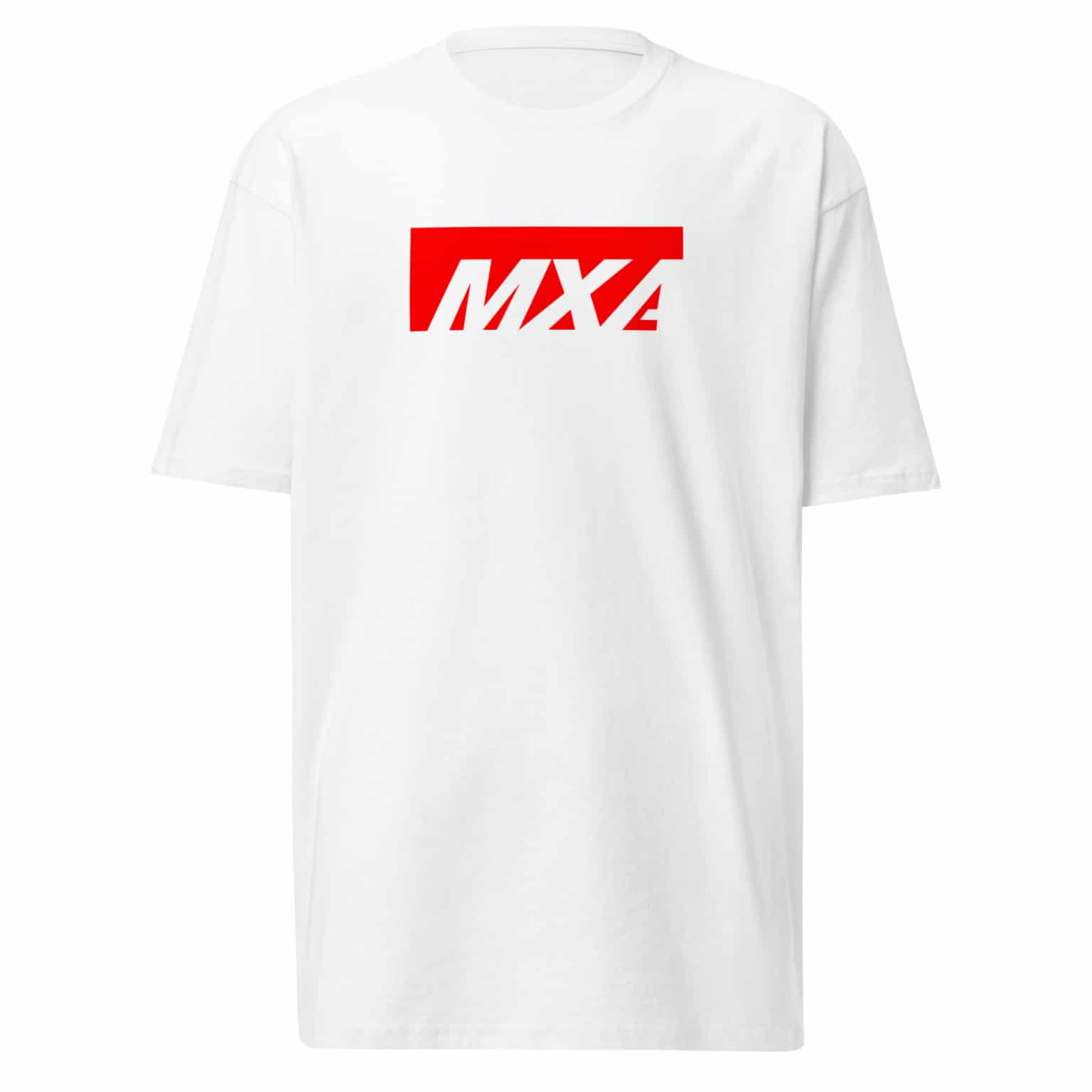 MXA Red Box logo Men's premium heavyweight tee.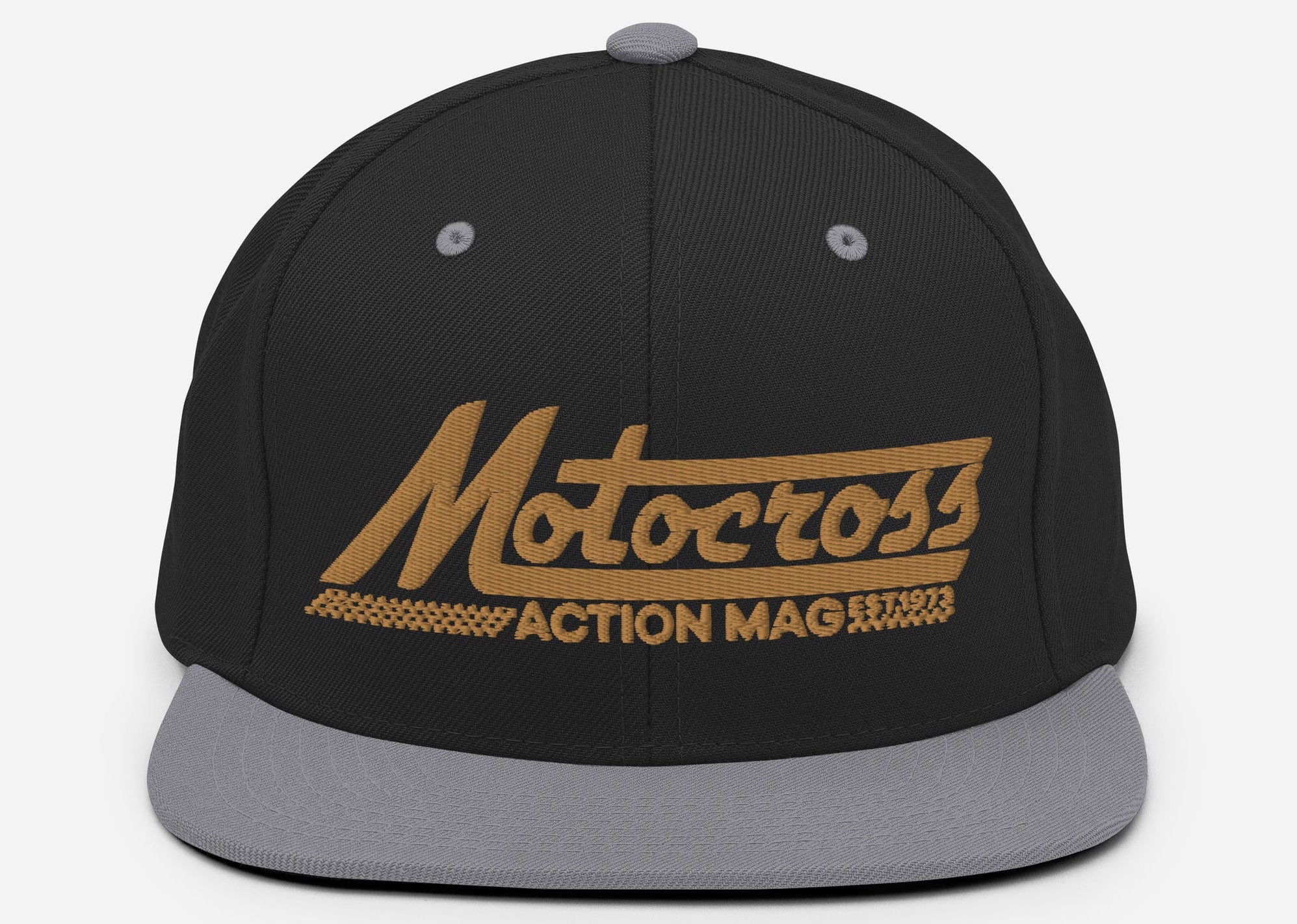 MXA Retro logo Snapback Hat.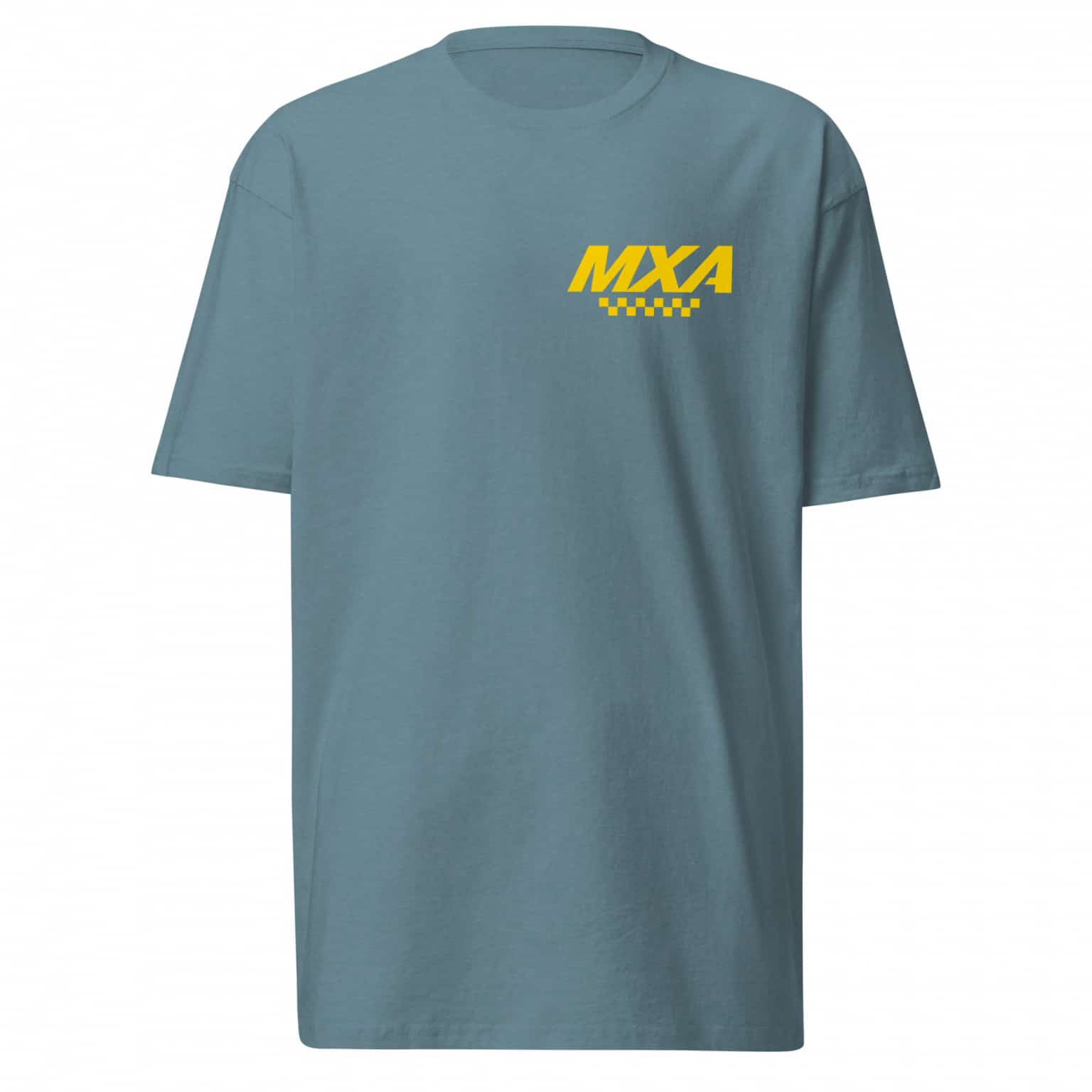 MXA Checkers Men's premium heavyweight tee.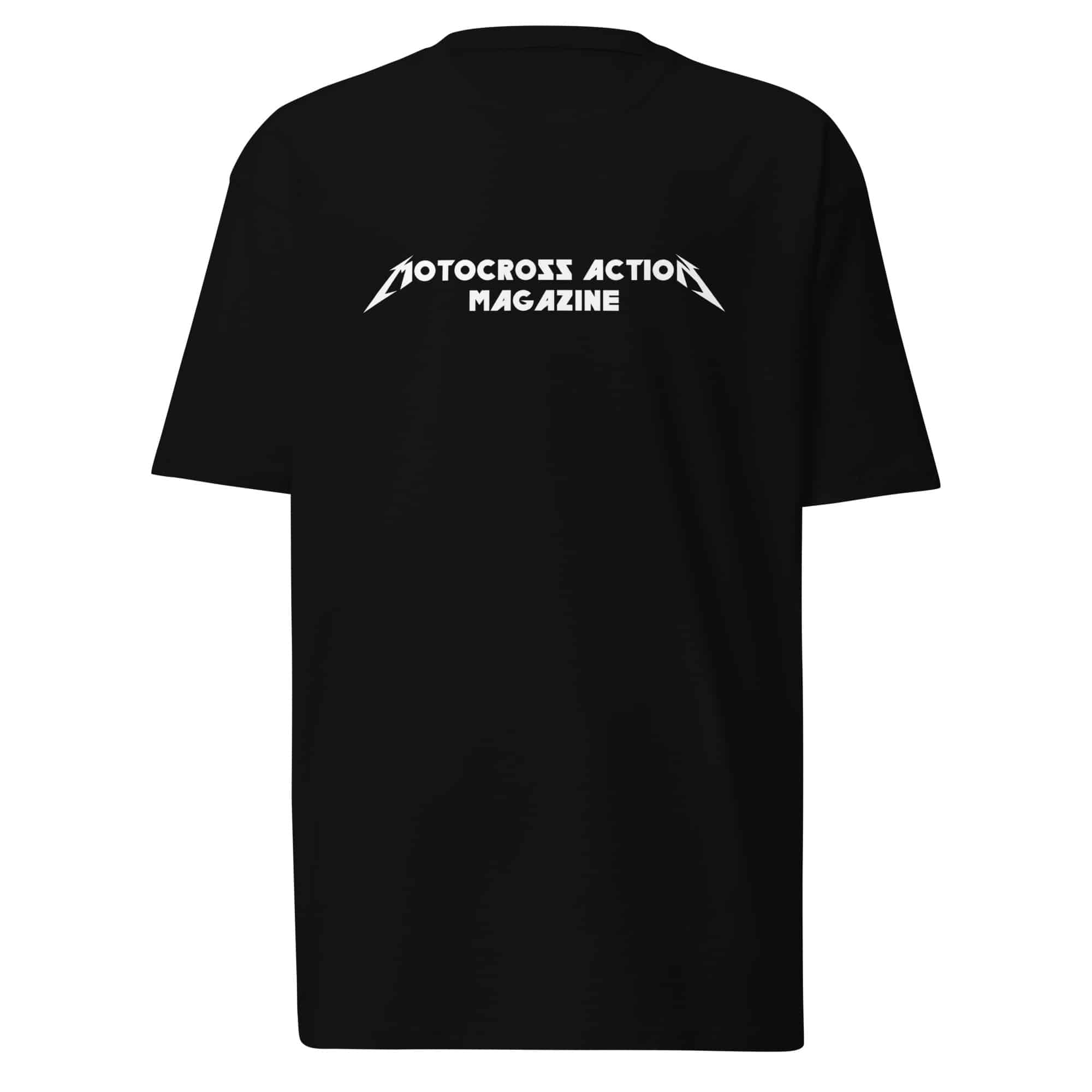 MXA Metallica logo Men's premium heavyweight tee.
MXA retro logo bennie. 
MXA OG LOGO Men's premium heavyweight tee.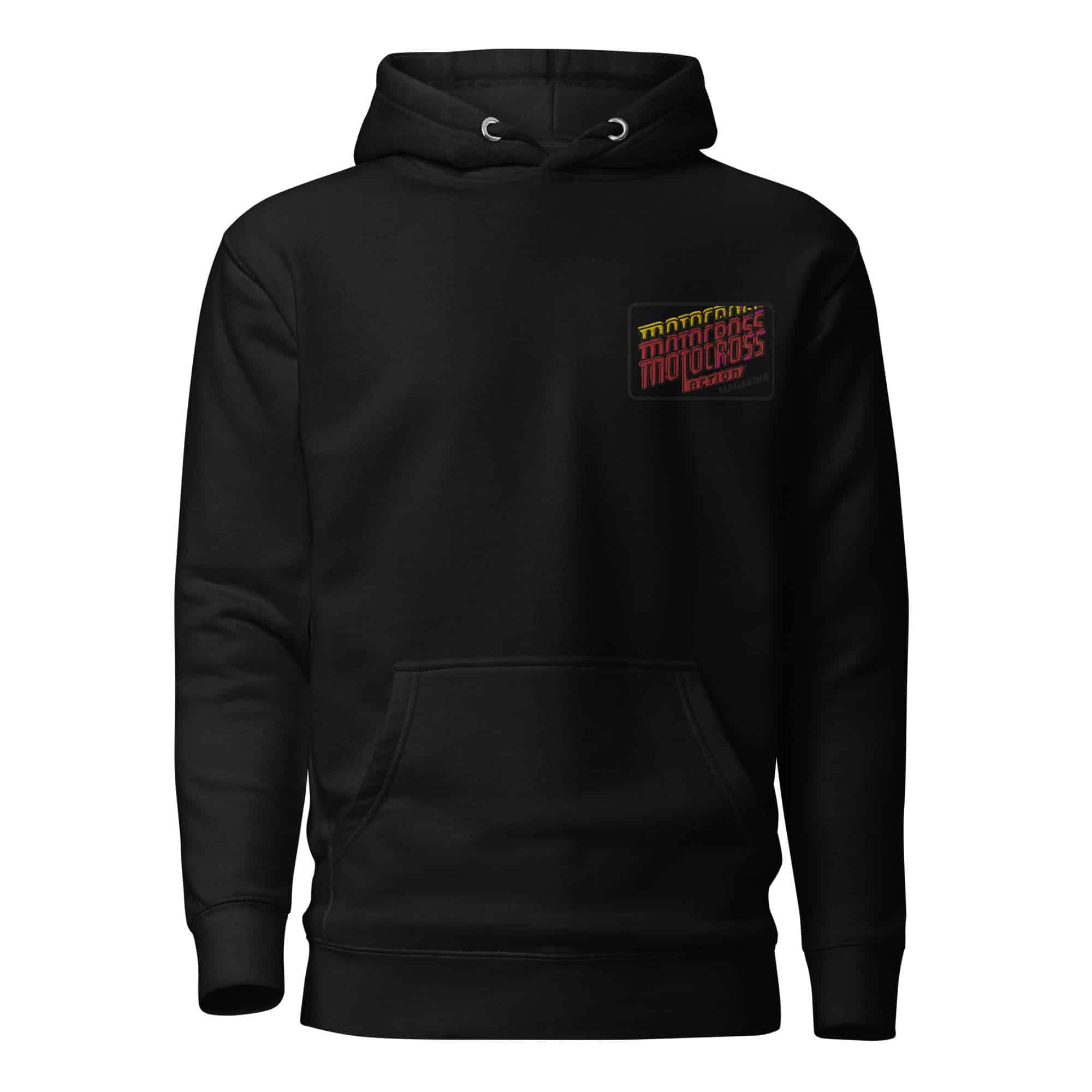 Embroidered MXA Classic blur logo Unisex Hoodie.
MOTO | TRIVIA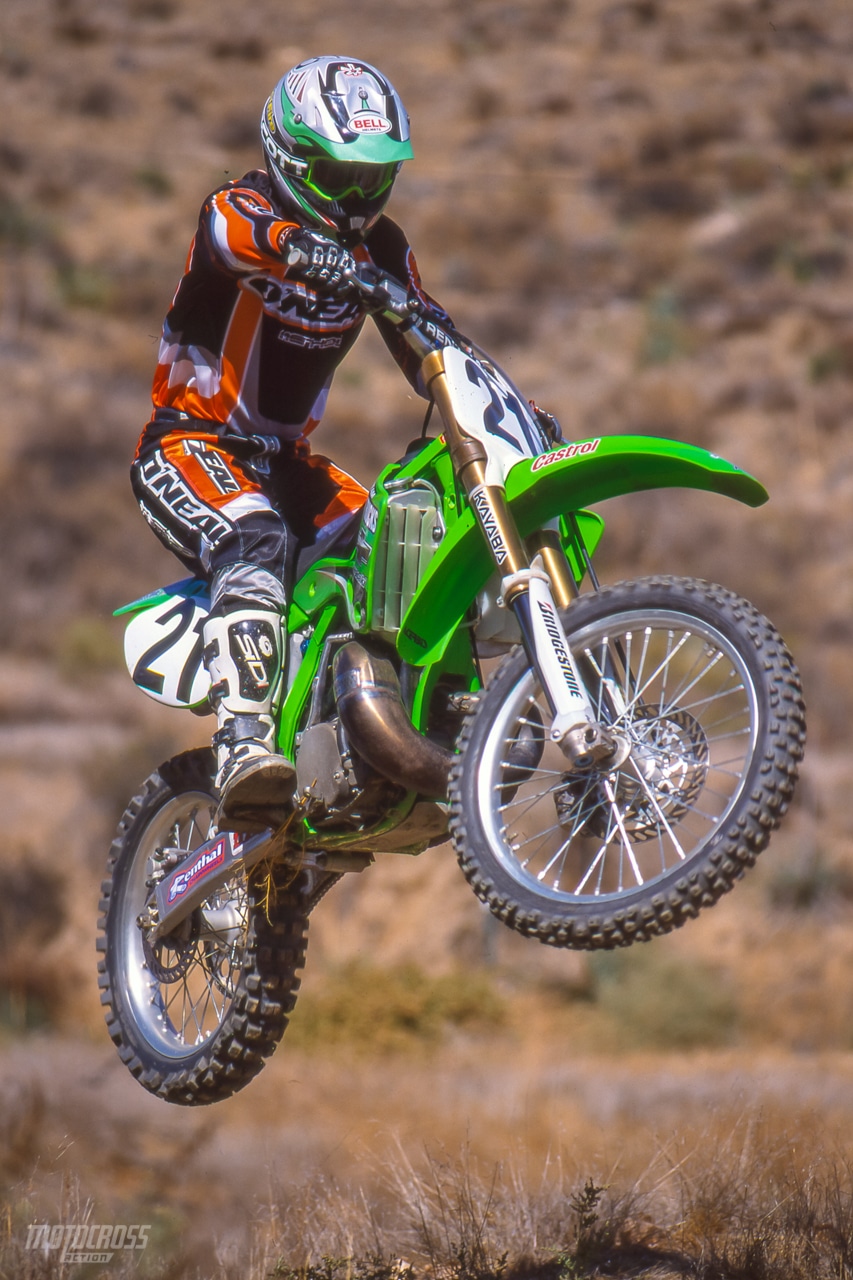 Name the rider. Answer at the bottom of the page.
FMF NEW SWAG AVAILABLE 
MXA RIDES AN ELECTRIC HOMEMADE BIKE AND IT IS GREAT!
MXA QUOTE OF THE WEEK // KEN ROCZEN ON HIS RM-Z450 AT THE HOUSTON SUPERCROSS
"I wasn't really feeling that comfortable on the track. All day we were trying a lot of different things on the bike. It's tough going out there with something new all the time. Nonetheless, the team has been giving it an amazing effort and everyone is on board and trying very hard. So tonight was not really our night, but I don't want to bury my head in the sand. We're going to go back to Florida this week, the whole team's coming out and I'm looking forward to some more work and to get back to it next week in Tampa."
SUPERMOTOCROSS ROUNDS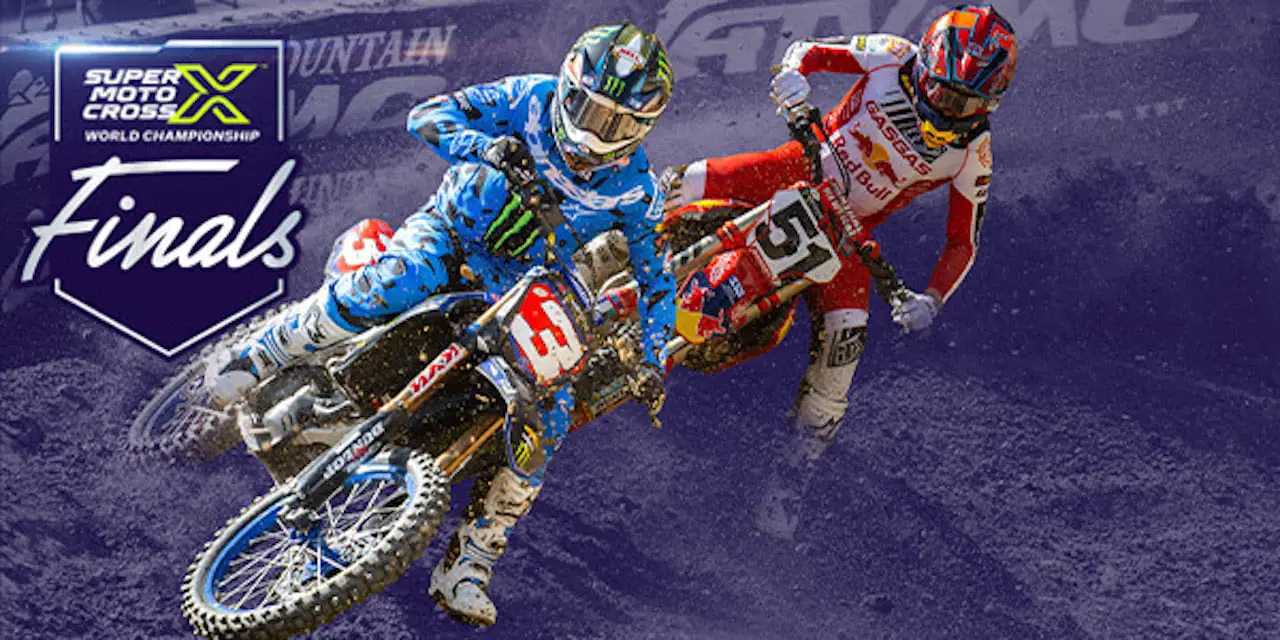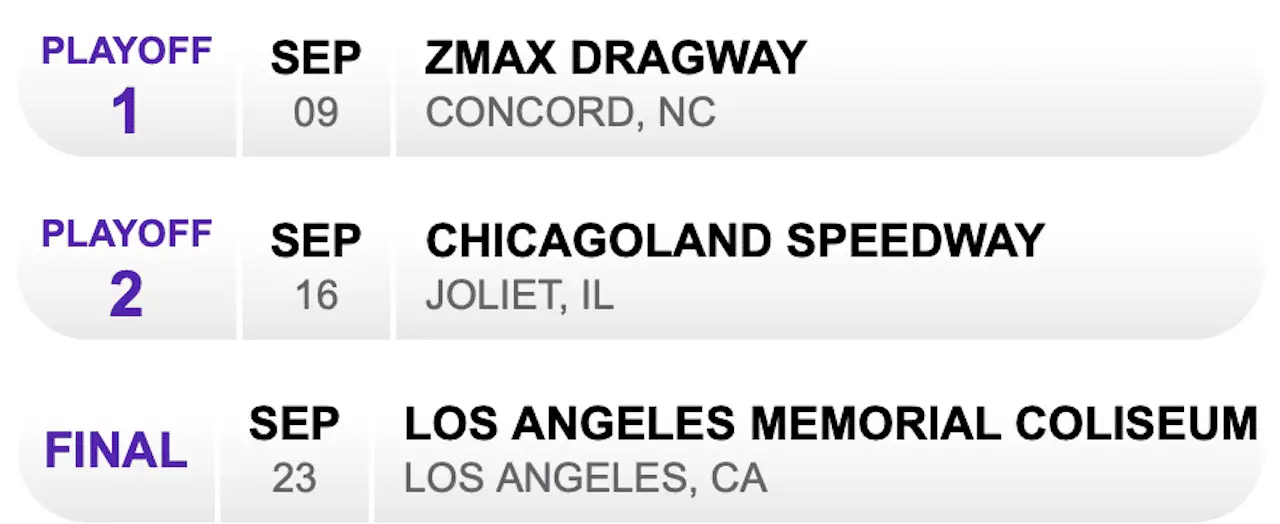 THE MARCH 2023 ISSUE OF MXA IS OUT NOW! SUBSCRIBE AND YOU WON'T MISS A THING
On the cover: Want to know what the best 2023 125 smoker is? We break down each bike and give you al the answers. We bet you will be surprised. 
Did you know that you can subscribe to MXA at virtually no cost to you—because when you subscribe you receive a Rocky Mountain ATV/MC credit for $25 towards anything in their massive inventory. Plus, you will get all the content in the 12 monthly issues of Motocross Action magazine—from four-stroke tests, two-stroke tests, retro tests, race coverage, new tech to product tests….most of which never appear on the internet. And, don't forget, that $25 credit from Rocky Mountain ATV/MC that will more than cover the cost of your subscription. To subscribe call (800) 767-0345 or Click Here.
MXPERTS // WILL MY VP T2 GO BAD?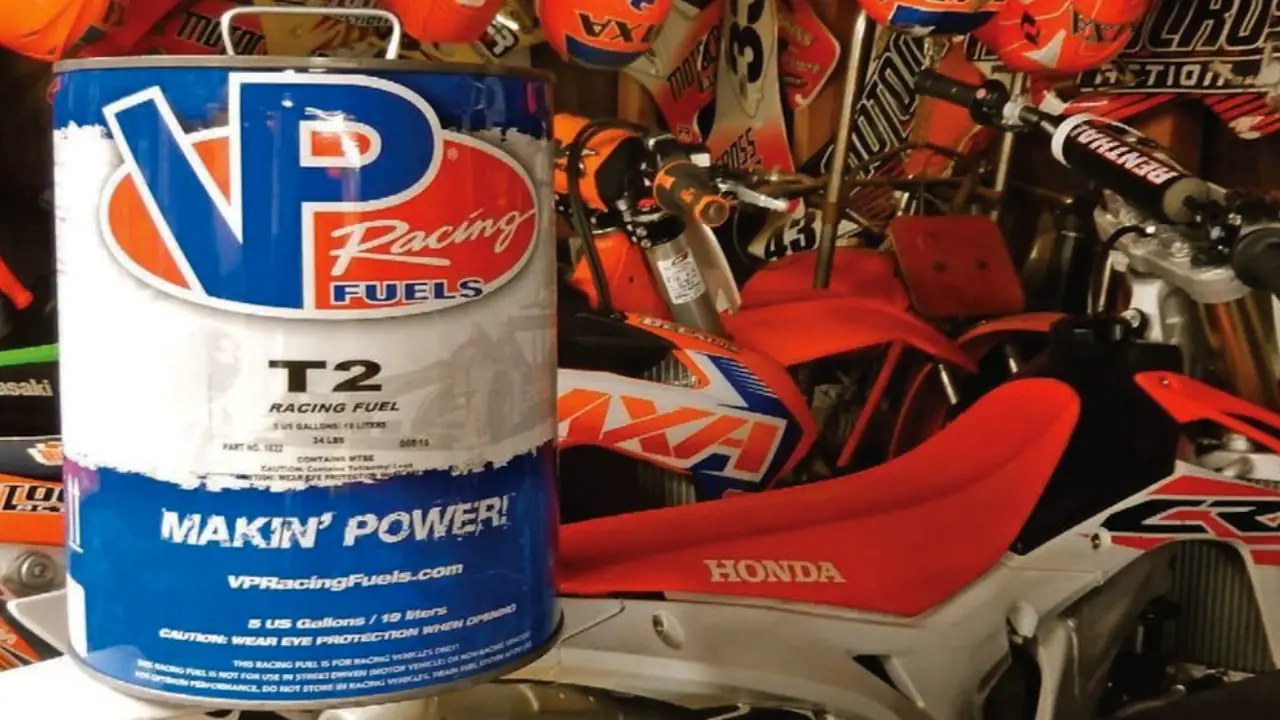 VP T2 is a high octane race gas that is mixed with pre-mix oil before you buy it in a five-gallon can.
Dear MXA,
I need your expert advice. I started using VP T2 in my modified YZ250, which I love, but my question is about what happens when the weather turns cold. Will the premix oil in T2 separate the oil and gas when it gets very cold in my garage?
No. There are no castor oils or other ingredients that will be affected by cold weather in T2. The pre-mix oil added to T2 is a high-quality, brand-name, synthetic, two-stroke oil that will not separate. We would, however, make sure to keep your T2 in its sealed metal can—especially since it is summer and it is a long time until cold weather sets in.  If you only have 2 gallons in the 5-gallon metal can transfer the fuel to a smaller container that will leave less air space above the fuel.
Have any moto brain busters for us? Email us at [email protected]
MXA INSIDE THE PRO'S BIKES WITH RJ HAMPSHIRE'S FACTORY HUSKY FC250
LOST BUT NOT FORGOTTEN | YAMAHA YZ80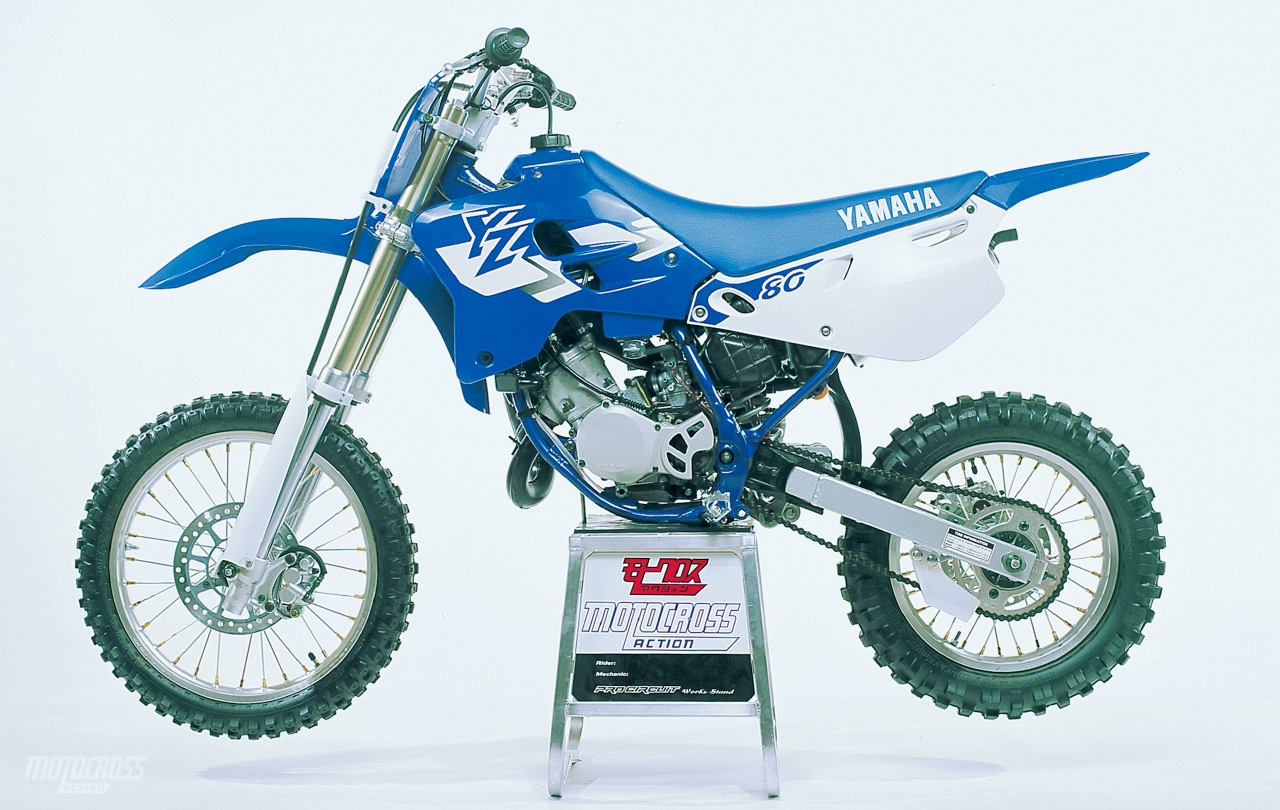 MXA YOUTUBE CHANNEL | HIT THAT SUBSCRIBE BUTTON
The MXA wrecking crew is everything moto related. Check out our MXA YouTube channel for bike reviews, Supercross coverage, rider interviews and much more. And don't forget to hit that subscribe button.
WISECO/FASTHOUSE 2023 WORLD TWO-STROKE CHAMPIONSHIP ON APRIL 8
For more info go to www.glenhelen.com
TALK MOTO WITH ON MXA'S FACEBOOK GROUP CHAT
CHECK OUT THE 2023 FXR CATALOG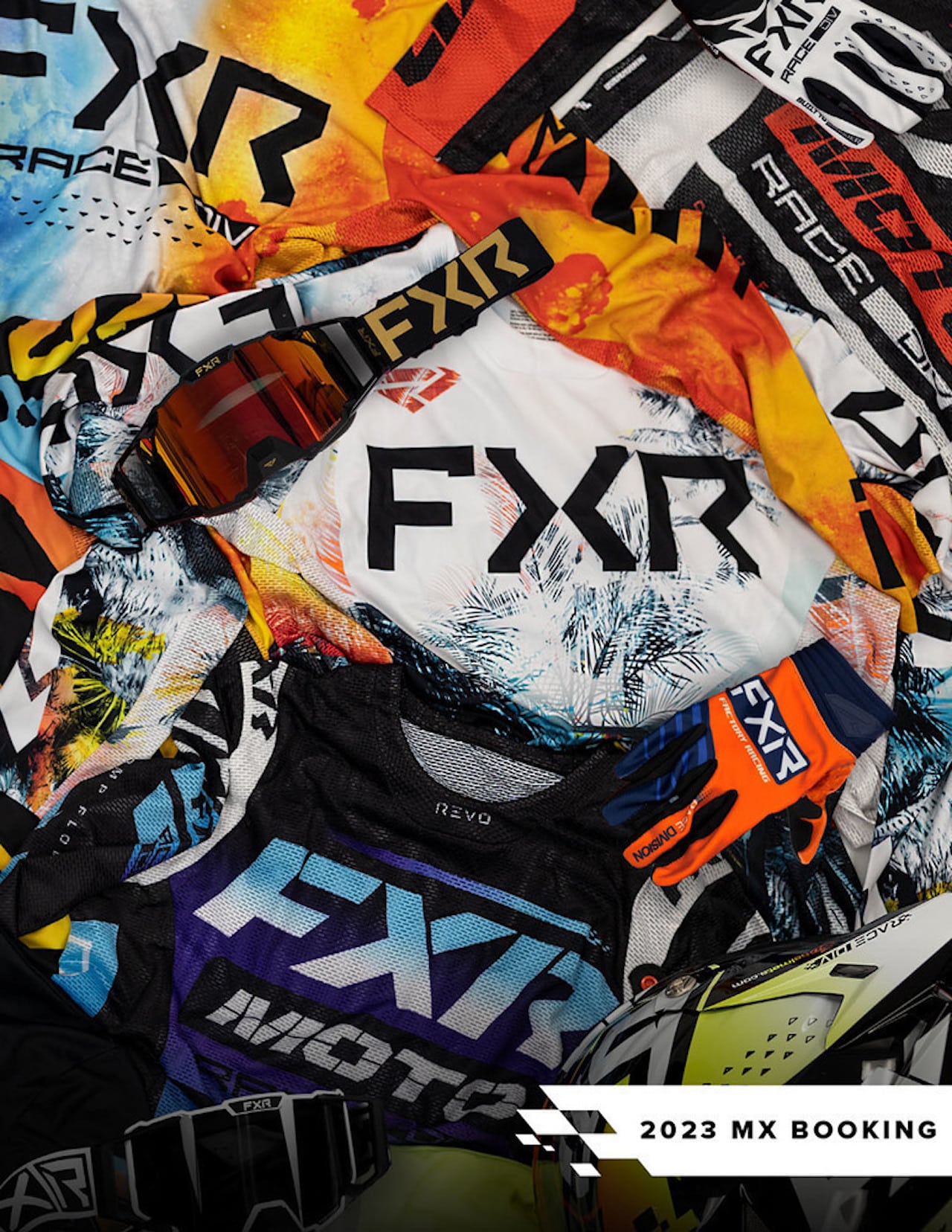 To check out the 2023 FXR line CLICK HERE.
GET MXA AND DIRT BIKE SUBSCRIPTION AND SAVE MONEY—NOT TO MENTION THE $50 ROCKY MOUNTAIN E-GIFT CARD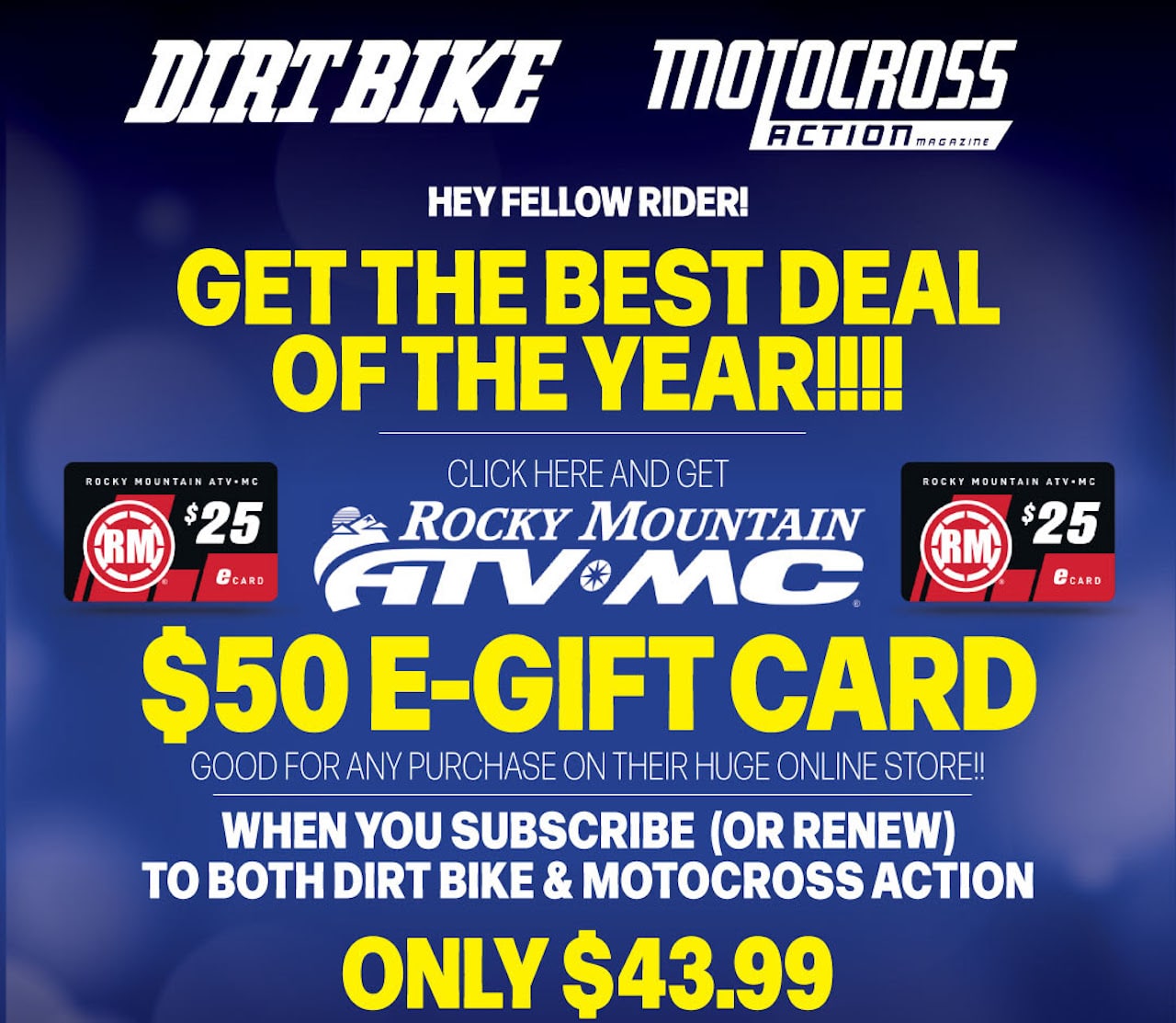 You can't afford not to subscribe, because when you order a subscription, Rocky Mountain ATV/MC sends you a $25 gift credit to use on anything you want from their massive selection. Plus, subscribers to MXA can also choose to get the digital mag on their iPhone, iPad, Kindle or Android by going to the Apple Store, Amazon or Google Play or in a digital version. Even better, you can subscribe to Motocross Action and Dirt Bike for one low price and get a $50 E-Gift card—plus you get the awesome print edition delivered to your house by a uniformed employee of the U.S. Government. Do we have to mention the $25 Rocky Mountain ATV/MC gift card again? That gift means that your subscription balances out as free, free, free! You can't lose on this deal? Call (800) 767-0345 or Click Here
CLASSIC PHOTO BLAST OF SHAE BENTLEY IN 2001
---
Moto Trivia answer: Stephan Roncada.