MOTOCROSS ACTION MID-WEEK REPORT
#WHIPITWEDNESDAY
Rider: Jarryd McNeil
Bike: 2023 Yamaha YZ250
Event: 2023 Oakland Supercross
Photog: Trevor Nelson
TWO-STROKE SPOTLIGHT: ALEXANDER STRIZHAKOV'S CUSTOM-BUILT HONDA CR125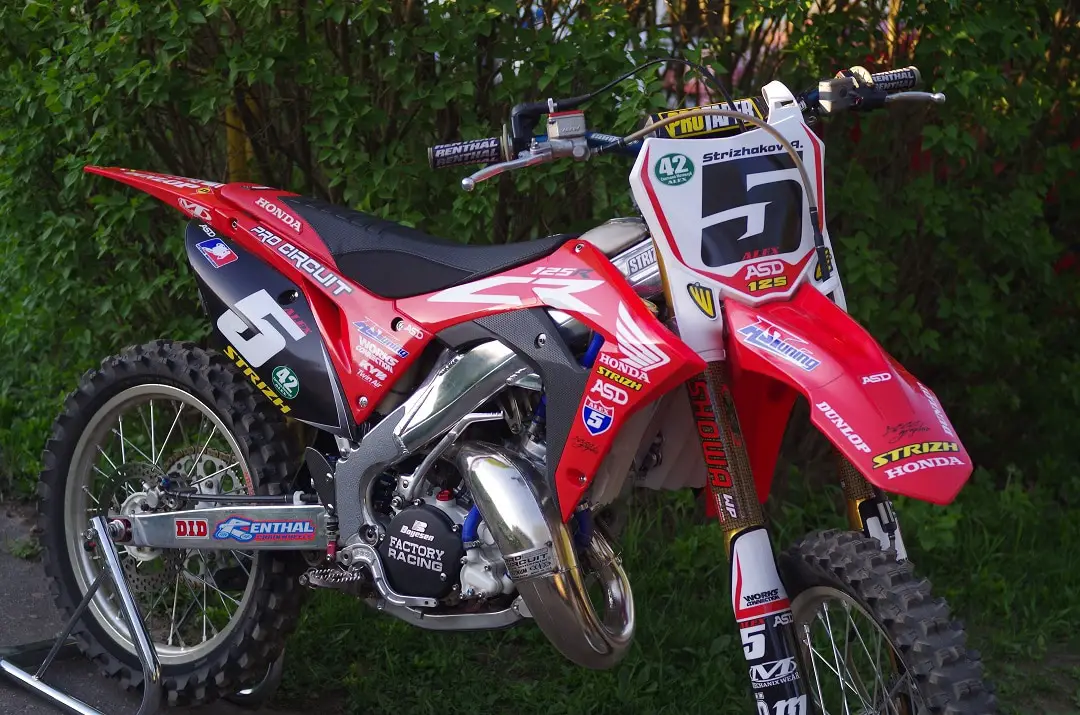 How awesome is this CR125 build? We want it. 
This is Aleksandr Strizhakov's dream bike. He wanted to make a replica of the 2018-19 CRF250 with a CR125 engine. He put a lot of time into this build. We featured his bike on MXA back in September of 2017 when it was in the works. It is worth a look to see the start of the build. When Aleksandr sent us the email that his build was finished we were excited to see the final product. Take notes Honda, or Aleksandr is going to build them for you. Take it away Aleksandr: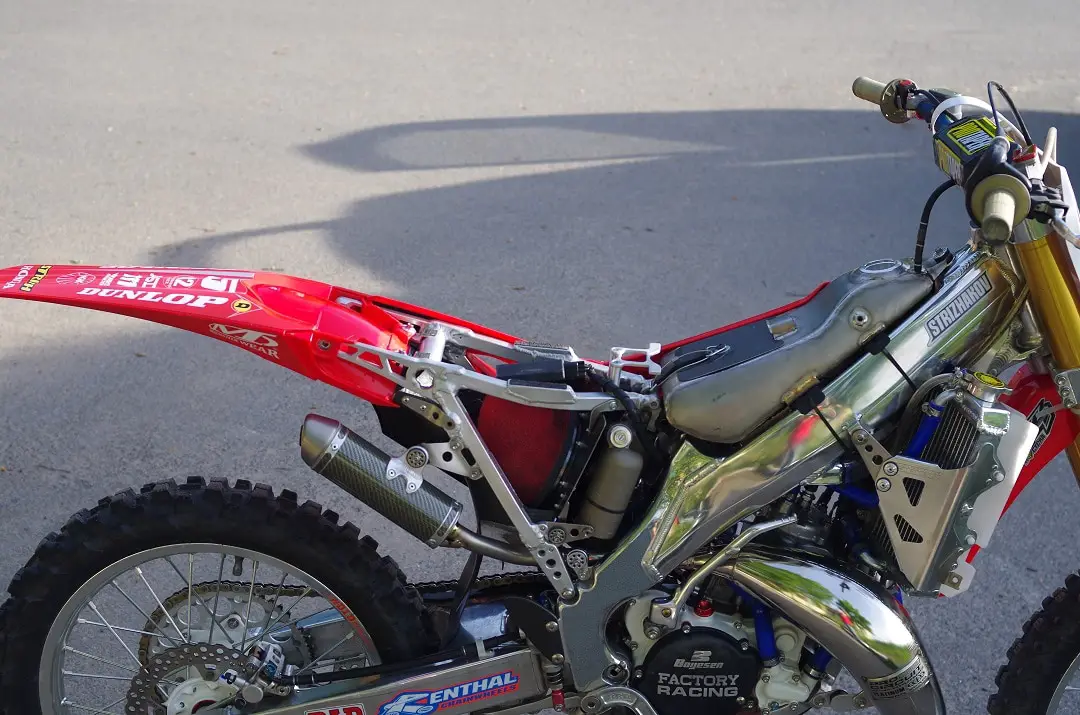 Underneath the CR125's clothes. 
"The construction of the bike of my dreams was somewhat delayed, but it has finally come to fruition. I am an engineer and a designer that really loves motocross. I like the handling of the frame of the third-generation Honda CR125, and I decided to put it in the hull of Honda's new design body. It was an excellent and interesting job. I hand-built the subframe and transmission and carbon air box. Since I needed a new fuel tank, I decided to make it out of titanium. I applied my method of hydroforming the sides of the tank using a hand grease pump. Next, I worked with sheet metal and after that, the entire tank was TIG welded by a friend and our best welder, Vladimir. This is the titanium gas tank that can be seen on my bike! I am a perfectionist and decided to build a motorcycle from the best parts of the world, and many parts are made by me. The bike is very light and the handling is amazing. It has a powerful Motostuff front motor that is controlled by an RE caliper. Of course, the engine is inferior to the engines of the KTM and Husky and even Yamaha. But I am 55 years old and the engine suits my riding capability perfect. I also used a hydraulic clutch to help the engine.  But I can install any two-stroke engine in this frame. Here is a list of details and work: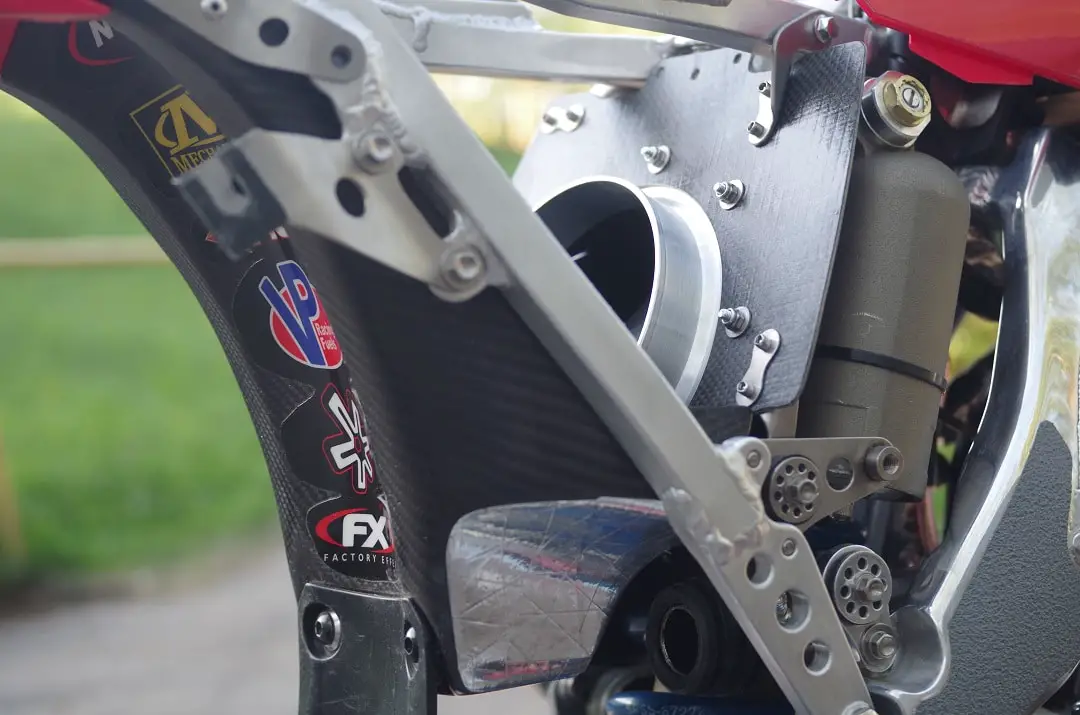 An up-close look at the hand-made carbon fiber airbox and subframe. 
Chassis: 2004 Honda CR125 frame and swingarm. Honda 2017 plastics and seat (I installed the front wing of the 2016 model, which is more suitable for a light 125). D.I.D. LTX rims that I lightened and powder coated the hubs.
Suspension: 46mm Öhlins front forks that have titanium nitrided lower tubes. Emig modified and polished triple clamps. KYB KX250F rear shock (shorter than the Honda at 6mm, which lowered the rear of the bike).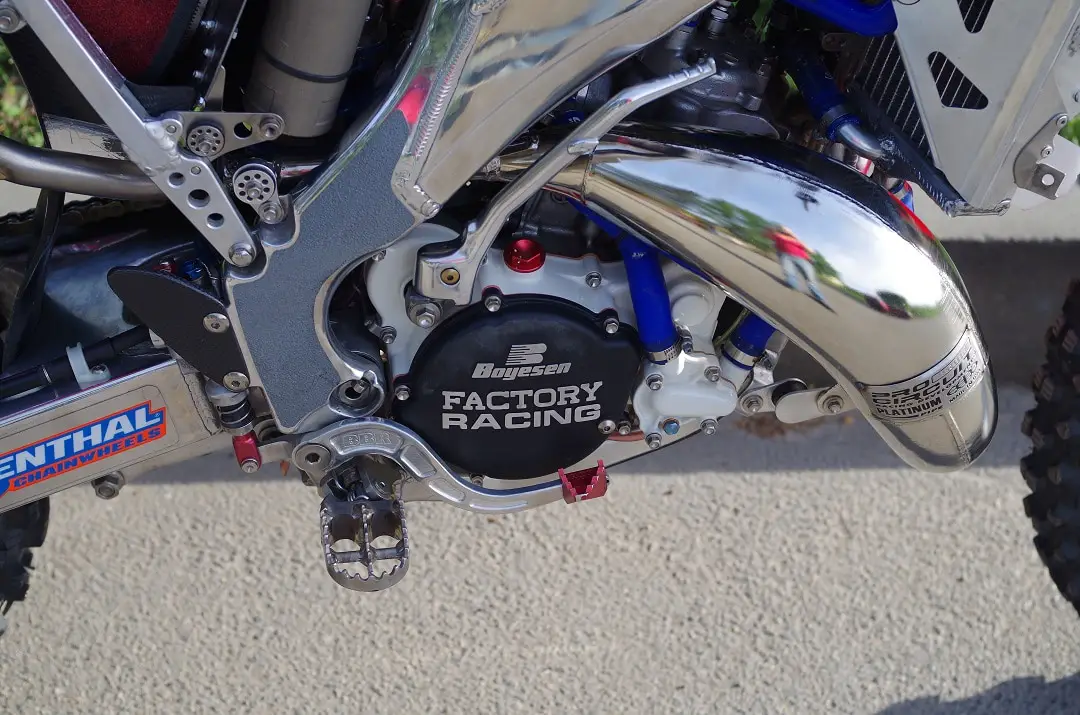 The 2004 Honda CR125 engine.

Engine: A2004 Honda CR125 was used with a Wiseco piston, V-force valve, Pro Circuit pipe and carbon-titanium silencer, Barnett clutch basket and pressure plate and I powder coated the right side engine for a works factory look. AJP hydraulic clutch master and main cylinder.
Brakes: Motostuff 270mm front rotor and Ride Engineering caliper (hand modified and polished for works factory view). Used the stock rear caliper that I vented the body on by drilling and used a titanium piston and BBR pedal/ titanium LS footpegs.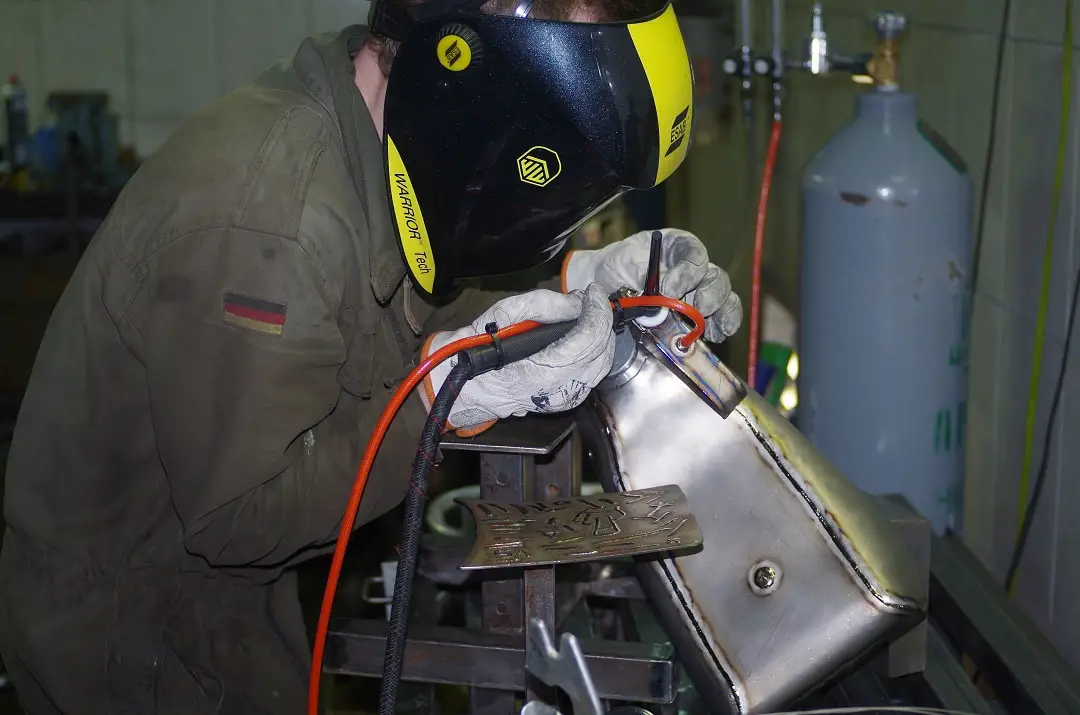 Aleksandr welding his hand-made titanium tank.
Hand made: Titanium thickness 0.8mm gas tank. Aluminum subframe. Carbon fiber air box. Full complete titanium bolts. Titanium front/ rear axle and swingarm pivot bolts. Titanium footpegs bracket and more titanium small parts
Best regards,
Aleksandr Strizhakov. Russia. Sankt-Petersburg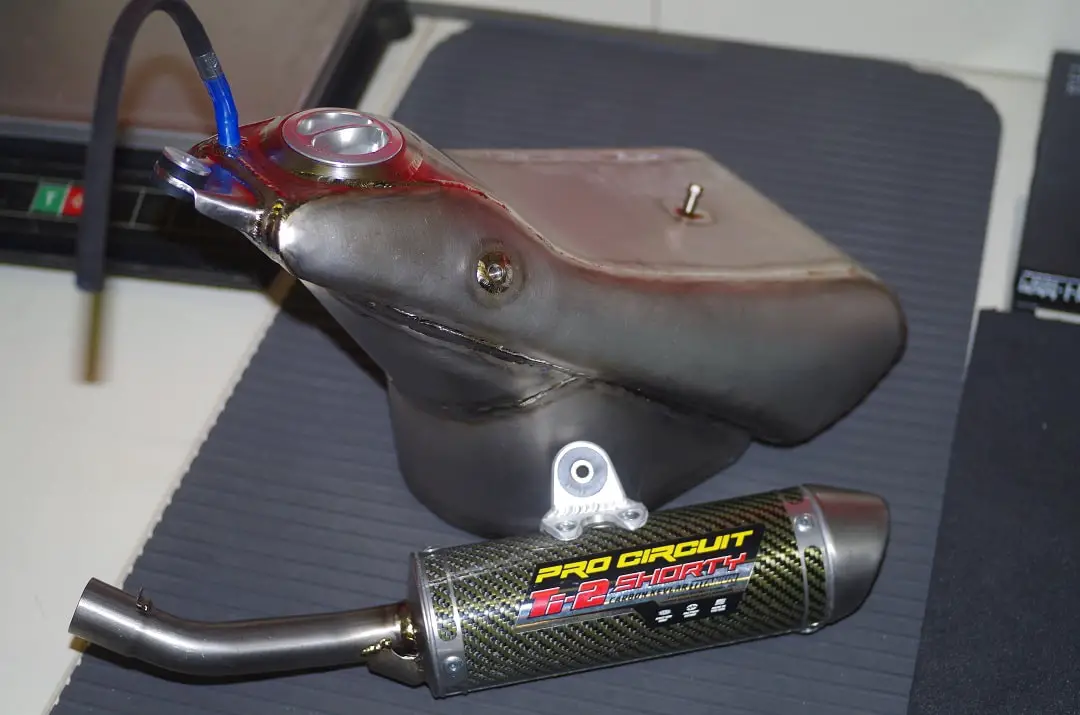 The finished product. 
Aleksandr was finally able to ride his dream build after more than a year and a half building it. 
Motostuff front brake rotor with a custom brake caliper. 
How trick is the mounting of the CDI box.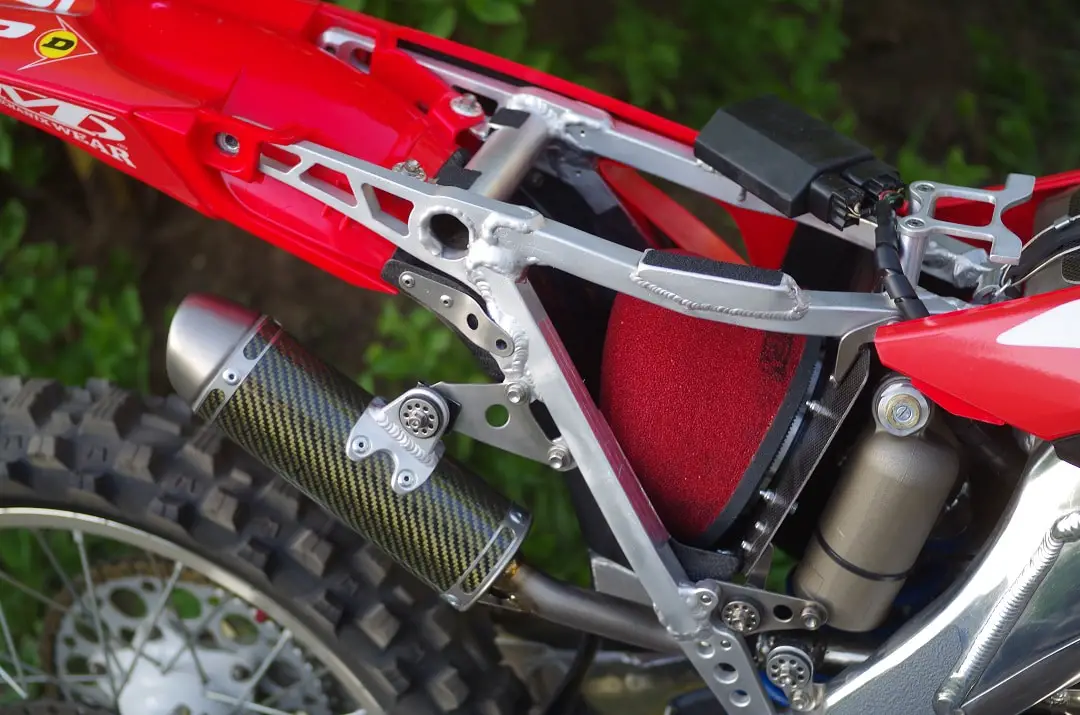 A close look at some of the customization of the subframe and silencer bracket.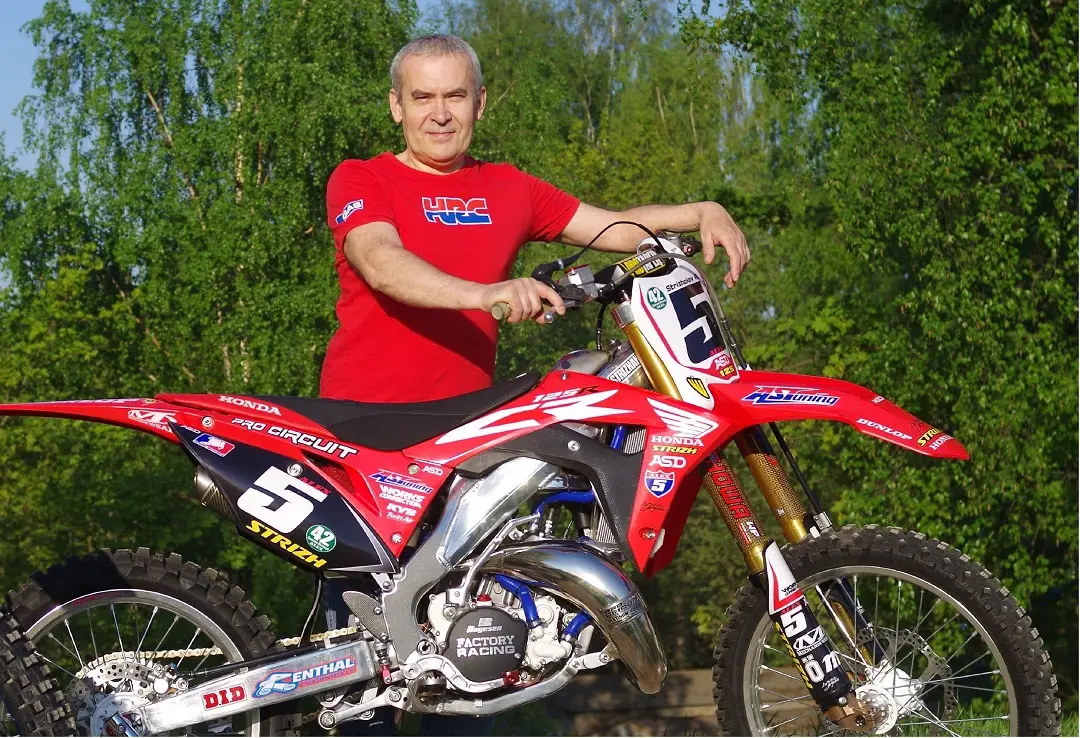 Aleksandr Strizhakov and his dream build CR125.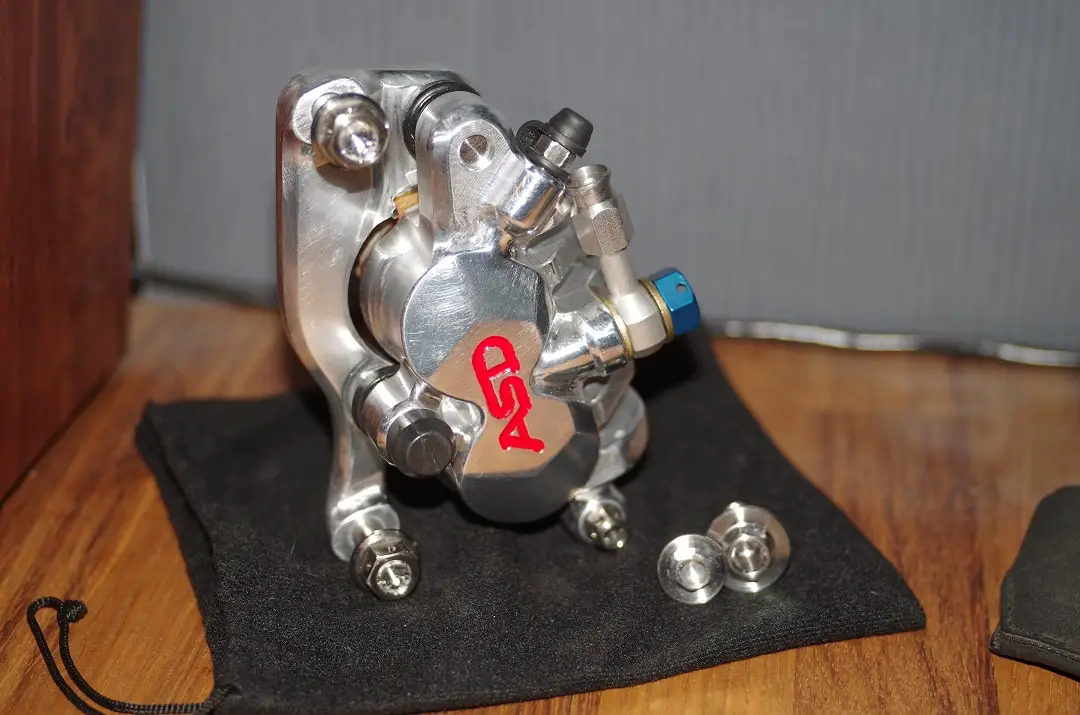 A closer look at the caliper.


Up close with the hand-made subframe. 
Editor's Note: Please keep those submissions coming. If you would like your bike to be featured in the "Two-Stroke Spotlight," please email me at [email protected]. All I ask is that you give a breakdown of your bike and a detailed description of the build. Please also send a few photos of your steed. By submitting your bike for the "Two-Stroke Spotlight," you agree to release all ownership rights to the images and copy to MXA. Please don't email me spam or try selling me Taylor Swift concert tickets or email me spam. Happy submitting your smoker.
TECHNIQUE CHECK // OAKLAND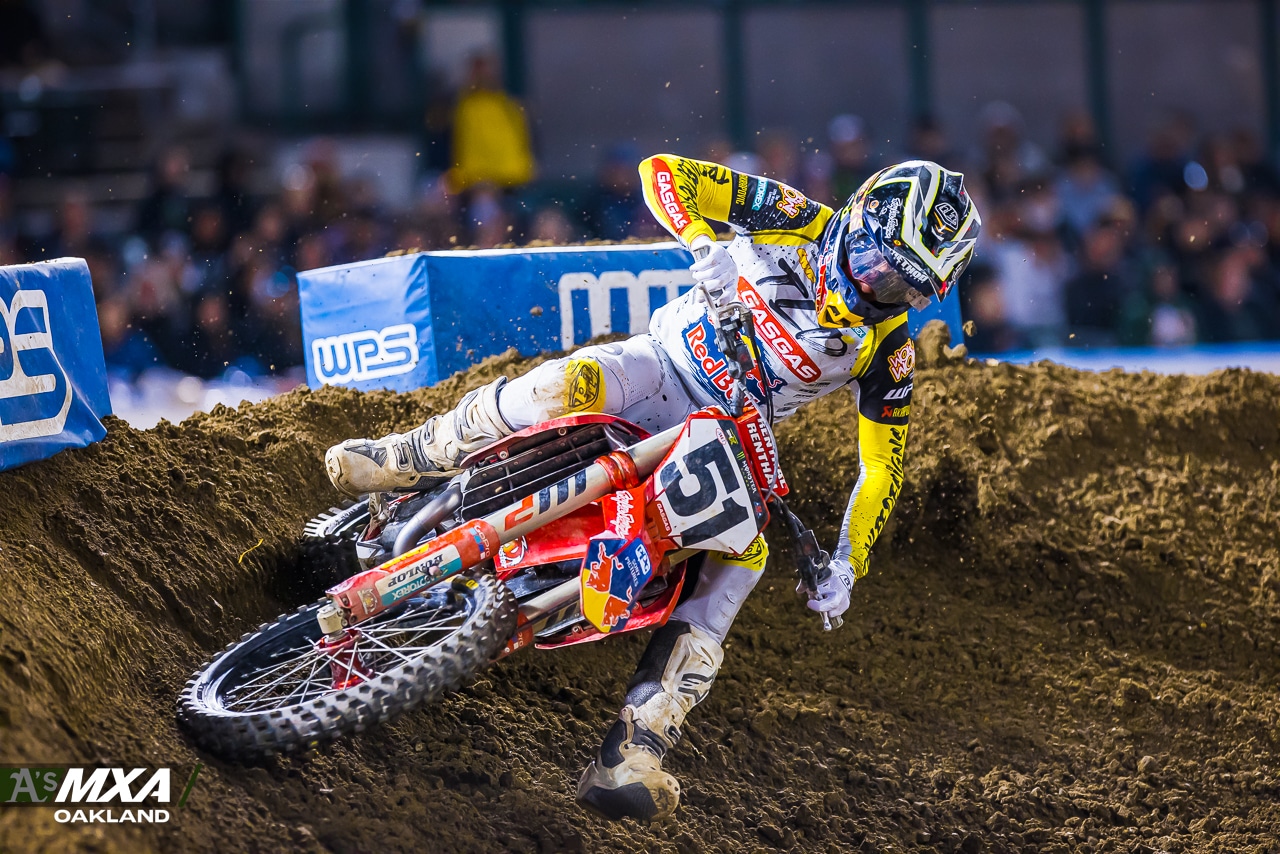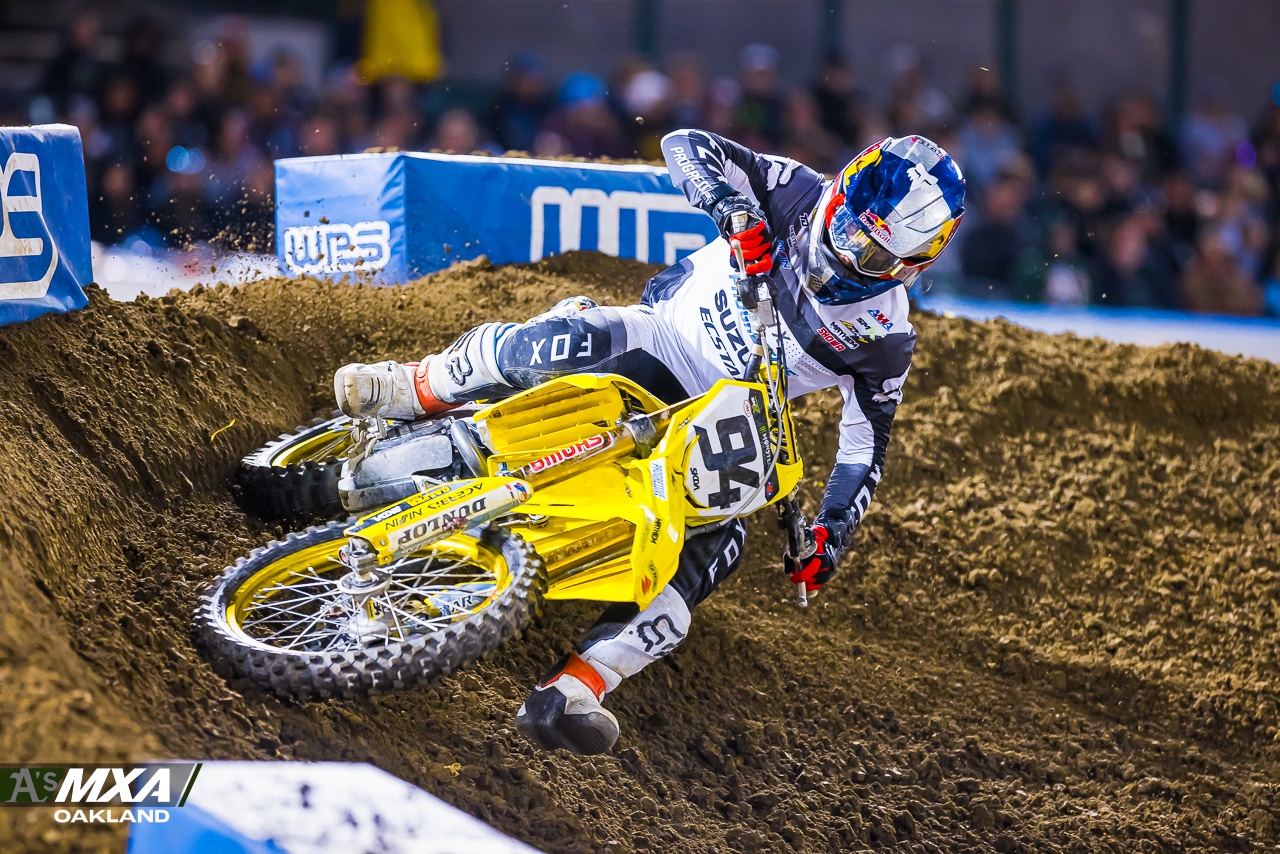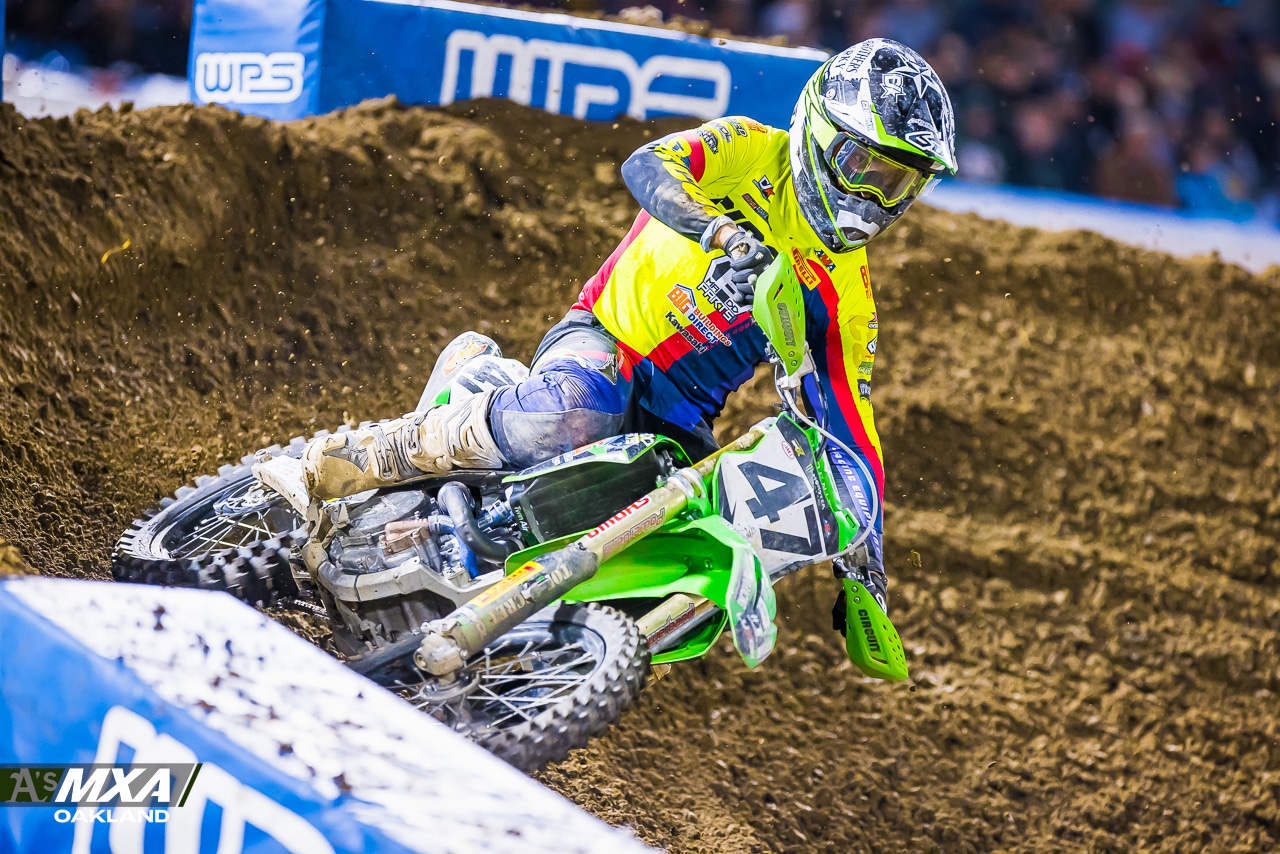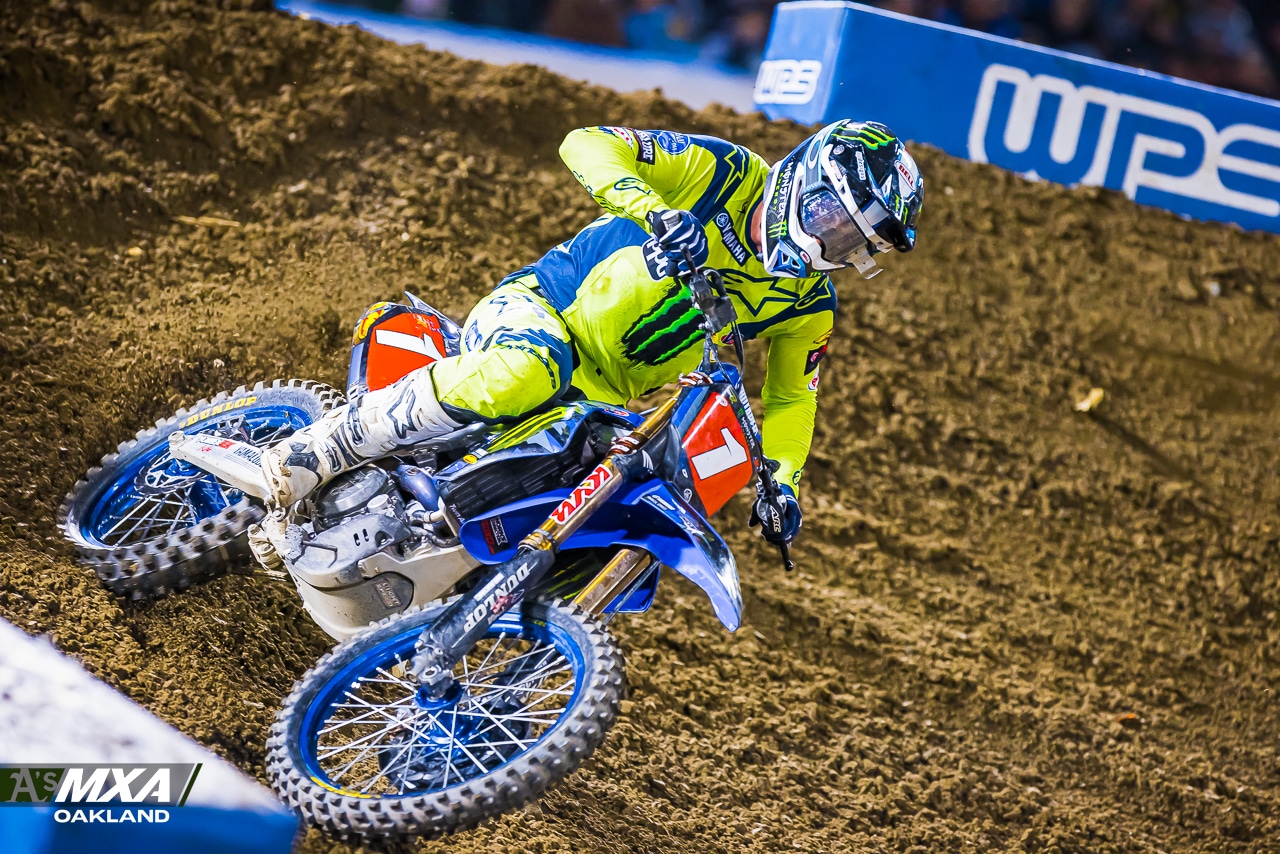 MXA's pick is Cooper Webb. His feet and body position is on point. We also like Chase Sexton. His outside foot is perfect position and we are impressed with him not having a finger over the clutch. The reason he didn't win our vote is due to his head being down and not looking forward like the other riders. 
MOTO | TRIVIA
Name the rider. Answer at bottom of the page.
THE ALL-NEW GREENGER G3 COMING SOON
The Greenger G3 is the bigger more powerful version of the electric Greenger Honda CRF-E2.
The other side of the G3.
Here is the spec sheet of the 3 Greenger models giving you the difference between them. The G3s is the same as the G3 just the on road version. 
MXA QUOTE OF THE WEEK
"After last weekend, I just had the belief back and it was important to have that momentum, so tonight's second-place result was good. At the beginning of the Main Event, I felt like I lacked the pace and couldn't catch the two guys out front, but I stuck to my laps and began feeling really good at the end when I found some great lines and the track came to me late in the race. A mistake from the leader on the last lap meant we got close to another win, but I pushed hard tonight and I'm proud of that."
IF YOU MISSED ANYTHING FROM THE OAKLAND SUPERCROSS YOU WILL FIND IT HERE
Click here to get into everything Oakland Supercross. 
MXA MINI TEST // KAWASAKI KX450 FCP ENGINE MOUNTS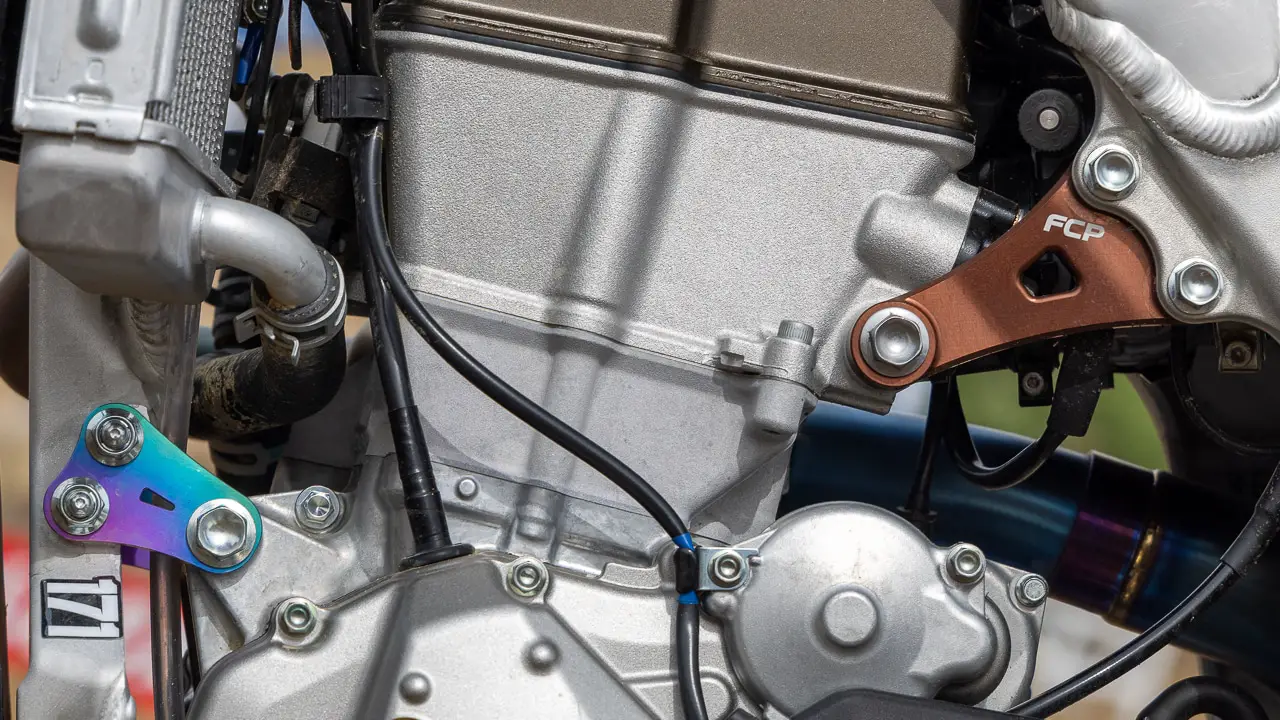 If you know your 2019–2022 Kawasaki KX450 like the back of your hand, you'll appreciate the benefits of FCP's engine mounts and head stays. Most MXA test riders felt a positive benefit from the engine mounts on our KX450 test bike. They improved corner consistency and made it easier to be accurate through deep ruts.
VERDICT: The stiffer front mounts increased traction and made the front end feel more predictable, but these benefits were noticed more by Pro test riders than Vet test riders—most of whom couldn't feel the difference or didn't think it was worth the expense and trouble.
DIGITS: $399.00 (head stays and lower engine mounts)—www.fcpracing.com.
IF YOU WANT A MORE IN-DEPTH REVIEW OF THE KX450 FCP ENGINE MOUNTS CLICK HERE
INSIDE THE PROS BIKES WITH COLT NICHOLS FACTORY HONDA CRF450
TALK MOTO WITH MOTO MINDED PEOPLE. JOIN MXA'S FACEBOOK GROUP CHAT

We love everything moto and want to bring all moto junkies together into one place to share their two cents, ideas, photos, bike fixes, bike problems and much more. To check it out first you must need to or already have a Facebook account. If you don't, it isn't much work and you could even have an alias so nobody knows it is you. To join click HERE. After you request to join we will accept your request shortly after.
MXA TEAM TESTED | FUNNELWEB AIR FILTER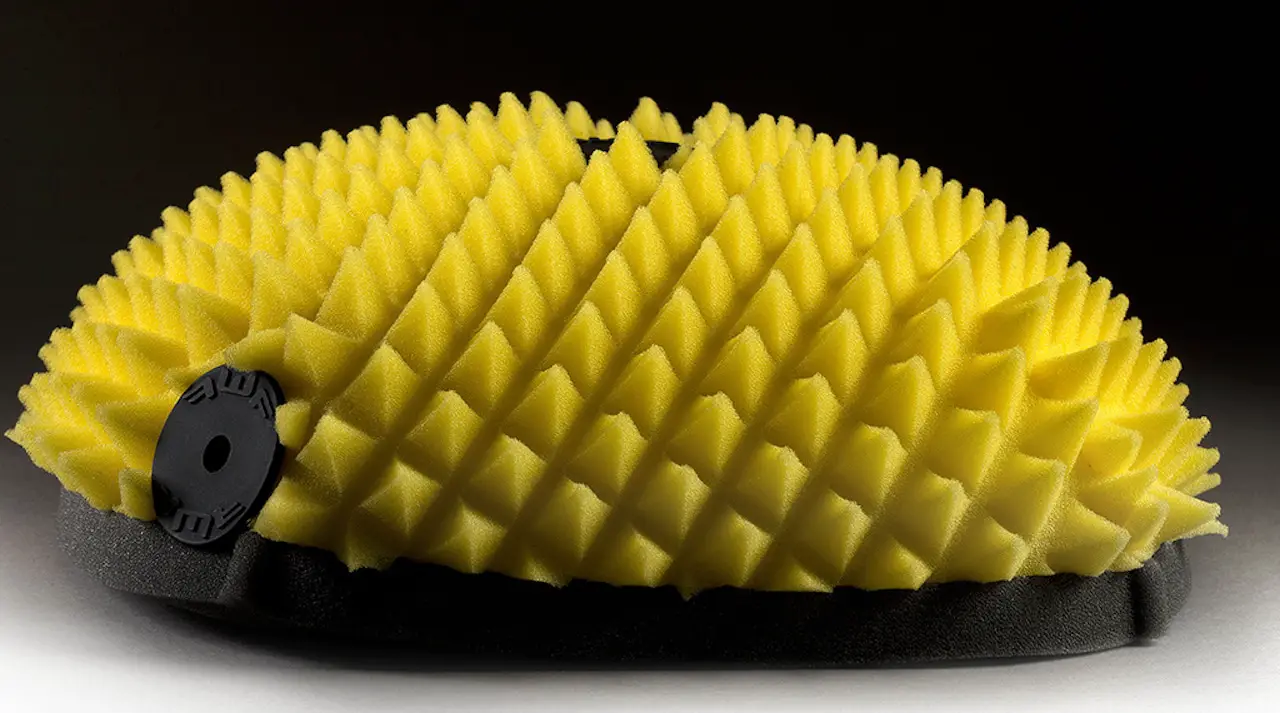 WHAT IS IT? FunnelWeb air filter is made in Australia and is known for its pyramid-like bumps, dome shape and single layer of single-density polyurethane foam. The funny shape has a purpose, as it increases the outer surface area to almost double that of a conventional air filter.
WHAT'S IT COST? $31.95.
CONTACT? Your local dealer or www.funnelweb-filter.com
WHAT STANDS OUT? Here's a list of things that stand out with the FunnelWeb air filter.
(1) Theory. Motocross bikes have used all manner of air filters over the last 60 years. There have been paper filters, fuzzy filters, multi-density filters, domed filters, pleated gauze filters, dual-layer filters, throw-away filters and green weenie filters. Regardless of its shape or construction, the goal of every air filter is to let air in while keeping dirt out. Air filters are one area of motocross development where there is still unlimited potential for creative entrepreneurs, as the FunnelWeb filter shows.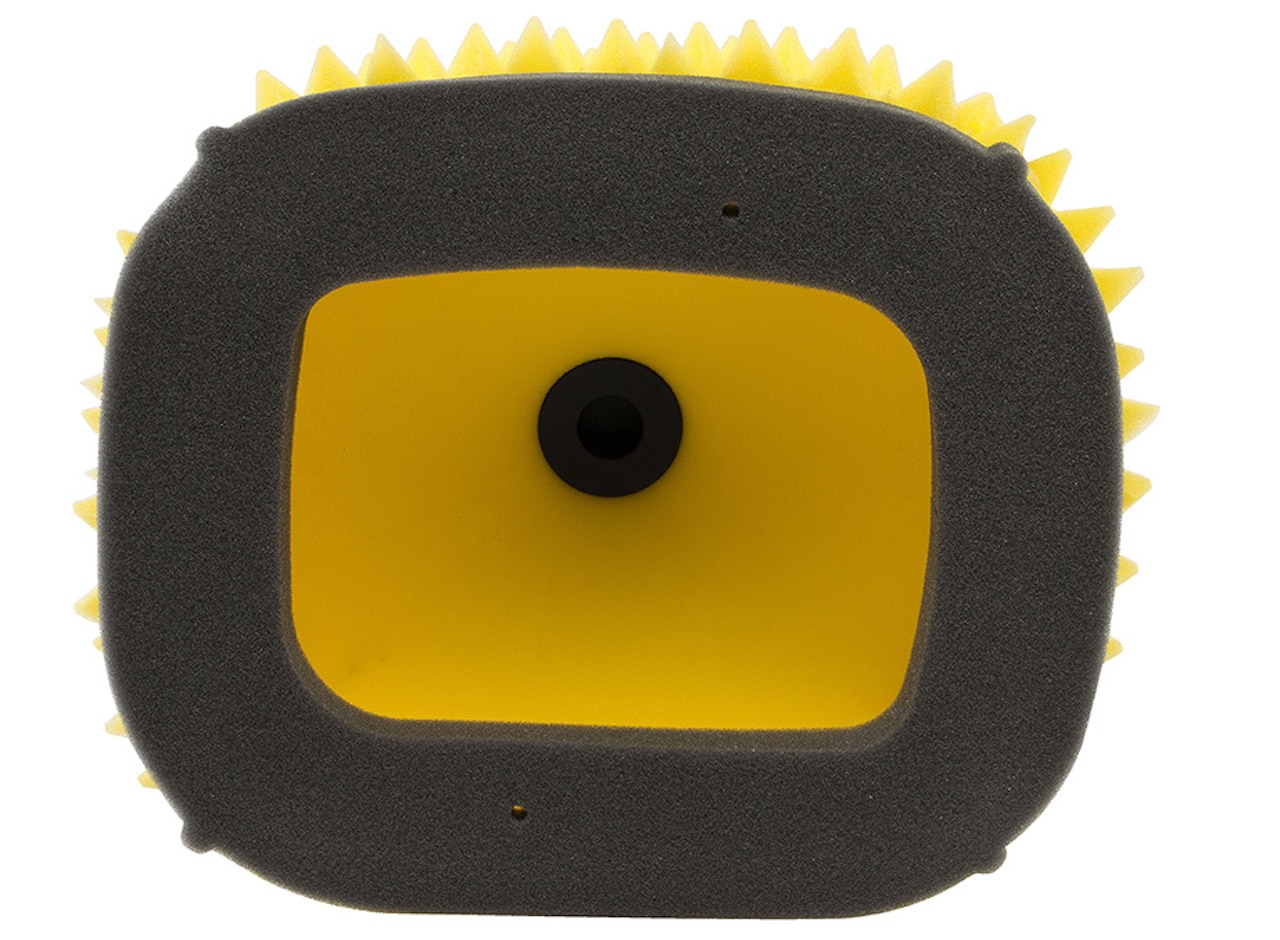 (2) Design. The one-piece, pyramid design provides a larger surface area than most filters. Increased surface area allows less dirt to penetrate the foam. It is easy to get confused about the relationship between filter size and airflow. While the FunnelWeb has twice as much surface area on its outer diameter, thanks to the 203 pyramids on the 2016 KTM filter, it is not any larger where the air filter cage mates to the intake tract. No matter how large the outer surface area, the air still must go through the same size intake tract. But all is not lost. The greater surface area of the FunnelWeb means that the chance of airflow being impeded as the filter gets clogged with dirt is reduced. There are more places for the air to get in, and this translates into longer service intervals.
(3) Construction. Why does FunnelWeb use a single-density, single-layer foam instead of the dual layers of other air filters? (a) The single-layer foam holds its shape better. (b) The single-layer foam does not get dirt stuck between layers, because there are no layers. (c) FunnelWeb believes that a thicker single layer of foam provides better dirt filtration than a filter that has one dense layer and one porous layer. Additionally, MSR's FunnelWeb filter is not flame-bonded together; it is sealed with a petroleum-resistant glue instead.
(4) Seal. To get the best seal possible between the air filter and the airbox lip, FunnelWeb injection-molds a urethane seal for a tighter fit to support a layer of dense foam seal between the cage and the airbox. MXA still puts grease on the seal for extra security.
(5) Performance. In MXA's tests, the FunnelWeb air filter did its job well. We tested it in extreme dust and sand at the back of the pack. There were no signs of dirt bypassing the oiled foam. The larger surface area was a plus on the maintenance side of things, but if there was a performance gain over the stock air filter, our test riders didn't notice it.
WHAT'S THE SQUAWK? The foam pyramids can be damaged by rough handling during cleaning and oiling.
MXA RATING: Since all filters are made of foam, designers can only change density, layers and shape. FunnelWeb's choices result in a filter that is durable and long-lasting.
MXA RIDES A 660CC TM SIDECAR
A DOLLAR SPENT IS A COLLARBONE REPAIRED
You don't need an X-ray to fix this collarbone, but your doctor does.

A DOLLAR SPENT IS A COLLARBONE REPAIRED
Dear MXA,
I think I broke my collarbone the other day. I don't have medical insurance. My friends said, "Don't worry about it." They had all broken their collarbones, and all their doctors did was give them that shoulder harness thing, which they all took off immediately. How can I tell if I actually broke it?
The best way is to get an X-ray, but it will cost you around $250 (if you plead poverty). If it doesn't feel better soon, or if you can't lift your arm up, bite the bullet and spend the money to see a doctor. The collarbone is the most commonly broken bone in the human body, and understandably so when you consider that it only takes 7 pounds of pressure to break it. In the world of motocross, there are two kinds of riders—those who have broken their collarbones and those who will. A collarbone can be cracked, broken or compound fractured. We are going to ignore the last two, because if you had either one of those, you'd know it. You could feel it, or the blood would be noticeable. That means that you most likely cracked it—if you did anything to it at all. The standard medical practice for a clean break is pain pills and a shoulder harness to draw the shoulders back so that the bones (previously a bone) will align. If you've ever worn a collarbone harness, you know how irritating it can be.
The good news is that most cracked collarbones heal well without surgery or serious medical intervention. A simple arm sling can be used to immobilize the arm for up to six weeks. Don't rush the healing process just because your buddy said he was back racing three weeks after breaking his collarbone. Bones don't weld together. In fact, they heal by having a bridge of calcium form across the gap of the two bones. The smaller the gap, the faster the bridge will form. The calcium bridge is quite unique. It sometimes produces a pronounced bump. That bump can be so large that it gets irritated, red and welt-like. Have no fear, the bump tends to go down in size with time (although it can take as much as a year to subside).
During the healing process, typically anywhere from three to five weeks, the calcium bridge is mushy. Falling down, getting jostled or not wearing the harness can allow the bones to move. Disturbing the mushy calcium will slow down the healing process. The calcium bridge can be seen on the X-ray, and the doctor can tell from the density of the film the progress of the healing. Don't ride until the calcium bridge has formed. Collarbones that don't heal properly lose their ability to knit back together, which is not pleasant.
2023 KTM 300 VS HUSQVARNA 250 TWO STROKE
CLASSIC MXA PHOTO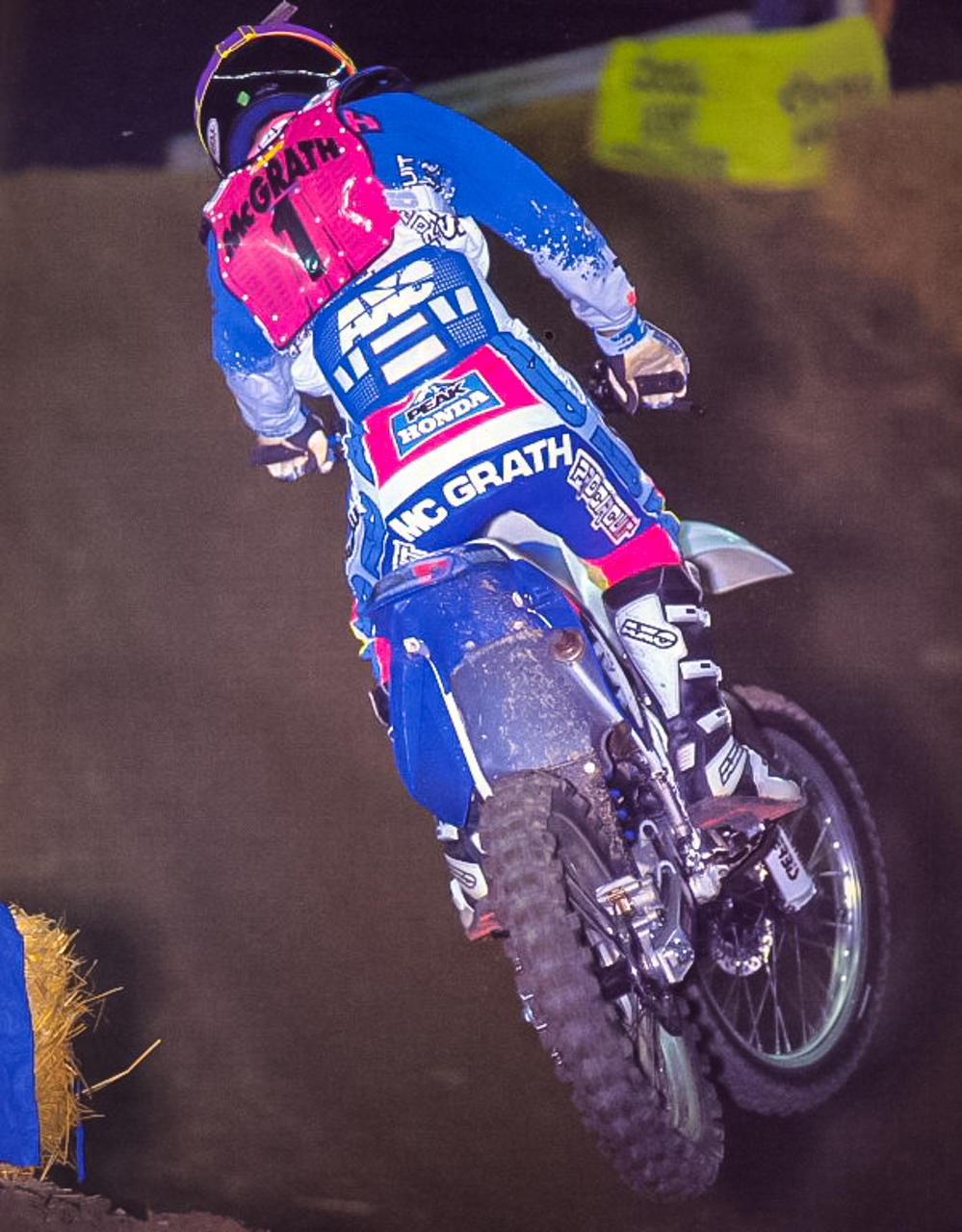 Jeremy McGrath on his Peak Honda CR125.
---
Moto Trivia answer: Jeff Emig