MOTOCROSS ACTION'S MID-WEEK REPORT: (02/10/12)
By John Minert
TWEETS OF THE DAY: BAD NEWS FROM RYAN SIPES & VISITORS AT THE DOOR




MXA INTERVIEW: MARVIN MUSQUIN


Musquin (left) finished third at A2 and sits third in the points chase.

We waited a full year to see what the former GP champion could do in Supercross after he was sidelined with injuries last year. Before the 2012 Supercross season began, 'Movin Marv' made three impressions on us: He was fast outdoors (and claimed to like Supercross best), he had a very outgoing personality and he was as skinny as a rail. Sitting in third in 2012 AMA 250 West series after five rounds is impressive in a strong field of riders, especially for a series rookie. But, aside from crashing out of a fourth place finish in Dodger Stadium, the Frenchman has ridden with consistency. Lucky for us, Marvin's English is good. We called him up to get his take on his season and his championship…so far.
Can you talk about your Supercross season so far?
The Supercross season, for me, is great so far. It's the first time for me, so it's new. I didn't expect anything because it's the first time, so being third in the championship and having three podiums in five rounds is pretty good. I'm really happy. The level of rider is really high and there are a lot of riders who can win a main event. A lot of riders are really fast and really aggressive and the competition is tough. I'm in the top three so that's a good thing.
Were there any surprises this season, or did you know what to expect?
I was kind of nervous before Anaheim 1 and I didn't expect anything about the speed of the other riders or the track. I felt good on my bike, my speed was good, but you know racing is different than training. But it's going good, and I'm happy to be racing with the best riders in Supercross.
Who have you had the best battles with so far?
Well, Eli Tomac has three wins in the last three rounds, so his confidence level is really high. He's really fast and that's the guy to beat. Cole Seely is a good rider too. With me, there are four good riders who can win a main event, but Eli Tomac is winning the 250 West Championship by a big gap.
What sticks out in your mind about the Anaheim II race?
That was a tough day for me because the track was pretty hard and slippery. The whoops were really hard for practice. My lap times were pretty good. I was in the top five or six, so I was not too bad. Maybe I was pushing too hard and trying to do a better lap time. But I stayed calm, and I said that practice and racing are different. And then I rode pretty good at night. I got a really good start in the heat, and another good start in the main event and finished in the top three. To still get on the podium with not having a really good day, is really good.

Musquin Speed Secret: Take a power nap before opening ceremony.
Do you and Ryan Dungey talk about the track and race strategy at the races?
Yes, after each practice we sit in the semi watching the video. Ryan is a really professional rider. He is watching the video all the time and always wants to be better. We talk about lines sometimes, and when I'm done with practice I stop by and tell him if there is something special about the track. I say, ' Hey, be careful about this jump' or 'I have a good line over there' or something. Ryan has some titles in the 450 class already and that's big. Also, to have Roger DeCoster next to me is really nice. I'm really close to him now and I'm really happy about that. I learned a lot from him.
How does KTM Europe compare to KTM USA team? What have you had to adapt to?
In Europe I used to live in France and the team was in Austria (with a small shop in Belgium). I used to train in Belgium and my mechanic came to France with the bike and all that stuff. Now I'm living in Corona and the test track is in Corona… so it's really easy to do tests, riding with Ryan and Ken and all the crew. It's better to be closer to the team. There are different people here. Same team, but different people. I have good memories working with Stefan Everts and the people in Europe.

Keep and eye out for the 38 as the season progresses.
What is your strategy to close up the points gap to Tomac and Wilson?
There is no strategy. I did three podiums and it's good to be consistent, but Tomac has won three main events in a row. Yes, I do want to be consistent for the championship, but I have to win some races to close up the gap. It's going to be hard, I know. For my first year it's not too bad, but for sure I want to win some races. It's not so much a strategy, but I'll just be consistent and see what happens. I had a DNF in Los Angeles. I was in fourth position and didn't finish the race. I'm in third in points and it's close with Wilson and Seely. I'm going to try to stay consistent and stay on the podium.  
What happens at the race behind the scenes that fans might not catch from the stands or on TV?
I used to sleep after practice. Around five o'clock, I eat and take a nap just before opening ceremony for 30 minutes or maybe more. With the pressure, I would fell a little bit tired. It's good to take a nap and when you wake up it's time to go and I fell better. KTM bought me a nice bed for the semi, so I can sleep nicer.
GO PRO'S ANAHEIM 2 COMPILATION



2012 CHRISTINI AWD MOTORCYCLES RELEASED

 
Christini AWD has been a pioneer throughout the design and development process of AWD for motorcycles, producing bikes with proven commercial and racing success.  "Our line of AWD models will provide the opportunity for every motorcycle enthusiast to experience the quality and improved benefits of All Wheel Drive" says President Steven Christini. Previously, Christini AWD had sold custom AWD models using modified OEM factory frames, and is looking forward to distributing its production motorcycles worldwide to over 30 countries in 2012.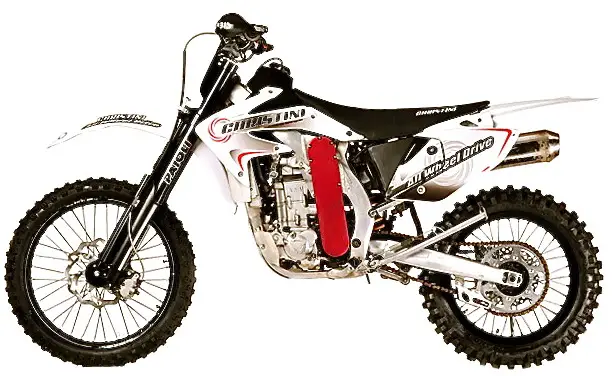 Christini AWD 450…$6895
Aluminum frame, five-speed, electric & kick start, Paoli forks, 2.6 gallon tank and all-wheel-drive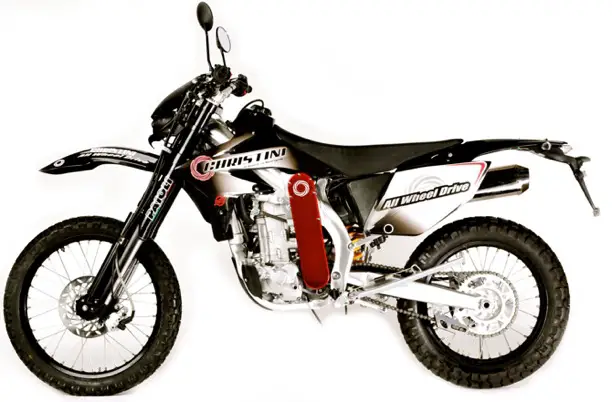 Christini AWD 450 DS…$7695
DOT-approved street legal, digital computer, wide-ratio transmission, aluminum frame, five-speed, electric & kick start, Paoli forks, 2.6 gallon tank and all-wheel-drive


CHRISTINI AWD 300…$8995
300cc and 250cc two-stroke, FMF pipe, six-speed transmission, hydraulic clutch, aluminum frame, five-speed, electric & kick start, Paoli forks, 2.6 gallon tank and all-wheel-drive. Interested in purchasing an All Wheel Drive Christini, or have additional questions? Contact ChristiniI AWD at (215) 351-9895 or visit the website at www.christini.com.

WANNA BE A SUPERCROSS HERO? LIVE THE LIFE WITH KYLE CHISHOLM FOR TWO LAPS OF ANGEL STADIUM

THE SPORTING NEWS! LAST WEEK ARMSTRONG WAS FOUND NOT GUILTY, THIS WEEK….

VIDEO INTERVIEW: MEET STAR/VALLI YAMAHA'S KYLE PETERS BEFORE THE 250 EAST SERIES STARTS

MXA FOR iPHONE, iPAD AND iPOD TOUCH USER: GET THE APP HERE

Read reviews, get customer ratings, see screenshots, and learn more about Motocross Action Magazine on the App Store. Download Motocross Action Magazine and enjoy it on your iPhone, iPad, and iPod touch. Go to the itunes appstore to get connected at itunes.apple.com/us/app/motocross-action-magazine/id497706566?mt=8
WHERE IN THE WORLD IS MXA'S DENNIS STAPLETON? FINLAND LAST WEEK, DENMARK NEXT WEEK
MXA's Dennis Stapleton flew to Finland last week to race in Helsinki before heading to Denmark…then he needs to come home and get to work. The Helsinki track was indoors, but it was muddy!

The shortest Dennis Stapleton interview on record.
WORLD TWO-STROKE CHAMPIONSHIP: YOU HAVE SIX WEEKS TO GET READY
The MTA-sponsored World Two-Stroke Championship returns to Glen Helen Raceway on April 1, 2012. You can pre-enter at www.glenhelen.com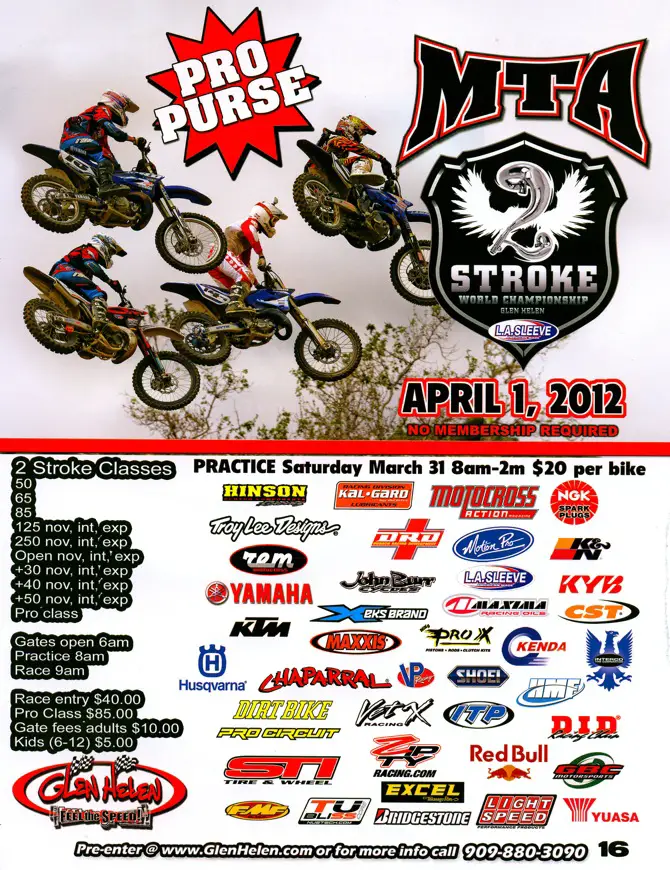 GUTS & GLORY & GIANTS: SEE THE RAM TRUCK SUPERBOWL COMMERCIAL THAT FEATURED THE HART & HUNTINGTON TEAM (BRIEFLY)

HOW TO SPEND A LONG WINTER NIGHT: NEW MOTOCROSS DVDs


MX11 DVD
The Official Review charts how Antonio Cairoli fought back from a knee injury at the opening GP to mount a season-long title battle with Steven Frossard and Clement Desalle, which would be dramatically concluded at the penultimate round. There's also the full story of how Ken Roczen overcame challenges from flying Dutchman Jeffrey Herlings, Britain's Tommy Searle and Gautier Paulin of France in a gripping race for the MX2 crown. www.dukevideousa.com RETAIL PRICE $29.99


MOTOCROSS CHAMPIONSHIP REVIEW
The riders travel coast-to-coast for 12 rounds of a tension-packed chase for championship glory. This official review features highlights from every moto ? 48 in total ? plus interviews with the winners throughout the season. You'll be on the edge of your seat as the 450 title fight goes down to a dramatic final round. www.dukevideousa.com RETAIL PRICE $29.99


2011 MOTOCROSS DES NATIONS DVD
The 65th Motocross of Nations proved one of the most thrilling as the finest riders from more than 30 countries gathered in France determined to end the winning streak of the USA. With nail-biting action from all three races, this review details the drama played as Americans Ryan Villopoto, Ryan Dungey and Blake Baggett rode to victory! www.dukevideousa.com RETAIL PRICE $29.99


THE GREAT OUTDOORS: TEN DVD
The prestige of winning an American National Motocross Championship will call these men from all over the globe to duty every summer. As always, we will be there to capture the beautiful but brutal sport that is motocross, and remind us all … why we race. This is The Great Outdoors. www.tgomx.com RETAIL PRICE $24.95.
MAGGIORA BACK ON GRAND PRIX SCHEDULE: TO GET MXDN IN 2012 & 2020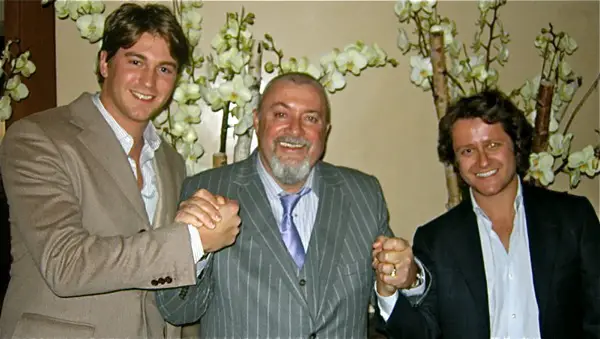 Paolo Scheider, Giuseppe Luongo, Stefano Avandero at the signing of the Maggiora contract.
Maggiora was the site of the American trouncing of the Europeans at the 1986 Motocross des Nations?and this week it signed back on as a Grand Prix circuit from 2013 until 2020. In addition, the famous track will get the MXDN in 2016 and 2020.
Youthstream's Guiseppe Luongo (Abbott to the AMA's Costello) said of the new deal, "The circuit of Maggiora, together with Glen Helen, are the best motocross circuits in the world. They are really 'the typical' motocross circuits and I am sure that with all the modern improvements we will bring, it will be something exceptional. The Motocross of Nations in 2016 will celebrate the 30th anniversary of the Motocross of Nations in Maggiora in 1986, and we hope that fans from all over the world will come for this unique moment."
MXA PRODUCT NEWS: PRO CIRCUIT TO SELL THEIR RACE TEAM'S SHIFT LEVER
Used by the Monster Energy/Pro Circuit Kawasaki Race Team, the Pro Circuit Shift Lever is now available to the public for the first time. Watch the following video and learn more about the features at www.procircuit.com
MINIMOTO SX RETURNS TO THE ORLEANS HOTEL ON MAY 6, 2012

The ninth annual Geico MiniMotoSX, Fueled by Monster Energy will take place during the Monster Energy Supercross finals weekend in Las Vegas. On Sunday May 6th, you can put your own gear on and hit the track inside the Orleans Arena.
There are eight adult classes and three youth classes as well as a Women's class. For the third year, the MiniMotoSX will conclude with the World Final race that pits the top three finishers from the Expert & Youth classes plus the Women's champion to take on the International Champions for bragging rights and cash. Entries are open now and you can make it a complete Supercross weekend in Vegas. For more info go to www.minimotosx.com
BOB HANNAH'S COMING TO TOWN TONIGHT: SEE HIM AT MALCOLM SMITH'S "MOVIE NIGHT" AT 6:00 P.M.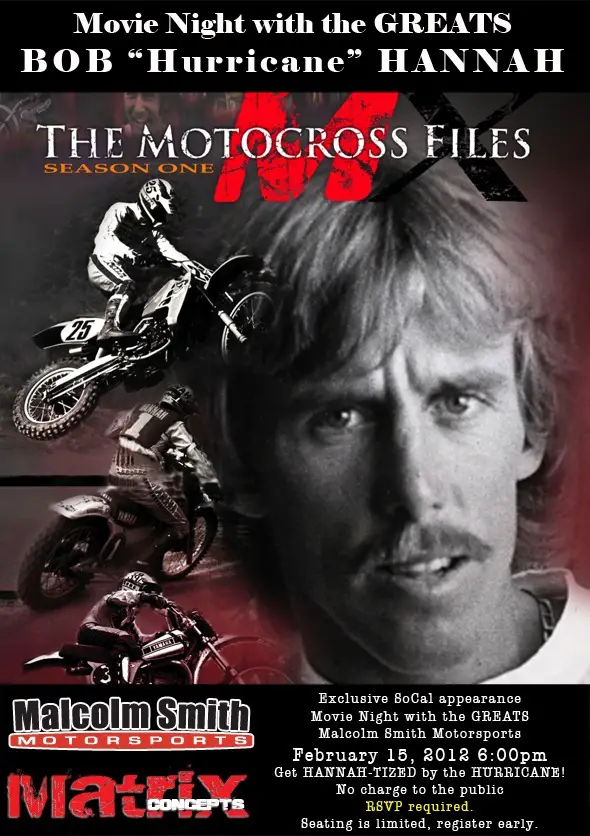 Malcolm Smith Motorsports invites you to a free "Movie Night with the Greats" on Wednesday, February 15, 2012, with Bob Hannah. The popular series is a fresh take on motorsports movies, with the stars of each Motocross film available to audience members for questions at any time during the screening and the star will also be available after the screening for pictures and autographs.
 
Attendance for this exclusive event is very limited and on a first-come-first-serve basis. Guests will be treated to light refreshments.  Admittance will be by advance registration only. Attendance for this exclusive event is very limited and on a first-come-first-serve basis. Guests will be treated to refreshments. Admittance is by advance registration only. To RSVP go to events.r20.constantcontact.com/register/eventReg?llr=7jy4m6cab&oeidk=a07e5jzxwt790ad8bae
PHOTO OF THE WEEK (IF THE WEEK WAS 28 YEARS AGO)


Best known as an artist, clothing magnate and team owner, Troy Lee was once a member of the powerful Pro Circuit Husqvarna team. The black and white photo is of Troy at Saddleback Park 28 years ago, while the color inset photo is of Troy at Glen Helen's REM race this last weekend.
MATRIX RIDERS HOLD NINE OUT OF TEN SPOTS IN 450 POINTS


Matrix Concepts riders currently hold nine out of the top places in the 450 point standings and last weekend Ryan Villopoto and Eli Tomac won both classes at Anaheim 2.  For more info on Matrix be sure to LIKE our Facebook page at www.facebook.com/matrixconcepts.
FIVE QUESTIONS WITH NICK PALUZZI

RYAN HUGHES HAS A NEW ONLINE GYM CALLED RYNO POWERGYM


Now you can get Ryno's personal blend of training and riding advice in one place…for only $9.99 a month. For more info go to rynopowergym.com

PRESS RELEASE: U.S. HOUSE PANEL BACKS MORE STUDY OF ETHANOL-GASOLINE FUELS



A key U.S. House committee has approved a bill that would require an independent scientific study of the effects of ethanol-gasoline blends on engines, the American Motorcyclist Association (AMA) reports. By a 19-7 vote on Feb. 7, the House Committee on Science, Space and Technology approved H.R. 3199 to require the federal Environmental Protection Agency (EPA) to seek an independent scientific analysis of the effects of E15 – a new gasoline formulation that contains up to 15 percent ethanol by volume – on engines.
The measure, introduced by committee Vice Chairman Jim Sensenbrenner (R-Wis.), now goes to the full House for a vote. If approved, it then moves to the Senate for further consideration.
"This independent research is needed to ensure that new ethanol-gasoline blends won't damage motorcycle and all-terrain vehicle engines," said Wayne Allard, AMA vice president for government relations. "We applaud the committee for supporting this crucial legislation."
The AMA has repeatedly expressed concerns to government officials and federal lawmakers about possible damage to motorcycle and all-terrain vehicle (ATV) engines caused by the inadvertent use of E15 when the new fuel becomes widely available and has asked that motorcycles and ATVs be part of any scientific study into the effects of E15.
In October 2010, the EPA approved the use of E15 in model year 2007 and newer light-duty vehicles (cars, light-duty trucks and medium-duty passenger vehicles). Then, in January 2011, the EPA added model year 2001-2006 light-duty vehicles to the approved list.
No motorcycles or ATVs are currently on the list.
The AMA and its partner group, the All-Terrain Vehicle Association, have expressed concerns about E15 being mistakenly used and damaging engines in motorcycles and ATVs, and about the continued availability of gasoline that has no ethanol — or gasoline with only a 10 percent blend — that is safe for use in motorcycles and ATVs.
To contact your federal lawmakers to urge them to support H.R. 3199, go to http://www.americanmotorcyclist.com/rights/issueslegislation.

PRESS RELEASE: TEAM GREEN 2012 TRACKSIDE SUPPORT AND CONTINGENCY PROGRAM


Team Green's successful trackside support program continues into its fourth decade, providing Kawasaki technicians and race transporters on-site at select amateur national and regional events across the country to provide racers with emergency parts, technical assistance, and racing tips. The primary objective of Team Green's trackside support program remains the same since its creation; to make sure every Kawasaki rider is race ready.
"Our goal is to ensure that Kawasaki's customers have access to the latest technology, race bike set-up, emergency parts, and service at each and every event," said Reid Nordin, Kawasaki Senior Manager of Racing. "Kawasaki is proud to announce that there are over 1,200 authorized Kawasaki dealers nationwide, which a large percentage of participate in the Team Green program. Ryan Villopoto and Dean Wilson are two amongst a very long and growing list of champions that got their start with Team Green."
Along with trackside support, Kawasaki will continue to reward racers who go green by offering a competitive contingency payout. The convenient Kawasaki Contingency program sets the standard for ease-of-use and includes the Kawasaki Contingency Rewards MasterCard that can be used at more than 32 million locations worldwide. With a full line of KX models to choose from, racers of any size can be eligible to earn Kawasaki Contingency Rewards.
To be eligible for the program, all you have to do is complete registration and then get your KX out front on the race track. For more information on the Team Green Contingency Program visit http://www.kawasaki.com/Racing_Contingency/Landing.aspx and get registered today.