MXA INTERVIEW: REX STATEN ON FIGHTING FOR EVERYTHING HE GOT
MXA INTERVIEW: REX STATEN ON FIGHTING FOR EVERYTHING HE GOT
BY JIM KIMBALL
REX, HOW DID YOU GET STARTED IN MOTOCROSS? When I was born, my dad had some horses. He soon got rid of his horses and got a motorcycle. When I was about 9 years old, he bought me a bike, and my family would go to the desert and spend the night camping and the day riding.
At 13 years old, I asked my dad if I could race. He said, "No, that is dangerous." I said, "Okay, but what if I just follow along behind them?" So, I went out to my first race on an Ossa 175. It was a hare scrambles out in the desert at a place called Oak Hill. After taking off, I was in third place. Then after the first lap, I came around in first. From that day on, we went racing every week.
WAS IT NATURAL TALENT THAT GOT YOU YOUR FIRST WIN? No, I had to work at it. I didn't have good balance or technique; I just rode. I would ride every day after school. I watched the big races down in Westlake when the Europeans came over, you know, Joel Roberts, Roger DeCoster and all of those guys. I told my dad, "I want to beat those guys." I started there and worked my way up. I would pinpoint different guys that I wanted to beat. By the time I was 15, I was still a Junior, but my buddy was in the Amateur class and I knew I could beat him, so I asked the promoter if I could move up to Amateur. He said he would look at my lap times after practice. After practice, I asked him if I could move up to the Amateur class and he said, "No, you are going to ride with the Experts." The Expert class that day was Brad Lackey, John Desoto, Billy Clements, Eddie Cole and Dave Rogers. The only guy who beat me was Billy Clements. I got second in my first Expert race. I made my first money from racing and told my dad I was going to turn Pro. But I couldn't, because I was only 16 and you had to be 17 to get an AMA Pro license back then.
"MY DAD TOLD ME THAT I HAD TO GRADUATE FROM HIGH SCHOOL OR HE WOULDN'T LET ME RACE. SO, I WENT TO NIGHT SCHOOL, SUMMER SCHOOL, ANY SCHOOL SO I COULD GET MY CREDITS."
ONCE YOU TURNED 17, DID YOU GO TO THE AMA SERIES? No, I just rode all the local races. My dad told me that I had to graduate from high school or he wouldn't let me race at all. I had an offer to go to Europe when I was 16 to race for Suzuki, but my dad wouldn't let me because I still had a couple years of high school left. So, I went to night school, summer school, any school I could go to and got all my credits. I graduated a year early and did not even go to my senior prom.
YOU GOT YOUR FACTORY RIDE WITH TEAM HONDA VERY QUICKLY. As soon as I graduated from high school, I started racing and beating everyone. Honda picked me up and I rode for them in 1974. They said, "We want you to ride the 500 class." So, the first works Honda I rode was a 380. We went to the Daytona Supercross, and I won the first moto of the three-moto Daytona format. From Daytona we went to Hangtown, and I won the first moto there. The second moto I got caught up in a first-turn pileup. It knocked the exhaust pipe off my bike, and I ran back to the pits to get a new pipe. I got back on the track three laps down, but back in our day, we didn't quit. I got back to 13th place.
Rocket Rex raced for Maico, CZ, Honda, Harley and Yamaha. When his Yamaha contract ended, he went to South Africa and became their Champion for three years.
The Honda ride was good. They flew me to the races, got me a rental car and a motel room, and took care of me. The factory Hondas were so good, but we had problems with the bikes breaking. I was the only rider who had a Honda Open bike. There was only one out at that time. At the 1974 L.A. Coliseum Supercross, my Honda 500 blew up in practice and I thought my night was done. But the team said, "You can ride Rich Eierstedt's bike in the 500 class." His bike was a 250, but they put a 270 cylinder on it.
"IF I COULD HAVE GOTTEN A FACTORY CZ, IT WOULD HAVE BEEN A DIFFERENT STORY AT  THE USGP. MY CZ WEIGHED 242 POUNDS, WHILE DECOSTER'S SUZUKI WEIGHED 198  POUNDS."
WHAT WAS YOUR TRAINING REGIMEN LIKE? When I rode for Honda, they made us come down to Gardena, California, to train. We played basketball and did exercises once a week. But, I would just rather ride at home. I would wait until it was about 100 degrees outside, about 1 p.m., and then go ride four long motos. I would ride until the bike ran out of gas, which was about 58 minutes. I would do that three times a week. Then I would get up in the morning and run 6 miles and swim for an hour before riding. By the time Thursday came along, I had to fly to the races. I was there on Friday hanging out with my mechanic. On Saturday, we would find a place to test the bike a little and be ready for Sunday. On Monday, we would fly back. 
YOU WERE NOT AT HONDA THAT LONG. WHAT HAPPENED? I was having problems with the bike breaking in half. I broke their one-off four-stroke in half, and I broke the 380 in half. They said, "Rex, you could break a lead ball." When I first started riding, I would break my bike and my dad would say, "You are deliberately breaking these bikes." My dad put me on an Open bike to prevent me from blowing it up. Actually, I was riding a 500 at 13 years old. I had a 380 Maico back in 1968. I did a Hare Scrambles and was not strong enough to kick start the bike. They had to push start me to get me going, and I was dead last. But I worked my way through the pack and won. So when Honda picked me up and wanted me to ride that 500, I was happy.
AFTER FACTORY HONDA, YOU WENT BACK TO CZ. I bounced back and forth between CZ and Maico. Mostly I raced Maicos in 1975. CZ promised me a bunch of stuff but did not come through. When I raced the 1975 Carlsbad USGP, I got a bike from CZ. It was an old, worn-out bike that had been one of Jim Fishback's desert bikes. I was supposed to get a factory bike, but I got this one. If I could have gotten a factory CZ, it would have been a different story at the USGP. My CZ weighed 242 pounds, while DeCoster's Suzuki weighed 198 pounds. Everybody at Carlsbad made fun of me. But, I holeshot the first moto and took off. On the first lap, Roger passed me. But when we got to the big downhill, I passed him back and started pulling away. I led for eight laps, and I had a 15-second lead on him before the rear motor mounts on the CZ broke. Everything was shaking so bad; I was trying to hang on. About two laps from the finish, I ended up dropping back. I could not hang on anymore. When I came in, I had huge blisters on my hands. For the next moto, they had to weld my bike together and tape my hands up. I went back out and the frame broke again, but I ended seventh overall. I knew right then that if I had a decent bike I could beat these guys.
Rex Staten holeshot the 1975 USGP at Carlsbad on an antiquated, home-built CZ and led until the welded-on motor mounts broke.
AFTER CZ, YOU SIGNED WITH THE FLEDGLING HARLEY-DAVIDSON MOTOCROSS TEAM. They flew me over to Italy to do some testing at Aermacchi, but that only lasted 20 minutes; I blew the bike up. The rings kept breaking. I flew all the way to Italy and would ride for 20 minutes, and the bike would blow up. They would get another bike, and I'd ride it for 20 minutes and it would blow up. They didn't have any more bikes for me to ride, so I flew home. I didn't even have a practice Harley. I practiced on a Yamaha. We eventually got the Harley halfway decent, but we were way down in horsepower. Italy was going to make me an Open bike, but instead they just put a big-bore piston in it to make it a 360. I gave it all I had with what I had. I was in good shape, and after 45 minutes, I could reel them in. I almost won Unadilla in 1976. I came from dead last to second, right behind Marty Smith. If I would have had another lap, I would have gotten Marty.
Rex raced for Harley-Davidson for two seasons, but moved to Team Yamaha for 1979 and 1980.

AFTER HARLEY-DAVIDSON SHUT DOWN ITS MOTOCROSS TEAM, WHAT DID YOU DO? I was running fourth in the 1979 AMA 500 Nationals and was the top privateer. There were 20 guys out there on factory bikes, and I was on a Yamaha that I had built myself. Yamaha called me and said, "Mike Bell got hurt, and we would like to have you ride his bike." The next weekend we went to Missouri. I won by over a minute and lapped up to third, which was Marty Smith. There was only one race left in the season, which I won, but I lost the National Championship by two points. I would have been number one that year. 
Yamaha signed me for 1980, and I won the Daytona Supercross on the 250 (the 500 Supercross series had been dropped back in 1976). In the 250 class, I was the bad guy who had to get in there and keep Howerton away from Hannah, as we had the Suzuki/Yamaha wars back then. I was doing good in the 1980 500 Nationals, but while back home practicing I got thrown off and cracked my hip. That was the end of my season. 
YOU LATER HAD A GOOD CAREER IN SOUTH AFRICA, DIDN'T YOU? Yamaha had asked Bob Hannah and me if we would be interested in going to South Africa for a demonstration race. Of course, Bob didn't want to go, but I went and stayed for three years. I won three South African National Championships, and I taught riding schools. My time in South Africa was great. They treated me like gold. I enjoyed it a lot, and I think I helped the riders get better prepared for racing in Europe and America. Eventually, Larry Wosick and Jim Tarantino came over from America to race. I think I helped the South African riders make their mark in both the GP and AMA series.
HOW LONG DID YOUR PRO CAREER LAST? I was actually 42 years old when I quit. Up to that point, I was riding 250 Pro, 500 Pro, Vet Pro and the Senior classes. Later, someone asked me to race the Baja 1000, and I did. I agreed to do the beginning part, and we were the 86th bike off the grid. By the time I gave the bike to my teammate, we were third overall and first in our class. I passed so many guys. There must have been thousands and thousands of whoops. Guys were just sitting down going through them, while I was standing up, going as fast I could, trying to jump them. I also won the World Vet Championship in 1988, 1990, 1991 and 1992.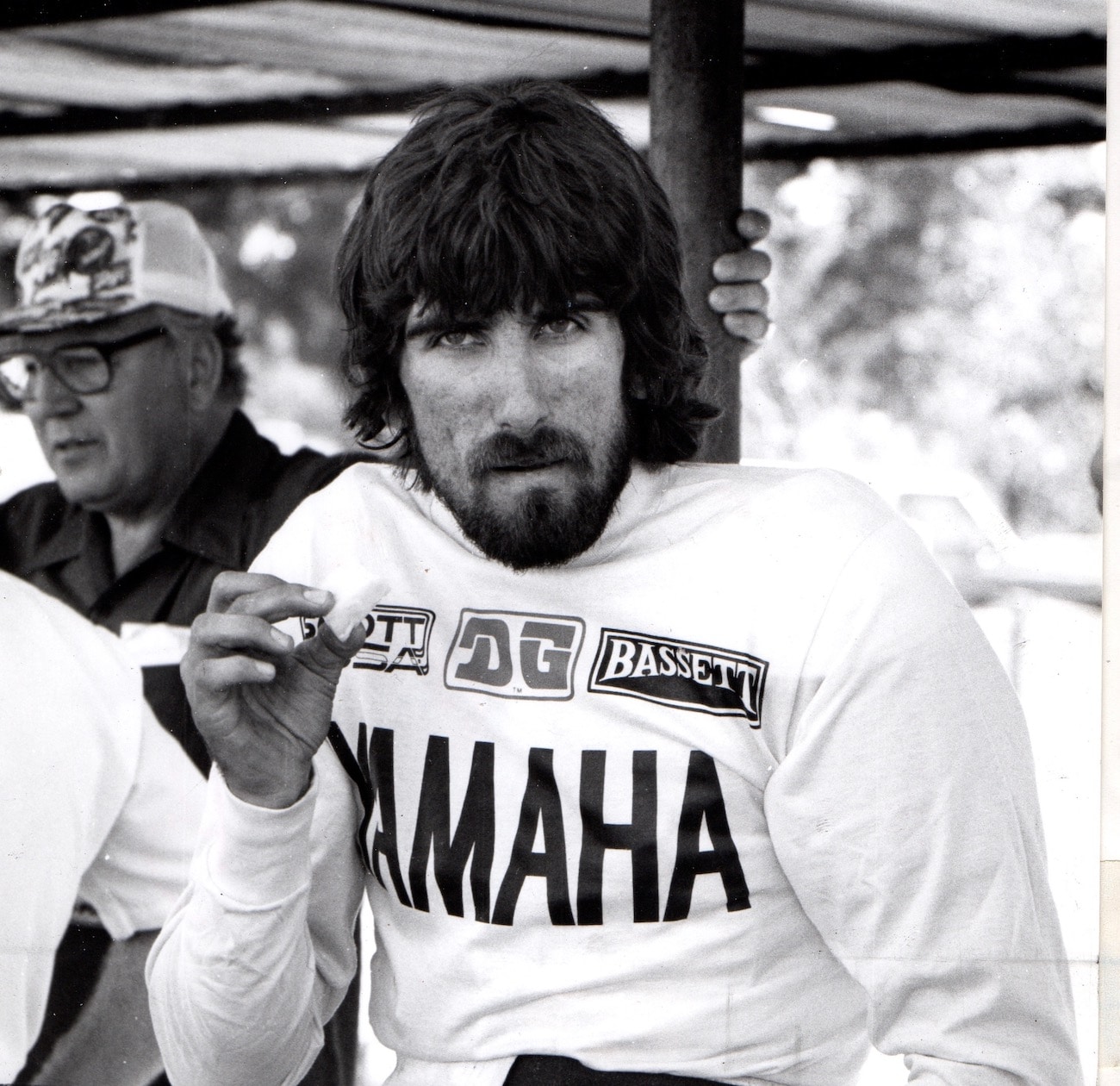 Rex is one of small group of motocross racers to have won the Daytona Supercross.
IF YOU WERE DOING SO WELL, WHY DID YOU STOP? My stepson got hurt really bad, and it was not a good deal. I never really wanted him to race, because I knew how tough it was. I remember telling him that he would have to be pretty rough and tough to do this. When he got hurt and was in a coma for 19 days, I just decided to quit racing and did not get back on a motorcycle for 16 years. 
EVENTUALLY, DID YOU GET BACK ON A DIRT BIKE? I did come back to the CZ World Championships. I still had my CZ from 1975. The bike was in bad shape, and just from going over the jumps, the tank split and gas was pouring all over. The guy that I was riding for lent me his bike for the next moto. I did a couple more vintage races, but recently my knee popped out and came loose from the bone. There was a lot of pain, and now I am knee-less at the moment. They have a 10-inch-long piece of pipe in there. I had a staph infection in the bone, and I have to take shots and I have a PICC line—used for long-term intravenous antibiotics—installed that goes into my heart.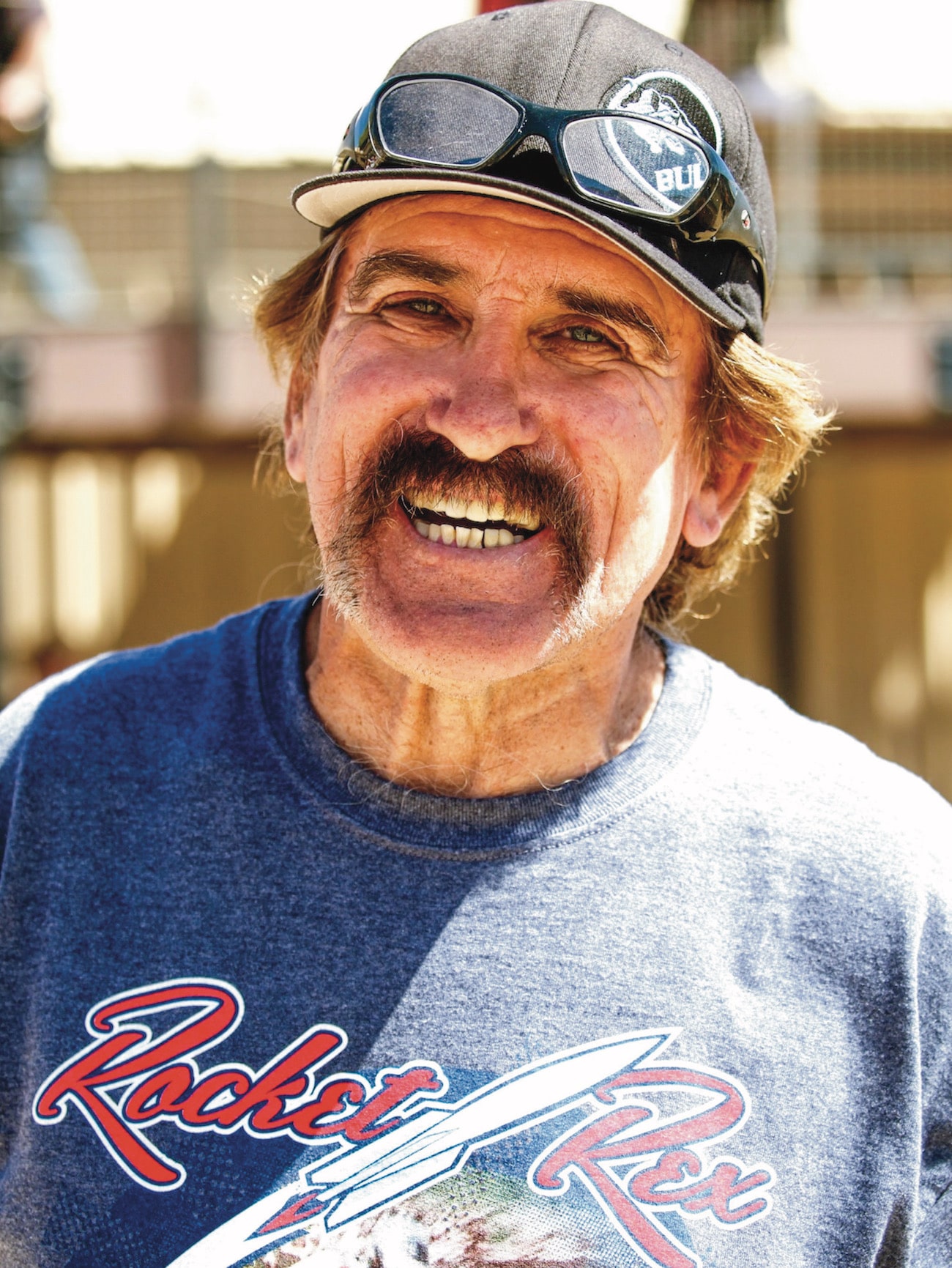 An older and mellower Rex is suffering from complications with his new knees.

AS FAR AS TODAY'S RIDERS, WHOM DO YOU LIKE? I really like Justin Barcia and Cooper Webb. Those guys are pretty aggressive. I learned back in the day that if a guy leaves the inside open for you, take it. I always took the inside line on the last lap. You have 30 feet to go; why risk it? Make the other guy go the long way around. If you go to the outside, then Cooper Webb will stuff you like he did Roczen. Modern Supercross tracks are tight. How are you going to get by if you don't stuff them? I am not really an Eli Tomac fan. He is a great rider, but I gave up on him because he would always give up. Ken Roczen I like. That kid tries hard. For what he has gone through, and for him to come back and keep racing, is fantastic; I really think a lot of Ken. 
DO YOU STILL GET TO MANY RACES? When it comes to Anaheim, I go, but the rest of the time I watch it on TV. I'm a pipe fitter and a plumber. I've helped rehabilitate California State prisoners back into society by teaching them plumbing. When I quit racing, I found out that life wasn't about playing all the time. I had 30 years of traveling, going here or going there. I've had a great life, done a lot of things and been everywhere, but after racing comes reality. I have a wife and kids to take care of. Now that I am at the retirement age, maybe my wife and I can go do some traveling and have some fun. I wanted to go to Sturgis this year, but then the coronavirus happened.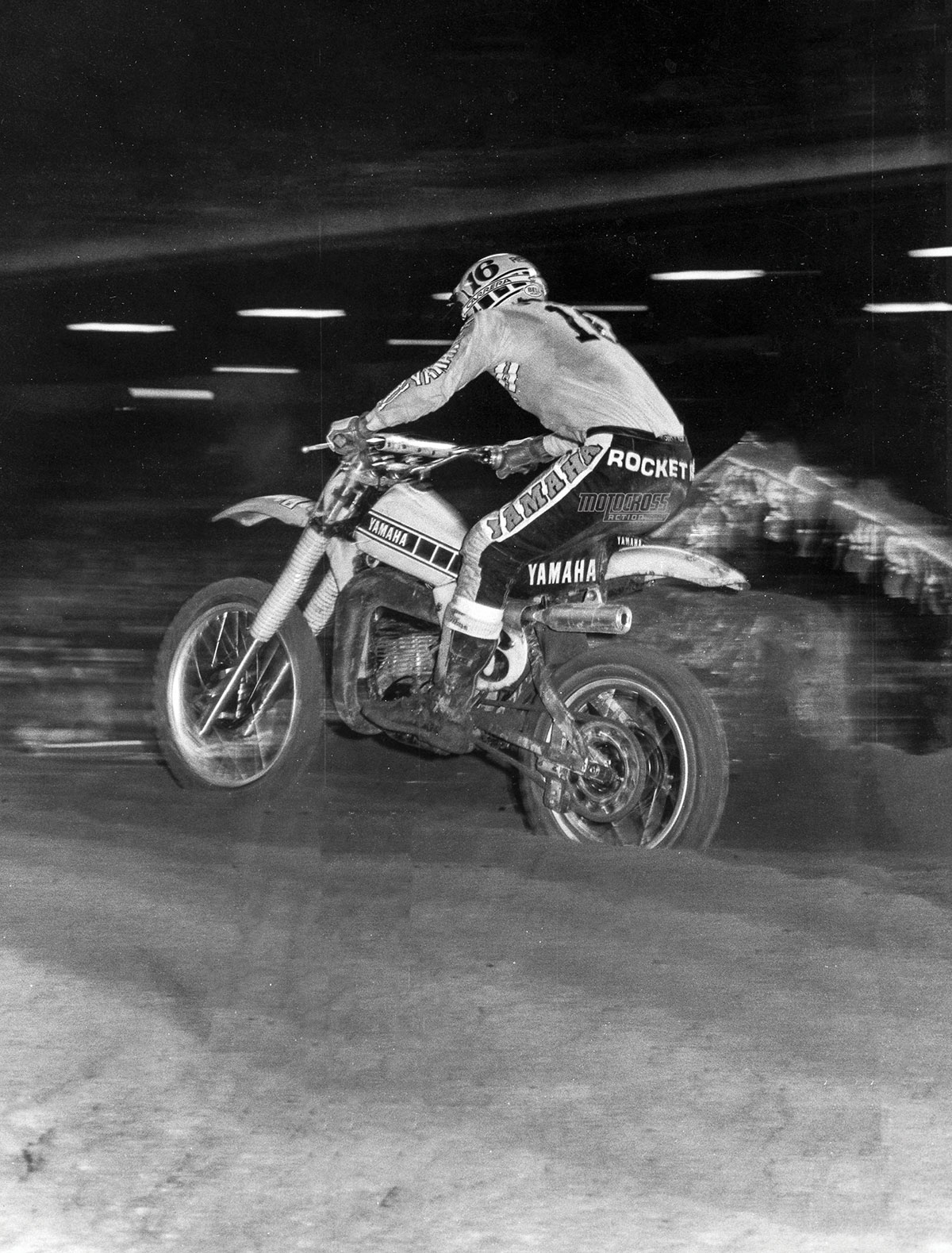 Rocket Rex.
YOU HAVE A REPUTATION AS A REALLY TOUGH RACER WHO LIKES TO INTIMIDATE HIS COMPETITORS. IS THAT REALLY YOU? When I met my wife, she always asked me, "Why does everybody stay away from you? They don't want to come near you." I had a reputation as a bad guy; but, when they would meet me off the track, they would say, "He is the nicest guy you ever will meet." I think that is true—until I put my helmet on.
DID YOU GET IN A BRAWL WITH ALL OF TEAM YAMAHA BACK IN 1972? Yes. In 1972, Corona Raceway put a bounty on me. If anybody could beat me, they would get a $50 bonus. The entire Yamaha team came out to beat me, but they couldn't. What happened that day was the Yamaha team manager walked out in front of me on the racetrack. My dad told him to get off the track, and the guy threw a beer at my dad. My dad cold-cocked him. He was lying across the track, and the next time I came around, I had to dodge his body. 
When I got off the bike, all the Yamaha guys (Gary Jones, DeWayne Jones, Don Jones, Jimmy Weinert, Marty Tripes) were trying to jump my dad. I was 15 years old, and I smacked Weinert. My dad just looked at me and yelled, "They want to go; let's go." Eventually it got broken up by the cops, but it ruined any chance of riding for Yamaha for a couple of years.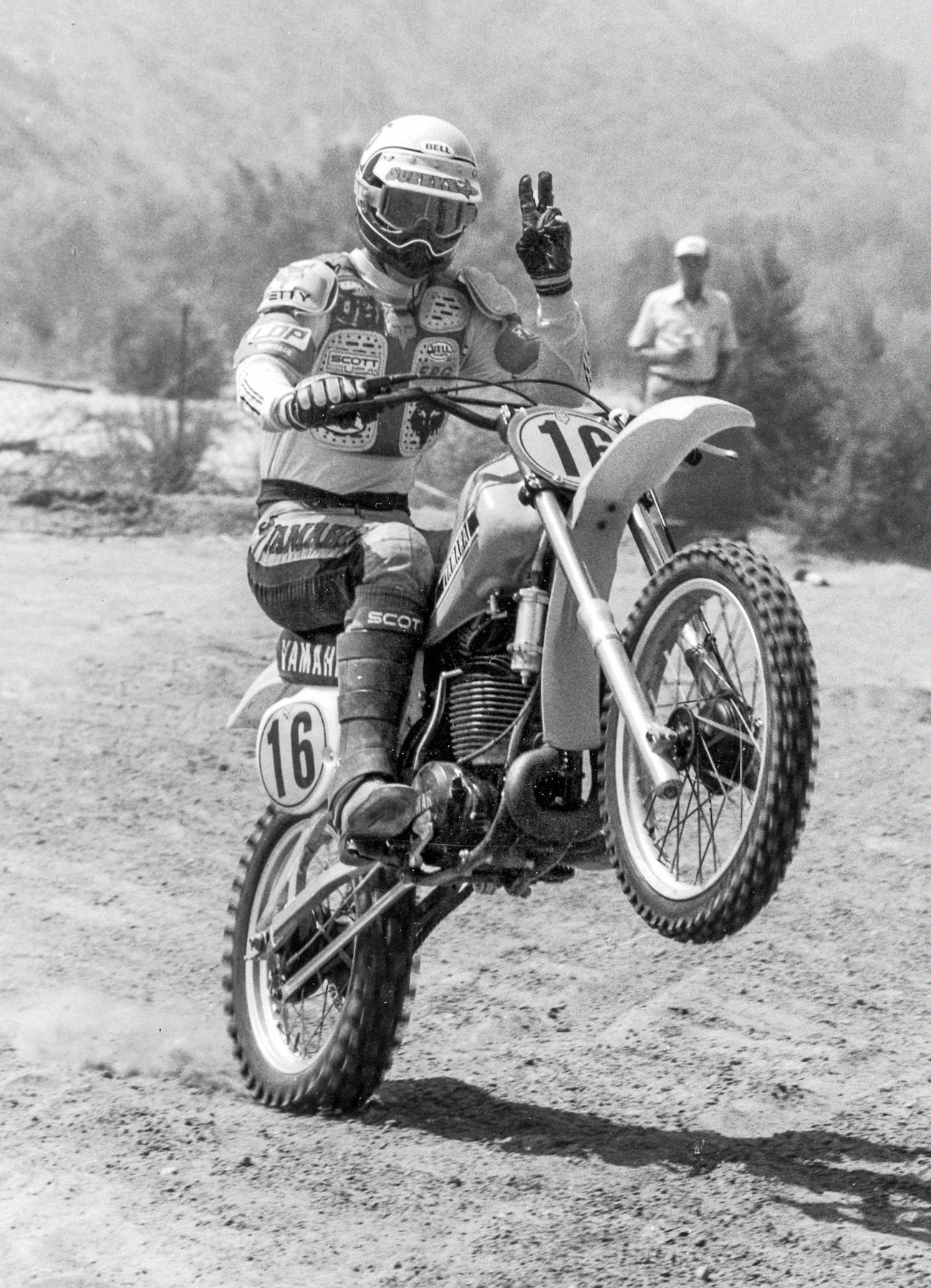 WHAT ABOUT THE FIGHT WITH VIC ALLEN ON NATIONAL TV AT THE USGP? At the 1976 Carlsbad USGP, I got taken out by Scottish rider Vic Allen. I was on the Harley then. He got mad because I was trying to hold him off. He T-boned me. We were lying on the ground, and I jumped on him and started punching him. Unfortunately, in the crash, I landed on my footpeg. They had to helicopter me to the hospital because I had internal bleeding, so I didn't get to race the next moto.
Rex with Yamaha mechanic Bill West.
DID YOU GO LOOKING FOR FIGHTS? I used to box in Golden Gloves, so I knew how to take care of myself. When you are racing, if a guy can push and shove you around, he knows that you are going to be easy. If you allow that, you will have everyone taking you out. You need to show them that you are not going to take it lying down. That was the way I was. They were scared to death of me. I would come up behind them, pull the clutch in, rev the throttle up, scream, and they would get scared and make a mistake. My mechanic used to put "Rex Kill" on my pit board, and the guy ahead of me would see that sign and wonder what was going to happen next. I could just reel them in and pass; they did not want any part of me.
"THEY HANDCUFFED ME AND TOOK ME TO THE POLICE STATION. THE DESK SERGENT TOLD ME, 'DON'T EVER TOUCH OUR CARS.' I TOLD HIM 'DON'T EVER TOUCH MY MECHANIC.' HE  SAID, 'WE CAN DO WHATEVER WE WANT.' IT WAS THEN THAT I REALIZED I BETTER SHUT MY MOUTH IF I WANTED TO RACE THAT DAY."
WHAT ABOUT THE CRESCENT WRENCH INCIDENT? I was at Saddleback in 1972, and I was trying to lap this guy named Greg Witherall. He tried to take me out, so in the next corner, I pushed by him and flipped him off. After the race, I stopped at the track exit and the guy's brother hit me in the face with an 18-inch crescent wrench. I'd been hit lots of times in boxing, so it didn't really phase me. It turns out that there was blood everywhere, and I had to go to the hospital.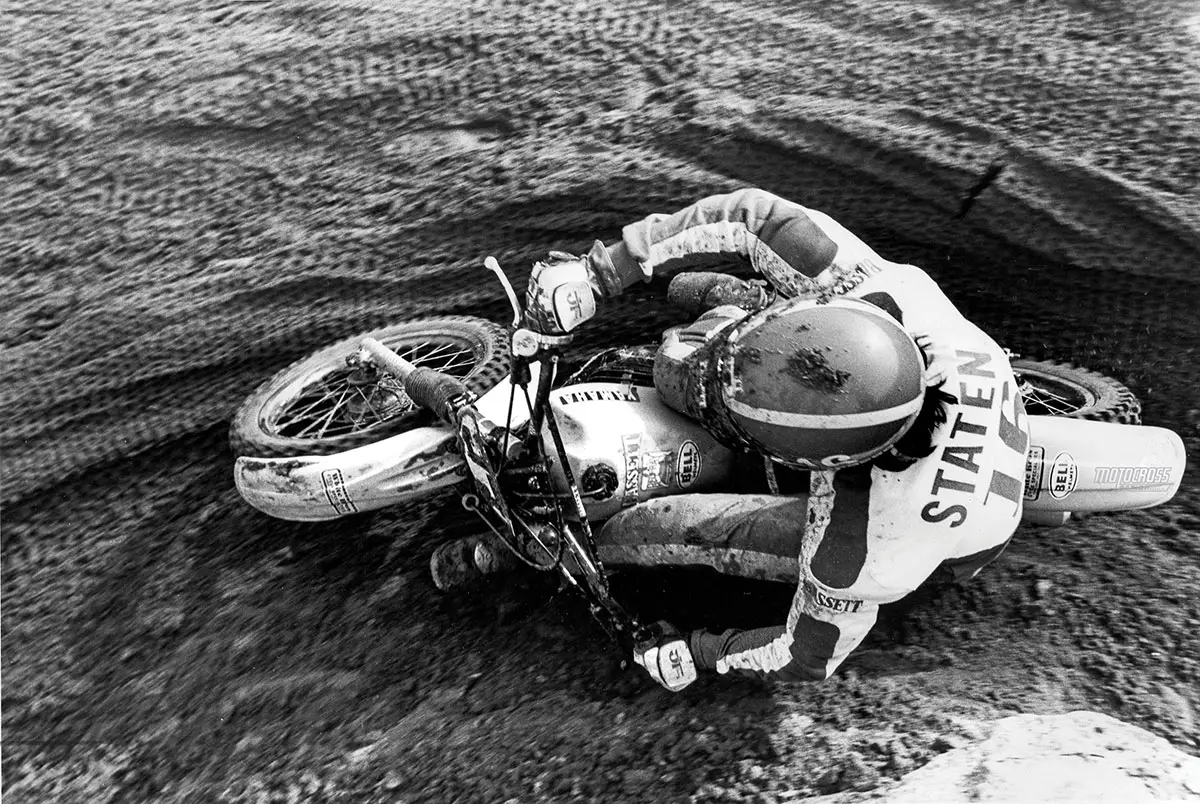 Rex bending his Bassett Yamaha in a berm at Saddleback.
ONE LAST STORY. TELL US ABOUT GETTING ARRESTED AT DAYTONA SPEEDWAY IN 1976? I got handcuffed! My mechanic had his shirt off, which was against Daytona Speedway rules. So, the police handcuffed him and put him in their car. That seemed stupid to me, so I walked over, opened the police car door and told him, "Get out. You're my mechanic. He can't take you!" The cop came after me. I ran a little bit, just to make him run. When he caught up to me, all of these Hell's Angels were standing by the fence and yelling things that I better not repeat at the cop. They handcuffed me and took me to the police station. The Desk Sergeant told me, "Don't ever touch our cars." I told him, "Don't ever touch my mechanic." He said, "We can do whatever we want." It was then that I realized I better shut my mouth if I wanted to race that day. My mechanic put his shirt back on, and they let us go back to the track.