MXA INTERVIEW: THE STRUGGLES OF FLY'N BRIAN MYERSCOUGH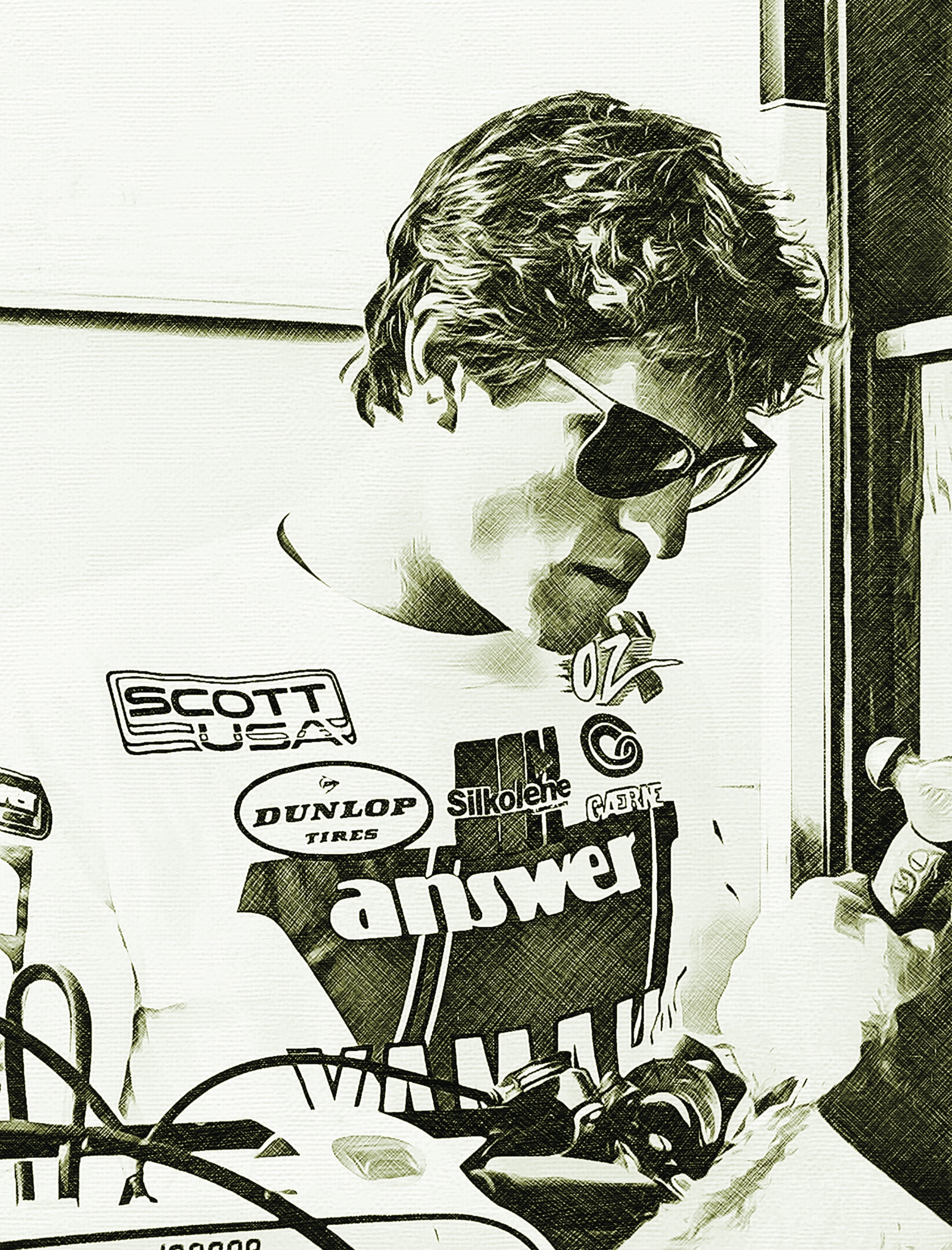 BY JIM KIMBALL
WHAT CONVINCED YOU TO BECOME A MOTOCROSS RACER? My family lived in Calimesa. It was a small rural town right against the foothills. We had 10 acres, and I could ride my Honda MiniTrail right to the hills. Originally, I started doing trials events, and one day they had a trials at Saddleback, and that is when I first saw Jeff Ward, who was riding a MiniTrail 50. I was in awe of Jeff. He was so naturally talented. I did trials for two years, and then one day at Dead Man's Point I saw a motocross race and decided, "I gotta try that."
AND, JUST LIKE THAT, YOU WERE RACING MOTOCROSS? Yes. I was maybe 11 years old. I got a Steen's 100. It had a Hodaka engine, leading-link forks and 16-inch wheels. I raced it in the 100 Junior class. A lot of the other guys had bigger bikes, like Hodaka Super Rats. My bike was a minicycle size. I got pushed around in the first few races, and then I got a Rickman Micro-Metisse 100. It was a full-size motorcycle with a Hodaka 100 engine in it. I began winning races.
YOU KEPT PROGRESSING? For sure. I did well right at the beginning with winning races and progressed from there. There are pictures of me riding the 100 Rickman. I was a small guy who rode big bikes before I got into riding the minicycles full-time.
WHEN DID YOU GET ON A MINICYCLE? We had an SL-70 that we used to race locally. My dad made it happen for me. Initially, my parents said, "You will never race." My dad wasn't into motorcycles, but he saw how I enjoyed it and said, "I gotta help that kid." Bill Bell at Long Beach Honda built my SL-70. He was Mike Bell's dad. They used to have a 75 Modified class, and I rode a stock 75. The first big minicycle race I went to was the 1973 NMA World Mini Grand Prix at Indian Dunes. I rode two classes. For a 12-and-over Expert rider, there were three main classes: 0-75 stock, 0-75 Modified and then 0-110 Modified. Flying Mike Brown was the fastest guy at Indian Dunes. He was the guy to beat. The Honda XR-75 had just come out, so I rode that in the Stock class, and then the SL-70, which was modified, in the other classes. I ended up winning both those classes.
"A LOT OF THE OTHER GUYS HAD BIGGER BIKES, LIKE HODAKA SUPER RATS. MY BIKE WAS A MINICYCLE SIZE. I GOT PUSHED AROUND IN THE FIRST FEW RACES, AND THEN I GOT A RICKMAN MICRO-METISSE."
WAS THIS BEFORE TWO-STROKE MINICYCLES? Eventually, the Yamaha YZ80 came out, which was great. I rode that after the Honda. After that World Mini Grand Prix, they had what was called the Nationals at Saddleback. By that time, I was on XR-75s for each of those three classes. I won that event in 1973, and Jeff Ward was second in all of them. Then I got hooked up with J&B Honda and started riding for them. After the YZs came into existence we started racing those. At that time, my brother still rode. My dad bought a Yamaha shop in Redlands, and I was doing well. His main business was as a housing developer who built tract homes. With the Yamaha dealership, we also developed Myerscough Machines with Ted Moorewood. The aftermarket product was coming into existence more, along with mail order.
YOU EVENTUALLY WON MANY MINICYCLE RACES, DIDN'T YOU? I did, on both Honda and Yamaha. They had the Grand National Championship in 1985. It was 12 races during the summertime that crossed the United States. Not everybody was going to be able to follow all the races, but Jeff Ward, Mike Brown, Jimmy Holley and myself were there. That year, I won every class in the Grand National Championship series. It was a big deal back then. During that time Jeff Ward, the other kids and I would go to Saddleback and Carlsbad to watch all the pro guys.
DID YOU ALWAYS WANT TO BE A PRO MOTOCROSS RIDER? That is what I wanted to do. I followed all the big-name guys, many that you guys have interviewed in MXA. You had to be 16 to get an AMA Pro license. Once I got older and bigger and started riding 125s locally, we got hooked up with Rudy and Dean Dickinson at R&D. Earlier, I had ridden one of their minicycles and went, "Holy smokes, this thing is faster than my bike."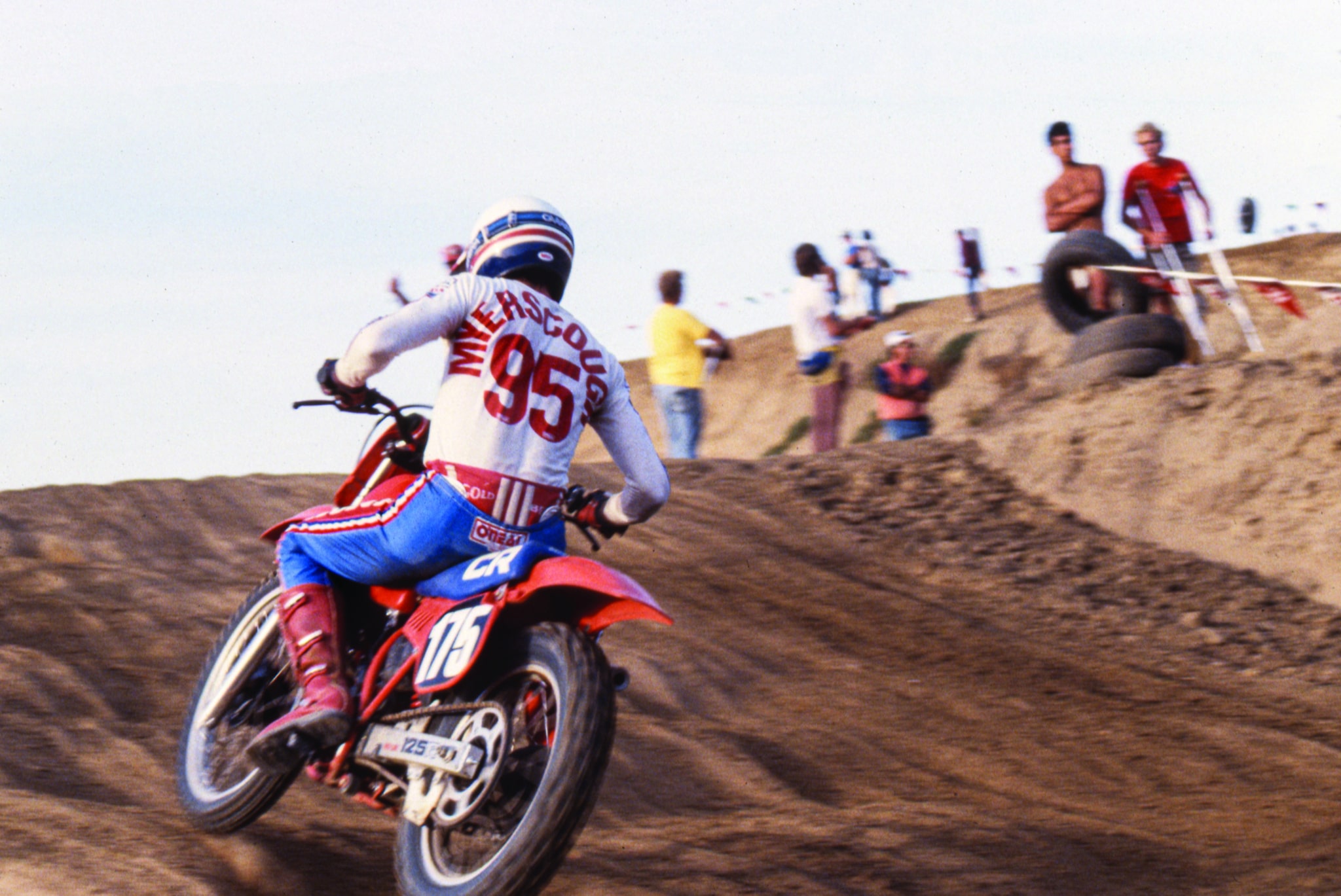 TALK MORE ABOUT THE R&D BIKE. I remember testing the Dickinson's bike and thinking it was incredible! After I got off minicycles, we got hooked up with them and started racing Suzukis.They were tight with Suzuki, working on development and doing their minibike racing team. That is when I started doing well locally. I won a couple of Golden State races. I remember one time at Carlsbad, the head of Suzuki racing was there watching. Suzuki signed me after that. The Dickinsons were instrumental in getting me signed.
HOW WERE THOSE FIRST COUPLE NATIONALS AS A FACTORY SUZUKI GUY? The first year when I turned 16, and was still a privateer on the R&D Suzuki RM125, we got about three Nationals in, and I got lapped at every one. The 40-minutes-plus-two-laps motos were tough. I did Hangtown, Midland and Keithsburg. In Keithsburg, Illinois, I got lapped twice by Bob Hannah, but he almost lapped everybody. It was the roughest track I have ever been on in my life. That is why Bob killed everybody. Mark Barnett, Steve Wise and Jimmy Weinert were all there. I got killed at the first couple of 125 Nationals but still got signed with Suzuki.
PROFESSIONAL MOTOCROSS WAS A RUDE AWAKENING. It was unreal. It was hot, humid and rough. Forty minutes plus two motos teaches you a lot. I had to learn how the good guys did it. At first, I just wanted to break into the top 10. I realized you must pace yourself. You obviously have to be in shape, but it didn't matter if you led for 30 minutes, because the good guys were steadily creeping up on you. They were in such good shape that they could just motor by and get to the front by the end of the race. I was never naturally strong and had to rely on my ability. I had to learn how to train.
BUT SOON YOU WERE WINNING THE 125 CLASS. I won a couple 125 Nationals. I was third overall in my first year in 1978. Then in 1979, I won a National at Hangtown and was third overall again. In 1980, I won at Saddleback, and that was the second race of the series. Later that year I got sick and missed two Nationals. I still got fourth overall. Then I took some time off.
"THEY HAD THE GRAND NATIONAL CHAMPIONSHIP IN 1985. IT WAS 12 RACES DURING THE SUMMERTIME THAT CROSSED THE UNITED STATES. NOT EVERYBODY WAS GOING TO BE ABLE TO FOLLOW ALL THE RACES, BUT JEFF WARD, MIKE BROWN, JIMMY HOLLEY AND MYSELF WERE THERE."
YOU SUFFERED FROM HYPOGLYCEMIA, RIGHT? Yes. That was a very hard time for me. I moved to San Antonio, Texas, for training. I over-trained and wore myself out. I wanted to win and put too much pressure on myself. It was a very difficult time. I was off for a while trying to regroup. I went to a lot of nutritionists to try to regulate my blood sugar and make it where I had steady energy. I just burned myself out.
DID IT BEAT YOU DOWN MENTALLY, TOO? Nobody knew what hypoglycemia was at the time. Everyone was asking, "What is the matter with you?" I don't know if I could have gone back to Team Suzuki or not, but I ended up signing with Honda. I tried to get ready, but I wasn't there yet. So, basically, I came back on a lower-status Honda B-team. I did a couple of races in 1982 but was not up to snuff. I signed a works Honda contract for 1983 for $40,000 but got out of it because I was still not ready.

IN 1983 YOU ALMOST WON THE 1983 UNADILLA 250 USGP. I had a mechanic, production bikes, and a van and trailer. I was determined to make it to every race that year. I wanted to be top 10 in Supercross and top five in the Nationals, which I did. Eventually, Honda let me ride a works bike, partially for testing, as it was different from what Johnny O'Mara and David Bailey were riding. So, they supported me with riding a works bike for half that year. Prior to Unadilla, I had already been riding the works bike, but I was not slated to race the Unadilla USGP; Johnny O'Mara was. But, because he was leading the 125 National Championships, he skipped the USGP, and I rode in his place. I had a great race. I could have won. But, as many know, I hit the wall.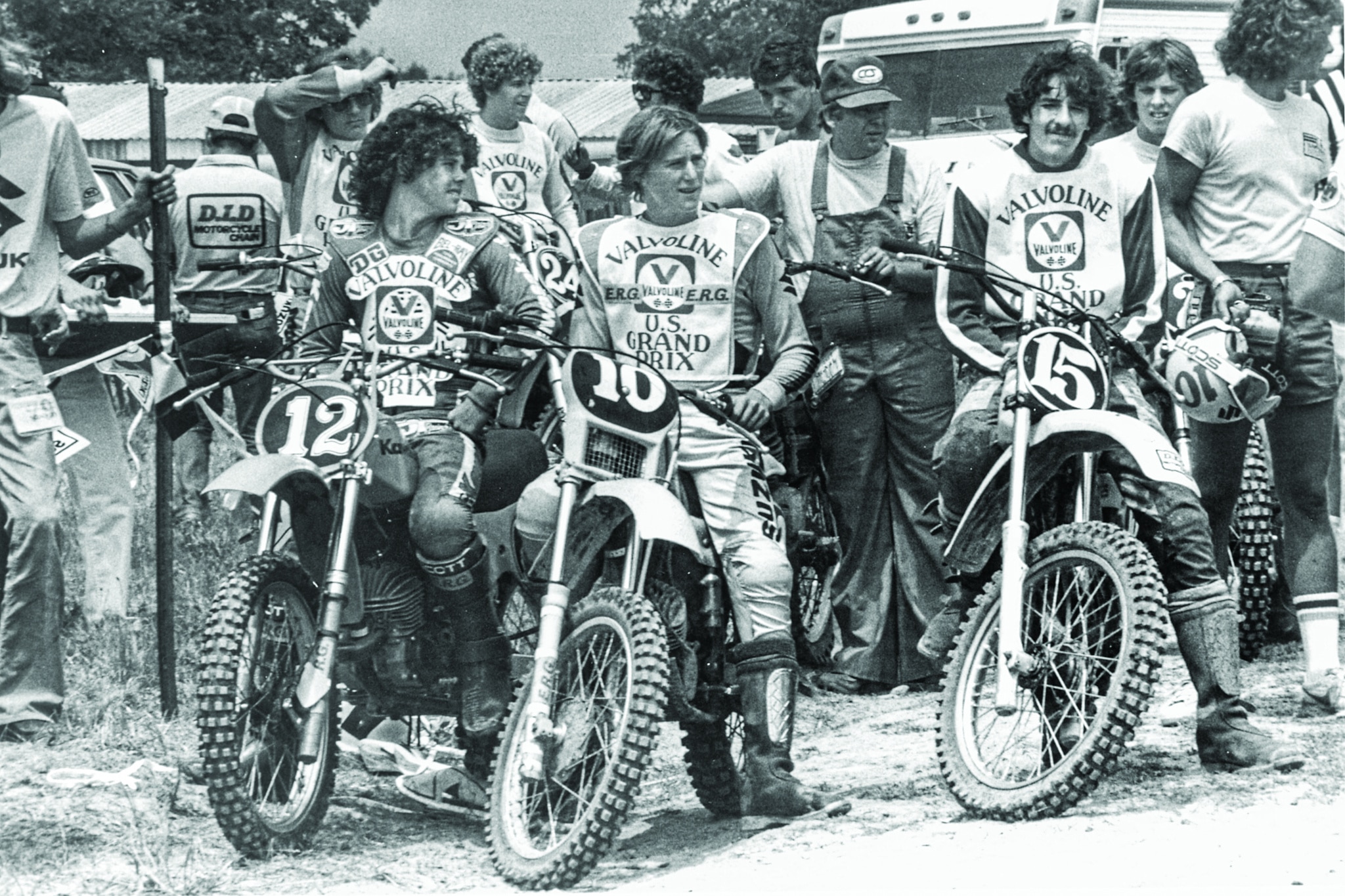 LET'S HEAR MORE ABOUT THAT DAY. On Saturday qualifying, Bailey was first and I was second. But we didn't ride GPs and weren't used to all the Saturday riding. I rode too much and should have conserved more energy. Sunday morning, we had another qualifier. Bailey was the fastest, and I was second fastest.
I felt I could win. I got a second in the first moto. I was close to Bailey, who won, and we were far ahead of everybody else. In the second moto, I was battling Danny LaPorte, Georges Jobe, and others. Five of us were going back and forth, and then I took the lead. At the 30-minute mark, I was pulling away—and then hit the wall. I went from first to fifth in two laps.
HOW WAS THE REST OF 1983? It went well. I started out on a production bike, and I was riding well. I finished eighth in Supercross, but often I was top five. In the Nationals, I did pretty well, but the guys ahead of me—Lechien, O'Mara, Barnett and Ward—were faster. I finished third in a couple of races and got fifth overall for the series. That was half on a production bike and half on a works bike.
SOUNDS LIKE A PRETTY POSITIVE YEAR? Yes, but I lost some speed during the time that I was ill. Growing up in the pro racing environment can be challenging for anyone. The guys racing these days have better guidance. I was just winging it. I was hoping to get a full factory ride for 1984, and Honda said they were going to sign me.
"I FELT I COULD WIN. I GOT A SECOND IN THE FIRST MOTO. I WAS CLOSE TO BAILEY, WHO WON, AND WE WERE FAR AHEAD OF EVERYBODY ELSE. IN THE SECOND MOTO, I WAS BATTLING DANNY LAPORTE, GEORGES JOBE, AND OTHERS."
BUT THAT DIDN'T HAPPEN. Exactly. During the off-season, I went to Australia to race Supercross. Ricky Johnson went, too. What happened is, Ron Lechien was riding for Yamaha, and they were going to switch to production bikes and Ron didn't want to ride production Yamahas against works Hondas, Suzukis and Kawasakis. He was better than me at the time, so Ron got out of his Yamaha contract and moved to Honda; they gave him the ride they had promised to me. When I got back from Australia, Honda said, "We're not going to sign you now."
JUST LIKE THAT, SORRY BUT NOT SORRY? I didn't have an agent and was not a good talker. It was too late to get on another factory team, but Honda decided to support Team Tamm and said I could ride there. I started out to do it, but was so disgruntled about Honda taking my factory contract away that I quit Honda and bought a Yamaha, because their production bike was decent (Ricky Johnson was doing well on it). I did a few races, but then I gave up again. So, I was sitting at home doing nothing when the South African Kawasaki importer called and offered me a ride. I raced the rest of 1984 in South Africa.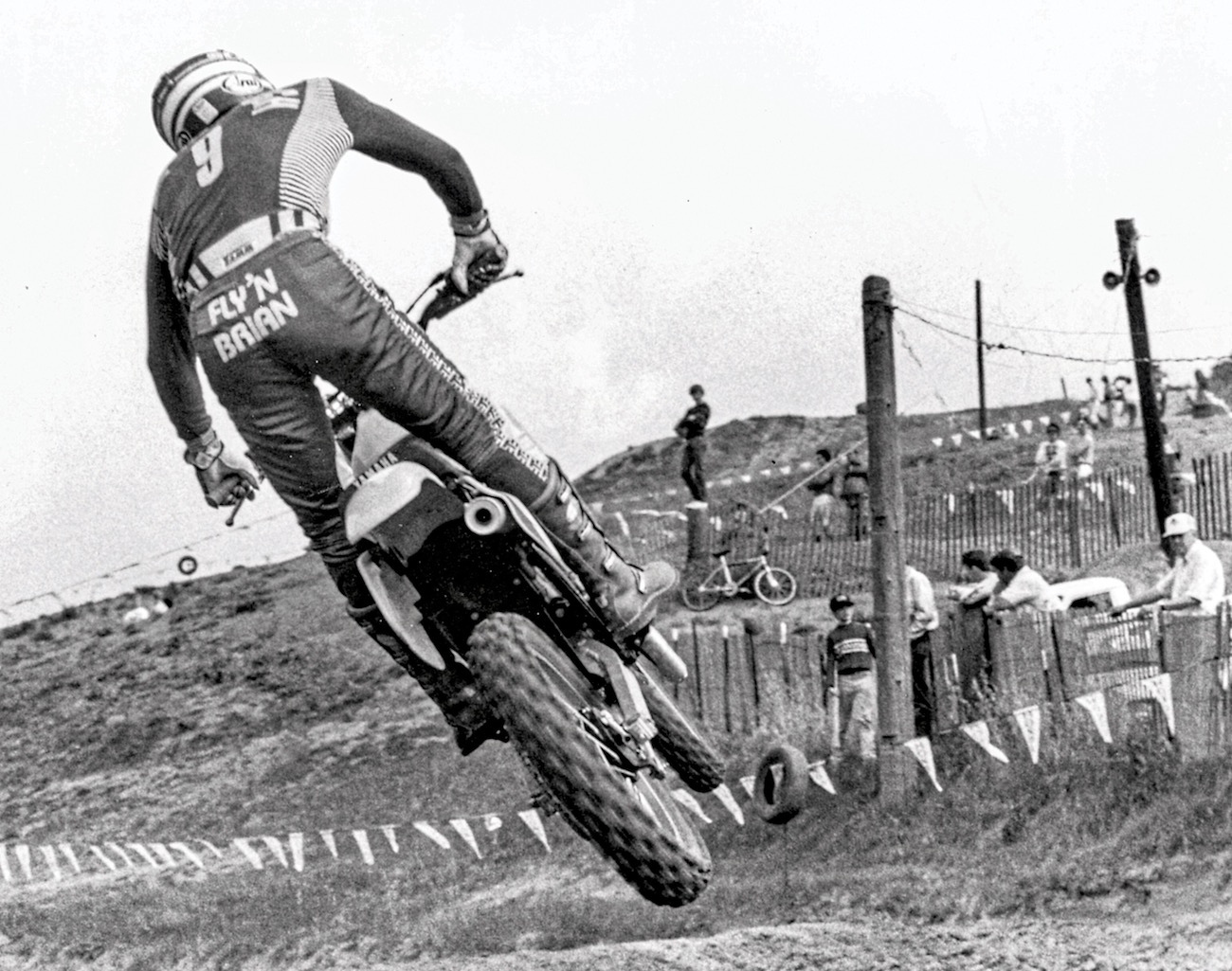 Fly'N Brian at Saddleback Park.
HOW WAS RACING IN SOUTH AFRICA? It was unbelievable to even go over there. I got paid a little bit, but at the time, the exchange rate between the U.S. dollar and South African rand had gone down from when I signed the contract. I did not make any money, but it was fun.
LOOKING BACK, DO YOU THINK YOU WERE YOUR OWN WORST ENEMY? As a young kid racing in the big-pressure minicycle races, I won easily. As I got older, I was dealing with depression. I had to deal with that over my lifetime, and it got worse as I got older. I now take antidepressants and have had a lot of therapy. Many things were affecting me that I did not understand. It would have been better if I had had an agent working for me and more guidance from people who knew the ropes.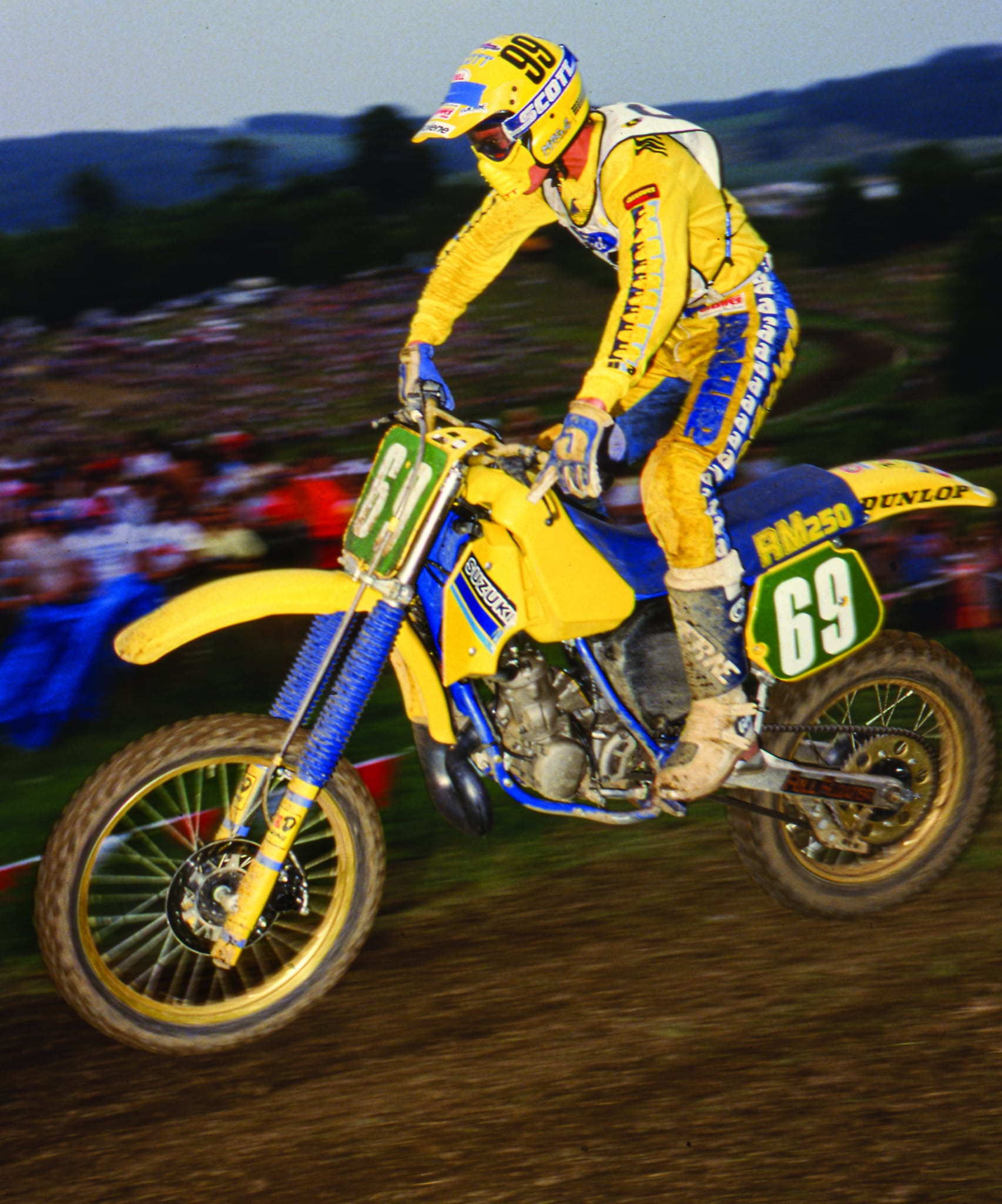 YOU NEEDED SOMEONE TO HELP YOU WITH CONTRACTS. Yes, the Honda deal was just one of those things. I understand. It was not Lechien's fault, but I was promised a contract. Lechien was under contract with Yamaha for another year, but he was so good at 16 years old that he won a Supercross main running a three-digit number. I must admit, Lechien was incredible. Basically, he wanted to get out of his Yamaha contract and did. I was just a stupid kid trying to ride.
WHAT HAPPENED WHEN YOU CAME BACK FROM SOUTH AFRICA? I started to do the Nationals again. My dad was able to support me to race in 1985 on a Kawasaki. Eventually, I got back on a Suzuki and drove to the Nationals in a box van with another Suzuki rider. I did the 250 Nationals and got fifth overall and was top privateer.
Brian Myerscough in 1986 on a Yamaha.
DID THAT PUT YOU BACK ON THE FACTORY RIDE RADAR FOR 1986? No, I didn't have any offers after that. I got a Yamaha support ride. I did some of the Supercrosses and the Nationals. There were times when I did okay, and in the Nationals, I finished second a couple times on a production Yamaha, but that ended up being the end of my racing career.
YOU SAID YOU WERE DEPRESSED AND DRINKING. DID YOU QUIT COLD TURKEY? I did some testing for Honda, maybe as late as 1989 and 1990. They would pay $100 a day. I would go to Honda Land and do endurance testing, three 30-minute motos a day. They even had a Supercross track, and I did testing there. I was riding well on the CR500 and was doing three 30-minute motos a day. I was in good shape, so I entered the 1989 USGP at Hollister with a bike that CTI's Jim Castillo had built. In the second moto, I was running fifth. Lechien was winning, Staten was up there, and Eric Geboers was just ahead of me. Kurt Nicoll was behind me, but my fuel pump wire shorted out and I did not finish. After that, Jim Castillo asked me if I wanted to do a race in Belgium.
AND YOU WENT? Yes, but I was drinking a lot during that time, and I was not prepared, nor focused. I crashed into a tree in practice, and I busted my elbow. That was one of my last races. I was in the hospital for a week. My career was over, and I was drinking even more.
WHEN YOU SAY DRINKING A LOT, WHAT DO YOU MEAN? I was having a hard time accepting everything. The facts are that I am a recovering alcoholic and drug addict. I work at it every day. I have been to several treatment centers, but God has blessed me. That is the best I can tell you. It was just a long battle. The 12-step meetings that I do all the time help.
NOW THAT YOU ARE RECOVERED, DO YOU RIDE? I have a Sherco 450. I had gone to California to visit my son and daughter. My son has ridden his whole life, so when I went there, I was able to ride a bit with him. I had not ridden in years, and when I came back to Michigan, I bought the Sherco. I am really stoked to ride. It is a great feeling. I am psyched and determined to get over my back issues and try to rehab my body the best that I can. Right by my place in the Michigan Upper Peninsula there are a lot of legal, government trails. I told my son that I want him to experience going through the Michigan single track. I want him to come to Red Bud for the Motocross of Nations, then show him the trails.
"I STARTED TO DO THE NATIONALS AGAIN. MY DAD WAS ABLE TO SUPPORT ME TO RACE IN 1985 ON A KAWASAKI. EVENTUALLY, I GOT BACK ON A SUZUKI AND DROVE TO THE NATIONALS IN A BOX VAN WITH ANOTHER SUZUKI RIDER. I DID THE 250 NATIONALS AND GOT FIFTH OVERALL AND WAS TOP PRIVATEER."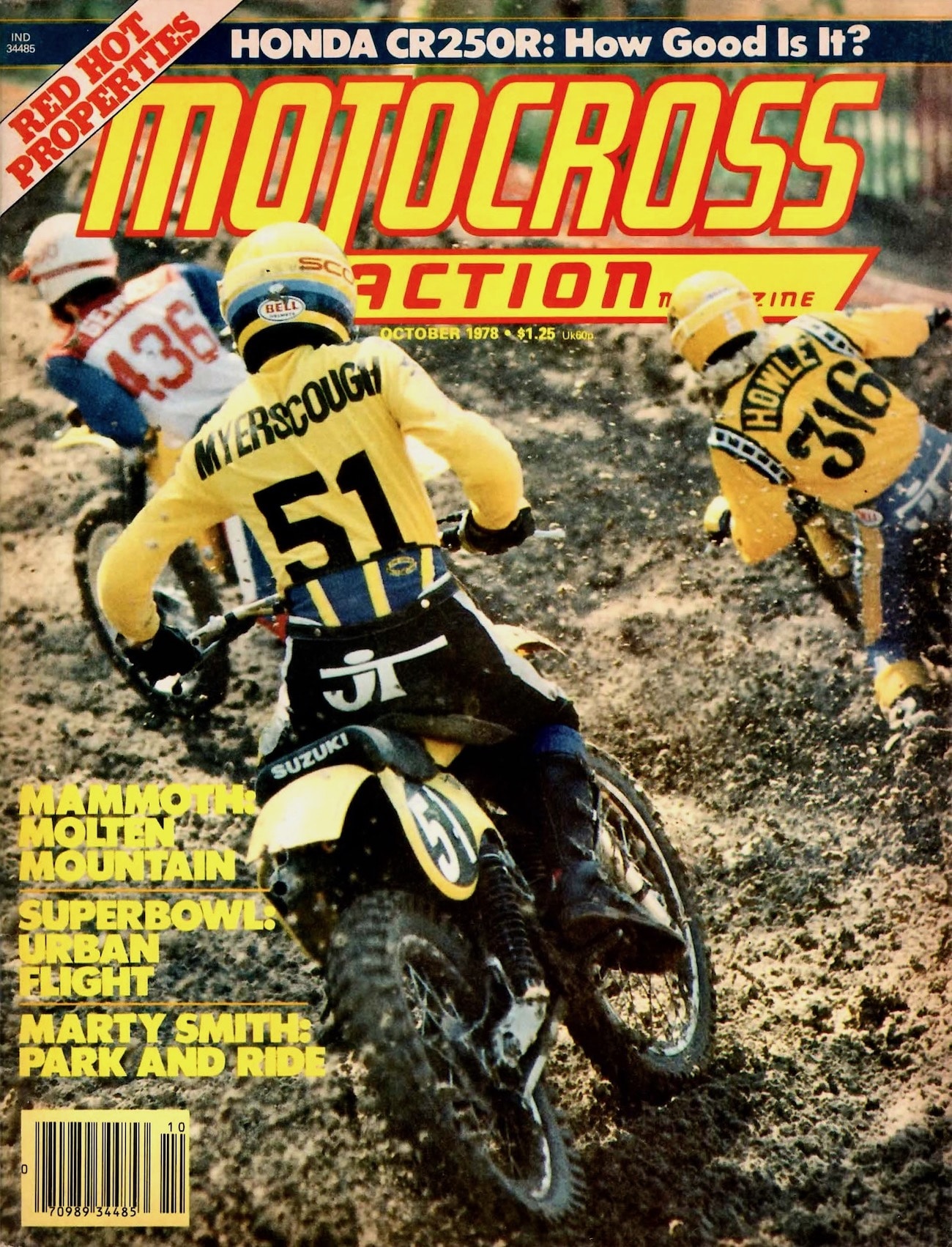 Brian on the cover of the October 1978 issue of MXA.
BRIAN, WHAT WAS THE BEST RACE OF YOUR CAREER? I don't necessarily think about that now. Maybe at Saddleback in 1980; that was probably my best professional race. Unadilla brings back memories. And I remember the first National I won at Hangtown in 1979; that was a big deal to me. I always loved motocross, but after my racing days ended, I was very depressed. I really enjoy watching the racing now, though.
WHAT WOULD YOU HAVE DONE DIFFERENTLY? Nothing! I believe all of it happened for a reason; the struggles and everything. It is all for God's purpose. I had to get to a point where I understood that God was the answer as far as trying to quit drinking and drugging. It has been quite an adventure and much work. I feel very blessed now.
DO YOU REALIZE THAT YOU WERE SOMEONE SPECIAL THAT RACE FANS STILL TALK ABOUT? That is mind-boggling to me. I felt like a huge failure. Regardless of what I accomplished in racing, that did not mean anything. I did not feel good about myself. I am feeling better about myself now, but the adulation boggles my mind. Even that Motocross Action wants to interview me now is incredible.