MXA'S "ZERO EXCUSES" WORLD TWO-STROKE CHAMPIONSHIP KTM 300SX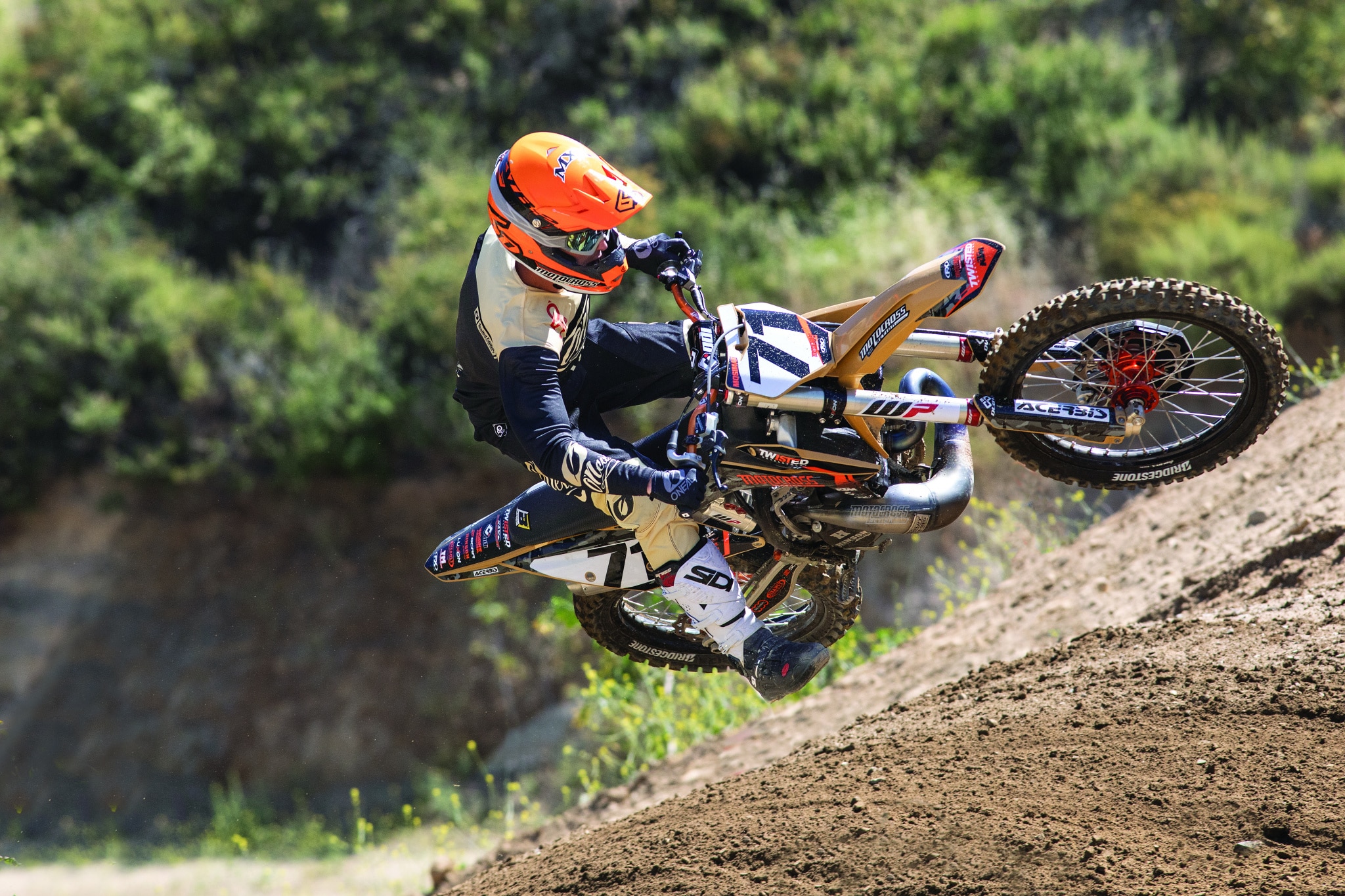 MXA'S "ZERO EXCUSES" WORLD TWO-STROKE CHAMPIONSHIP KTM 300SX
BY JOSH MOSIMAN
One of my first big races under the MXA umbrella was the 2019 World Two-Stroke Championship at Glen Helen. The Open Pro class was packed with 40 riders on the gate riding smokers ranging in displacement from 250cc to 300cc to 325cc to 500cc. I showed up to the race on a stock Husqvarna TC250 and had a few moments of brilliance. One of them was almost passing my childhood hero, Mike Brown, and having him flip me off after I was revving my engine behind him; however, I never made it by him. In the second moto, I led a few laps before being passed and then crashed into the second-place rider when he fell in front of me. I felt I had a chance of winning, or at least being a podium guy; I just needed a stronger bike underneath me to get me there. 
After testing Cooper Webb's Red Bull Straight Rhythm factory KTM 300SX this year, I fell in love. I knew I needed that same setup on my race bike. KTM's PowerParts catalog sells the exact same 300cc kit, which includes the cylinder, head, piston, ECU and gaskets that were on Cooper's bike. I had high expectations for my KTM 300SX two-stroke. I was under-powered with a stock TC250 engine in 2019 year, but this time I would have zero excuses at the World Two-Stroke race.
"MY BIKE WAS FIGHTING AGAINST ME. I WASN'T COMFORTABLE. MY INTUITION TOLD ME TO FIX THE POWER BEFORE I WORRIED ABOUT THE HANDLING."
When it came to installing the 300 kit on MXA's 2020 KTM 250SX and getting it dialed in, I handed the reins to Twisted Development's Jamie Ellis. Jamie had built my engines when I raced the AMA 450 Nationals before joining the MXA wrecking crew, so he had my trust. For the suspension, I went with WP Pro XACT Cone Valve forks and shock. I got them straight from WP's in-house team and even got my own in-house WP technician to ensure an easy plug-and-play solution. WP's George Willenbrock set me up with two-stroke settings for my weight and speed, while Twisted Development custom-ported the cylinder, machined the cylinder head, added its spec carburetor service and dyno-tuned it so the power would be potent yet ridable.
I thought I would be off to the races quickly; however, the development process for my World Two-Stroke Championship KTM 300SX wasn't as simple as I expected. The power had a delay on the bottom that required me to clutch it out of the corners. Once it finally hit, it came on like a rocket ship, and by then I was entering the next corner where my suspension was sending me for a wild ride. My bike was fighting against me. I wasn't comfortable. My intuition told me to fix the power before I worried about the handling, because the two work in unison to create the overall performance of the bike. But, with scheduling complications, opportunities to work on the suspension with WP arose before Jamie was able to meet me at the track to fine-tune the powerband. 
I started with a 4.8 N/mm spring in my forks and a 45 N/mm spring on the WP shock. After going softer on the compression clickers and liking it, I asked WP to go down on the spring rates front and rear. We dropped to a 4.6 N/mm spring rate in the forks and a 42 N/mm shock spring. With softer springs, I felt that we were going in the right direction. After riding other bikes for comparison and then hopping back on the two-stroke, I liked my forks, but the rear end was riding too low in its stroke. I raised the sag, went in on the high-speed adjuster, and eventually went stiffer on the compression damping in the shock to give it more hold-up. This helped, but I felt like I was only putting lipstick on a pig. George advised me to go back to the stiffer 45 N/mm shock spring. Finally, I was happy with the rear end. After chasing my tail trying softer shock settings, I ended up going back to the original spring rate and going the opposite way on valving. 
At this point, I took a break from the chassis and decided to fix the powerband. My first step was to focus on the power valve. Power valves are only found on two-strokes, and they adjust the delivery of the power as you crack the throttle. On KTM two-strokes, two springs monitor the opening of the exhaust-port flapper. The stiff main spring determines when the power-valve flapper opens, and the smaller color-coded auxiliary spring determines how fast it opens. I installed a Kreft Moto Power Dial 2.0, which enabled me to change the preload on the main spring. Best of all, the Power Dial 2.0 allowed me to make changes by hand, even at the side of the track. With the Power Dial 2.0, I was able to ride a lap, pull over on the side of the track, reach down and make a 1/8 turn in or out and be back on the track immediately. Without the Kreft Power Dial, I would have had to return to the pits, get a Robertson wrench tool and fiddle with it. I wanted the power-valve spring to open as quickly as possible to give me a snappy and connected feel at the throttle. This change helped, but it didn't fix my lag on the bottom end. 
"I HAD SPENT MULTIPLE DAYS AND MANY HOURS TESTING FORKS IN THE BRUTAL SOUTHERN CALIFORNIA SUN ONLY TO COME
FULL CIRCLE BACK TO WHERE I STARTED."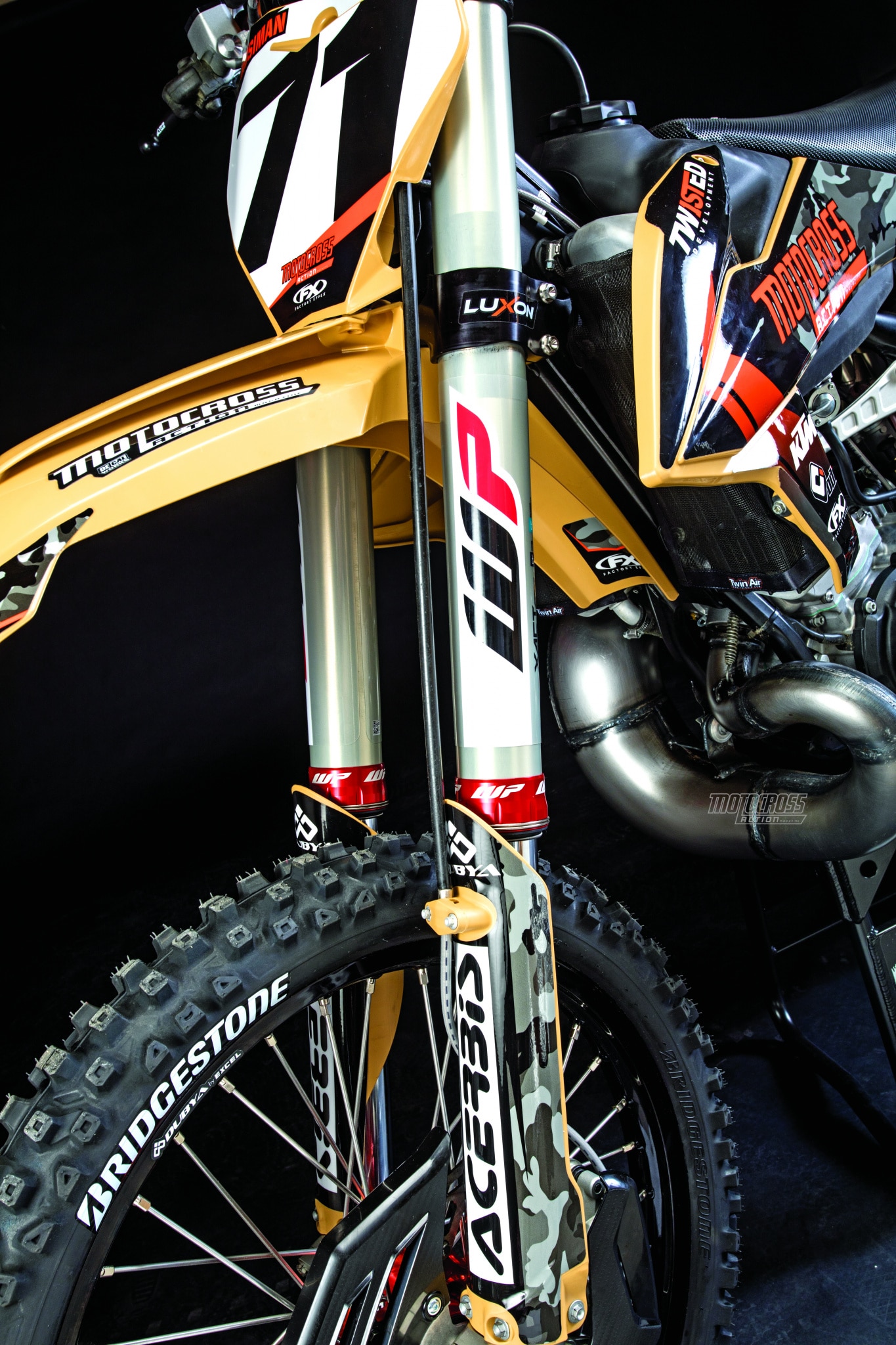 Jody could see that I was struggling and suggested that I ride my bike back-to-back against Kent Reed's $20,000 KTM 300SX two-stroke that we tested in the May 2020 issue. I had liked Kent's bike a lot. One of the tricks that Kent used was to swap the standard yellow power-valve auxiliary spring for the softer red auxiliary spring, which allowed the power valve to open faster. After liking the red spring, Twisted's Jamie Ellis had me try my bike without any auxiliary spring, and I liked it even better. Instead of a soft spring to monitor the speed with which the power valve opened, it was now without a spring, which allowed it to open even quicker. This, along with testing different pilot jets and dropping the clip on the Mikuni TMX 38 needle one notch, finally fixed my power complaints. 
Jamie suggested I try an FMF Factory Fatty pipe with a Powercore 2 silencer back-to-back against a Pro Circuit Works pipe with an R-304 Shorty silencer to see which one I liked best. The Pro Circuit setup created a smooth bottom end that came on strong in the midrange and added more over-rev. The FMF combo boosted the power off the bottom and into the middle, but it didn't rev as high. After testing both, I chose to go with Pro Circuit because it kept the smooth characteristic I had worked so hard to get from my 300SX. It wasn't as powerful as the FMF Factory Fatty off the bottom, but I could push hard and I wouldn't fatigue as easily; however, if the track is deep and soft at the World Two-Stroke Championship, I had the FMF setup with me if I need more bottom-end power. 


Now that the power was how I liked it, I switched my attention back to the chassis. At this point, I was feeling content, but FCP Racing's Kris Palm had just gotten his first prototype KTM two-stroke motor mounts and titanium front engine bolt back from the machine shop. He offered them to me. So, back to the track I went for a special test. At first glance, the mounts looked super cool, but how would they feel on the track? After torquing the motor mount bolts to 22 pound-feet and adding the stiffer-than-stock FCP titanium front engine bolt (torqued to 35 pound-feet), I hit the track and noticed that the bike felt more planted over bumps coming into corners. Every time I've tested aftermarket motor mounts in the past, I have always noticed that the difference was most noticeable on the exit of the corner. But this time I felt an improvement on corner entrance. I liked it.

I was finally happy with the whole package and ready to call it a day. But, I wasn't done yet. Jody wanted me to try his Cone Valve forks back-to-back with my two previous Cone Valves before all was said and done. I was riding on the softer 4.6 N/mm spring rate forks and I was happy with them, but MXA endurance test rider Josh Fout said that he had raced with Jody's forks and that they were really good.  His WP Xact Pro forks used the 4.8 springs with his favorite shims and Cone Valve setting. When I installed his forks, I was expecting to turn around and have to install mine again two laps later. But, my time on the track lasted much longer than just two laps, because I actually liked his forks better than mine.
I was embarrassed to admit that after multiple days of testing with the WP technicians, my forks were trumped by the forks off Jody's bike. At this point, I called George at WP and told him that I wanted the exact same setup in my race forks as Jody had in his. I was embarrassed when George told me that the Cone Valve forks that I started out on had been valved identically to Jody's forks. All I could do was laugh. I had spent multiple days and many hours testing forks in the brutal Southern California sun only to come full circle back to where I had started.  
That was the last straw. I wanted to complete my KTM 300SX and race it. I mounted up a fresh Bridgestone Battlecross X30 front tire and a 110-size Battlecross X40 rear tire to a set of Dubya USA's Edge wheels. The Edge wheels from Dubya USA previously came with Notako rims, but have been upgraded with "Dubya by Excel" rims. I added a Regina Chain on a SuperSprox 14/50 gear combo. ODI provided me with its 2016–2018 KTM bend handlebars and full-diamond V2 lock-on grips. To make sure I could hold on to the bike, I used a Blackbird Racing gripper seat cover and extra-sharp Scar Racing titanium foot pegs. Hinson clutch plates, ARC levers and DP brake pads helped put the power to the ground (and stop it when necessary). The TM Designworks Slide-N-Guide kit not only looked cool, it added durability.
To improve the feel of the rear suspension, I converted the fixed-design KTM axle block into the floating type with the Works Connection Elite axle blocks. I also used their titanium axle adjuster bolts and custom-engraved brake and clutch reservoir caps. When it came to the design of the graphics and plastics, I wanted to stand out from the crowd. Luckily, the Acerbis Desert Eagle brown plastics did the job perfectly. We clothed the plastics with Factory Effex graphics that complemented the tan and orange theme nicely.
My final test project was to install Luxon's new top and bottom triple clamps. They are ultra-trick looking, lighter than stock and 33-percent stronger. Unfortunately, their added stiffness caused my bike to oversteer into the corners sharper than stock. Perhaps on a tighter track or on a four-stroke I would have loved that feel; but, for the big, fast and nasty Glen Helen track on a two-stroke powerband, I was more comfortable with the stock triple clamps. 
My 2020 KTM 300SX was finished. It had been a long haul. Because of the coronavirus lock-down, the 2020 World Two-Stroke Championship had been rescheduled three different times. This extended my test period, which might seem like a great thing, but it really just added more complexity and confusion. I realize that most racers don't have the time or resources to swap between different forks and shocks like I did, but they also don't end up spinning in circles and eventually coming back to settings that were very close to where they started four months earlier. I learned a lot. As Jody always tells me about testing, "You learn just as much from going in the wrong direction as you do from going in the right direction."
In the future, I will try not to learn so much by going in the wrong direction. My advice is to follow these simple rules: First, make sure the power is how you like it before focusing on the suspension. Second, play around with the compression and rebound clickers, race sag, fork height and shock's high-speed adjuster before spending valuable time and money re-valving your suspension (which starts the same testing process all over again). By following these steps, you should save time and money. 
I got to work with some of the best names in the business in my quest to build my dream KTM 300SX two-stroke for the 2020 World Two-Stroke Championships. If I don't get on the podium this year, I know whom to blame.
UPDATE: HOW THE WORLD TWO-STROKE CHAMPIONSHIP WENT FOR JOSH & HIS ULTRA-TRICK KTM 300SX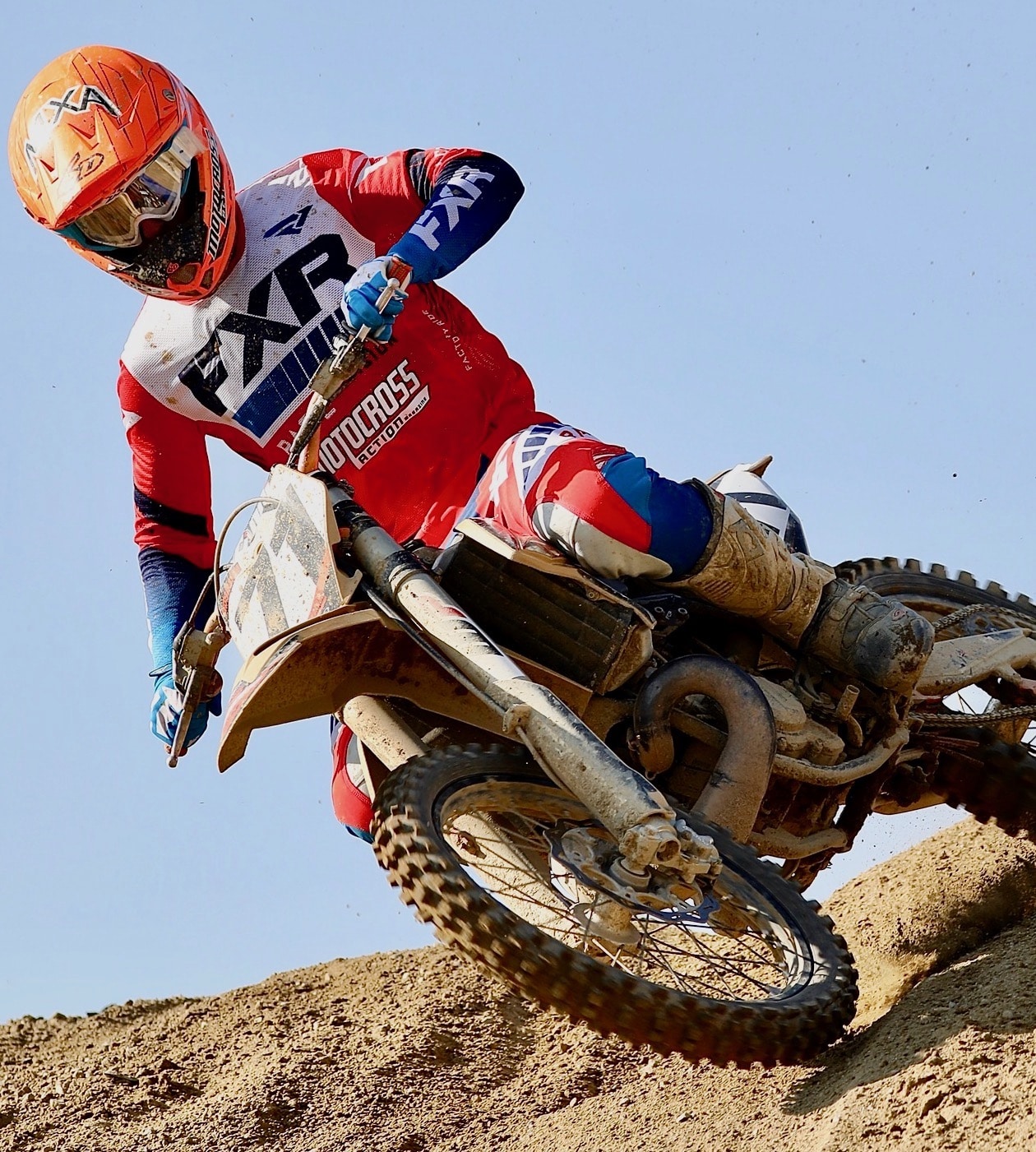 MXA's Josh Mosiman got to style out front at the 2020 World Two-Stroke Championship by leading the Pro class until Mike Alessi got him. Photo: Debbie Tamietti
Josh didn't make the podium. He got knocked down in the second turn to the Pro first moto. He picked his bike up in last place and raced back to 13th. Determined to make amends in the second moto, Josh got a second place start right behind Mike Alessi. He chased Alessi into the same second turn where he had been knocked down in moto one and went around Mike and took the lead. Alessi eventually went by on the next lap around. Unfortunately, Josh first moto ruined his day and he ended up ninth overall. Oh well, there is always another race.