MXA'S WEEKEND NEWS ROUND-UP: WHAT WE LEARNED AT A1 THAT WE CAN APPLY TO SAN DIEGO
• WITH OAKLAND MOVED TO FEB. 18, THE SAN DIEGO SUPERCROSS ON JAN. 14 IS NEXT
The 2023 San Diego Supercross in the Snapdragon Stadium is the typical cookie-cutter race track. It is mostly made up of rhythms sections and has only one section of whoops (and they are at the end of a fast straight instead of at the beginning). 
• LONG LOST PHOTOS OF ROGER DECOSTER DURING HIS CZ DAYS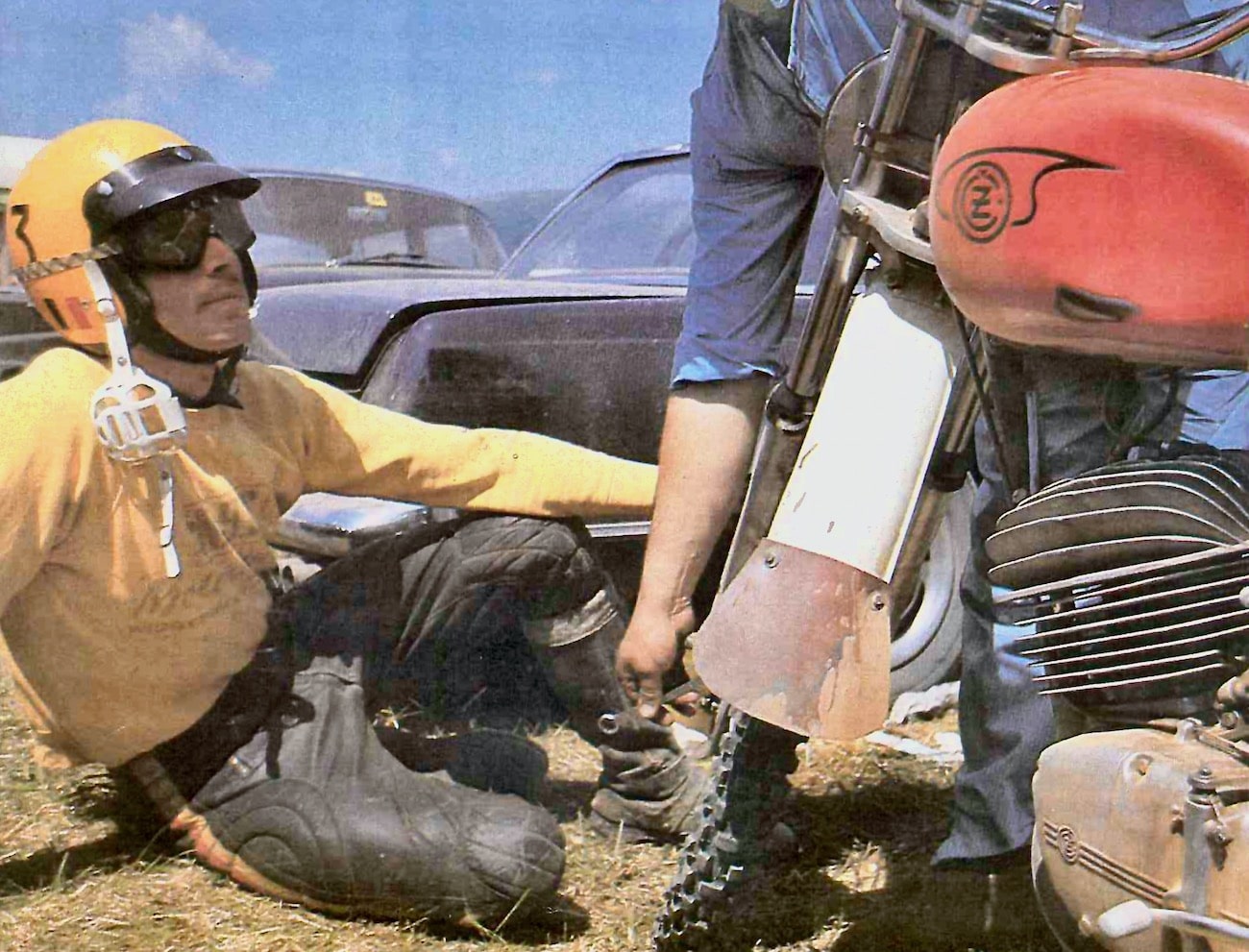 Roger relaxing in the sun, while his Czech mechanic tightens his CZ's front axle clamp.
Moto-photographer Justyn Norek, who captured the GP scene in the East Bloc countries in the 1970s, always surprises us with the photos that he finds in his negatives from 50 years ago. Today, he sent us five Roger DeCoster photos shot before Roger had won any of his five FIM 500cc World Motocross Championships.
Roger got a CZ factory ride in 1967 and finished fifth in the 250 World Championships in 1967, 1968 and 1969.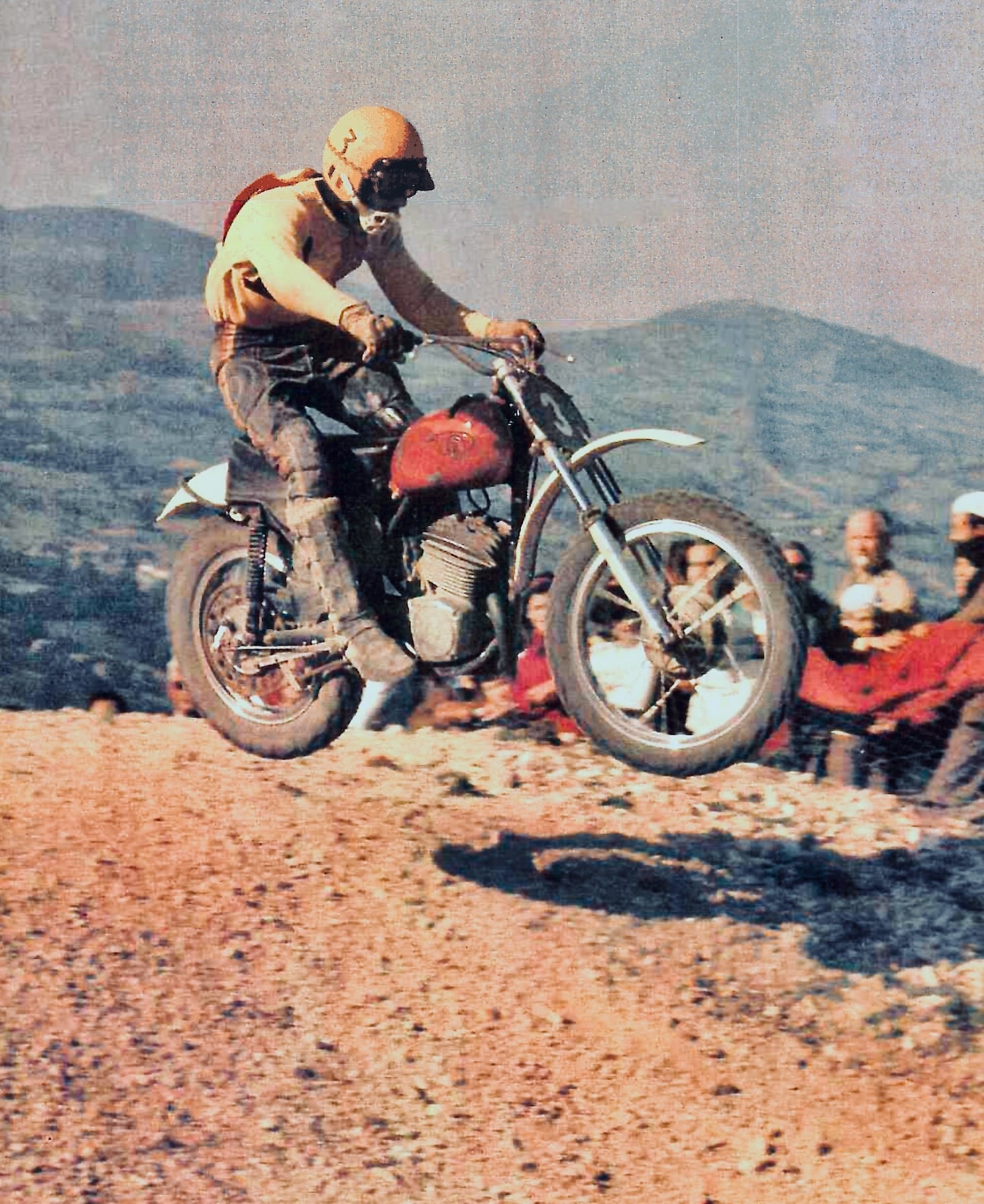 After the 1970 season on CZ, where he finished third behind the Suzukis of Joel Robert and Sylvain Geboers in the 250 series. Roger switched to the 500 class and to Suzuki.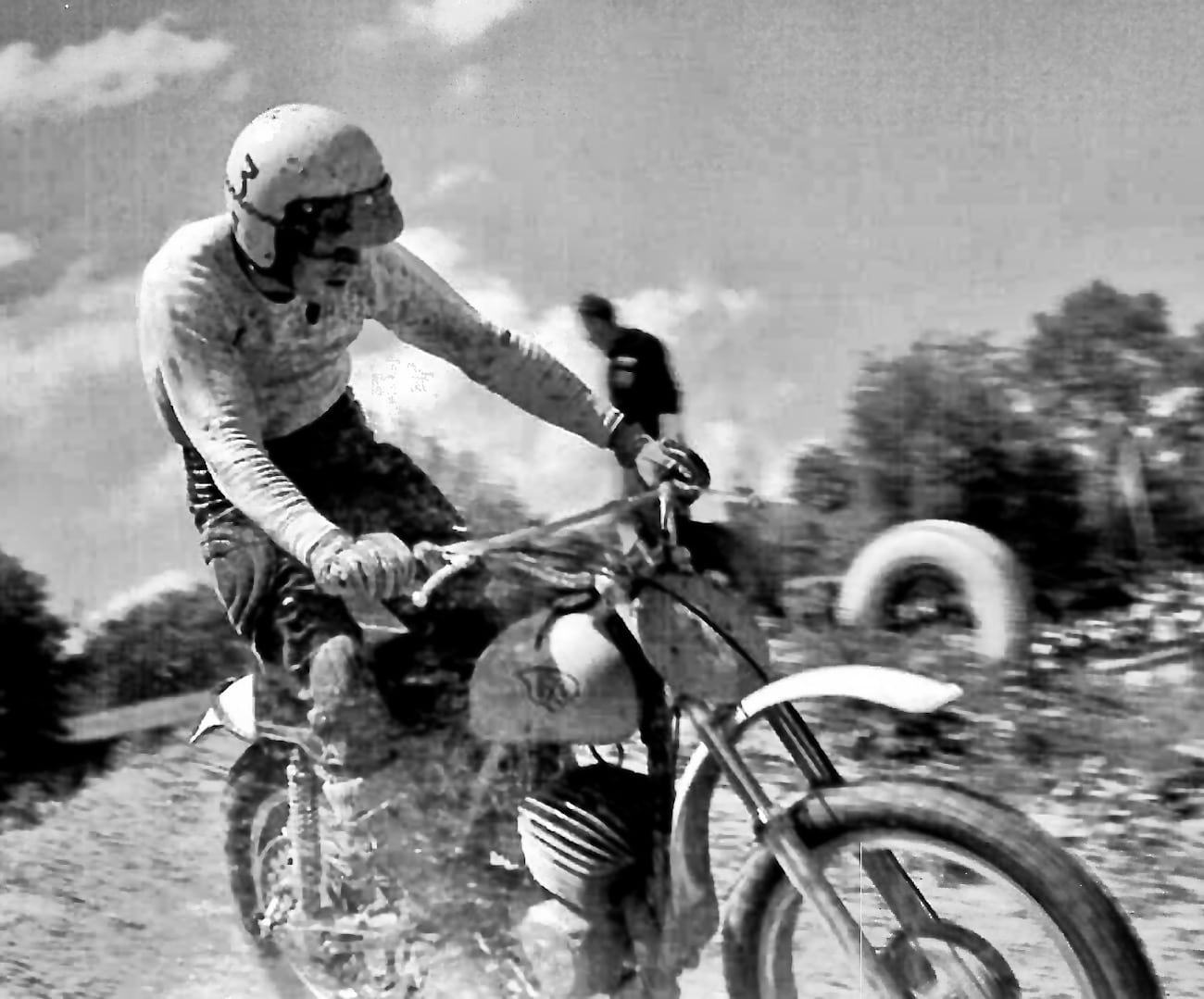 Roger said the the CZ's Jikov carb was good when brand new, but it wore out very quickly because it was made from cheap metal.
Roger said that in 1970, "CZ made me a lot of promises to support me and provide me with bikes, mechanic and parts. They also agreed to pay me $5000. I'm still waiting for that check."
• OAKLAND GETS A MAKE-UP DATE ON FEBRUARY 18
The rain delayed rain will be held on February 18 and current ticket holders tickets will be honored.
The 2023 AMA Supercross race schedule is very tight—and canceling this coming Saturday's Oakland Supercross only has a few options of when the race could be rescheduled. The first open date is February 18 (right after Tampa on February 11 and before Arlington on February 25). It appears that Oakland-Alameda Stadium is available on that date. So, February 18 is the new date. If it floods again in Oakland on February 18, the next open date on the Supercross schedule in April 1 between Seattle and Glendale
• CLASSIC MXA PHOTOS: THE HANES PRODUCT TEST RIDER IN ACTION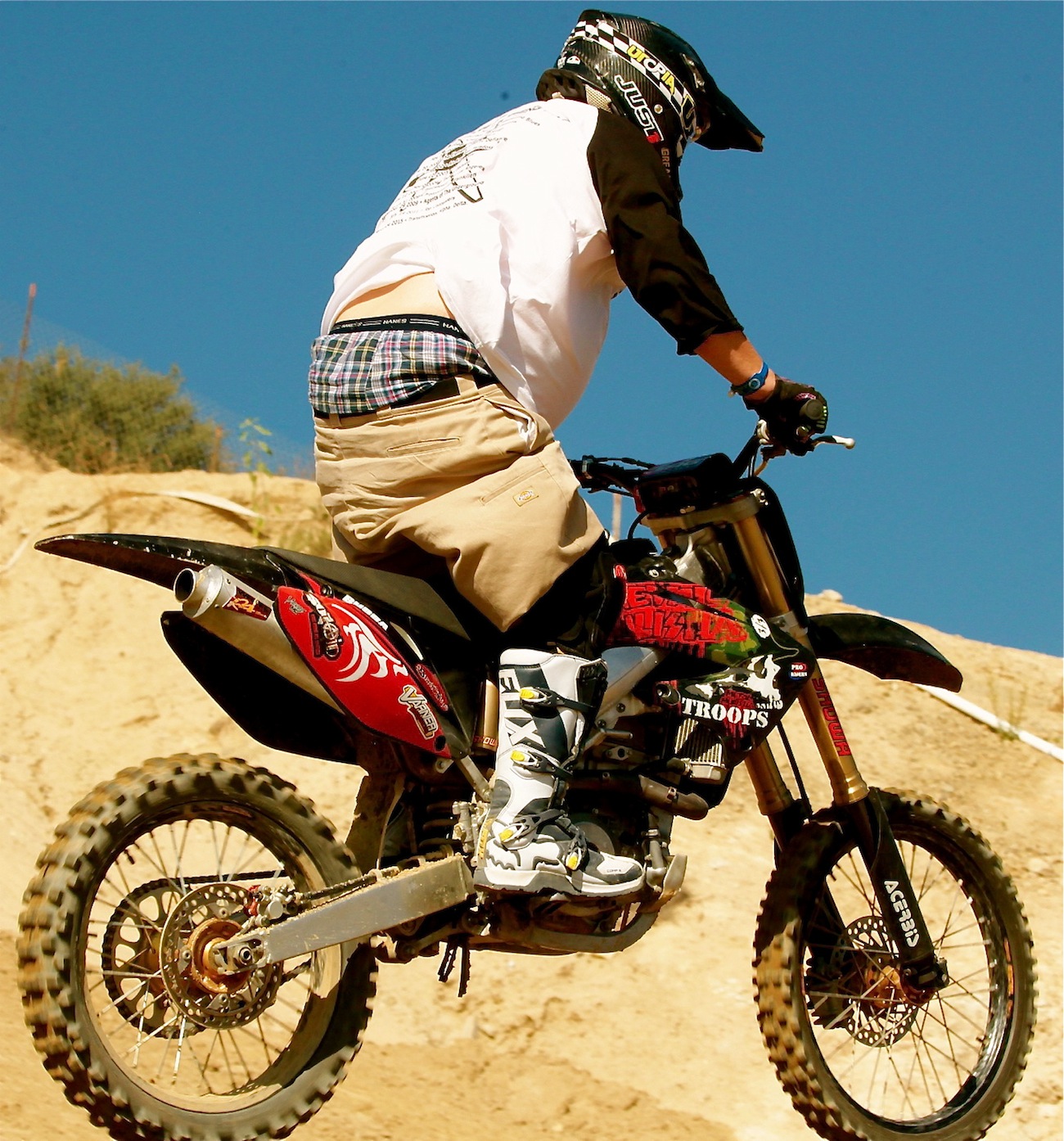 The white Fox boots ruin the whole ensemble? Crocs would have been so much cooler.
• NGPC OPENER THIS WEEKEND IN DELANO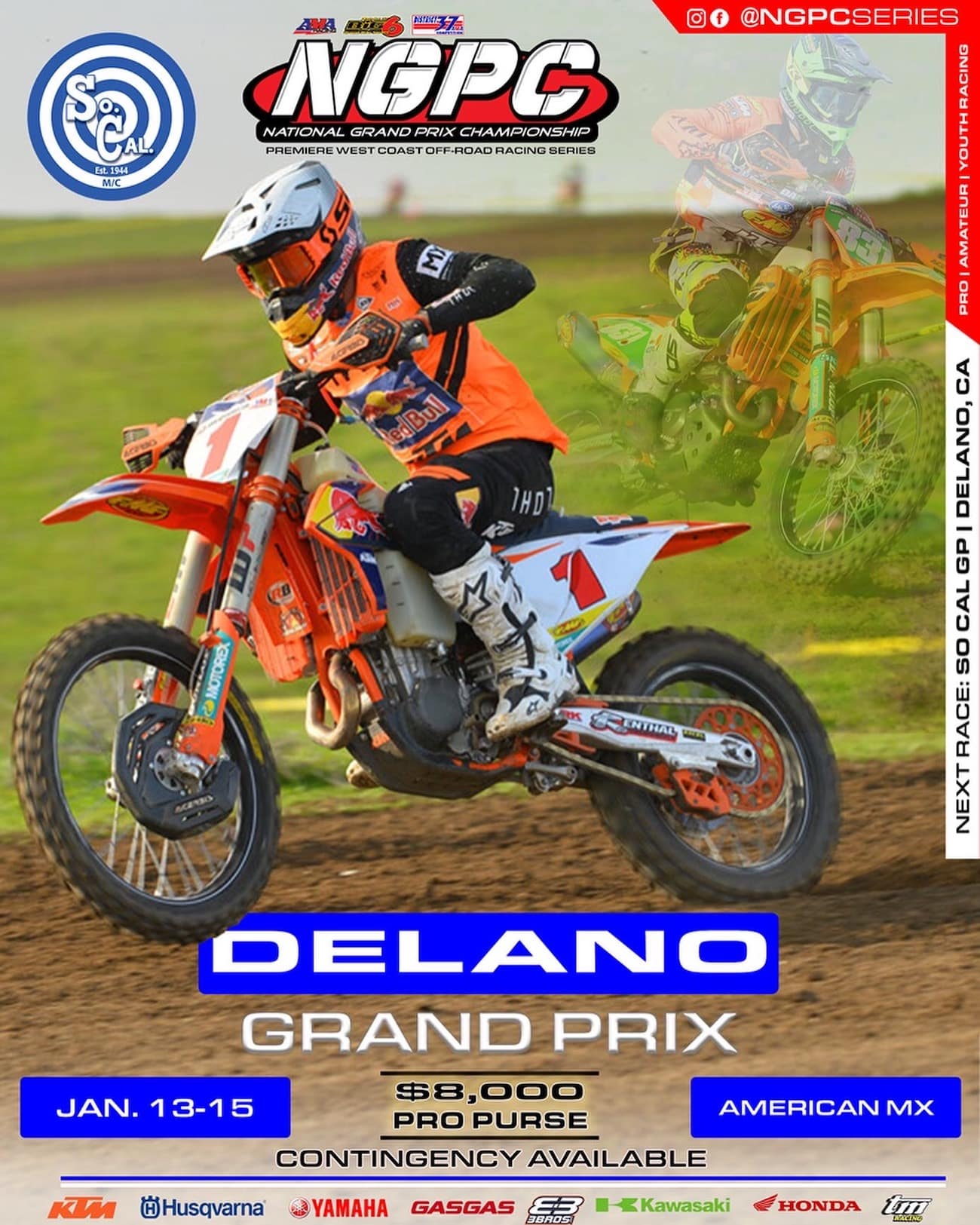 The 2023 National Grand Prix Championship (NGPC) series kicks off this weekend in Delano, California, for the first of 10 rounds. It runs from January 13 to January 15. Since this is an off-road race it will be held no matter how hard it rains. For more info go to www.ngpcseries.com
• "SATURDAY AT THE GLEN" IS A GO TOMORROW MORNING: JANUARY 14
Glen Helen Raceway has already has had 13.55 inches of rain this winter. The average yearly rainfall in this location is just over 15 inches a year (with February being the month with the most rain). With rain predicted for Saturday afternoon, Glen Helen believes that it can get the "Saturday at the Glen" racr in before the front reaches the track. They are aided by the fact that the Arroyo Vet track is located on high ground and doesn't get as soupy as the low-lying National track. The road into Glen Helen is closed, but you can get into Glen Helen by following the direction below. For more info go to www.glenhelen.com.

THE BACK WAY INTO GLEN HELEN RACEWAY FROM THE 15 FREEWAY
• SUPERCROSS INJURY LIST AFTER WEEK ONE

AUSTIN FORKNER | ACL
Austin Forkner's 2023 Supercross season is over. His Saturday night crash injured his knee badly enough that he will have to wait for the 250 Nationla in May before returning.
MALCOLM STEWART | BRUISED, BUT OKAY

PIERCE BROWN | TAILBONE

BRANDON HARTRANFT  | BACK, RIBS, HIP, SHOULDER

Brandon Hartranft's offseason injury was the most severe and he is still in the recovery process from multiple fractures to the lumbar spine, ribs, and shoulder, as well as a hip displacement. 
JEREMY MARTIN | INJURED LEG (WILL RACE EAST COAST)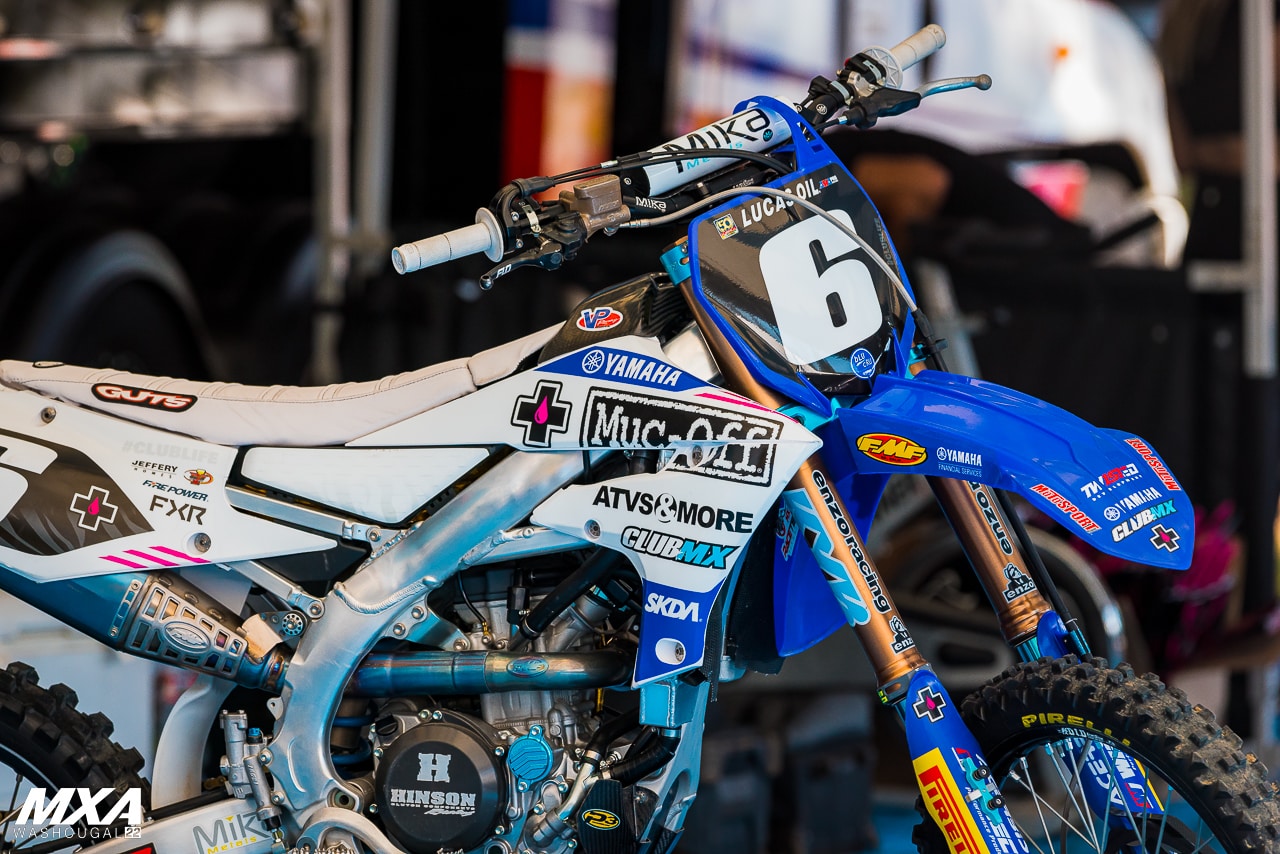 Jeremy Martin's debut with the ClubMX Mic-Off Yamaha team will be delayed until the East Coast regional Supercross series kicks off in February after a big practice crash at the ClubMX Training Facility. Click here to watch the ClubMX vlog video.
CARSON MUMFORD | BROKEN WRIST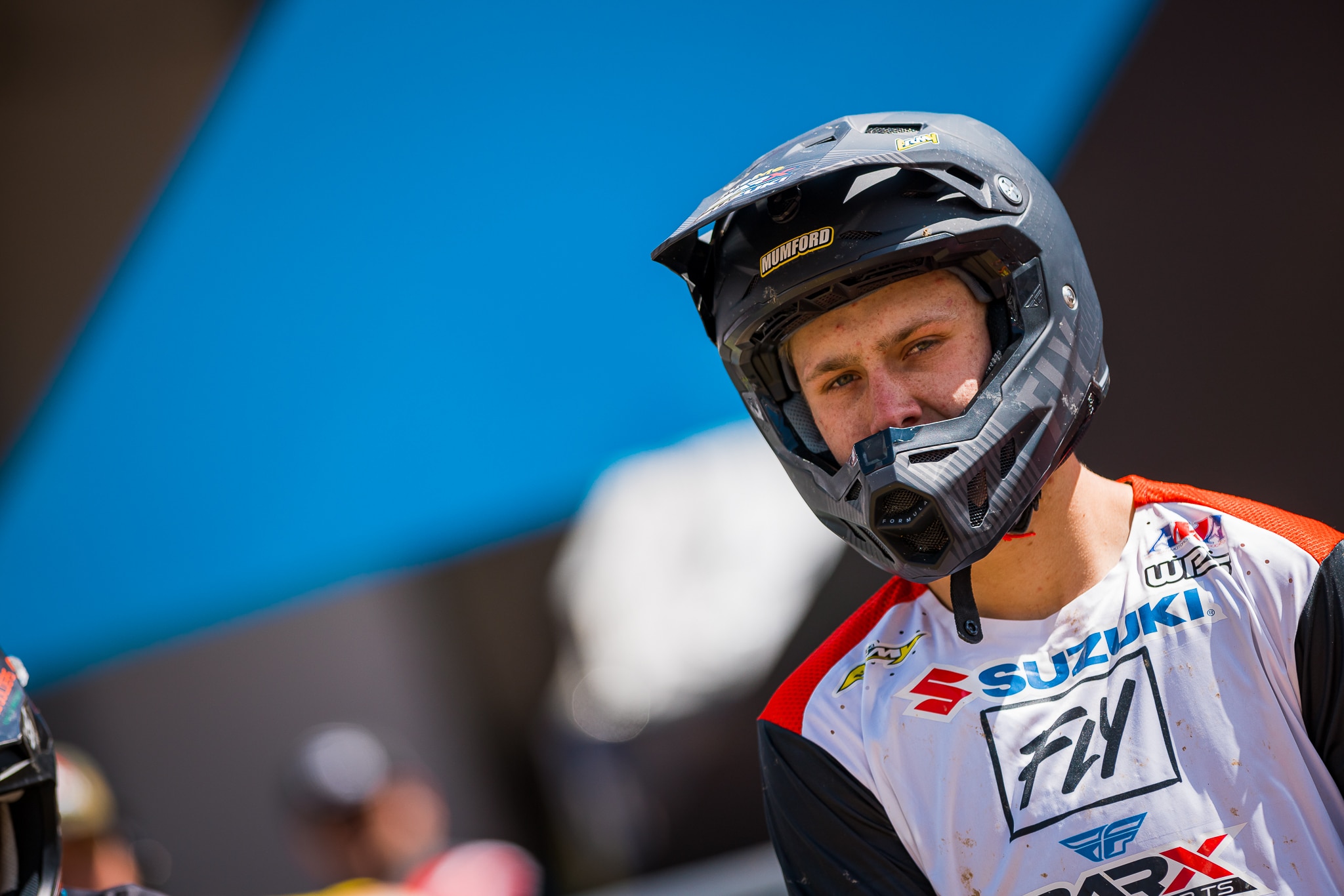 BarX Suzuki rider, Carson Mumford, broke his wrist during pre-season testing.
GARRETT MARCHBANKS | WRIST (WILL RACE EAST COAST)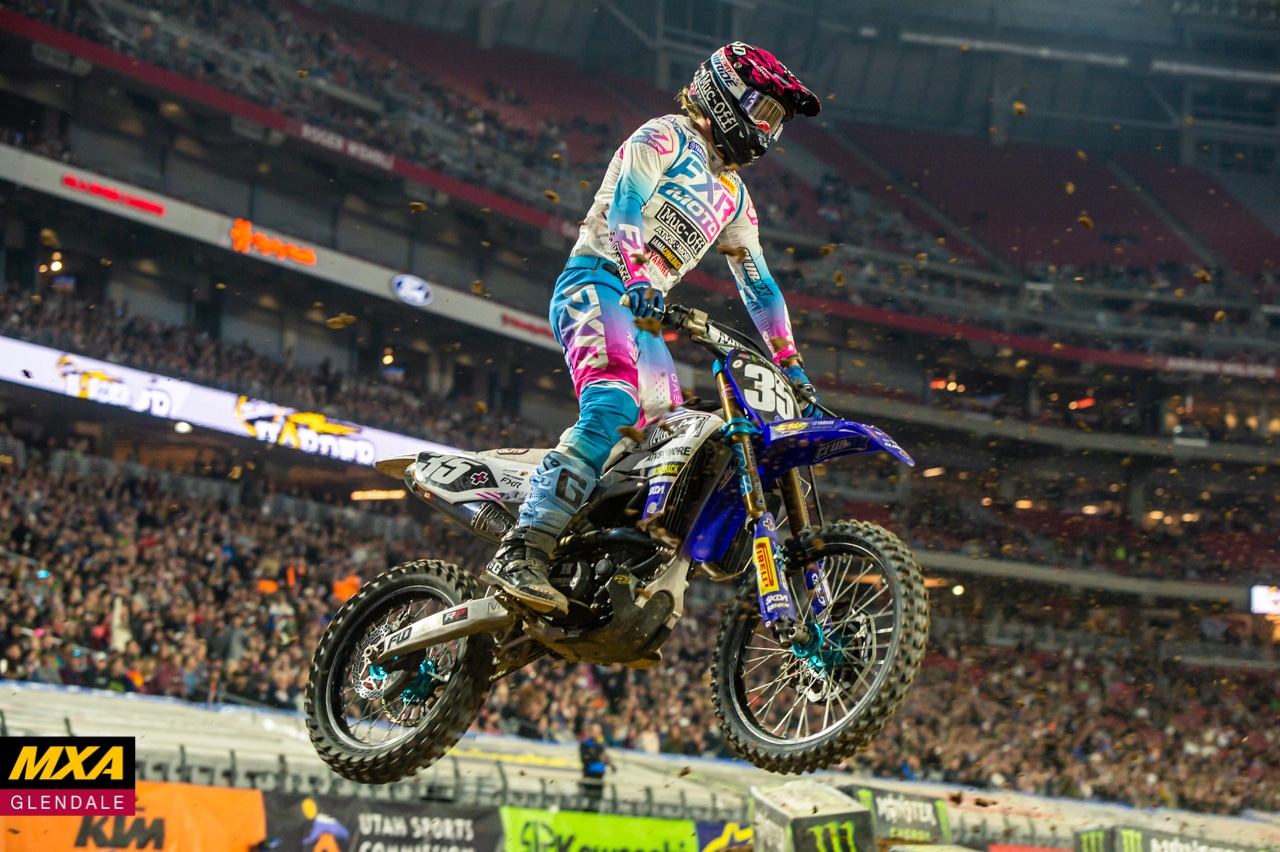 Garrett Marchbanks was planning to race the 250 West Coast series, but he broke his wrist while training. 
• CHECK OUT THE 2023 FXR CATALOG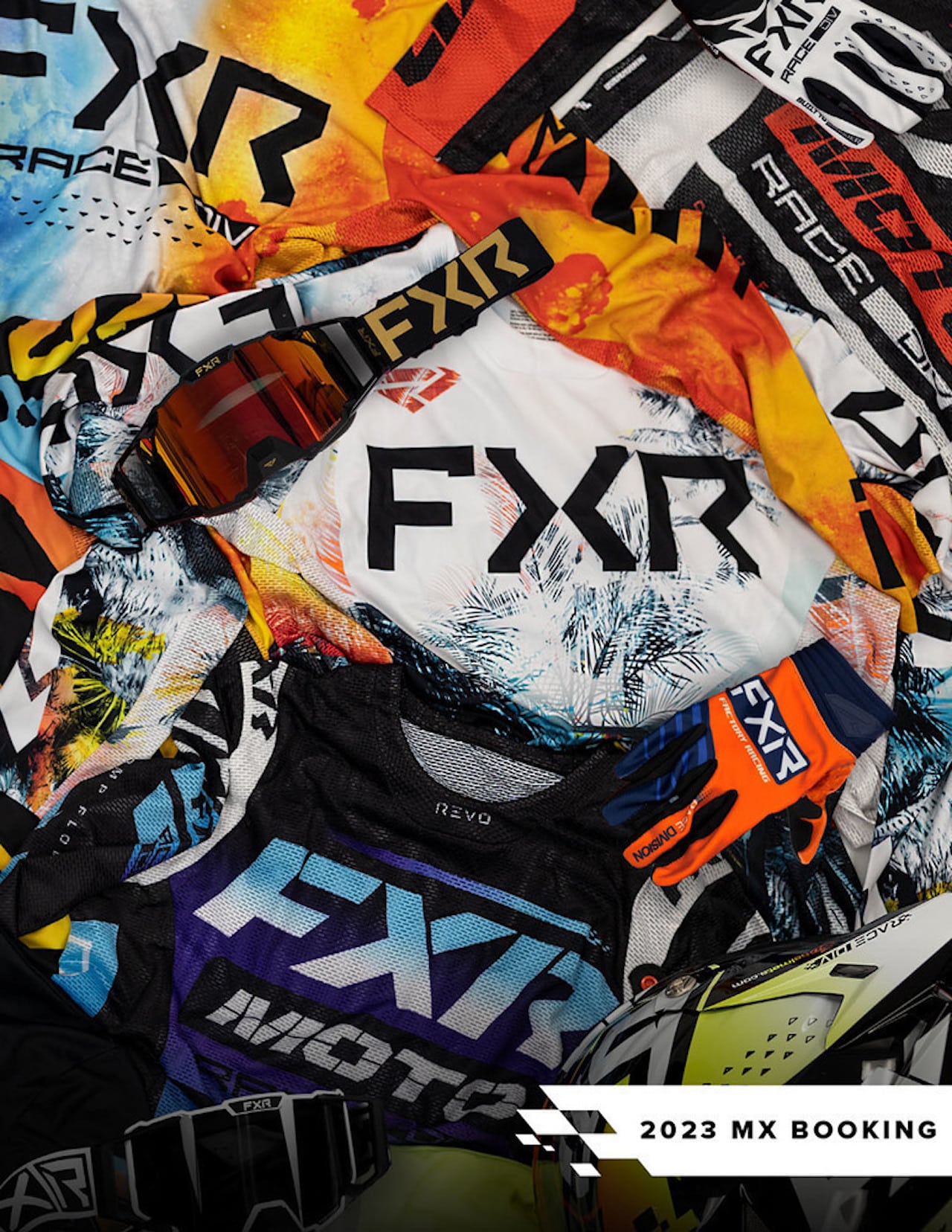 To check out the 2023 FXR line CLICK HERE.
• THE FEBRUARY 2023 ISSUE OF MXA IS OUT NOW! SUBSCRIBE AND YOU WON'T MISS A THING
On The Cover: This all-orange KTM 150SX project bikes is one of three two-strokes that MXA tested. The three engines were sent out to different tuners to see which one could build the best 150cc two-stroke engine.
Did you know that you can subscribe to MXA at virtually no cost to you—because when you subscribe you receive a Rocky Mountain ATV/MC credit for $25 towards anything in their massive inventory. Plus, you will get all the content in the 12 monthly issues of Motocross Action magazine—from four-stroke tests, two-stroke tests, retro tests, race coverage, new tech to product tests….most of which never appear on the internet. And, don't forget, that $25 credit from Rocky Mountain ATV/MC that will more than cover the cost of your subscription. To subscribe call (800) 767-0345 or Click Here
• MXA'S AD OF THE WEEK: THE FRONT NUMBER PLATE THAT WAS MADE OF HOLES

Preston Petty was a great motorcycle racer in the 1960s, who tuned himself into a great computer programmer in the 1970s and turned his riding and computer skills into a thriving business in molded plastic motorcycle parts. His vented number plate made good sense at the dawn of the water-cooled era of the 1980s–but Preston alway took it one step farther. The numbers were also molded from plastic and plugged into the vent holes in the number plate.
• 2023 SUPERCROSS BROADCAST SCHEDULE: IT IS ALL PEACOCK—EXCEPT FOR OAKLAND WHICH WILL BE DEAD AIR ON SATURDAY NIGHT

Don't waste you time looking for the time and channel for the Oakland Supercross—it won't be happening. The next televised race will be the San Diego Supercross at 10:0p.m. Easter on Peacock. There are a few races you can see on TV for free, but there are reruns on CNBC. Other than that it is Peacock, Peacock,Peacock, Peacock, Peacock, Peacock, Peacock, Peacock…
• GLEN HELEN HONORS THE OLD ARROYO CYCLE PARK
The original Arroyo logo.
Back in the 1970s, the land that Glen Helen Raceway now sits on was once called Arroyo Cycle Park. It was, as you would imagine, a racetrack with lots of elevation changes, and was located one canyon over from what is now the iconic Glen Helen National track. Arroyo's biggest claim to fame was the 1973 125 National Motocross Championship event held there in July of 1973. It was won by Ray Lopez on an FMF Penton, with Marty Smith second on a Monark. This was not an AMA sanctioned event because the AMA did not recognize 125cc bikes until after the Arroyo race had forced them to. The AMA decided to add a 125cc National class to its program, albeit just four rounds, in 1974. It was won by Marty Smith on a Honda. The FIM didn't have a 125 World Championship until 1975.
Arroyo Cycle Park didn't disappear overnight, it hung around for a few years on Glen Helen's land, but then one day it was gone. Well, it was still there, but nobody raced on it until REM Motocross moved from Carlsbad Raceway to Glen Helen in 1998 and had the Arroyo track completely renovated. For the next 23 years the track was called the "REM track," until 2022, when REM promoters Frank and Myra Thomason decided to retire from race promotion. Glen Helen took over the task of holding their "Saturday at the Glen" races on the track, which now had the relatively mundane name of "Vet Track."
It didn't seem fitting that a track with so much history, built right next to a track with even more history, wasn't connecting to its glorious past. So, in December of 2022, Glen Helen's Bud Feldkamp decided to honor the old track's 50 years of motocross history by renaming it the "Arroyo Track."  However, there were some concerns that the name change might cause confusion between "Glen Helen" and "Arroyo." The solution was to keep "Vet Track" in the name and call it the "Arroyo Vet Track."
Technically, it is the "Arroyo Track at Glen Helen Raceway." For  the MXA guys who raced at Arroyo Cycle Park, before there was a Glen Helen, it is sweet to see their old stomping grounds recognized. If you'd like to see what Arroyo Cycle Park looked like back in its hey-day watch the video below.
• WHAT GLEN HELEN LOOK LIKE 50 YEARS AGO WHEN IT WAS ARROYO
• MXA BIKE TEST VIDEO LIBRARY: THE 2023 BIKES YOU WANT KNOW ABOUT
MXA'S 2023 125 TWO-STROKE SHOOTOUT
MXA'S 2023 250 FOUR-STROKE SHOOTOUT
2023 KTM 300SX VS HUSQVARNA TC250 TWO-STROKE SHOOTOUT
2023 GASGAS MC125 TWO STROKE VIDEO TEST
2023 SUZUKI RM-Z450 VIDEO TEST
2023 KAWASAKI KX450 VIDEO TEST
2023 GASGAS MC350F VIDEO TEST
2023 HONDA CRF450 VIDEO TEST
2023 KTM FREERIDE E-XC ELECTRIC VIDEO TEST
2023 GASGAS MC250 VIDEO TEST
WE RIDE TONY CAIROLI'S AMA NATIONAL KTM 450SXF
2023 HUSQVARNA FC250 VIDEO TEST
2023 HONDA TRAIL 125 VIDEO TEST (WITH BONES BACON)
2023 KTM 300SX TWO-STROKE VIDEO TEST
2023 GASGAS MC450F VIDEO TEST
2023 KTM 250SXFVIDEO TEST
2023 KAWASAKI KX250 VIDEO TEST
2023 SUZUKI RM-Z250 VIDEO TEST
2023 YAMAHA YZ450F VIDEO TEST
2023 HONDA CRF250 VIDEO TEST
• UPDATED 2023 FIM WORLD MOTOCROSS CHAMPIONSHIP RACE SCHEDULE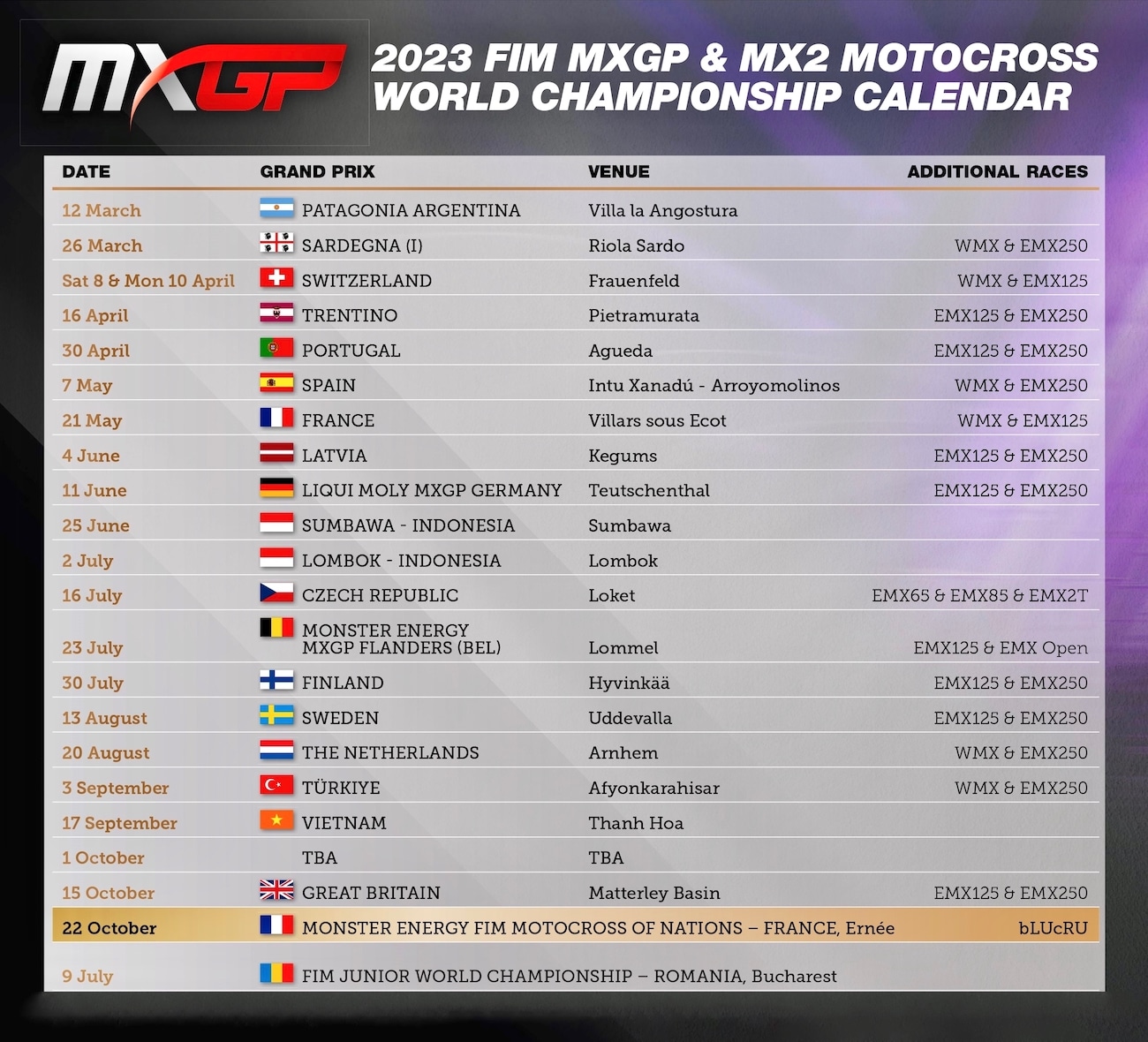 • 2023 AMA NATIONAL MOTOCROSS RACE SCHEDULE 
• 2023 WORLD SUPERCROSS (WSX) DATES ANNOUNCED—NOT WHAT WE EXPECTED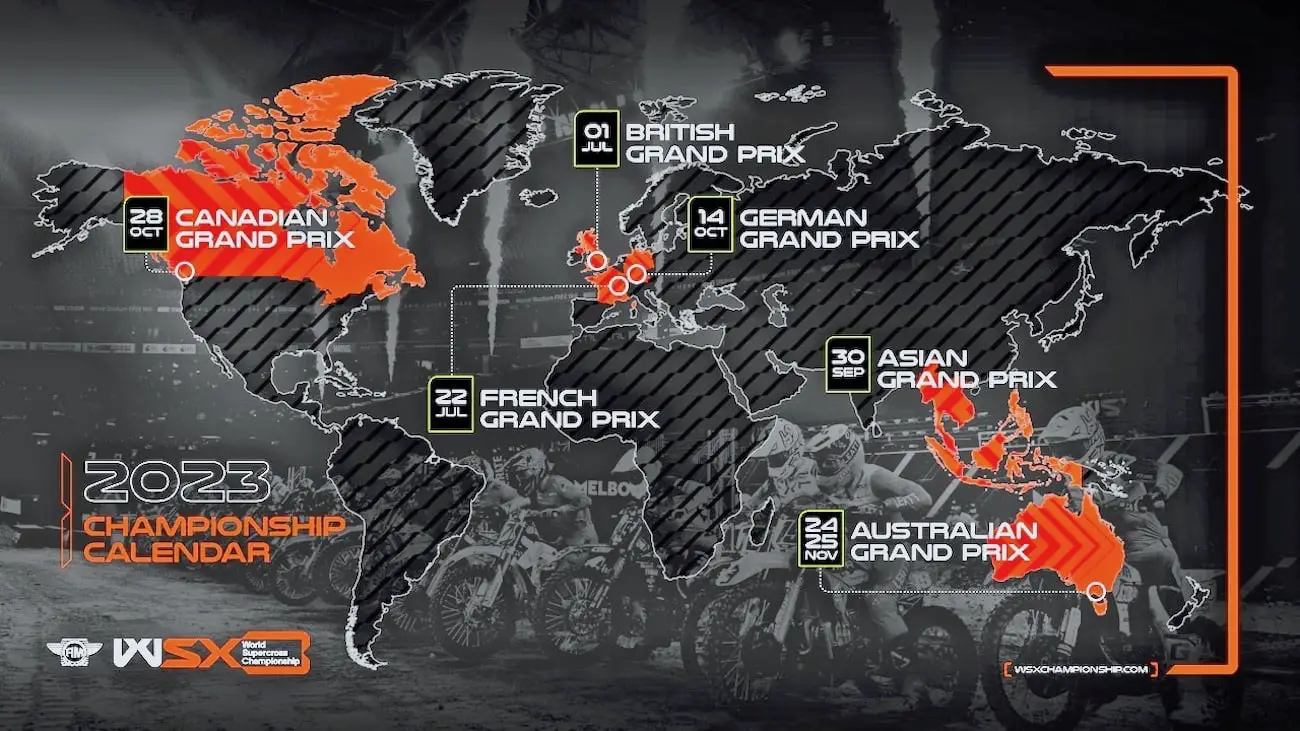 The 2023 FIM World Supercross Championship (WSX) will be six races long with events in France, Germany, Canada, Australia, England and round is Southeast Asia to be announced at a later date. This is not the blockbuster race schedule that everyone expected to compete against the 17-round AMA Supercross Championship. The WSX does not start until after the AMA series is over, and in fact, WSX starts after four AMA outdoor Nationals have been concluded. There are two dates that compete directly against the 2023 AMA Nationals (July at Red Bud and July 22 at Washougal). Additionally, there is one conflict between the AMA SuperMotocross Playoffs and the WSX series. On October 14 the final round of the three-race AMA SuperMotocross Playoffs will race at the Los Angeles Coliseum. That is the same day as the World Supercross round in Dusseldorf, Germany.
2023 WORLD SUPERCROSS CHAMPIONSHIP SCHEDULE
July 1…Birmingham, England
July 22….Lyon-Décines, France
Sept. 30…TBD (Southeast Asia)
Oct. 14…Dusseldorf, Germany
Oct. 28…Vancouver, Canada
Nov. 24-25…Melbourne, Australia
• OLD SCHOOL TT SCRAMBLES 2023 SEASON OPENER ON FEB 4-5
For more info on the Saturday practice and 2022 Awards Ceremony and Sunday's opening round at Glen Helen go to www.ossrg.org
• 2023 SOBOBA TRAIL RIDE WILL BE ON FEBRUARY 26, 2023
There will be no post-entries for this year's Soboba Trail ride—everyone must pre-enter. For more info go to www.sobobarides.biz/home
• THE FUTURE IS NOW: 2023 RACE SCHEDULES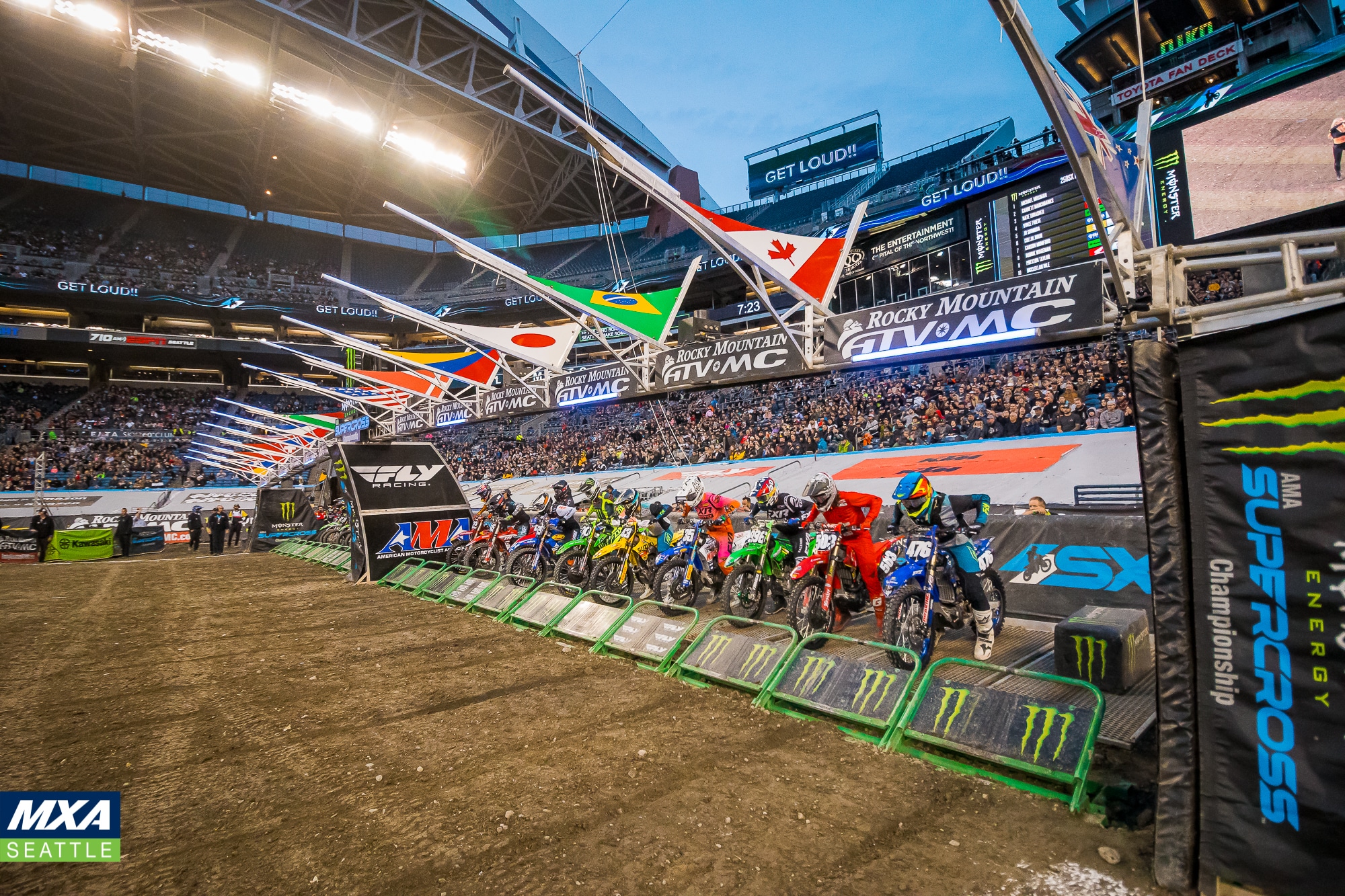 2023 AMA SUPERCROSS CHAMPIONSHIP
Jan. 7…Anaheim, CA
Jan. 14…Oakland, CA (moved to Feb.18)
Jan. 21…San Diego, CA
Jan. 28…Anaheim, CA
Feb. 4…Houston, TX
Feb. 11…Tampa, FL
Feb. 18…Oakland make-up, CA
Feb. 25…Arlington, TX
Mar. 4…Daytona Beach, FL
Mar. 11…Indianapolis, IN, MI
Mar. 18…Detroit, MI
Mar. 25…Seattle, WA
Apr. 8…Glendale AZ
Apr. 15…Atlanta, GA
Apr. 22…East Rutherford, NJ
Apr. 29…Nashville, TN
May 6…Denver, CO
May 13…Salt Lake City, UT
2023 SUPERMOTOCROSS PLAYOFF SCHEDULE
Sept. 9…Concord, NC
Sept. 23…Joliet, Il
Oct. 14…Los Angeles, CA
2023 AMA ARENACROSS CHAMPIONSHIP
Nov. 18…Albany, GA
Nov. 25…Albany, NY
Jan. 6…Loveland, CO
Jan. 13…Prescott, AZ
Jan. 20…Guthrie, OK
Jan. 27….Guthrie, OK
Feb. 3…Reno, NV
Feb. 10…Denver, CO
Feb. 24…Hobbs, NM
Mar. 3…Amarillo, TX
Mar. 10…Tulsa, OK
Mar. 17…Salem, VA
Mar. 24…Little Rock, AR
Mar. 31…Lexington, KY
2023 2023 FIM WORLD MOTOCROSS CHAMPIONSHIP
Mar. 12…Argentina
Mar. 26…Sardinia
Apr. 10…Switzerland
Apr. 16…Italy
Apr. 30…Portugal
May 7…Spain
May 21…France
Jun. 4…Latvia
Jun. 11…Germany
Jun. 25…Indonesia
July 2…Indonesia
July 16…Czech Rep.
July 23…Belgium
July 30…Finland
Aug. 13…Sweden
Aug. 20…Holland
Sept. 3…Turkey
Sept. 17…Vietnam
Oct. 1…TBA
Oct. 15…England
2023 AMA NATIONAL MOTOCROSS CHAMPIONSHIP
May 27…Pala, CA
June 3…Hangtown, CA
June 10…Thunder Valley, CO
June 17…Mt. Morris, PA
July 1…Red Bud, MI
July 8…Southwick, MA
July 15…Millville, MN
July 22…Washougal, WA
Aug. 11…Unadilla, NY
Aug. 19…Budds Creek, MD
Aug. 26…Crawfordsville, IN
2023 WORLD SUPERCROSS CHAMPIONSHIP
July 1…Birmingham, England
July 22….Lyon-Décines, France
Sept. 30…TBD (Southeast Asia)
Oct. 14…Dusseldorf, Germany
Oct. 28…Vancouver, Canada
Nov. 24-25…Melbourne, Australia
2023 "SATURDAY AT THE GLEN" SCHEDULE
Jan. 14…Winter Series #1 (Arroyo Vet track)
Jan. 21…Winter Series #2 (Arroyo Vet track)
Feb. 4…Winter Series #3 (Arroyo Vet track)
Feb. 11…Winter Series #4 (Arroyo Vet track)
Feb. 25…Winter Series #5 (National track)
Mar. 18…Spring Series #1& Pasha 125 Open (National track)
Mar. 25…Spring Series #2 (Arroyo Vet track)
Apr. 15…Spring Series #3 (Arroyo Vet track)
Apr. 22…Spring Series #4 (Arroyo Vet track)
May 13…Spring Series #5 (National track)
June 3…Summer Series #1 (Arroyo Vet track)
June 17…Summer Series #2 (Arroyo Vet track)
June 24…Summer Series #3 (Arroyo Vet track)
July 15…Summer Series #4 (Arroyo Vet track)
July 29….Summer Series #5 (National track)
Aug. 19…Fall Series #1 (Arroyo Vet track)
Aug. 26…Fall Series #2 (Arroyo Vet track)
Sept. 16…Fall Series #3 (Arroyo Vet track)
Sept. 23…Fall Series #4 (Arroyo Vet track)
Sept. 30…Fall Series #5 (National track)
Oct. 21…Winter Series #1 (Arroyo Vet track)
Oct. 28…Winter Series #2 (National track)
Nov.3-5…World Vet Championship (National track)
Nov. 18..Winter Series #3 (Arroyo Vet track)
Dec. 9…Winter Series #4 (Arroyo Vet track)
Dec. 16..Winter Series #5 (National track)
OLD SCHOOL TT SCRAMBLES CHAMPIONSHIP
Feb. 5…Glen Helen (TT Scrambles)
Mar. 26…Glen Helen (TT Scrambles)
Apr.16…Glen Helen (TT Scrambles)
May 21…Glen Helen (Pasha 125/TT Scrambles)
Jun 4…Glen Helen (TT Scrambles)
Oct. 29…Glen Helen (Oktobertfast GP/TT Scrambles
Dec. 17…Glen Helen (TT Scrambles)

2023 WORLD TWO-STROKE MOTOCROSS CHAMPIONSHIP
Apr. 8…Glen Helen, CA
2023 VET MOTOCROSS DES NATIONS
Aug. 24-28…Foxhill, GB
2023 MOTOCROSS DES NATIONS
Oct. 22…Ernee, France
2023 WORLD VET MOTOCROSS CHAMPIONSHIP
Nov. 3-5…Glen Helen, CA
2023 RED BULL DAY IN THE DIRT
Nov. 24-26…Glen Helen, CA
• GET MXA AND DIRT BIKE SUBSCRIPTION AND SAVE MONEY—NOT TO MENTION THE $50 ROCKY MOUNTAIN E-GIFT CARD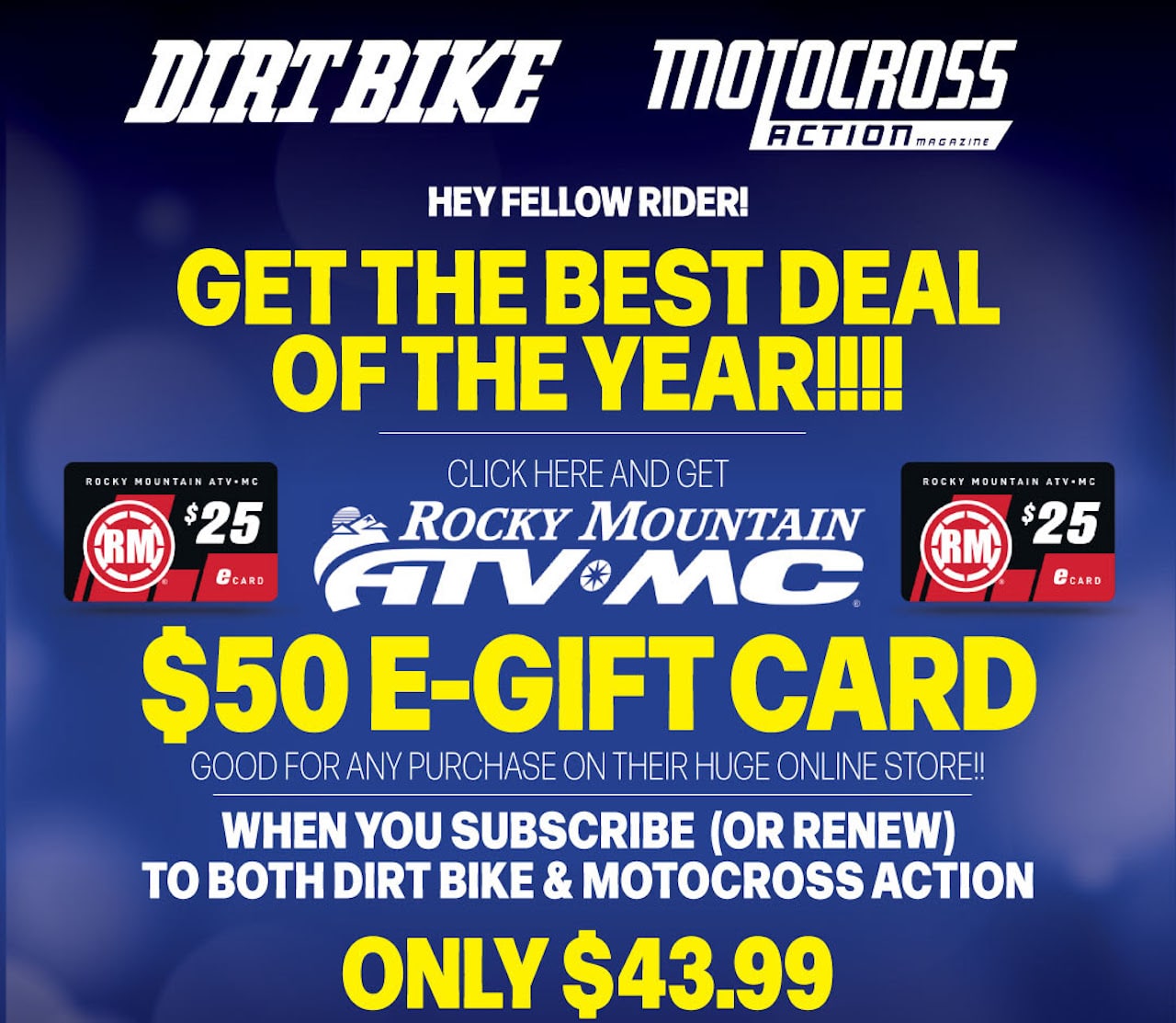 You can't afford not to subscribe, because when you order a subscription, Rocky Mountain ATV/MC sends you a $25 gift credit to use on anything you want from their massive selection. Plus, subscribers to MXA can also choose to get the digital mag on their iPhone, iPad, Kindle or Android by going to the Apple Store, Amazon or Google Play or in a digital version. Even better, you can subscribe to Motocross Action and Dirt Bike for one low price and get a $50 E-Gift card—plus you get the awesome print edition delivered to your house by a uniformed employee of the U.S. Government. Do we have to mention the $25 Rocky Mountain ATV/MC gift card again? That gift means that your subscription balances out as free, free, free! You can't lose on this deal? Call (800) 767-0345 or Click Here
• MXA YOUTUBE CHANNEL | HIT THAT SUBSCRIBE BUTTON
The MXA wrecking crew is everything moto related. Check out our MXA YouTube channel for bike reviews, Supercross coverage, rider interviews and much more. And don't forget to hit that subscribe button.
• TALK MOTO WITH ON MXA'S FACEBOOK GROUP CHAT