TWO-STROKE TUESDAY | JAMES STEWART'S 2005 KX250 VS. CARMICHAEL'S RM-Z450
JAMES STEWART'S 2005 KX250 VS. CARMICHAEL'S RM-Z450
Ever since James Stewart entered the 450 class in 2005 aboard a KX250 two-stroke (at that time called the 250 class), the Floridian had a bull's-eye on his back. That was mostly due to his incredibly successful 125 career on a KX125, where he racked up a record-setting 28 National wins and 18 regional Supercross victories in three seasons. Surprisingly, however, Stewart struggled in his rookie 450 Supercross season. He crashed during practice at the second Supercross of the year in Phoenix and broke his left forearm. The injury put Bubba out of action for two months. He made his comeback in Orlando and finished third at his home race. Stewart proceeded to win in Dallas, Seattle and Houston. At that time most of the major players in the 2005 Supercross series were racing on two-strokes.
The race in Unadilla where Stewart and Stewart collide. 
Once the riders went outdoors, however, the vast majority chose to pilot four-strokes, including Ricky Carmichael. RC had joined Suzuki that year after a tenure with Honda. He was rewarded handsomely by Suzuki. Along with a high salary and huge win bonuses came the ability to race a works RM-Z450 in the Nationals, thanks to Suzuki exercising its one-time AMA works bike exemption. Meanwhile, Kawasaki had yet to produce a 450 four-stroke. James Stewart would be relegated to a KX250 two-stroke—a bike he would later blame for his lackluster results against the more powerful four-strokes.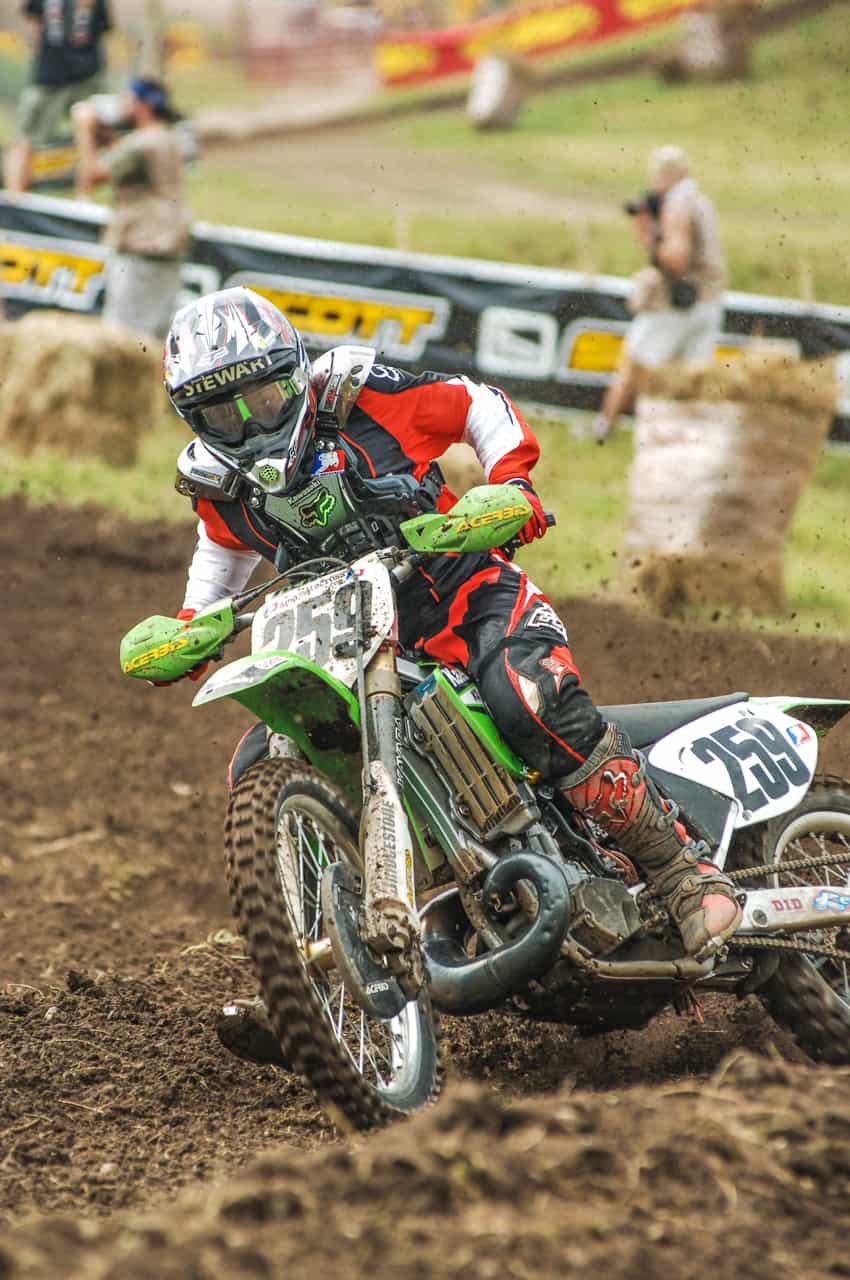 James Stewart racing the Unadilla National. 
IN FACT, JAMES DIDN'T STEAL A SINGLE MOTO VICTORY FROM THE DEFENDING 450 CHAMPION. RICKY CARMICHAEL WON 22 OF 24 MOTOS, LOSING ONLY THE FIRST MOTO AT SOUTHWICK TO CHAD REED AND THE FIRST MOTO AT UNADILLA TO KEVIN WINDHAM.
The Hangtown opener was a sign of how the series would eventually play out. Ricky Carmichael dominated in both motos. Meanwhile, James Stewart struggled with a mysterious illness in his first 450 National. After finishing sixth in the first moto, Bubba pulled out of the second moto; however, Stewart was on his game at the next round in High Point. He passed Carmichael in the first moto but couldn't shake free of the defending champ and settled for second. James led half of the final moto, but again Carmichael was too much. Regardless, Stewart was the first rider in years to put serious pressure on Carmichael. It seemed certain that James would have Ricky's number before too long.
James Stewart's 2005 Kawasaki KX250SR and his then mechanic Jeremy Albrecht. 
Only that didn't happen in the summer of 2005. In fact, James didn't steal a single moto victory from the defending 450 Champion. Ricky Carmichael won 22 of 24 motos, losing only the first moto at Southwick to Chad Reed and the first moto at Unadilla to Kevin Windham. Carmichael's Southwick loss was of his own doing. RC hit a downhill kicker and was shot over the handlebars in a freak crash. The Unadilla loss, however, shall forever live on in racing lore.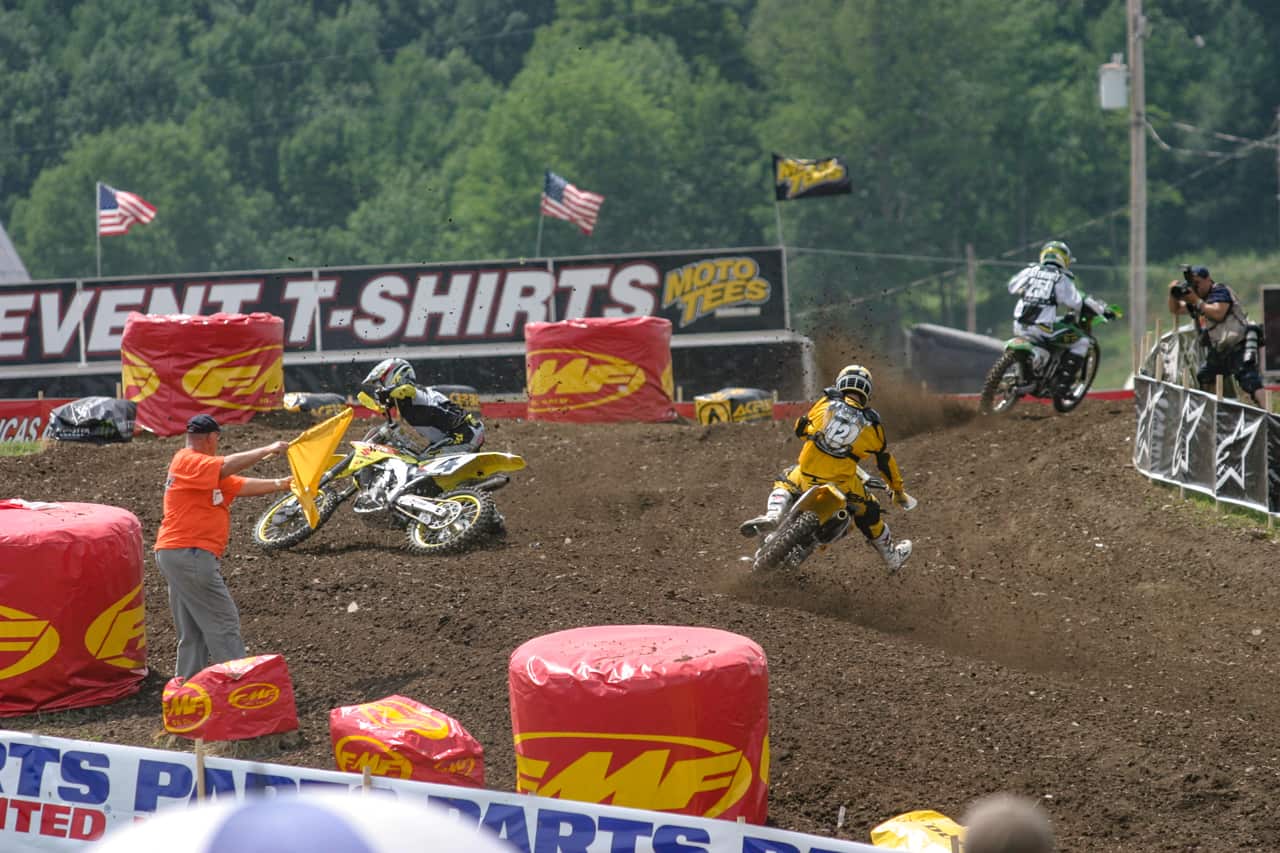 Ricky Carmichael while leading the first moto at Unadilla went down in a high speed section giving up the lead to James Stewart. 
Ricky Carmichael took control of the first 450 moto at Unadilla and immediately gapped the field; however, destiny intervened. RC crashed in a high-speed section beyond the mechanic's area on the second lap and dropped to fifth place. He clawed his way back to the front while a hard-charging James Stewart led the way. It took 11 laps for Ricky to catch James. As the two drag-raced up a hill in the back section of the track, Carmichael held the throttle on around the outside of a left-hand turn. Stewart protected the inside line, but Ricky had momentum on his side. As they charged toward the downhill ski jump, Carmichael edged himself in front of Stewart. Then, disaster struck.
Ricky's RM-Z450 eventually caught back up to James' KX250 two-stoke after going down. 
Over the next fly-away jump Carmichael drifted to the middle of the track while Stewart cut inside. Their lines converged and James landed on Ricky's back. Both riders slammed into the ground. Stewart got the worst of it, as he lay unconscious on the edge of the track. Carmichael threw his hands up at Stewart in anger while running over to his bike. He pushed Stewart's bike away from his and remounted as Kevin Windham rode by. Ricky settled for second, while Stewart's day was done.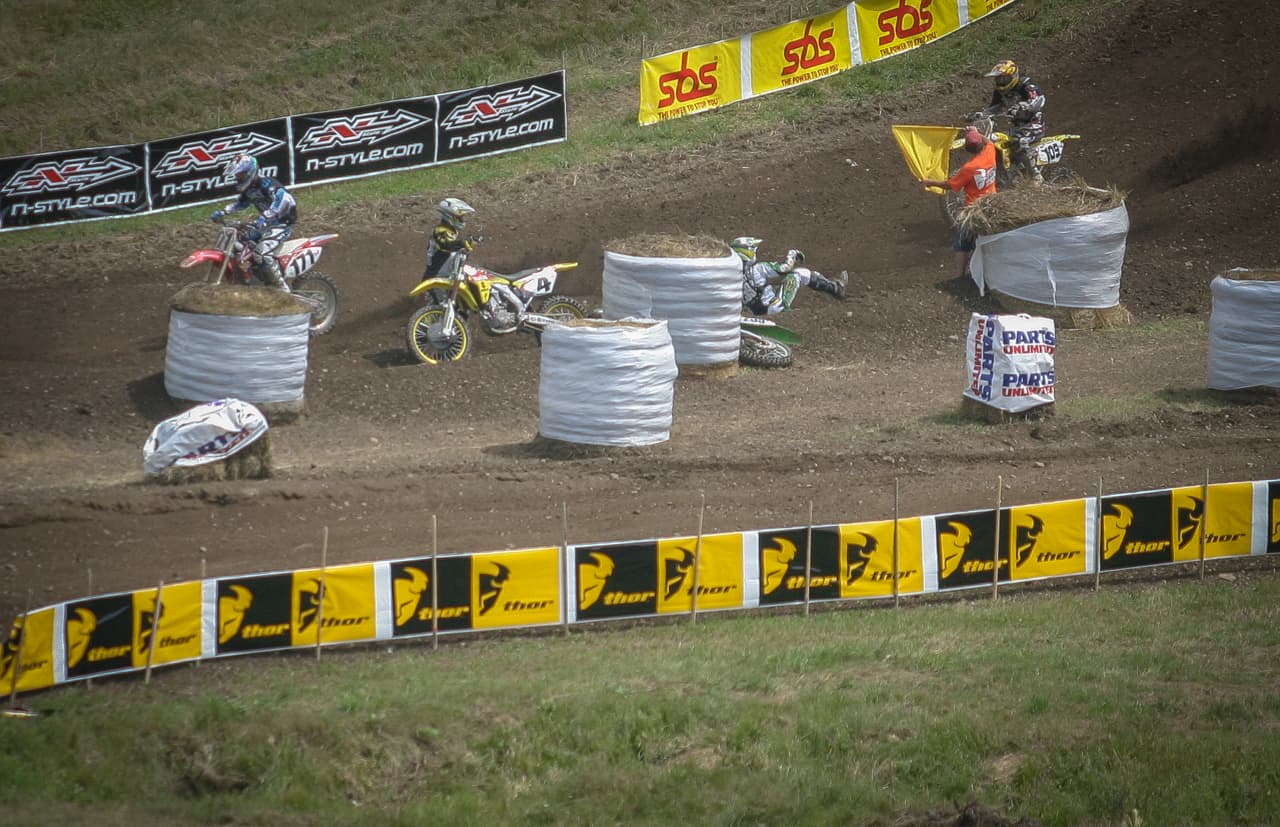 James Stewart landed on Ricky Carmichael's back. Ricky went on to finish 2nd behind Kevin Windham while James did not finish the moto. 
Ricky Carmichael went on to win his sixth consecutive 450 National title, while James Stewart only raced one more National in 2005 before bowing out. However, on that warm summer day in upstate New York, one of the most celebrated motocross racers ever and the most exciting 450 rookie in decades came together. Ricky Carmichael and James Stewart provided one of the most memorable moments in American motocross history.
James gives a thumbs up to the crowd on his way to get checked out by the medics.