MXA BUILDS A 44-HORSE KTM 150SX TWO-STROKE & USES ALL OF IT AT THE WORLD TWO-STROKE RACE
Sometimes less is more. At least that was the case with this project build. That is a stock KTM 125SX under the flashy graphics. MXA focused on the engine and the engine only.
BY JOSH MOSIMAN

"Watch this. I'm gonna get the holeshot." Confidence is everything in racing, and sometimes you have to force yourself to speak positive words to try to build that confidence artificially. I've had my fair share of mental battles over years of racing, but when I was getting ready to start my bike for the 125 Pro class at the 2021 World Two-Stroke Championship, and I genuinely knew I had the fastest bike on the line. 
THE GEAR: Jersey: Moose Racing Agroid, Pants: Moose Racing Agroid, Helmet: Arai VX-Pro4, Goggles: EKS Brand EKS-S, Boots: Gaerne SG-12.
As an MXA test rider, I get the opportunity to meet a lot of cool people and ride some really fantastic bikes. We build our own bikes, too. Sometimes we go all out installing the best parts money can buy. Other times we try to be modest and prove to ourselves (and our readers) that not every bike needs a complete makeover to be race-ready. I am consistently reminded through trial and error that small adjustments sometimes make the biggest difference, and just because something is expensive and pretty, doesn't mean it's better than stock.
"ALTHOUGH MY ENGINE GOT 'THE WORKS,' FROM PRO CIRCUIT, NONE OF THE PRO CIRCUIT MODS WERE EXOTIC TRICKERY—EVERYTHING WE DID TO OUR KTM 150SX ENGINE WAS STUFF AN AVERAGE RIDER CAN BUY OVER
THE COUNTER FROM PRO CIRCUIT."
The 2021 KTM 125SX was my weapon of choice for the 125 Pro class at the 2021 Wiseco World Two-Stroke Championship, but because Glen Helen doesn't want to worry about how to catch cheaters, they make the Pro class open to bikes up to 150cc. MXA already had a stock KTM 150SX, but instead of using it, I took the opportunity to double our 150cc inventory by obtaining a big-bore engine kit from KTM for our stock 2021 KTM 125SX. KTM's 150 factory kit includes the cylinder, cylinder head, piston, power valve, combustion chamber insert, gasket control covers, ECU, control flap and rings and gaskets, all under one part number. Although KTM sells a complete 150SX motorcycle at the dealers, that bike is no different from what you get if you install this kit on your 125SX.
Josh likes the stock WP suspension and chose to put his money where his mouth is by racing with it.

If you read MXA's "125 Shootout" in the June 2021 issue of Motocross Action, or if you've watched our "125 Shootout" video, you've heard us say a few times that power is "king" in the small-bore classes. If you don't believe that, try going to the starting line at the World Two-Stroke Championship on a stocker next year. Hollywood stuntman and hardcore 125 racer Tony "Pasha" Panterra puts up big purse money for the 125 Pro class, with $3000 paid to first, $2000 for second and $1000 for third (he also paid the Over-30 and Over-50 125 Pro classes).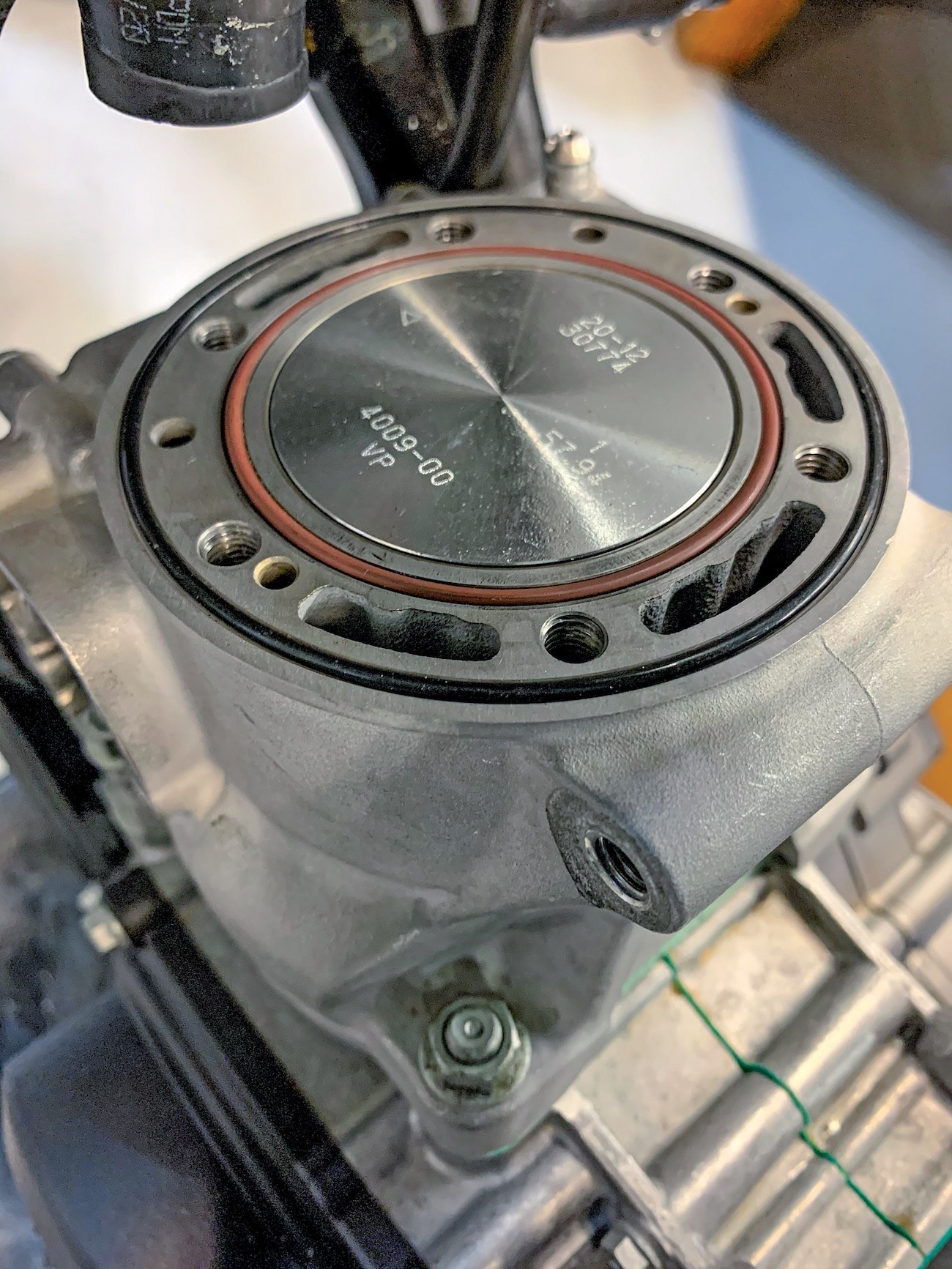 To ensure I had the best shot at winning some prize money, I took my KTM and KTM Power Parts big-bore cylinder kit to Pro Circuit to get some porting love from Mitch Payton. But first, we went through the due diligence of running the 125SX on the dyno stock. It produced 37.52-horsepower with 17.69 pound-feet of torque. Then we tested it with the Power Parts 150 kit in its stock form straight from KTM. It pumped out 40.70 horses with 18.83 pound-feet of torque. Finally, after Mitch Payton was done optimizing the intake and exhaust ports with his magic Dremel, we installed a Pro Circuit pipe and silencer and fed it some VP Racing MRX02 fuel. On the dyno, our full-race 150cc engine produced an impressive 43.70 horses with 19.77 pound-feet of torque.
This racehorse sounded mean, and its numbers came out to over 6 horsepower stronger than the 125SX and 3 horsepower stronger than a stock 150SX. In comparison to our stock 150SX, the Pro Circuit-tuned engine was slightly better off the bottom and exactly the same up to 8600 rpm; however, the Pro Circuit 150 engine soared past the OEM spec from 9300 rpm to its peak of 11,760 rpm, where it was 3 horses stronger. The Pro Circuit mods produced big power on top and increased over-rev. Now you understand my confidence on the starting line, right?
"MY BIGGEST ADVANTAGE IS THAT I HAVE VIP ACCESS TO THE BEST TUNER ON THE PLANET.

 

NOT ONLY DID I HAVE MITCH PAYTON'S BLESSING ON THE ENGINE, BUT I ALSO CONVINCED MY FRIEND MIKE TOMLIN
(BETTER KNOWN AS SCHNIKEY) TO BE MY MECHANIC FOR THE WEEKEND."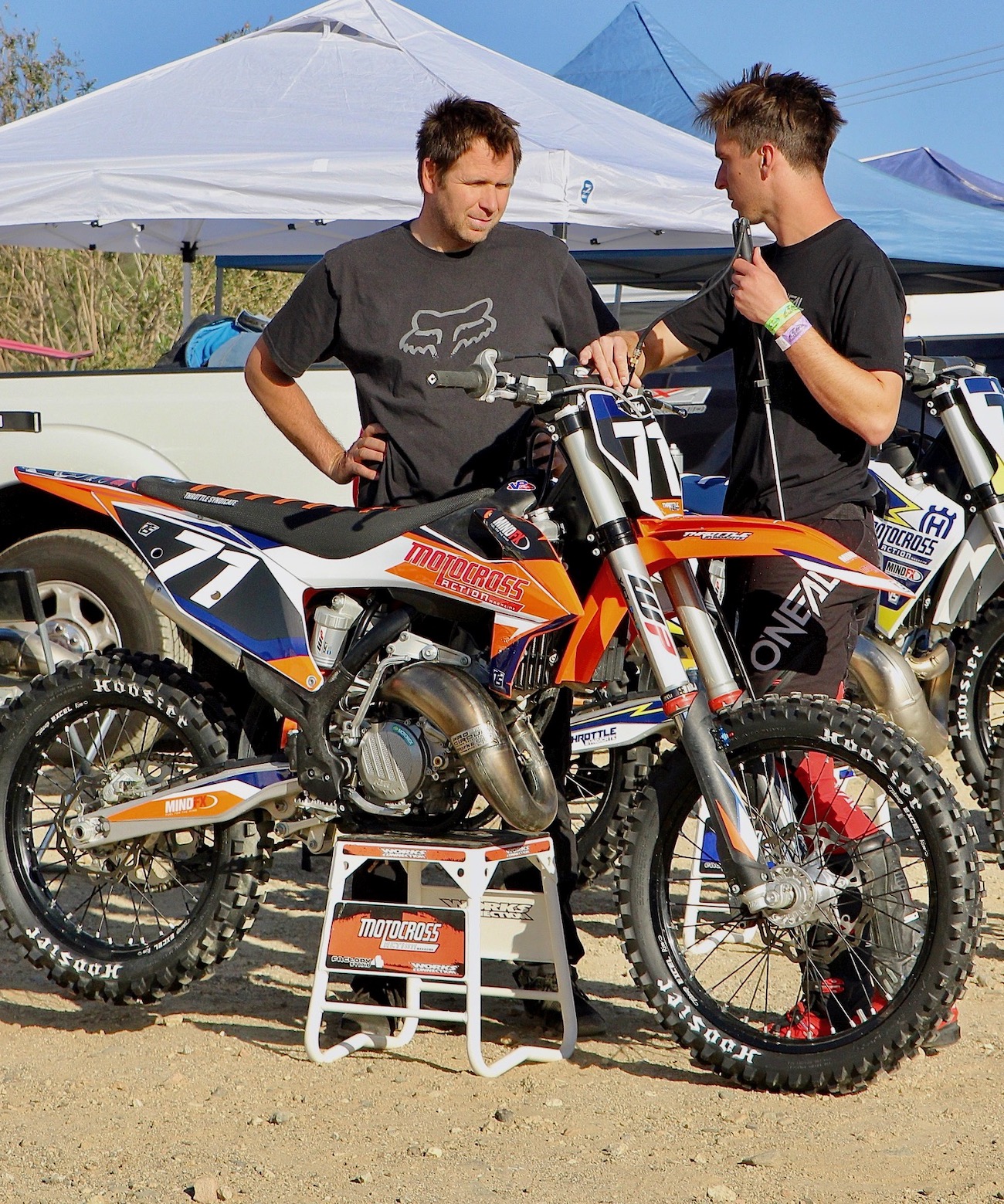 Schnikey and Josh at the 2021 World Two-Stroke Championship.

Although my engine got "the works" from Pro Circuit, none of the Pro Circuit mods were exotic trickery—everything we did to our KTM 150SX engine was stuff an average rider can buy over the counter from Pro Circuit. It didn't have any unobtainium, but it felt like a factory bike. As for the rest of my "Holeshot Monster," l upholstered a Throttle Syndicate gripper seat cover over the foam to help me stick to the bike better, put fresh Hoosier IMX25 tires on, added a holeshot device, slapped on some Throttle Syndicate graphics, set the sag on the stock suspension to 105mm, put the air pressure in the forks to 151 psi and called it quits. I got a few funny looks when I told my friends that I was going to run the stock KTM 125SX suspension, especially when they knew I had access to the WP Cone Valve forks, but I wasn't sweating it! The stock suspension on the 2021 KTMs is legit. The air forks are 3 pounds lighter than conventional coil spring forks, therefore helping my horsepower advantage, and the 2021 XACT air forks are plush thanks to the added air and oil bypass holes and the new lift height setting at the mid-valve. Plus, I was already comfortable riding and racing on the stock suspension; why change now?
Practice on the Saturday morning race day also helped my confidence because my Pro Circuit-tuned 150SX was able to keep pace with the top dogs on 250 and 300 two-strokes on the 2 minute and 45 second track. Yes, the track was smooth. Yes, it was only practice. Yes, the session was only a few laps; however, my bike was crazy fast. I've ridden Ryan Villopoto's YZ125, Mike Alessi's YZ134 and other fast 150s, but this one blew them away. How could it not? Both Ryan and Mike had amazing bikes, but the Yamaha YZ125 starts at a 3.61-horsepower deficit, so the elbow grease Mitch Payton put into Villopoto's engine and XPR's Chad Braun put into Alessi's engine was no match for the type of power Mitch got out of my KTM 150.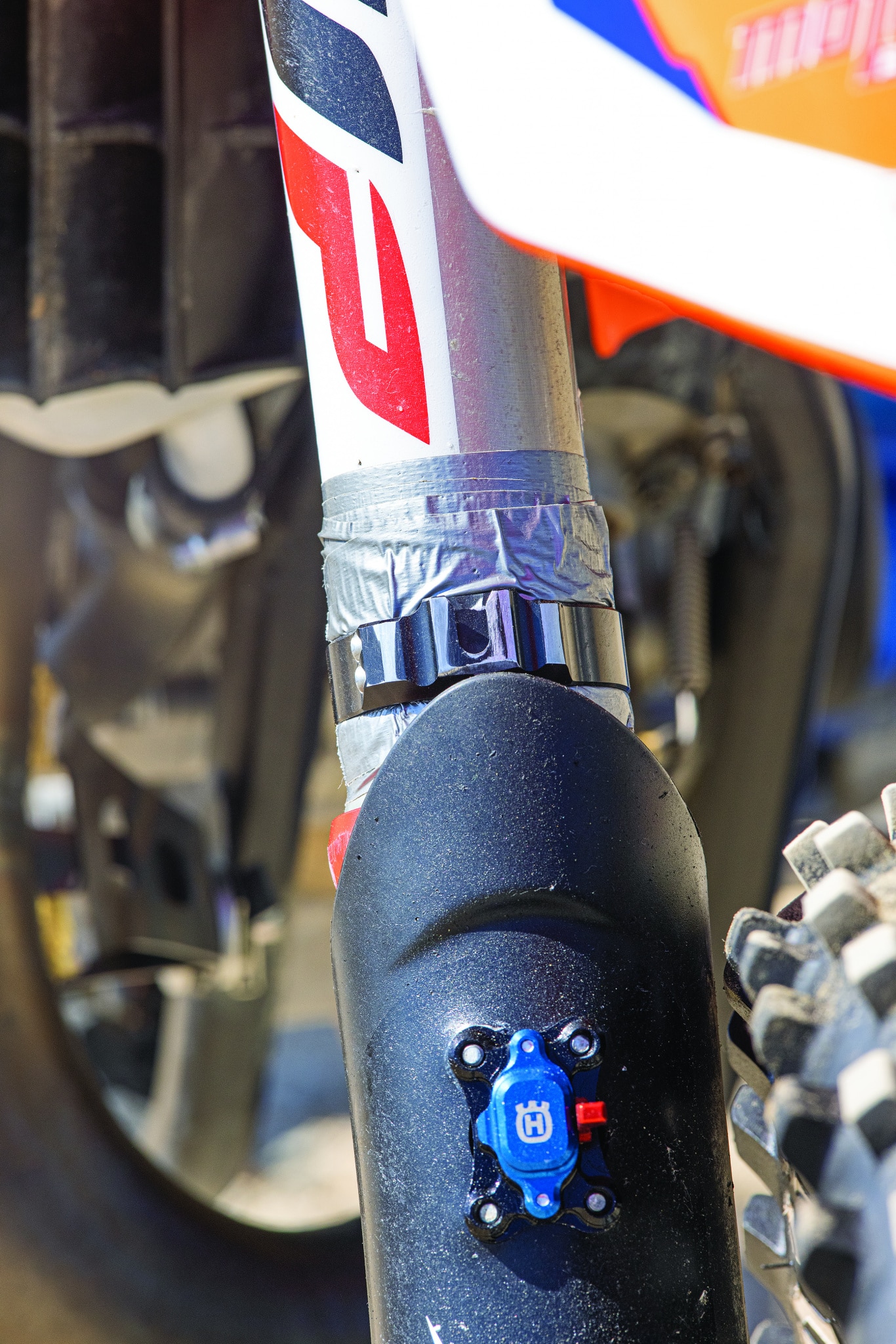 Duct tape on a motorcycle is not ideal, but desperate times call for desperate measures.
A few minutes after boasting on the starting line that I was going to get the holeshot, I was riding a wheelie down the start straight with 30 snarling competitors behind me. I owned the start, and it felt amazing. I like to start to the far outside of the box at Glen Helen, in case I don't get to the turn first. From the outside, I can sweep up the steeply banked Talladega first turn for a clear shot at turn two. I started in my usual spot, but this time I was pulling away from the pack down the start and could afford to start moving over to the right for the inside line at Talladega. At 170 pounds, I'm not the ideal weight to be racing a small-bore two-stroke, but that just shows how fast this bike really is. Keep in mind, I told my friends I was going to get the holeshot, but I didn't tell them I was going win the race. My confidence in my ability to hold off Justin Hoeft (2019 winner), Colton Aeck (2020 winner), Jerry Robin, Luke Kalaitzian, Brandon Ray and Ryan Surratt wasn't as genuine as my holeshot confidence. I played it cool once I got in the lead. Luckily for me, Glen Helen is built on the side of a 200-foot hill that we climbed straight up multiple times each lap. I could feel myself pull away on the hills, but once fatigue set in, I started to get reeled in on the flat sections of the track. It was a great feeling, though, to know that if I nailed the corners at the bottom of the hills, I had enough speed to stay stylin' in the lead.
Competition brings me out of my comfort zone and makes me feel alive. Since I stopped racing the AMA Pro circuit full-time when I picked up my test riding/writing job at MXA, the World Two-Stroke Championship at Glen Helen has serendipitously become my Anaheim 1. It plays perfectly into my "sweet spot." I have local knowledge from living 40 minutes away from Glen Helen and riding there all the time, plus we're racing on two-strokes, which is another advantage for me because I get to ride a wide variety of them for my job, while my competitors usually focus on four-strokes.
My biggest advantage is that I have VIP access to the best tuner on the planet. Not only did I have Mitch Payton's blessing on the engine, but I also convinced my friend Mike Tomlin (better known as Schnikey) to be my mechanic for the weekend. Schnikey worked for Geico Honda and wrenched for Justin Barcia, from his Amateur days all the way to factory Honda before Justin moved to JGR Yamaha in 2015. Justin battled hard against multiple Pro Circuit riders, such as Blake Baggett, Christophe Pourcel and Dean Wilson from 2009–2012, trading paint multiple times with PC riders, so Mitch had big enough respect for Schnikey to offer him the position of R&D Technician at Pro Circuit. His job is to develop parts for the retail side while also helping the race team with dyno and wrenching duties.
Schnikey put my 150SX together, jetted it and ran it on the dyno. He's become a good friend and works overtime to help the MXA wrecking crew. I offered him a deal he couldn't resist, a 50-percent cut of any prize money I earned at the race in exchange for being my mechanic for the day. He had already done the hard part of putting the engine together and prepping it during the week. I just wanted Schnikey to be a part of MXA's day at the races, plus he could keep an eye on my KTM 150SX and the Husqvarna TC250 I was racing in the Open Pro class. Neither of us thought that we'd have any issues, but after giving two of MXA's Works Connection Pro Launch devices to other MXA test riders, I thought I had an older Husqvarna Power Parts holeshot device that would work for me, but I didn't have the right Allen bolts for it and had some issues 30 minutes before the race when I tested it for the first time. The clamping ring pulled off the fork leg, and it was impossible to find bolts small enough for the two holes at the track. After scrambling a bit, we went with one Allen bolt and lots of duct tape for the day—thankfully, it worked.

Gripper seat covers are underrated. This Throttle Syndicate gripper seat saved Josh loads of energy and prevented arm pump.
After I led for 15 of the 20 minutes in the first Pasha 125 Open Pro moto, Justin Hoeft got around me. I could catch him going up the steep uphills, but fatigue set in and my roll speed through the turns wasn't what it needed to be. Plus, the fact that I had just finished my first 20-minute moto in the Open Pro class on MXA's Husqvarna TC250 a couple races earlier (I placed fourth) didn't help my energy levels. But, second place was good enough for my first 125 Pro moto. My next moto in the Open Pro class wasn't as good. I went off the track while running second at the beginning of lap two and went straight to the back. I came through to 10th place while trying to save some energy for my final Pasha 125 Open Pro moto where I knew I could make good money.
"'THE BIKE DOESN'T MATTER; IT'S ALL THE RIDER,' OR 'WHY GO WITH A FULL MOD ENGINE AND RACE GAS IF YOU WON'T USE ALL OF ITS POTENTIAL ANYWAY?'"
Only halfway to the Talladega first turn in the 125 Pro class and Josh Mosiman (far left)) is still wheelying.
In the 125 Pro final moto, I launched out to another epic holeshot and went with the same tactics I used in moto one—run as fast and as long as I could. The steep hills at Glen Helen weren't the only good spots for me; the 70-mph Glen Helen start straight is long and fast. I used it on every lap of the race to pull away from my chasers. The track wasn't all fast stuff, though. There were some technical sections where I was losing time, not because of the bike, but because of my own mistakes. I led for the first two laps before dropping back to second behind Justin Hoeft and eventually to third behind Brandon Ray (whose 3-2 beat my 2-3 for second overall). The track was rough, and I was worn out after competing in four 20-minute motos, but I was still smiling. I always enjoy racing, but it's especially fun when you have the best bike on the track. Working at MXA, I often hear critics say, "The bike doesn't matter; it's all the rider," or "Why go with a full mod engine and race gas if you won't use all of its potential anyway?" Sure, if I were a better rider, I probably would have won. It is true that I didn't use the bike to its full potential everywhere. But, when I ripped that holeshot and maintained my lead by pulling away on the uphills, I was using every bit of the power that KTM and Pro Circuit supplied me with.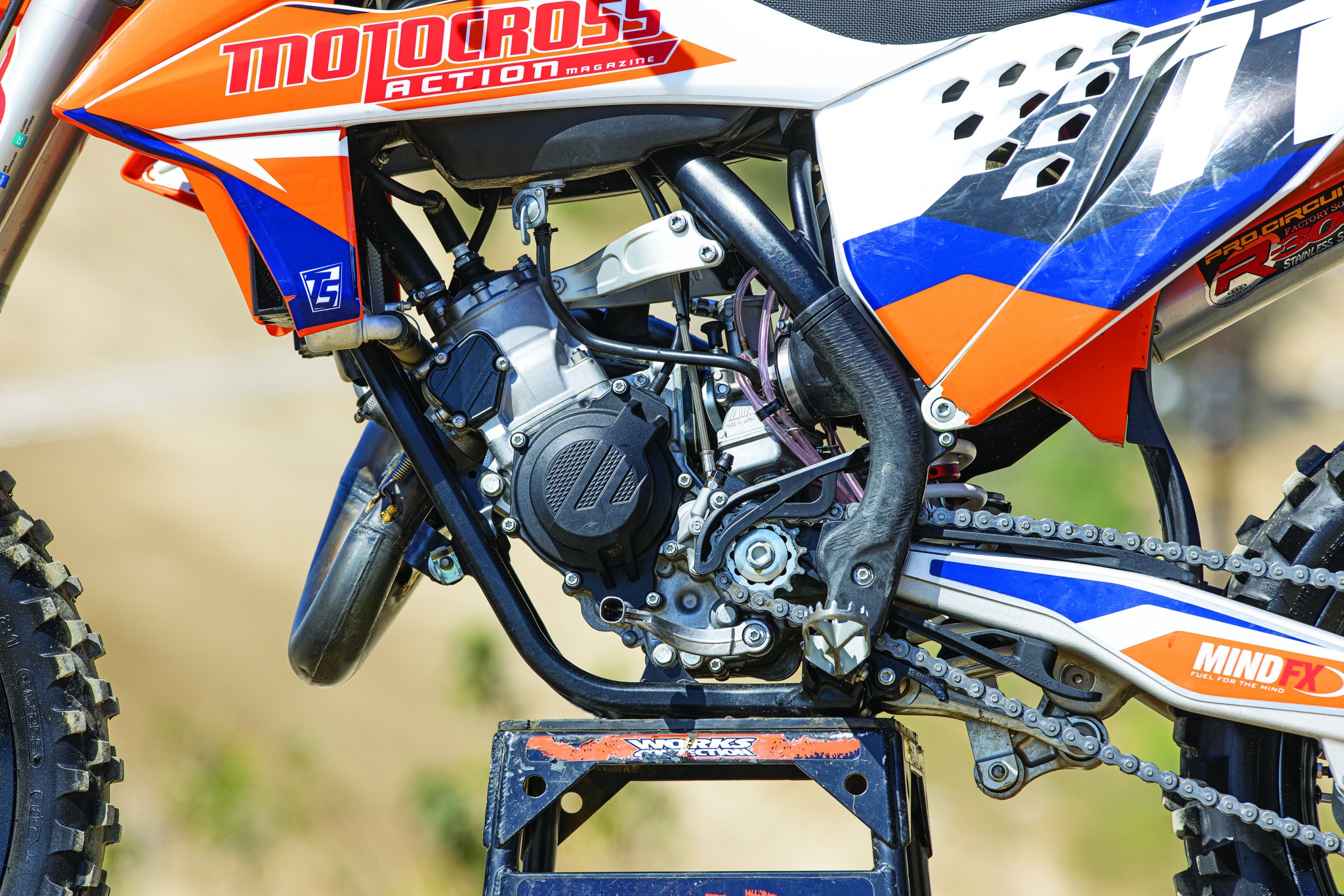 Mitch Payton ported the KTM 150 engine kit to produce almost 44 horsepower on the dyno.
At the end of the weekend, I got $1000 for third overall in the Pasha 125 Pro class, plus $250 in holeshot money. Plus, my 4-10 scores in the Open Pro class gave me another $300. Although I left money on the table with my mistake in the second Open Pro moto, Schnikey and I left with $750 each, and I think it will be pretty easy to convince him to do it again next year. As for me, I get paid to race motorcycles by MXA whether I win or lose, so this was icing on the cake.