The Kawasaki KX250 is all-new for 2021. Watch our video, see detailed photos of the engine parts and use our custom map setting here
TM's 2020 SMX 450FI World Champion Edition was built with a single purpose, which was paradoxically to be dual-purpose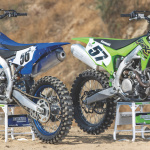 Which bike is better for you? We break apart the details in our latest MXA video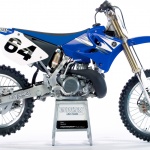 Our prescription? Pop one Yamaha YZ250 under your fanny and kiss the four-stroke doldrums goodbye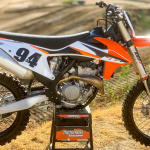 It doesn't look any different, but there are significant changes to the 2021 KTM 350SXF
The 2021 Honda CRF450 is all-new from head-to-toe. Learn our initial impressions about the bike here
The YCF Bigy is 187.2cc, air-cooled, single-cylinder four-stroke with 17/14 wheels and a seat height of 35 inches — best of all it retails for $2999 and comes with a warranty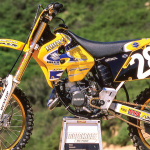 Team Primal Impulse's RM125 runs a factory cylinder, head, pipe, 2mm-longer rod, ignition and carburetor
The Yamaha YZ250X two-stroke is a half cross-country, half motocross model
When you give up a ton of horsepower and add a ton of weight, you aren't going to make it all-better with a couple clicks
The 2005 CR125 was much faster than the 2004 model. In fact, was competitive with the rest of the 125s. As for the 250Fs, let's not get too greedy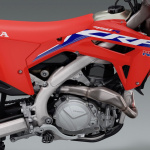 If you're in the market for a 2021 dirt bike, Honda is ready, willing and able to sell you whatever you want
If you thought that riding Tim Ferry's 2007 KX450F would be identical to riding James Stewart's KX450F, think again.
Everything you want to know about the CRF450 in the video above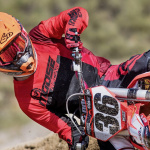 This is a test of the Cylinder Works 366 engine kit. Yes, we did go all out on the rest of the bike, but the bling is just icing on the cake.
This TM 144MX has all of the goodies it needed to win the 125 World Two-Stroke Championship
It was an Edison light-bulb moment back in 2006 when Kayaba switched the YZ250 forks from 70-percent position-sensitive damping to 90-percent speed-sensitive damping. It became the Holy Grail of motocross suspension
Yamaha dabbles in the off-road market with the YZ125X. It can be used for motocross or cross-country, but compromises had to be made for both
The Husqvarna FC450 is designed to be a motocross bike; the Husqvarna FX450 can be used for motocross or off-road —we liked it either way
One of the best production smokers made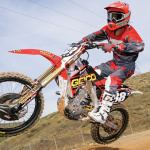 With the word that Geico might pull out of motocross, we thought we take a look back at one of their great bikes and riders
For 2021 Suzuki offers all the things it has been famous for over the years
We borrowed Jason Anderson's Factory Rockstar Husqvarna TC300 two-stroke engine to create this project racer
Yamaha Enduro models for the 2021 year
Learn more about the 2021 KTM 450SXF, Kawasaki KX450, Yamaha YZ450F, KTM 350SXF and Husqvarna FC450 BY watching some awesome motocross action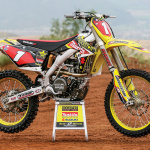 Chad Reed got a last-minute deal to ride the 2009 AMA Nationals for Team Suzuki. It was thrown together, but a match made in heaven
Josh, Daryl, Dennis and Geoff go looking for boulders to bound over—until they found them. Trials is slow, but it's exciting
Everything you need to know about the class of 1999 in under ten minutes — what exactly is a potpourri of mediocrity?
How to fix the 2020-2021 Yamaha YZ450F with a few common sense moves and crack 60 horsepower with something out-of-the-box
Josh made too many excuses after the Two-Stroke World Championship last year. With this bike, he'll only be able to blame himself
Young kids learn to ride a bicycle by starting on what is euphemistically known as a balance bike, in a stroke of genius a factory KTM mechanic built a strider with a motor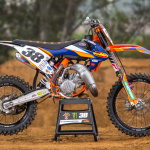 Poised to be the next big thing in Supercross after an incredibly powerful performance at this year AMA National Amateur Championships, Haiden is the real deal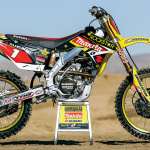 In 2007, Dungey was the Rookie of the Year, in 2008, Dungey finished second in both the 250 Supercross series and 250 outdoor series and in 2009 he won the 250 West Coast Supercross series and the 250 AMA National Championship
We get the inside secrets from FMF, Pro Circuit, Factory Honda, Planet Honda and did our own R&D to make the 1999 CR250 as good as it could be
Come on Honda, bring back two-strokes! We still love them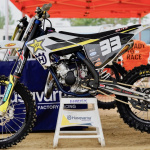 Without music, narration or interviews, just mini star Benjamin Garib making his own kind of music
When MXA wanted to iron out the wrinkles on our 2020 Yamaha YZ450F, we asked for help from the man who made the YZ450F what it is today
The 2021 Kawasaki KX450 has a few updates that could make this bike a contender in MXA's 2021 450 Shootout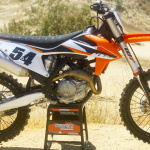 We tell you everything that we learned on day one of our KTM 450SXF long-term test
We bring you all the details on the new 2021 Husqvarna FC450 and give you our first impressions on it after day one of testing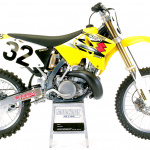 The RM250 had every two-stroke trait–good, bad and ugly
KTM experiments with a lighter bike and smaller engine to go up against the big bikes on a tighter track
On MXA's 2020 Yamaha YZ125, we wanted a no-frills race bike. We only wanted to change the stuff that needed changing, work on the items that needed help and replace the parts that we knew could be better
A special kit designed to transform a motocross bike into a freestyle bike. First step, buy hacksaw
KTM's 2021 off-road line up offers a wide range of choices for the guy who wants to get away from it all
The three-speed tranny was not just for Supercross, Yamaha said they also ran the three-speed outdoors, but with a smaller rear sprocket.
In 1997 Alessandro Puzar almost won the 125cc World Championship on a TM 125MX—this is the 1999 version
The well traveled history of a 2005 Honda CR125 & what's planned for it next
One engine, lots of choices: Gebben Kreidler, Homoet Kriedler, HS Kriedler, Roton Kreidler, VHS Kreidler or Van Veen Kreidler
This is a fact! Team Suzuki's 2003 RM250 is the best race bike we've ever ridden' without a doubt. How can we make such a bold statement? It was true!
With the 2020 World Two-Stroke Championship getting closer, the MXA wrecking started looking for potential winners
Eat your heart out Ryan Dungey. You're too old, too tall and too heavy to have this Factory Edition named after you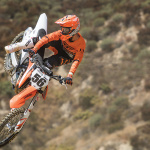 The 2020 KTM 350SXF makes 54.61 horsepower, which is more peak horsepower than the 2020 Suzuki RM-Z450—to get it you have to rev it to the moon.
Be careful when spending money on making the 2020 Suzuki RM-Z250 faster—We spent $5000 and it didn't make more horsepower than a stock KTM 250SXF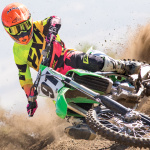 Areas to focus on when living and loving your 2020 Kawasaki KX450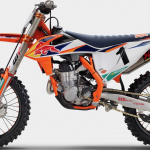 The inside story behind the groundbreaking Factory Edition—the AMA rule book, the history, the special effort by KTM and what's what on the latest version
Pee-wee racing used to smell of gasoline and peanut butter and jelly sandwiches, now it doesn't smell like gasoline anymore
Grant Langston's 2007 Yamaha YZ450F was the easiest to ride AMA National bike we have ever tried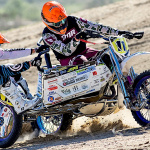 With a $20,000 price tag, 750-pound all up weight, 660cc engine and teamwork required, this video will show you all you need to know
Suzuki resurrected itself from the ashes of the rather mediocre 1998 engine in 1999. The '99 powerband was, in fact, a KX250 clone