Our chief test rider Dennis Stapleton takes the brand new 2019 Honda CRF250RX to the track and trails of Cahuilla Creek in this first ride video.
KTM grows through its teething stages breaking into the new millennium
The most comprehensive 2019 450 shootout — complete with all the stuff that no one else will ever tell you. This is the real deal shootout
Sheak's high-rpm flyer was perfect for his 125 National speed, but without his talent, it is a demanding bike to ride
The 2019 Honda CRF450 is paradox wrapped in an enigma with a side of bacon
To quote Michael Corleone, "Just when I thought I was out, they pull me back in!"
The powerband that is so usable that it feels like a rheostat. You dial in the power and the lights get brighter, or dial it down for a little mood lighting
My kingdom for a blue valve cover, four wheel spacers and two axle lugs — and why they matter
Things you can't learn in one ride, one week or even one month — MXA puts the 2019 KX450 through a full test cycle
Mama mia, that's some spicy MXer!
The bike that Brownie raced to the 125 AMA Championship 17 years ago—and he'll be at the World Vet still racing this weekend
You have to ask yourself, "What would Aristotle do?" Because that is the key to success in finding brand loyalty from 50cc to 450cc
People thought Yamaha was crazy for implementing the aluminum frame on the YZ250 & YZ125, but it paid off. Yamaha sold 50% more YZ250s in '05 than in '04
Underneath the YZ250's clothes it's virtually the same bike since 2006. Although we still have just as much fun riding it
You can't tell a book by its cover — even an orange book. We read the KTM 350SXF for you from cover to cover
These are the must-do fix-it tips to make the 2000 CR250 the best bike it can be
KTM has made a few changes to the 250 two-stroke for 2019. You will be surprised with the results
The 2000 Yamaha YZ250 was a seamless blend of usability
Our chief test rider Dennis Stapleton shakes down the all new TM 300MX two-stroke which features an electric start.
What do Airstream trailers, Volkswagen Beetles, vinyl records and two-strokes have in common?
RM125 vs. CR125 vs. YZ125 vs. KTM 125SX vs. KX125
The only 250 four-stroke that treaded water in 2019 — we tell you how to improve it
In 2007 the YZ125 earned the 125cc Bike of the Year award ten times in 11 years (losing only once to the KTM 125)
"Uncle Donnie" can rightfully be considered the originator of the motocross hop-up business.
The bike that won the 2018 World Two-Stroke Championship in the premier class, you'll be surprised with how stock it is!
Finally, the Italian bike is fitting into the American way of life, riding styles, tracks and needs
For 2000, the KX engineers added more inertia to the drivetrain to help the KX125 churn out a broader powerband. Unfortunately, it didn't work as well as they hoped
Testing a lowered chassis, pumped up engine and Rekluse clutch on a bike that loved each modification
We call this RM-Z450 the Factory Bike Assassin as it is powerful enough to beat them. Take it from Josh Grant himself
Don't judged TM by its past — you can't tell a book by its cover — the TM book has been rewritten
80 percent of Ryan Villopoto's 2007 bike was made, modified or reconfigured in the Pro Circuit race shop. Not even the frame was left alone
The dream team of Jeremy McGrath, Ezra Lusk and Jeff Emig were injured so Ricky Carmichael, John Dowd and Doug Henry were chosen to race the 1998 MXDN in England and we got to ride all their bikes
We didn't think we were going to crash the factory steed the day before the National
Did the YZ400 have anything to fear?
Which means that it is just right for a rider looking of the offspring of a FC250 and FC450
The MXA wrecking crew wanted to know what kind of bike a hammerhead like RC really rides. What better way to find out than by riding race bike?
We loved Weston's engine. There were no hiccups, dips or dead spots. And although powerful, it was easy to ride
Do you remember the Aloop XMX Freestyle bike?
The majority of privateers identify with MXA test rider Brian Medeiros, who holds down a 40-hour-a-week, five-day-a-week job — every penny he earns, he dumps into racing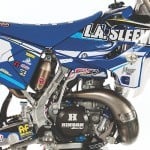 AMA Pro racing will never give the two-stroke a fair shake in the political milieu of Supercross and the AMA Nationals. And that is where the story might have ended, but this is a do-it-yourself sport
MXA head test rider, Dennis Stapleton fly's to Japan to test the 2019 RM-Z250. Here is footage of the new bike along with some POV shots of Dennis riding on the ancient land
This is the ultimate two-stroke project bike that was built in 1998
In 1997 Alessandro Puzar almost won the 125cc World Championship on a TM 125MX—this is the 1999 version
If it's a two-stroke we will ride it. Doesn't matter if it is on a motocross track, GNCC terrain, hill climbs, or wide open down the back alley
Yamaha released an offroad version of the 2019 Yamaha YZ450F that we rode back in South Carolina on some tight GNCC style trails
You may not like the results, but when you race them instead of riding them for three days with factory mechanics at your beck and call—this is what you learn
But don't hold your breath, it is 5 months away — in the showrooms in February
You can make your 250 four-stroke torquier, broader and more powerful in one simple step. The secret sauce? Cubic centimeters.
We chose to build a Chad Reed Replica to honor his accomplishments without any concern for how well he did in the 2018 AMA Supercross season
Built for the 2018 World Two-Stroke Championship, but perfect for any two-stroke aficianado, Dennis tells the whole story
Actually, we lent the bike to him, so this is really "Zach Bell Rides MXA's 2018 Husqvarna TC250," but it sounds better the other way around
All owners will get a recall letter and your dealer will replace the clutch parts with updated versions at no cost
Built to MXA's spec by the finest craftsman in the motorcycle industry & tested on a private Glen Helen National track
Yamaha was the first motorcycle manufacturer to figure out that it's not how much power you make, but how you make it.
We applaud Yamaha for finding things that work without having to revinvent the wheel—although the wheels are involved
We get the inside secrets from FMF, Pro Circuit, Factory Honda, Planet Honda and did our own R&D to make the 1999 CR250 as good as it could be
In 2004 Kawasaki broke the 35 horsepower barrier on its KX125 by making seven changes to the engine
We give you information you won't find anywhere else about the 2019 KTM 450SXF. Keep your drill handy
We test Brett Metcalfe's 2005 Yamaha of Troy YZ125 when it was the only smoker left on the track
Why Carson didn't use an KX250F aluminum frame or a 144cc kit, but did use Showa air forks and an Lectron carb