A classic case of deja zoom. Five years ago the RM-Z250 was second in the "MXA 250 Four-Stroke Shootout." What happened in the last five model years?
The CRF250 engine is so one-dimensional that it gives up all the good stuff for a top end that isn't good enough.
It was 13 years ago when the "L" designated the RM85 as a big wheel, but that was easily recognizable by the larger wheels and increased ground clearance.
The 14,000 rpm bike that only asks you to do one thing to get the most out of it—scream it to the max
This bike has nostalgia written all over it. It should be sitting in a museum with a sign that says, "Do not sit on it." Luckily, Ryan let MXA get it dirty.
Yes, we know that its the same bike in white plastic, but do you know how different it really is
Remember those long shootouts that you scanned briefly before getting distracted by the dog, wife or boss? Well, here is the quick, easy and complete 2018 450 shootout in bite-size format
From 1997 to 1999, the KX250 was the Bike of the Year. Unfortunately, from 2000 on, the KX250 took a back seat to its competition
When Yamaha enhanced the midrange back in 2017, the power reminded us of one of our favorite engines, the 2016 Kawasaki KX250F. It has personality. Call it spunk.
It refines it and defines it. It fixes glitches and scratches itches. It is a homologation buster and a trophy hustler
These are the best 125 two-stokes from the glory days of 1980 to present day. Does your smoker take the crown?
The CR125 engine in comparison to the KTM 125SX was four horsepower off. At 10,500 rpm there was more than a seven horsepower deficit. What did Honda do about it? Nothing.
We have been called "Honda Action," "Yamaha Action" and, most recently, "KTM Action, but we are "Motocross Action." All that matters to us is finding the best race bike.
More than you want to know, unless you want to know how the 2018 450s really rate
The complexity of the job demands a hodgepodge of Honda parts from various CRs and CRFs for the rest of the bike. On paper, the 2008 Service Honda CR500AF may look like Frankenstein's bike, but on the stand it looks like it was meant to be.
The fact that Broc Glover won the 1985 AMA 500 Championship on this bike was testament to his talent
MXA took a 2008 KTM XC300 and made it into an electric start two-stroke motocross bike with a few simple changes
We tell you how to build a tricked out 2014 KTM 125SX 2-stroke
Yamaha unveiled an all-new YZ65 youth motocross bike at the San Diego Supercross. It features an all-new engine, chassis, suspension, bodywork and more
We take a Yamaha YZ250 2-stroke, fix its flaws to make it one great machine. We made it more powerful, handle better and stop sooner
In 2006, Kawasaki stopped importing the KX125 and, for 2008, the RM125 and CR125 bit the dust. But that doesn't mean that MXA can't keep them alive
James Stewart made easy work of the 125 class in the 2004 Nationals on his tried-and-true KX125. If he could, why couldn't we on a Pro Circuit RM125?
If you are clamoring to get your hands on the rarest and most desirable production motocross bikes made, watch this
It injects gas, oil and fun, but most all is runs cleaner, sips gasoline, never needs jetting, makes real horsepower and is the future of all two-strokes.
The 2005 KTM 250SX was a handful to ride. It was fast, but as we all know the WP PDS rear suspension was only good if you knew its secrets
KTM has made more model changes over the last decade than all of the other "Big Six" manufacturers combined
Back when all the Japanese manufactures still made their wonderful two-stroke dirt bikes. This is an RM250 vs. YZ250 vs. CR250 vs. KX250 vs. KTM brawl
It seems funny to do a 350cc four-stroke shootout when there are only two readily available models on American showrooms
The MXA wrecking crew waited to get it right & you waited to find out how the top six really rank
Kudos to Kawasaki for not chasing the elusive electric unicorn. The KX450F is the only Japanese 450 that didn't gain weight in 2018.
Suzuki had plenty of time to think about what they would do when they finally built a new RM-Z450, but what they did wasn't worth the wait.
A real CRF450 test—with everything you need to know, stuff that nobody else ever tells you and our secret recipe for Honda CRF success.
The best professional practice rider or Vet bike made. The perfect bike for riders looking for a 250 with more power or a 450 with less (although not a whole lot less).
If we were looking for a phrase to accurately describe the 2018 YZ450F powerband, we would use "filled in." The result is one long usable powerband. Every Yamaha YZ450F owner will love the improved power delivery.
Not Swedish, but Sweetish. Powerful, but soulful. Brutish, but gentle. The Husqvarna FC450 is like no other 450 — even though it is like the KTM 450SXF (although different enough to warrant a close look).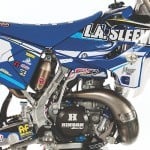 AMA Pro racing will never give the two-stroke a fair shake in the political milieu of Supercross and the AMA Nationals. And that is where the story might have ended, but this is a do-it-yourself sport
Everything a smoker should be wrapped up in a 2004 Suzuki RM250 (with lots of facts on how to build your own). The engine was great, but was only half the fun of racing the RM250. As important as good power is feel. Nothing turns as sharp.
Husky has an all-new bike coming in to the SX season
A scary fast bike that only the gifted could ride
Lance Smail and Tom Moen made Supercross history