It should be noted that the 2022 Honda CRF450 is the 2021 Honda CRF450, but it will get updated maps and new suspension valving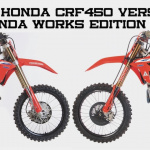 Should you buy a stock CRF450 and make it own own or buy the ready-made Honda Works Edition?
Plus photos of the 2022 MC 125, MC250F & MC450F from all angles—Plus a fuel-injected EX 250 cross-country two-stroke
We breakdown the details on each of the 2021 125 Two-Strokes and rank them from fifth to first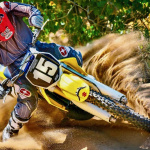 It is easy to look at the 2007 Suzuki RM125 and see a throwback to an ancient era with the steel frame, revvy powerband and unchanged exterior
On a cross-country bike you have to give to get—and be prepared to innovate solutions to blend the differences of track and off-road away
Remember when Suzuki was at the top of the motocross food chain? In fact, the 2011 RM-Z250 took top honors in the 250 four-stroke class. But, the last decade has not been kind to the RM-Z250.
TM makes a few different versions of its 250 two-stroke; TM makes a motocross version and an enduro version. So, how did we get a cross-country version? We combined the two.
The MXA wrecking crew had a very good time on Mike's Yamaha YZ134; we bonded with it; it encouraged our test riders, didn't punish them for mistakes and never talked back
The 300RX power was incredible with a smooth gradual power off the bottom that grew rapidly and kept on revving