We breakdown the details on each of the 2021 125 Two-Strokes and rank them from fifth to first
Plus photos of the 2022 MC 125, MC250F & MC450F from all angles—Plus a fuel-injected EX 250 cross-country two-stroke
This was the Porsche Turbo Carrera of the 125 class back in 1992—it revved higher, harder and longer than the stock CR125 and had better bottom to boot
Suzuki riders always claim that with the money they save, they could build an RM-Z450 as good as a KTM. How much money would it cost to lose 20 pounds?
It should be noted that the 2022 Honda CRF450 is the 2021 Honda CRF450, but it will get updated maps and new suspension valving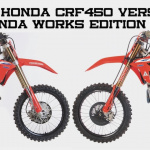 Should you buy a stock CRF450 and make it own own or buy the ready-made Honda Works Edition?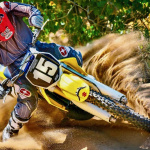 It is easy to look at the 2007 Suzuki RM125 and see a throwback to an ancient era with the steel frame, revvy powerband and unchanged exterior
On a cross-country bike you have to give to get—and be prepared to innovate solutions to blend the differences of track and off-road away
Remember when Suzuki was at the top of the motocross food chain? In fact, the 2011 RM-Z250 took top honors in the 250 four-stroke class. But, the last decade has not been kind to the RM-Z250.
TM makes a few different versions of its 250 two-stroke; TM makes a motocross version and an enduro version. So, how did we get a cross-country version? We combined the two.