The 2005 KTM 250SX was a handful to ride. It was fast, but as we all know the WP PDS rear suspension was only good if you knew its secrets
KTM has made more model changes over the last decade than all of the other "Big Six" manufacturers combined
Back when all the Japanese manufactures still made their wonderful two-stroke dirt bikes. This is an RM250 vs. YZ250 vs. CR250 vs. KX250 vs. KTM brawl
More than you want to know, unless you want to know how the 2018 450s really rate
It seems funny to do a 350cc four-stroke shootout when there are only two readily available models on American showrooms
The MXA wrecking crew waited to get it right & you waited to find out how the top six really rank
Kudos to Kawasaki for not chasing the elusive electric unicorn. The KX450F is the only Japanese 450 that didn't gain weight in 2018.
Suzuki had plenty of time to think about what they would do when they finally built a new RM-Z450, but what they did wasn't worth the wait.
With four-year production cycles the Kawasaki KX250F was not due for an update until 2020, but Kawasaki's engineers took the initiative to make some big changes to the 2018 KX250F
A real CRF450 test—with everything you need to know, stuff that nobody else ever tells you and our secret recipe for Honda CRF success.
The best professional practice rider or Vet bike made. The perfect bike for riders looking for a 250 with more power or a 450 with less (although not a whole lot less).
If we were looking for a phrase to accurately describe the 2018 YZ450F powerband, we would use "filled in." The 2018 engine doesn't have the 2017's dead spot at 6000 rpm. The result is one long usable powerband. Every Yamaha YZ450F owner will love the improved power delivery.
Not Swedish, but Sweetish. Powerful, but soulful. Brutish, but gentle. The Husqvarna FC450 is like no other 450 — even though it is like the KTM 450SXF (although different enough to warrant a close look).
It injects gas, oil and fun, but most all is runs cleaner, sips gasoline, never needs jetting, makes real horsepower and is the future of all two-strokes.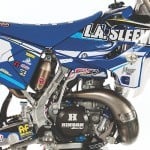 AMA Pro racing will never give the two-stroke a fair shake in the political milieu of Supercross and the AMA Nationals. And that is where the story might have ended, but this is a do-it-yourself sport
Everything a smoker should be wrapped up in a 2004 Suzuki RM250 (with lots of facts on how to build your own). The engine was great, but was only half the fun of racing the RM250. As important as good power is feel. Nothing turns as sharp.
Husky has an all-new bike coming in to the SX season
A scary fast bike that only the gifted could ride
Lance Smail and Tom Moen made Supercross history
It is finally here!
If 58 horses is good, is 68 horsepower better?
Stuff your Honda dealer never tells you
One of the best production smokers made
Answers to the questions you should have ask
Day one with Big Red at Zaca Station
When we say money is not object, we mean it
14,000 rpm, 44 horses & 100% fun
One last look at what's new on the "new" CRF250
Built in Italy, tune in Holland, raced in America
Is the bike to blame?
You may not like the idea, but it might save the two-stroke
The blueprint for a KX500 swap
Bigger displacement the better, right? Wrong
We build a Dean Wilson Replica Yamaha YZ450F
Honda will fix it for you free
How to turn your 2017 YZ450F into a 2018
Did you own one of these? Two? Ten?
Don't feel blue, ride blue instead
Icing on the icing of a triple layer cake
The button, mapping and springs