The 2023 Honda CRF450 comes with a healthy list of little updates. Do these changes fix the issues we had with last year's bike? Learn what we think about the new model so far in this video
The written word! Or, should that be the "ridden word?" MXA logged a lap time 3.5 seconds faster than the stock KX250 in back-to-back tests
"I chose the Yamaha YZ125 because it had been basically the same since 2005. I know lots of people criticize Yamaha for not making a new YZ125 and YZ250 every couple of years, but the fact that they don't change is why I wanted one."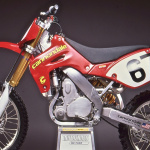 Why the long dreamed of Great American Motocross Hope was a total flop
The wild and wacky story of how Yamaha got into the dirt bike business and the cast of characters that made it a success
Little brother to the 2022 -1/2 450SXF Factory Edition and older brother to the 2023 KTM 250SXF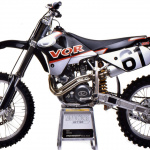 It started life as the brain child of the Vertemati brothers, but the Vertemati/VOR breakup was probably a good thing for buyers—because the 503MX did improve under VOR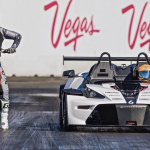 The MXA wrecking crew matches its motocross skill against the KTM X-Bow
A really good entry-level race bike at an affordable price — Not for everyone, but it's flaws are fixable and its power is manageable
Daryl takes KTM's inexpensive RC390 Sport Bike to a road race track to test it and himself
Suzuki has the know-how to build a world-beating RM-Z450, but they spent the greater part of the last decade watching its competition pull away with new technology
MXA had asked Honda about testing Ricky Carmichael's 2004 CRF450, but after RC announced that he was switching to Suzuki for 2005, we crossed it off our list. Surprise! It was about to be crated up sent to the Honda Museum in Japan when Honda told us "Yes!"
If the people in power don't understand the technical aspects, they find it in their best interest of ban it — and that is how they killed Lars Larsson's titanium-framed Husqvarna 51 years ago
On the track, the Husky was smoother, mellower and easier to ride at the crack of the throttle, where the KTM 450 Factory Edition was more responsive
The 2022 Yamaha YZ250 got a much-needed facelift, but the lack of engine upgrades or weight savings means that the new YZ250 didn't close the power gap on the 2022 KTM 250SX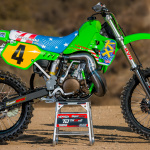 This video is a 10-minute is a story of how this old KX500 came together and how it ran on the track
The door opened for Husqvarna in 1960 with the demise of Monark. This freed up Monark and Lito designer Nils Hedlund to develop a state-of-the-art 500cc motocross machine for Husqvarna
A first of its kind from Honda as they partnered with Greenger to build this electric kids bike
Owned by Yarrive Konsky, built by Nathan Alexander (with aid from Jamie Ellis) and tested by MXA
KTM engineers wanted to move motocross design forward with advancements in bodywork, electronics, ergonomics, power, ease of use and overall design. We tell you how they did
The TM SMX 450FI was built with a single purpose, which was paradoxically to be dual-purpose
When WORCS went to Lake Havasu, MXA knew it would be the place to test our YZ450FX and CRF450RX cross-country bikes, even if we had to ride through the lake
Everything a smoker should be is wrapped up in a 2004 Suzuki RM250. The engine was great and nothing turns as sharp
Not just one of Stefan Everts Championship bikes, but both of them at the same track on the same day
It is a true-to-life kawasaki KX112 engine, which makes it ready-made for the Supermini class, but the rest of the bike is pure KX85
One man, one bike, one Honda guru, two strokes and eighteen years of waiting for fruition
Yamaha has updated their YZ85 and added a new model to their production line, the YZ85 Big Wheel. We shake down these new bikes here
What are the pros and cons of the tried-and-true YZ125 versus the all-new 2022 version? We break them down here
Like the KTM 125SX, the 2023 Husqvarna TC125 two-stroke is highly anticipated. It comes with fuel injection, an electronic power valve, electric start and new generation chassis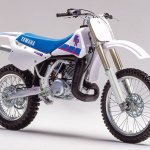 Some times a stop gap measure is the only measure that can work when you start too late
This is the KX450 that Kawasaki should have made in the first place, but without the $12,400 price tag—it's good and it could be better
We got to spin our first laps on the new, electric starting, fuel injected 2023 Husqvarna TC250 two-stroke and this is our initial impression
This is a classic example of all that can go wrong with a hopped-up bike—and spending a bundle of money doesn't always make a bike better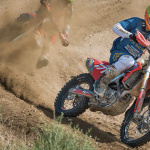 Honda wouldn't give us Sexton's or Roczen's works bikes for the weekend, but Honda's Johnny Campbell gave us one
MXA didn't test Pasha's KTM 270SXF because of his Hollywood links (we blinked during "American Wrestler" and missed him). We are testing it because Pasha is a motocross benefactor and unsung hero
80 percent of Ryan Villopoto's 2007 bike was made, modified or reconfigured in the Pro Circuit race shop. Not even the frame was left alone
See a Yamaha YZ300 that was built by Twisted Development for one AMA Pro, ridden by another Pro and tested by a third Pro
If there is one takeaway from the Works Edition for Honda CRF450 owners, it is to spend less time hopping up the CRF450 powerband and more time mellowing it out—it will handle better.
Honda celebrates their 50th Anniversary Edition
We try out the new electric-starting fuel-injected 2023 KTM two-strokes at Red Bud and give our first impressions in this video
Check out the e-start, EFI two-strokes and the updated four-strokes
Learn all about the new 2023 KTM four-strokes
Brand new 2023 KTM electric starting fuel injected two-strokes are here! Including a brand new 300SX two-stroke for motocross
Kawasaki shares the details on the KX450, KX112, KX85 and KX65 models—which are all the same as last year
The 2023 GasGas models are coming out early!
The 2023 Kawasaki KX250 has received some significant upgrades for the new model season
MXA has always believed that the production bike is better than the Factory Edition model that preceded it—that is the benefit of a couple of months of added test time
MXA'S Daryl Ecklund didn't just ride Febvre's Grand Prix YZ450FM, he got to ride it all by himself on the Maggiora track in Italy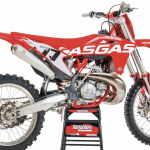 The stock version of the GasGas 250 two-stroke has suspension tailored for Vet and Novice riders and is mated to an engine designed for Intermediates.
Take your pick between a hot rod street model or a go-anywhere adventure bike.
Honda's aluminum frame looked cool, but it vibrated like a dentist's drill and, in Honda's hands, didn't shown a single advantage over its chromoly steel competitors
When Yamaha introduced a brand-new YZ125 for 2022, it was imperative that we schedule the 125s for a rematch. Unfortunately, we couldn't get a 2022 TM 125MX because of COVID-related issues in Holland
We do know that there was one kid doing pretty well on a KX125 in the AMA 125 Nationals back in 2004, but his magic didn't translate into a lot of copycats with money
KTM continues to provide the next generation of riders with a full lineup of mini bikes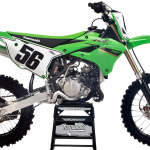 No aftermarket big-bore kit is needed; however, the rest of the bike is still at price-point-level quality. It is not what we would consider to be a race-ready Supermini
Jamie Ellis, Dean Dickenson & Mitch Payton put our KTM, Husky & Yamaha 125s on remedial speed therapy — with video and something called "words"
Electric Pee-Wees will bring more kids (and their parents) to the sport. They can be ridden more places and they keep the environmentalists happy. The MC-E 5 is a great all-around bike.
Mike Alessi not only shows how to ride a YZ125 fast, but also how to build one that leaves no stone unturned
After practicing starts at the KTM test track against Marvin Musquinwith LitPro data monitoring his starts, Freddie has found that he got better starts without using launch control
With Alex being just 5-foot-4 and weighing only 145 pounds, his bike featured raised footpegs, a cut-down subframe and lowered seat. MXA test riders are used to riding oddly configured race bikes, but Alex's custom tailored "rider triangle" was a challenge