The 2023 Yamaha YZ450F is all-new and they've changed practically everything we've ask for. Josh Mosiman tests the bike at the Star Racing Yamaha GOAT Farm
From Italy with love—however, finding a dealer for the 2023 models might be challenging
This exotic KTM 150's frame was stripped and clear coated to create a raw metal finish. On the track, the FMF pipe sounds raw too
A special kit designed in 2000 to transform a CR250 motocross bike into a freestyle bike. First step, buy hacksaw
The MXA wrecking crew tests the 2023 Honda CRF250. Surprisingly, this bike is down on horsepower compared to the previous generation bike from two years ago, but it feels faster
The AMA 500 Nationals ran from 1971 to 1993. The AMA dropped the 500 class under pressure from the brands that didn't make 500cc two-strokes, but if you think about it, the 450 class is just a four-stroke replacement for what were the most thrilling two-stroke bikes to race
The 2010 Husaberg FX450 was too heavy, too slow and too weird to be taken seriously by hardcore racers. On the other hand, it is like no other machine on the planet—and because of that, it deserves some attention as it fades into obscurity
We track Bones down at the Pro Circuit Supercross track to hear his history with Honda's legendary Trail 125
Jim Haeseker built a rocket ship for Pasha's KTM 150 two-stroke engine builder shootout. This episode highlights the exotic Haeseker built KTM 150SX
Yamaha spent millions of dollars on the development of the most advanced two-stroke motocross bike in motocross history at the exact moment when two-stroke sales hit the dumpster
After the dreadfully long break-in period, the 2023 KTM 250SXF handles great. The straight-line stability and suspension action under braking at corner entrance are vastly improved
This is a completely RAW video for our viewers to check out. No talking. No music. Just pure two stroke bliss
The 2022 Suzuki RM-Z450 is not the best bike on the race track, but it offers a ridable, raceable and enjoyable bike for someone who wants to get in on the motocross experience without having to file for bankruptcy. As it sits, it is still the best bargain in dirt bikes
Before everyone forgets Stewart's minicycle success, we grabbed his SplitFire KX85 right out from underneath him as he pulled off the Loretta Lynn track with his 10 billionth amateur championship and took it home to SoCal to test
From 1997 to 1999, the KX250 was the Bike of the Year. Unfortunately, from 2000 on, the KX250 took a back seat to its competition
They look so lovely under studio lights, but getting them to that point is fraught with peril and imperiled by fraught
Sheak's high-rpm flyer was perfect for his 125 National speed, but without his talent, it is a demanding bike to ride
There is no time limit on the love between a man and his first two-stroke—and when a two-stroke has been in production since 1974, like the YZ125/YZ250, it has a devoted congregation hoping to pay homage to the past with their own Yamaha project bikes
Even though they know the best bike when they ride it, that doesn't mean that they choose the winner when it's time to race
What one man did to his old smoker. Why would an MXA test rider want a 2014 Yamaha YZ250 when he could just race MXA's 2023 YZ250?
Overall, even with a stronger midrange, the FC250 engine is still a high-rpm screamer
After an aborted attempt to jump from Team Suzuki to Team Honda in the middle of the 1997 season, Mike finally got his wish for the 1998 season
David O'Connor is everyone's favorite Irishman; however, "everyone" is a relative term. We actually mean everyone in the American motocross community
It seemed unfair to test a National caliber race bike against a stocker, so we didn't go to a National caliber track to give the stocker a boost
It is rare that the best hop-up tip for a brand-new bike is more break-in time. Too little and you'll pay for it, but we haven't found the too much limit yet
The RMZ250 is still the slowest bike in the class and it still has a kick starter, but it's not all bad. Josh Mosiman and Brian Medeiros talk all about it here
The 2005 "CR125 Noisemaker" isn't comparable to a modern 38.5-horsepower 125 , but it's great for teaching riders how to carry momentum through corners
The 2023 Kawasaki KX450 has a lot going for it, but the MXA wrecking crew isn't an easy bunch to please
There is something about the lowered suspension that makes this bike feel special. It rails corners and floats through the air. It is sweet
The 2023 Kawasaki KX250 looks the same on the outside, but underneath the hood, it has updates to the intake, piston, valves, transmission, flywheel, exhaust, suspension settings, foot pegs and more. We compared it back-to-back with our 2022 KX250
It didn't take more than a lap to appreciate Ryan Sipes' bike. It doesn't hit hard; instead, it comes on early and runs strong from the bottom to the top (and everywhere in between). This is the kind of engine you can ride forever and not get tired.
The MXA test crew takes the 2023 GasGas MC350F for its maiden voyage and it gets a thumbs up for its intended audience—which might be you!
Money was no object, but we didn't want to build just another project bike, we wanted to do things differently this time. Plus, it was on someone else's dime
The Kawasaki KX450SR will return in 2023 in greater number, but with Showa suspension components and a sky high price tag—last year's KX450SR was awesome
Grant Langston's 2007 Yamaha YZ450F was the easiest to ride AMA National bike we have ever tried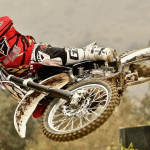 The Swedish brand, ended up in Italy, got bought by the Germans and then, in 2013, this was the last of the Swedish/Italian/German breed — until KTM stepped in
We loved Weston's engine. There were no hiccups, dips or dead spots. And although powerful, it was easy to ride
Honda's aluminum frame looked cool, but it vibrated like a dentist's drill and, in Honda's hands, didn't shown a single advantage over its chromoly steel competitors
Jamie Ellis, Dean Dickenson & Mitch Payton put our KTM, Husky & Yamaha 125s on remedial speed therapy — with video and something called "words"
When a small, underfunded race team with minimal support from its manufacturer (bikes and parts only) turns head with its results that is a feel good story—MXA wanted to test this feel good machine
Team Kawasaki knew that someday, someone was going to beat "Supermac," and they had banked everything on a short, stocky, red-headed kid from Florida, but he needed their help
The 2023 KTM E-XC Freeride is the first time that MXA has ever tested a 12-year-old bike as though it was brand new. It has very little motocross potential, but is still fun to ride in its targeted terrain
Short of making it happen at gunpoint, the easiest way to get your hands on a works bike is to be Daytona winner or an MXA test rider
Instead of a first ride video, it's actually more like the 200th ride on the GasGas MC250F because it was unchanged for the 2023 model
If the people in power don't understand the technical aspects, they find it in their best interest of ban it — and that is how they killed Lars Larsson's titanium-framed Husqvarna 51 years ago
The one 2023 model that didn't need any changes—they fit their target demographic perfectly already
The 2023 Honda CRF450 comes with a healthy list of little updates. Do these changes fix the issues we had with last year's bike? Learn what we think about the new model so far in this video
Nick asked us to ride his CRF450. Long before his San Francisco triumph, Nick wanted us to take his CRF450 out for a test ride. Why? Because he believes it's good.
A smaller version of KTM's SX-E5
We compare Jo Shimoda's factory Pro Circuit Kawasaki KX250 race bike to a stock Kawasaki KX250 in a head-to-head comparison
Like the KTM 125SX, the 2023 Husqvarna TC125 two-stroke is highly anticipated. It comes with fuel injection, an electronic power valve, electric start and new generation chassis
We got to spin our first laps on the new, electric starting, fuel injected 2023 Husqvarna TC250 two-stroke and this is our initial impression
MXA has always believed that the production bike is better than the Factory Edition model that preceded it—that is the benefit of a couple of months of added test time
We try out the new electric-starting fuel-injected 2023 KTM two-strokes at Red Bud and give our first impressions in this video
One small step backwards and one giant leap forward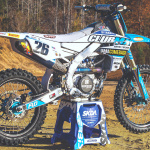 Watch the video about a bike that was built for a troll and that graced the cover of Motocross Action magazine
The true story of the Mitch Payton tuned-150cc KTM/Husqvarna/GasGas engine that has led an exciting life in the hands of the MXA wrecking crew
The Yamaha YZ85 Big Wheels retails for $4999 (compared to $4799 for the standard YZ85). It features bigger wheels, longer swingarm, stiffer fork springs and firmer valving
Zach Osborne's factory TC300 big-bore two-stroke was a joy to ride. We explain which parts you can buy, which parts you can't buy and how it worked on the track here
The MXA wrecking crew had no time limit on this factory bike and took full advantage of it. Learn all about Cairoli's 450 in this video