Remember the 2018 1/2 Rockstar Edition FC450? All the 2019 Husky motocross models got the Rockstar Edition's facelift
Depending how you feel this could be a How-To-Do-It story or a warning to avoid this addiction while you still have your sanity
Kawasaki has released an all-new 2019 KX450F with an electric start, finger followers and a hydraulic clutch. Can is beat out the Austrian brothers?
Suzuki resurrected itself from the ashes of the rather mediocre 1998 engine in 1999. The '99 powerband starts down low, turns over with a light feel and snaps through a very solid low-to-midrange spread. In fact, it was a KX250 clone
We rode the 2019 KTM 350SXF down at the private Chaney Ranch track. The 13,400 rpm engine is powerful yet, easy to ride. It is a bike that has the power of a 450, yet is nibble as a 250
If you haven't ridden a new-age 125cc two-stroke, you will be surprised. They have much broader powerbands than in the good old days. Plus, the Husky TC125 the clutch can take abuse without whimpering.
Kawasaki went all-in with their all-new 2019 KX450F. It left them with no budget to updates the rest of the KX lineup for 2019
MXA took their first ride on the new generation 2019 Kawasaki KX450F at Pala Raceway. We got to try its new electric starter, hydraulic clutch and lighter, more powerful engine so we can tell you all about it
We ride the 2019 KTM 250SXF at Chaney Ranch. We take we through what is new, our first impression and what you need to know
For 2019 Yamaha developed an all-new electric start YZ250F. It looks identical to the 2019 YZ450F which received much needed refinements as well
Honda made significant updates to the 2019 Honda CRF450 & CRF250
KTM doesn't throw the baby out with the water, but they dress him up in a new suit and give him a boatload of new toys to play with
New for 2019, Honda introduces a CRF450 WE ("Works Edition"), a special model with a number of upgrades based on the bikes in the Team Honda HRC race shop
American Honda announced that the Monkey and Super Cub C125 ABS models will be made available to U.S. customers for the 2019 model year
We do know that there was one kid doing pretty well on a KX125 in the AMA 125 Nationals back in 2004, but his magic didn't translate into a lot of copycats with money
Yamaha introduces the competition-focused 2019 YZ450FX and includes the return of the YZ250FX and YZ250X
We have been waiting 17 years for a new Yamaha YZ85, and it is finally here! As for the YZ125 & YZ250, they are identical as the 2018 models, save for BNG
Yamaha introduces their 2019 XT250 and TW200 Dual Sport motorcycles, which return to the company's lineup as two key smaller-displacement models that cover a broad range of use
Doug didn't just test the YZ450Fs for Yamaha—he raced them, winning 22 of his World Vet Championships on them (the other four were on YZ250 two-strokes)
When Honda's aluminum frame was in its teething stages it was jaw breaker rigid. Looking back, was it the way to go?
It refines it and defines it. It fixes glitches and scratches itches. It is a homologation buster and a trophy hustler
The Kawasaki KX250F won the "250 Four-Stroke Shootout" five times in the last 10 years, but its last win was in 2014—we try to up its game with some simple mods
More than you want to know, unless you want to know how the 2018 450s really rate
We have been called "Honda Action," "Yamaha Action" and, most recently, "KTM Action, but we are "Motocross Action." All that matters to us is finding the best race bike.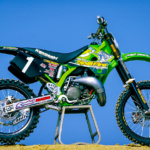 We ride the bike that Ricky raced at the 1999 Motocross des Nations in England
Honda's Jason Abbott tells us all about Honda's all-new model, the 2019 CRF450 Works Edition
MXA, Pro Circuit, Pasha Racing, Faster USA, Hinson, Dunlop, MetalTek and the moto community try to make a young Hawaiian's dream come true
KTM's two-strokes get a series of very sensible updates, mods and fixes—making the "fun machine" even better
The anchor to KTM's stepping stone motorcycle philosophy starts with the two 50cc models, steps up to the six-speed 65SX and grows with the kid as he enters the 85 world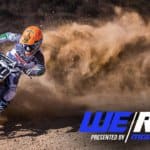 You might think that the best bikes to aspire to ride are those of the factory stars. Wrong! The best bikes to ride are those owned by the factory stars' mechanics
Everything you need to know about the 1999 Kawasaki KX125 — it's not 19 years too late if your old one is still in the garge
It is easy to look at the 2007 Suzuki RM125 and see a throwback to an ancient era. You don't have to be an archeologist to catalog the relics: steel frame, revvy powerband and unchanged exterior
This is the raw sound of what a 2018 Yamaha YZ125 sounds like at full tilt at Glen Helen —without any big bikes in the way
No offense to Kawasaki, Suzuki and KTM, but their combined motocross bike sales didn't equal one-half of the numbers put up by Yamaha and Honda in 2004.
Remember those long shootouts that you scanned briefly before getting distracted by the dog? Well, here is the quick, easy and complete 2018 450 shootout in bite-size format
We give you the updates, the weight, the price, horsepower and tell you how to make it the best bike possible. Get your popcorn and sit down to watch this MXA exclusive video
Get in line, not just to buy one, but to get the R&D department to make the changes you want for 2019. There is a pecking order and Roger DeCoster is at the top
Why Carson didn't use an KX250F aluminum frame or a 144cc kit, but did use Showa air forks and an Lectron carb
Make no mistake about it; motocross bikes are expendable, throw-away, obsolescence-prone machines—but we love this 12-year-old bike
We love this bike—the problem is, we don't love racing this bike unless it is against other YZ125s or older smokers, but not KTM 125s