MXA INDUSTRY NEWS, EVENTS & PRESS RELEASES
HUSKY & KTM VIRTUALLY SWEEP WORLD VET CHAMPIONSHIP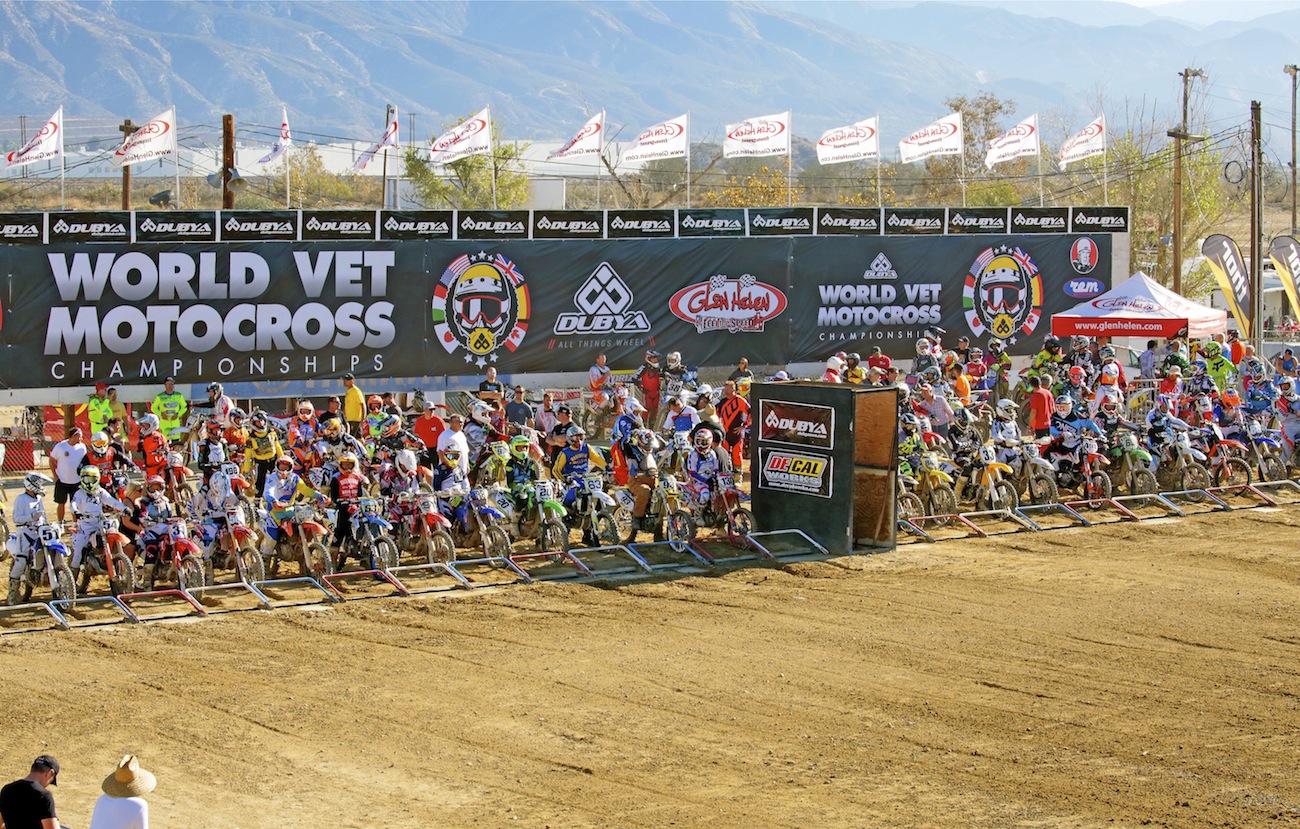 In the five major Pro classes (Over-30, Over-40, Over-50, Over-60 and Over-70) at the Dubya USA World Vet Motocross Championship, KTM won three and Husqvarna won two. Mike Sleeter (KTM) won the 30 Pro class, Daryl Hurley (Hus) swept both motos of the 40 Pro class, Kurt Nicoll (KTM) dominated the 50 Pro class, Pete DeGraaf (KTM) added the 60 Pro class to his resume of four World Vet titles and Jim O'Neal (Hus) went 1-1 in the 70 Pro class.
Meanwhile, in the 35, 45, 55 and 65 Experts divisions, Italian Mirko Milani won the Over-35 Experts on a KTM, while Andy Jefferson took the Over-55 Experts on his Husqvarna. The only other wins in the age-graded Pro and Expert classes that weren't won on an Austrian machine were Australian Mike Reefman (Yam) in the Over-45 Experts and Ike DeJagger (Kaw) in the Over-65 Experts. All in all, KTM (4 wins) and Husky (3 wins) won 7 of the 9 major classes at the 2017 Dubya World Vet Championship.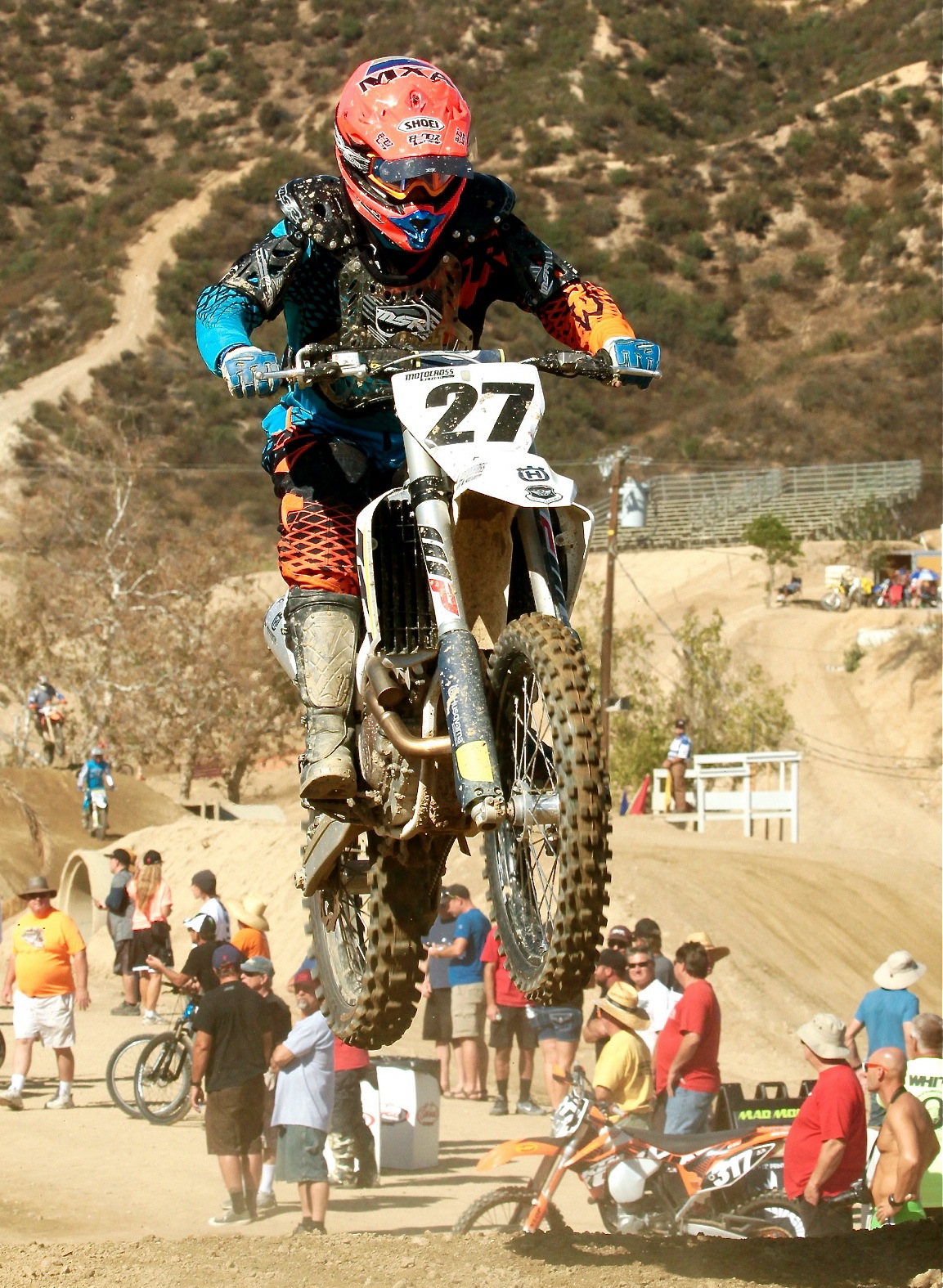 This is Lars Larson ten minutes before he was scheduled to receive his Edison Dye Lifetime Achievement Award. He said that he wanted to race his second moto before the awards ceremony in the packed Glen Helen Museum, the rescheduled the presentation so that Lars could do what was most important to him. 
And as icing on the cake 75-year-old Husqvarna Pioneer Lars Larsson not only was awarded the Edison Dye Lifetime Achievement Award at the event, but he finished in the top ten in the Over-70 class on a 2017 Husqvarna FC350. Lars has won three World Vet titles in the past and was the first employee, factory rider and chief salesman for the Husqvarna brand in the USA—back in 1967.
DUCATI RELEASES 803cc "SCRAMBLER DESERT SLED"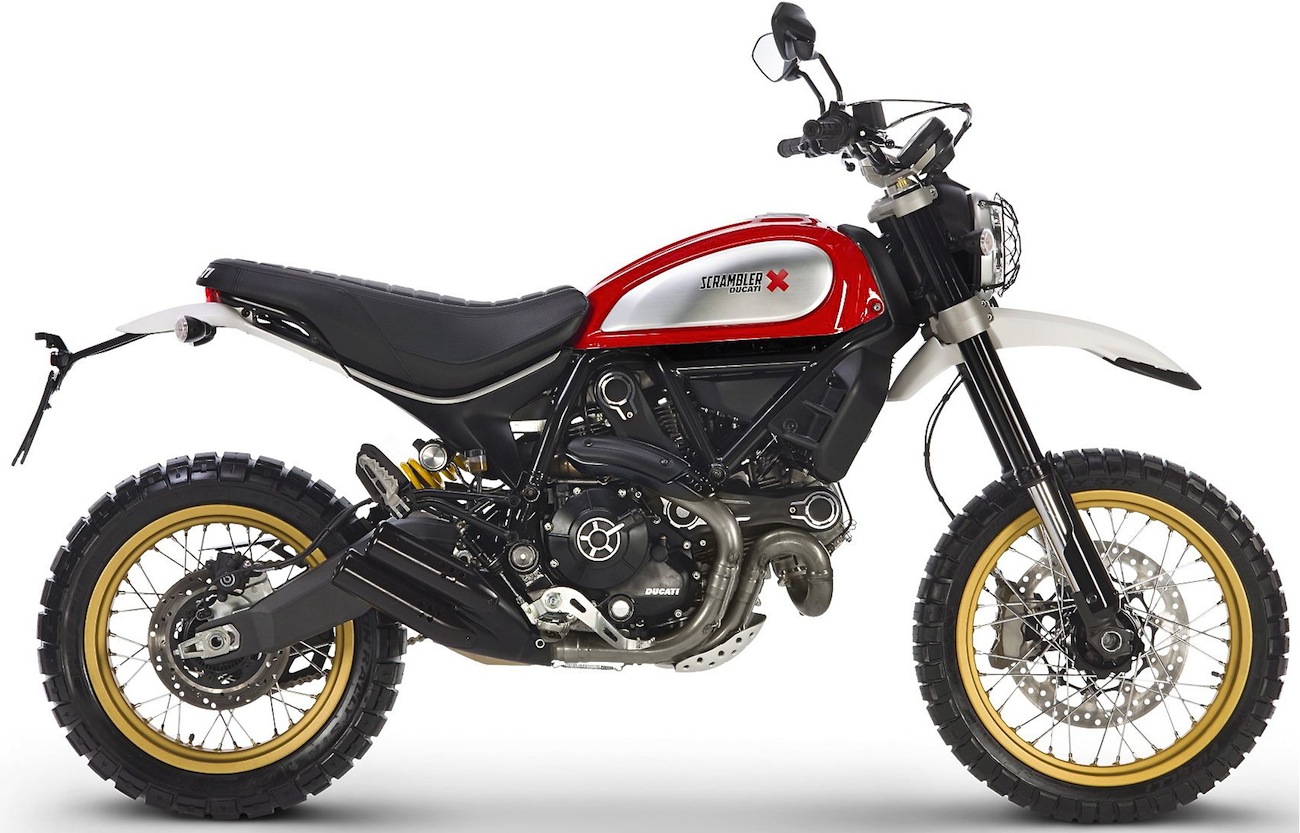 Ducati press release: Desert Sleds were American-born bikes that appeared in South-West California and in Mexico's Baja California in the '60s and '70s. These were road bikes with engine displacements of over 500cc, stripped of any non-essential accessories, fitted with off-road tyres, wheels and spokes and given modified suspension systems and engine skid plates. In fact, it's the engine skid plate – indispensable in shielding the bike from rocks, stones and the unforgiving desert terrain – that gave the Desert Sled its name.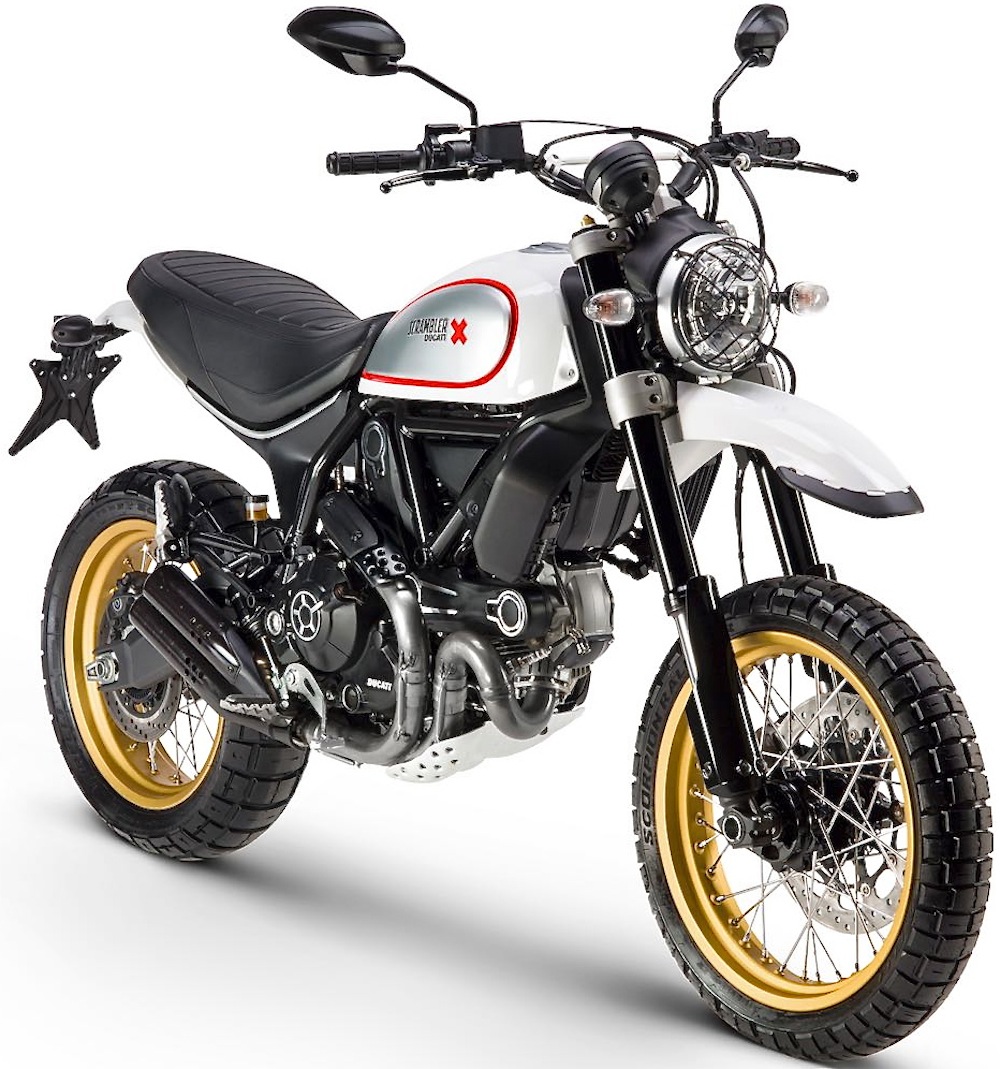 The Ducati Scrambler Desert Sled faithfully revives that spirit – but without abandoning the unique Scrambler lifestyle values – and extends the new Bologna-built brand into the "easy off-road" sector. Thanks to the modified frame and suspension, the spoked wheels (19″ at the front) and ground-breaking lines, this bike is simply perfect for those who want to be able to get off the asphalt and take a less-beaten track. The off-road capability of the Ducati Scrambler Desert Sled is also evident in the type-approved headlight mesh guard, the high mudguards (specially designed for this version) and, of course, the engine skid plate. Scrambler Desert Sled models will be in U.S. dealers beginning in March 2017. The retail price is $11,395 (red) and $11,595 (white).
AUS-X OPEN SUPERCROSS TRACK DESIGN

As Australia's largest Supercross, freestyle motocross and action sports event, the AUS-X Open, prepares for take off; the much-anticipated track map has been released, with multiple changes expected to create some incredible racing for 2016. The AUS-X Open circuit includes elements that are unique to any other current Supercross event in the world. The inclusion of steel Freestyle Motocross (FMX) competition ramps, see riders catapulted towards the stadium ceiling, lap after lap, side by side. The most significant change for 2016 appears in the tunnel, as the unique custom made passage underneath the stadium seats (passing the venue store rooms and back of house) will be filled with 'Sydney Beach Sand' this year. Sand sections have been renowned worldwide for keeping the world's best riders on their toes, and spectators can expect to see riders struggle to navigate their way through ever moving sand within the Qudos Bank Arena walls. Margin for error will be non existent.
The circuits 'rhythm section' will feature a unique combination of jumps that vary in size and distance throughout the length of the stadium floor, to allow the greatest riders in the world to display their creativity and deadeye precision. A range of combinations will be available to all riders, ensuring the lane will be a great time and skill separator.
2016 sees the return of the unique shortcut lane, which will be titled the 'Shannons Shortcut' for this year's event, courtesy of leading motorcycle and automotive insurer – Shannons Insurance. The shortcut lane was responsible for some of the most incredible action Supercross has ever seen in 2015, and is set to be no different for this year's event. The Shannons Shortcut provides riders one chance per race, to miss a crucial section of track and gain an advantage over the competition. The timing and usage of the Shannons Shortcut will come down to strategy for the individual rider to decide!
GOPRO DONATES $10,000 TO JESSY NELSON FUND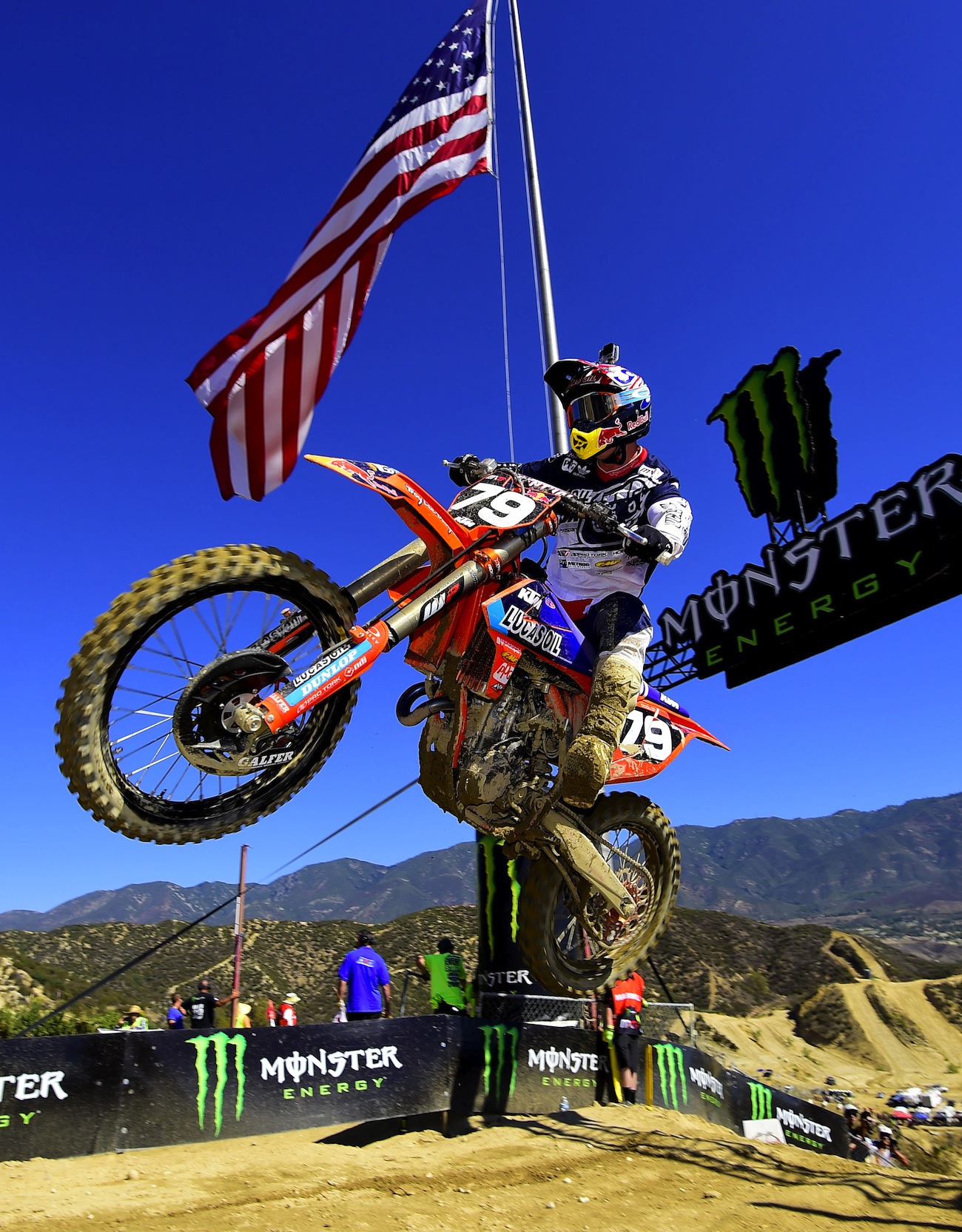 Pro motocross racer Jessy Nelson suffered a horrific injury earlier this summer while contesting the Lucas Oil Pro Motocross Championship at Unadilla, fracturing his T4 and T5 vertebra. Thankfully, he is back home in California where he is working with spinal cord injury specialists, Strides. Unfortunately, Jessy's insurance does not cover the rehabilitation program at the renowned spinal cord injury center. With his current program of 26 hours a month, the bills are adding to a staggering amount. Like anyone who has had the pleasure of working with Jessy, GoPro Inc. wanted to help Jessy receive the best care possible during his recovery process at Strides, and was compelled to reach out and assist. Every little bit helps, and GoPro has donated $10,000 toward Jessy's recovery process. Aware that Road 2 Recovery has been a driving force behind the support of Jessy, GoPro reached out to the foundation to pledge its donation. With this substantial donation, Jessy will have almost four months of therapy covered.
KIARA FONTANESI BACK IN BLUE FOR 2017 WOMEN'S MX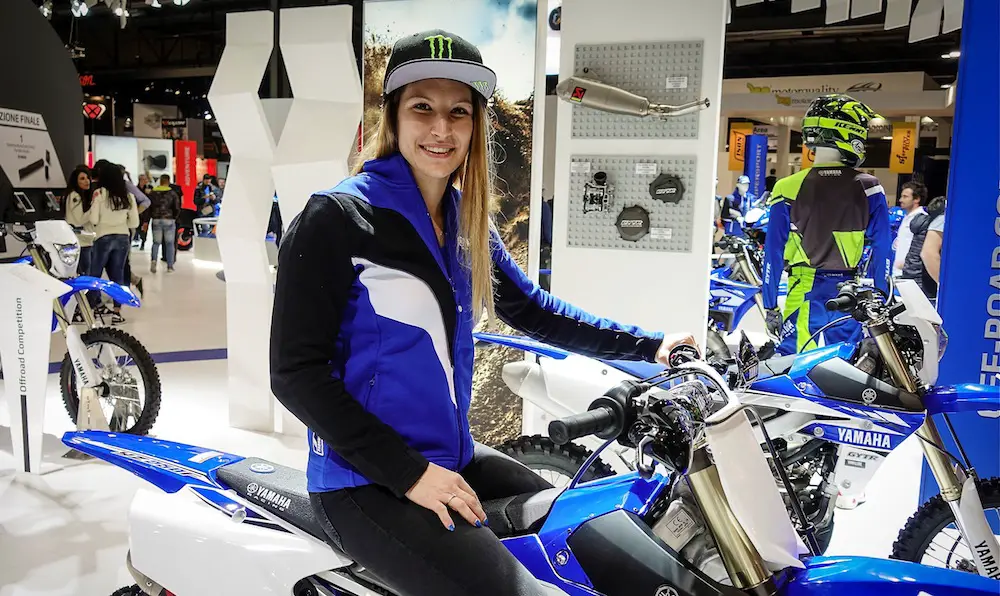 Yamaha press release: Four-time FIM Women's World Motocross Champion Kiara Fontanesi will return to Yamaha for the 2017 Grand Prix season and reunite with the YZ250F; the motorcycle she used to rule the WMX class from 2012-2015. Running her own "Fonta MX Racing" team the 22-year-old Italian officially presented her 2017 squad last week and is once more in Yamaha blue with the rekindling of an long-term association. "I am very happy we managed to find a good agreement and get back together with Yamaha," #8 commented. "We started talking quite early last year and Yamaha were positive about starting together again; I was pleased about that because it is a place where I feel better about my racing."
Fontanesi dominated the championship in 2012 and 2013 and was then part of thrilling last round-last race deciders for the 2014 and 2015 campaigns in which she showed her nerve and determination to stretch her streak to four crowns. She went without victory in 2016 as she dealt with an ankle injury and also new threats to her hegemony from New Zealander Courtney Duncan and Holland's Nancy Van Der Ven; both also Yamaha mounted.

PRO CIRCUIT "BLACK FRIDAY" SALE ON NOVEMBER 25

For more info go to www.procircuit.com
HUSQVARNA SHOWS ITS NEW STREET BIKE LINE AT MILAN


Husqvarna Motorcycles took the covers off their production Vitpilen 401 and Svartpilen 401 machines at the 2016 EICMA show held in Milan, Italy. With the introduction of these pure state-of-the-art models Husqvarna Motorcycles takes an important step towards fulfilling their progressive vision of street motorcycling. The first two models of the 'Real Street' range will be the Vitpilen 401 and Svartpilen 401, with Husqvarna Motorcycles fully focused on rolling them out at Authorised Dealers by late autumn 2017. True to the brand's high-quality, performance and design standards, these two models pave the way for an astounding future in the onroad segment. Also launched at EICMA 2016 is the Vitpilen 401 Aero concept, a single-cylinder machine that is the perfect interpretation of what a 21st century faired motorcycle should look like, according to Husqvarna.
FOURTH ANNUAL KURT CASELLI RIDE DAY ANNOUNCED


On behalf of the Kurt Caselli Foundation we are very excited to announce the 4th Annual Kurt Caselli Ride Day in partnership with FMF Racing, KTM, Rocky Mountain ATV/MC, and Glen Helen Raceway. This event with the support of Kurt's fans and industry has been a huge part of the success of the Foundation and the safety initiatives we have been able to provide. Our mission statement "Protecting And Supporting The Lives Of Offroad Riders" is so fitting because of the support we receive from all of you. We look forward to seeing everyone on December 10 at Glen Helen.
Location: Glen Helen
Date: Saturday, December 10th
Time: Gates open at 9am
Entry: $25 Gate Fee "Day of event"
Pre-entry: $20 Purchased prior here and have a special VIP line
Info: www.kurtcaselli.com
DAY IN THE DIRT 19 COMING ON NOV. 25-27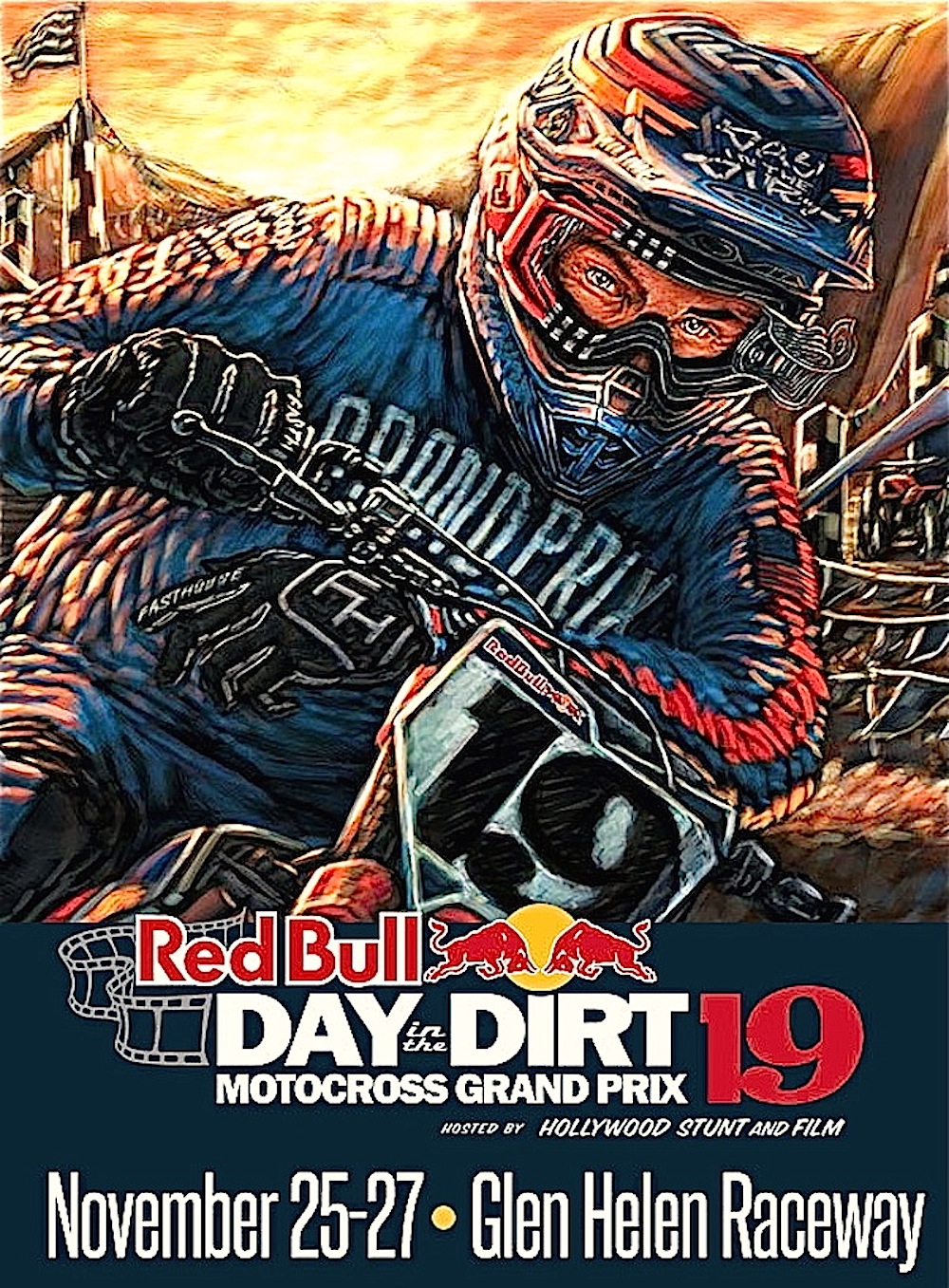 For more info go to www.dayinthedirt.com
BULTACO IS BACK! THIS TIME AS A SPORTS CAR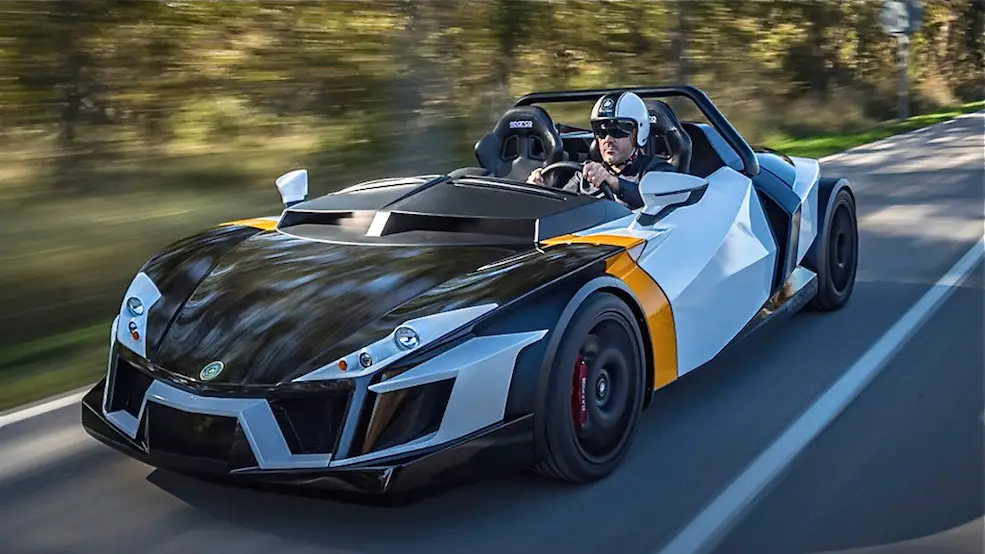 At the International Motorcycle Show in Milan, Bultaco unveiled the Linx—it's first automobile. In truth, it is just a concept car, but the roadster looks like the existing KTM X-Bow (pronounced Cross-Bow) in overall shape and design. The rear engine roadster does not have a windshield, side windows or roof. The powerplant is expected to be a 2.0 liter turbo from either Audi or Volkswagen. The Linx hits the scales at 1870 pounds and production, which will start in 2018, is expected to be less than 50 cars per model year. The price will be 100,000 euros ($109,000).
GIUSEPPE LUONGO MAKES RULES CHANGES


The wire mesh at the Monster Cup in October. It was wire mesh over plywood over concrete—so its not the same as replacing dirt is wire mesh.
A week ago Youthstream's Giuseppe Luongo stated that the dirt starts on the Grand Prix tracks will be replaced with wire mesh that "will be placed giving good grip and an equal chance to all the riders in all types of weather conditions." This idea germinated from this year's Monster Cup, where they used wire mesh behind and in front of their elevated start in Las Vegas. This rule will go into effect for this coming year's World Motocross Championships. The idea is that the 100% traction of wire mesh will eliminate human error, good luck with that, and insure that every rider has the same amount of traction regardless of the condition of his starting spot. The purist are going to howl that this is another example to the sport of motocross being gentrified into a milquetoast version of what it originally was. Of course they will be right, but don't be surprised if the AMA Supercross promoters show up with wire mesh in the future (after all, they already bought the mesh).
Now rumors have started that he plans to institute in ECU black box rule, where every team would have to use a GET ignition system. Many of the teams will fight against this proposed change because it flies in the face the Grand Prix's works bike heritage. If they regulate black boxes, what's next?