ARE YOU READY FOR 2020? A LOOK BACK AT THE 2019 WORLD VET CHAMPIONSHIPS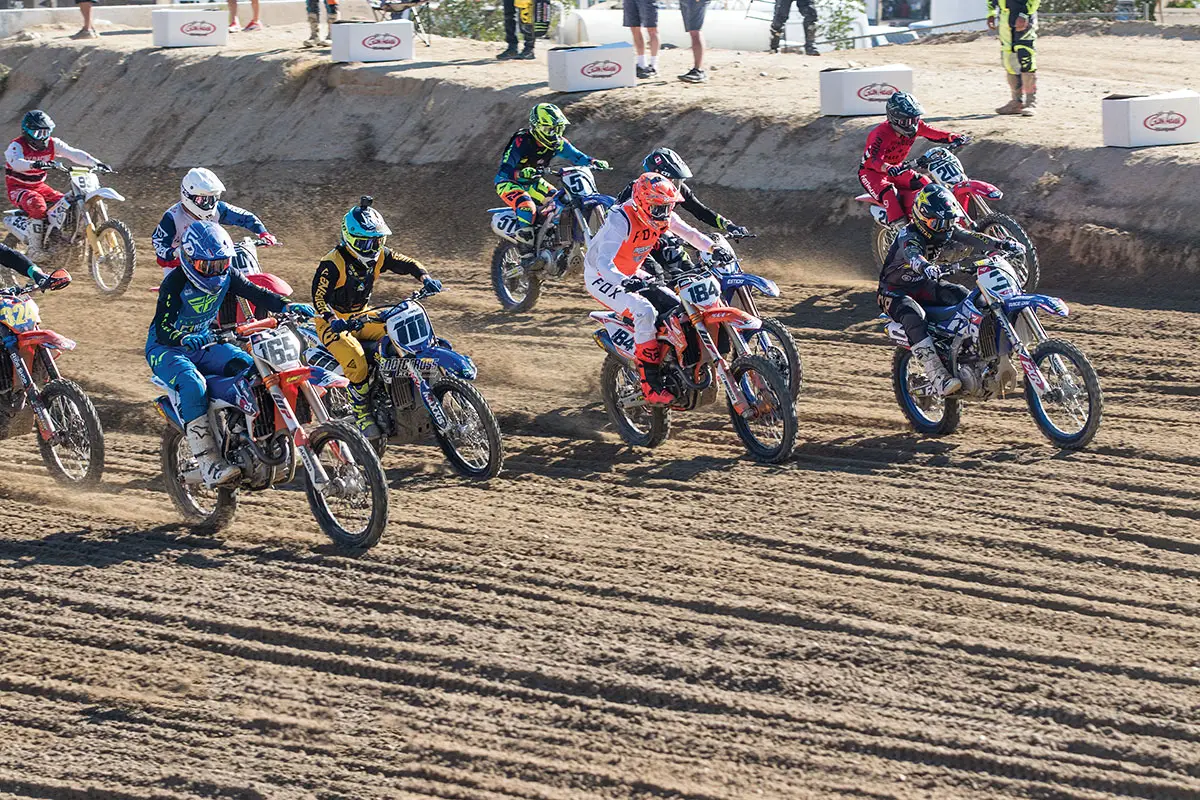 By Jody Weisel
Photos by Josh Mosiman, Trevor Nelson, Mark Chilson, Dan Alamangos, Debbie Tamietti.
The young don't understand the old and vice versa, but one thing that the motorcycle industry understands is that if it weren't for Vet riders who refuse to give up the ghost, the motorcycle industry would be a shadow of what it is today. Motocross was once considered a young man's sport, but the demographics are rapidly changing. With young people being engrossed in cell phones, video games and social media, fewer of them are engaging in risk sports. Apart from the Loretta Lynn crowd of crazed parents, there is a giant vacuum of riders from 20 to 40 years of age. They used to be the meat and potatoes of American motocross. Now, the heart of motocross is the older set. Riders 40 years old and up are the new power elite of motocross. They love the sport that they grew up with, and now that their kids are grown, their houses paid for and middle age is fading into the sunset, they want to race.
Guess what? Veteran racers have the money to buy the bikes they couldn't afford when they were 17. The golden years are a chance for the original generation of motocross teenagers to regain their youth four decades later. Veteran riders are an economic powerhouse when it comes to buying bikes, parts, gear and services. And you don't need to be Sherlock Holmes to figure out why Vets have become so important. Unlike a teenager, who engages in the sport at the mercy of his parents' bank account, a Vet rider has his own income—and the willingness to spend it on whatever makes him happy. Older riders aren't going off to college, getting married, having babies, buying their first home or trying to make payments on a beat-up Toyota pickup. Over-30, Over-40, Over-50, Over-60 and Over-70 racers are established in society and willing to buy the best bike they can afford.
The 2019 Dubya USA World Vet Motocross Championship is on its 35th edition. In a paradoxical way, that means that if a child were born in the same year as the first-ever World Vet Championship, he'd be old enough to race the World Vet today. In fact, of the 1477 racers at this year's World Vet, 300 of them were born sometime in the first five years of when the race was founded.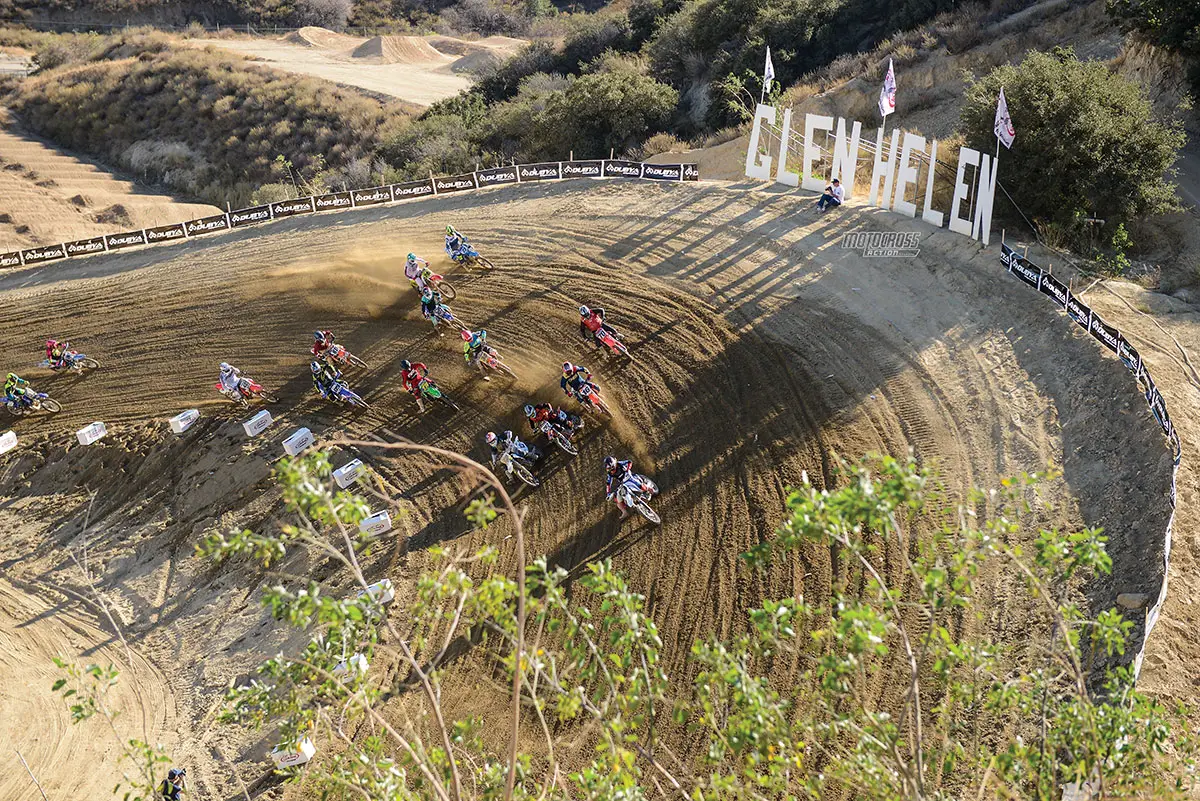 HOW THE WORLD VET CHAMPIONSHIP WAS BORN
Back in 1985, three of SoCal's best-known Vet racers were sitting in the pits at Carlsbad Raceway when Tom White, the owner of White Brothers Cycle Specialties, said, "There ought to be a race just for riders over 30 years old." The three racers agreed that it was a great idea, but that was as far as it went. At the time, Vet racing was the ugly stepchild of motocross. It was shuffled late in local race programs, had its laps cut and, as a rule, the Vets were treated poorly. The next weekend, the same three revisited the idea again. Alan Olson, the winningest Over-30 rider in SoCal history; Jody Weisel, who at the time was the CMC number-one Vet Pro; and Tom White, who suggested the idea, took a vote. It was unanimous that they would find a racetrack to hold a Vet-only race. A second vote was also taken that day. It only passed by a 2-to-1 margin. It said that Tom White would pay for it. Tom may have been the only dissenting vote, but he agreed to abide by the vote, and to this day, Tom's companies, originally the White Brothers and, for the last five years, Dubya USA Wheels have been the biggest financial supporters of the World Vet Motocross Championship. Tom passed away on the eve of the 2017 World Vet, but his daughter Kristin and son-in-law John Anderson keep the family tradition going at the Dubya USA-sponsored World Vet Championship.
HOW THE WORLD VET TRACED THE GRAYING OF MOTOCROSS
With riders representing 25 countries and virtually every state in the union, the 35th Annual World Vet Championship fired off at Glen Helen Raceway with the largest turnout of riders in its history. It featured two days of racing for riders in the Over-30, Over-40, Over-50, Over-60, Over-70 and, for the first time ever, Over-80 class.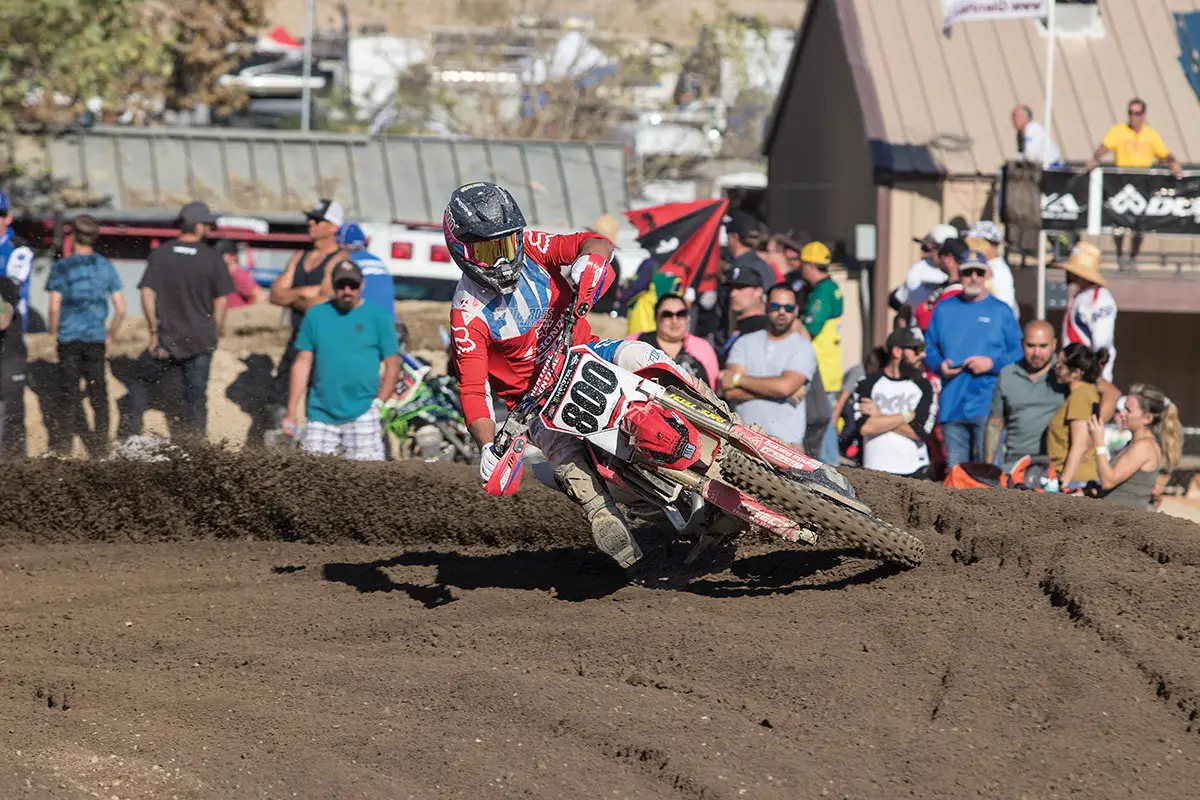 The original World Vet Championship only had Expert classes for Over-30 and Over-40 riders, won by Randy Rodriques (30) and Alan Olson (40). In 1988 the Over-50 class was added to the World Championship roster (it was won by Ron Way). It took another six years before the World Vet Championship added an Over-60 Expert class in 1994 (it was won by Fred Sessions). Six years later, in 2001, the Over-70 class had grown big enough for Championship status (its first winner was BSA legend Chuck "Feets" Minert) and, for the first time ever, there were two racers in the Over-80 class this year. Although a far cry from the full gates in the 50, 60 and 70 classes, it is a nice bookend to the World Vet Championship.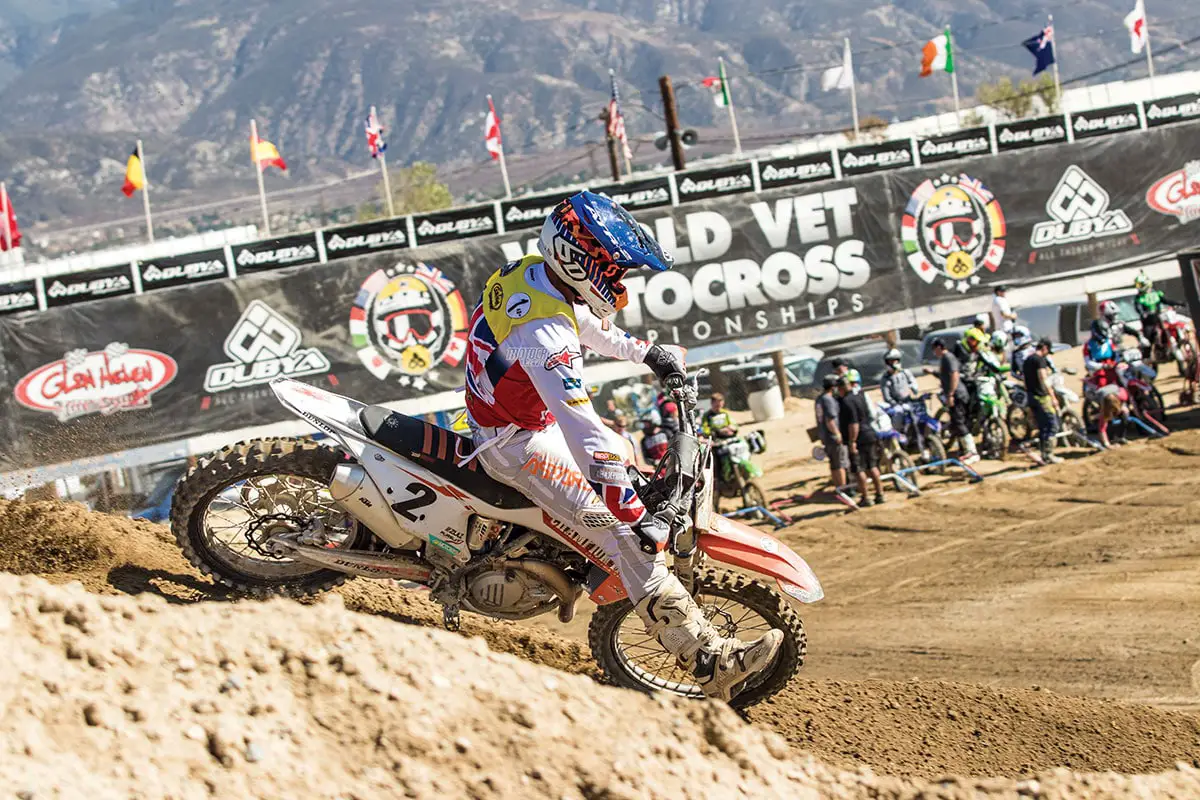 HOW DARE YOU AMERICANS CALL IT A WORLD CHAMPIONSHIP
The biggest complaint about the World Vet Motocross Championship from Europeans is, "How can it be called a World Vet Motocross Championship if it's not sanctioned by the FIM and in Europe?" The answer is simple. No one in Europe was interested in Vet riders 35 years ago, or 25 years ago, or 15 years ago. They didn't promote a Vet Pro series for older riders, find sponsors, get press coverage and grow it into a race that attracts over 1400 riders. America embraced Vet racing, claimed it as its own and nurtured it. Plus, the Dubya USA World Vet Championship is open to riders from every country, proven by the fact that riders from 25 countries showed up to race this year. If you want to be the World Vet Motocross Champion, you have to come to where the biggest, baddest and best Vet race is held (isn't that what Euro fans always claim about the MXGP series?).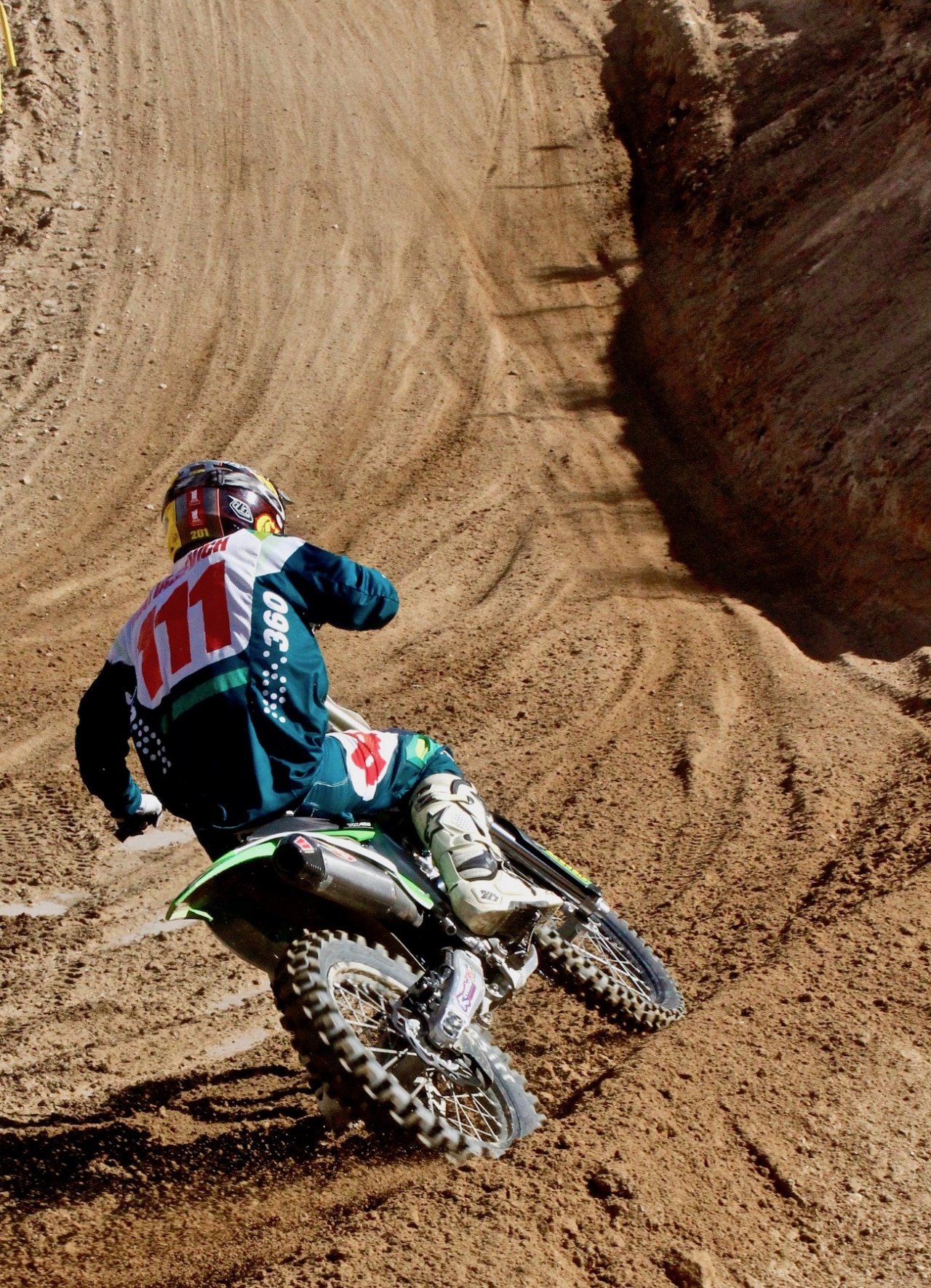 Chicken was there! Jeff Matiasevich was fourth in the Over-50 Pro class. Yes, he is that old.
World Vet Champions have come from Canada, Japan, Sweden, Holland, England, Australia and New Zealand. And in 2019 there were teams from Mexico, Brazil, Puerto Rico, Iceland, Guam, Ireland, Northern Ireland, Spain, France, Holland and Australia in the Vet World Cup event.
Dennis Stapelton has been int he top ten of the Over-30 Pro class for years. He can't wait to turn 40.

Additionally, there were lots of individual riders, not on the national teams, from Greece, Italy, Iran, Hungary, Singapore, Poland, Jamaica, Norway, Switzerland, Scotland, South Africa, New Zealand, Kuwait and Ecuador. 
In truth, there are more Vet racers in America than there are in the rest of the world combined, with many specialized Vet races across the USA and classes divided by age and skill from 25 to 70. If you want to be the World Supercross Champion, you come to Anaheim Stadium in January. Guess what? If you want to be the World Vet Motocross Champion, you come to Glen Helen in November.
Mike Brown will always go for the pass regardless if someone is in the way. Mike jumps inside of Kris Keefer to make the pass , but thinsg don't always work out the way we want.
Mike Brown had the inside line and never touched Kris Keefer, but Keefer fell on Mike.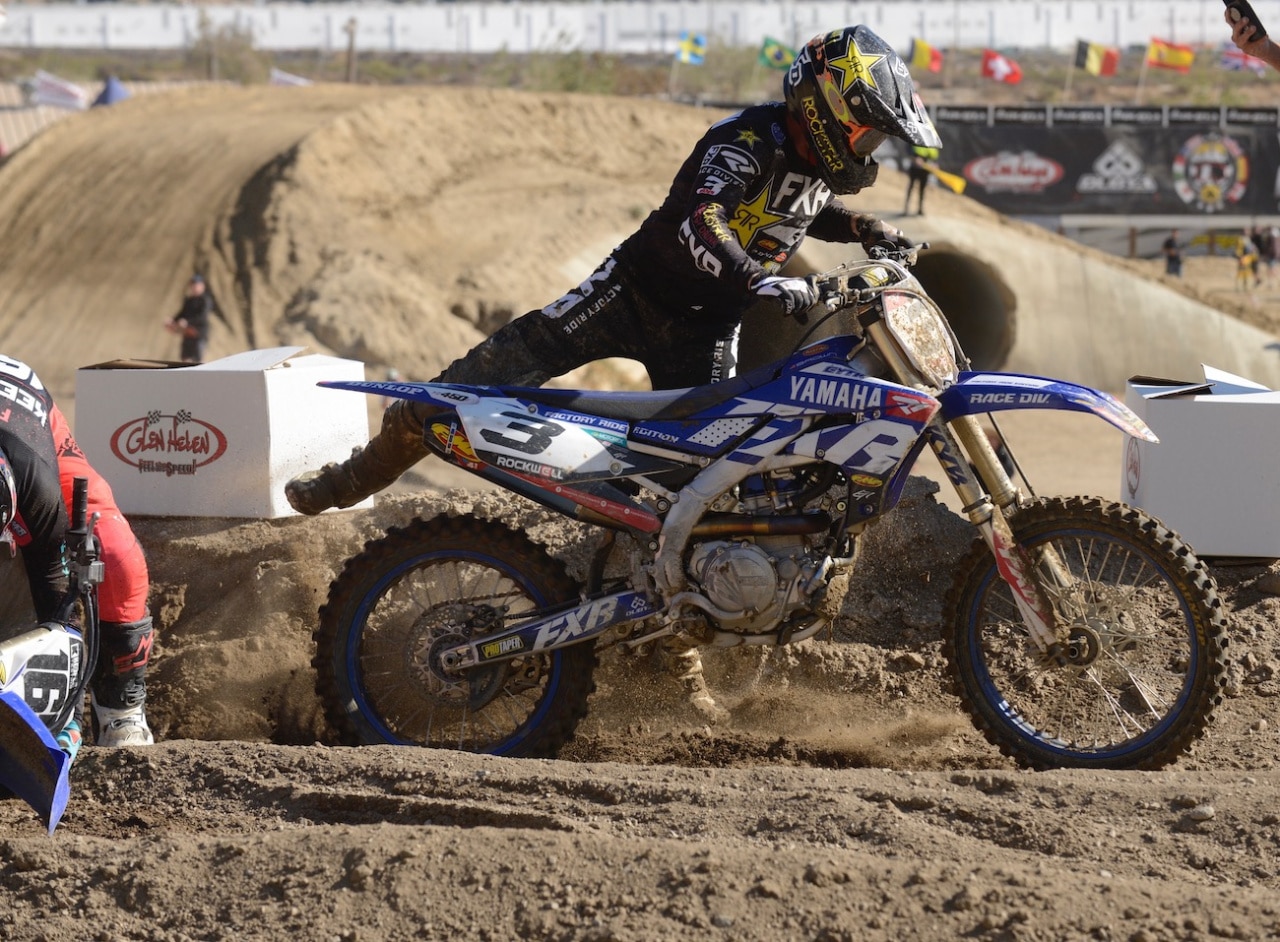 Mike Brown calmly picked his bike up and continued on to win the Over-40 Championship

FASTEST OLD MEN IN THE WORLD
The next time you hear someone say that they aren't interested in a race with a bunch of old guys riding around in slow motion, you will know they haven't seen a Vet race in years. Here is a list of famous riders who have won at the World Vet Motocross Championship: Gary Jones, Warren Reid, Rex Staten, Doug Dubach, Kent Howerton, Erik Kehoe, Radical Ron Turner, Rich Thorwaldson, Hideaki Suzuki, Jeff Ward, Lars Larsson, Andy Jefferson, Eyvind Boyesen, J.N. Roberts, Ryan Hughes, Brent Wallingsford, Casey Johnson, Toon Karsmakers, Thorlief Hanssen, Feets Minert, Travis Preston, Ryan Morais, Kurt Nicoll, Jim O'Neal, Brett Metcalfe, Mike Brown, Josh Grant, Daryl Hurley and Mike Alessi.
WORLD VET MOTOCROSS CUP OF NATIONS
With so many foreign riders at the World Vet Championship over the years, it was decided that at the 2019 edition, there would be a special team race open to riders from every country. With the Motocross des Nations for young pros, the Farleigh Castle Vet MXDN for vintage bikes, and the World Vet Motocross Cup of Nations for old riders on modern bikes, it highlighted how international the sport is. The World Vet Cup of Nations rules were simple. Each country could choose up to three three-man teams to race in the two Vet World Cup motos (one on Saturday and one on Sunday). Each national team had to be comprised of one 30-year-old racer, one 40-year-old racer and one 50-year-old racer. If a country had trouble finding three riders of three different ages, they could substitute older riders. But under no circumstance could a national team have two 30-year-olds on their team. For example, Spain didn't have a 30-year-old rider at Glen Helen, so their team was made up of one 40-year-old and two 50-year-olds (the 40-year-old started with the 30s. One of the 50-year-olds started with the 40s, and the other 50-year-old started with the 50s).
Each age group started in separate rows in a wave start—with the Over-30 riders going first, Over-40 riders going 30 seconds later and Over-50 riders going in the third wave 30 seconds after the second wave. Each age group was scored separately, resulting in each team having six scores over the two motos. The teams could not drop their worst moto—every rider's score counted. Each wave wore color-coded bibs that indicated their age with the flag of their country on the front. Since the specially designed Glen Helen track had very long lap times, it was possible to put the three waves of 20 riders on the track at the same time.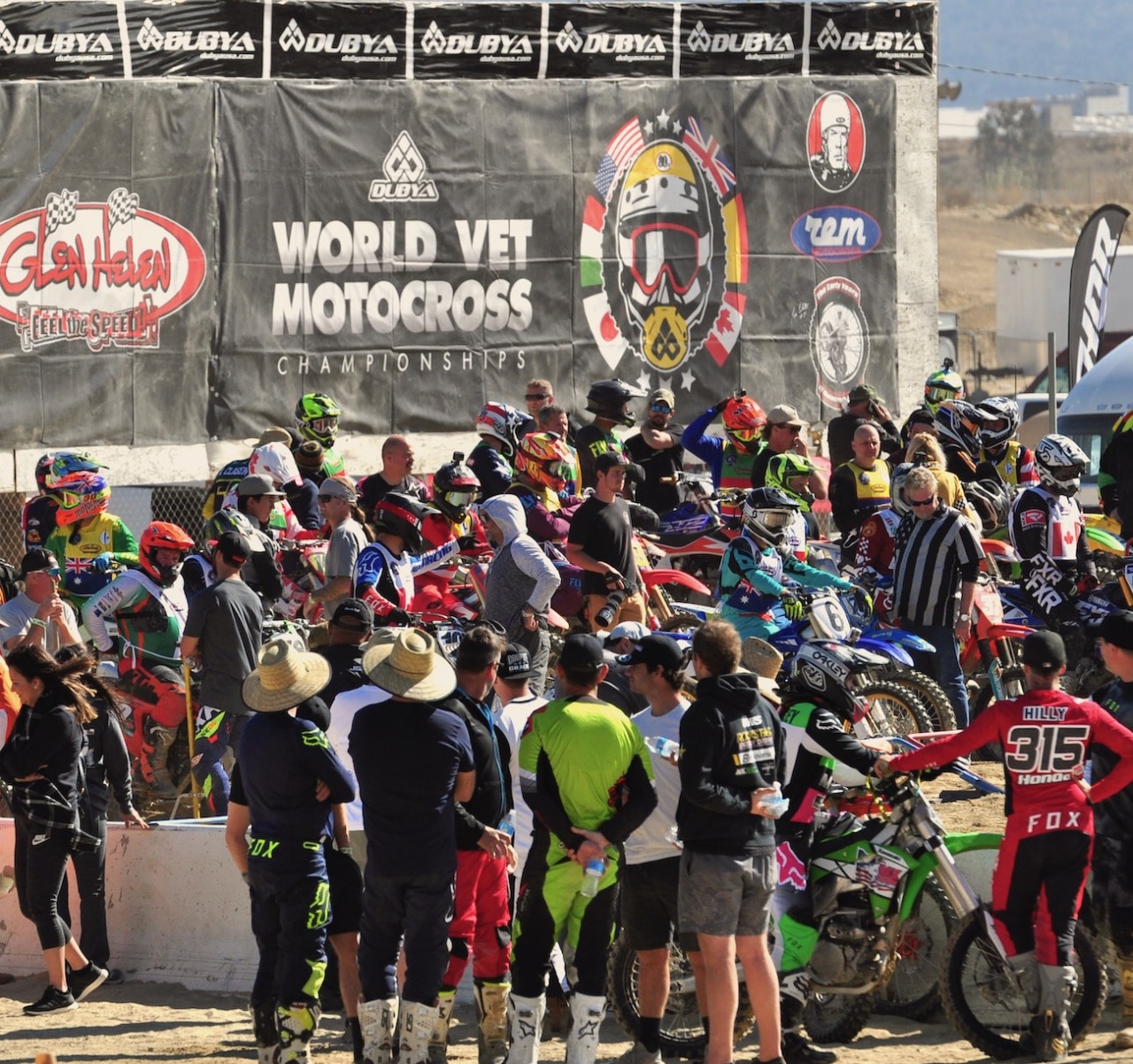 There was no doubt about who was going to win after Team USA #1 was officially announced. It would be made up of Josh Grant, Mike Brown and Doug Dubach. That was a powerhouse that included three World Vet Champions. But, it wasn't going to be that predictable.
Doug Dubach and Josh Grant got injured before the race, and Team USA #1 had to draft local Pro Shaun Hillion and Over-50 Arizonian Ed Foedish as fill-ins. The fill-ins did yeoman's duty, with Hillion going 5-5 in the Over-30 class, Foedish 3-3 in the Over-50 class and Mike Brown, the only original member of the team, going 1-2 in the Over-40 class. Surprisingly, having every rider in the top five in his class wasn't good enough to win the World Cup. 
Brad Anderson (60) was one-third of the incredible British Vet World Cup team.
That elevated the British team to the most favored nation. The British team's six moto scores were 2-3 for Brad Anderson, 3-3 for Kurt Nicoll and 1-1 for Brian Wheeler. Surprisingly, two moto wins, a second and three thirds wasn't good enough to win the World Cup. So who won? 
Team USA's B-squad was a team of relative unknowns. Although all former AMA Pros, the three Team USA #2 riders were far from successful—in fact, the three riders only had a single AMA point between them. At the 2019 World Cup, Jeff Loop won both Over-30 Motos, but during his AMA Pro career Loop had never cracked the top 30 in an AMA National. Team USA #2's Over-40 rider was Kris Keefer. His 2-1 score was the best of the 20 riders in the Over-40 World Cup class. Keefer's AMA Pro career consisted of making one AMA 125 West Supercross main at Anaheim in 2004, where he finished 20th. The third USA #2 rider was Craig Davis, who went 2-2 behind Brit Brian Wheeler in the Over-50 class. Davis' AMA Pro career consisted of a 26th at the 1988 Washougal 500 National. All tolled, Team USA #2 never scored lower than second place in its six moto scores. Team Britain ended up second, even though they did not have any scores outside of the top three. Team USA #1 was third overall and never had a score outside of the top five.
How could the B-squad beat a British team that was so good on paper—and very good on the track. That's simple. Even though they had never done a thing on the AMA circuit, they never quit racing. Now in their 30s, 40s and 50s, they still ride every week. They never hung up their boots and, as a result, they were fit and fast. It didn't hurt that they knew Glen Helen like the back of their hands. They earned it the hard way—by never giving up.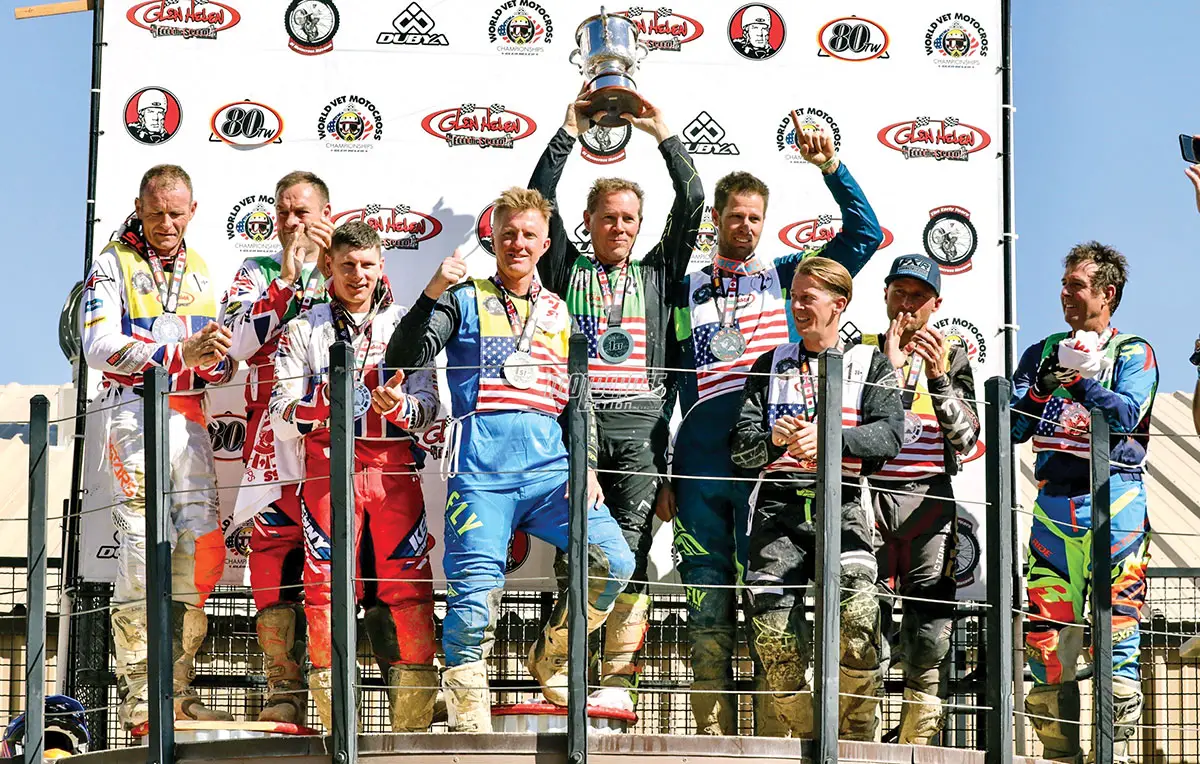 2019 DUBYA USA WORLD VET CUP RESULTS
1. Team USA #2 (Jeff Loop, Kris Keefer, Craig Davis) 1-1-2-1-2-2=9
2. Great Britain (Brad Anderson, Kurt Nicoll, Brian Wheeler) 2-3-3-3-1-1=13
3. Team USA#1 (Shaun Hillion, Mike Brown, Ed Foedish) 5-5-1-2-3-3=19
4. Team Brazil #1 (Wellington Garcia, Richard Berois, Fabio Dos Santos) 4-4-4-5-7-6=30
5. Team France (David Sousa, Thierry Traccan, Arnaud Demonmahou) 7-8-6-4-4-18=47
6. Team Canada #1 (Tim Tremblay, Robert Martin, Alain Bourdreau) 3-2-15-7-9-12=48
7. Team Canada #2 (Ryan Gauld, Steve Bulyovsky, Nic Wallis) 6-7-14-12-8-4=51
8. Team Puerto Rico #2 (Jon Lindberg, Jeff Molina, Ed Heacox) 14-16-10-10-5-5=60
9. Team Puerto Rico #1 (Carlobi Velez, Nick Luciano, Eddie Jaramillo) 15-14-8-8-14-9=68
10. Team Guam (Charles Castloo, Zeke Daugherty, George Ellinger) 10-6-12-17-13-12=70
11. Team Puerto Rico #3 (David Cincotta, Todd Gravitt, Kevin Barda) 18-17-5-6-6-20=72
12. Team Holland (Ralf Schmidt, Rowdy Wagenaar, Oliver Gottbehut) 8-10-21-15-12-10=76
13. Team USA #3 (Brandon Kirkendal, Anthony Heckart, Chuck Heckman) 20-15-9-9-20-7=80
14. Team Australia (Steve Butler, Dan Alamangos, Dave Feeney) 11-12-19-11-16-14=83
15. Team Brazil #2 (Murillo French, Artur Aguilar, Marcio Campos) 12-20-16-16-10-11=85
16. Team Canada #3 (Ron Jansen, Dean Murphy, Matt Hahm) 9-11-18-18-15-15=86
17. Team Ireland (David O'Connor, Kenny Power, Gary Sullivan) 16-13-17-13-11-17=87
18. Team Iceland (Gunnlaugur Karlsson, Ragnar Seffansson, Haukur Thorsteinson) 17-20-7-19-11-16=90
19. Team Spain (James Farrell, Xavier Costa, Joaquim Sunol) 19-18-13-14-20-8=92
20. Team Northern Ireland (Jonathan McBride, Hugh McDowell, William Burgess) 13-19-21-20-18-19=110
2019 DUBYA USA WORLD VET MOTOCROSS CHAMPIONSHIP RESULTS
WORLD VET OVER-30 PRO RESULTS
1. Mike Alessi (Hon) 1-1
2. Mike Brown (Yam) 2-2
3. Tim Tremblay (Yam) 3-3
4. Ivan Tedesco (Kaw) 7-4
5. Gary Sutherlin (KTM) 6-6
6. Jeff Loop (Yam) 5-7
7. Sean Collier (Hon) 9-5
8. Brad Anderson (Hon) 4-11
9. Dominic Desimone (Hon) 8-8
10. Dennis Stapleton (KTM) 10-9
11. Alex Malott (Yam) 12-10
12. Toby Ring (KTM) 13-12
13. Bryce Huffman (Hon) 15-13
14. Michael Carter (Hus) 14-14
15. Mike Cunduri (Hon) 16-18
16. Matt Barber (KTM) 18-17
17. Jason Lutton (Yam) 19-19
18. Benny Breck (Hon) 11-27
19. Kris Keefer (KTM) 25-15
20. Oscar Valdez (Yam) 20-20
WORLD VET OVER-40 PRO RESULTS
1. Mike Brown (Yam) 1-1
2. Kris Keefer (KTM) 2-2
3. Mark Tilly (Kaw) 3-5
4. Jeremy Chaussee (KTM) 6-3
5. Joe Oehloff (Kaw) 5-4
6. Robb Floth (Kaw) 4-9
7. Tim Beatty (Hon) 7-7
8. Julien Cerny (KTM) 9-6
9. Shawn Highland (Hus) 10-8
10. Lee Walston (KTM) 11-10
WORLD VET OVER-50 PRO RESULTS
1. Kurt Nicoll (KTM) 1-1
2. Ty Davis (Kaw) 2-2
3. Brian Wheeler (KTM) 3-3
4. Jeff Matiasevich (Kaw) 5-4
5. Jon Ortner (Yam) 7-5
6. Tim Tynam (Suz) 10-8
7. Troy Cardiel (Hon) 8-10
8. Steve Nelson (Yam) 13-6
9. Bryan Sannaugh (Hus) 14-7
10. Ed Heacox (Yam) 12-9
WORLD VET OVER-60 EXPERT RESULTS
1. Pete Murray (Yam) 1-1
2. Pete DeGraaf (KTM) 2-2
3. Will Harper (KTM) 5-3
4. Isao Ida (Hon) 4-4
5. Doug Frankos (Hon) 3-7
6. Val Tamietti (KTM) 6-5
7. Bob Rutten (KTM) 8-8
8. Tony Cooksey (Yam) 7-9
9. Bill Nolan (Yam) 9-10
10. Mike Monaghan (Yam) 10-11
WORLD VET OVER-70 EXPERT RESULTS
1. Ike DeJaeger (Hon) 1-1
2. Billy Van Vugt (Hus) 4-2
3. Jack McCormick (Hon) 3-3
4. Bill Maxim (Hon) 2-5
5. Steve Machado (Yam) 6-6
WORLD VET OVER-80 EXPERT RESULTS
1. Chuck Koistra (Hon) 2-1
2. Ernie Cabral (Hon) 1-2
BIKES BY BRAND AT THE 2019 WORLD VET
1. KTM 24%
2. Yamaha 23%
3. Honda 22%
4. Kawasaki 14%
5. Husqvarna 11%
6. Suzuki 4%
7. TM 1%
8. Others 1%
2019 MISCELLANEOUS FACTS
1. Total entries 1477
2. Total countries 25
3. Total U.S. States 32
4. Women riders 37
5. Best lap time 2:41 (Mike Alessi)
6. Average lap time 3:15
WINNINGEST VET WORLD CHAMPIONS
1. Doug Dubach 26
2. Zoli Berenyi 12
3. Alan Olson 9
4. Gary Jones 8
5. Pete DeGraaf 7
6. Ryan Hughes 6
7. Rex Staten 4
7. Kurt Nicoll 4
8. Ron Turner 3
8. Bill Maxim 3
8. Lars Larsson 3
8. Gary Chase ……3
8. Pete Murray 3
RIDERS WHO HAVE WON THE MOST AGE-GROUP TITLES
1. Gary Jones (4) 30, 40, 50, 60
2. Doug Dubach (3) 30, 40, 50
3. Alan Olson (3) 40, 50, 60
4. Zoli Berenyi (3) 50, 60, 70
5. Pete Murray (3) 40, 50, 60
WORLD VETERAN OVER-30 PRO CHAMPIONS (1986–2019)
1986 Randy Rodriques (ATK)
1987 Gary Jones (Hon)
1988 Rex Staten (Hon)
1989 Warren Reid (Kaw)
1990 Rex Staten (Hon)
1991 Rex Staten (Hon)
1992 Rex Staten (Kaw)
1993 Doug Dubach (Yam)
1994 Doug Dubach (Yam)
1995 Doug Dubach (Yam)
1996 Erik Kehoe (Hon)
1997 Doug Dubach (Yam)
1998 Doug Dubach (Yam)
1999 Doug Dubach (Yam)
2000 Doug Dubach (Yam)
2001 Doug Dubach (Yam)
2002 Doug Dubach (Yam)
2003 Spud Walters (Hon)
2004 Ryan Hughes (Hon)
2005 Ryan Hughes (Hon)
2006 Casey Johnson (Yam)
2007 Doug Dubach (Yam)
2008 Kyle Lewis (Hon)
2009 Doug Dubach (Yam)
2010 Ryan Hughes (Hon)
2011 Ryan Hughes (Yam)
2012 Ryan Hughes (Yam)
2013 Travis Preston (Yam)
2014 Travis Preston (Yam)
2015 Ryan Morais (KTM)
2016 Mike Sleeter (KTM)
2017 Brett Metcalfe (Hon)
2018 Josh Grant (Kaw)
2019 Mike Alessi (Hon)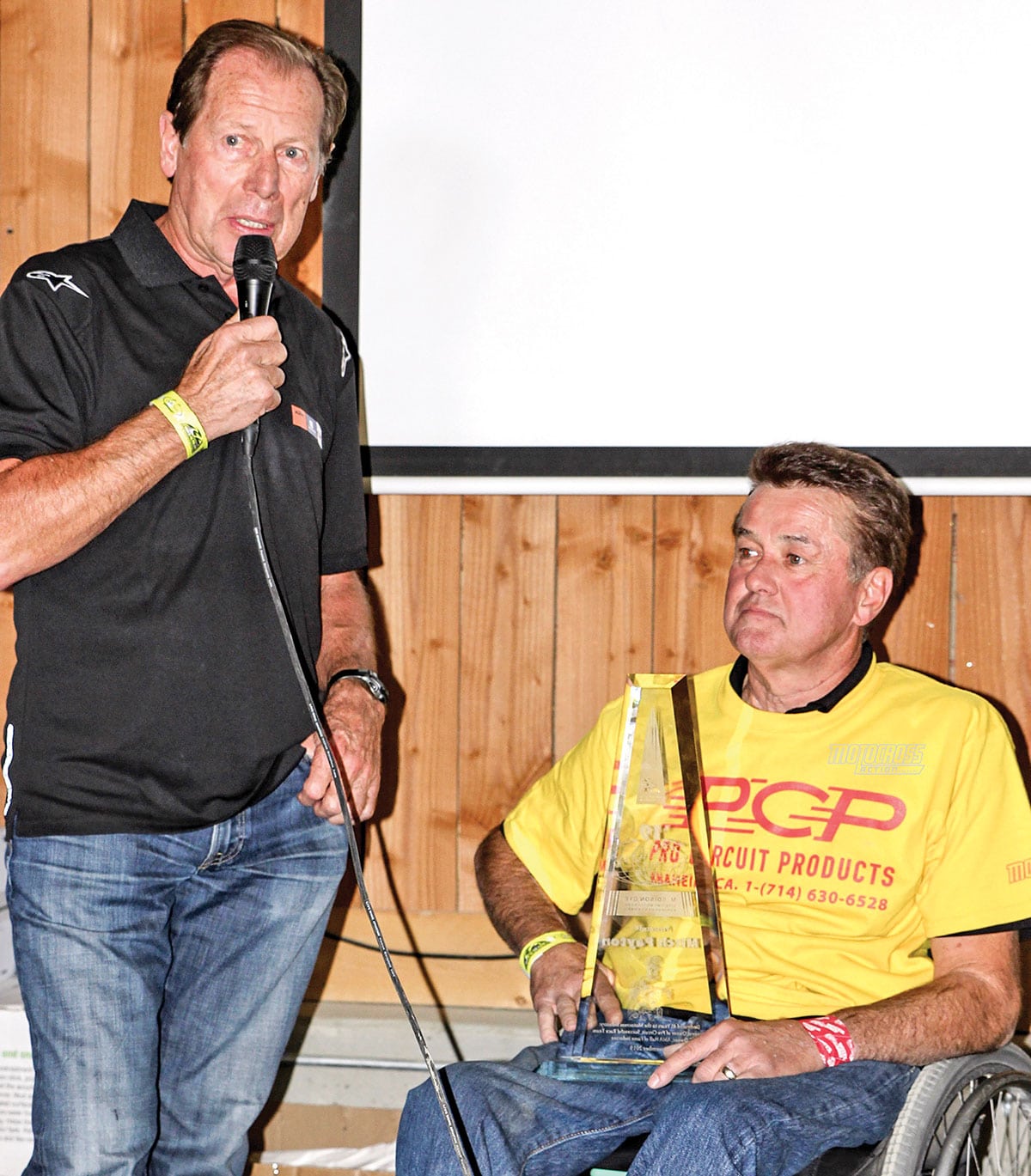 MITCH PAYTON RECEIVES THE EDISON DYE LIFETIME ACHIEVEMENT AWARD
Every year for the past 22 years, the Edison Dye Lifetime achievement award is presented to a deserving person whose accomplishments have made a difference to the sport of motocross. The ceremony is held in the Glen Helen Museum during halftime at the World Vet Motocross Championships. This year the recipient was Mitch Payton, owner of Pro Circuit Racing, the greatest tuner in motocross history and a man whose teams have won over 200 AMA Pro races and 30 AMA National Championships.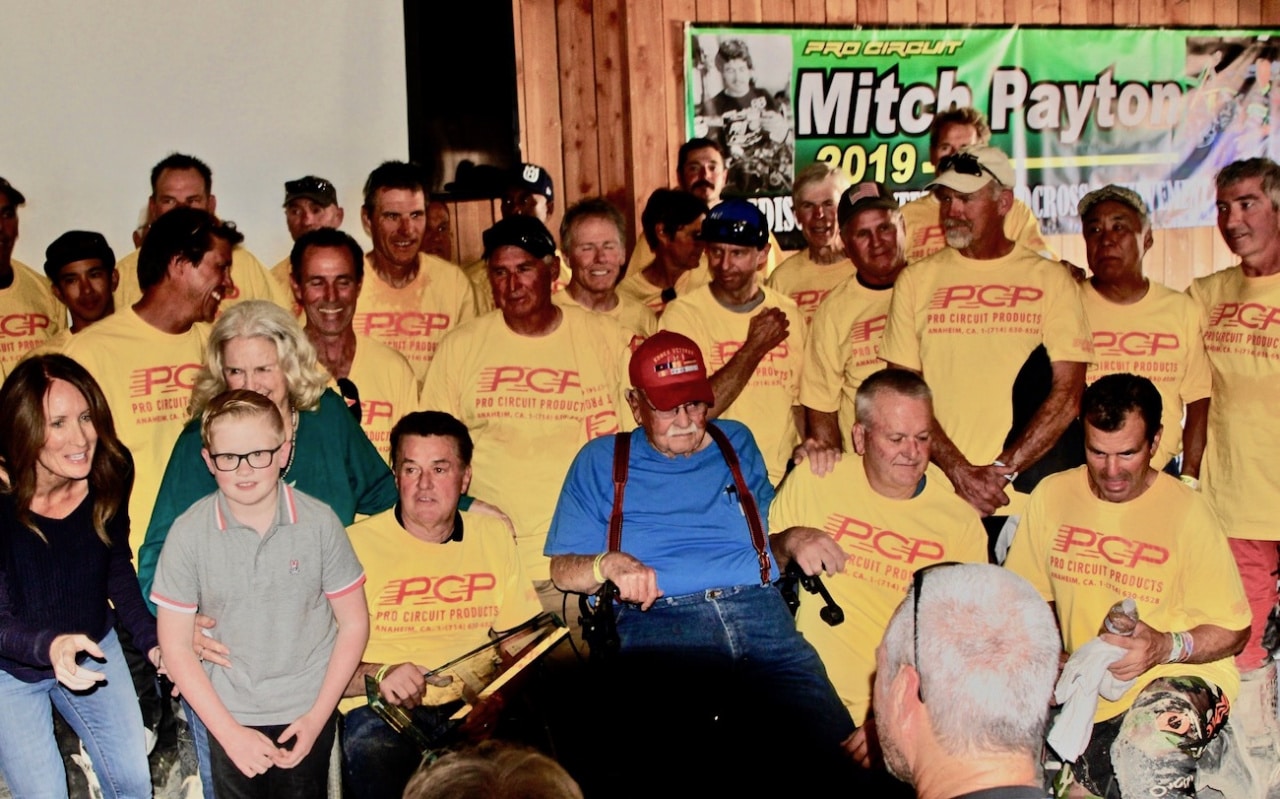 Mitch's family, friend, employees, racers and fans showed up in yellow "PCP" T-shirts. When Mitch first started Pro Circuit Products he decided to shortened it to the acronym "PCP." He didn't know that was the name of a powerful drug known as "Angel Dust." He destroyed all of the PCP shirts—but his friends made a new batch of shirts 40 years later just for this one day.
And, most amazing of all, Mitch achieved all of this after being paralyzed in a crash at age 18. After being told that he would never ride again, Mitch rolled up his sleeves and started from scratch in a small Husqvarna shop in Anaheim, California. The rest is motocross history. Mitch found the strength and purpose in life to excel not just in the mechanical aspects of motorcycle racing, but also the business side. He became the most successful race team owner in motocross industry. A bevy of motocross and desert racing stars, past and present, were there to honor Mitch, including Roger DeCoster, Goat Breker, Broc Glover, Donnie Hansen, Gunnar Lindstrom, A.C. Bakken, Bob Rutten and a bevy of former Pro Circuit racers.
EVERY EDISON DYE LIFETIME ACHIEVEMENT AWARD WINNER (1997–2019)
1997 Roger DeCoster
1998 Rick Johnson
1999 Edison Dye
2000 Torsten Hallman
2001 Bruce Brown
2002 1981 MXDN Team (Sun, LaPorte, O'Mara, Hansen)
2003 Gary Jones
2004 Jeff Ward
2005 Stu Peters
2006 Joel Robert
2007 Bob Hannah
2008 Brad Lackey
2009 Tony DiStefano
2010 Broc Glover
2011 David Bailey
2012 Marty Smith
2013 John DeSoto
2014 Feets Minert
2015 Dave McCoy
2016 Lars Larsson
2017 Malcolm Smith
2018 Jody Weisel
2019 Mitch Payton