MXA RETRO TEST: WE RIDE JASON ANDERSON'S 2015 FACTORY HUSKY FC450
>
We get misty-eyed sometimes thinking about past bikes we loved and those that should remain forgotten. We take you on a trip down memory lane with bike tests that got filed away and disregarded in the MXA archives. We reminisce on a piece of moto history that has been resurrected. Here is the test of Jason Anderson's 2015 factory Husqvarna FC450. 
Opulence is reserved for the wealthy or those who reach the top through vigilance, hard work and dedication to their craft. Of course, rags-to-riches stories are much more aligned with the American dream than the lifestyle of some self-righteous, spoiled nincompoops. MXA favors those who have failed or been down on their luck, only to rise to the top. The caviar and foie gras types belong in the Hamptons; real winners are found out at the test tracks at sunset when everyone else has gone home.
THE BIGGEST FEAR PROFESSIONAL RACERS HAVE ISN'T INJURY OR GOING
DEEPLY INTO DEBT; INSTEAD, IT IS THE PROSPECT OF LOSING.
The biggest fear that all professional racers have isn't injury or going deeply into debt; instead, the prospect of losing is their greatest worry. Because there can only be one winner at every race, it's up to the losers to turn failure into motivation, motivation into improvement and improvement into victory. In 2015, there are 18 factory riders in the 450 class. The manufacturers handpicked every one of these riders because they thought they had the potential to win.
A few short years ago, very few factories would have chosen Jason Anderson to lead their race program. The kid from Edgewood, New Mexico, was far from dominant in 2011, 2012 and 2013. Up to that point, Anderson had flash-in-the-pan moments of brilliance, but his results were marred by inconsistency and frequent crashes. In fact, he only had one 250 Supercross win to his credit; however, Bobby Hewitt and Dave Gowland of Rockstar Energy Racing (RER) believed in Anderson. They stuck with Jason through the bad times, and in 2014 things started to click when Rockstar Energy Racing received factory KTM backing. Anderson caught fire in the 250 West series, winning four of the nine rounds en route to the team's first 250 West Supercross crown. Capturing the 2014 250 West put Jason's name on the short list for a 450 factory ride in 2015. Rather than sign with a different team, Jason signed on the dotted line with the team that believed in him from the start—Rockstar Energy Racing.
MXA HAS TESTED EVERY HUSQVARNA MOTOCROSS BIKE IN THE LAST 50 YEARS (EXCEPT FOR THE YEARS WHEN THEY BANNED US FOR SAYING BAD THINGS ABOUT THEIR BIKES THE YEAR BEFORE).
The last time Husqvarna fielded a serious effort in Supercross was in 2002 with Steve Lamson. Now the pressure falls on the shoulders of Jason Anderson to win the manufacturer its first 450 Supercross title. Many have tried—Billy Grossi, Chuck Sun, Brad Lackey, Micky Dymond, Tony D—but all came up short. Anderson is Husqvarna's first real shot at putting the white, blue and yellow brand back on top.
The Rockstar Energy Racing/Husqvarna pairing paid immediate dividends when Jason Anderson finished second at the Anaheim 1 Supercross. It was race one of the season, and a first-time Husqvarna FC450 rider was on the box. It was a spectacle that the MXA wrecking crew never thought would happen. It's not that we didn't believe in Jason Anderson, but Husqvarna's last foray in 2002 was the death knell for the brand's hopes of racing Supercross. In the past decade, Husqvarna has changed hands three times, from Cagiva to BMW to KTM. Thankfully Husqvarna's acquisition by KTM's Stefan Pierer was the best thing that could have happened. The race-minded Pierer envisioned Husqvarna's return to prominence, and he was willing to back Rockstar Energy Racing's return to Supercross with his checkbook.
It was natural for MXA to want to test Jason Anderson's Husqvarna FC450. MXA has tested every production Husqvarna motocross bike every year that the brand has been imported to America (except for the years when they banned us for saying bad things about their bikes the year before). We understand the lineage of the Swedish-turned-Italian-turned-German-turned-Austrian company. We have also ridden Mike Brown's EnduroCross bike and John-Erik Burleson's factory FC350, so we are familiar with Husqvarna's works trickery. Normally, Husqvarna doesn't allow in-season bike tests, but they are justly proud of how well Jason and his FC450 are doing, so when we asked, they said yes. As a result, we offer a comprehensive review of Jason Anderson's FC450. 
Being that Jason Anderson's Rockstar Energy Racing Husqvarna FC450 is a true-to-life works bike, we expected it to have a myriad of components that were classified as unobtainable by mere mortals, and we were right; however, unlike the ostentatious bikes found throughout the Pro pits, Anderson's FC450 doesn't have appeal based on gaudy trinkets and unimportant but anodized parts. Jason's Husky is an F-18 Raptor kind of fighter jet. It's stealth. The custom axle blocks, frame welds, reinforced radiators, self-cleaning footpeg brackets and individualized handlebar mounts are subtle but effective mods in ensuring that Anderson is comfortable and confident. After all, that's what makes the difference when piloting a 60-plus-horsepower motorcycle.
The devil is in the details. What does Jason Anderson look for in a race bike? It's an innocent mistake to assume that one of the fastest riders in the paddock would desire gobs of power, rock-hard suspension and bombproof durability. And that's not all wrong. Where the Rockstar Racing Husky team differs from some teams is that they err on the side of caution, preferring longevity over light weight, powerband over horsepower and ease of use over complexity.
THE DEVIL IS IN THE DETAILS. IT'S A MISCONCEPTION TO SURMISE THAT THE FASTEST RIDERS
IN THE PADDOCK WOULD DESIRE GOBS OF POWER AND ROCK-HARD SUSPENSION.

Routine maintenance is essential. That's why Anderson's mechanic, Chris Loredo, tears the race bike down on a weekly basis. The engine is sent from Rockstar Husky's race shop over to Factory Services in Murrieta, California, where it is rebuilt, put on the dyno to check quality control, and returned to the race team. The same system is utilized with the WP suspension. Anderson's forks and shock are delivered to WP Factory Services for maintenance. You might think this wastes a lot of time on shipping, waiting to receive parts, but Rockstar's race shop, Factory Services shop and WP Factory Services shop are all on the same block. Chris Loredo just walks his parts across the street.
Anderson trusts WP's 52mm works Cone Valve fork and the robust WP Trax shock. Note that, unlike Andrew Short, Jason uses spring technology. As for other in-season changes made to the Husqvarna FC450, the team uses a new frame and swingarm every six races. They also run through three sets of Dubya wheels (Excel A60 rims with Talon hubs) during the Supercross series. Additionally, in an effort to shave weight, the team drills holes in the plastic seat base, battery housing and anywhere else they can drop a few grams.
It takes a meticulous eye to discern the intricacies of Jason Anderson's FC450. To our way of thinking, the muted approach taken by Rockstar Energy Racing helps Husqvarna's bottom line. Unlike other manufacturers, whose factory bikes look considerably different from what the public can buy off the showroom floor, Anderson's Husky is the spitting image of a stock FC450. Sure, there are titanium bolts scattered throughout the frame, not to mention the Raptor titanium footpegs, works Brembo brakes, customized FMF Factory 4.1 exhaust, carbon composite subframe, Neken triple clamps and specialized Dunlop tires. But guess what? Most casual observers would mistake Jason's steed for a slightly massaged stocker. That's the goal, and Husqvarna is succeeding at convincing the public that they, too, can own a motorcycle capable of the podium at the highest level.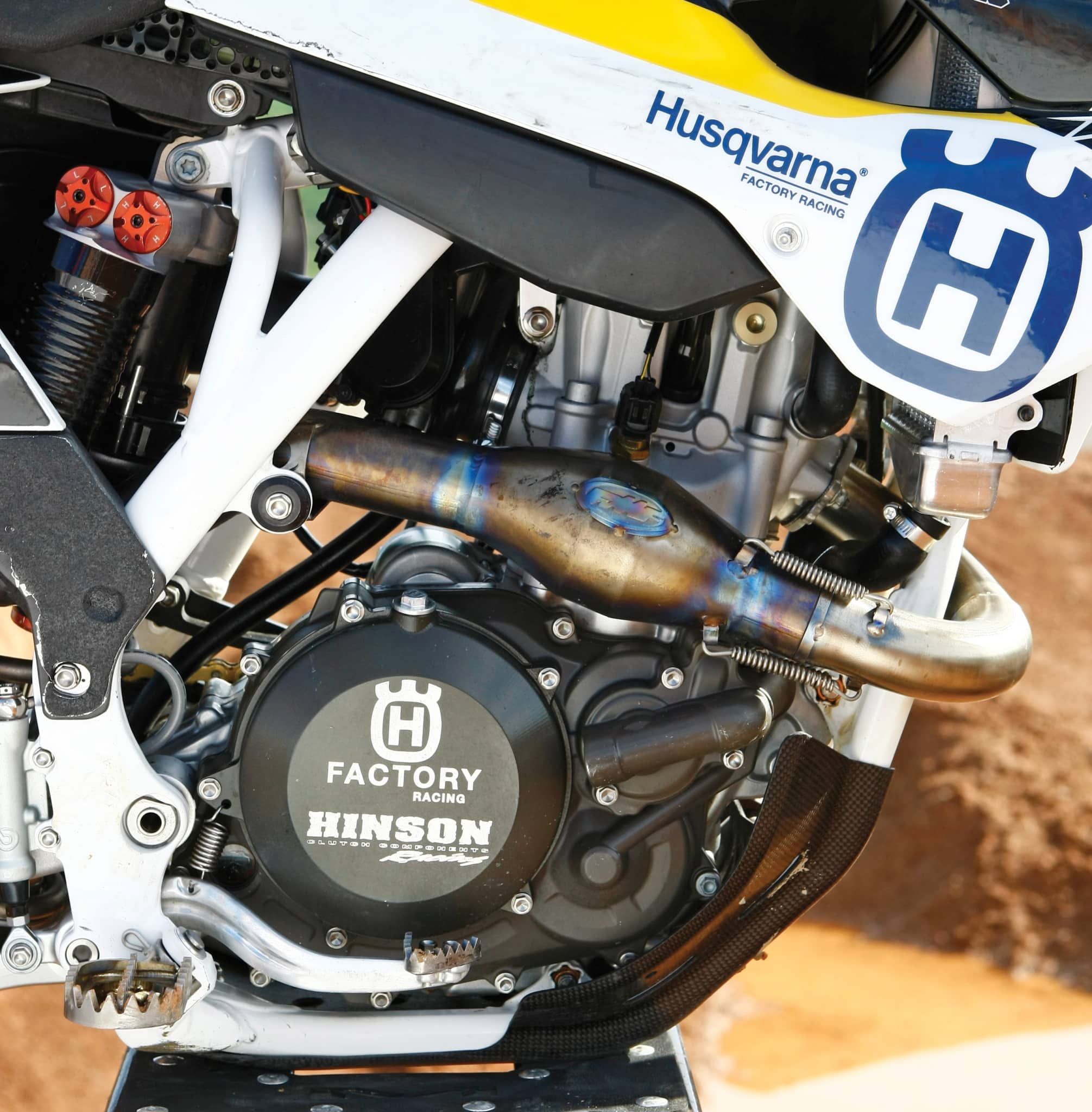 The beauty of Anderson's FC450 was finding the trick components which weren't easy to spot. Note the polished radiator, titanium fasteners, and hidden case saver mounts.
Of course, there are parts that can be purchased by anyone with a high credit limit. The Rockstar team's aftermarket components consist of ProTaper Fusion handlebars, sprockets and grips, a complete Hinson clutch, RK chain, DT1 air filter, Bel-Ray lubricants, Selle Dalla Valle seat, Raptor footpegs, Dubya wheels, UFO plastics, Husqvarna graphics, Neken triple clamps, Brembo steel-braided brake lines and Met-Tek titanium fasteners.
Before divulging our thoughts on Anderson's FC450, we should state the obvious—Supercross is very specialized. It fills the stands with energy-drink-swilling adrenaline junkies, but, by and large, no one in the stands could actually make one lap around a Supercross track. There are only a small contingent of riders in the sport capable of mastering a Supercross track. That, magnified by the small-market popularity of the sport, means that only a fraction of the world's population has the credentials to jump a triple. Not only that, there's a huge disparity between the haves and have-nots in Supercross. For every Jason Anderson, there are a hundred privateers trying to stay within sight of the Husqvarna rider. Naturally, Jason's bike is one of a kind.
Many 450cc Supercross-spec bikes have the following traits: super-stiff forks, an engine with loads of bottom-end power, a massive front brake and a lowered subframe. Surprisingly, Anderson's FC450 wasn't your standard Supercross machine. His powerband was quite broad with a decent amount of bottom-end grunt and produced manageable breadth across the range. To give you an idea of how powerful the Factory Services engine was, we were able to jump everything on the Husqvarna Supercross test track in first gear. To quote Rockstar Husky's head tech Steve Westfall, "We wanted to make sure that Jason was comfortable with the power, because the bike has to be ridden hard for 20 laps. It makes no sense to build a power monster if you can't finish strong on it. We wanted Jason to ride the bike rather than have the bike ride him."
Anderson's 52mm works WP forks were stiff, but they were also quite plush in the initial part of the stroke. Bump absorption was excellent at low speed and created a nice contact patch between the Dunlop tire and the ground. At high speeds and under heavy loads, the WP units ramped up progressively and with some semblance of fluidity (for Supercross suspension). Overall, we were impressed by Anderson's settings, even if we couldn't use them to their maximum potential. The Trax shock mated well with the forks in that it offered the same plushness in the first third of the stroke.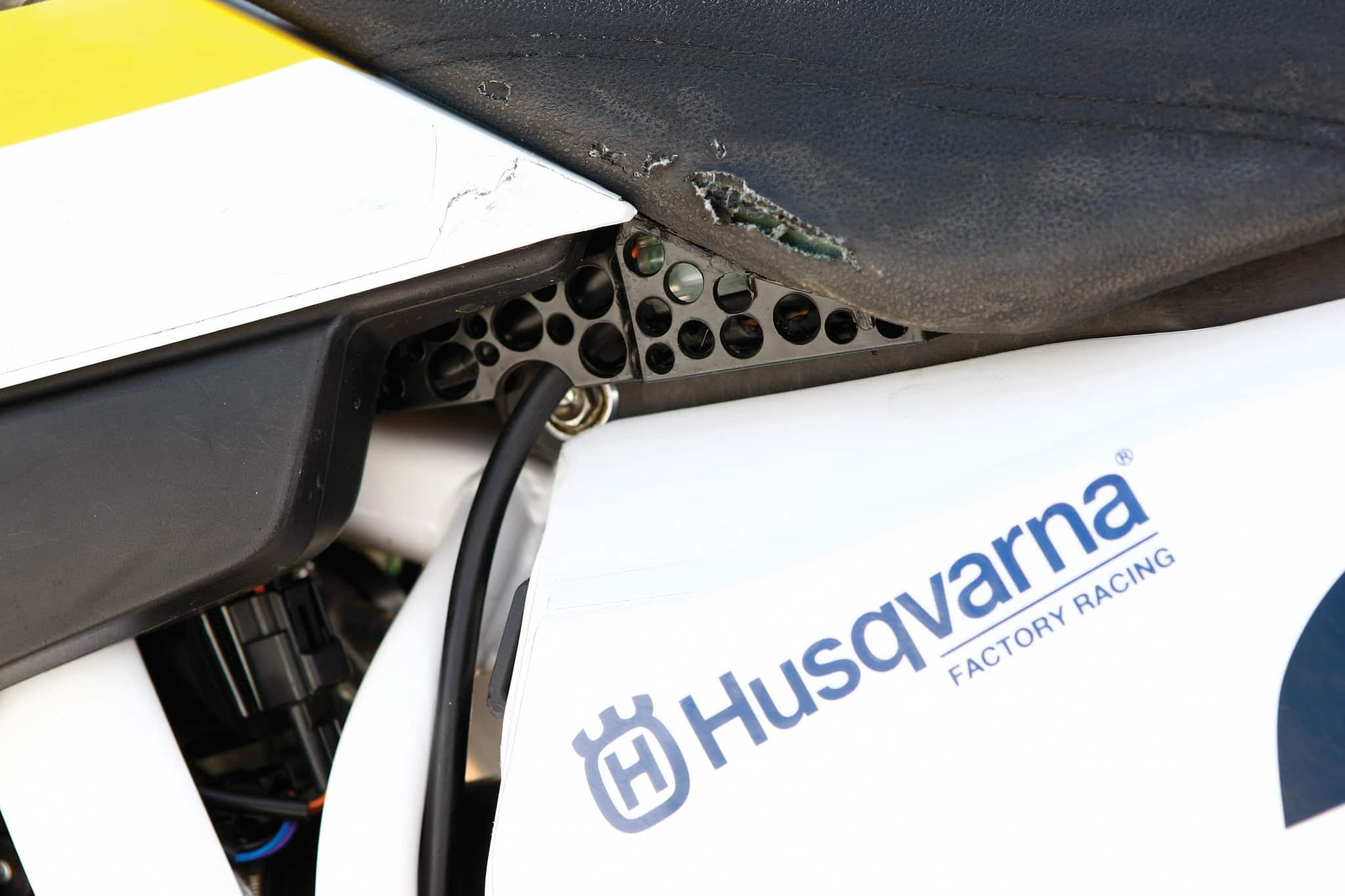 Weight was saved by drilling holes into the plastic subframe. As you can see Jason was also hard on seat covers.
At 6 feet, Jason Anderson is on the tall side of the factory-rider spectrum. The Rockstar team accommodates his lankiness by moving the footpegs down 5mm and back 2mm to open up the cockpit. Jason settled on 38mm-tall bar mounts, and ProTaper was kind enough to make him his very own Fusion handlebar bend (appropriately named the Anderson bend). Note that Jason's FC450 subframe is made of carbon fiber and cannot be cut shorter. No matter; Jason doesn't have any problems with the seat slapping him in the rear when blitzing the whoops. 
It was a privilege to test Jason Anderson's factory Rockstar Energy Racing Husqvarna FC450 for five reasons. First, we are thrilled that Husqvarna is back in the Supercross fold. Second, the guys at Rockstar Energy Racing are a Cinderella story, rising through the ranks to become one of the preeminent teams in the pits. Third, Jason Anderson has talent in spades, and we were pleased to ride the bike that could take him to the top. Fourth, we were given exclusive access to Husqvarna's private Supercross track and spun laps with "El Hombre" himself, Jason Anderson. Finally, we were happy to experience the thrill of spending the day on Anderson's Rockstar Energy Racing Husqvarna, riding Supercross with the star 450 rookie and living to write about it.