2008 TEST RIDE YAMAHA YZ250F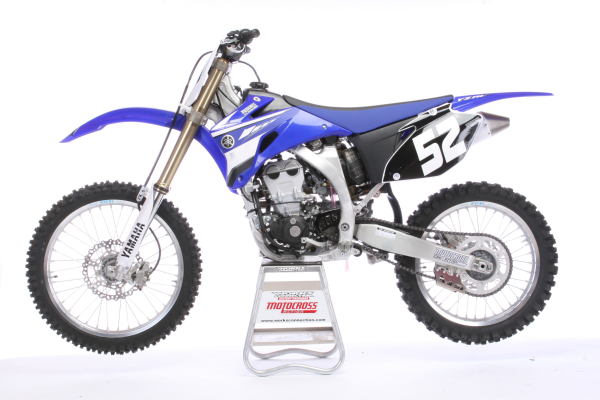 Don't let anyone pull the wool over your eyes. The most significant 250 four-stroke in the short history of the mid-size thumpers is the Yamaha YZ250F. Released back in 2001, years before the competition even considered deuce-and-a-half thumpers to be a viable proposition, the YZ250F owned its market segment. Without the YZ250F's incredible reliability, bulletproof durability and awesome power, we'd all still be riding 125 two-strokes. It was that good. It held onto its tactical superiority in 2002, 2003 and 2004. But, by 2005, the venerable YZ250F mill had begun to show its age. Suddenly, Kawasaki leap-frogged over it in the power department, Honda won the popularity contest, and KTM won the technological awards. It was a bad day at Black Rock for the YZ250F. And there was no money in the R&D department to design a new engine. The old warhorse would have to soldier on?and by 2006 it looked like it was in danger of fading away. They dressed the old engine up in a new aluminum overcoat, but it just wasn't enough.
Then in 2007, Yamaha pulled a rabbit out of their hat. The antiquated old chunk of an engine got a heart transplant. Suddenly, it wasn't just fast enough to compete head-to-head with the green, red, yellow and orange competition, but it was also fun to ride. It was the comeback of the 2007 year and Yamaha's engineers deserve kudos for breathing life back into a six-year-old engine.
Q:WHAT CHANGES DID YAMAHA MAKE TO THE 2008 ENGINE?
A:Very few. It got a new high-compression piston (from 12:1 to 13:1), remapped ignition (which was the big contributor to its rebirth in '06), revised jetting (mainly for the high-compression combustion chamber) and a new clutch (with increased oil flow).
Q:DOES YAMAHA NEED A NEW ENGINE?
A: It is inevitable, but for now we think that the revitalization of "old faithful" is enough to keep them in the game for another year.

Q:HOW DOES THE 2008 YZ250F POWERBAND DIFFER FROM THE 2007 VERSION?
A:You don't need to be a graduate of Powerband High School to answer that question. It's elementary. When you increase the compression on an engine, two-stroke or four-stroke, you get an increase in horsepower, a quantum shift towards low-to-mid power and a torquier feel. And that is how the 2008 YZ250F differs from the 2007 YZ250F.
Q:WHAT IS THE 2008 YAMAHA YZ250F POWERBAND LIKE?
A:The thing we liked most about last year's 2007 YZ250F powerband, compared to its 2005 and 2006 brethren, was that the '07 engine had a much more lively feel than before. Throttle response was vastly improved, and the 2007 YZ250F engine was barky, snappy and quick. It was fun engine, albeit a little sullen off idle and fairly flat on top. By adding more compression to the 2008 mechanical profile, this year's YZ250F is a completely different animal. It is stronger down low and carries that extra grunt through the middle. It makes more power and it makes its power much sooner than last year. It has a grunty, mini-450 feel. As for top-end rev, it signs off in the exact same spot as last year (which was one of the 2007 YZ250F's weakness), but is more manageable up to the point where the powerband hangs.
Q:IS THE 2008 YZ250F FASTER THAN THE 2007 YZ250F?
A:Yes, but in a slower way. Don't scratch your head too much; we mean that the 2008 engine makes more power and puts it into the ground with a very deliberate manner. It's easier to ride, but not necessarily more fun to ride.
Q:WHAT DID WE LIKE BETTER, THE 2007 OR 2008 POWERBAND?
A:The MXA test riders were conflicted. It was obvious that the new engine made more power, delivered it in a torquier way, and was more tractable in tricky situations. But the 2007 engine was snappier, quicker revving and a blast to ride. When push came to shove, the 2008's broader powerband won out (by a vote of four to two). Not a landslide, but a solid endorsement for both engines.

Q:DID WE HAVE TO CHANGE THE GEARING ON THE YZ250F?
A:No, we didn't change the gearing because in 2007 Yamaha's engineer's adopted MXA's favorite gearing as their own.
Q:WHAT ABOUT THE
JETTING?
A:Yamaha changed the jetting for 2008. We liked it. Here are the stock 2008 YZ250F jetting specs (2007 specs in parentheses):
Main Jet: 178 (178)
Pilot Jet: 42 (42)
Needle: NFPR (OBEPQ)
Leak jet: 70 (80)
Fuel screw: 2-3/8 (1-7/8)
Clip: Fifth from top (4th)
Note: The NFPR needle is a dual-taper needle that is leaner on the first taper and richer on the second.
Q:HOW GOOD ARE THE 2008 KAYABA SSS FORKS?
A:The biggest improvement, especially for faster riders, is the switch from last year's 0.43 kg/mm fork springs to much stiffer 0.45 springs. This is a significant leap forward in the philosophy of Yamaha's production fork program. In the past, production bikes always came with rather wimpy fork and shock springs, on the grounds that the suspension on a production bike had to be one-size-fits-all. The end result was bikes that came with light springs rates for small (or slow) riders, and stiff damping for big (or fast) riders. It was a worst of all worlds strategy. Going up on the spring rates for 2008 marks a watershed moment in production fork thinking. It means that Yamaha engineers recognize the YZ250F as a race bike and chose spring rates for serious riding by a target Intermediate-level rider. Sweet.

Q:WHAT ARE MXA'S RECOMMENDED YZ250F FORK SETTINGS 
 
A:Here is that the MXA wrecking crew ran in its 2008 YZ250F.
Spring rate: 0.45 kg/mm
Oil height: 340cc
Compression: Nine clicks out
Rebound: 11 clicks out
Fork leg height: 5mm up
Notes: When the forks are new they need about an hour of riding to break in.
Q:WHAT'S NEW WITH THE YZ250F'S REAR SUSPENSION?
A:Almost everything. But before we tell you about the changes for '08, let's revisit the 2007 shock setup.
2007 YZ250F rear suspension: When we first started racing the 2007 YZ250F we thought that the rear shock felt dead. In truth it was because for '07 Yamaha has spec'ed a very light 4.9 kg/mm shock spring (the 2006 model had a 5.1) and backed it up with very heavy damping (the 2007 YZ250F shock damping was off the 2006 YZ450F). This combination of light spring and slow damping puzzled the MXA test crew for a couple of test sessions, but finally we figured out that we had to turn the rebound damping from eight to 14 clicks out. It was a night-and-day difference. The YZ450F rebound valving was spec'ed to control the much stiffer 5.5 kg/mm spring of the big bike and was over-damped for the YZ250F's 4.9 kg/mm spring. Clicking it out fixed the 2007 YZ250F shock.
2008 YZ250F rear suspension: Yamaha's test crew is rife with motorcycle racers, including Doug Dubach, Steve Butler, Tim Olson, Kevin Foley, Jonathan Belding and Mike Ulrich. They are smart cookies and realized the folly of their 2007 shock specs. The response for 2008 was threefold:
(1) Linkage. A new rising rate linkage (plusher by three percent for the first 150mm of travel and stiffer by six percent in the final 100mm of stroke) makes the YZ250 supple over little bumps, yet able to resist bottoming.
(2) Spring rate. Gone is the 4.9 kg/mm spring from last year and in its place is a man's spring?a 5.3 kg/mm titanium unit.
(3) Damping. The compression damping has been opened up in the valve port to flow more oil?providing a plusher feel.
This all good stuff, not just because it is new, but because it directly addresses, and reverses, the direction taken last year.
 
Q:WHAT ARE MXA'S RECOMMENDED YZ250F SHOCK SETTINGS 
A:Here is that the MXA wrecking crew ran in its 2008 YZ250F.
Spring rate: 5.3 kg/mm
Race sag: 100mm
Hi-compression: 1-3/4 turns out (1-1/2 stock)
Lo-compression: Six clicks out (8 stock)
Rebound: Eight clicks out
Notes: We used the high-speed compression adjuster to fine tune the bike's handling, turning it out to lower the rear for fast tracks and in to raise the rear for tight tracks. As a rule we ran the high-speed a quarter turn farther out than stock.
Q:WHAT DID WE HATE?
A:The hate list:
(1) Brake hose clamp: Believe it or not, Yamaha's oversized steel brake hose clamp is designed to beat a weird Honda patent that claims that their competitors' brake hoses cannot touch the fork guards. Strange, but true. We replace the humonguous clamp with a machined aluminum DR.D model.
Q:WHAT DID WE LIKE?
A:The like list:
(1) Color choices. You can choose either blue or white plastic (although you pay a premium for the white stuff). We liked the look of the white this year because Yamaha dropped the gray look and added a touch of red to the graphics (plus the white bike gets a red titanium shock spring).
(2) Footpegs. Awesome. The 2008 footpegs are not only 5mm lower on the chassis, but they are 10mm wider (making them 55mm wide).
(3) Clutch. Not only does it get improved oil flow, but all the clutch plates share the same part number. This may not seem like a big deal, but it is because previous YZ250F clutches required special clutch plates on the outside and inside. They were a hassle to order and to install.
(4) Levers. The shift lever is reshaped to be 5mm higher. The brake pedal is tucked in 14mm closer to the engine. The front brake lever can be moved 9mm further from the handlebar at minimum and maximum.
(5) Triple clamps. The previously solid castings of the 2007 YZ250F bottom triple clamps have been relieved with recessed sections and ribbing to tune in a small amount of flex into the front end.
(6) Paint: Yamaha painted the clutch cover, ignition cover and oil filter cover black. It seems like a small thing, but it makes the engine look lighter.
Q:WHAT DO WE REALLY THINK?
A:We have always been impressed by Yamaha's engineering department. They are the most responsive to the American market, real world testing and making improvements that have been field-tested. The 2008 YZ250F is the byproduct of listening to what 2007 YZ250F racers had to say. This is a very good bike, from a company that knows its customers. o