BREAKING NEWS! MARTIN DAVALOS FINALLY POINTS OUT
Click on images to enlarge
Martin Davalos' 12-year quest will be officially over the day after the 2017 Las Vegas Supercross.
Missed in all the news about Eli Tomac's come-from-behind win and Justin Hill clinching the 250 West Championship at Salt Lake City, was that news Martin Davalos has officially pointed out of the 250 East/West Supercross series. Under current AMA rules, a rider can stay in the 250 East/West series as long as he doesn't earn 135 points or more for any three years of his career (dating back to 2007). See the 2017 rule below. There a proposed rule change for 2018 that would require a rider to earn 135 points for four years instead of three. See the 2018 rule below the 2017 rule. But, is Davalos saved by a future rule change or not?
THE CURRENT 2017 250 SX ELIGIBILITY RULE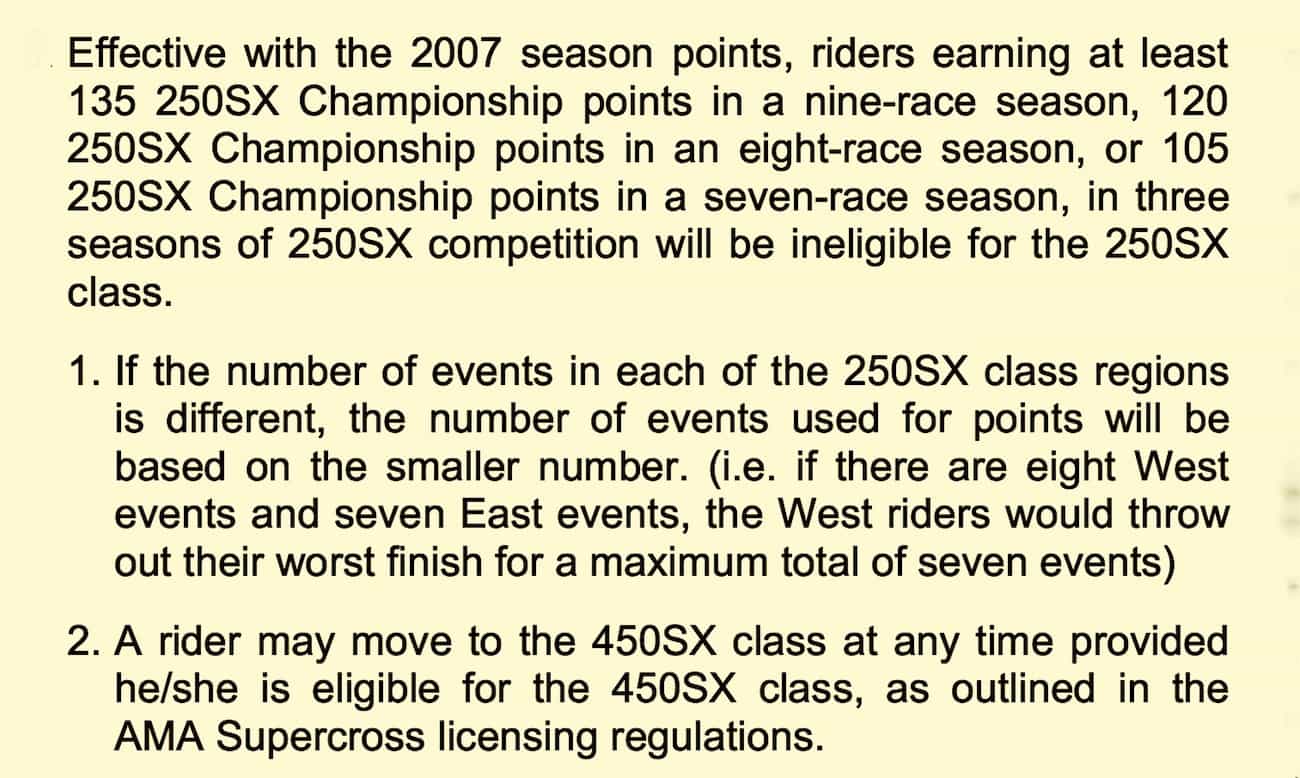 THE PROPOSED 2018 250 SX ELIGIBILITY RULE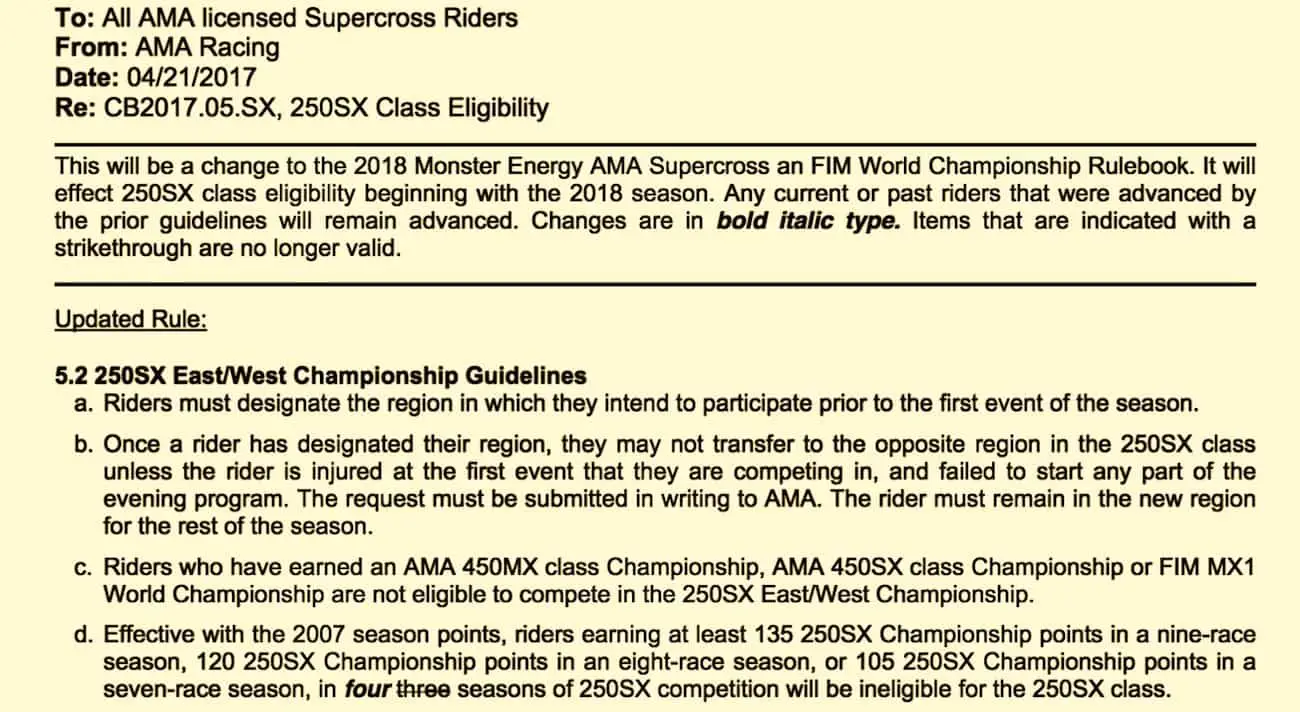 This 2018 rule change would require a rider to earn 135 or more points for any four year (instead of three), but note that in the rules' heading it says, "It will effect the 250SX class eligibility beginning with the 2018 season. Any current or past riders that were advanced by the prior guidelines will remain advanced."
Although only a handful of 250 East/West riders point out of the Supercross support class in any given year, Martin Davalos has been racing this class for 12 years and always dodged the bullet. When a rider earns the magic 135 points (over any three years) he is no longer eligible to race the 250 East/West class and must move to the 450 class. It should be noted that the AMA Nationals do not have a rule that forces riders out of the AMA 250 National Motocross Championships — so, even though Martin Davalos, unless saved by creative interpretation of the 2018 rule change, will not be allowed to race the 250 Supercross class in 2018, there is nothing stopping him from racing the 250 Nationals for as long as he wants.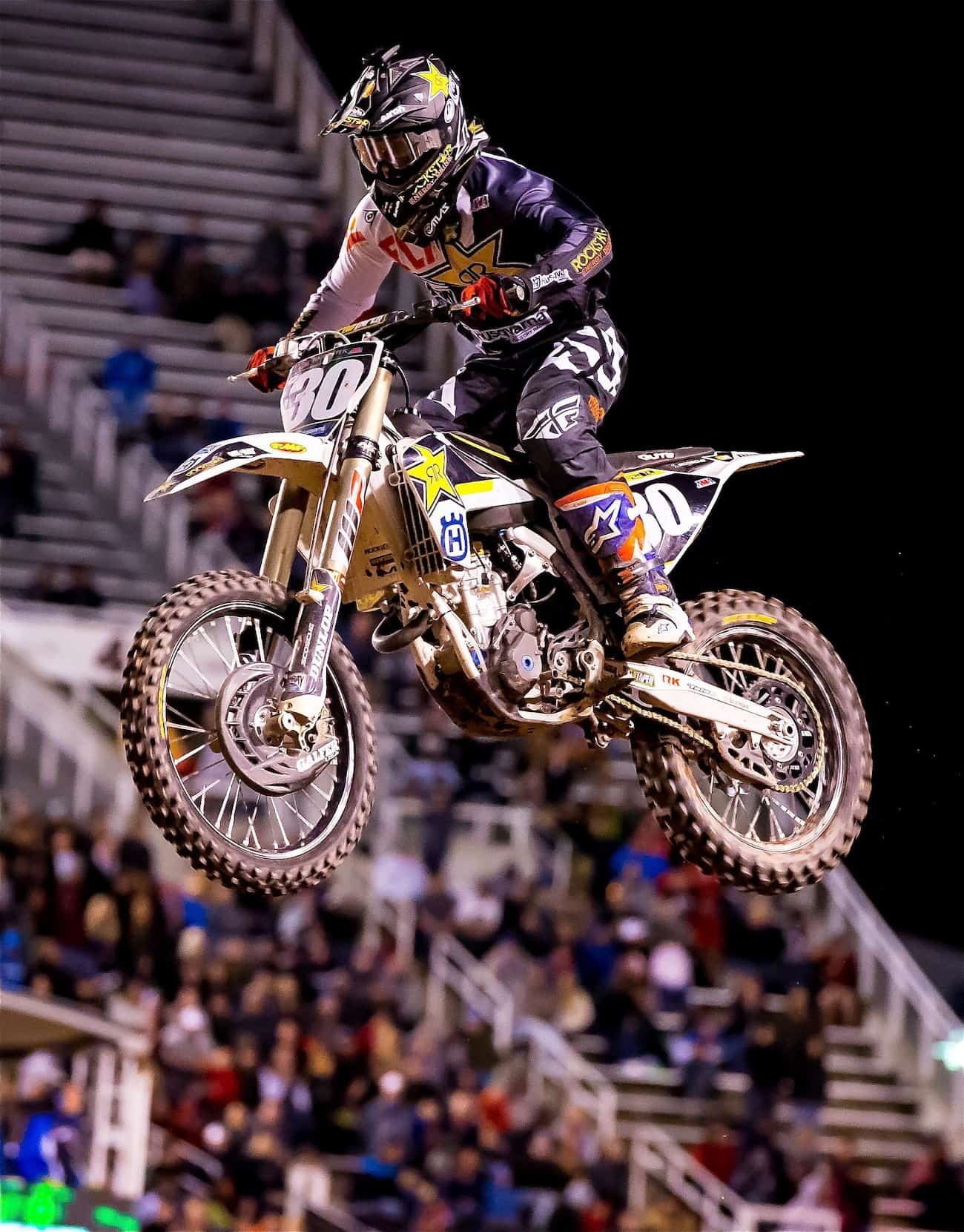 Over his 12 years in the 250 East/West series Martin won four main events—two for the Pro Circuit Kawasaki team in 2014 (Atlanta and St. Louis) and two for the Husqvarna team in 2016 (Atlanta and Foxborough). He has no wins in 2017, but has been very consistent with 3-4-5-5-2-7-4-4 scores in the first eight races of the 2017 season (with only Las Vegas to go in two weeks). Martin currently has 142 points in 2017. The other two years that he earned more than 135 points were 141 points in 2016 and 149 points in 2014.
Because of his longevity, Davalos has become the subject of much fan skepticism, who believe that should have moved up to the 450 class many years ago. But, Martin Davalos has not broken any rules, nor is there any proof that he ever took a dive to keep his points below the 135 point threshold (even though he only earned 133 points back in 2013). Under existing 2017 rules, Martin will have to move to the 450 class in 2018 for Supercross. Since he has a factory Husqvarna ride for 2017, he has a chance of getting factory support for 2018, but at 30 years old there aren't a lot of 450 teams willing to take a chance on a guy who has been racing the Supercross series since 2006—unless Husky makes him an offer.
Martin's 12-year span will make him a trivia question in the future, but when he finally points out of the 250 East/West series, a page will be turned in the motocross records books. Unless the Ama keeps changing the rules.
Photos: Husqvarna