FLASHBACK FRIDAY | MXA BANNED… SUZUKI THROWS FIT ABOUT DRZ400 TEST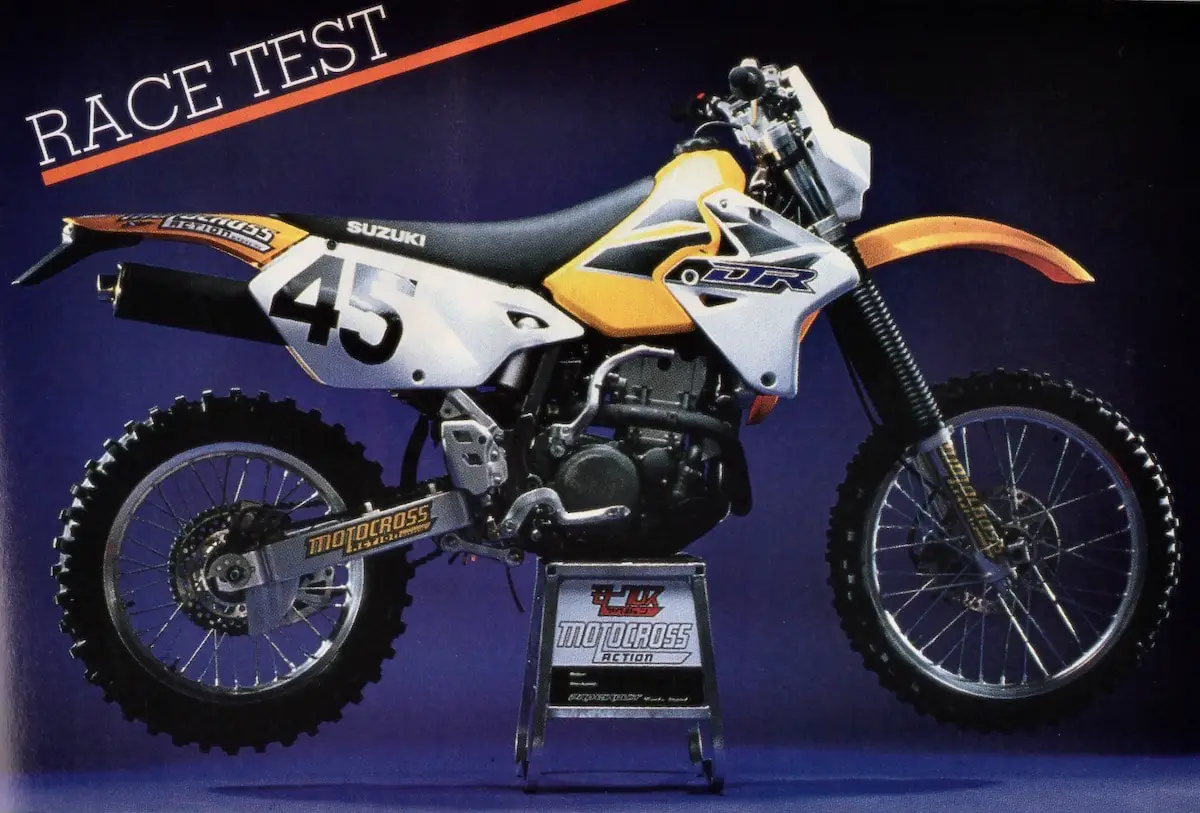 2000 Suzuki DRZ400.
In June of 2000, Suzuki Motor Corporation's diplomatic public relations arm made a unilateral announcement that it "ceases relations with Motocross Action Magazine." The announcement followed the publication of MXA's 2000 Suzuki DRZ400 test in the July 2000 issue.
An official spokesman for Motocross Action said, "We are surprised by Suzuki's announcement given the fact that we were unaware that we had any relations with them in the first place."

June 14, 2000: "American Suzuki Motor Corporation (ASMC) announced today that it will cease all relations with Motocross Action Magazine, published by Hi-Torque Publication, based on what ASMC feels are unfair journalistic practices.
"According to Mel Harris, Suzuki's Vice President of Sales and Marketing, ASMC has attempted to resolve the problem with Motocross Action with little success.
"Among other things, the role of a motorcycle magazine should be to fairly and objectively evaluate a product and report on its findings. We recognize and welcome that process. However, for too long now, Motocross Action has gone beyond objective product testing and chosen to unfairly attack Suzuki as a company, its marketing direction, its racing team(s) and even its employees. We feel this is beyond the purview of Motocross Action and we object. The decision to cease relations with the magazine is based solely on the notion that we will not support biased journalism. American Suzuki Motor Corporation will discontinue providing Motocross Action with product and product information as well as suspend all advertising.
"It is our hope that Hi-Torque will recognize the problems they are having with Motocross Action and proactively address the issue. If and when Motocross Action begins fair, objective journalism we will reevaluate our decision. Additionally, we have no quarrel with other magazines published by Hi-Torque and will continue to recognize those publications."
LET'S BE SERIOUS FOR A SECOND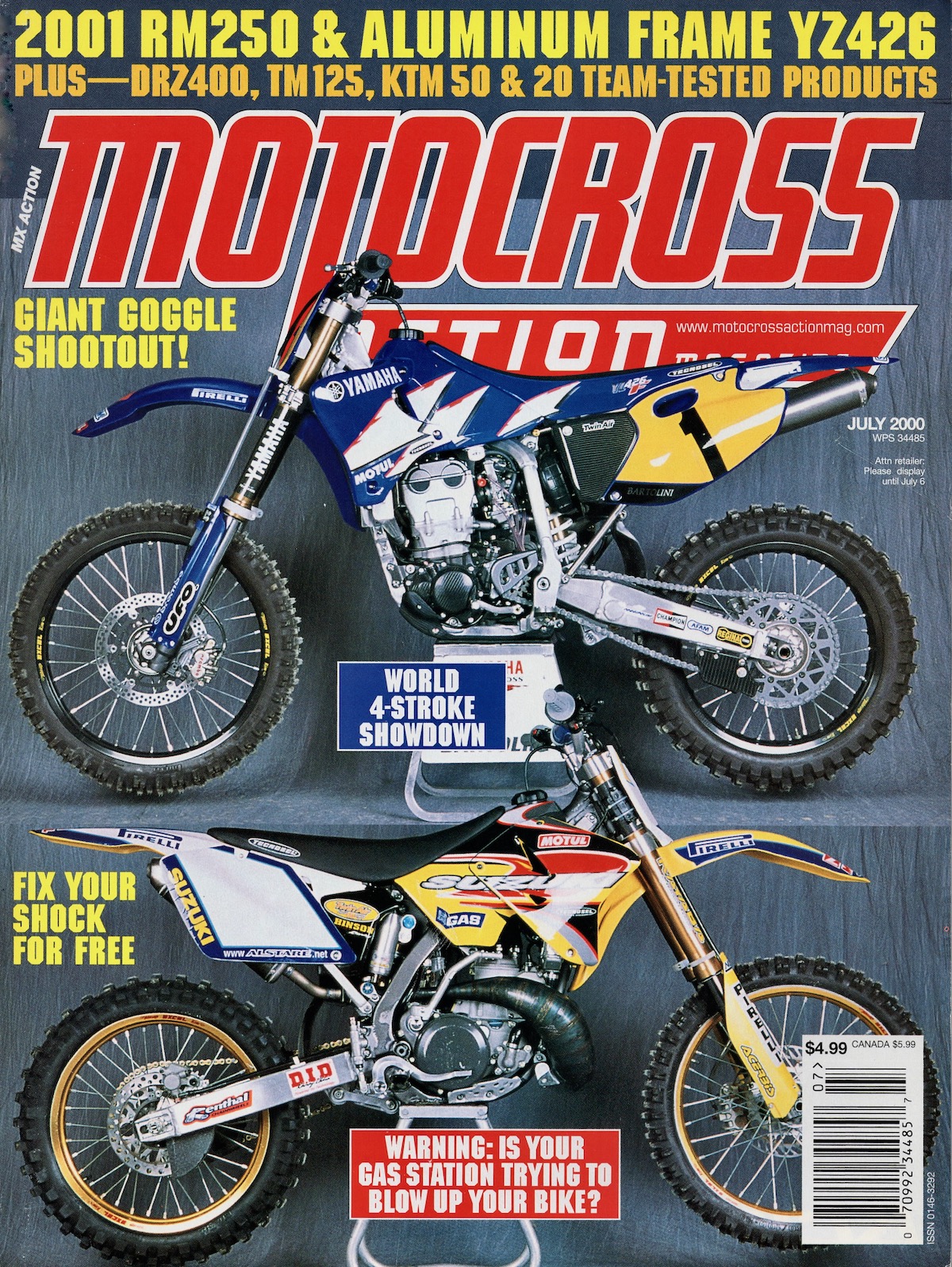 MXA's point of view differed greatly from Suzuki's, but both were in agreement that the relationship had been strained for more than a decade. Suzuki's Vice President of Sales and Marketing Mel Harris' comment that Suzuki "had attempted to resolve the problem with Motocross Action with little success" was patently untrue.
Suzuki had never contacted MXA about anything. Any contact between Suzuki and MXA had always been initiated by MXA and typically met with minimal response. Harris, who was the father-in-law of a competing magazine's editor, had never spoke to MXA about this issue. In fact, Suzuki did not even send the press release announcing the breaking of diplomatic ties to MXA.
NOT THE FIRST TIME, NOT THE LAST
It should be noted that this was not the first time Suzuki had "ceased relations" with MXA. It was not even the second time. Suzuki had pulled its bikes from MXA several times in the past, once for a two-year period. In Suzuki's defense, it's not unusual for a company to get upset about a bad review of their product and try to take their ball and go home. But, it doesn't work. MXA continued to test Suzuki motorcycles (just as it did the last time we were banned by Suzuki)
BAD TIME AT BLACK ROCK
This was not the best time for Suzuki to begin a feud with the press, because while Honda and Yamaha's market share had grown, Suzuki's had shrunk. According to 2000 industry surveys, Suzuki represented 11.7 percent of the competition market, while Yamaha had 30 percent of the market. In fact, Suzuki had only half of the market share (from September 1999 through April 2000) of the third-ranked Japanese-built motocross bike. Suzuki's efforts should have be spent on improving relations not starting a feud.
HOW BAD WAS THE MXA 2000 SUZUKI DRZ400 TEST?
FROM THE JULY 200 ISSUE  OF MXA
This was at time when four-strokes were on the rise, Yamaha was raking in the dough with the ground breaking YZ400 and, at the time, KTM was the only other brand to rise up to to compete in the four-stroke arena against them. Everybody was waiting to see what Honda, Suzuki and Kawasaki would do in the face the success of the YZ400 (and new YZ426)—not to mention the much lighter and more powerful KTM 520SX.  Thus, every new four-stroke was viewed as a stepping stone to building the next new motocross four-stroke—and every new four-stroke had to be compared in light of what Yamaha and KTM were doing.
MXA had tested Honda's and Kawasaki's off-road XR and KLX models—and even built project race bikes from them to test, so we were not putting Suzuki under any scrutiny that their competition hadn't undergone. To this day, we test the "X models" from Yamaha, Kawasaki and Honda because lots of people use their off-road models to ride at race tracks, when they aren't in the desert, woods or on government land. To say that MXA was interested in the 2000 DRZ400 as an example of what Suzuki was capable of doing with a four-stroke was an understatement.
Reading back, we thought we had a lot of good things to say about the 2000 DRZ400. Here are a few quotes from MXA's DRZ400 test that was in the July 2000 issue. You can be the judge.
"Think about it! Did Suzuki spend two years designing a four-stroke with an almost identical bore-and-stroke, the same displacement, a borrowed 39mm Keihin FCR carb, purloined hot start button, claimed weight within two pounds of the YZ400F and a comparable price tag ($5300) so that riders could use all this technology in poker runs? Be serious! Owners raced the DR350 (and if ever a bike should not have been raced on a motocross track, that was it). Of course, the DRZ400 will be raced."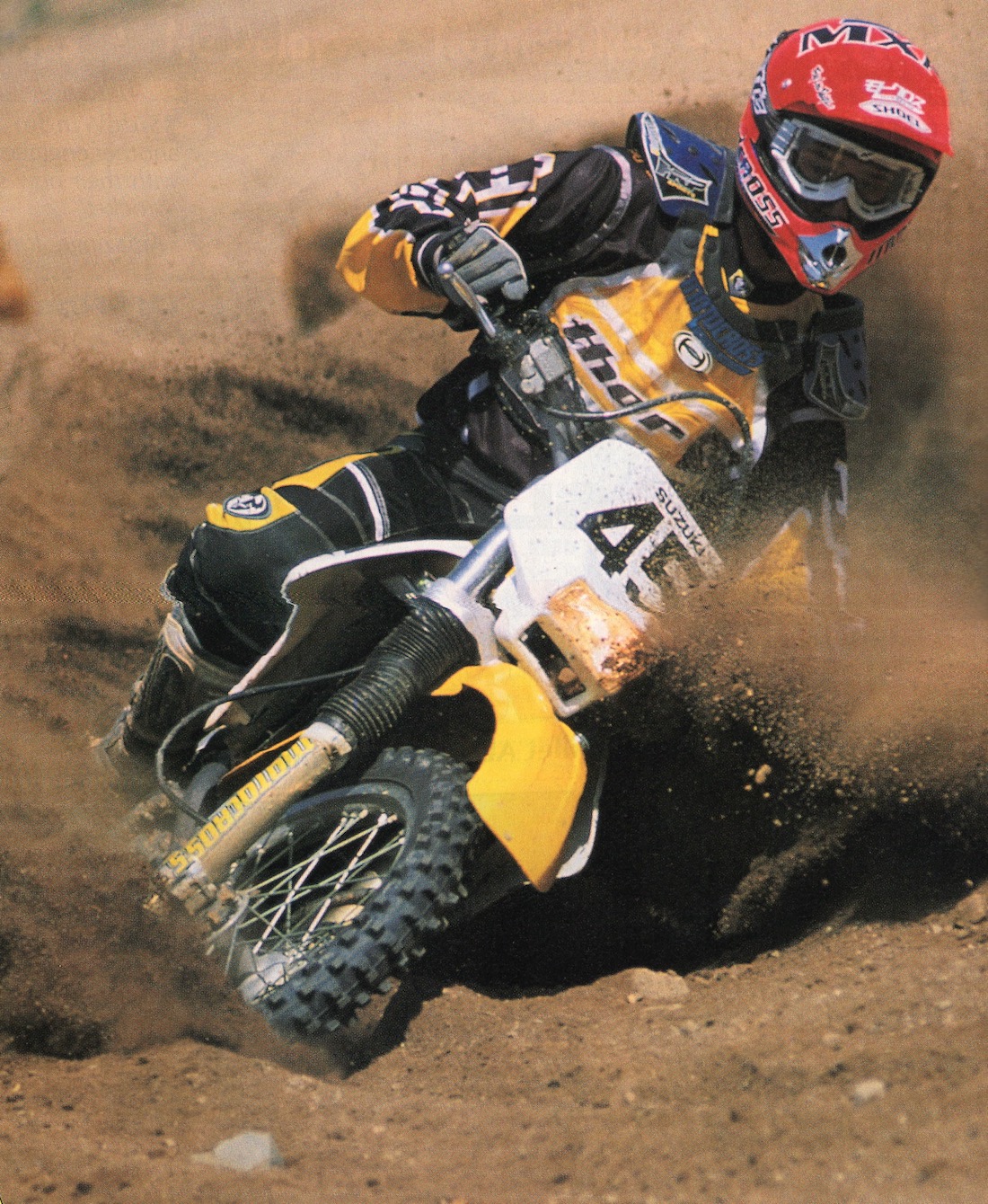 "The DRZ400 is pleasant. If that sounds like an ominous description of a blind date, don't worry. This is a date you'll enjoy. Okay, we admit that the DRZ is not a raving beauty, sparkling conversationalist or a millionairess, but she has a nice personality, is fun to be with and isn't too demanding. In truth, the DRZ is a "let's be friends" bike. Not one that you'll have an ardent love affair with, but rather enjoy spending time with until you can seal the deal with the love of your life (probably a YZ426)."
"How much did it weigh? On MXA's extremely authoritative scales, it weighed 260 pounds (nine pounds more than a YZ-F and 21 pounds heavier than a KTM 520SX)."
"Amazingly, however, the MXA wrecking crew liked the engine. Even though it was more electric than internal combustion, it rewarded riders who carried speed. This put a premium on talent. The DRZ rewards talent with slice and dice lap times. It's so linear that you ride it like a race car, picking lines, carving the apex of turns and staying out of Top Fuel drag races (since you have a Tiger Wood's golf cart and they have John Force's funny car)."
"After you stiffen up the suspension so that the bike will stop see-sawing under deceleration, the DRZ400 carves a pretty clean line around a race track."
"It runs hot. Too hot. Four-strokes are boiler rooms and the DRZ doesn't do much to dissipate heat. We've seen Team Suzuki testing DRZ400's with jumbo-sized radiator wings, special water pump internals and vented front number plates."
"There are more doodads, boxes, catch tanks, rectifiers and trinkets hanging from this frame than the average Christmas tree."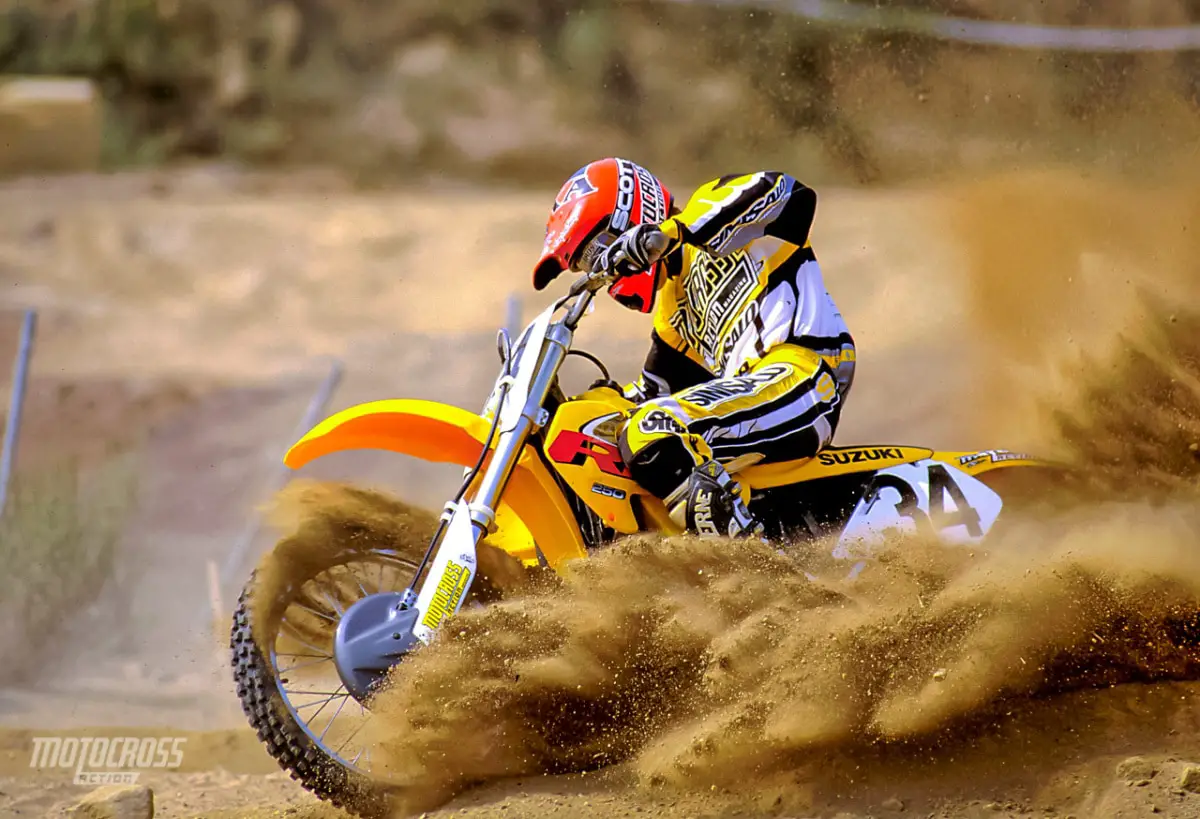 MXA wrote; "Yes, Virginia, it is too soft in stock trim for motocross, but the DRZ400 is a better all-around package than the 2000 RM250—less twitchy, more predictable and less demanding." (shown above).