FORK WORKS: OHLINS RFX-48 FORKS FOR KTM & HUSQVARNA
The Ohlins RFX 48mm forks come from a suspension company with a long history of excellence—dating back to 1976. The RFX 48 fork is a thing of beauty on the outside, with its gold-anodized stanchions, DLC-coated fork legs, billet lugs and Ti bolts, but it is what's inside that counts. Inside, the RFX fork is a 22mm cartridge that keeps a positive pressure balance inside the system thanks to its twin-tube design, which is also used on the TTX rear shock. It does this by using a nitrogen-pressurized piston to push the hydraulic fluid from the high-pressure side of the internals back into the low-pressure side. This not only speeds up the damping response but lessens cavitation (air bubbles that hurt oil viscosity). If you were impressed by the DLC-coated fork legs, you will be glad to know that the inner cartridge tubes have also been surface-treated to reduce friction.
We ran the Ohlins RFX forks on a 2018 Husqvarna FC450 (they also fit on KTMs). At first we were confused by the triple adjusters on the fork cap, but only the center one is a clicker (the right and left clickers are, in fact, an air bleed screw and a nitrogen fitting for charging the forks during rebuilds). The rebound clicker is underneath the forks. We started with both compression and rebound on 12 clicks out and made small clicker adjustments to suit each test rider's needs—fast riders went in on the clicks and slow riders went out. Unlike with many damping systems, changing compression does not affect rebound damping and vice versa. Small one- or two-click adjustments make a big difference compared to how far you have to crank your stock clickers.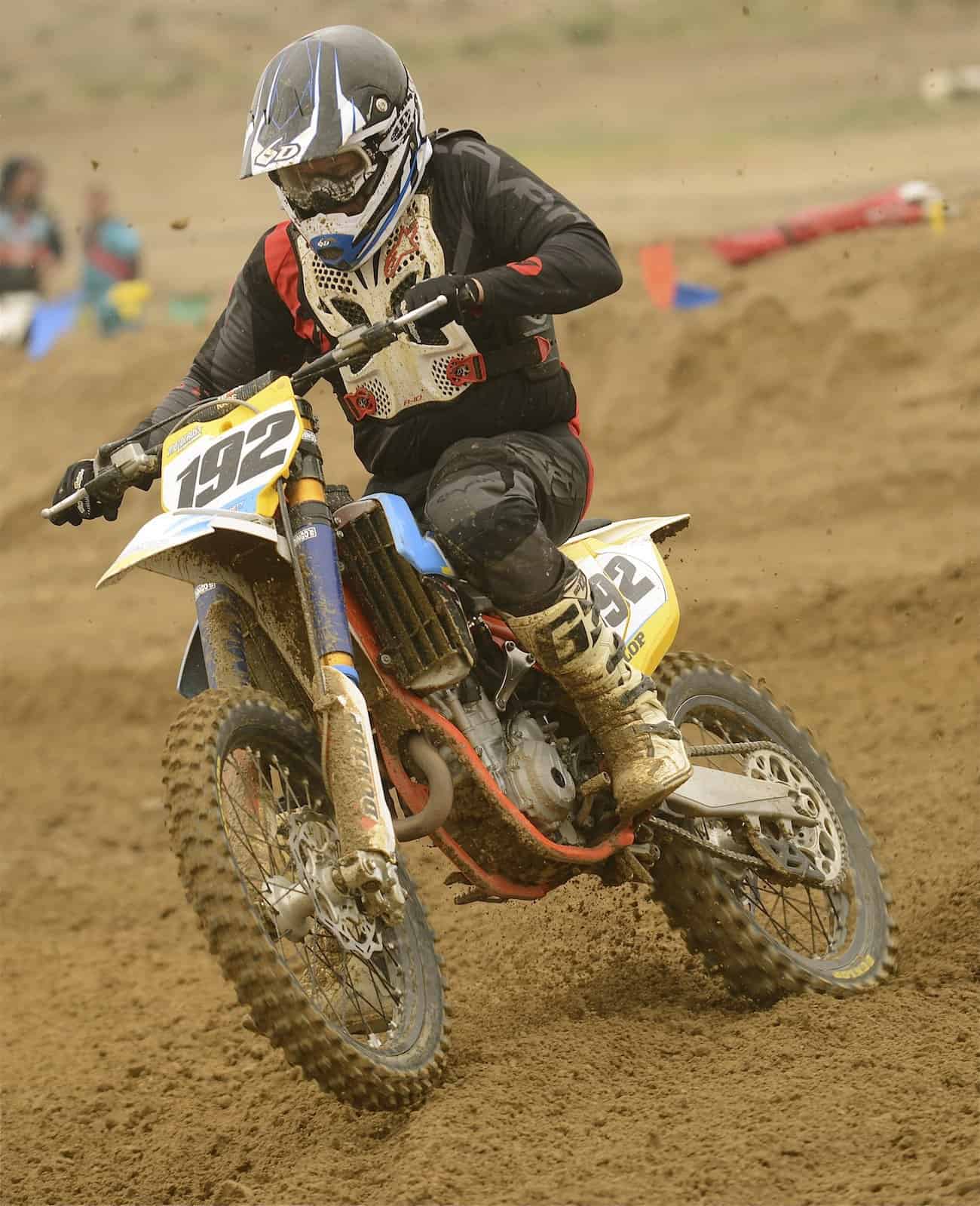 These are by far the plushest forks we have ever ridden with. They made small chop and braking bumps disappear. Every MXA test rider loved how well the front wheel tracked the ground. It wasn't just the normal difference between an air fork and a coil-spring fork but a difference between other coil-spring forks and the superior Ohlins coil-spring feel. On big jumps and hard hits, some test riders noted that the Ohlins RFX fork gave the impression that it was going to bottom, but then it didn't. This sensation is really related to setup. If you ride on jump-, stadium- or fairground-style tracks, you might want to go up on the fork-spring rate. As for us, the freer movement, improved grip in the corners, and the feathery feel through the worst of the bumps was like a dream come true. Pros and fast riders could find a perfect setting with some testing on the RFX fork, but for Vet riders, these are spot-on units that will bring a smile to their faces.
How would we compare them to the highest-rated 2018 forks? They are better than Yamaha's Kayaba SSS forks, significantly better than the 2018 CRF450 and RM-Z450 Showa forks, much easier to live with than the KX450F's SSF-TAC air forks, more sophisticated than the stock AER forks on the KTMs and Huskys, and equal to a set of WP Cone Valve forks.
The Ohlins RFX fork is the most absorptive fork we have ever ridden with. What does it cost? The 48mm Ohlins RFX fork is available for most modern motocross models and does not require a separate set of triple clamps. The retail price for the forks (with springs) is $3500. Ohlins also offers the fork internals via its TTX-22 cartridge kit that fits inside the stock fork legs on your bike. The TTX cartridge kit retails for $1380 (springs are $155). For more information, go to www.ohlinsusa.com. ο