INTERVIEW OF THE WEEK: AUSTIN FORKNER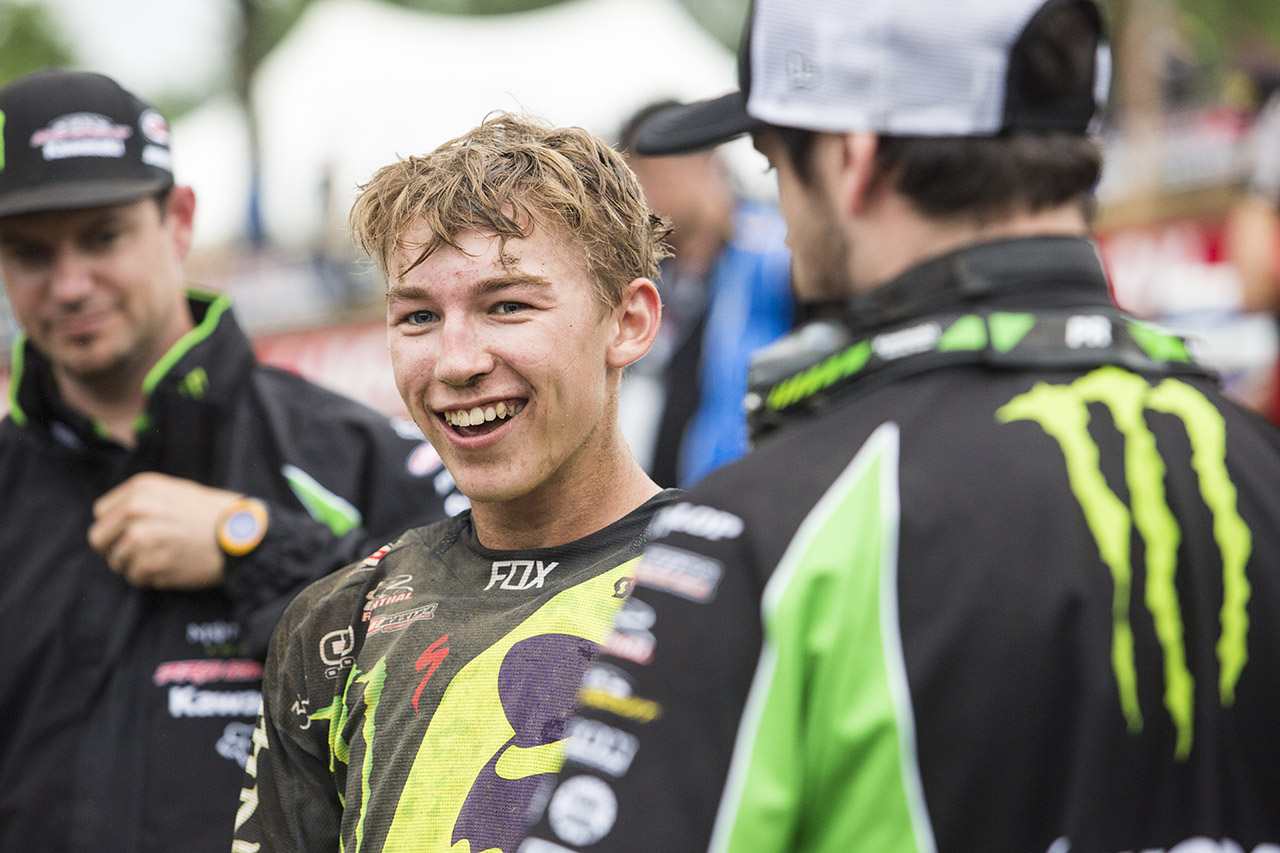 Austin Forkner was all smiles after securing his first professional podium this past weekend in the rough sand of Southwick. The future looks bright for the Pro Circuit Kawasaki rider.
Austin Forkner earned the label of "The Next Big Thing" when he capped off his Amateur career with wins and an overall victory at the Greensboro round of the Amsoil Arenacross series. But none of that matters now, least not to Austin, who is fully focused on the future, rather than the past. He quickly made an impact by scoring fourth overall at the Glen Helen National. Then, this past weekend at Southwick, Forkner went 5-2 for third overall. He sits sixth in the standings and is looking for more.
By Jim Kimball
Photos by John Basher
Austin, you're having a great rookie season. How do you think it's going?
I have had a pretty good season so far, especially now with getting third overall at Southwick. For me, it seems there have been quite a few ups and downs, although I haven't had any huge poor finishes, like 30th or anything. I believe that 17th has been my worst moto finish. I really strive to just be consistent and shoot for top-five finishes. I've been trying to get good starts, mix it up with the guys, and get some experience.
"IN THE PRO SERIES EVERYONE HAS A GOOD BIKE, WHILE IN AMATEUR RACING IT WAS JUST A SMALL GROUP OF RIDERS THAT HAD GREAT BIKES. I GUESS THAT IT'S REALLY JUST THAT EVERYTHING IN THE PROS IS MUCH HARDER."
What has been the biggest adjustment to the Pro ranks?
Mainly the length of the motos, and the intensity of each moto, have been the biggest adjustments. In the Pro's its like everyone can get good starts, while in the amateur's it's only a couple of guys that consistently get good starts. In the Pro series everyone has a good bike, while in amateur racing it was just a small group of riders that had great bikes. I guess that it's really just that everything in the Pros is much harder. Also, you have to be much more precise. You can make one minor mistake and lose ten positions!
Most rookies talk about fitness issues, but you don't seem to be struggling at the end of the motos.
I have good fitness, although I have been getting tired near the ends of the motos like everyone else. We all get a little tired near the end of the motos, but overall I feel pretty good. I haven't been fading as much as some of the other guys have been. I'm just going to keep on working.
There has been a lot of hype and attention on you. Has that resulted in any added pressure?
No, not at all. I put enough pressure on myself. I don't need to have anyone screaming at me and telling me that I need to do better. If I don't perform up to my own standards or expectations I know that I need to be better. I've actually been trying to be a little under the radar, just focusing on my riding and thinking about consistency. I started out great at Glen Helen with a 3-5 finish, but after that I've just been riding top ten and trying to get top-five finishes. I haven't really been mixing it up too hard with the podium guys, but that is my goal.
Do you think it bothers your teammates that you're getting so much attention?
No, I don't think so. Everyone on the team has been doing well. Joey [Savatgy] has been killing it. Adam [Cianciarulo] has been getting good starts and riding out front frequently. I have been up front at times, and sometimes inside the top ten. I don't know that I have really set the world on fire, but I am getting some good experience and feel that I have done well for a rookie. A lot of people may think that I am doing well, but honestly, I feel that I should be doing better than I have. I should be a consistent top five rider, because I know that my speed is there. I worked my butt off in the off-season and should be up front. I've been running with guys that have won races and championships, but I want to beat them.
The 450 class may be the premier class, but there are so many fast guys in the 250 class.
Recently I counted up the number of factory riders, or at least get some factory support and have good bikes, and there were 20 or more who could finish near the front. In the 250 class there may be only one or two top riders that are out injured right now. When all the fast guys start up front, like at Red Bud, it's very difficult to come through the pack.
"I SHOULD BE CONSISTENTLY BETTER THAN I HAVE BEEN. IT'S HARD NOT TO MAKE SOME OF THE ROOKIE MISTAKES THAT I HAVE BEEN MAKING, BUT I AM LEARNING. I'LL GET BETTER."
You could have kicked off your Pro career racing this year's 250 East Supercross series, yet you chose to wait for the Nationals to start. Why?
A lot of the thought process went back to Loretta Lynn's last year. I signed with Pro Circuit Kawasaki, and probably could have started Supercross this year. Motocross is what I have always ridden, and I felt comfortable with. I had to race Arenacross, and just felt that if I got hurt riding Arenacross then I would miss Supercross anyway. There was some talk about doing East Coast Supercross, but this is what made sense. Some people said that I was staying back and should have raced Supercross, but I didn't want to rush it. I wanted to be prepared and come into my Pro career ready to race with the guys. I didn't want to just finish in the top 20 and struggle to finish motos. I had goals of top-five finishes. I think that we made the right decision, because things are working out well. At least when I race Supercross next year I will have some experience racing against the top riders. I will be used to the routine of flying to the races every weekend, so I will just have to get used to the tracks. By the time the Supercross series starts next year I should be pretty settled in and know what to expect.
Most people in the motocross industry would agree that you are having an awesome rookie season, but you don't seem satisfied. Are you being too harsh on yourself?
With the exception of Glen Helen and Southwick, I have been struggling with putting two good motos together. I feel that I should have been doing that more frequently than I have. I should be consistently better than I have been. It's hard not to make some of the rookie mistakes that I have been making, but I am learning. I'll get better.