INTERVIEW OF THE WEEK: MIKE ALESSI
When you live the motor home life, you don't have to worry about cutting the grass, but instead resort to using a leaf blower to clean your pit area. Mike Alessi demonstrates.
Mike Alessi has had a long, at times dramatic, and relatively prosperous career. Even before he turned Pro, Alessi spent more time on a motorcycle than he did anything else. That probably includes sleeping, given Alessi's commitment to being the best at his craft. That strategy worked in the Amateur ranks, where he racked up one of the most impressive resumes ever, but Mike has yet to win a AMA Pro title. Now 29 years old, Alessi is in the final two years of his career (his words, not mine). And while he hasn't hoisted the number one plate, he's done something many Pros couldn't–make a living doing what he loves.
About to enter his 13th full season, Mike Alessi isn't taking breaks. The SoCal native drove to South Carolina and parked his motor home on the ClubMX Training Facility grounds with his wife, brother-in-law, and mechanic. That's just one of the many sacrifices Mike has made in order to pursue his dream of winning that coveted AMA plate. I caught up with the amiable Alessi during the annual ClubMX open house. In between watching football and gushing about his latest flea market treasure find (a $5 Elmer Fudd style hunting hat), we chatted about his life as a professional motocross racer.
By John Basher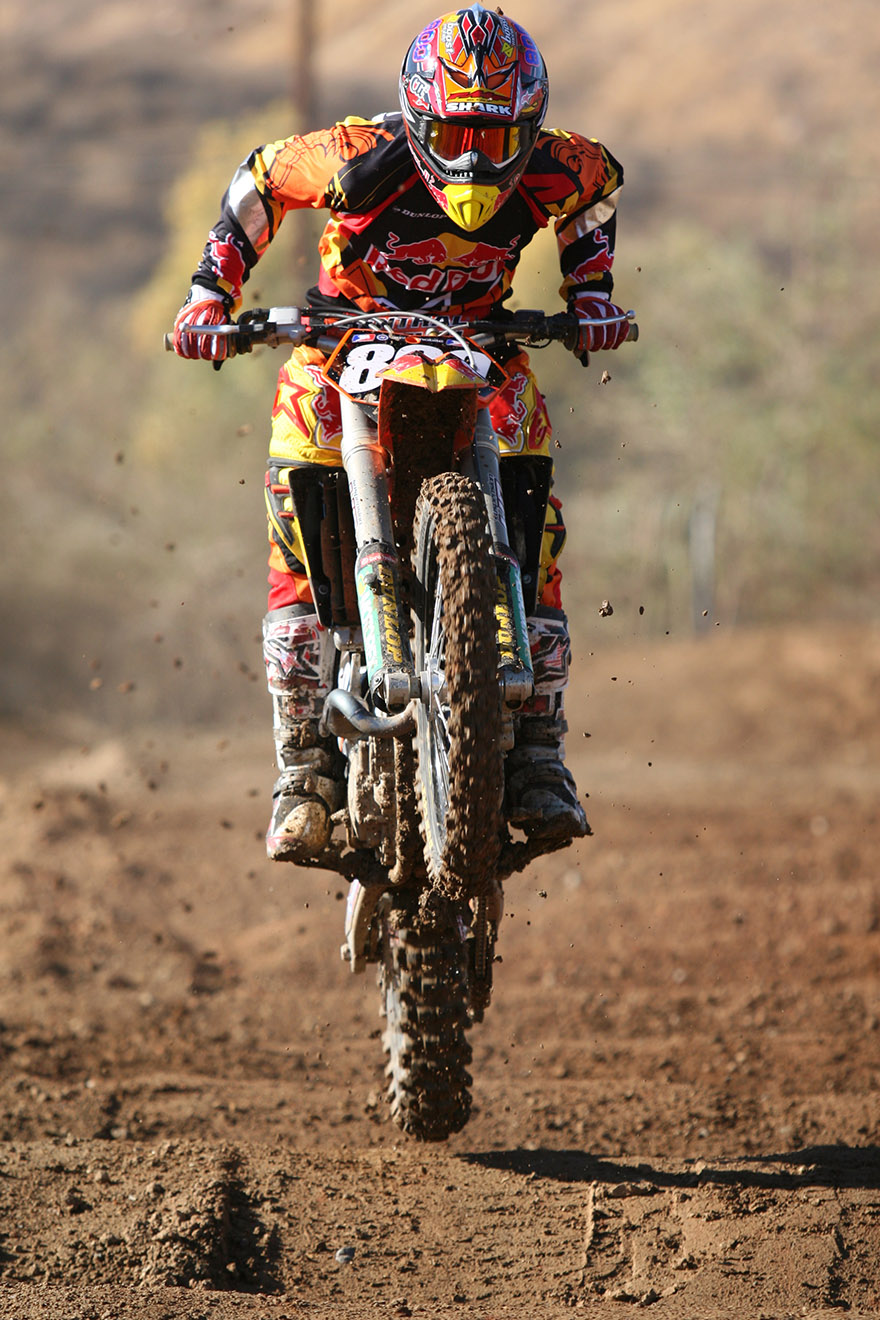 Alessi was the can't-miss kid as part of Red Bull KTM's 250 effort back in 2006.
Mike, it has been a year since you signed on to train exclusively at ClubMX in Chesterfield, South Carolina. How has your experience been?
It has become home. It's hard work, but at the end of the day, it's important for me to be in my best shape. Brandon [Haas, ClubMX Training Facility] does a good job putting us through the wringer. I'm in with a group of guys, and we're all trying to get stronger physically, but also mentally. I'm happy to be here.
What was the biggest gain you made as a racer in the past year?
I've improved in my metal game. I don't let little things get to me, and I've been able to overcome some things. My riding hasn't necessarily been better or worse, but where my mind is now compared to a year ago has been a big change.
While you have a house in California and also Florida, you spend the vast majority of your time living in your motor home. What's that like?
It's tough. Honestly, it's not that much fun, but you gotta do what you gotta do when your work dictates where you need to be. For right now, ClubMX is it. This is my boot camp time of the season when I'm working, living out of a motor home, and eating chicken and vegetables every day.
"IT'S THAT TIME OF YEAR WHERE A LOT OF WORK GETS PUT IN, AND THE END RESULT IS ANAHEIM 1 AND THE REST OF THE SUPERCROSS SEASON. WE START BUILDING THAT FOUNDATION HERE AND NOW SO THAT WHEN I GO TO WAR I'M READY FOR BATTLE."
Explain what boot camp entails, and what the end goal is.
There's a regimented schedule. I have to be at the gym at a certain time, and then on the track at a certain time. I'll do X amount of laps and motos, and after lunch it's straight to the bicycle from 3-5 pm. We have to log so many miles and stay at a certain heart rate that Brandon wants us at. By the time dinner comes, which is around 7 pm, I'm begging to go to sleep. It's that time of year where a lot of work gets put in, and the end result is Anaheim 1 and the rest of the Supercross season. We start building that foundation here and now so that when I go to war I'm ready to battle.
Alessi has been part of the MotoConcepts team since 2012, being the key rider in the program. For 2017 he will be joined by Justin Brayton. Vince Friese also returns for another season in the 450 class. It will remain a Supercross-only operation.
The last time we talked you mentioned how much you enjoyed training and staying in shape. This time of the year probably isn't as big of a hurdle for you as those who dread boot camp.
Yes and no. I definitely love training and being in shape. Something about the suffering and grind that we do is rewarding. A lot of riders don't like that part. I'm 29 now and quickly approaching 30. I've realized that, as I get older, training is not as fun. My recovery is slowing down. I do realize that my riding and my mental fortitude are getting stronger, just because of the years of experience racing. I try to manage that as well as I can with training on the bicycle and working out in the gym. That way, when I get on the bike, I'm ready to go.
Are you trying to peak at a certain time during the year, or are you basically building a base platform right now physically?
We've been building a base for the last month or so. That way when it comes to March and April I won't be fatigued. I'll still be strong and ready to close out the last races in the series. By following that program I'll feel good on the bike and continue to give it everything I have.
This summer you went up to Canada and raced their National series. How was your experience up there?
It was good the first half of the season. Out of the first four rounds I was second, right behind Davi [Millsaps]. He rode really well up there this summer. In the second half of the season the wheels kind of fell off the wagon. I had some crashes and got hurt. I broke three ribs on the left side and had an AC separation in my right shoulder. I was riding injured, which was not fun. Had that not have happened I definitely would have been second in the series behind Davi. That's racing; things happen. I'm looking forward to next year and being back up front.
Was it difficult adapting to the Kawasaki KX450F after riding a Honda CRF450 in Supercross?
It was good. The team, Monster Energy Alpinestars Kawasaki, was super supportive. They were behind me the whole season. Even when I got hurt, I came back to race because of the support they had given me. The only way I felt I could give back to them was by trying to race. I raced the last round really banged up, but I got fourth at the race and fifth on the season.
At the end of the 2015 season you contemplated a brand switch in bikes, and you chose the Honda CRF450 after riding a Suzuki RM-Z450 for years. In hindsight, was it the right decision going red?
I love the Honda. It's great for Supercross. My bike right now is turnkey. The engine, suspension and entire package is ready go. If Anaheim 1 was tomorrow I definitely feel like I would be ready to go. I'm not there fitness-wise yet to go the full 20 laps, because we're still working on a base program, but right now I can do 15 good laps. I know my bike is ready, and the team is super supportive.
Don't let the smile fool you. An ice bath is not a pleasant experience, but it's a key part of the ClubMX training program. This photo was taken in late April of this year. 
With the introduction of the all-new 2017 CRF450, were there any conversations about racing the updated model in Supercross?
There was, but we can't get our hands on the bike until after Thanksgiving. With the holidays coming up, it would have been extremely difficult. We would have needed to ship off the engine and suspension and also get the bike mapped. It's a process. By the time we would have completed everything with the 2017 model, we were looking at January already. I'd rather go into the season ready to go on a bike that I know. Trying to figure out a new bike during the season seems foolish to me.
"THE UNSIGNED GUYS HAVE TO KEEP WORKING AND BE READY TO RACE. THEY HAVE TO GET ON THE BIKE AND DO LAPS, FOLLOWING A NORMAL ROUTINE. IF I WAS IN THAT POSITION AGAIN I WOULDN'T WAIT FOR A CALL, BUT INSTEAD PUT MYSELF OUT THERE AND GRIND OUT LAPS ON THE PRACTICE TRACKS. THAT WAY, IF SOMETHING DOES HAPPEN, YOU'RE READY."
You have been loyal to Mike Genova and the MotoConcepts team for many years. You're kind of synonymous with that program, which is a great business move on your part. You have a home and are familiar with the team. What do you think of the large group of talent–guys like Dean Wilson, Malcolm Stewart and others–who haven't found a home?
It's a tough position to be in. I was in that position in 2011 after coming off the Red Bull KTM factory team. The phone was not ringing. It put a hardship on myself as racer, and really as an individual. I had just gotten married and I didn't even have a job. I was trying to find a team that was willing to take me, and I felt like I wasn't worthy of a ride. It sucks. I can definitely understand what the riders that don't have rides at the moment are going through. You have to keep training and working. Ultimately, you have to put yourself out there. I bought my own Suzuki, went to Monster Energy Cup in 2011, and qualified third in practice behind Ryan Villopoto and Ryan Dungey. My results that night weren't great, but I showed that I could be up front. Out of the three motos, I rode well in the first and third moto. I was good enough that MotoConcepts picked me up, and that has been my home ever since. The unsigned guys have to keep working and be ready to race. They have to get on the bike and do laps, following a normal routine. If I was in that position again I wouldn't wait for a call, but instead put myself out there and grind out laps on the practice tracks. That way, if something does happen, you're ready. Injures are an unfortunate part of our sport, but you have to be ready to fill a spot when the phone rings.

There are a lot of rumors surrounding MotoConcepts and that they're expanding the team for 2017. Who's in the lineup?
We have a full team next year. There's me, as well as Vince [Friese] coming back on the 450, along with Justin Brayton. In the 250 class we'll have [Cameron] McAdoo, who just won at the Monster Cup in the All-Star class. He has to race some Arenacross to earn points so that he can race 250 East. In the 250 West we'll have Fredrik Noren. It's a solid team, and we're looking for good results.
It's great to hear that MotoConcepts picked up Justin Brayton, because he has been doing great racing the Australian Supercross series. It seems like a natural fit, as well, given that you both train together at ClubMX.
We do train together. Heck, our bike stalls are only 30 feet away from each other [laughter]. JB is a good dude. He has a lot of experience and knowledge in this sport. He knows what he's doing, and he's a professional guy. I definitely look forward to working with him next year.
As of right now, Alessi will race for two more years and call it quits. If all goes to plan, he will have raced for 16 years professionally–more than half of his life.
How has your experience been with the MotoConcepts team?
It has been really good. Every year the team gets stronger, and the foundation is solid. We have a good group of guys. The mechanics are great; Race Tech suspension is good, and also Chad is with the engines. We have a solid team.
Are you going back to Canada next summer?
As of right now I'm still talking with the Kawasaki team for next summer. My focus right now is Supercross, with more than likely the potential of racing up in Canada with the Monster Energy Alpinestars Kawasaki team. We will see.
"I DEFINITELY KNOW THAT WHEN IT'S DONE, DUSTED AND OVER WITH, I'M GOING TO MISS THE GRIND OF TRAINING, TRAVELING TO THE RACES AND BEING A PART OF THE MOTOCROSS COMMUNITY. IT WILL BE TOUGH, BUT IT HAS TO HAPPEN."
Back when we spoke in late April, you were adamant about retiring in the next few years. Has that plan changed?
2018 is my last year. I have two years left. Things could change. If I'm still competitive, having fun and injury free, I might race until I'm 31 or 32. As of right now, my heart is set on doing two more solid years. I want to be consistent and try to run up front. I want to keep having fun with this sport. It is what I have done since I was three years old. I definitely know that when it's done, dusted and over with, I'm going to miss the grind of training, traveling to the races and being a part of the motocross community. It will be tough, but it has to happen. I'll close that chapter of my life and start a new chapter with family and kids. 30 years old is the mark.
I envision you retiring down in Florida on your farm, taking care of animals, and going to a flea market or two.
[Laughter] I love flea markets! Every Sunday I go to the flea market, but I can't do it during the race season, because I'm always traveling on Sunday. Only during the offseason do I get to enjoy hitting up the flea market. The good thing is that there are a lot of flea markets in Florida. You never know what you're going to find there. It's a fun experience.
Thanks for your time, Mike. Enjoy boot camp.
Thank you.