JORDON SMITH INJURY UPDATE: DISLOCATED SHOULDER

JORDON SMITH INJURY UPDATE: DISLOCATED SHOULDER, OUT FOR 2021 SUPERCROSS
Unfortunately, injuries are apart of our sport and it's never fun to see someone struggle through it. Sadly, Monster Energy Pro Circuit Kawasaki's Jordon Smith has dealt with more than his fair share of injuries in the past few years. A wrist injury kept Jordon sidelined for most of the 2019 season (Smith's last season with the Troy Lee Designs Red Bull KTM team). Then, Jordon joined the Pro Circuit team for 2020, but his year was cut short when he injured his knee at the Daytona Supercross.
Unfortunately, Jordon Smith had a big crash in the first rhythm section right off the start in the 250 Heat race at Arlington #3. He snuck up the inside of the first turn, drifted wide and bumped into Coty Schock on the landing of the first jump. This sent his flight trajectory sideway off the next lip, causing him to cross jump into Mitchell Harrison. Both riders went down and took Garrett Marchbanks with them. Both Garrett and Mitchell were able to continue racing, but Jordon Smith was left with a dislocated shoulder.
Often times, riders who dislocate their shoulders will tear the labrum, the ligament that holds the shoulder in it's socket. Doctors usually recommend surgery on this type of injury, but not always. Jordon doesn't plan to have surgery. He stated that he will rehab his shoulder without an operation, as he's done in the past, and he'll set his sights on the 2021 Outdoor National season which starts on May 29th at Southern California's Fox Raceway (formerly known as Pala Raceway).
Jordon Smith posted via instagram: "As most of you guys know, it's been a pretty rough year for me so far. A lot of injuries, not very much riding, a lot of crashes. It just seems like one thing leads to another." Jordon went on."As most of you saw probably on Saturday at Dallas. I had a pretty big crash in the first heat race there and went down and dislocated my shoulder. I'm going to be out for a little while with that. I went to the doctor, got an MRI. I've dislocated it once before in 2013 and we just rehabbed it, got it back strong again and I've never had a problem with it until now. So that's the plan this time, just to try and rehab it up and start getting ready for outdoors and try to make a good season out of outdoors. I need a little bit of a reset. I've been pretty beat up, it's been pretty tough mentally and physically. But, luckily I have a great team with the Monster Energy Pro Circuit Kawasaki team behind me. Mitch has been awesome. Everyone there has been really supportive. They know that I got what it takes and it's just going to take a few things going in the right direction to get everything turned around. So, thanks for everyone's support and we'll be back soon." 
Jordon has had a rough go at the 2021 season. 
Unfortunately, the 2021 Monster Energy Supercross series started off poorly when Jordon had a pre-season crash while training that left him with a nagging thumb injury. Sadly, this ailment snowballed into a series of four big crashes and more injuries:
First, the thumb injury led to a crash in the Main Event of the 250 West series opener at Orlando 2. Jordon said: "The whole day was going great until the strength in my thumb made my hand slip off going through the whoops." It was a rough get off that kept him from finishing the race, but Jordon said that he was only bruised and would be ready for the Daytona Supercross.
Secondly, Daytona came, and a crash during qualifying practice caused Jordon to get hit by another rider. This resulted in a bruised tailbone and a cut that required 20 stitches on his "backside".
Thirdly, at the first Arlington Supercross, Jordon Smith was in third place until the five minute mark of the Main Event. He slid out on the lip of a double and landed hard on his shoulder. Jordon was beat up, but he still got back on his bike, ripped jersey and all, and finished the race in 22nd. At Tuesday night's Arlington Supercross #2, Jordon rebounded to finish 8th in the 250 Main Event.
The fourth and final crash came at Arlington #3. Right off the start in the first 250 Heat race, Jordon connected with Coty Schock in the first rhythm section after the first turn. This sent his flight trajectory off the jump sideways, heading him straight into Mitchell Harrison, causing the both of them (as well as Garrett Marchbanks) to crash. This crash resulted in a dislocated shoulder. Jordon was out for the race and now he's said that he's out for the rest of the Supercross season.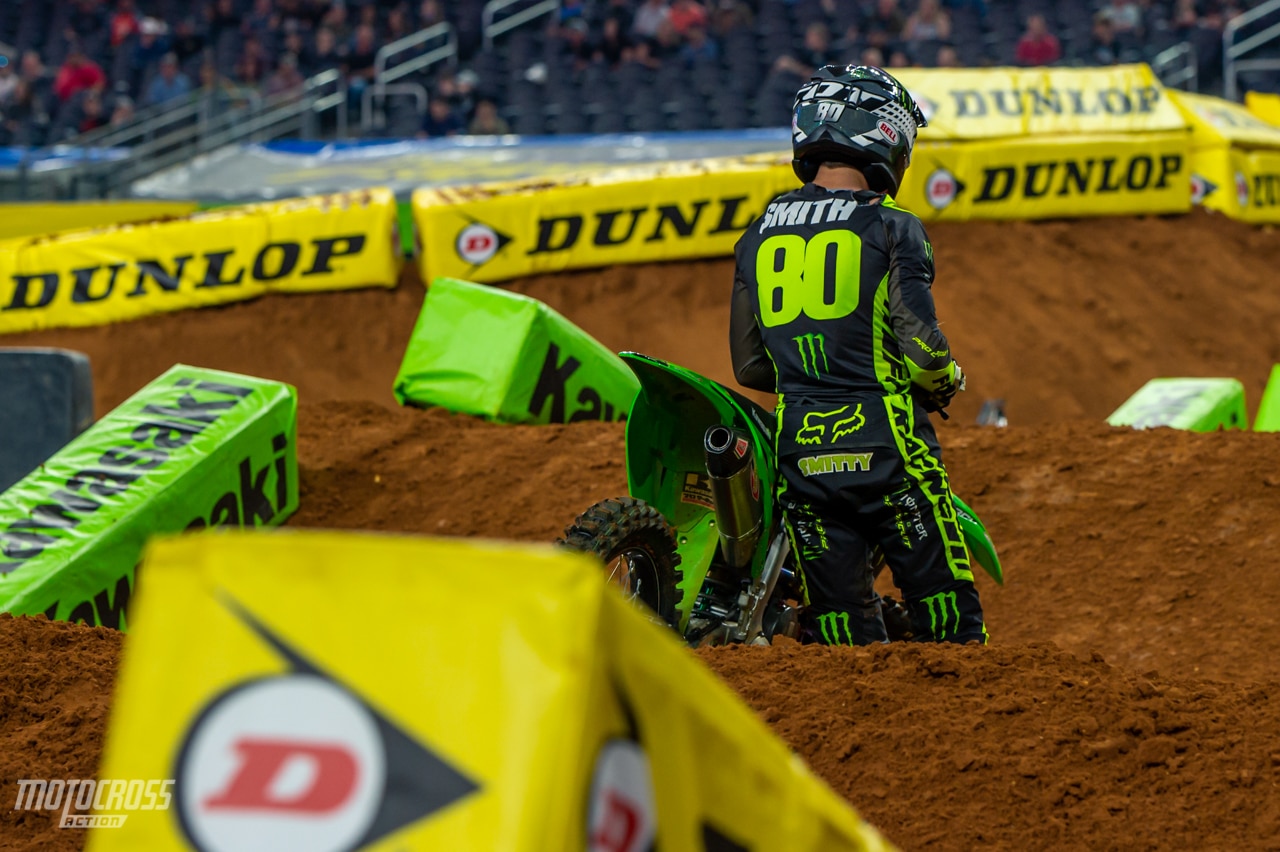 We wish the best Jordon Smith's recovery.