LOOKING BACK AT LAST YEAR'S MXDN: DO YOU REMEMBER IT?

By Josh Mosiman & Jim Kimball
With Team USA having an 11-year drought at the Motocross des Nations, the event was starting to lose its luster for Americans. To put it in perspective, 21-year-old fans were only 10 when Ryan Dungey, Ryan Villopoto and Blake Baggett last won the event for Team USA at St. Jean d'Angeley in France. Anticipation was high when the race came to Red Bud in 2018, but the combination of rainy weather, an adjusted track layout, soft/muddy conditions, and the weight of having the whole country on their shoulders caused Eli Tomac, Justin Barcia and Aaron Plessinger to struggle. The sandy and wet 2019 event in The Netherlands posed more troubles for Team USA. The 2020 race was canceled due to the pandemic, and pandemic-related travel restrictions meant that the United States didn't send a team to the 2021 event in Italy. With the race back at Red Bud for 2022, the redemption pressure was on. We couldn't afford to lose on home turf again. 
TEAM USA PROVES IT CAN RIDE IN THE RAIN
With heavy rain on Sunday morning and a light drizzle throughout the day, everyone was having flashbacks to 2018, but Team USA stayed strong and pulled off the win in muddy conditions to silence the doubters. The rainy conditions weren't ideal as Justin Cooper (102) demonstrates, but now nobody will be able to say that the Americans can't win in the mud. 
TEAM FRANCE WAS PIECED TOGETHER
The French have been successful at the Motocross des Nations with five wins in a row from 2014 through 2018. For 2022, the team was unique. Gautier Paulin retired at the end of the 2020 season (and came to help the team all weekend at Red Bud), Romain Febvre missed most of the 2022 MXGP season after breaking his leg at the 2021 Paris Supercross offseason race, and he wasn't selected. The MX2 World Champion, Tom Vialle, had a small surgery and wasn't going to be ready. last minute replacements Dylan Ferrandis and Marvin Musquin haven't been asked to be on Team France in years'the joined Maxime Renaux (13) on the French team.  Ferrandis' last MXDN race was in 2018 at Red Bud, and Musquin's last race was in 2015, which was also his last race on a 250. Nonetheless, when called, they answered. The thrown-together French team was still able to score second place overall at Red Bud. 
TEAM AUSTRALIA IS YOUNG AND HUNGRY
Jett Lawrence has continued to live up to the hype surrounding him, and this year marked the beginning of a new era for Team Australia when Jett and Hunter Lawrence both lined up together, along with fellow Aussie MXGP rider Mitch Evans. The Evans and Lawrence relationship goes back to their mini-bike days in Australia, and everyone enjoyed seeing an all-red Team HRC Honda/Team Australia effort for 2022. Unfortunately, this team won't be all red again next year, as Red Bud marked Mitch's last ride on a Honda, but we expect him to join the Lawrence brothers again next year at the Motocross des Nations in France with his new Factory Kawasaki MXGP ride.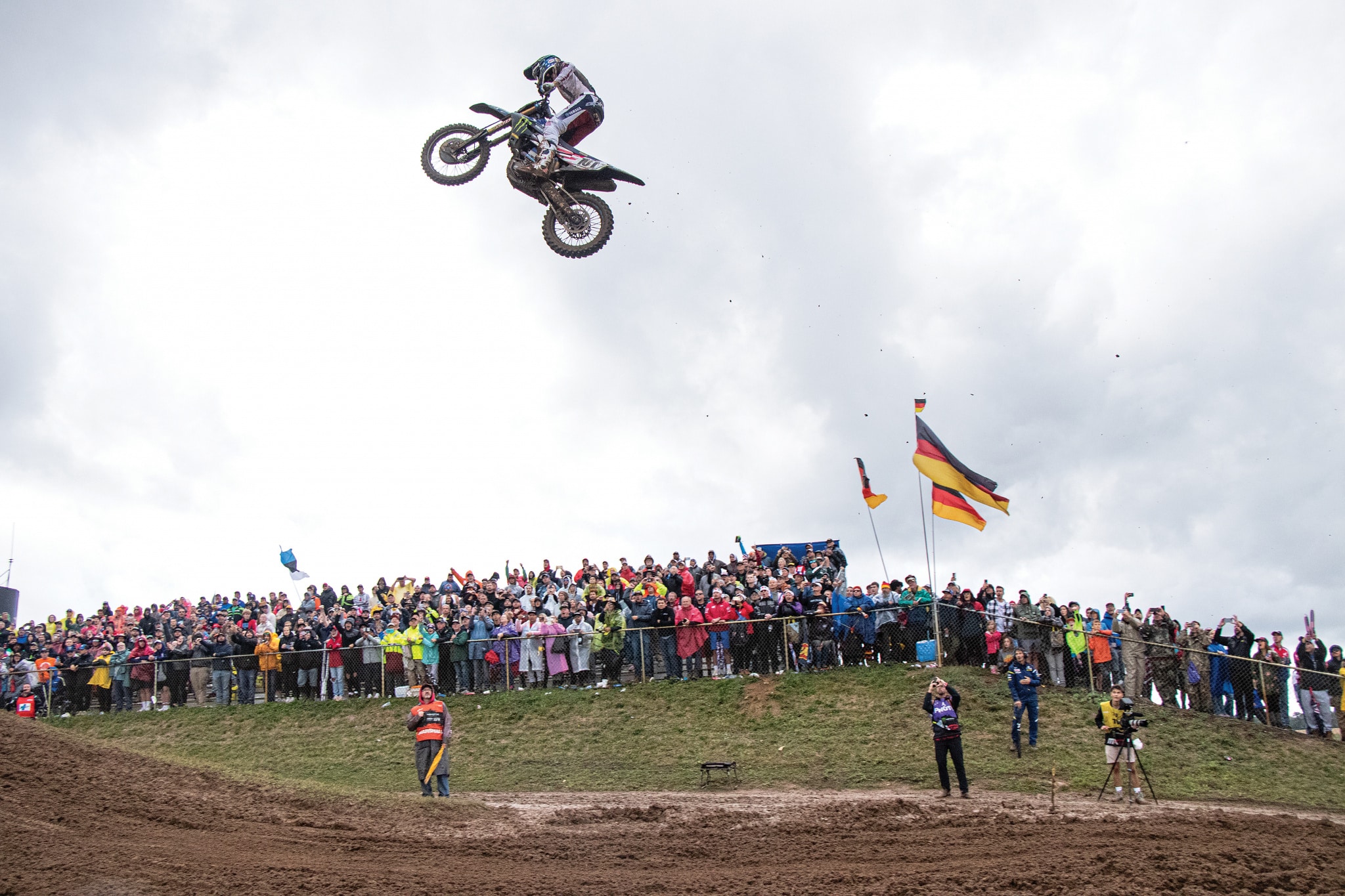 LAROCCO'S LEAP WAS SCARY AS USUAL
LaRocco's Leap is an iconic landmark in American motocross culture, and it continues to awe fans and scare the best riders in the world to this day. Even Jett Lawrence said that he was nervous to race the 450 because it meant he had no excuse not to hit the Leap. In the dry conditions on Saturday, Justin Cooper was able to clear the jump on his Star Racing Yamaha YZ250F, and most 450 riders cleared it. But the muddy conditions on Sunday made it more challenging, and only a handful of riders opted to go for it in the races. Even Eli Tomac took his time before he uncorked the leap midway through the first moto on Sunday. Multiple rear wheels were sacrificed during the weekend when riders clipped the top of the landing and blew out their spokes. 
RIDERS THAT STOOD OUT AT RED BUD
Factory Yamaha 250 rider Jago Geerts (16) finished second in the 250 World Championship behind KTM's Tom Vialle. Jago amazed the crowd at Red Bud on his move up to the YZ450F. Like Jett Lawrence, who also moved to the 450 for this race, Jago had only a few weeks on the bike when he won the MXGP qualifying moto ahead of Eli Tomac and a long list of top riders on Saturday. In Sunday's first moto, Jago stuck with Tomac the whole moto and finished second in the race for Team Belgium.
Kay De Wolf (5) was also impressive to watch. He was going "all-out" on his FC250 with Justin Cooper (102) in hot pursuit.
French rider Maxime Renaux came out on top in the final race of the weekend, and it was easy to confuse him with Dylan Ferrandis, as he was also on a Yamaha YZ450F wearing matching French-flavored Thor gear. Maxime held off Chase Sexton and a hard-charging Jett Lawrence in the final moto of the weekend to take the win and help propel Team France to second place on the overall podium.
From his first laps on the track, 17-year-old Kay De Wolf's aggressive style caught everyone's attention. When he rides, it looks like he's trying to snap the foot pegs off the frame. He is tall and uses his legs to squeeze every bit of power out of his Husqvarna FC250. His bike was fast enough to beat Justin Cooper's Star Racing Yamaha to the first turn in their heat race, but by the looks of his riding style, you'd think he was on a Supermini.
MXDN REDEMPTION & REINVESTMENT
Overall, the 2022 Red Bud Motocross des Nations was a success. Team USA won, the fans witnessed the world's best 250 riders (Jett Lawrence and Jago Geerts) shining in their first 450 race, and the fans enjoyed seeing a different rider win in every moto of the weekend. Jago Geerts, Justin Cooper and Dylan Ferrandis won their qualifying motos, while Eli Tomac, Jett Lawrence and Maxime Renaux won the three MXDN motos. The cheering pre-race excitement at Friday's opening ceremonies and the post-race crowd below the final podium were both unlike anything at any other motocross event held in the USA. 
If Team USA had lost, it would have been bad for the sport of motocross in general. How can we say that? Because the American market, the biggest in the world for dirt bike sales, would have lost even more interest in this event. Instead, with Team USA back on top after 11 years, American fans are reinvested in the Motocross des Nations and are more excited to see the Americans line up with numbers one, two and three on their bikes in France next year. 
Team USA celebrates a long-awaited win with Team France to their right and Team Australia to left.
MXA MINI-VIEWS: YOUNG RIDERS WHO MADE THEIR MARK AT THE MXDN
MATTIA GUADAGNINI'S BIG GAMBLE
LAST YEAR YOU WERE ON THE WINNING ITALIAN MXDN TEAM. HOW WAS THAT? It was amazing. I cannot describe it. It was my dream to represent my nation, and the chance to do it with Tony Cairoli was also amazing. It was one of the best days of my life, and for the future it will remain important, because winning Motocross des Nations is not easy. To do it in Italy in front of the home crowd was something special.
FOR 2022 YOUR TEAM SWITCHED TO GASGAS. WAS THERE MORE PRESSURE THIS YEAR? The second year, of course, brings more pressure. Fighting for the World Championship is not easy, and my 250 results were not the best at the first few races of the season. We decided to move to the MXGP (450) class, so it was a little bit strange.
WAS IT YOUR IDEA TO MOVE TO THE 450 CLASS OR THE TEAM'S? I was thinking of staying in the 250 class because I wanted to fight for the 250 title, even though I was a little bit back in the points. But, the team asked me to think about moving up, reminding me that I would be moving to the MXGP class anyway in 2023.
THEY WANTED YOU TO GET YOUR FEET WET FOR THE 2023 450 CLASS? Yes, they thought I could get used to the bigger bike and the different riders. I thought about what was the best choice for my future, and I decided to move to the 450 at mid-season. I did 12 450 races this year. I have some good experiences for next year. I will not be starting from zero. It should be easier to be in the front sooner.
LIAM EVERTS IS HIS FATHER'S SON
WHEN PEOPLE SEE YOUR LAST NAME, THEY EXPECT YOU TO WIN. HOW DO YOU HANDLE THAT? I grew up with this all my life. Of course, with now racing in the 250 World Championships, there is a bit more of it. I am my father's son, but I try to put it aside and just race.
IT HAS NOW BEEN SOME TIME SINCE A BELGIAN WON A WORLD CHAMPIONSHIP. CAN YOU DO IT? That is very easy to answer: "Only time will tell." I cannot predict the future. I must race my heart out, and there is no more I can do.
WITH THE MXDN BEHIND YOU, WILL YOU BE DOING ANY MORE RACES THIS YEAR? No. I would like to get on the new bike, get a feel for it, and set it up for next year. I finished off nicely at Red Bud with a fourth in the 250 class and got some good racing in, but now the season is over. I think it is time for a rest.
YOU MENTION THE NEW BIKE. WHAT KTM DID YOU RACE THIS YEAR? I raced the previous-generation KTM. It's basically the bike that won the 250 World Championship two years ago. I think switching to the newer model would have been too much change for my first year in the 250 World Championships.
DID YOU PICK UP TECHNIQUES BY WATCHING YOUR FATHER RACE? For sure. The biggest technique I picked up from him was to stand the majority of the time while riding. We've watched a lot of videos of him racing together.
SIMON LANGENFELDER & THE GERMAN FANS
YOU GOT SIGNED BY THE DECARLI GASGAS FACTORY TEAM FOR 2022. TELL US ABOUT YOUR FIRST GP ON THE FACTORY TEAM. It was a great start! I was hoping to be in the top five consistently but not to win the first 250 Grand Prix!
BEING ONE OF THE FEW GERMAN RIDERS, HAVE YOU SEEN YOUR FAN APPEAL GROW? Yes. I noticed that back in 2021 there were quite a few people coming around, but not as many as this year. I couldn't even walk through the paddock anymore because everyone wanted to have a picture or an autograph. I saw many German flags.
NOW THAT THE MXDN IS OVER, ARE YOU LOOKING FORWARD TO 2023? With my fifth in the 250 class at Red Bud, I will take some time off. But we will soon be starting on our bikes for next year. I would like to relax in Germany for some time before relocating to Italy. I live in Germany but only half the time because the other half of the time I live in Italy with the Decarli team. We have more time off than last year, so we can take it a little bit easier.
YOU ARE ONLY 18. DO YOU HAVE ANY DESIRE TO COME TO AMERICA LIKE KEN ROCZEN DID? I would say that idea is a little bit far away, because I am happy at the DeCarli team. I don't want to move to America. It would be hard because I would need to find all-new people. It is so far away also from my family. I don't believe it's the actual racing and tracks that make it harder; it's all the other things about moving so far away. Right now, I don't think much about it.
KAY DE WOLF IS SURE OF HIS FUTURE
THIS WAS YOUR FIRST MOTOCROSS OF NATIONS. HOW WAS IT? It was my first trip to the USA, so it was a big experience. I was really looking forward to qualifying, because that is just 250s against 250s. I wanted to see how I compared to the U.S. riders, like Justin Cooper, Hunter Lawrence, Jett Lawrence and all those guys. Unfortunately, my rear wheel came apart on the first lap of qualifying. That was something I was really looking forward to, but I did finish sixth in the Red Bud MXDN 250 class.
WHY DO YOU THINK SO MANY GOOD RIDERS COME FROM THE NETHERLANDS? That's a good question. I believe it has to do with our sandy soil. It appears that if you can ride sand tracks, it helps you on other types of soil. We also have some decent practice tracks that are available.
IN AMA SUPERCROSS AND MOTOCROSS, THE HUSKY RIDERS STRUGGLED WITH THE SETUP ON THE ALL-NEW HUSQVARNA. DID YOU? No, straightaway I felt comfortable on this bike. I really enjoyed racing it. It was a pretty big step up from the previous generation. It was all for the better as far as I am concerned.
AT 18 YEARS OLD, YOU HAVE THE TIME TO RACE IN AMERICA. ANY DESIRE? Yes. I liked the Red Bud track a lot, especially the big jumps. It was my first time here, and I loved it. I am going to be spending some time in Southern California before heading back to Europe. I will be racing the MX2 World Championship in 2023. I'm not sure if I will race in America in 2024, but I want to come back some day and do both Supercross and motocross. Of course, I will need to do some Supercross training first!
KEVIN HORGMO IS GRATEFUL FOR NORWAY
IS IT DIFFICULT TO BE A PROFESSIONAL MOTOCROSS RACER IN NORWAY? Yes, it is true. In Norway, we cannot ride during the winter, and we have to wait for the deep frost to thaw in the spring. The weather hinders motocross at home, but at the same time, we have a lot of people who are passionate about racing in Norway.
IN MOTOCROSS, YOU HAVE PRIVATEERS WHO ARE BARELY SCRAPING BY AND FACTORY RIDERS WITH BIG SALARIES. True. It is hard in Europe to make a living racing. Many teams are only interested in racing their National series. It is a big step to race the World Championship and very expensive to travel around the world. Once you step up to a factory team, they handle everything for you. Then, and only then, can you finally start making good money.
YOU'RE ON THE F&H KAWASAKI TEAM. HOW IS THAT? In 2021 I had a package with bikes, and they took them to the races for me. But getting to the races, physical training and everything else, I had to do myself. This year the F&H team has taken care of the whole package. I even have a full-time motocross trainer.
ISN'T YOUR TRAINER MARC DE REUVER? Yes. Marc has done things the good way and the bad way. He has been in big holes in his career and had the highest highs, so he knows about everything in between.
YOU RACED THE MXDN TWICE BEFORE. HOW WAS YOUR RED BUD EXPERIENCE? I raced the MXDN in Matterley Basin. It was in really bad weather. Then, in 2019, I did the Motocross Des Nations in the Netherlands. It was in horrible weather. It is nice to represent your country. I am grateful that the federation would fly us to America. We finished 13th.
RUBEN FERNANDEZ ON PAYING HIS DUES
SPAIN WAS A STRONG TEAM AT THE RED BUD MXDN. WILL THEY WIN IN THE FUTURE? Maybe. We have several young riders for the future. We finished sixth overall, and we were only one point behind Belgium and two points behind Italy. My teammates at Red Bud were Jorge Prado, the 2018 250 World Champion, and Guillem Farres, who did well in America and is now racing for Star Yamaha.
YOUR STORY IS SIMILAR TO MATTIA GUADAGNINI'S IN THAT YOUR TEAM MOVED YOU OUT OF THE 250 CLASS TO THE 450 CLASS IN THE MIDDLE OF THE 2021 SEASON. YOU MADE IT LOOK EASY. It was not easy. I got a hell of a beating at those first races. I did two races on the factory Honda CRF450, but it was a good move for me. I got to race the bike and finished sixth overall at my first MXGP. Then in one of the motos I finished fourth. I was sort of a big guy on the 250 anyway.
IN 2022, YOU WERE IN THE 450 CLASS FULL TIME, AND YOU WERE QUICKLY ON THE PODIUM. I think we achieved our objective, which was racing with the top guys, being in the top five consistently, and fighting for podiums. Unfortunately, I got injured with five races to go in the 2022 season.
NEXT YEAR YOU WILL BE ON THE FACTORY HONDA HRC BIKE AND A TEAMMATE OF TIM GAJSER. Moving to the HRC Honda factory team will be a big step. It will be cool sharing the team with Tim. It was a difficult and long road to get where I am. I struggled for many years on non-competitive bikes. Finally, it seems like things started to go well, and I am very grateful to Honda.
2022 MOTOCROSS DES NATIONS STANDINGS 
2022 MXDN TOP TEN NATIONS
1. USA…16
2. France…23
3. Australia…26
4. Italy…49
5. Belgium…50
6. Spain…51
7. Holland…62
8. Germany…71
9. Switzerland…90
10. Great Britain…98
MXGP (450) CLASS STANDINGS
1. Maxime Renaux (Yam)…3-1
2. Eli Tomac (Yam)…1-6
3. Jeremy Seewer (Yam)…4-5
4. Jorge Prado (Gas)…6-7
5. Jago Geerts (Yam)…2-11
6. Antonio Cairoli (KTM)…7-9
7. Max Nagl (Hus)…11-16
8. Karlis Sabulis (Hus)…20-13
9. Mitch Evans (Hon)…5-28
10. Dean Wilson (Hus)…16-20
MX2 (250) CLASS STANDINGS
1. Justin Cooper (Yam)…9-4
2. Hunter Lawrence (Hon)…8-10
3. Marvin Musquin (KTM)…14-9
4. Liam Everts (KTM)…12-14
5. Simon Laengenfelder (Gas)…17-11
6. Kay de Wolf (Hus)…10-18
7. Andrea Adamo (Gas)…15-15
8. Hardy Munoz (Hus)….27-12
9. Albin Gerhardsson (Hus)…26-19
10. Emil Weckman (Hon)… 24-21
OPEN CLASS STANDINGS
1. Jett Lawrence (Hon)…1-2
2. Chase Sexton (Hon)…2-3
3. Dylan Ferrandis (Yam)…6-4
4. Ruben Fernandez (Hon)…5-8
5. Calvin Vlaanderen (Yam)…7-14
6. Mattia Guadagnini (Gas)…3-19
7. Jeremy Van Horebeek (Beta)…13-12
8. Harri Kullas (Yam)…8-17
9. Tommy Searle (Hon)…17-15
10. Tom Koch (KTM)…16-18