MOTOCROSS ACTION MID-WEEK REPORT
#WHIPITWEDNESDAY | ORLANDO SX EDITION
Ken Roczen. 
Colt Nichols. 
Jett Lawrence. 
Eli Tomac. 
Shane McElrath.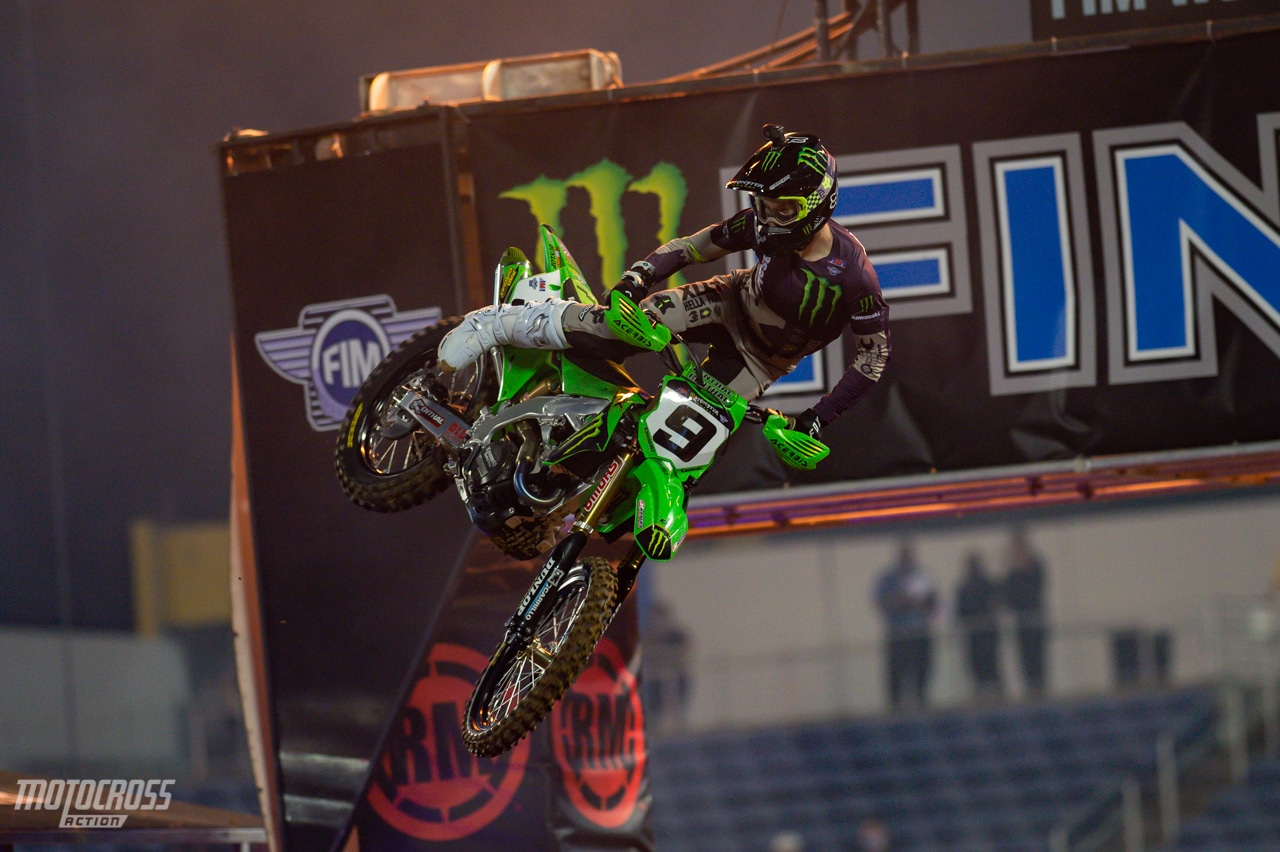 Adam Cianciarulo. 
Jett Lawrence. 
Justin Barcia. 
TWO-STROKE SPOTLIGHT: ERIC CASAS' HONDA CR125
We didn't receive any details on this Honda CR125, but it looks look a 1990 replica RC125.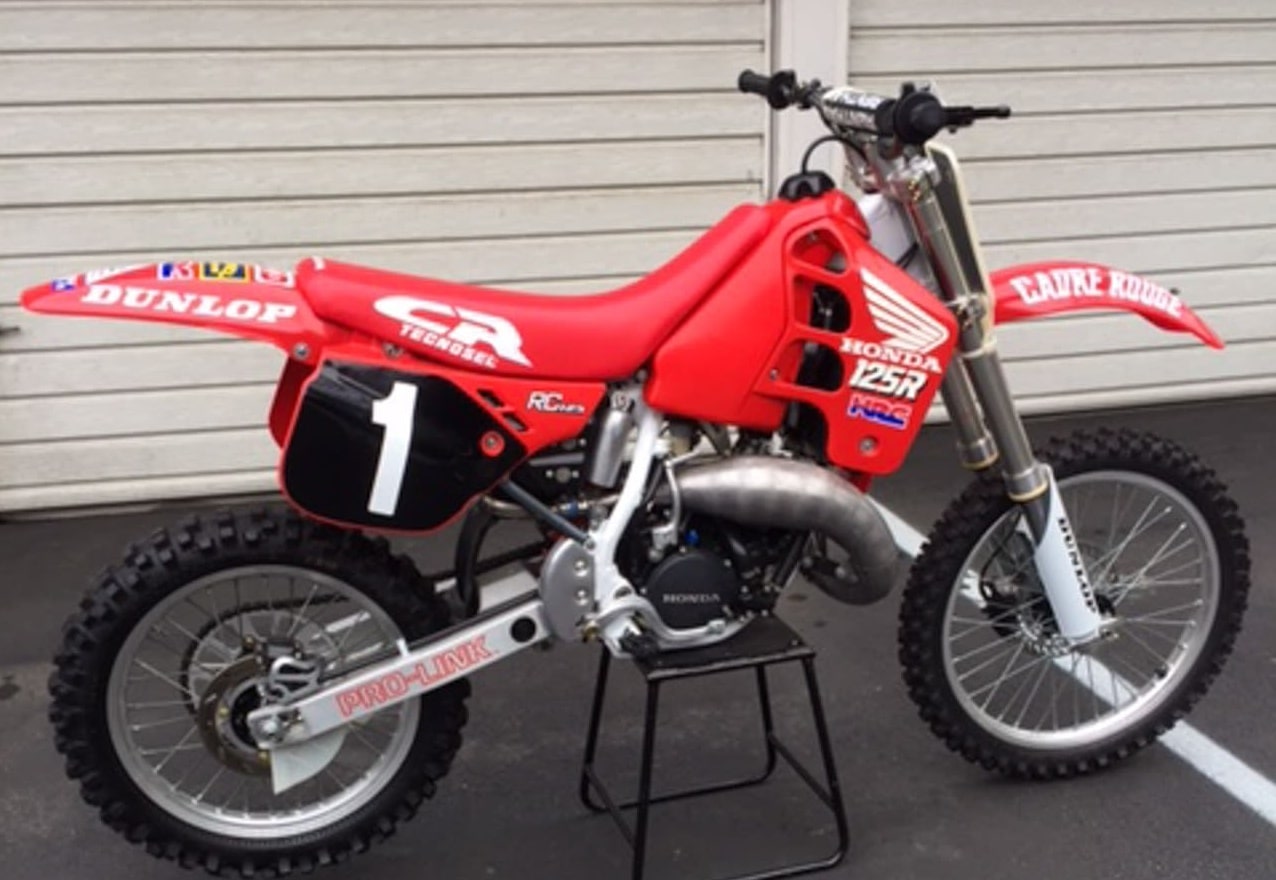 EDITORS NOTE: Please keep those submissions coming. If you would like your bike to be featured in the "Two-Stroke Spotlight," please email me at [email protected]. All I ask is that you give a breakdown of your bike and a detailed description of the build. Please also send a few photos of your steed. By submitting your bike for the "Two-Stroke Spotlight," you agree to release all ownership rights to the images and copy to MXA. 
MXA'S FIRST RIDE TEST VIDEO ON THE 2021 HUSKY FC450 ROCKSTAR EDITION
KTM FACTORY REPLICA STACYC 12eDRIVE & 16eDRIVE

The practicality and the versatility of electric power provides the perfect entry-level platform for the smallest of potential bikers. Kids can revel in the excitement of power-assisted speed and the raw instincts of motorcycling thanks to the KTM FACTORY REPLICA STACYC 12eDRIVE and 16eDRIVE electric balance bikes.
Any future rider can discover the basics of bars, wheels, torque and balance. They can emulate their Red Bull KTM Factory Racing heroes before developing to rip a track with the KTM SX-E 5 – an innovative electric motocrosser that can 'grow' with a child.
The KTM FACTORY REPLICA STACYC 12eDRIVE is the ideal starter for youngsters, typically between 3 – 5 years of age. Featuring 12" wheels with pneumatic tires and a low 33 cm seat height, it allows riders to learn to push or coast with confidence before graduating to the 3-level powered mode. It weighs less than 8 kg, boasts an aluminum frame and BMX style forks.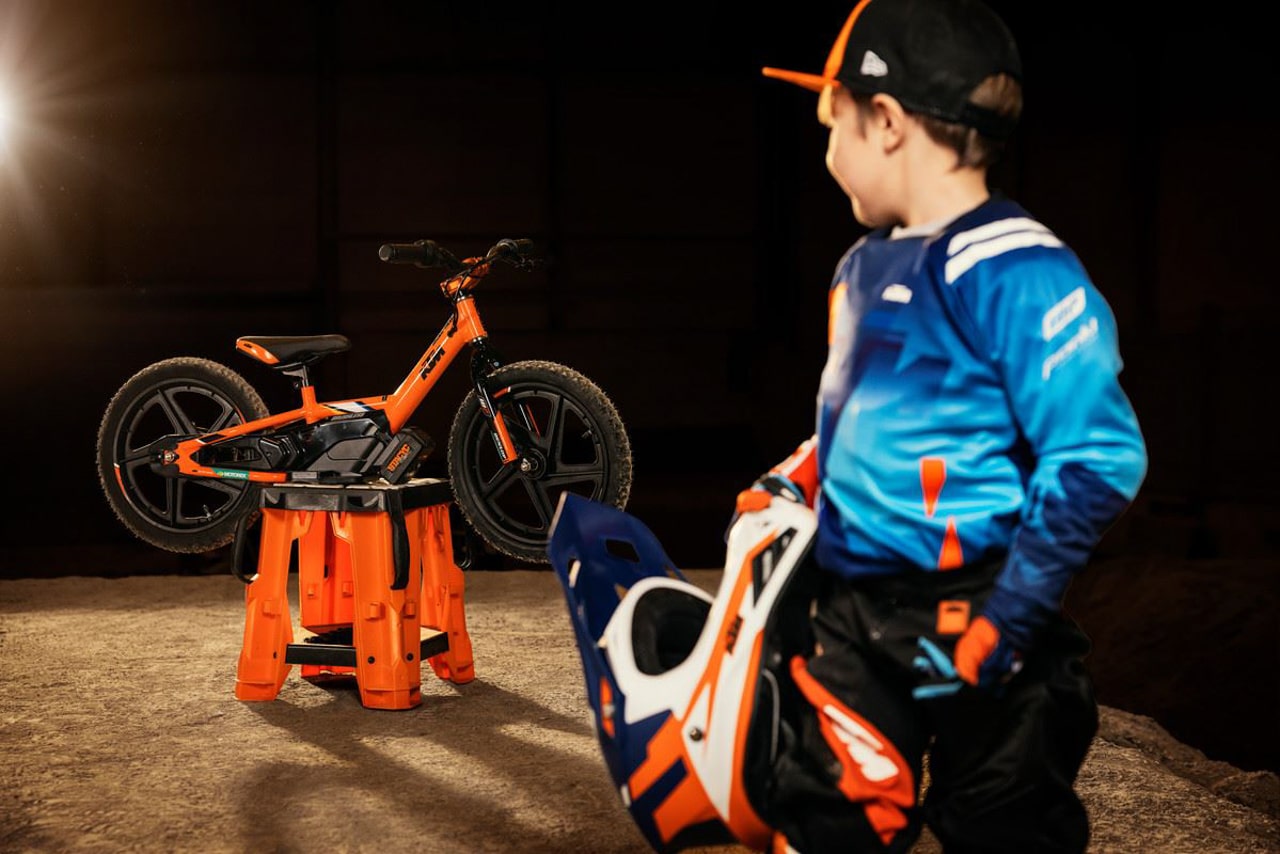 The KTM FACTORY REPLICA STACYC 16eDRIVE is the clear choice for slightly taller riders or those with more 'miles', perhaps for an age range of 4 – 8 years or a 45 – 61 inseam measurement. The bike has a high-output motor that is slightly more powerful than its smaller brother. It is fitted with larger 16" wheels and provides an increased 43 cm seat height.
Both models offer quick charging and roughly 30 – 60 minutes of run-time for an exceptional amount of fun, along with hours of hand-eye coordination and outdoor exercise. Kids can also appreciate the freedom and empowerment of a throttle. Light, portable, robust, intuitive and 'race-styled', both the KTM FACTORY REPLICA STACYC 12eDRIVE and the KTM FACTORY REPLICA STACYC 16eDRIVE are essential appetizers ahead of the wide possibilities and competitive potential offered by the KTM SX-E 5.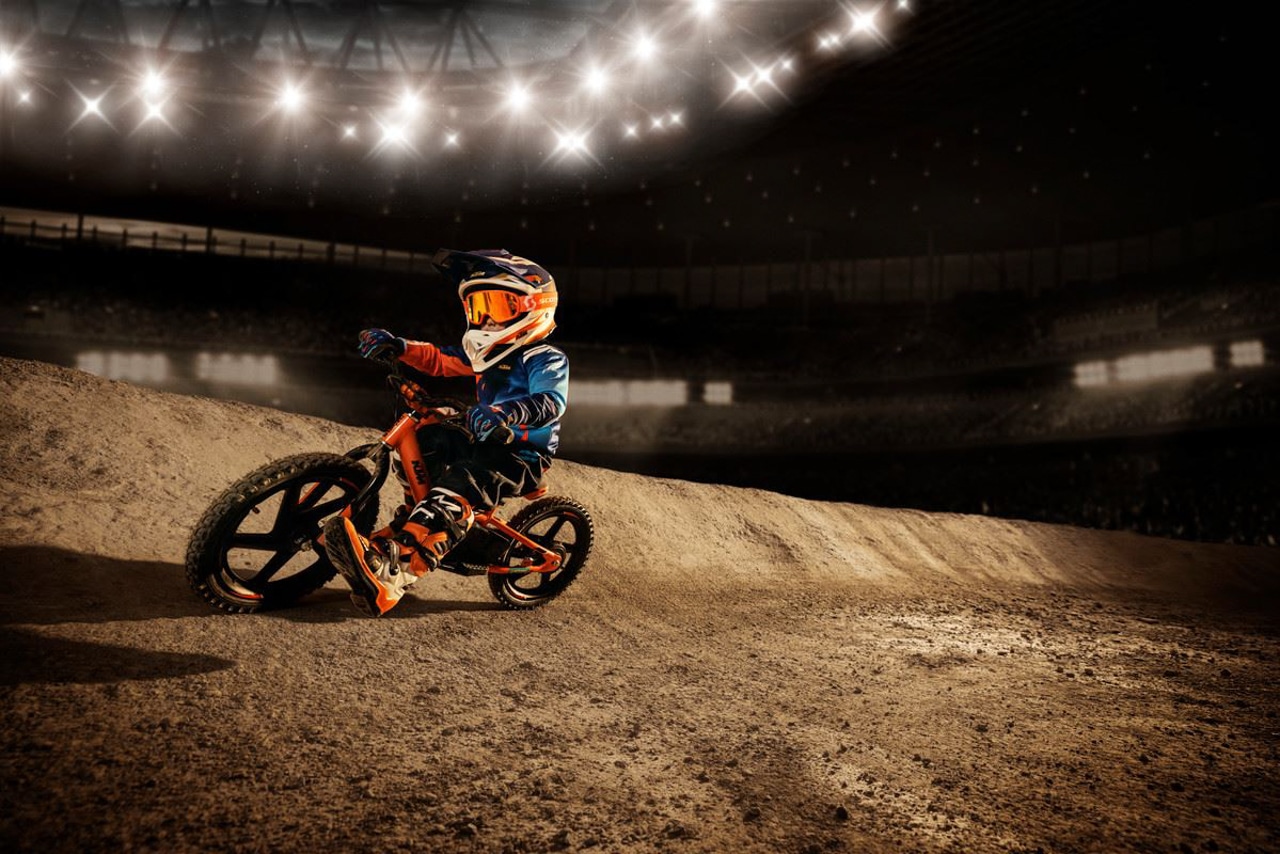 KTM FACTORY REPLICA STACYC – MODEL HIGHLIGHTS
// Sturdy, lightweight aluminum frame -> easy for children to pick up & handle
// Three progressive power modes -> first experience of powered speed
// Safe, thermally protected 20V battery -> 30-60 mins run time & 45-60 mins charging time
// 33 cm & 43 cm seat heights -> age ranges from 3 to 8 // Steel, BMX-style forks, BMX-styled chain & freewheel
// Multi-functional throttle with ride mode display & battery level
// Race Replica aesthetic with tapered footrests and ergonomics
2021 MONSTER ENERGY/PRO CIRCUIT/KAWASAKI TEAM APPAREL
 Press Release: It's that time of the year again for new race team apparel to roll out, and our 2021 line continues with a clean design and the display of our amazing sponsors. Both items are made with quality garments and superior screen printing that not only looks great, but holds up after years of washing. The 2021 Monster Energy/Pro Circuit/Kawasaki team apparel will have you looking like one of the crew members on race day, so pick up a tee or zip-up hoody and head to your local track, supercross or outdoor national event in support for the most successful privately-owned motocross and supercross team ever. Sizes range from small to 3XL.
THE ITALIAN TACITA FIVE-SPEED ELECTRIC MOTOCROSS BIKE
The Tacita T-Race Cross is an electric motocross bike made in Italy. The new Gen.2 Tacita engine has five gears. Check out more of their bikes here.
MOOSE RACING'S 2021 AGROID COLLECTION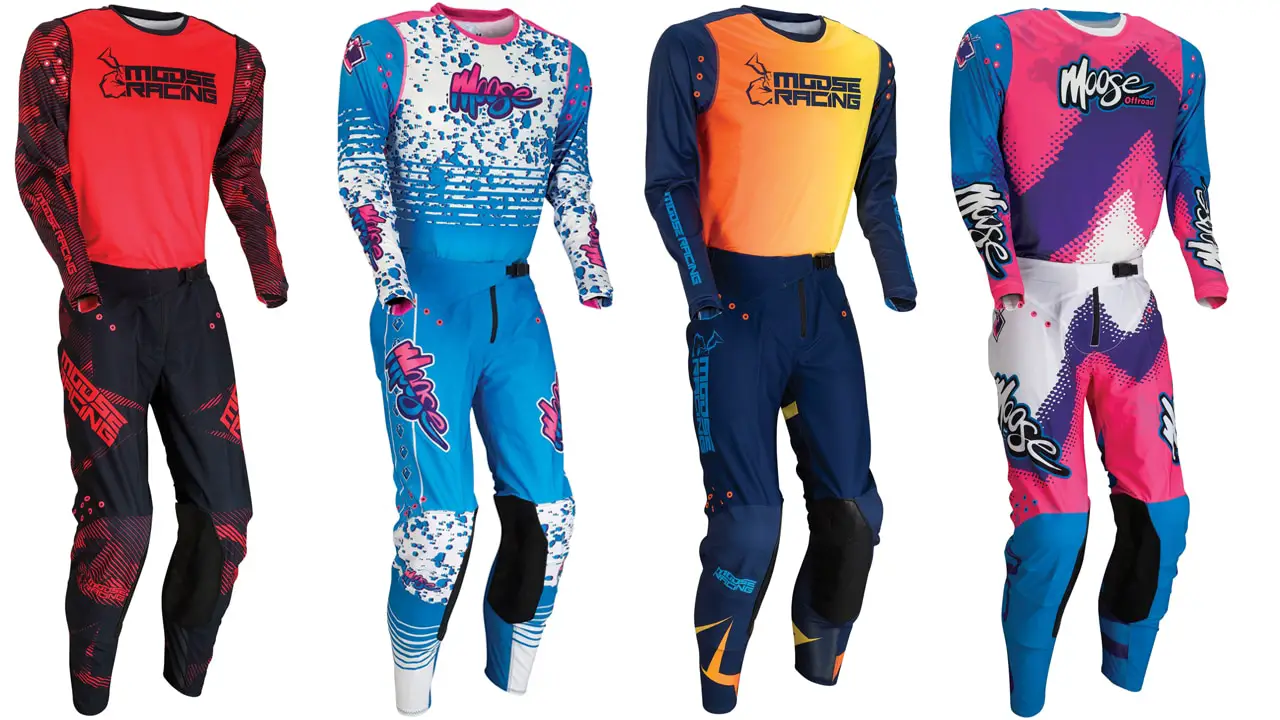 Press Release: Moose Racing introduces our 2021 Agroid collection. A new year brings a new look for Moose Racing's Agroid Racewear. 2021 features two of our retro 35th anniversary kits and three additional color ways.  The performance fit chassis of Agroid offers extreme ease of movement on and off the bike with flexible and breathable materials. This year's jersey's features include: laser cut vent holes, a custom stretch collar, quick drying fabric, light-weight stretch polyester chassis, non-restrictive stretch mini cuffs and high-quality sublimated graphics. Jersey sizes range from small up to 3X. Jersey MSRP is listed at $49.95 This year's Agroid pants features include: lightweight durable stretch polyester woven chassis, stretch rip stop woven knee and seat, stretch knee area, double-layer knee system with leather outer and inner knee guard, 3-point waist adjustment, laser cut vent holes, YKK zipper and high-quality sublimated graphics.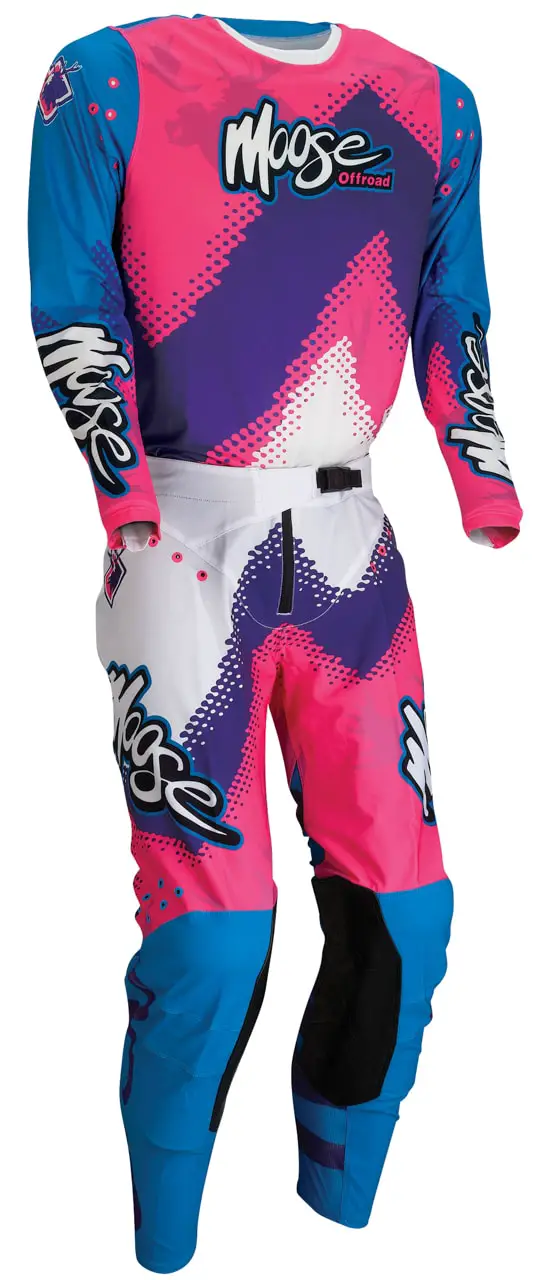 Pant sizes range from 28" up to 42" waist. Pants MSRP is listed at $139.95 The new Agroid Pro Glove is also new this year and completes the Agroid kit. This new glove features a lightweight stretch backhand with a single layer Clarino® palm with a palm overlay. Created with an out-seam finger construction for flexible and accurate performance. Other features include: stretch mesh ventilated fourchettes, pre-curved ergonomic finger design, non-fading sublimated graphics and a low-profile hook and loop wrist closure.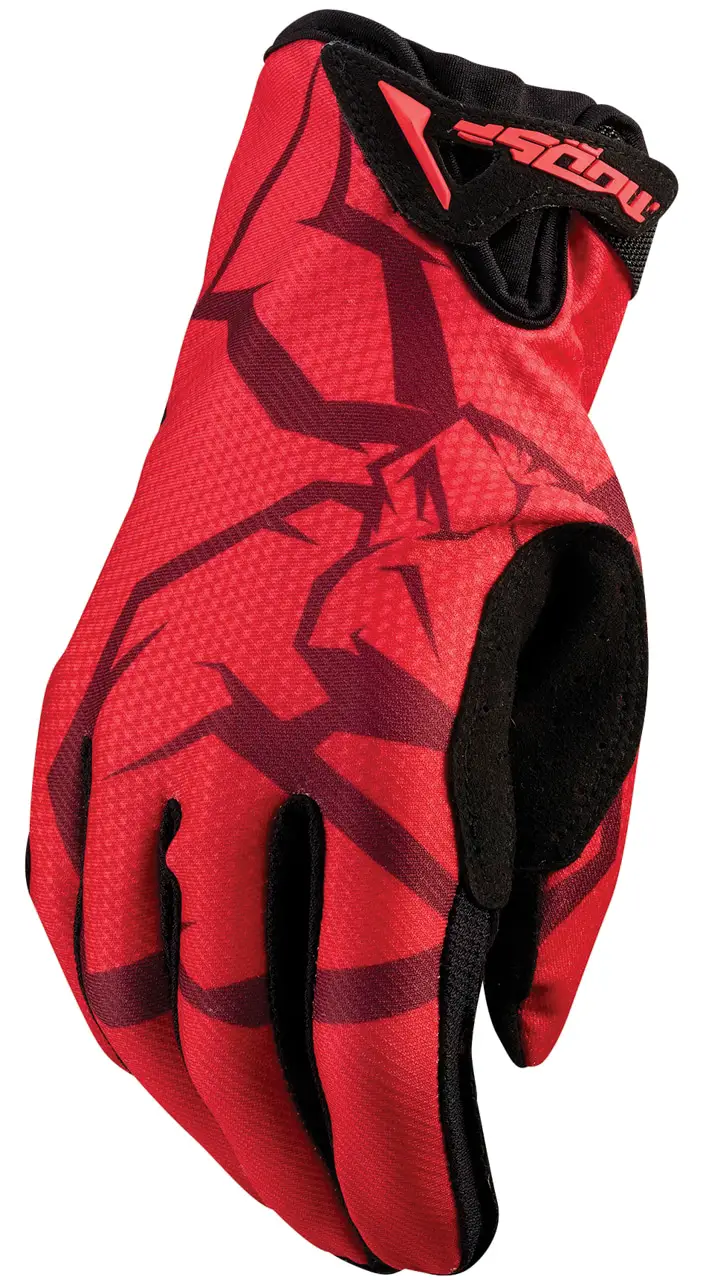 Glove sizes range from small up to 3X. Gloves MSRP is listed at $24.95. Agroid youth vented racewear is also new this spring. Youth specific fit is designed with vented materials to maximize comfort along with a full range of movement. Youth Agroid jersey MSRP's for $24.95 and the pant MSRP's for $84.95. Head on over to your local dealer or to www.mooseracing.com to check out Moose Racing's spring 2021 Agroid collection!
RECALL OF KTM SX-E 5 MODELS OF MODEL YEAR 2021: CHECK OF BATTERY VENT VALVE
KTM recalls KTM  models of model year 2021 to the workshops of authorized KTM dealers in order to check the battery vent valve due to deviations in the production process. 
Press Release: In the production process of the battery vent valve, nonconformities may have occurred. The vent valve may be missing on some vehicles, which may lead to unsafe battery conditions, e.g. after water intrusion. For this reason, a check if the vent valve is installed has to be performed on all affected vehicles. 
Customers to whom the affected motorcycles have already been delivered are being personally informed by letter and are asked to immediately contact an authorized KTM dealer to arrange an appointment. In addition, customers can check online in the "Service" area on the KTM website if their motorcycle is affected by the recall. 
The check of the bleeder valve takes approximately 10 minutes and the retrofit of the bleeder valve, if necessary, takes around 25 minutes. The check and retrofit can be carried out by authorized KTM dealers only. This check and possible retrofit of the bleeder valve is a free-of-charge service for customers performed under warranty. 
RECALL OF 2021 KTM, HUSKY & GASGAS MODELS FOR DEFECTIVE CHAIN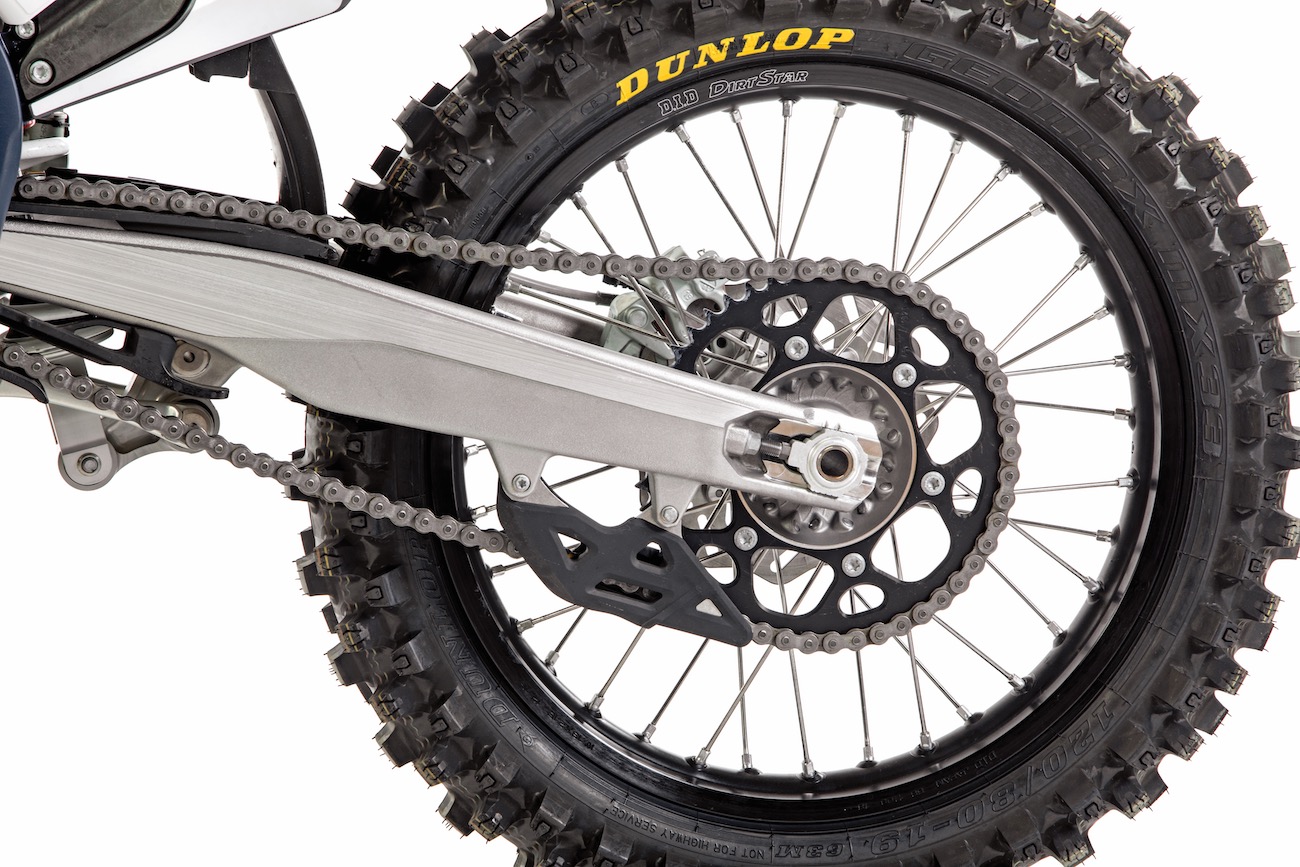 Owners of 2021 KTM, Husqvarna and GasGas motorcycles may have defective chains on their new bikes. To find out if your bike is affected, KTM, Husqvarna and GasGas owners should check on the "Service" area of their respective brand's website. Once in the "Service" area, you enter your bike's VIN number to see if your bike is included in the recall. If your VIN number is not affected, then no other action is required, but if your VIN is on the list of suspect chains, you will be required to go to your local KTM, Husqvarna or GasGas dealer to arrange to have a new chain installed. The replacement of the chain takes approximately 20 minutes. The replacement of the chain can be carried out by authorized GASGAS dealers only. This replacement of the chain is a free-of-charge service for customers performed under warranty.
MOTO | TRIVIA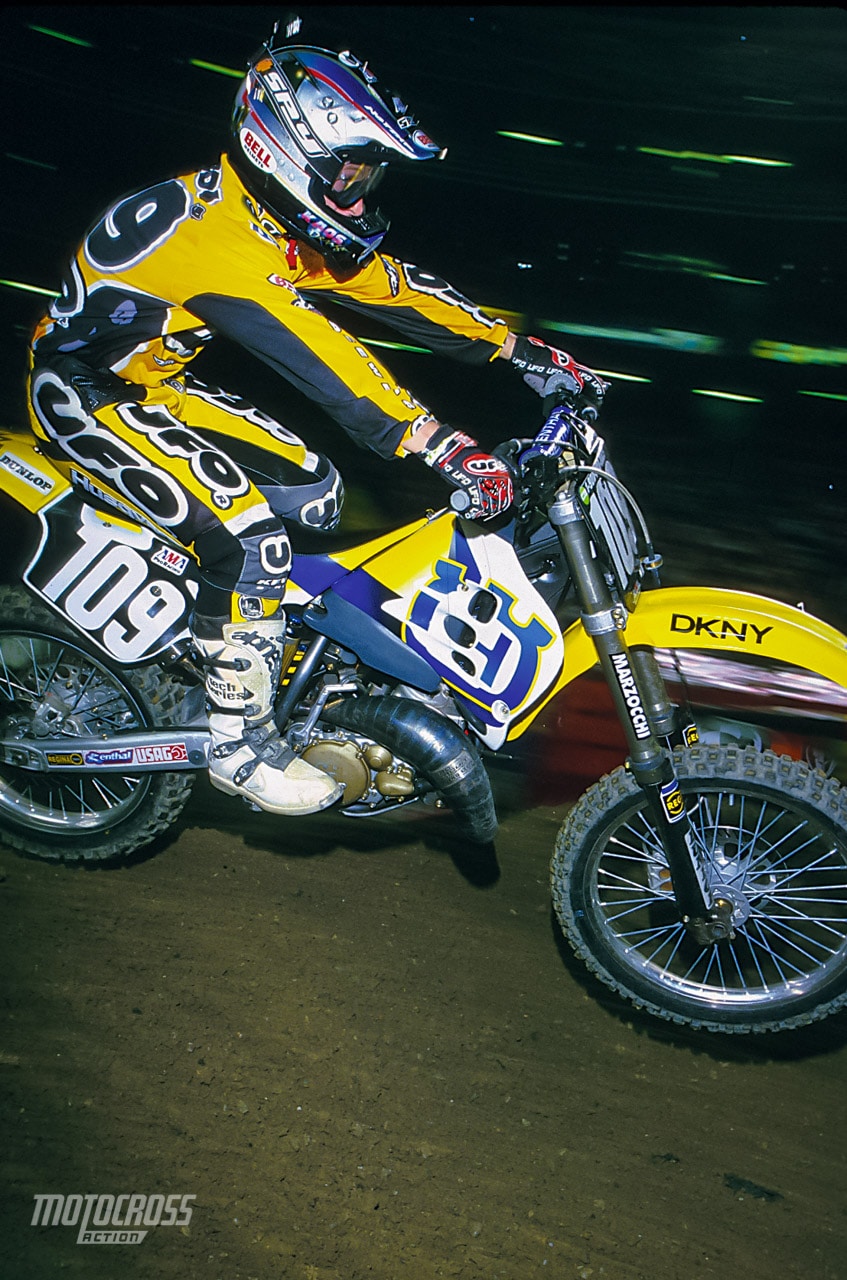 Name the rider and year. Answer at bottom of the page.
FACTORY-LEVEL GRAPHICS FOR EVERY RIDER AT OMX GRAPHICS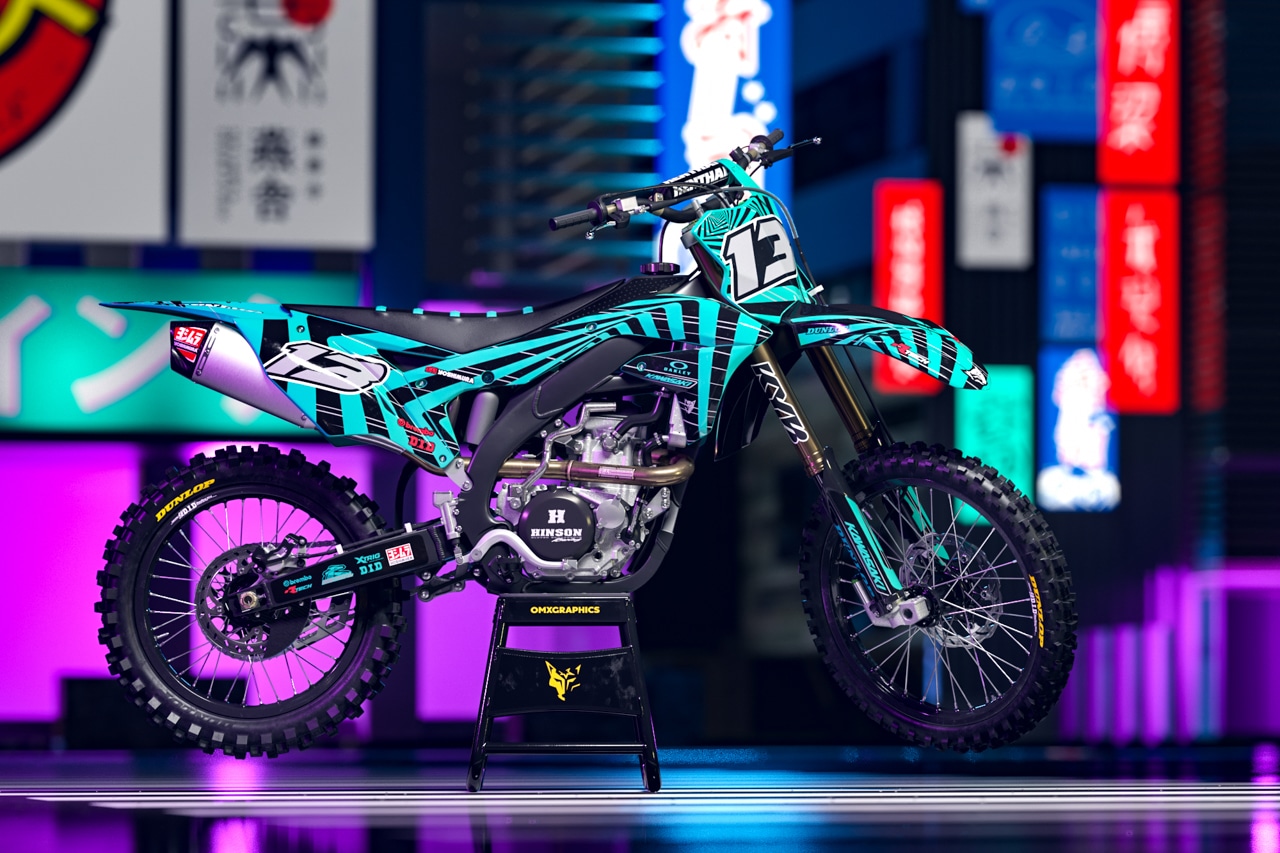 Press Release: What makes OMX Graphics stand out? They have taken the standard way of wrapping up a bike and throw it out the window. Rules of where the design lines begin and end don't apply and standard colors are ignored. Instead of that, the company encourages riders to disrupt the system and break the design rules. And by choosing mx graphics kit by OMX, it has never been easier. 
Who said that Honda has to be only in red or Husqvarnas look good only in blue and yellow? If you want a blue Honda or teal Kawasaki, just go for it. The design team of OMX works their bottoms off to come up with the most unexpected graphics. What's the point of changing the decals if you're not being unique? Therefore, OMX is the one-stop-shop for custom and never-seen-before design solutions. A few of the latest design collections praised very highly are the brand new SIGNATURE series. This kit is about to become iconic – it features a wolf pattern in sleek but aggressive dark grey and yellow hues. Now everyone can join the OMX wolf pack in no time and look rad 24/7, whatever the occasion. One of their bestselling decal collections is WILD which plays around animal prints and is the dream come true for all the savages out there. Among the crowd, favorites are BLAZE and CRIME series which are suited for the fans of bolder colors. This year, the company is launching a brand new design collection that will be retro-bikes-inspired. These vintage designs will truly become the stars of the show and turn your bike into a classy showstopper.
What are the main reasons for installing new dirt bike graphics on your ride? There is one of two things that usually happen. Either the previous graphics got beaten up or the uncovered plastics start to look trashy or you get sick of looking at the same old graphics every time you ride. When it comes to choosing custom dirt bike graphics, OMX is the most popular destination. More than a decade of experience allows us to call them the experts of motocross graphics. Team OMX has been crushing the mud since childhood but only in 2011, they decided to fill the market gap of dope motocross decals. They wanted to create an experience that ticks all the boxes – the finest quality, fresh designs, outstanding customer service and fast delivery. Being completely dedicated riders by themselves, team OMX is outreaching their own expectations every time. And when testing the product involves hitting the track in-office hours, what's not to like?
Graphics by OMX are considered to be the toughest in the industry as the uncompromising quality is their main pillar. And the reason behind that is clear – OMX prints on the same material that is used for factory team graphics. Therefore, anyone can get factory-level graphics for a fraction of the price, plus choose from so many unique designs. These decal kits are sported on a daily basis by professional race teams, dealerships and weekend warriors, proving that they are made to last. What makes them last is 21MIL thick pro-level Substance material that simply won't let you down. 
Besides the premium quality of decals, what's another thing the company strives for? It's a five-star customer service from the moment you order your graphics till the call from a courier when they get delivered to your doorstep. Launching so many bestselling graphic kits only proves that US customers still support and highly value the work done by OMX and the company truly understands what a rider needs. They truly believe that everyone should sport a champion-worthy appearance even on a daily base. 
There is one thing that never stops at the OMX office, and that's keeping up with the motocross world, hustling for the finest quality, and providing clients with the best motocross graphics possible. That means a non-stop growing and never settling for anything less than perfect.
By the way, OMX Graphics produces some of the dopest ATV Graphics & Go Kart Graphics as well. Check em out!
INSIDE THE HEAD OF JEREMY MARTIN
FIRST $6000 2021 PASHA 125 OPEN TWO-STROKE RACE ON FEBRUARY 20 AT GLEN HELEN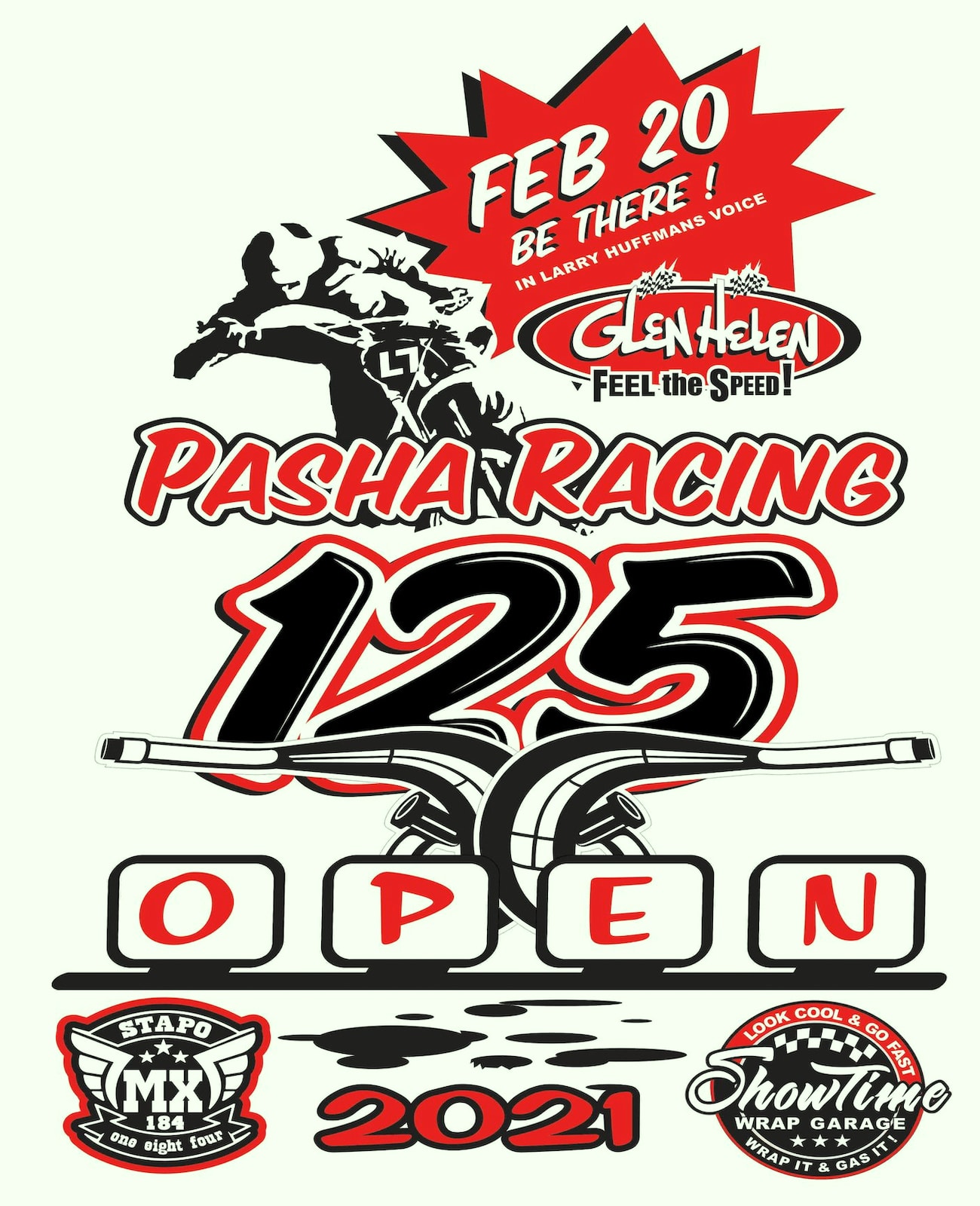 The $6000 Pro purse divided by three classes (Open Pro, Over-30 Pro and Over-50 Pro). First place pays $1000, second place $600 and third place $400 in each class. This is a 125-only race (for up to 150cc two-strokes). There are no amateur classes, if you want to race your 125 two-stroke, you have to accept the money when you win even if you are a Novice! For more info go to www.remsatmx.com
LEATT HERITAGE | E1
HAVE YOU SEEN THE MARCH 2021 ISSUE OF MXA YET? IT'S FULL OF BIKE TESTS & MORE BIKE TESTS

What's in the newest issue of MXA? How about complete and thorough tests of the 2021 KTM Gas Gas MC450F, 2021 KTM 450XCF Cross-Country, 2021 Yamaha YZ250 two-stroke, 2021 KTM 150SX two-stroke, 2021 Husqvarna FC350, 2021 Cylinder WorkS YZ270 big-bore and a retro test of Kevin Windham's 1997 Factory YZ125. And those are just the bike test! We also have a revealing interview with Steve Stackable, a feature on how MXA won the 24-Hours of Glen Helen endurance race (with the help of Mitch Payton), a flashback about the original Factory Edition—the 1963 Triumph Tiger Cub Scrambler and lots, lots more.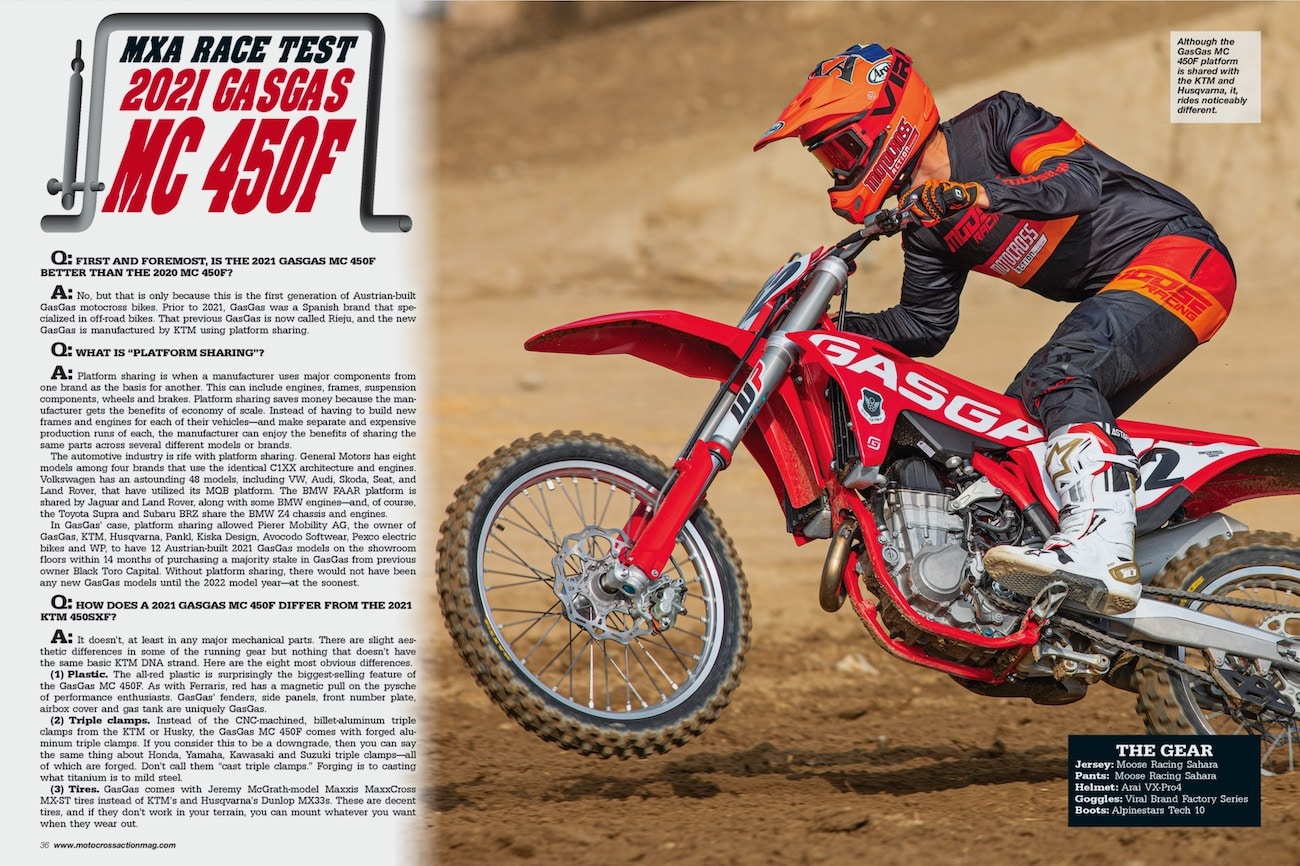 The GasGas MC 450F was the talk of the town this winter. You can call it a "Red KTM" all you want because that doesn't hurt anyone in Austria's feelings. Why not? It's selling like crazy, is the exact same price as a KX450 or YZ450F and just take a look at it—it's clean, sleek and blessed with all the Austrian traits that the Japanese brands wished they had (222-pound weight, billet steel hydraulic clutch, Brembo brakes, braided steel brake lines interchangeable throttle cams, foolproof air filter cage, CNC-machined hubs and that ultra-broad KTM engine).
Want to have a 125cc bike with the punch of excitement that 125s lack? You are in luck, KTM makes the 2021 KTM 150SX for just one purpose—to get you over that big double that your 125 just can't clear. Okay, it also gives you a fighting chance to get a good start against 250 four-strokes and makes that lovely sound scares four-stroke riders world-wide.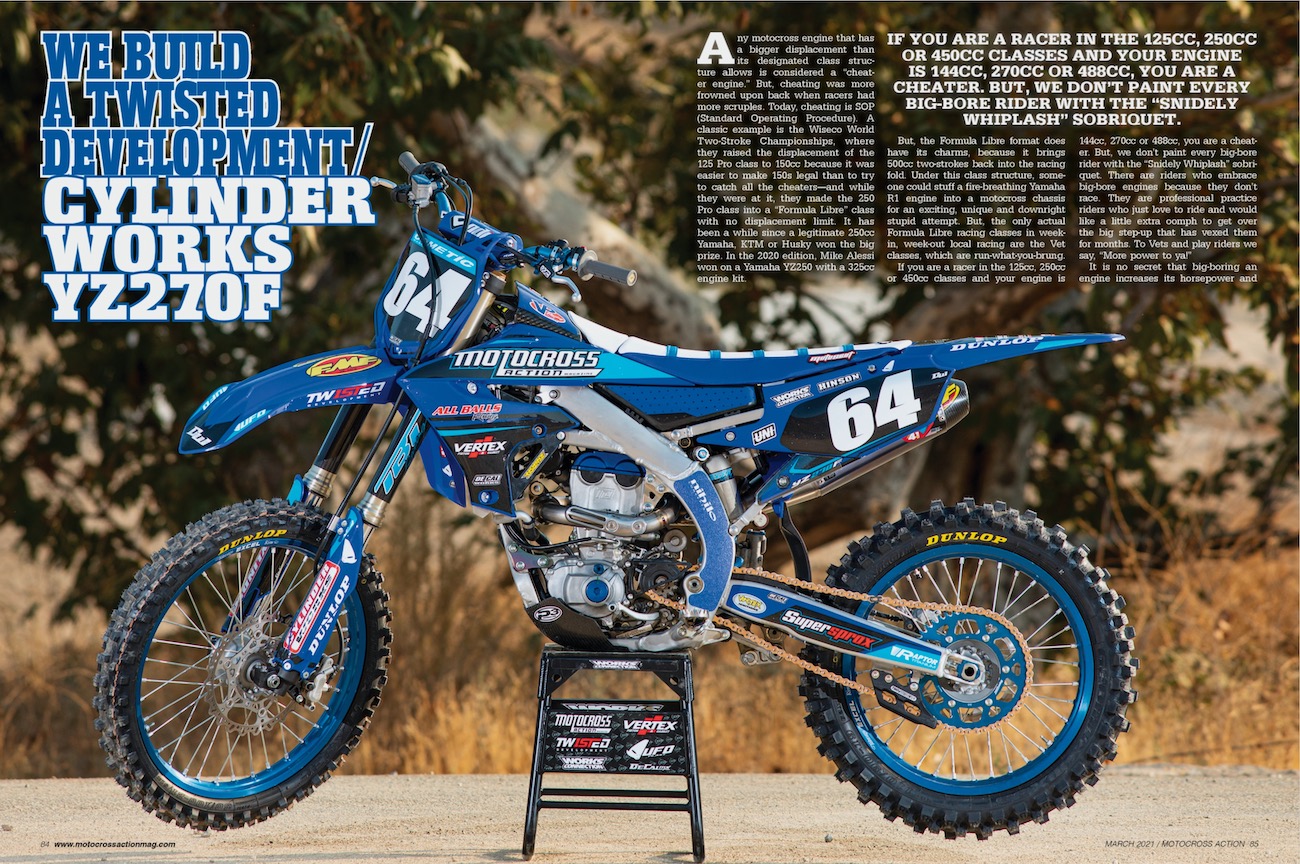 Not content with the options in the 250 class, MXA teamed up with Cylinder Works and Twisted Development to build a YZ270F that will blow your socks off. We tell you exactly what we did to it.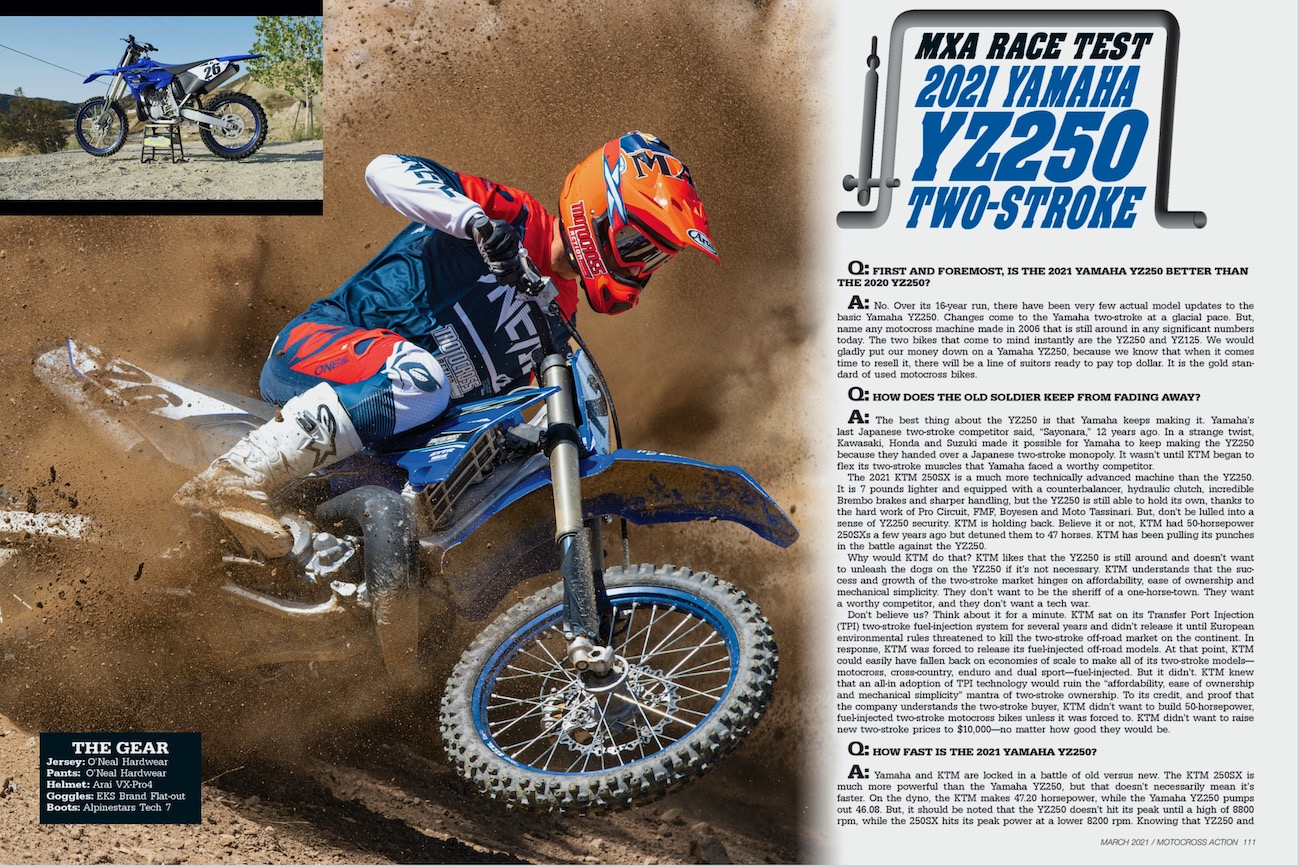 To tell the truth, we could care less that Yamaha has only made modest changes to the YZ250 two-stroke over the last decade-and-a-half.  It was a great bike back in the day and it's a great bike today. We don't care if Yamaha doesn't make any major changes to the YZ250 for the next five years—we'll make them ourselves.
It looks like an off-road bike, but apart from the big gas tank, plush suspension and 18-inch rear, this is a KTM 450SXF motocross bike that is willing to lead two lives—one in the woods and one on the track. Think about it, you too could own one bike that would allow you to do it all.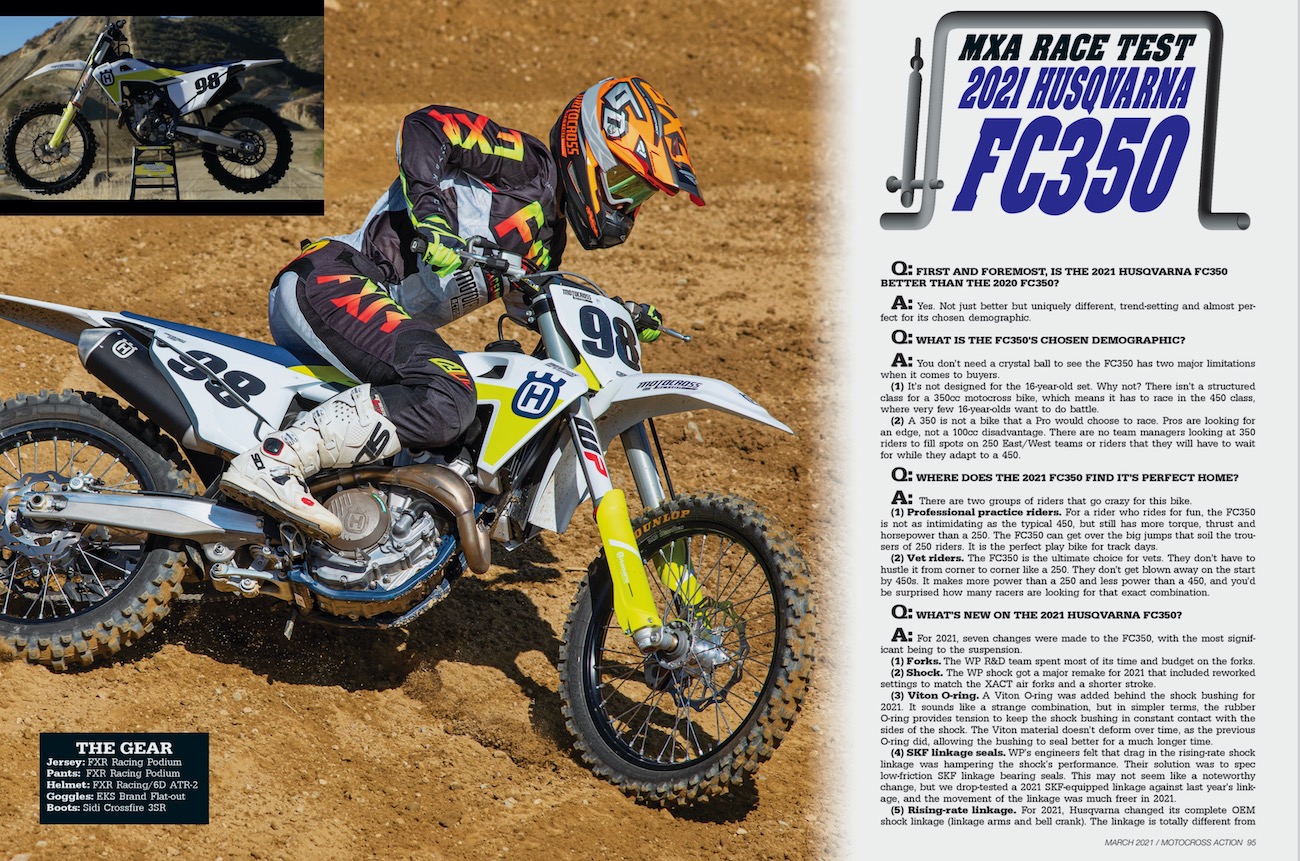 Imagine a 350cc bike that revs to 13,400 rpm, handles like it's on a slot car track, is low enough for your feet to touch the ground and graced by the new XACT trampoline valve forks.  If you've never ridden a Husqvarna FC350, you need to beg a ride on one—it will change your life.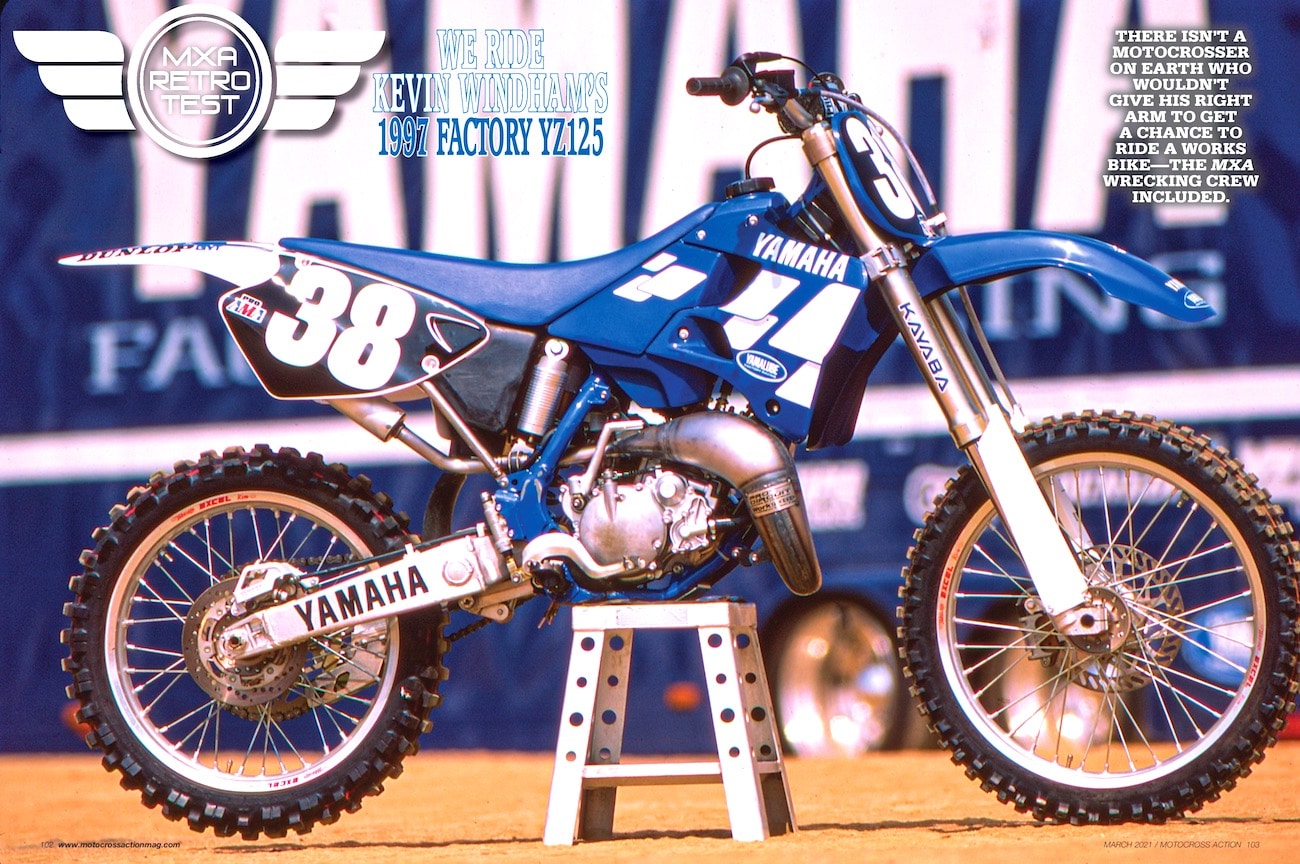 The MXA Wrecking crew goes back in time to take a close look and spin some laps on Kevin Windham's 1997 factory Yamaha YZ125.
HOW TO SUBSCRIBE TO MXA SO THAT YOU NEVER MISS ANOTHER ISSUE, PLUS GET A $25 ROCKY MOUNTAIN GIFT CARD TO COVER YOUR COSTS
If you subscribe to MXA you can get the mag on your iPhone, iPad, Kindle or Android by going to the Apple Store, Amazon or Google Play or in a digital version. Even better you can subscribe to Motocross Action and get the awesome print edition delivered to your house by a uniformed employee of the U.S. Government. Did we mention the $25 gift card for any part you want from Rocky Mountain ATV/MX? You can call (800) 767-0345 or Click Here (or on the box at the bottom of this page) to subscribe.
JOIN MXA'S FLIPBOARD PAGE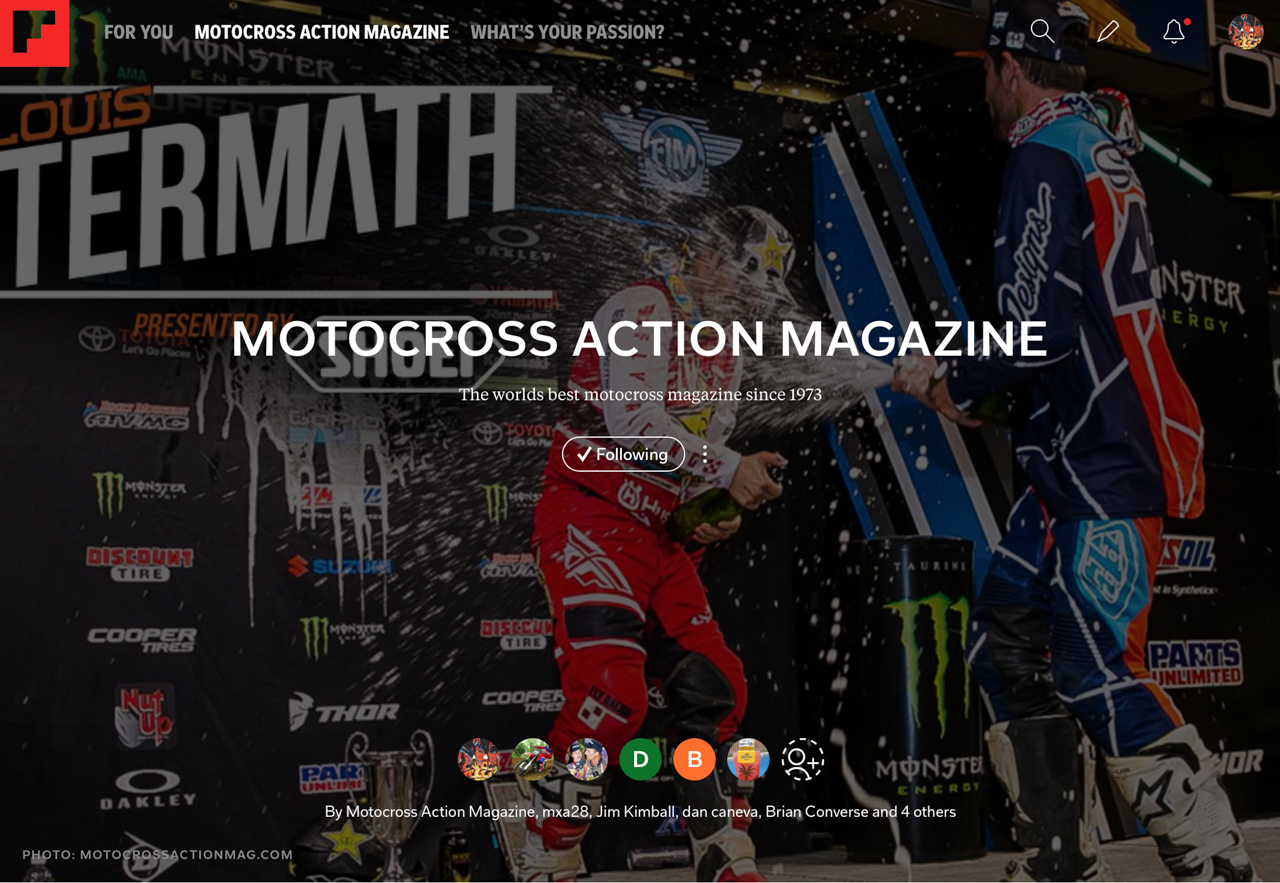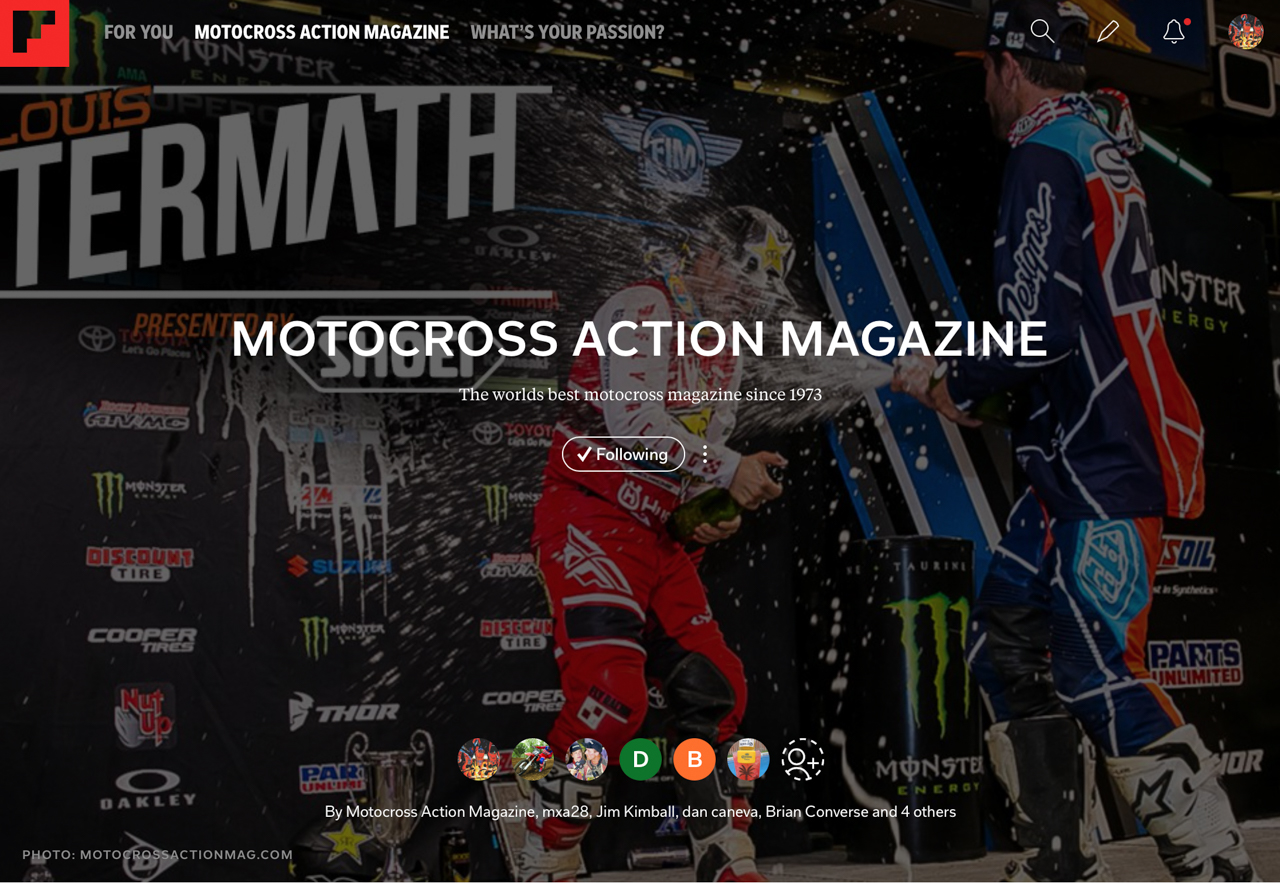 If you use Flipboard make sure to subscribe to the Motocross Action page for all the updates on our website. Click HERE to check out the page.
MXA YOUTUBE CHANNEL | HIT THAT SUBSCRIBE BUTTON
The MXA wrecking crew is everything moto related. Check out our MXA YouTube channel for bike reviews, Supercross coverage, rider interviews and much more. And don't forget to hit that subscribe button.