THURSDAY AT GH WITH MXA, HOT SAUCE, BONES, THE DOCTOR, ZIGGY & POTO
By Jon Ortner
By the time the weekend rolls around the MXA gang will split up and head in different directions—some to the Oakland Supercross and some back to Glen Helen for more testing (and racing at REM). But, before heading off, the whole MXA gang had a bunch of projects to start, continue or finish—so we came to Glen Helen on Thursday to spend a long, hot, 85-degree day at the track together. Here is what it was like at Glen Helen on Thursday.
Daryl Ecklund (left) spent the day with Factory Connection's Rick "Ziggy" Zielfelder (right) testing 2018 Honda fork mods. Daryl tested CRF450 forks, while Brian Medeiros spend the day on CRF250 forks.
MXA's Dennis Stapleton wasn't at Glen Helen on Thursday. He was on a plane flying home from a week in the Phillipines and Japan—where he went to race and teach motocross schools. You might be surprised to discovered that Dennis is a full on Tourist when he travels outside the USA to race. Here is a photo he shot at the Naritasan Shinshoji Temple in Narita, Japan. He got in late on Thursday and will be at REM on Saturday.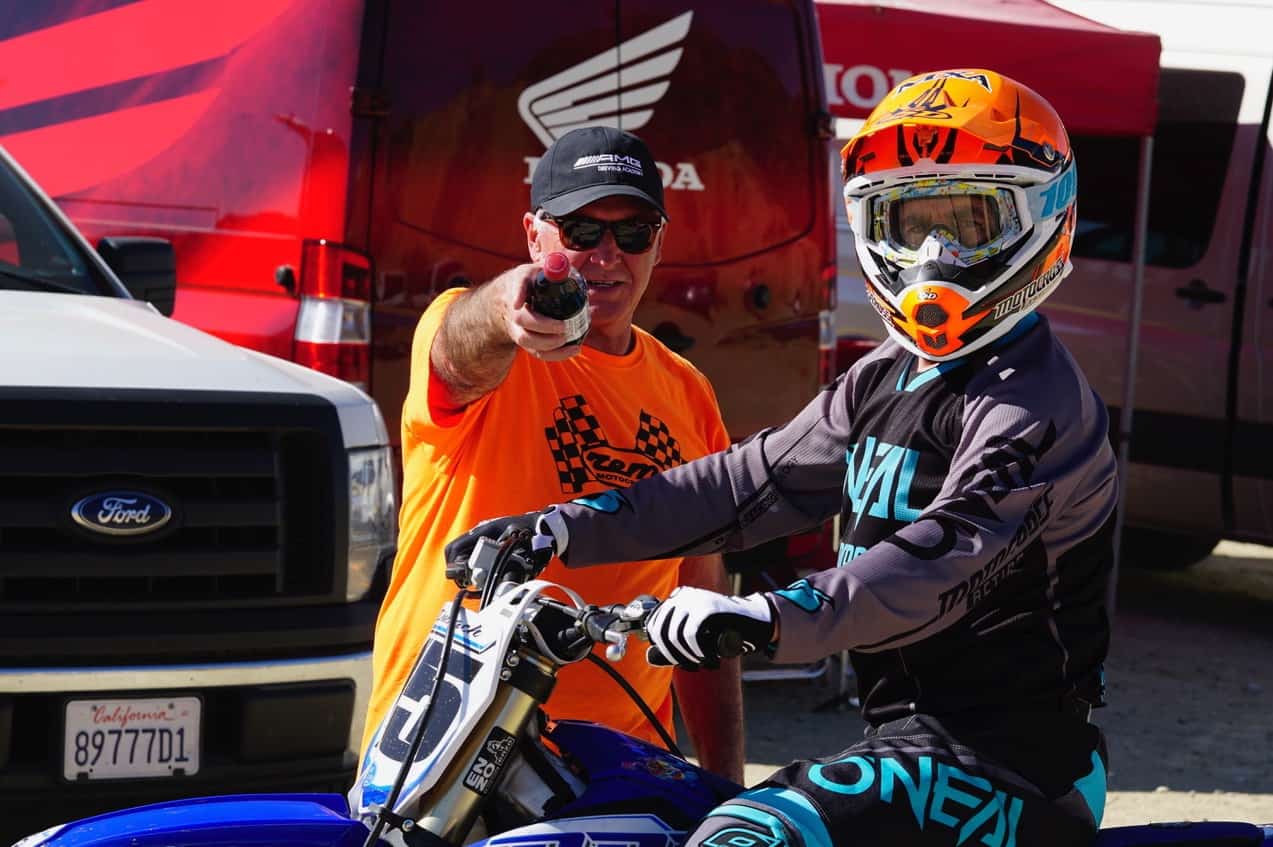 Jody gives Doctor D directions on how to get to the track—given that Jody and Doug have been to Glen Helen more times than anyone on the planet for racing and testing, this probably isn't what Jody is pointing out. Jody hasn't gotten his surgeon's release to ride yet from his broken left arm.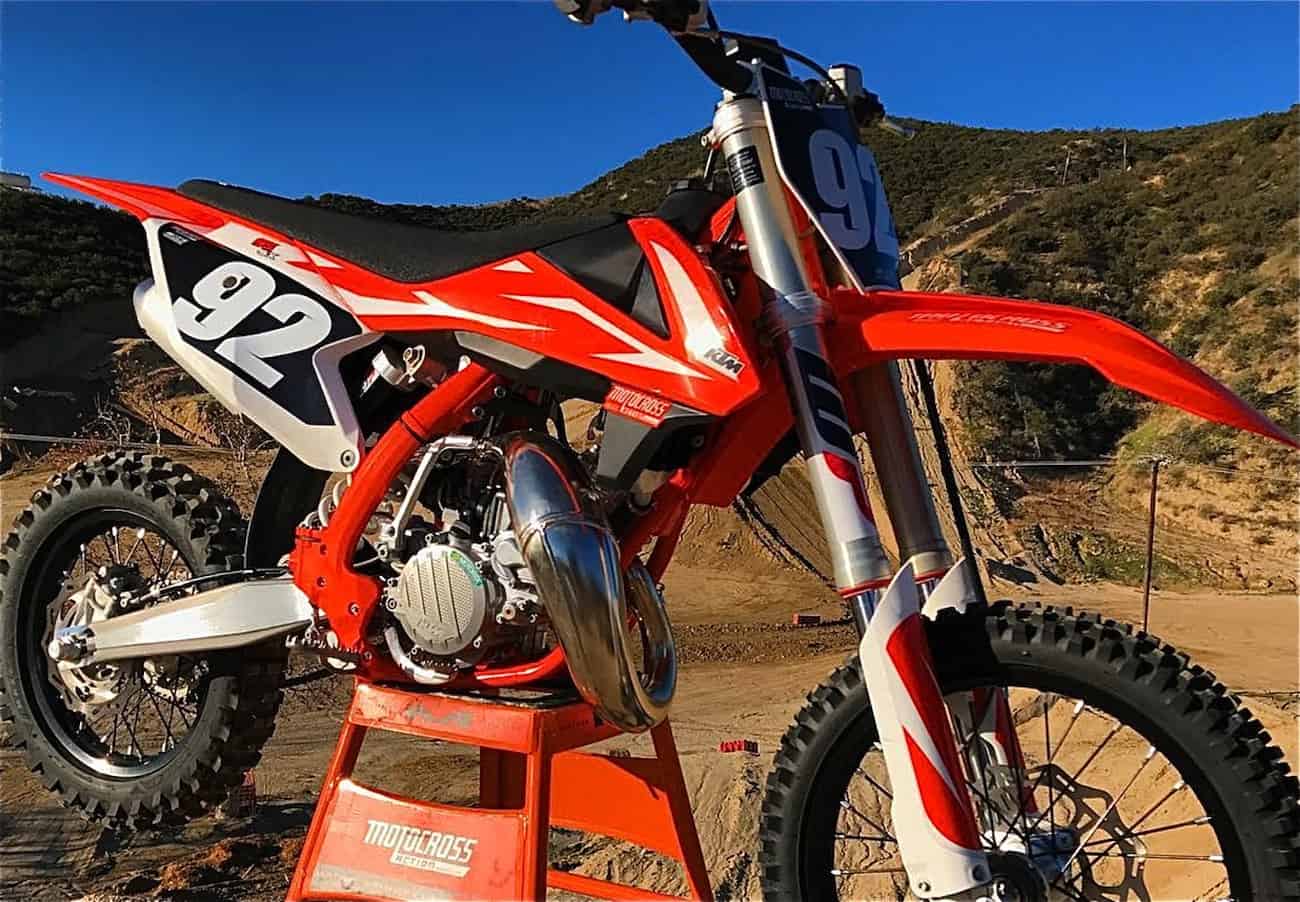 One of MXA's Thursday project was to do all of the initial photography and video on the 2018 KTM 85SX that is scheduled to be tested in an upcoming issue. Spencer Owens shot the photos and Travis Fant did the video work.
Ryan Villopoto was out spinning laps on his new Yamaha YZ450F, but mostly he was doing suspension testing with Pro Circuit's Bones Bacon.
When the Factory Connection team wasn't working on MXA's Honda forks, they were giving Carson Mumford some special attention. It appears as though Carson is getting ready to step up from his factory-backed CRF150 to a CRF250.
When Bones wasn't working on Ryan Villopoto's YZ450F, he was spending time with Ivan Tedesco. Ivan has been helping Pro Circuit with testing on their Monster Energy KX250Fs to get a head start on outdoor setups.
When Bones wasn't helping Poto and Hot Sauce, he spent time with the MXA guys—as well he should since he wrote his "Bare Bones" column in MXA for the last three years. Here, Daryl Ecklund paints a pretty picture for Bones.
Between suspension testing with Factory Connection, starting the KTM 85SX test process, hobnobbing with Honda's Jason Abbott, riding Doug Dubach's World Vet Championship YZ450F, MXA also broke in our 2018 Husqvarna TC125.
With every MXA guy busy with different test projects, Irish Pro rider Jim O'Neill was enlisted in the MXA Army to test WP Cone Valve forks and a WP shock on the 2018 Suzuki RM-Z450. The cool thing was that Jim O'Neill (Irishman) was parked two trucks down from Jim O'Neal (clothing magnate) on Thursday.

Click on images to enlarge