TOP PRIVATEER, ROBBIE WAGEMAN, EXPLAINS TRANSITION TO BARX SUZUKI TEAM
TOP PRIVATEER ROBBIE WAGEMAN EXPLAINS TRANSITION TO BARX SUZUKI TEAM
Robbie Wageman is a well-known Southern California Pro he's been one of the top-placing privateers in the 250 West Coast division over the past few years. Last season, he finished inside the top 10 in seven out of the eight 250SX West Coast races that he lined up for. He finished outside of the top-10 with a 14th at San Diego and he missed the Salt Lake City Supercross after getting injured during the Pulp MX LCQ challenge race which occurred on Friday before the finale, after press day. Robbie has also won the Open Pro class at the World Two-Stroke Championship at Glen Helen in 2019 and 2021. 
Currently, Robbie making the most of his BarX/Chaparral/Ecstar Suzuki ride. Not only have his finishes improved throughout the year, but he also grabbed the holeshot in the Heat race in Oakland. We caught up with the California native to hear more about his factory team debut, while the 250 West Coast Supercross series takes a break.
By Jim Kimball  
ROBBIE, BARX SUZUKI IS YOUR FIRST FACTORY RIDE ISN'T IT? This would be my first factory team. For the last couple of years, I was over at Team Solitaire with Chris Elliott and Ryan Clark who were amazing. They took really good care of me. I would not be in this position without them, so all props to them. But yes, as far as this year, this would be my first year as you could say factory. It has been going really well. The bike is awesome. The team is awesome. The suspension is awesome, and I am trying to put the pieces of the puzzle together. 
Robbie on the charge at Oakland in qualifying with Max Vohland ahead and Jett Lawrence behind. 
FOLLOWING YOUR CAREER, YOU HAVE BEEN AT THAT TOP LEVEL OF PRIVATEER, ON THE CUSP OF THAT NEXT STEP. SO HARD WORK DOES PAY OFF. Yes, absolutely. We work hard every day, day in and day out. Everything is so different this year, with a new bike. I have been on the Yamaha my whole life, so the first year on a Suzuki for me. It has been super awesome so far, I'm just still figuring out things race-day-wise, so we are all putting that together and I could not be any happier.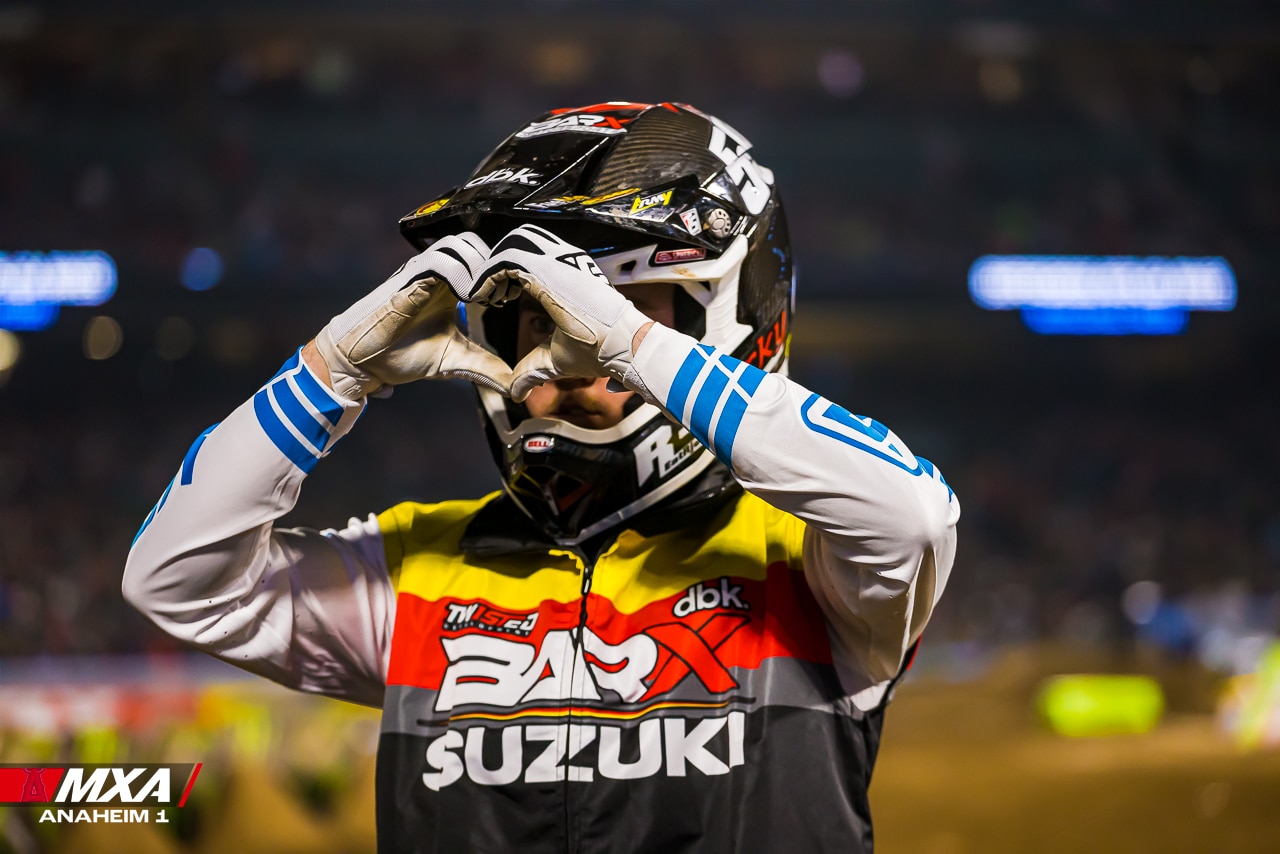 So far, Robbie finished 15th at Anaheim 1, 13th and San Diego, and 12th at Oakland.
SOME PEOPLE BAG ON SUZUKI, BUT IT HAS SOME GOOD ATTRIBUTES DOESN'T IT? Yes, not having an electric start is not the end of the world. It is not a big deal. They start easy, and our bike is amazing as far as suspension, engine, and all that stuff. Our bike is strong, so I am not complaining about it.  I am loving it. I have just been enjoying it, trying to enjoy the process, get back up, and hopefully crack up the top five this year.
AND YOU HAVE FORMER PRO BUDDY ANTUNEZ AS THE TEAM MANAGER, RIGHT? Yes, Buddy Antunez is a huge help to the team. For him to be the Team Manager has been very beneficial. Then I also have Cari Schehr from Grindstone Training Compound Facility, she is my riding coach and training coach who has been a huge help. She is always at the races helping me out. With her and Buddy together teaming up for me and the insight they can both give me is just amazing, so I am loving it and I will take all the help I can get. 
THE ENTIRE TEAM DOING IS THE WEST COAST SERIES, NOBODY IS RACING EAST COAST, RIGHT? Yes, all four of us will be doing the West Coast, and then all of us will be doing Outdoors as well.
AND YOU ARE LIVING AND STAYING OUT IN CALIFORNIA? Yes, I live with Cari Schehr at Grindstone. she does all my training off the bike and then she also comes to the track with me and trains with me. Since I don't live with my parents, it is nice to have her at the practice track during the week as well.
HOW HAVE THE FIRST COUPLE OF ROUNDS GONE FOR YOU? A1 was good. It was definitely a big learning curve for me. As I said, being on the new bike and the new team, everything is thrown in a different direction for me, and my program with the different colored motorcycle. So, just a big learning situation. It was just so much different racing the first couple of rounds on the Suzuki. I got fifteenth in the main event at Anaheim. It was not great but was not horrible, but something to build off of for sure.
Robbie is a very stylish rider, you can tell he's feeling comfortable on the RM-Z250 in this photo.
THAT FIRST RACE HELPED YOU FIGURE THINGS OUT WHERE YOU ARE AT AND SO FORTH. Yes, it helped me figure out where I was at. Obviously, we were hoping to be a little better than that but with the track being so rutty and gnarly in the main event, I was just happy to put every lap together consistently. It was just totally different, but I am really enjoying the learning process with the new team and just having the new people surrounding me. I have been enjoying it and hopefully, we will be doing better here shortly. 

Robbie Wageman (left), Brandon Scharer (middle), and Derek Drake (right) walking the track at Oakland. 
WHAT IS THE ATMOSPHERE OR ENVIRONMENT LIKE WITH YOUR TEAMMATES? All of us are friends. Obviously, we don't want to get beat by our teammates and vice versa, but we are always happy for each other. Whether or not they beat me or I beat them, we are all happy. We give each other knuckles and high fives and all that stuff after the race. We get along very well. We always help each other and watch videos of each other in practice. Then we can relay that to ourselves when we go back out there for the next session. The whole group over here and BarX has been amazing, and I am enjoying it.
WRAPPING UP. WHAT WOULD YOU BE HAPPY WITH WHEN THE WEST COAST FINISHES WITH AN OVERALL FINISH AND WHERE WOULD YOU LIKE TO BE? I would like to be top ten in the points and take some consecutive top-ten rides. Maybe hopefully crack a top five and just anywhere from the fifth to tenth range. That is my goal to get good starts and run up front and bang some bars with the boys.