TWO-STROKE TUESDAY | 1991 KX80 CHASSIS WITH KX125 ENGINE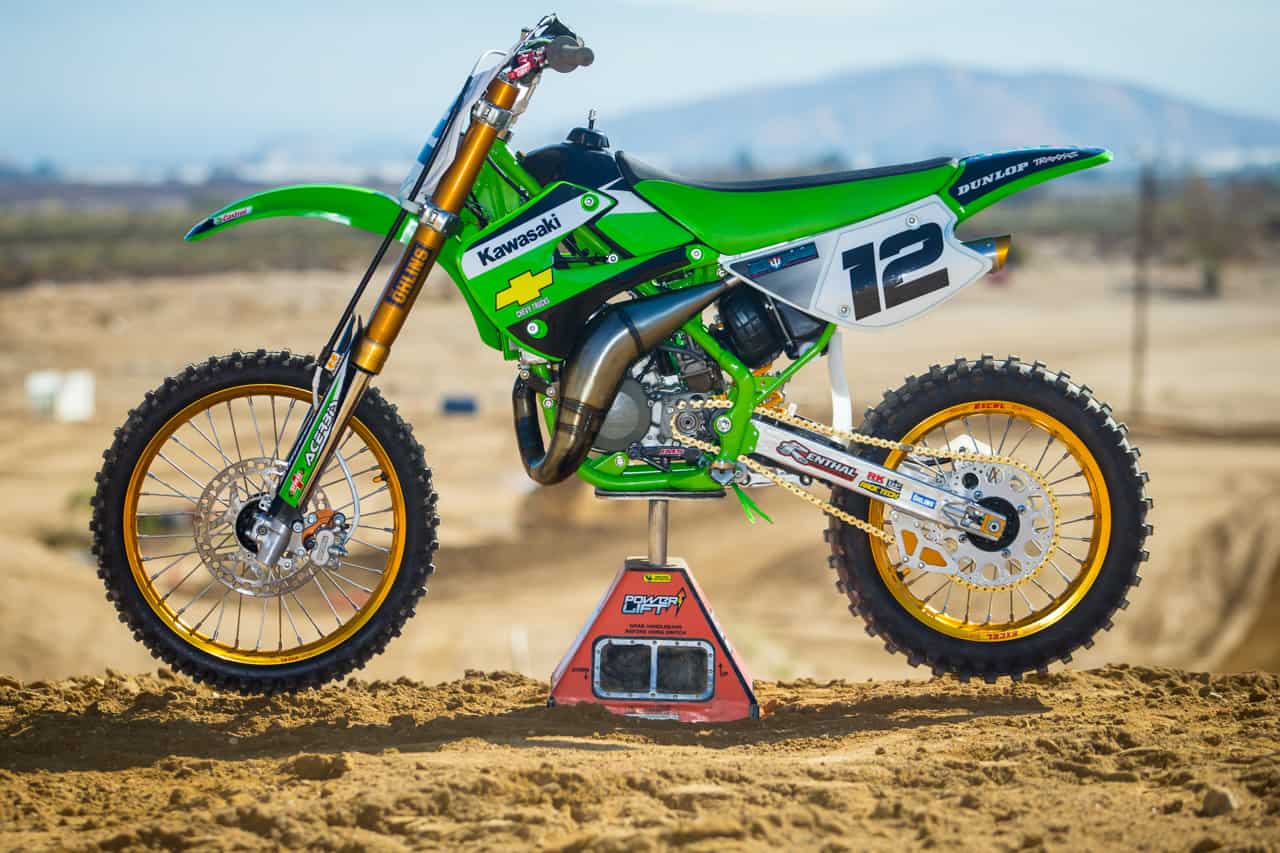 Notice the Öhlins forks sticking out of the top clamp a few inches. Why? They are KX125 forks. 
By Mark Chilson
The project started off after I built my wife's TTR125 with YZ85 front and rear suspension and a BBR 150 kit. It was a blast to ride and wanted something for myself that I could goof off on when she was riding it. I picked up a 1991 KX80 BW rolling chassis and decieded a 125 engine would be a blast to have, bigger is better right!
So after trying a few different engines I found that the 1991 KX125 engine had the right intake offset that I could still use the stock air box and airboot. I found a blown up 1991 KX 125 and used it as the donar. The KX80 frame was moddified to accept the later plastic, tank and a Y downtube replaced the single downtube to allow for the center exhaust spigot and pipe. The frame was also gusseted around the subframe and footpegs and re-welded around crutial areas for added strength and powder coated.
The KX125 engine cases were cut down half inch on the right side to clear the swingarm and put the motor back in the center of the frame, an aluminum spacer was made to adapt to the smaller swingarm pivot bolt. A 2009 aluminum swingarm off a KX100 big wheel was used to replace the 1991 steel one. New engine  mounts were made welded in, and new brackets. The Boyesen intake was also cut down 3/8" to allow enough room for the larger KX125 carb to fit in and the airboot was stretched out to accept the larger carb.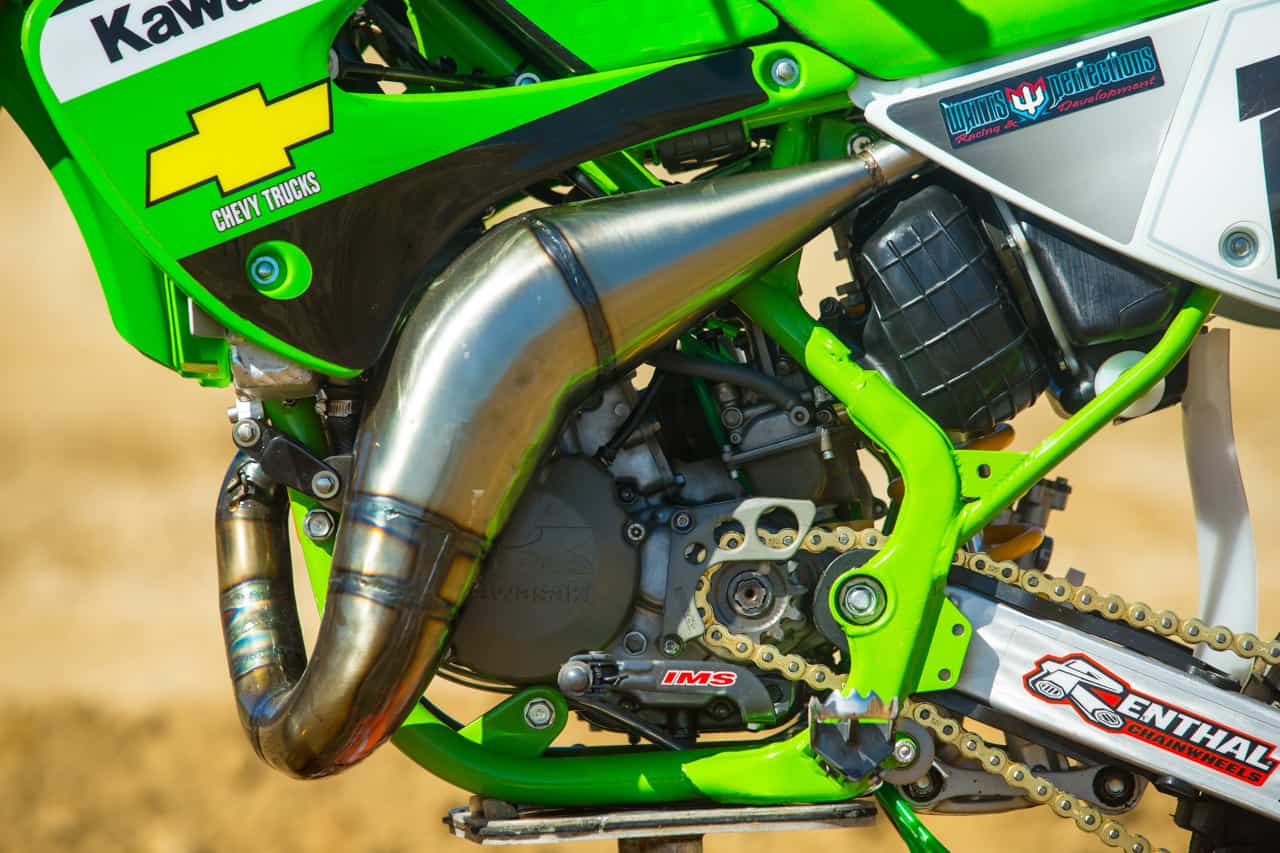 A Pro Circuit pipe which exited on the right side of the KX125 was chopped up and turned around and new hand rolled cones were made.
A new Öhlins rear shock was found on eBay. The 1991 KX125 front triple clamps and forks were used and lowered internally 1.25" and the forks raised in the clamps another 1.25" to get the proper rake and trail. The KX125 front hub, rotor and caliper were used, both hubs were turned down and hard anodized black and laced up to Excel rims with Buchanan Stainless steel spokes wrapped with Pirelli tires.
Custom one off parts were used and made as needed. A Honda CRF450 rear master cylinder was used and a late model KX100 rear brake pedal was moddified to accept it. A 2007 YZ450F carbon fiber skid plate was modified and added on as well as a water pump engine guard. Jeff at Fontana Radiator fabricated up two new radiators to handle the cooling. Handlebar risers were also added to help open up for an adult rider.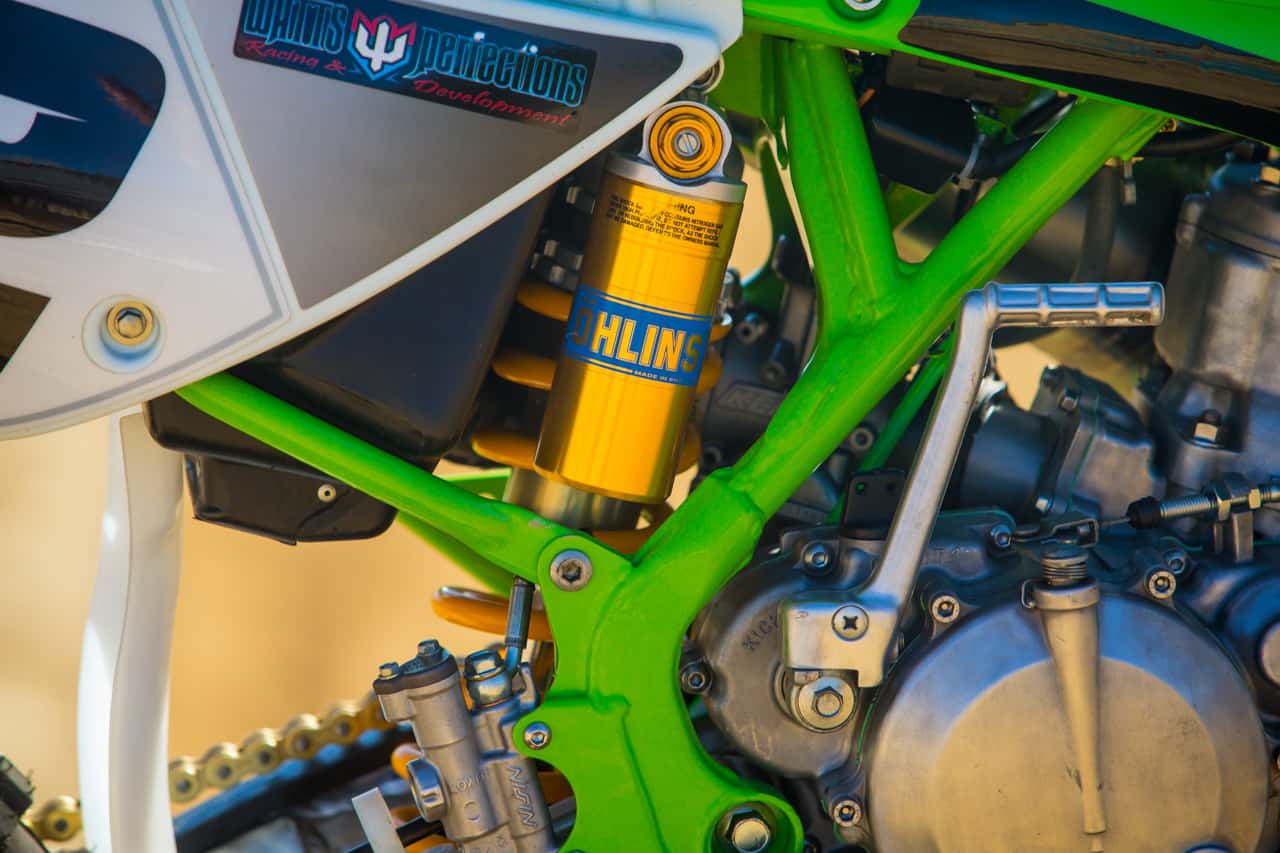 A brand new Öhlins shock was found on eBay for the build. 
A Pro Circuit pipe which exited on the right side of the KX125 was chopped up and turned around and new hand rolled cones were made and added from Randy Blevins. A custom silencer and end cap was also made. A  Honda CR85 clutch and throttle cable was used since the 125 cables were to long. 2003 KX 125 lower fork guards were also moddified to fit the 91 KX125 forks. New brake cables were made from G&J aircraft in Ontario, CA.  I used a 520 chain and went to Sproket Specialists for the rear sprocket to fit the KX80 rear hub. The bike's engine and frame is finished off with all Stainless steel allen bolts and new hardware.
From junk to a work of art. This is a one off bike that takes lots of patience, time, money and creativity to build. 
Acerbis plastic and Decal works graphics were used. The build hours are unknown since it turned into years. I tried to make it look as OEM as possible as if it came with the 125 engine from the factory. What's next? You'll find out soon!