WE RIDE ALEX MARTIN'S MUC-OFF/CLUBMX YAMAHA YZ450F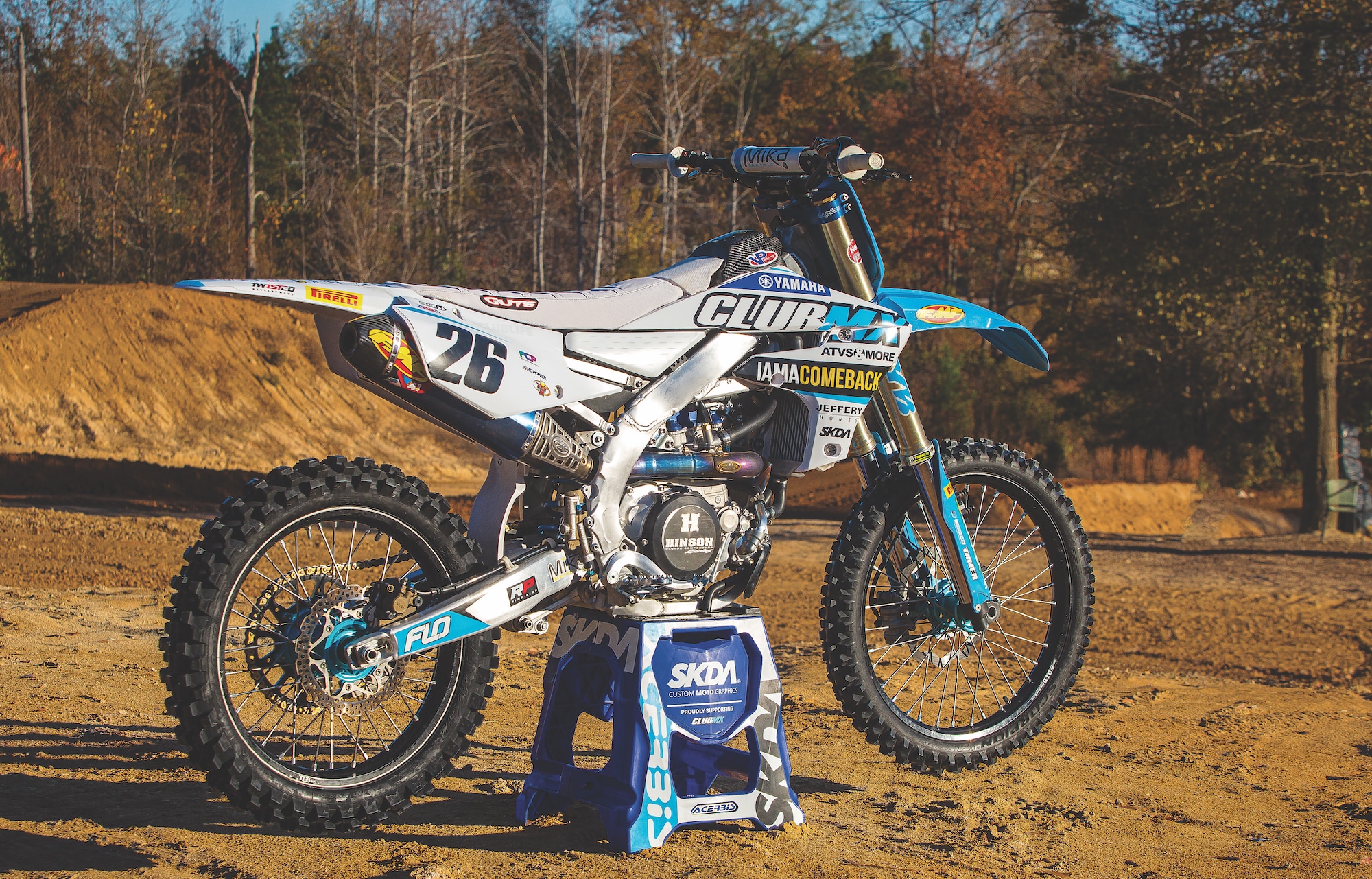 WE RIDE ALEX MARTIN'S MUC-OFF/CLUBMX YAMAHA YZ450F
When the ClubMX Yamaha team reached out to Alex Martin, they were originally inquiring about getting him on a YZ250F. Surprise! Alex wasn't interested in racing 250 four-strokes anymore. After spending 13 years in the 250 class riding for teams as varied as Eleven10 Mods Honda, Rock River Yamaha, Star Racing Yamaha, Troy Lee Designs KTM, JGR Suzuki and the Manluk Yamaha team, Alex has racked up 215 starts with two wins (2016 Washougal and Glen Helen). He has 22 podium finishes, 26 top fives and 62 top 10s. Plus, Alex finished second overall in the AMA 250 National points standings in 2016 and 2018. Unfortunately for Alex, both his Supercross and motocross seasons in 2021 were practically a washout, with injuries and bike malfunctions causing him to miss most of the races. Alex is one of a growing cadre of Over-30 veterans currently racing today, but his small stature and fun-loving attitude make you think that he's younger.
THE GEAR: Jersey: FXR Racing Podium, Pants: FXR Racing Podium, Helmet: 6D ATR-2, Goggles: EKS Brand Lucid, Boots: Sidi Atojo.
After a challenging year and a very long 250-class tenure, Alex Martin was ready to retire if he didn't get an opportunity to compete in the AMA 450 Supercross and National series against the same guys that he grew up racing against. Thankfully, Alex got a new lease on moto life when the ClubMX Yamaha team agreed to create a 450 team especially for him. Originally, the ClubMX team planned to race the 2022 AMA 250 East Coast series and the 250 Nationals, but with a 450 rider, they are committed to traveling the entire 17-round Supercross series (and the 12-round National schedule).
MXA flew to the ClubMX training facility in South Carolina to test Alex's Yamaha YZ450F. Since our schedule put us in South Carolina one month before the 2022 Supercross opener, Alex was still ironing out the setup on a bike he had never raced before, and since we had tested Alex Martin's 250cc race bikes in the past, we knew that his setup was going to be awkward for our test riders. With Alex being just 5-foot-4 and weighing only 145 pounds, his bike featured raised footpegs, a cut-down subframe and lowered seat. MXA test riders are used to riding a wide variety of oddly configured race bikes, but Alex's custom tailored "rider triangle" was a challenge for 6-foot test riders.
WITH ALEX BEING JUST 5-FOOT-4 AND WEIGHING ONLY 145 POUNDS, HIS BIKE FEATURED RAISED FOOTPEGS, A CUT-DOWN SUBFRAME AND LOWERED SEAT. IT WAS A CHALLENGE FOR MXA'S 6-FOOT TEST RIDERS.
Because the team had not confirmed Alex's final specs, MXA got to try out different versions of the setup that Alex was considering for the 2022 Supercross season. The first spec we tried was with taller footpegs and a lower subframe. Flo Motorsports made ClubMX some plug-and-play footpegs that mounted into the stock position and were 5mm taller. Alex's cut-down subframe wasn't an easy swap. It had to be ground down 10mm, which lowered the rear of the bike by almost 1 inch (tightening the cockpit even more). The Mika Metals SX-bend handlebars were positioned further back in the Luxon MX triple clamps to suit Alex's height (or lack thereof). The footpeg-to-seat height on a Yamaha four-stroke is already shorter than on most bikes. Cutting it down further positioned our tester too far forward on the bike, adding extra weight to the front end.
Alex Martin's YZ450F has a drama-free powerband that never signs off.
Combining the compact rider triangle with the soft, loamy conditions at ClubMX was dangerous for anyone over 5-foot-5; however, we didn't fly to South Carolina to complain to team owner Brandon Haas and crew chief Greg Chidgey. After all, they warned us how awkward it would be and offered to put stock pegs on for us. What kind of test would that be? We wanted the full "Alex Martin experience," and we were getting it. To compensate for the chassis, we had to ride in a squatted position practically all the way around the track. Luckily, Alex hadn't finalized his chassis decisions yet, so we also tried his bike with the taller pegs, pushed-forward handlebars and the stock subframe height. For us, this was an improvement, but, the final decision is Alex's.
Alex runs Enzo Suspension with traditional coil-spring forks.

On the suspension side of things, we couldn't squawk about Alex's setup too much because we spent most of our time riding Alex's YZ450F with Phil Nicoletti's outdoor suspension on it. Since Alex was new to the ClubMX Yamaha team and the season was fast approaching, they hadn't spent any time developing an outdoor spec yet. Craig Decker at Enzo Suspension would get to that when the time came. So, we opted to put the motocross suspension on Alex's Yamaha and spent a day on the beautiful ClubMX training track. Even though Nicoletti is riding the 250 class in 2022, Phil had started the 2021 Nationals in the 450 class until a knee injury ended his season shortly after it began. Phil's leftover 2021 YZ450F settings worked great on the massive ClubMX training track and Zach Osborne's old GP-style sand track. The next day we logged more time on Alex's bike, this time with Alex's Supercross suspension on one of their four Supercross tracks.
AFTER INITIAL TESTING, TWISTED DEVELOPMENT REDUCED THE COMPRESSION TO SMOOTH OUT THE POWER EVEN MORE FOR ALEX AND FINE-TUNED THE VORTEX IGNITION MAPPING TO ELIMINATE ANY HITS, PRODUCING SMOOTH AND PREDICTABLE POWER.
Flo Motorsports makes a wide range of footpegs. Anyone can order tall pegs or lowered pegs from Flo. Alex's pegs were 5mm taller.
The one element of the ClubMX YZ450 that Alex was completely happy with was his Twisted Development engine. Twisted Development's Jamie Ellis tweaked it to create very linear power characteristics. After initial testing, Twisted reduced the compression to smooth out the power even more for Alex and fine-tuned the Vortex ignition mapping to eliminate any hits, producing smooth and predictable power. Internally, Alex runs a full Hinson clutch with the basket, inner hub, pressure plate and springs; however, Alex prefers the stock Yamaha fiber clutch plates because they are softer and less grabby to help create more consistency off Supercross' metal starting grates. To ignite internal combustion, the ClubMX team uses NGK spark plugs, and to exhale the exhaust fumes and create more power they rely on an FMF Racing exhaust.
We loved everything about the powerband. The ventilated P3 carbon fiber airbox cover did nothing to mute the loud YZ450F noise coming from the front-mounted airbox; however, the ClubMX technicians felt that Alex might switch back to the stock cover to mute the power more (with the added advantage of muting the YZ450F's blaring noise at the same time). It was awkward trying to fit on Martin's chassis, but the well-ordered power made it a joy to ride. We didn't have to focus on using the clutch, when to shift or trying to carrying momentum, because Alex's engine seemed to manage all of that as if it were on autopilot. That made us happy, because all of our surplus brainpower was being used to find balance in the radically cramped cockpit.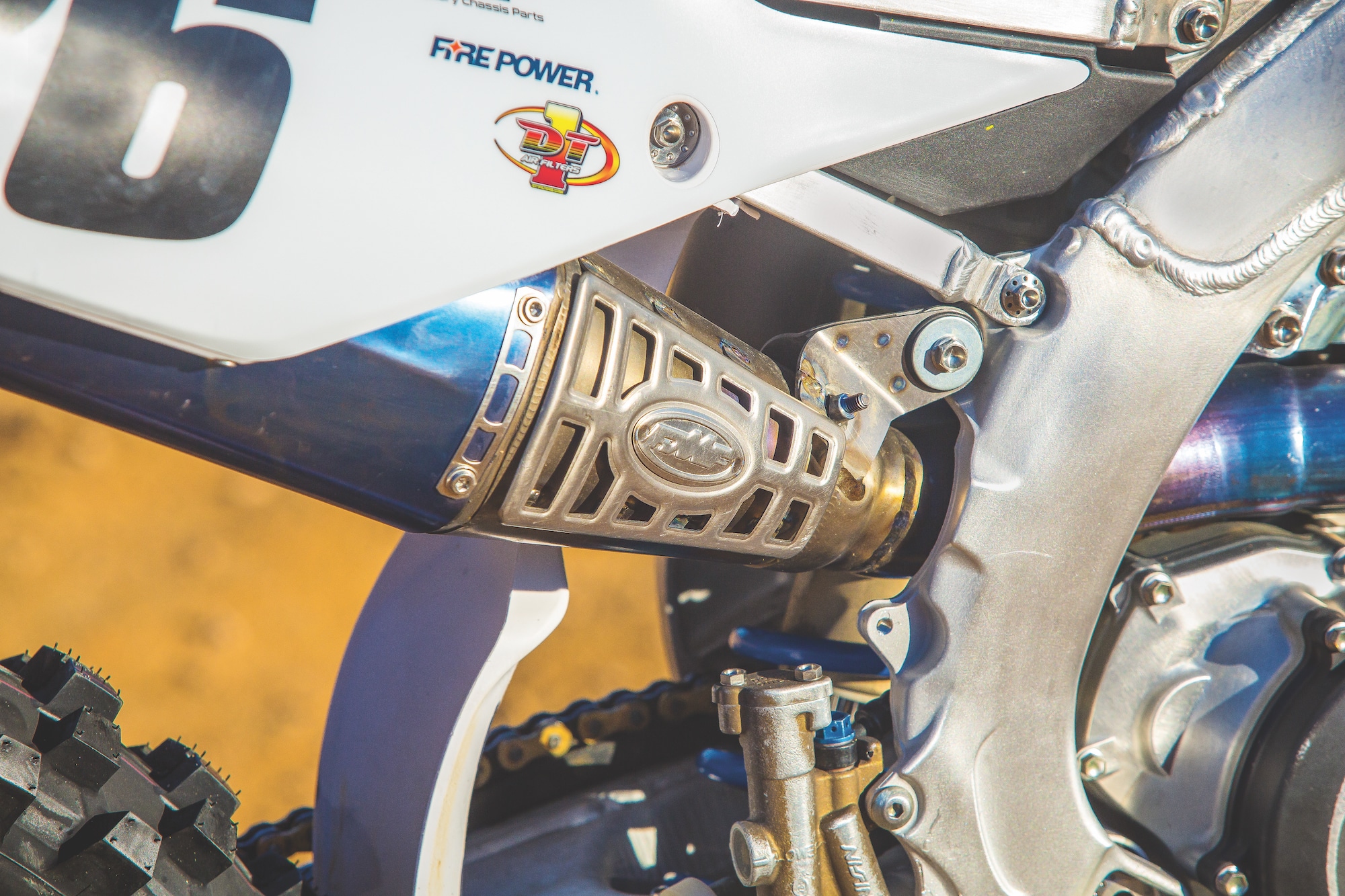 The ClubMX team trims the front piece off the Yamaha side number panel and uses the FMF muffler guard instead. 

To shed weight on the 238-pound YZ450F, the ClubMX team equipped Alex's bike with titanium bolts everywhere possible, except in the axles and swingarm pivot, where Alex prefers the softer and more flexible characteristics of the stock parts. The team also uses Luxon MX triple clamps at the stock 22mm offset and Luxon MX bar mounts to shave weight. Guts Racing Phantom lightweight seat foam is underneath the white Guts seat cover. The wheels were built by Rims Plus using milled hubs and custom spokes to increase strength and lighten the load. His YZ450F is outfitted with Pirelli tires, which are lighter than the traditional Dunlop MX33 tires.  
YAMAHA HAS STEPPED UP TO SUPPORT THE CLUBMX TEAM WITH ALL THE BIKES AND PARTS THEY NEED TO MAINTAIN SIX RIDERS FOR SUPERCROSS IN 2022 AND FOUR RIDERS FOR THE2022 OUTDOORS.
The ClubMX Yamaha guys were kind enough to throw some outdoor suspension on Alex's bike for us to try to compare it against his Supercross suspension.
When it comes to the plastics and graphic design, Acerbis and SKDA help the ClubMX Yamaha team stand out from the pack. We tested Alex's bike with the 2021 graphics that were highlighted by light blue plastic up front and a white seat and rear end. After showing their attention-grabbing value in the past seasons, Yamaha has stepped up to support the ClubMX team with all the bikes and parts they need to maintain six riders for Supercross in 2022 and four riders for outdoors, but this means ClubMX will have to stick with the more traditional "Yamaha blue" (at least on the front end). The team has also gained a new title sponsor for 2022 in Muc-Off, which means the official team name is now the Muc-Off/FXR/ClubMX Yamaha team.
What did we really think of Alex Martin's 2022 Yamaha YZ450F? Alex Martin's YZ450F is built in a fairly straightforward manner with parts anyone can buy. Besides the engine and chassis mods already mentioned, Martin's ClubMX Yamaha is also equipped with a Flo Motorsports clutch perch, Flo levers, DT1 air filter, FirePower featherlight battery, Engine Ice coolant, Tamer dual-position holeshot device, cerakoted stock brake calipers, and Mika Metals' chain, sprockets and grips.
With a 450 class that's stacked with top-tier talent and a team that is brand new to the 450 class, Alex has his work cut out for him. We are thrilled to see Alex Martin finally get a shot at the premier 450 class, and we will root for him because he has given motocross fans 13 years of excitement.