MXA RIDES PRO CIRCUIT'S FULL-RACE YAMAHA YZ250F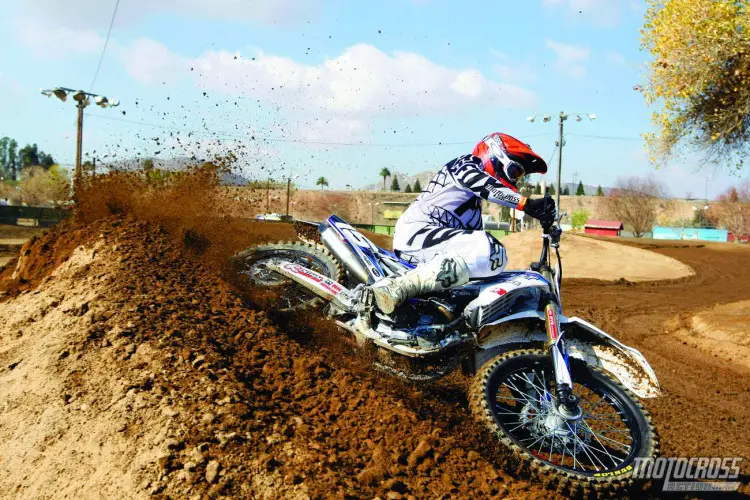 Right upfront, we want you to know that the MXA wrecking crew racked up a $5400 invoice at Pro Circuit for our 2014 Yamaha YZ250F. We aren't apologizing, because we didn't waste any money on added fluff. All of our greenbacks were spent on the engine and the suspension. And, as expensive as it may sound, this is what it costs to build an AMA National-capable YZ250F.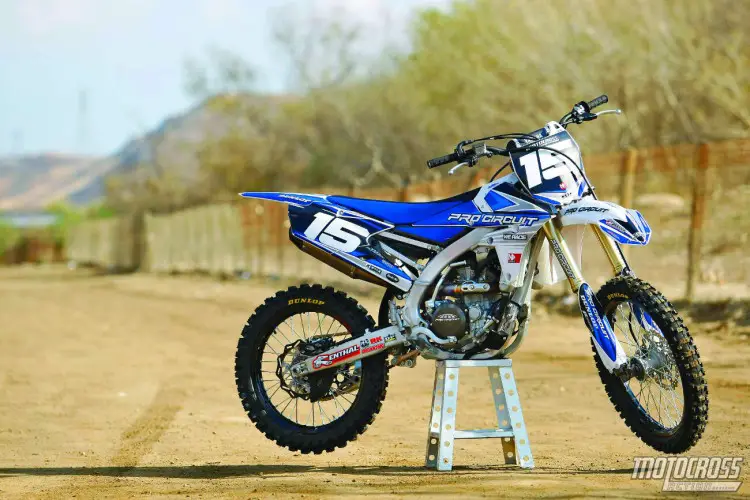 It all started during the 2014 MXA 250 shootout. Every MXA test rider was impressed with the Yamaha YZ250F, even though it didn't get the top spot over the KX250F. We started brainstorming about racing the Glen Helen AMA National on May 24, 2014. A major part of the National equation was what bike would be best for our purposes and how much work would have to be done to take a magazine test rider, albeit a former AMA Pro, and get him into the program. It should be noted, as with all MXA projects, money was no object—it was just a matter of where to spend the money. Eventually, we elected to go with the YZ250F and address its flaws one at a time. What were those flaws?
(1) Powerband. Although we are impressed with the power output and delivery of the YZ250F's 40.61-horsepower engine (we dyno'ed our project bike before and after), we didn't feel that the power was right for AMA Pro racing. In box-stock fiddle, it has a strong low-to-mid powerband, but it doesn't like to rev and it hangs on top. This is great for Novices and Vets, but to go Pro speed, you need more top end.
(2) Suspension. Don't get us wrong; we love Yamaha's Kayaba SSS suspension. It is the best stuff on the track in 2014. But, Yamaha upped the fork spring rates (from 4.5 Nm to 4.7 Nm), went to a 5.6 Nm shock spring, stiffened the damping, and increased the front axle's diameter by 2mm for 2014. All good mods—if you are a heavier or faster rider. Yamaha believes that the sport is gaining weight, and while they are probably right, the formula doesn't always hold for the 150-pound riders who dominate the 250 Pro class. We needed to fine-tune the suspension—for higher speeds and a lighter rider.

There were lots of other things on our National wish list, but those could wait as we sorted out the two most important parts of any race bike—power and suspension.
The majority of the money went into the engine mods. Having ridden the 250 National bikes of virtually every factory team, we knew that bolting an exhaust system on wasn't going to be enough to bring the YZ250F up to the competitive levels required to run against the Pro Circuit, Geico, KTM, Star and Rockstar factory bikes. We need the full-boat deal. That meant porting and machining the head; switching to a lighter, high-compression piston; adding higher lift cams; installing copper/beryllium valve seats; using stiffer valve springs; slipping all-new Ti valves into every port; and then adding an AMA-legal, 112-dB exhaust system.
The exhaust pipe was the most expensive single piece, at $1064.95, for a Pro Circuit Ti-6 system with a carbon fiber end cap. But, the majority of the money spent on the engine went directly into the cylinder head (porting, valves, cams, valve seats, piston and valve springs).
The Kayaba SSS suspension seemed like a bargain compared to the engine and exhaust system. We spent $1200 on the YZ250F fork and shock, and all of it was stuff that was logical and necessary.
WHAT DID WE GAIN ON THE YZ250F?
On the dyno, our 40.6-horsepower YZ250F stocker jumped up to 44.55 horsepower at peak. Even more significant, our Pro Circuit YZ250F engine made 3 more horsepower at 8000 rpm, 4 more horses at 9000 rpm, 4.3 more horsepower at 10,000 rpm, 3.5 more horses at 11,000 rpm, 3.75 more horses at 12,000 rpm and 3.6 more horsepower at 13,000 rpm. That isn't just a lot more horsepower at peak, but a ton of horsepower everywhere—and it was most noticeable on top.
We quickly realized that in a two-stroke world, we wouldn't have needed $3000 in engine mods. We could have ported the cylinder, milled the head, thrown in a high-compression piston and added an expansion chamber for a couple hundred dollars. But, the new realities of Pro-level racing mean that you spend or you lose. We spent! For more information, call (951) 738-8050 or go to www.procircuit.com.