TEN THINGS YOU NEED TO KNOW ABOUT FACTORY CONTRACTS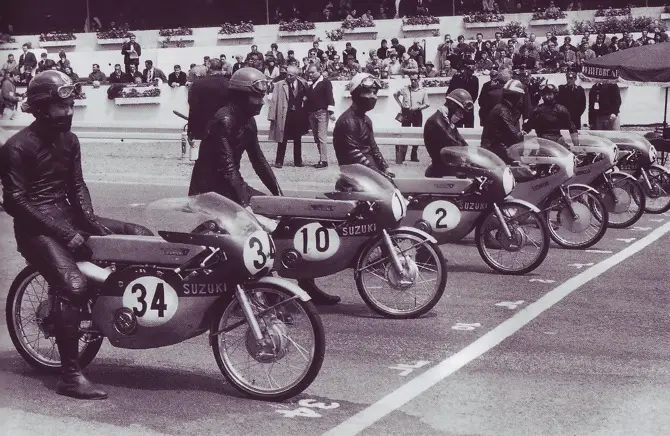 Ernst Degner (2) didn't just break his MZ contract, but he took all their blueprints with him to Suzuki when he defected from behind the Iron Curtain.
(1) If you think that a factory rider goes to the starting line with little more than a handshake deal between him and his sponsors, you are sorely mistaken. The modern factory contract is full of clauses, codicils, stipulations, provisions and lawyer handiwork — not the least of which is that when the rider signs his contract, he agrees to allow the team to use his name and likeness to sell, distribute, advertise or license any team product. The rider waives any rights to royalties. Additionally, these rights shall survive the termination of the contract. On the flip side, the rider shall not sign any promotional or licensing agreements without the approval of the team. Any contracts that the rider enters into that are inconsistent with the team will be considered void. In other words, the rider can't sign a Red Bull contract when he rides for a Monster-sponsored team.
(2) A factory rider cannot disclose the contents or information contained in his contract to anyone outside of the team. Additionally, a rider cannot reveal any new concepts, inventions or developments to his motorcycle. Of course, history is full of factory riders who immediately told their new team all of the stuff their previous employers were working on. The most famous example was when East German MZ 125 GP road racer Ernst Degner defected from behind the Iron Curtain and reportedly took blueprints, drawings and an MZ cylinder to his new employers at Suzuki—who promptly built an MZ replica.

If you think this is a suggestion, you are wrong. This is a contract clause that has to be obeyed.
(3) Under the terms of a factory contract, a factory rider must ride to win; but, if he's not in position to win a championship, he must ride to benefit any other team member who is in position to win a championship. What does that mean? It means that the rider must move over for his teammate, which is illegal under AMA rules. This happens all the time—most famously in the 1977 "Let Broc Bye" incident, and again in 1990 when Jean-Michel Bayle refused to help Mike Kiedrowski win the AMA 125 National Championship. When Bayle said that he wouldn't help Kiedrowski, Honda put his CR125 back in the truck and refused to let him race.
(4) A factory rider must release the team from any legal responsibility for property damage, personal injury or death that occurs while riding for the team. Additionally, the team will not provide medical insurance, emergency-room care or Workman's Compensation for the rider. How can the factory refuse to pay medical or workman's compensation claims for one of their employees? Simple. The riders are not considered employees of the team. They are outside contractors (just like the plumber who comes to the factory to repair the pipes).
Davi Millsaps (18).
(5) A factory rider can be terminated with five days notice for breaching the contract (without just cause) or being convicted of a felony-level crime (or any act of moral turpitude or an act that reflects poorly on the team). No one outside of Davi and Kawasaki know what led to his release from Team Kawasaki in the midst of the 2015 Supercross season. Davi has rebounded to land on the BTO KTM team for 2016.
(6) Should the rider breach the terms of his contract, he is subject to monetary fines of up to $25,000 per instance. It is rumored that when Ron Lechien was a Kawasaki factory rider, he was fined more than any other rider in motocross history for failing to show up at test sessions.
(7) A factory rider does not own his race bike. That is why none of the riders' personal sponsors' decals are on the bikes. A factory team agrees to provide race motorcycles for the rider, but only to use at agreed-upon events. The team will, however, give the rider a practice motorcycle (including the transfer of title). The rider cannot race any event that the team doesn't agree to. Additionally, a factory rider can never lend his bike to another rider.
(8) A factory rider must make himself available to promote the team's bikes and product line for up to 35 days per year. This can include autograph signings and dealer shows. If a rider misses too many autograph sessions, he can be fined.
(9) A factory rider cannot directly or indirectly endorse any product that is in competition with a product promoted or sold by the team. This includes ATVs, scooters, water craft, motorcycles, accessories or parts sold by the team. Back in 1995, Team Honda scolded Jeremy McGrath for riding a Yamaha Wave Runner for a magazine photo.
(10) A factory rider can be required to submit to a drug test with only 48 hours notice. The test can include blood and urine samples, but is not limited to those. The AMA has drug policies, but the number of times that AMA riders have been drug tested is limited to twice a year in each series.