2018 MTA TWO-STROKE WORLD CHAMPIONSHIPS | PRO RESULTS
OtheO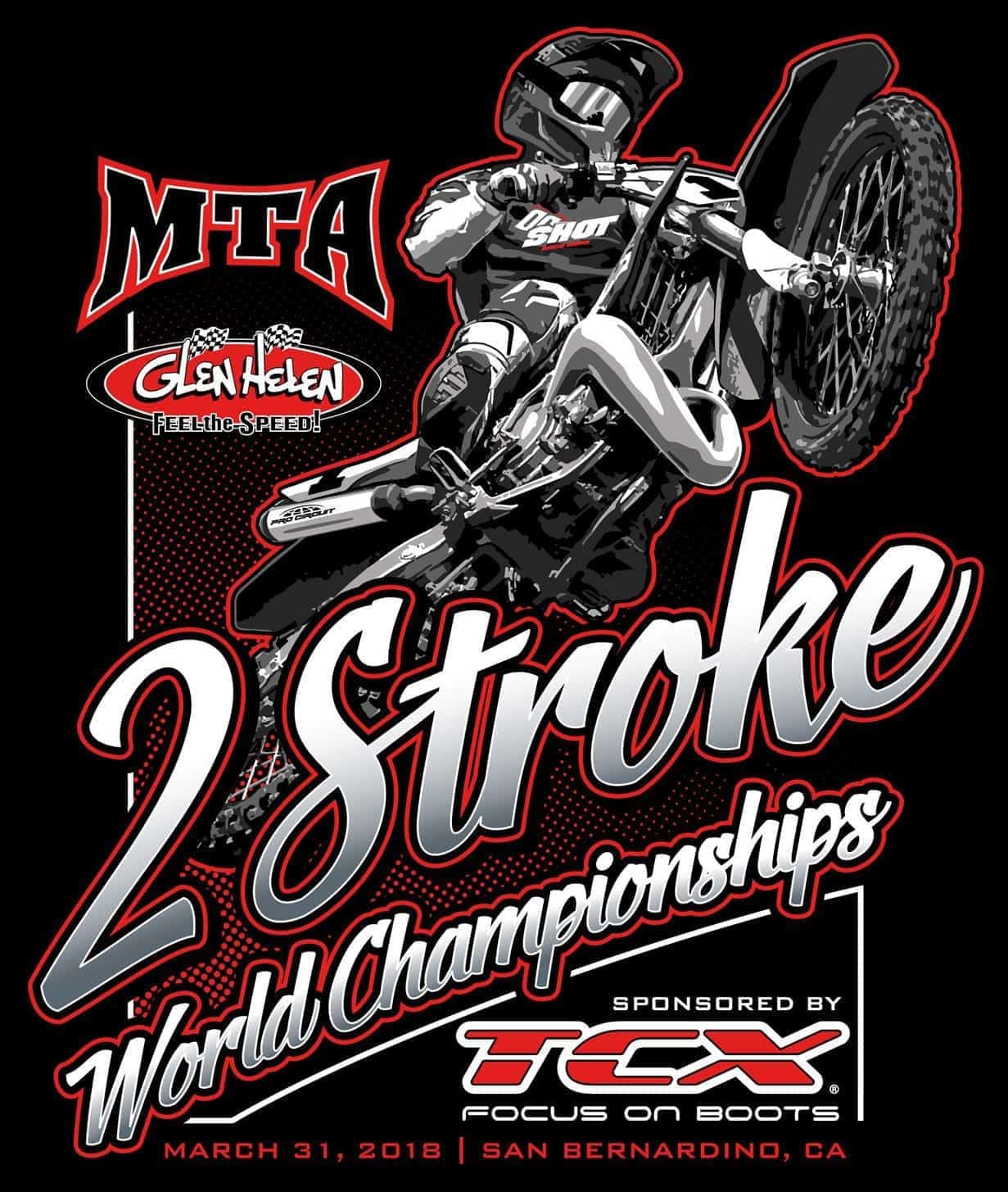 The biggest, fastest and safest turn in motocross is also one of the most photgraphed—thanks to a cliff that looms over the first turn that allo photographers to shoot down on the Talladega turn. Photo: Dan Alamangos
The World Two-Stroke Championship was held at Glen Helen Raceway on Saturday March 31. There was an $8000 purse for the 250/Open class and a smaller purse for the 125 Pro class. It was Zach Bell that dominated the field on MXA's 3 Bros Racing Husky TC250 goin 1-1. Darryn Durham went 2-2 with Talon Lafountaine rounding the podium in third with a 4-3. In the 125 Pro class it was last years winner Robbie Wageman that went 1-1 once again. Although this time he was riding a KTM 125SX and not a YZ125 as he did last year.  
2018 TWO-STROKE NATIONAL OPEN PRO RESULTS
Zach Bell took the win on the MXA/3 Bros/ AHM Husky TC250.
Justin Jones (42) leads a parade of Pros down Mt. Saint Helen. It is 22 stories high and steeper than it looks. Justin raced most of the first moto with a flat rear tire and managed to stay in the top ten, but on the last lap his tire came off the rim and he ended up 19th. He came back in the second moto to finish 5th for a 9th overall. Photo: Mark Chilson
Giving up 20 years to every 250 Pro, save for Mike Brown, Doug Dubach (15) had a few on track incidents that left him to with an 11-10 day for 8th overall. Photo: Mark Chilson
Zach Bell (Hus)–1-1
Darryn Durham (Yam)–2-2
Talon Lafountaine (KTM)–4-3
Ryan Surratt (Hon)–3-6
Richard Taylor (Suz)–7-8
Dalton Shirey (Hus)–6-9
Dennis Stapleton (KTM)–9-11
Doug Dubach (Yam)–11-10
Justin Jones (Hon)–19-5
Beau Baron (Hon)–12-13
Brian Medeiros (KTM)–14-15
Collin Shiner (Yam)–16-14
Jeremy McCool (Yam)–20-12
Nick Schmidt (Yam)–5-27
Dylan Kappeler (Hon)–17-16
Matt Cerami (Yam)–18-20
Arik Swan (Hon)–8-30
Sean Lipanovich (Hon)–35-4
Brian Begin (Yam)–22-18
Mike Baker (Kaw)–21-19
Jimmy Lea (Yam)–15-25
Mike Brown (Hus)–34-7
Nick Lamberton (Kaw)–23-21
Sean Borkenhagen (Kaw)–10-DNF
Jared Thomas (Kaw)–25-23
Mike Smith (Yam)–27-22
Christian Gardner (Yam)–26-24
Chris Fillmore (KTM)–13-DNF
Dyan Bennett (Yam)–24-28
Eric Jones (Yam)–36-17
Russ Gauley (Hon)–29-26
R.J. Wageman (Suz)–31-29
Billy Lavorci (Yam)–30-31
Ricky Diaz (Hon)–28-DNF
Broc Schoemaker (KTM)–32-DNF
Colton Aeck (Yam)–33-DNF
125 PRO RESULTS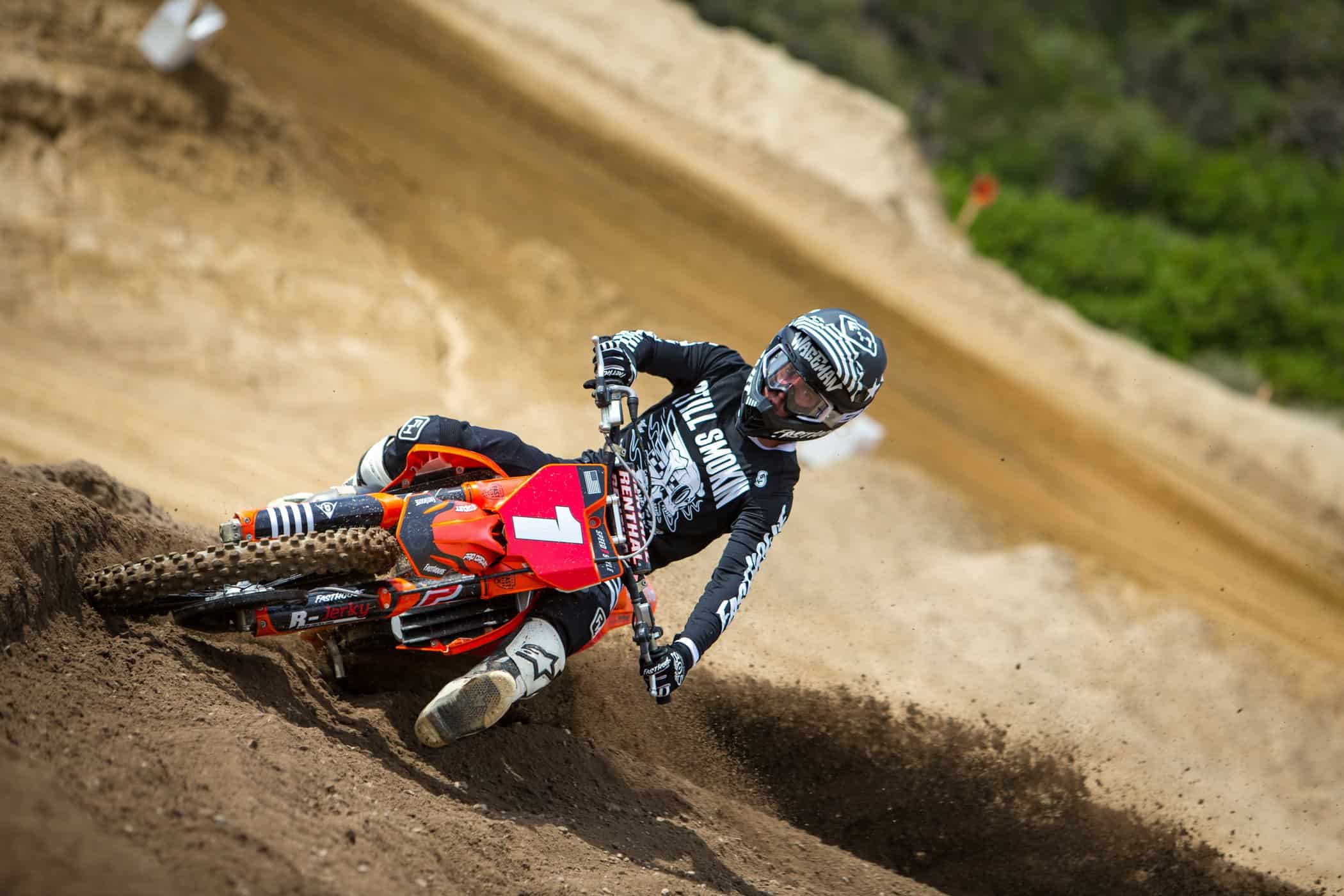 Robbie Wageman went 1-1 in the 125 Pro class on a KTM 125SX. He is now a two-time 125 World Two-Stroke Champion

Hawaiian Brian Medeiros (12) raced both the 250/Open Pro class and the 125 Pro class on MXA's KTM 125SX. He pushed it to 11th in the Open Pro class and was running third in the 125 Pro class before crashing to a 6-10 score for 8th overall. Photo: Dan Alamangos
Robbie Wageman (KTM)–1-1
Carson Carr (KTM)–2-2
Sean Borkenhagen (KTM)–3-4
Colton Aeck (Yam)–5-3
Broc Shoemaker (Yam)–4-5
Robby Schott–8-6
Mitch Anderson (Yam)–9-7
Brian Medeiros (KTM)–6-10
Brent Rouse (Hon)–11-8
Jake Osborne (Hon)–10-12
Dustin Nowak (Yam)–18-9
Cody Whitsett (Kaw)–16-11
Kyle Mace (Yam)–12-15
Bradley Olsen (Yam)–15-14
Kevin Jones (Yam)–17-13
Jake Lyon (Hon)–13-DNF
Brian Begin (Yam)–14-DNF
Matthew Cerami (Hon)–19-DNF