BRIAN DEEGAN AND METAL MULISHA INVADING NASCAR: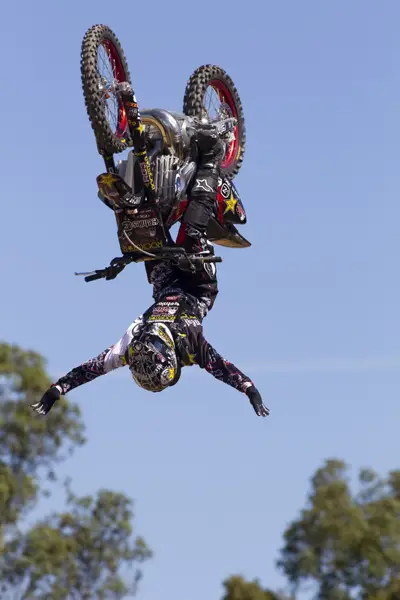 Brian Deegan's next venture involves four wheels, drafting, and banked corners.

Brian Deegan, the pioneering innovator of Freestyle Motocross and the most decorated Freestyle Motocross rider in X-Games history, is going to bring his brand of over-the-edge racing to the world of NASCAR stock car racing.  In doing so, Brian brings an entirely new audience to NASCAR ? millions of young, insanely loyal Deegan fans who idolize this hard-driving iconic figure.
Deegan announced at Charlotte Motor Speedway that he will be joining the NTS Motorsports driver development program with the objective of moving through the ranks of NASCAR to Sprint Cup as quickly as possible. Deegan will become part of a two-car program that NTS fields, along with current driver Brennan Newberry.
Deegan, as usual, was very open about his view of this opportunity, "When NASCAR chairman Brian France told the world that NASCAR ?is a contact sport ? we're going to loosen it up,' I'm not sure Mr. France knew what he was getting into. I took that as a personal invitation for guys like me.  I love racing, I love going fast, I love pushing the limit and that's what I'm going to bring to NASCAR. I have been designated as the General of the Metal Mulisha and so the Metal Mulisha army is going to march on NASCAR."
NTS Motorsports Team Owner Bob Newberry commented, "Brian is a winner and is going to bring the same commitment and passion that took him to the top of Freestyle Motocross and the X-Games world to our racing program. We are similarly committed to putting Brian in world class equipment, getting him the seat time to ensure his success, and moving him through our development process to Sprint Cup, period. NASCAR will be energized by both new fans and new sponsors that Deegan and Metal Mulisha (Deegan Motocross team, clothing and product line) will attract. In fact, we have already brought in two exciting new sponsors, MySmokinRide.com, the Facebook of motorsports and race fans, and Fountain Powerboats, the premier powerboat manufacturer in the world. Both sponsors immediately recognized the opportunity that this team will bring to the world of racing."

"As we evaluated various sponsorship opportunities in NASCAR and the larger motorsports sector, the biggest challenge was how to break through the clutter," said Kel Bloomer, CEO of MySmokinRide.com.  "Our association with Deegan and Metal Mulisha is clearly the way to stand-out as a new NASCAR sponsor. www.MySmokinRide.com is designed to give every type of race fan a dynamic environment to interact, so traditional race fans can get to know Deegan's army and vice versa."

Reggie Fountain, founder and President of Fountain Powerboats, prides himself on being associated with winners, and has had numerous customers from the NASCAR ranks. "Brian Deegan is a fierce competitor, and that is a valuable commodity," said Fountain. "Just like the boats that we build to win championships and set records, it takes a level of dedication to settling for nothing less than being the best, and Brian is clearly at the top of his game." 

"One of the greatest challenges any motorsports marketing entity faces is how do you consistently deliver measurable value to all of the parties involved," said Martin Sanborn, Director of North American Operations for Powerboat P1 USA, and the P1 Marketing Alliance. "By bringing together winning combinations of talent that share common demographics, we can provide opportunities for everyone to achieve their objectives. Deegan's Metal Mulisha and Fountain Powerboats are the extremes in their respective fields, and we see them as a potent combination with shared resources."
ABOUT BRIAN DEEGAN?

At a young age, Brian developed a passion for racing. Growing up in a small town in Nebraska, Brian wasn't into football so instead he rode dirt bikes. He soon realized he had a talent and wanted to pursue his dream. After graduating from High School, he told his father to give him one year and if it didn't work out then he would come back home and go to college.

With his dreams in front of him and Nebraska in the dust, he headed for California on a credit card, old truck and his dirt bike. Turning pro at age 17, Brian rode his way onto a Supercross Team. In 1997 at the LA Coliseum, Brian Deegan won the 125cc main and in true rebel fashion, ghost rode his bike across the finish line. This was the beginning of what we know today as Freestyle Motocross (FMX).

Brian Deegan founded a group called the Metal Mulisha and despite numerous broken bones and almost dying 3 separate times, went on to win 10 X-Games medals.  In his most recent near-death experience, Brian lost a kidney and severely injured his spleen while filming for MTV's Viva La Bam.  Today FMX is recognized across the world as one of the premiere events in X-Games.

As a precursor to his move into NASCAR, Brian formed the Rockstar Energy/Metal Mulisha/Lucas Oil short course off-road truck racing team which Brian won the championship in 2009 and already has earned him two wins in 2010