CLASSIC MOTOCROSS IRON: 1964 BULTACO 200 MATADOR
A Spanish road racing champion both before and after WWII, Francisco Xavier Bulto cofounded the Montesa company in 1946. He resigned his directorship in protest after the Montesa board voted to pull the factory team from GP road racing in 1958. The following year, with other former Montesa employees, he tooled up to produce a breakaway Spanish motorcycle brand. The name Bultaco was chosen at the suggestion of Bulto's friend, John Grace. The "Thumbs Up" icon would become part of the Bultaco logo in 1959.
Bultaco's trials and motocross models of the early 1960s relied on testing and development from a variety of English and French riders, but this was not the case with the marque's enduro bikes. Bultaco developed its offroad models in-house with riders Oriol Puig and Jose Sanchez. The first successful Bultaco enduro bikes were made in 1962 from adapted 175cc Sherpa trials bikes. Both Puig and Sanchez raced these prototypes in the 1962 International Six-Day Trials (ISDT) and came home with gold medals.
In 1964, Bultaco introduced the first Matador 200. The machine was designed to compete in the International Six-Day Trials or to be ridden as a daily commuter that could conquer any trail. The Matador showcased everything that the test riders had learned in the previous two years of international enduro competition.
The Matador 200 was not a cheap copy of the gold-medal-winning, 175cc prototype; it was a punched-out, beefed-up, and well-refined model to sell to the general public. With street-legal equipment (horn, lights, speedometer, etc.), the bike appealed to Spanish motorcycle riders who liked to ride both on and offroad. The Matador was equipped with premier Betor rebuildable suspension components, Akront aluminum rims, and Pirelli trials universal tires and produced 23 horsepower. The 1964 Matador opened up an all-new market for dual-sport motorcycles.
In 1966, Bultaco upped the displacement to 250cc, enclosed the chain and identified it as the Matador MK2. In 1967, they added the 100cc Lobito MK2 and a 175cc Campera.
Suggested retail in America was $785. Compare that price to the BSA 350 Enduro at $825, and you can see that the Spanish two-stroke was quite pricey at the time. In today's market, there is not much demand for vintage enduro bikes—either for the collector or the rider. Our featured Early Years of Motocross Museum Matador, which is a nicely restored first-year model, is only valued at $7000.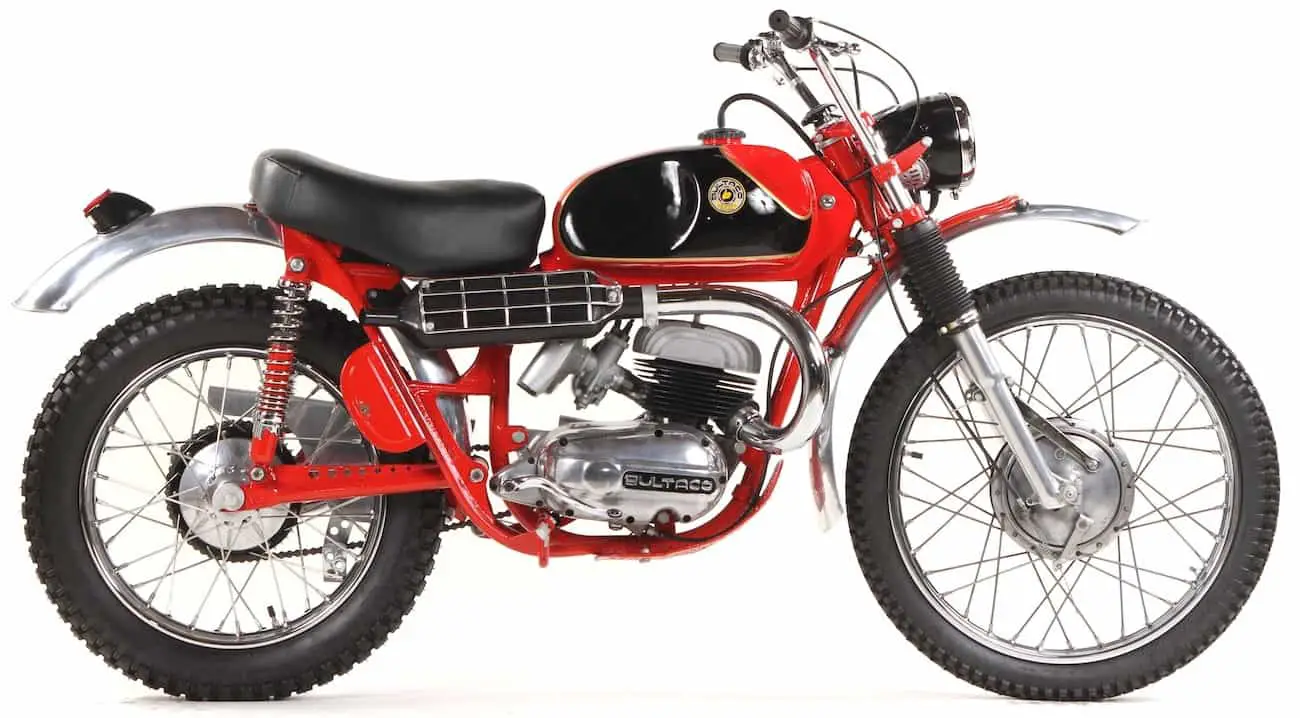 Original condition is key for a collector. The fenders are quite unique, and the gas tank (with cutouts for fork clearance) is a work of art. To be truly authentic, a restored model must have clip-on handlebars, an artistic exhaust system and an aluminum chain guard.