FLASHBACK FRIDAY | DOUG HENRY'S RISE TO THE TOP
Doug Henry was a gritty New England racer who never gave up. His tenacity and resilience in the face of peril paid off, as he won the 1998 AMA 250 National Championship on a factory Yamaha YZ400F four-stroke.
Historically, the bulk of championship-winning racers come from motocross-friendly areas with warmer climes, such as California, Florida and Texas. These hotbed riding spots breed competition, promote growth, welcome opportunity and develop riders into quality racers. John Dowd and Doug Henry were the exceptions to the rule. The New England natives made headlines in the 1990s for their superb talents and unyielding desire to be the best. Dowd, a late bloomer in motocross, challenged for titles despite being an old man by motocross standards. Doug Henry also fought against the tide of misconception. These two New Englanders proved that outstanding racers could come from a region with four seasons and snowy winters.
Of course, Doug Henry proved more than just that. In 1991, as a DGY Yamaha privateer, he slogged through the mud to win the Hangtown 125 National. Would you believe that John Dowd won the 250 overall that same day? As Doug Henry' advanced up the ranks he score top five overall finishes in the 1992 AMA 125 East Supercross and 125 National series. His results caught the watchful eye of Team Honda. In 1993, he signed on with what was the powerhouse team on the racing circuit. Doug rewarded Honda with back-to-back 125 AMA National Championships. It was only natural that Henry would jump up to the 250 class in 1995 and show his mettle against a deeper field, which included Jeremy McGrath, Jeff Emig, Mike Kiedrowski, Mike LaRocco, Greg Albertyn, Larry Ward and John Dowd.
FEATURING A HAND-BUILT MAIN FRAME, CARBON FIBER SUBFRAME, ALUMINUM GAS TANK, BILLET ENGINE AND TITANIUM EXHAUST, THE YAMAHA YZM400F WAS THE SEED THAT SPRUNG THE FOUR-STROKE MOVEMENT.
Few crashes are more well known than Doug Henry's lunar orbit off the downhill flyaway at Budds Creek in 1995. Henry, battling teammate Jeremy McGrath, launched off what is now called "Henry Hill." The impact resulted in a broken back that everyone believed would end his racing career. The believers included Team Honda, who didn't re-sign Doug while he was in rehab. His health and career were in question, but Team Yamaha took a gamble on the former privateer Yamaha rider. Doug made his comeback in 1996 and finished 11th in the 250 Nationals. It wasn't until the following year–1997–that he summited the podium by winning three 250 Supercross races. The last round of the series, held in Las Vegas, is where Doug made history by winning on a cutting edge Yamaha YZM400F four-stroke. Featuring a hand-built main frame, carbon fiber subframe, aluminum gas tank, billet engine and titanium exhaust, the YZM400F was the seed that sprung the four-stroke movement.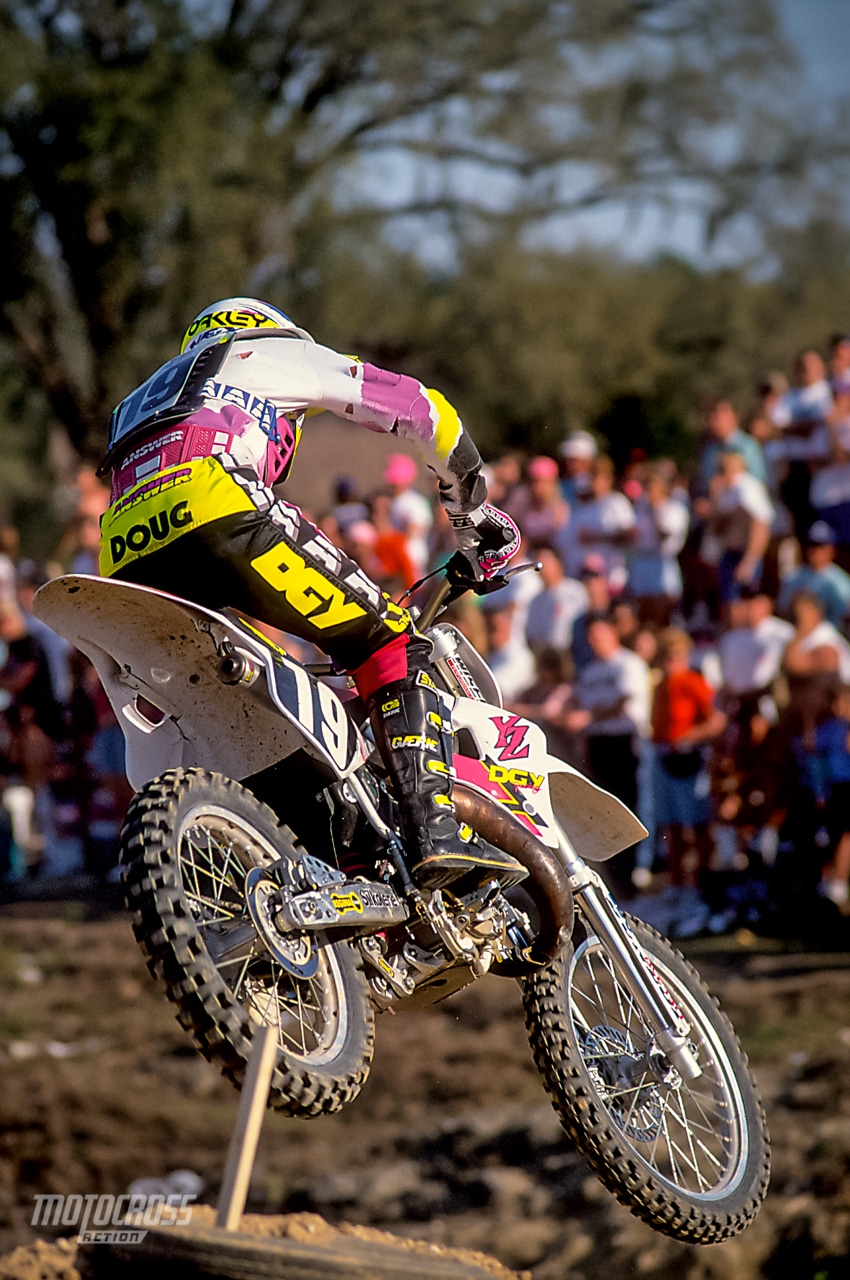 Doug Henry back in 1992 during his forth year racing Pro riding for the DGY Yamaha team. 
Doug Henry became the de facto four-stroke rider in 1998 when Yamaha asked him to race the production YZ400 exclusively. Henry was originally leery of the idea; however, he his fan base of four-stroke fans urged him on. Soon Doug was proud to fly the four-stroke flag, and his results showed. He won five 250 Nationals and never finished worse than fifth place overall. Some 63 points ahead of Greg Albertyn in second, Henry toppled the competition. The baritone echo of Doug's mighty Yamaha four-stroke reverberated through the hills of Unadilla and Millville. Doug Henry's 1998 AMA 250 National Championship was the culmination of his never-say-die attitude. The following year, Doug announced his retirement from full-time motocross, using the 1999 Nationals as his swan song of sorts. He won the Troy National in Ohio and ended the series in sixth overall.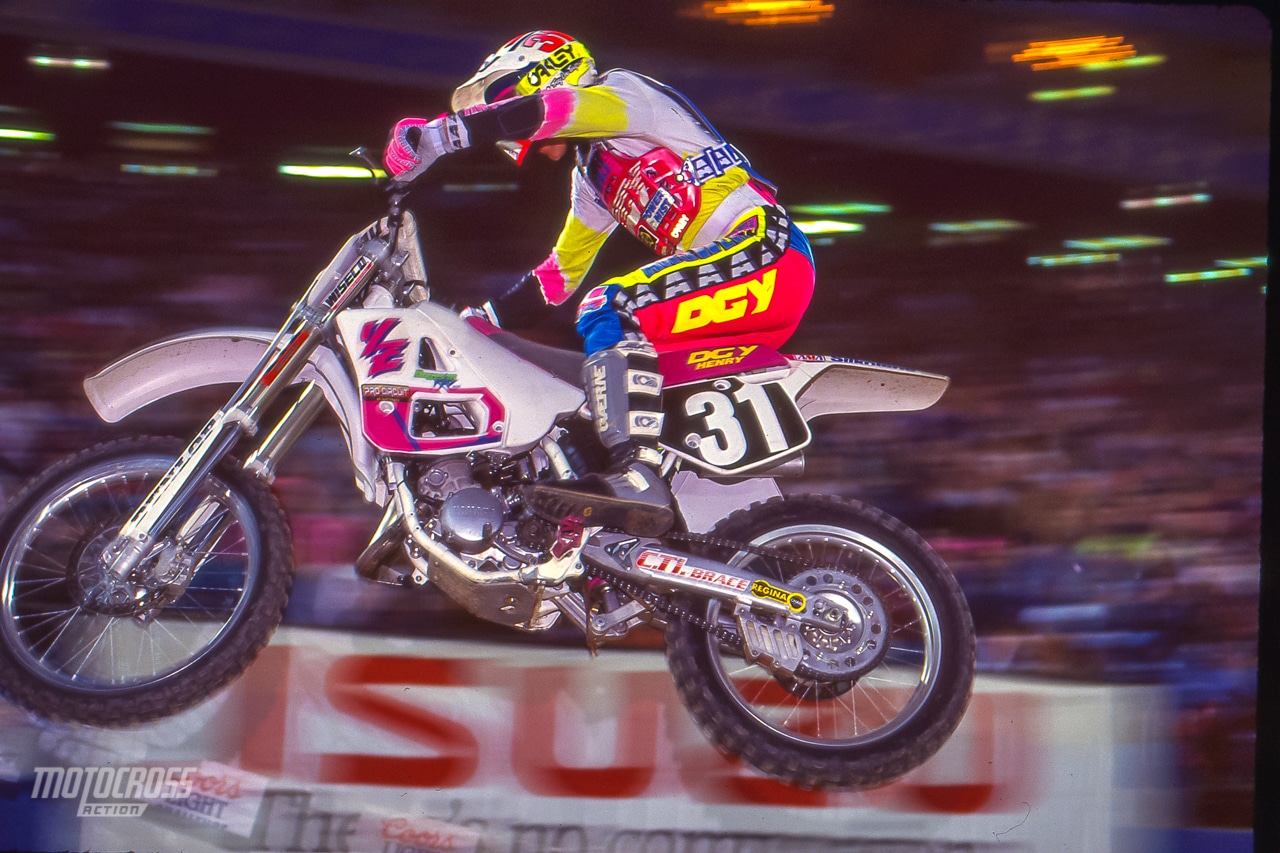 Doug in 1991 on his DGY Yamaha YZ125. 
Henry's star still shone brightly in motocross circles, as he raced once or twice annually through 2006 in order to secure his National number. After a career in motocross, Doug became a Snowmobile and Supermoto racer. Disaster struck in 2007 when Henry crashed during a Supermoto event and was paralyzed paralysis. That didn't stop the Connecticut native. He went on to win several X Games medals in Adaptive Motocross and snowmobile racing.  Doug Henry is the definition of an American motocross hero. The same can be said for his friend, John Dowd, but that's another story for another time.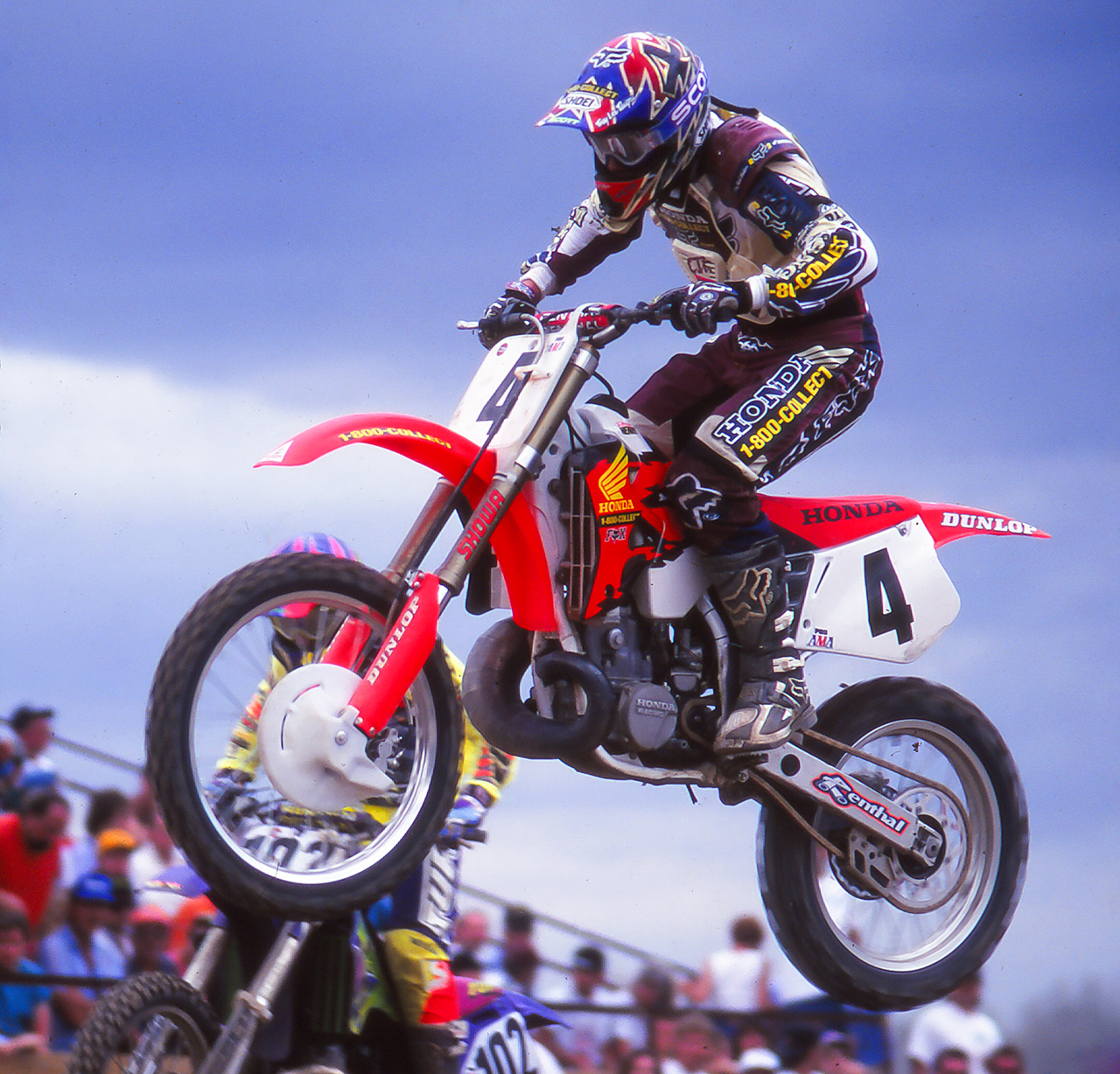 Doug in 1994. 
Doug racing Supermoto.