HAVE YOU SEEN THE NEW MXA? THE JUNE ISSUE IS OUT NOW—MISS IT AT YOUR OWN PERIL
WHAT'S INSIDE THE JUNE 2020 ISSUE OF MXA?
Aren't you tired of looking at awesome motocross photography on the tiny little screen of an iPhone, while holding it at odd angles to figure out what you're looking at. Get the real deal and see those giant spread photos at 9-inches by 16-inches and live a little. Not to mention that you get a $25 Rocky Mountain ATV/MC gift card which technically makes your subscription free.
MXA smuggled an unobtainium, at least in the USA, Yamaha YZ125 GYTR engine kit out of Europe to build the same basic YZ125 that is raced in the EMX 125 GP series. Read the full test in the mag.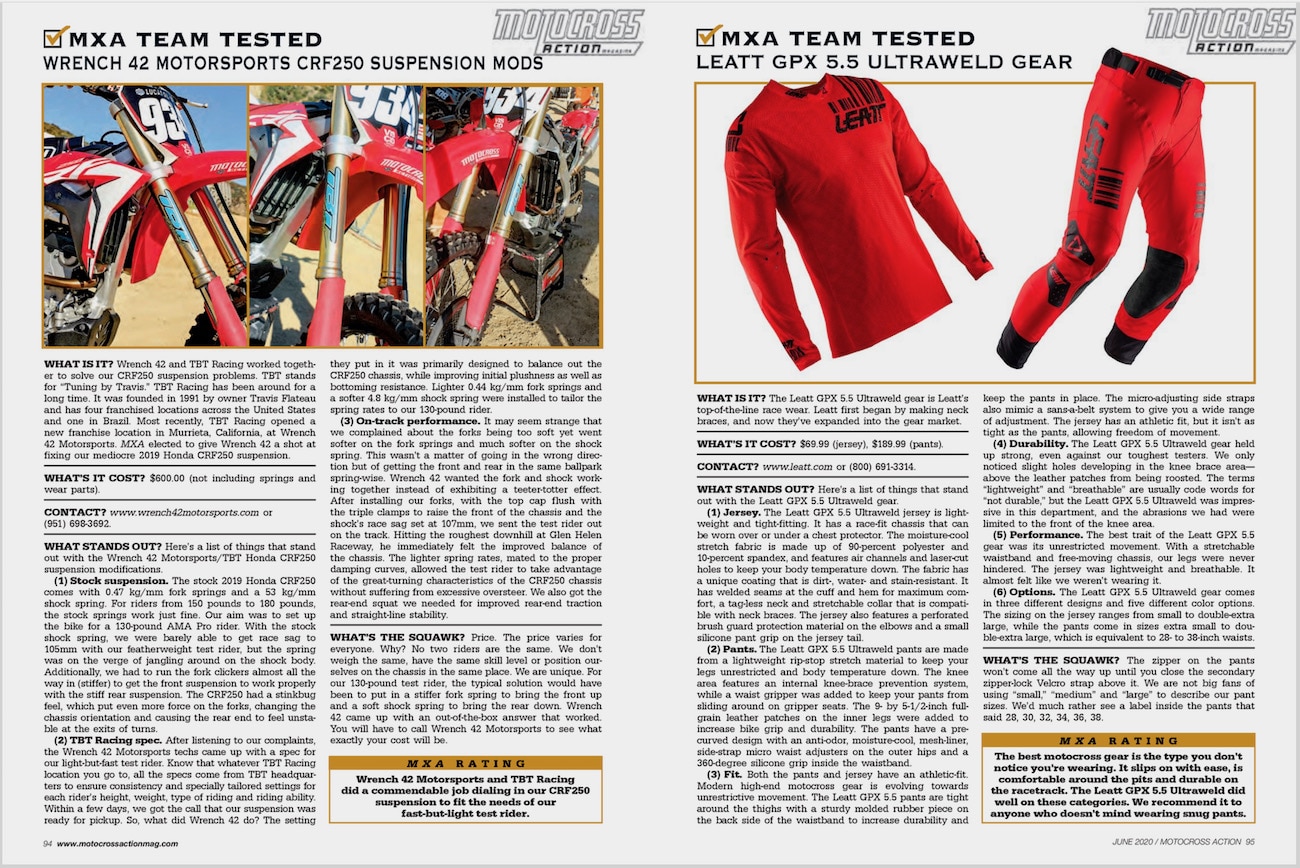 We test Wrench 42 Motorsports CRF250 suspension. It was set up for a 130-pound Pro rider—which may not be the hot Vet set-up, but it is targeted at the right rider. Meanwhile, on the fashion front, we tried out the Leatt GPX 5-5 Gear.
Finally we are going to get a chance at some resolution to the on-and-off 2020 AMA Supercross series. It started out as the best of times, but after Daytona it became the worst of times. Read how it all unfolded.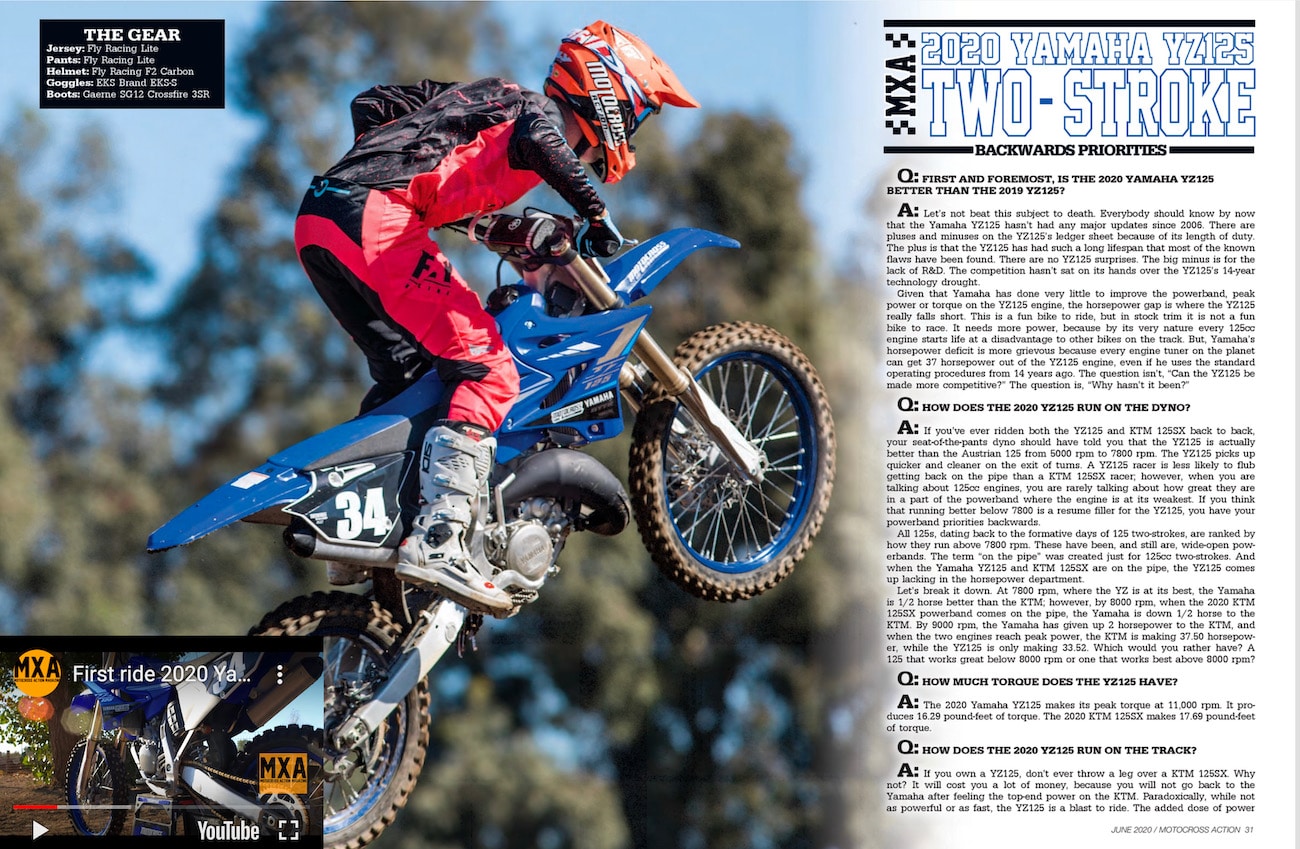 We love the 2020 Yamaha YZ15. It is viable bike for a rider seeking the max fun on a bike that can be ridden flat-out by a Pro or cruised by a Novice. It is going to celebrate its 16th birthday this coming season—but that is testament to how good it was when the engine and frame were first introduced in 2005 (the SSS suspension came in 2006).
You are going to learn things in MXA's "Silent Revolution" that will make you question the viability of the KTM SX-E 5 and Husky EE-5. But don't let that dissuade you—the future of Pee Wees will be electric (once they iron out the price, battery and recharging issues).
Don't think of the Suzukis of the 1970s and 1980s in the same way that you think of the Suzukis of today. Starting in 1976, Suzuki built some tremendous machine—none less stellar than the 1976 RM125, RM250 and RM370.
Do you remember when Cooper Webb raced a 2015 Yamaha YZ250F for Star Yamaha ? We tested his bike and were very impressed with everything about it.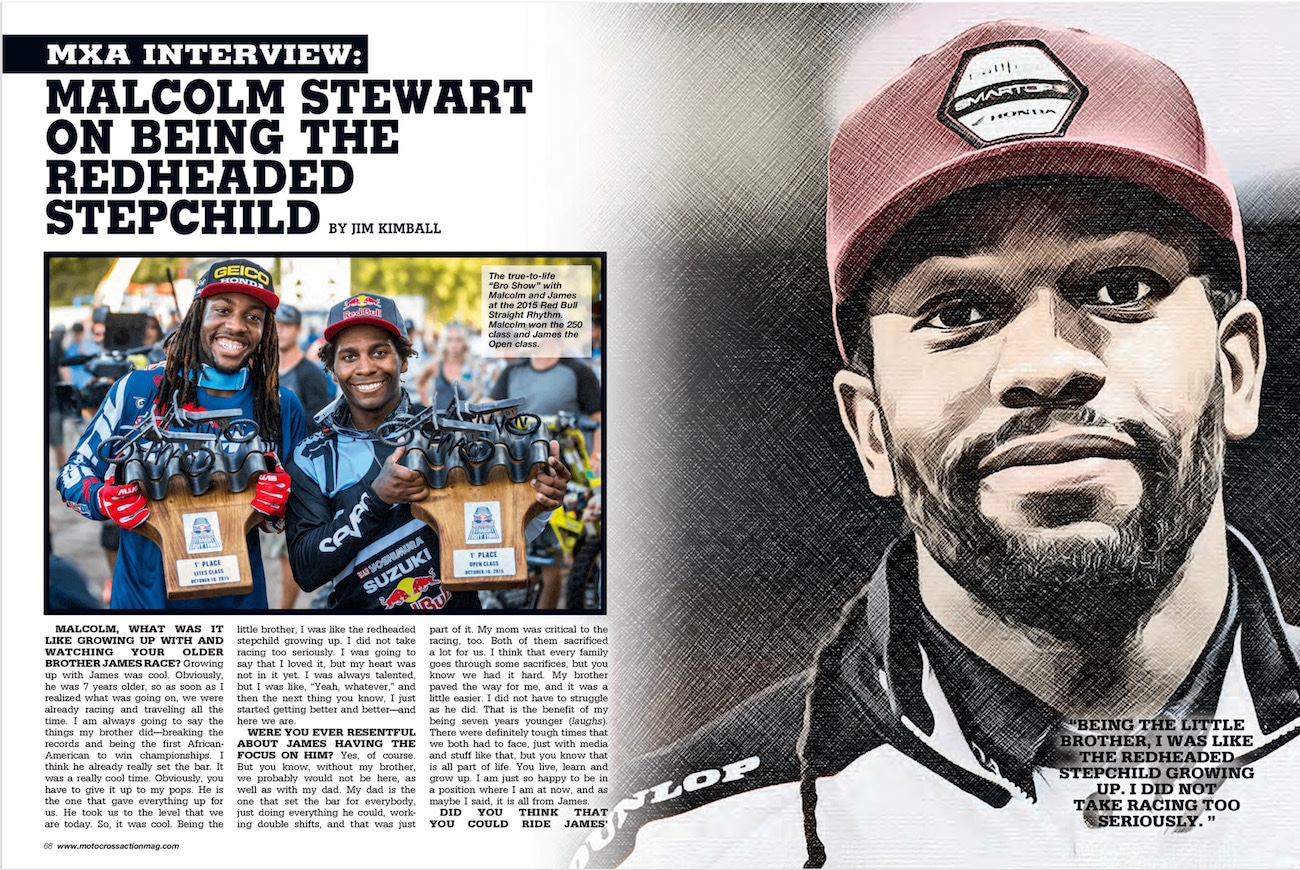 Malcolm Stewart is on the verge of stepping out of the shadow of his older brother. He just needs the Supercross series to get back to racing before he takes is yearly fishing vacation while the AMA Nationals are running. You'll like him and his story once you read the MXA interview.
We got out of China in front of the Chinese Flu and just in time to head to Holland. The MXA wrecking crew lives a charmed life and had lots of fun at the Twin Air factory before flying back to the USA in time to beat the travel restrictions.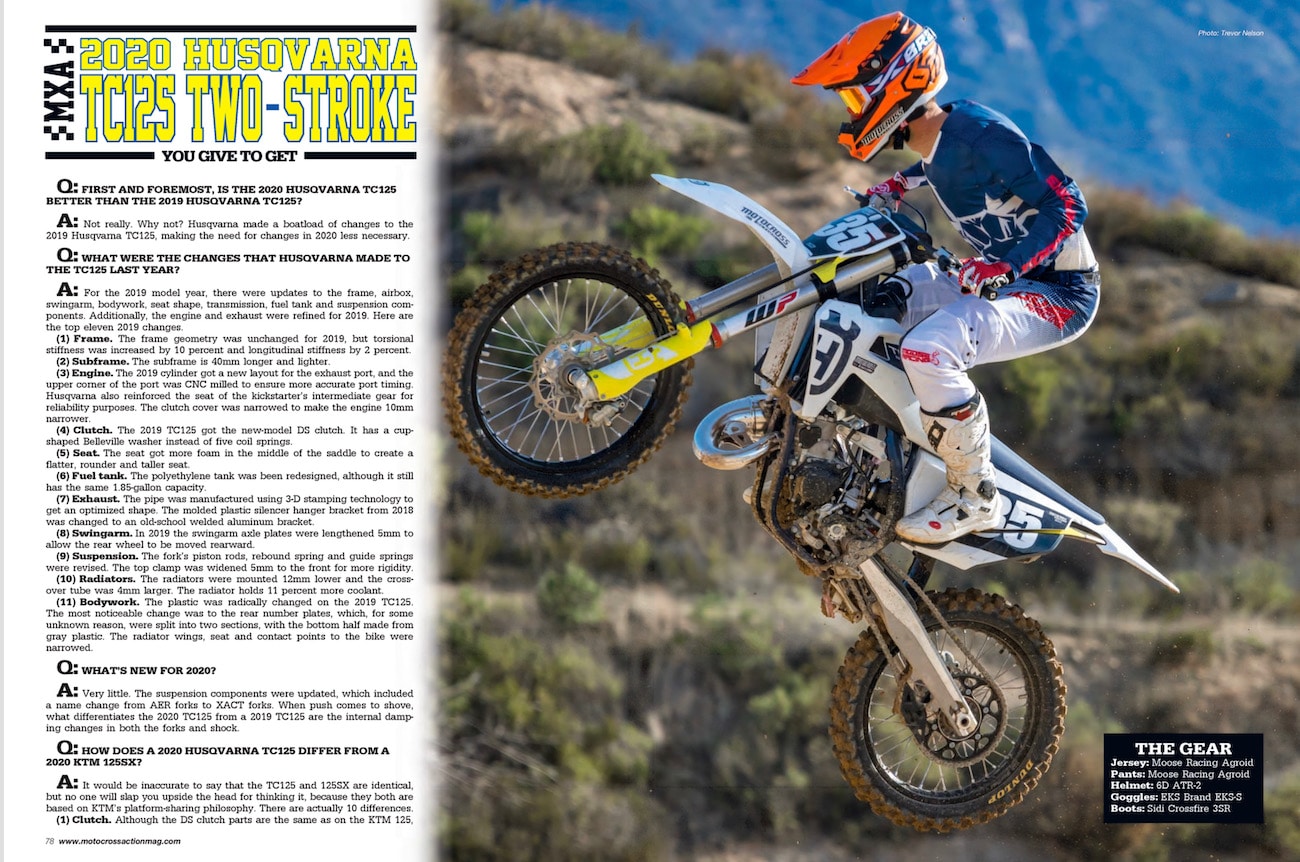 We may love to ride the 2020 Yamaha YZ125 for its time-proven design, but when it comes to racing, we'd much rather be onboard a 2020 Husqvarna TC125 two-stroke. It's very modern—save for the ugly two-piece side panels.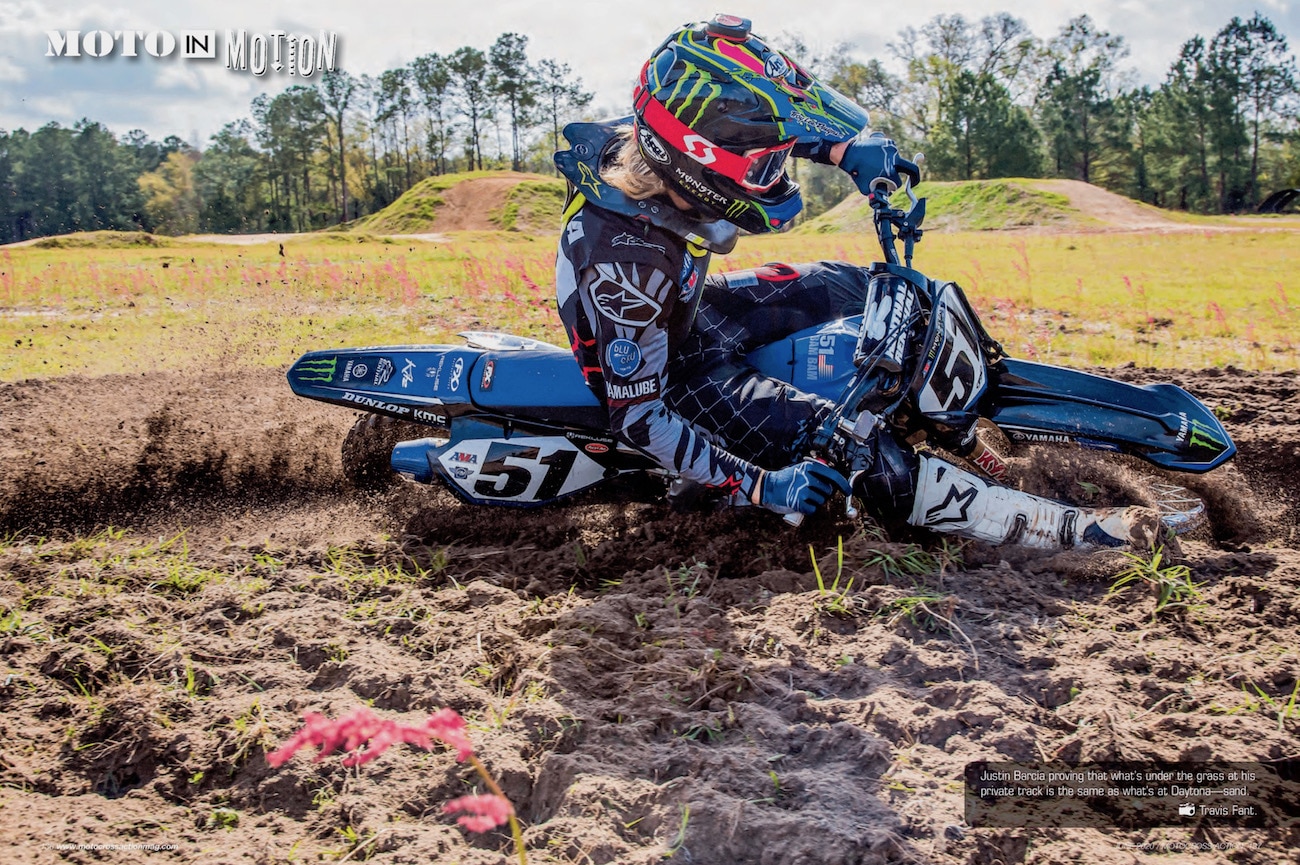 Justin Barcia tries to find out what is just below the grass on his Florida practice track. The answer? Sand for as deep as his rear Dunlop can go.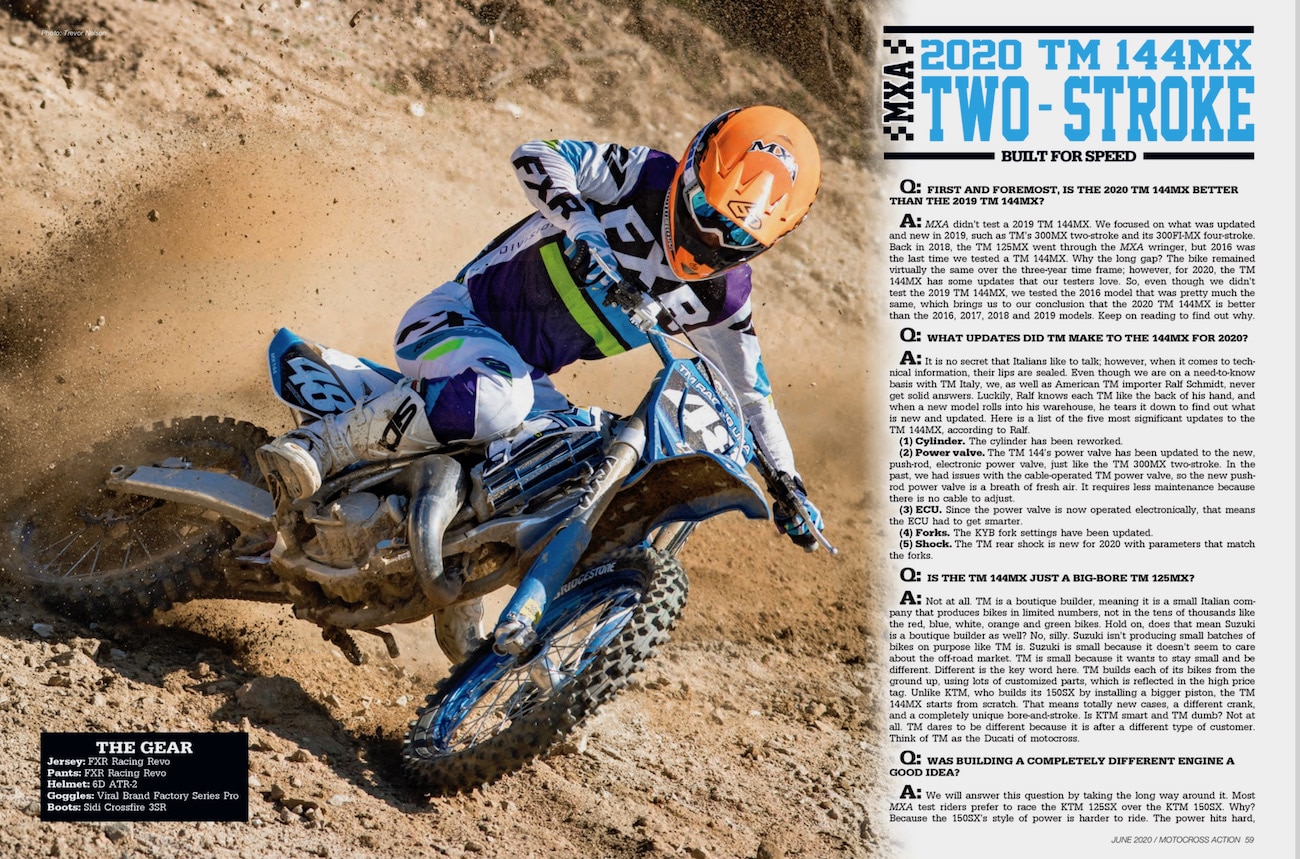 If you have been keeping track, the TM 144MX is the third brand of small-bore two-stroke that we tested in this issue of MXA. Don't think of the TM 144MX as a big-bore TM 125MX—because it more than that. It has a completely different bore and stroke than your run-of-the-mill 125 or 150. It was designed from the ground up as a 144.
HOW TO SUBSCRIBE TO MXA SO THAT YOU NEVER MISS ANOTHER ISSUE& GET A $25 ROCKY MOUNTAIN GIFT CARD TO COVER YOUR COSTS
If you subscribe to MXA you can get the mag on your iPhone, iPad, Kindle or Android by going to the Apple Store, Amazon or Google Play or in a digital version. Even better you can subscribe to Motocross Action and get the awesome print edition delivered to your house by a uniformed employee of the U.S. Government. You can call (800) 767-0345 or Click Here (or on the box at the bottom of this page) to subscribe.