INTERVIEW OF THE WEEK: MITCH PAYTON
Mitch Payton (left) took control of the microphone on Sunday at the 2017 Fox Racing gear introduction in Sandy, Oregon.
Mitch Payton is the winningest 250 race team owner in the history of the sport. His racers have won umpteen titles during Pro Circuit's existence. From Jeremy McGrath and Brian Swink to Ricky Carmichael, Ivan Tedesco and Ryan Villopoto, Pro Circuit has been nearly unstoppable for well over 20 years.
The landscape at Pro Circuit Kawasaki is changing, and so is the look. Fox Racing jumped on board for 2016 to be the team's gear sponsor, and with it came the tag line "We Race Together." It was only natural that Mitch Payton was in attendance Sunday for Fox Racing's 2017 gear launch at the picturesque Mountain View MX track in Sandy, Oregon. We sat down with Mitch during lunch to chat about the team's season, the two- versus four-stroke debate, technological advancements in motorcycle design, and much more. Below is what he had between bites of barbecue brisket.
By John Basher
Wild in his younger days (he's probably still banned from several restaurants and flying on a number of airlines), Mitch Payton has seemed to back off the throttle when it comes to bets (like the one he lost above to Goat Breker). However, he's still going strong with his race team and aftermarket business.  
Mitch, please analyze your season and compare it to all the others.
Overall, a great season is if you're winning the championship. We've had moments where we've been in the lead. Our guys are doing better and our bikes are good. Adam [Cianciarulo] is getting healthy. Joey [Savatgy] is doing really good. Arnaud [Tonus] is getting healthier. Obviously with [Austin] Forkner coming in and doing what he did this past weekend is a plus for next year. There have been ups and downs, but things are obviously better than they were last year.
Was there any discussion about Austin Forkner racing the 250 East Supercross series this year?
No. The plan was for him to ride Amateurs and then start the Nationals to give him all of this year to get used to the competition and elevate his fitness. Then, we'll start Supercross in 2017 so that we don't use up any points. I wanted him to get time on the bike and also to get comfortable in this environment.
You've had a number of "hype" riders, or phenoms labeled "The Next Big Thing," on your team through the years. Guys like Ricky Carmichael and Adam Cianciarulo were praised for their talents long before turning Pro. Where does Austin Forkner stack up?
I think Austin is going to fit in really well. He has a calm approach to racing. He's a hard worker, and he's in really good shape. Those are things that, as a kid, most rookies don't have entering the Pro ranks. Usually they have to build up to it. He took the initiative this past year, knowing that he was going to be racing the Nationals, to be prepared. That really helped him.
Austin Forkner (214) and Joey Savatgy (27) are two of Payton's brightest pupils on the Monster Energy Pro Circuit/Kawasaki race team.
Are you surprised by how well Joey Savatgy has done, first in the 250 West, but recently in the Nationals?
Am I surprised? No. He was getting better last year, and his results showed that at the end of the Nationals last season. He basically carried that to Supercross, and fortunately he stayed healthy during the offseason. I think Joey has done what he expected to do, and what we have expected of him. A lot of people don't know this, but entering the Supercross series last year he had gotten hurt. He only had three weeks to prepare for Supercross, so he came into things behind schedule. This year he had a good offseason.
What did you think of the 125 two-stroke race at Washougal this past weekend?
I thought it was neat. I was surprised about all the hype at our truck surrounding the old KX125 race bike. There's still a lot of interest in it, and that's good, because there are a lot of two-strokes out there that are perfect for a 15 year old kid. It's a great bike for a kid to get time on before going up to a 250 four-stroke.
Now that you've become used to the cost of racing 250 four-strokes there's likely a bit of clarity on how much it cost to race 125 two-strokes.
It was just a different time. Sure, it was cheaper than racing 250 four-strokes. We were pulling apart our two-stroke race engines, but our focus was on looking at things and making sure everything was good. We always looked to make sure the exhaust ports weren't chipped. When you have them [two-strokes] tuned up to the edge like we did, that was the type of thing that would start to go.
Is there any way you could have developed your Pro Circuit Kawasaki KX125 race bike further?
There are things like suspension that could have improved in time, but on the engine side, it was tapped out when we were done racing the KX125. There wasn't a whole lot more power we could have gotten out of the engine, compared to a 250 four-stroke.
"I REMEMBER IN 2004 HOW BAD FOUR-STROKE RELIABILITY WAS. THOSE ENGINES WERE TICKING TIME BOMBS. AT RED BUD ONE YEAR WE HAD TEN ENGINES IN THE TRUCK, AND WE USED EVERY SINGLE ONE. EVERY WEEK WE THOUGHT WE HAD THE PROBLEM SOLVED, AND THEN SOMETHING ELSE WOULD BREAK."
Are you happy with the progression of the sport in terms of technological advancements?
Yes. The bikes are more reliable than they were, say, four years ago. That's better for everybody. They don't blow up all of the time like they used to. I remember in 2004 how bad four-stroke reliability was. Those engines were ticking time bombs. At Red Bud one year we had ten engines in the truck, and we used every single one. Every week we thought we had the problem solved, and then something else would break. By the end the cases had a big plate mounted on, because the cases would break. We had to keep the case intact, even though it would be cracked.
There was the big rumor going around this weekend at Washougal that Supercross is going to make a big push to evolve into something bigger. Do you think the sport will go to a Supercross-only schedule?
It depends who you ask. I do think there are too many races. With 17 Supercross races and 12 Nationals, it's just too much.
How has your life changed since having two boys?
I want to spend time with them. I obviously can't be as selfish to myself as I once was, but I love my kids. They're cool. It's easy to want to spend time with them.

Austin Forkner won his first 250 Pro moto this past weekend at Washougal. It brought a smile to Mitch Payton's face.
Do you think product drives your race team, or is it the other way around?
The race team is a good way for us to learn that the stuff we sell is really at a high level. That's the reason we do it.
What's the one aftermarket part that every four-stroke rider should invest in?
A hour meter, plain and simple. Four-strokes live and die by how much time you put on them.
You're contractually obligated by Monster Energy to race the two USGP rounds, at Charlotte and Glen Helen. What do you think about that?
I like the GPs, and I follow them all of the time. It is difficult for us to just get done with a series and then tag on two more races. I'm scared that if we do it they'll expect us to always race those events. We can't just keep making these guys race year-round, or else no one will be left that is healthy. Guys are getting hurt and they don't have time to heal up.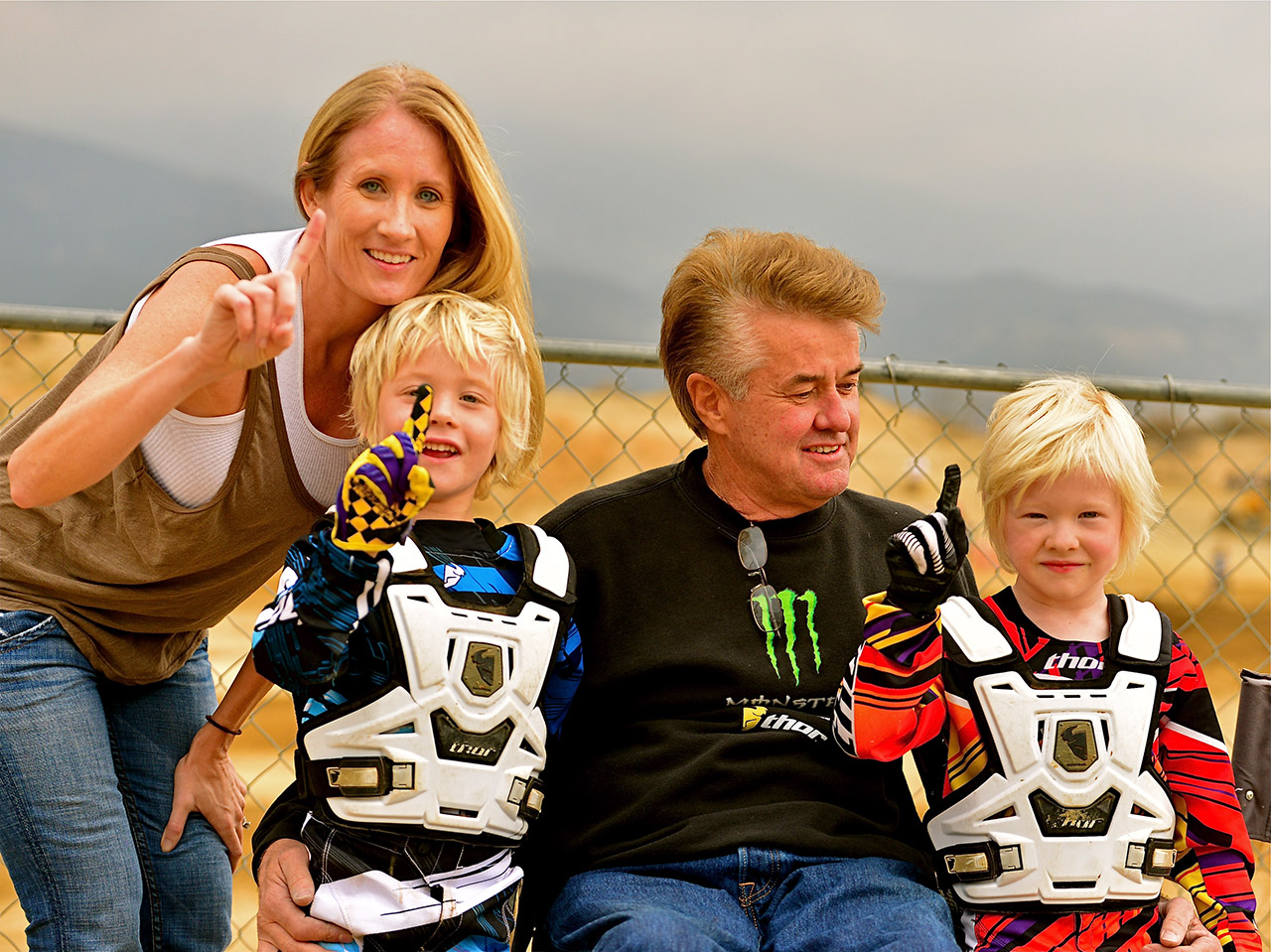 Mitch with his wife and two boys.
Why are so many riders getting hurt now?
The bikes are definitely faster and have more power. There's more crank mass and inertia. Obviously the 450 is a lot harder to ride than a 250. I don't know about the injuries, though. There are years where guys get hurt, and others where they really don't.
Are you still personally doing engine work?
I have kids that help me, but I still do the one-off of everything we do. Then we'll make a card to copy it so we can replicate it. I probably still do engine work about every week. It's actually peaceful for me, because I'm not thinking about anything else.
Motorcycles have changed a lot in the past decade. What was the area that you found the hardest to adapt to? Common knowledge would suggest mapping.
Mapping hasn't been a big deal to me. Two-strokes have ignition maps. Four-strokes also do, but now there's ignition and fuel mapping. Everything is a learning process, but once you get your hands on it and spend time doing it, then things don't seem so bad. Everything that's new is a challenge, but then you figure it out.
"I LOVE MOTORCYCLES, AND I ENJOY WHAT I DO. IF I WANT TO BE INVOLVED IN MOTORCYCLES, THEN I HAVE TO DO WHAT I'M DOING. I LOVE THE BUSINESS SIDE, AS WELL AS THE RACING SIDE. THE CHALLENGE OF MAKING STUFF BETTER IS REALLY COOL TO ME."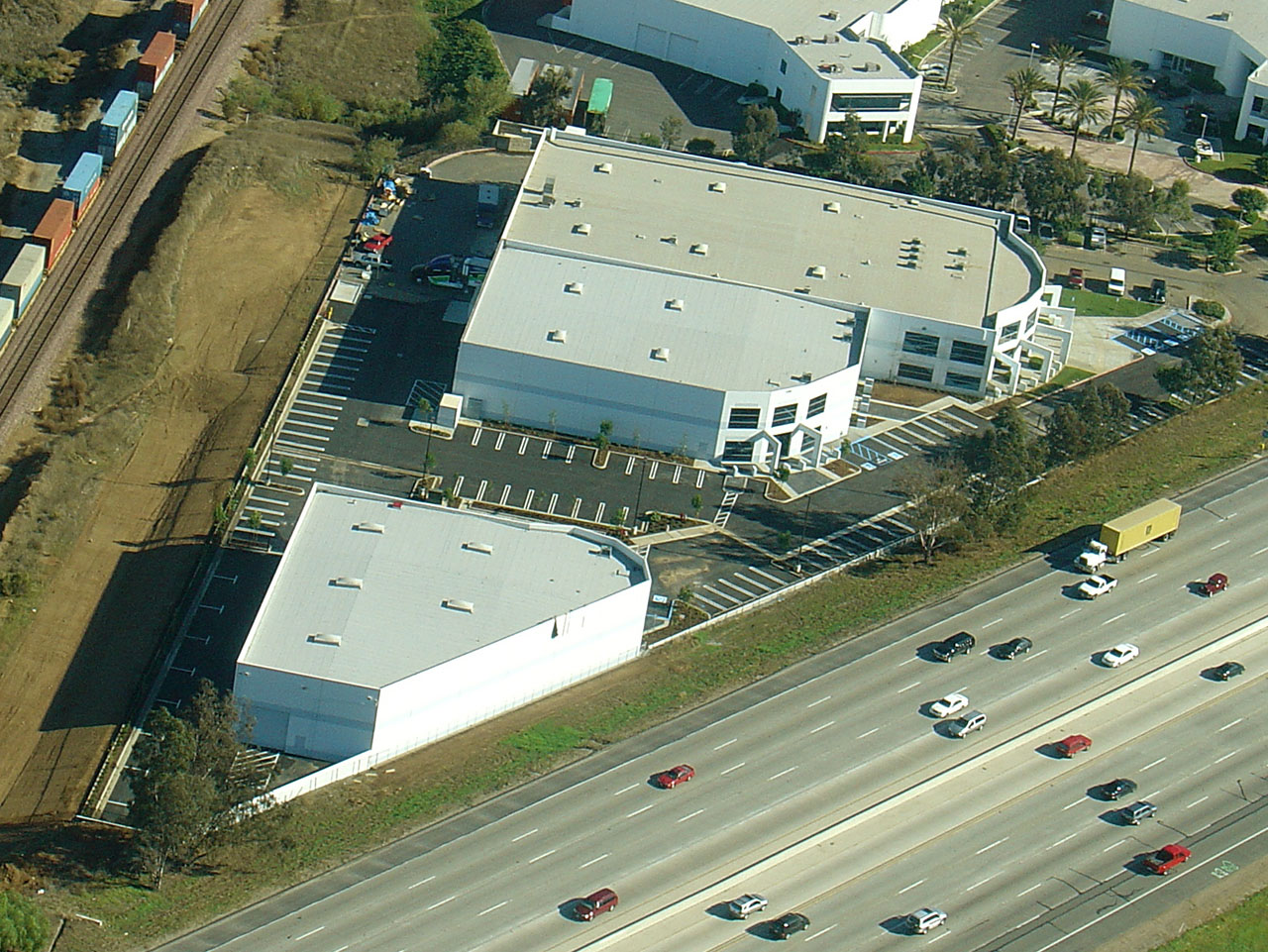 Pro Circuit has expanded by leaps and bounds since Mitch opened up shop in 1978. The massive footprint known as Pro Circuit is located on the 91 freeway in Corona near the 71 freeway. Stop in if you get a chance, as the showroom houses a plethora of championship-winning Pro Circuit bikes.  
What motivates you?
I love motorcycles, and I enjoy what I do. If I want to be involved in motorcycles, then I have to do what I'm doing. I dig it. I love the business side, as well as the racing side. The challenge of making stuff better is really cool to me.
What has been your proudest accomplishment in business?
I've been fortunate to have a lot of really proud moments. Some that stand out are winning our first race, getting the factory teams to run our pipes and also our engine stuff. The fact that factory teams wanted to run my stuff has been a big compliment, because it shows we have something that's better than what they have. Obviously, seeing anybody on our race team win their first race and then their first championship is awesome. It's something they'll never forget. For Joey Savatgy to start winning, especially from where he was, and see him start to think that he should be winning, is cool.