JOURNEY WITH US TO SADDLEBACK PARK… AS IT IS TODAY
Saddleback as it looks today from the cockpit of Jody's aerobatic plane.
By Ernie Becker
The name Saddleback is synonymous in the motocross world with the "On Any Sunday" racing generation. For many, it was more then just a motocross track. It was a way of life. For the racers…It defined who you were. For others, it was a dream. For a few… this track brought opportunities to become a factory star.
This is what the incredible Suicide Mountain uphill jump looked like as Warren Reid sailed over the top.

This was what Suicide Mountain looked like if you didn't jump it. Most riders didn't try it.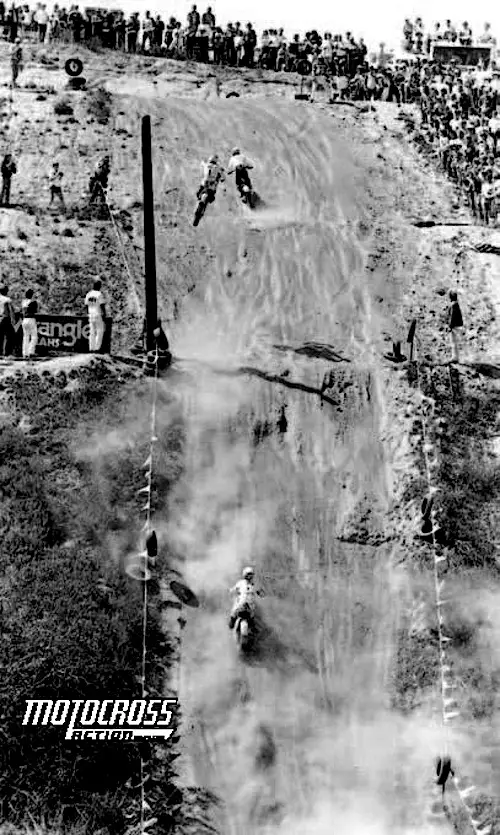 Suicide Mountain went up three levels. At local races, riders parked their vans on the levels which were wide enough for trucks to park side-by-side. To jump Suicide Mountain you had to be wide open and on the good line. Traction was minimal and the face to the first level was almost straight up (and rough). David Bailey (1) is hoping to make it to the second level.
By today standards, the dirt at Saddleback would be not rideable. In the morning it would be a mud hole. Deep mud that weighed your bike down by adding 20 pounds to it. By the first moto the traction would be great. Berms were ideal and it was racing at it's finest…it was nirvana. When the second moto rolled around you were racing on a concrete, blue groove situation. It became a dust bowl racing on an asphalt surface.
The starting gate as it was back in the late 1970s. 
The starting gate as it is today. Overgrown and almost invisible.
Coming out of the first turn. Jody Weisel (left) and Lance Moorewood (right) lead.
The track itself was based in rolling hills and a stones throw away from the beach and even closer to Disneyland. And, it was the Disneyland of the motocross industry since all the major manufactures were less then a 30-minute drive away. It was unique track—it had soul.
Danny "Magoo" Chandler casually looks over to see Chappy Blose crash on the long downhill leap from the top of Banzai Hill.
This is the famous tree turn—so named because it was the only corner at Saddleback that went around a tree. It was an uphill right-hand hairpin. It required the rider to scrunch his weight down on the bars while keeping the rest of his weight on the rear tire. Not so easy on a Montesa VB250.

This is the tree turn today. It was located below the finish line and only one corner away from the flag. We have no idea who the two guys standing next to it are.

What made Saddleback? The track itself, that's what made Saddleback so unique. Why? Here are some examples.
* The Start Hill. This was considered to be the worlds best natural dyno. It defined horsepower.
* Banzai Hill and Webco were part of the tracks iconic culture.
* The Magoo-Hannah double jumps and Suicide Mountain were only doable if you had no fear.
* The Tree Turn… one of the most photographed corners in motocross history.
This is Suicide Mountain today. The take-off was on the right side of the telephone pole.
If your over 40, your moto heroes raced on this hollowed ground. Minert, West, Jones, DeCoster, Mosier, Hannah, Howerton, Ward, Johnson, O'Mara, Bailey and Lechien were some of the legends that used Saddleback to make them who they are.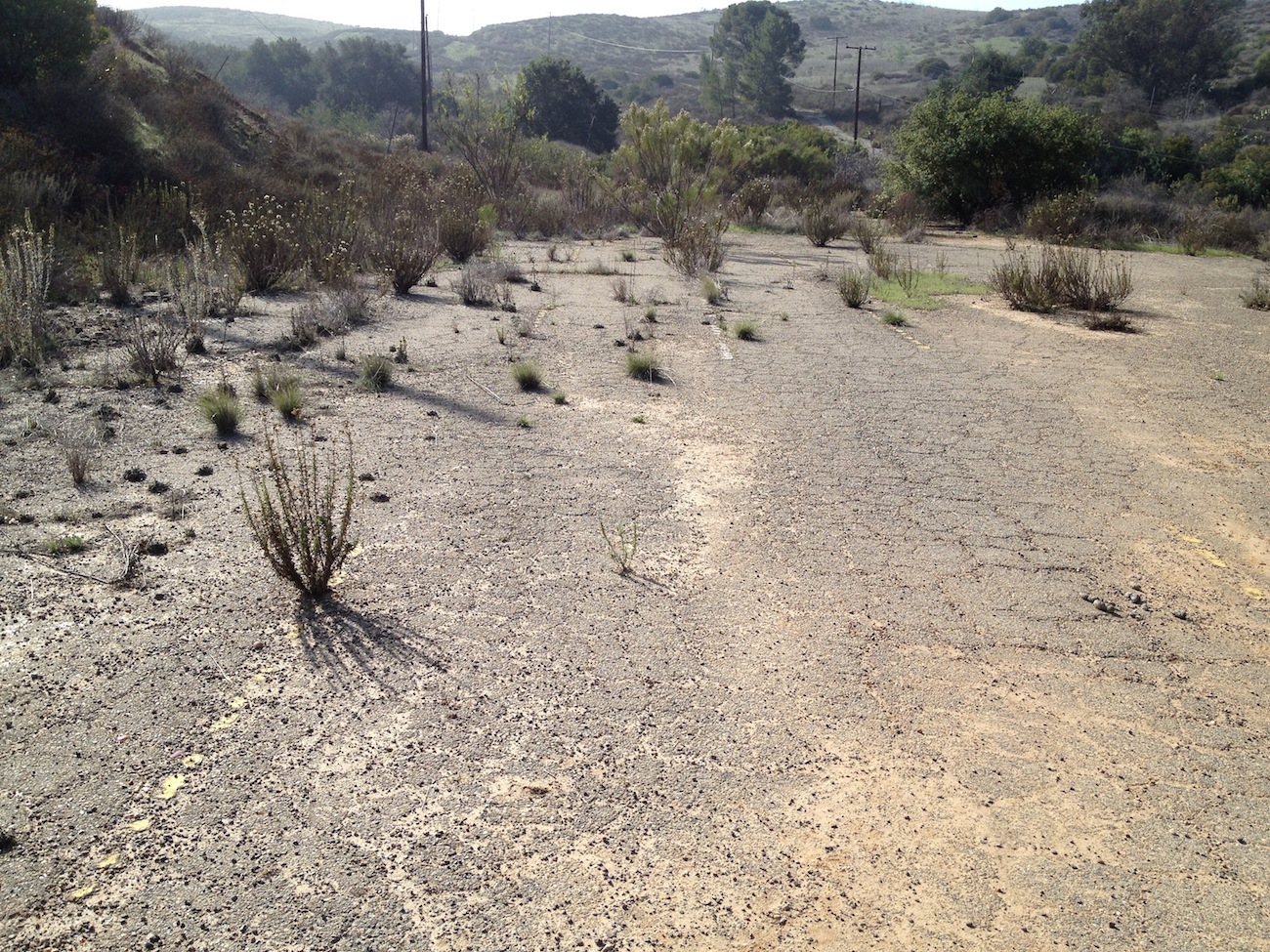 Back in its glory days Saddleback Park had a paved downhill Soap Box Derby track just outside the north fence line. You can still see the white painted line today.

If your under 40 you've probaby heard the name Saddleback but still don't understand what it meant to many people. Hopefully this will help you understand why it means so much to so many. Recently MXA went back to Saddleback for a trip down memory lane (technically called trepassing). We wanted to see how much nature had reclaimed of the track since it closed in 1984. Take a look at history.
If you'd like to know more about Saddleback Park's Suicide mountain click on Suicide Mountain.